We love a good Disney t-shirt, but let's be honest – sometimes we want something a little bit different from Mickey and Minnie. Something more like Disney Villains shirts!
Of course, we have a round up of some of our favorite Disney graphic tees, but this time we wanted to go a the dark side. We scoured the Internet and found some of our favorite t shirts featuring some of Disney's most well known villains!
9 Disney Villains Shirts
Please note: Disney With Dave's Daughters is a participant in the Amazon Services LLC Associates Program. This post may include affiliate links which means I may earn a small commission if you shop using the links below at no additional cost to you.
We all know that bad girls have more fun (at least, until King Triton turns you into a worm)! We love this purple t-shirt with 4 classic Disney Villains on it – Maleficent, the Evil Queen, Cruella de Vil, and Ursula.
This short sleeve graphic t-shirt crams a whole ton of villains into one shirt! With a play on the periodic table of elements, this shirt encompasses all sorts of villains from all your favorite Disney movies.
Can you name each character and the movie they come from?
Orlando, Florida is hot in the summer, so throw on this cute tank top featuring some favorite Disney Villains – the Evil Queen from Snow White, Ursula from The Little Mermaid, and Maleficent from Sleeping Beauty! We love the different jewel tones which help add a pop of color to your outfit. For more summer outfit ideas check out this post.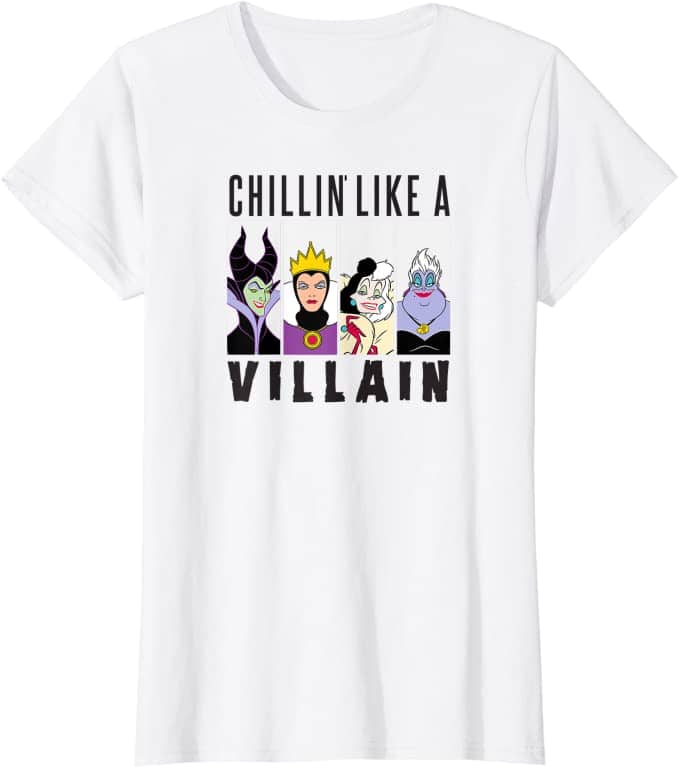 If you want something a bit more colorful and upbeat that shows of four of our favorite Disney Villains (Maleficent, the Evil Queen, Cruella de Vil and Ursula), this shirt is for you! It comes in seven different colors and is also available in men and youth sizes.
(Head here if you want Disney family shirt options!)
This t-shirt is kinda sweet yet kinda creepy. Queen Grimhilde or better known as the Evil Queen from Disney's Snow White and the Seven Dwarfs is creepily holding a box in this shirt. This would be a great shirt to wear when you go to Story Book Dining at Artist Point where you get to meet the Queen!
6. Not Sorry (Mens and Womens Shirts)
This tee shirt has artistic versions of the faces of each of the Disney witches along with one of the most on trend quotes of today "not sorry". Even without the full faces of these famous witches it's clear who they are – Maleficent, the Evil Queen, Ursula and Cruella de Vil!
This one also comes in other colors and in men and women's sizing.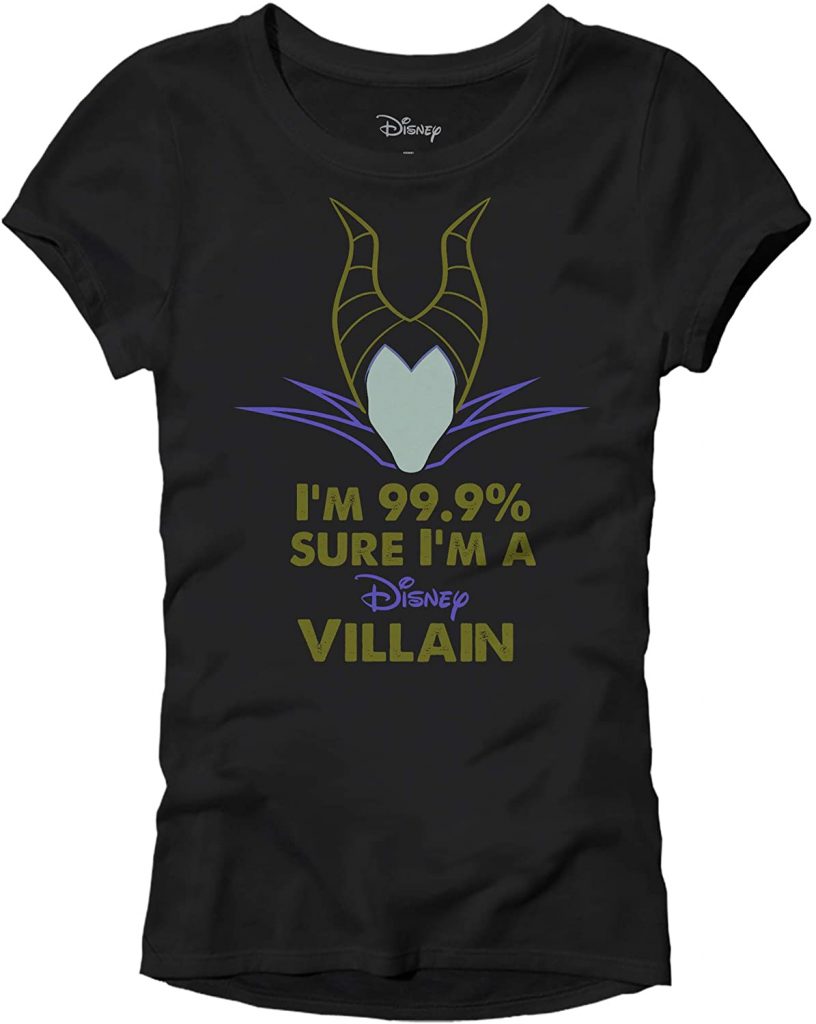 There's no doubt who this bad witch is – Maleficent! We love this funny t shirt! This would be a great shirt to wear when you are having a bad day and you want to warn people to keep away!
"Why be a princess when you can be a queen?" We LOVE the saying on this Disney Villains shirt! This black makes being bad look good. This t shirt features three classic bad girls – Ursula, the Evil Witch and Maleficent.
We love simple black and white graphic tees which makes layering super easy! Throw on any cardigan or button up over this fun shirt.
This shirt also comes in a long sleeve option. You will also find an amazing shirt that has every single Disney villain on it!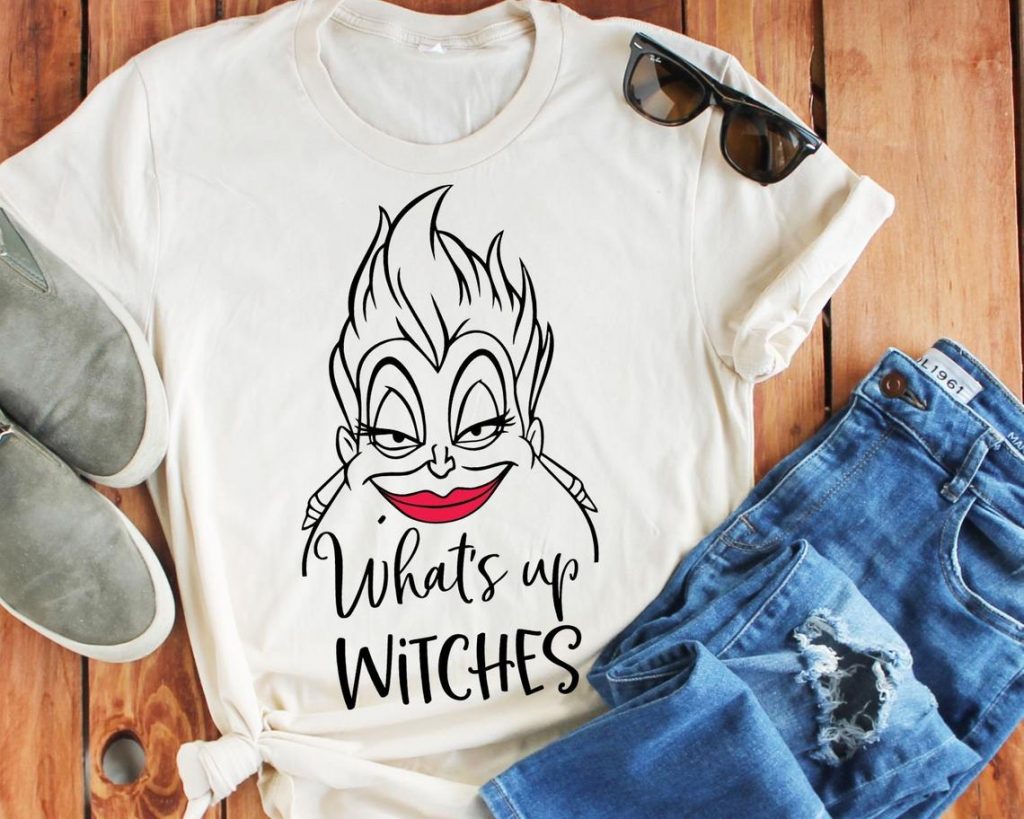 This is maybe our very favorite Disney villains shirt! We can't help but smile when we see this Ursula shirt, and we love Ursula's bright red lips!
We hope you love these villain tees as much as we do! Be sure to head to this post to learn all there is about the best (or should we say worst) Disney Villains out there!
Need a full costume? Here's the best villain costumes!
Want more Disney fashion? We've got you covered: