Jasmine is the sixth official Disney princess! She is from the movie Aladdin.
Aladdin was released on November 25, 1992 and is part of the Disney Renaissance Era. The movie was Inspired by the story of Aladdin and the Magic Lamp from "The Book of One Thousand and One Nights." Aladdin was the most successful movie of 1992!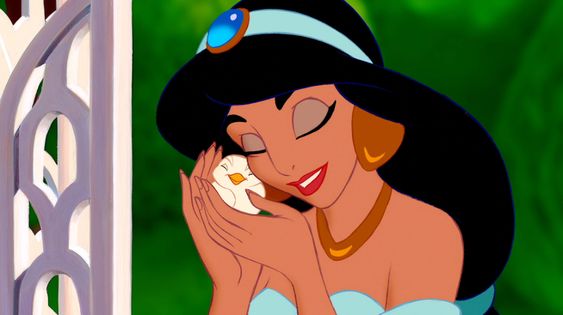 Aladdin Summary
Aladdin is a poor street kid who happens to meet Princess Jasmine when she is out escaping the demands of the palace. Aladdin's luck changes when he finds the Genie in the lamp in the Cave of Wonders.
Aladdin is offered 3 wishes from the genie. Afraid that Jasmine will not love him for who he is, Aladdin wishes himself into a prince in order to win the love of Princess Jasmine.
The villain, Jafar, wants the magic lamp for himself and uses a sinister plan to try and get the genie for himself. Will Jafar find the lamp? Will Jasmine find out who Aladdin really is?
Who is Jasmine's Prince?
Aladdin is Princess Jasmine's prince.
Who Voiced Jasmine in Disney's Aladdin?
Jasmine was voiced by the American actress Linda Larkin. Jasmine's singing voice was done by Filipina singer Lea Salonga. Check out some behind the scenes below!
Aladdin Movie Characters
Jasmine is the princess – daughter of the Sultan of Agrabah. Her mother has died.
Aladdin is Jasmine's love interest.
Jasmine's pet tiger is Rajah. Aladdin's pet monkey is Abu.
Jafar is the Sultan's advisor and the villain in this movie. Jafar has a pet bird named Iago.
The Genie (of the lamp) is a fan favorite.
9 Fun Facts About Disney Princess Jasmine
Jasmine is unique to the Disney Princesses in that she is a secondary character in Aladdin, playing Aladdin's love interest rather than the main character.
She is the first princess to have her speaking and singing voices done by different actresses.
Jasmine is 15 years old, making her the second youngest princess. (Snow White is the youngest at 14.)
Jasmine can speak several languages.
Jasmine is the only princess to not have a dress as part of her "official costume."
Jasmine is the first princess who is not Caucasian.
Jasmine is the first one to marry a commoner.
Jasmine is the only female character with a name in the movie "Aladdin."
Jasmine is known for being independent and rebellious.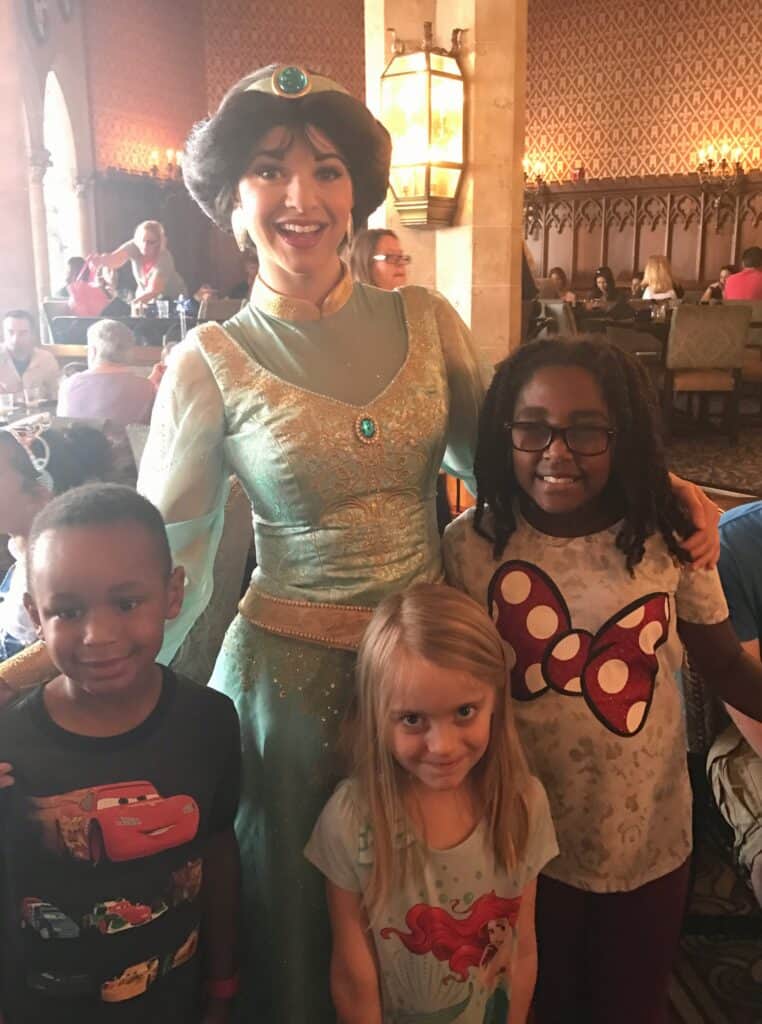 What to say to Jasmine at Walt Disney World:
What to ask Jasmine when you meet her at Disney World:
1. Ask her how the genie is – is he free or back in his lamp!
2. Ask her what she would wish for if she had 3 wishes.
3. Ask her if she still goes for rides on magic carpet.
4. Ask her if it is a good idea to have a tiger for a pet.
What song does Jasmine sing?
Jasmine sings "A Whole New World" with Aladdin.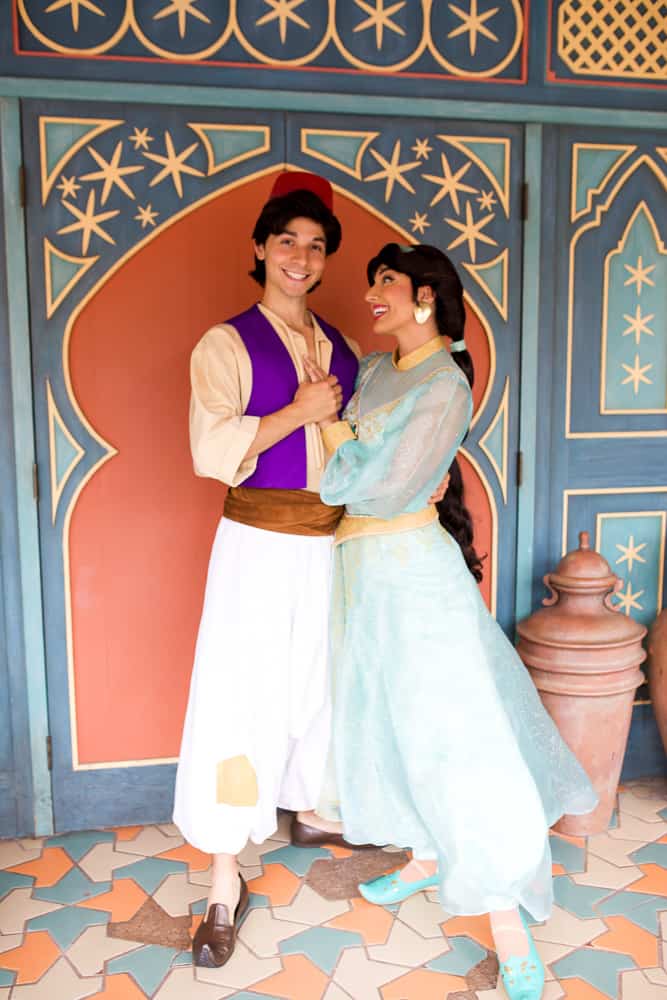 Jasmine Quotes
"The law is wrong."
"How dare you — all of you! Standing around deciding my future."
"I choose you, Aladdin."
"You cannot break into a palace, like you own the place."
"When I'm way up here it's crystal clear that now I'm in a whole new world with you."
"If I do marry, I want it to be for love."
"I am not a prize to be won."
"Who are you? Tell me the truth."
"I've never had any real friends."
"It's all so magical."
"Unbelievable sights. Indescribable feeling."
"A whole new world with new horizons to pursue."
"Oh wise sultan, how may I serve you?"
"I just had the most wonderful time. I'm so happy."
Jasmine FAQ
Is Princess Jasmine Arab or Indian?
Most people believe Jasmine to be of Arab descent, as the movie opens with the song "Arabian Nights" and Jasmine's outfits are similar to what Arab women wear.
Is Princess Jasmine 15 years old?
Yes, Princess Jasmine is 15 years old in the movie "Aladdin."
Who was Princess Jasmine modeled after?
Animator Mark Henn modeled Jasmine after his sister, Beth.
Is Princess Jasmine a real story?
The story of Jasmine is a fictional story. Jasmine is loosely based on Princess Badroulbadour from the Aladdin fairy tale in the One Thousand and One Nights storybook collection.
Official Disney Princesses
How well do you know all the Disney princesses? Who is your favorite? Check your Disney princess knowledge here: