One of the most fun things about Disney World is wearing Disney themed outfits! We love bringing a bunch of Disney graphic tees since they're super easy to pair with most things and are super versatile.
Don't be hesitant about wearing a Disney themed shirt on your vacation – it only adds to the fun! You will find that many people at Walt Disney World wear Disney themed shirts – adults definitely wear Disney shirts and you will not be out of place!
For our last trip we bought a bunch of Disney graphic shirts from Amazon and their selection continues to grow. Buying Disney shirts from a retailer like Amazon before your trip helps you to save money because you are not purchasing Disney clothes in the Disney parks.
Clothing in the Disney Parks can be extremely expensive. Buying tees before your vacation will help you stay on budget.
Here a few of our favorite Disney tees for your next Disney vacation!
17 Disney Graphic Tees for Women
Disney With Dave's Daughters is a participant in the Amazon Services LLC Associates Program. This post may include affiliate links which means I may earn a small commission if you shop using the links below at no additional cost to you. 
This graphic tee is great because it doesn't scream Disney. You can wear this any time – in Disney World or at home – and nobody would think twice!
We love tees that says the word "magic" in it for our Disney trips, and this one is one of our favorites. This would be a great one to wear in the Magic Kingdom.
Who doesn't love Tinker Bell? We love this tee that says "All you need is faith trust, and a little pixie dust." If only pixie dust were real, right?!
One memory we love from Disney is watching the fireworks at the Magic Kingdom and having Tink fly directly over our heads. If Tinkerbell is one of your favorites, this shirt is for you. This one is perfect to wear in the Magic Kingdom!
Fun fact: The quote on this shirt is often attributed to Tinker Bell, but it is actually said by Peter Pan!
*If you love Tinker Bell, check out our favorite Tinker Bell quotes!
If Disney is your happy place you will love this shirt! We love walking down Main Street, USA and seeing Cinderella's Castle. It truly does make us happy. This is a shirt that is perfect for wearing at Magic Kingdom or anytime you're missing your happy place!
Do you love Minnie Mouse? Us too! Show your love for Minnie with this fun Minnie Love tshirt!
We adore love the classic red polka dot bow on Minnie's head. This would be super cute while wearing Minnie Ears on a headband!
*Find our favorite Minnie Mouse quotes here!
We can all agree that Disney is magical, right? This "Magic Vibes" t-shirt is very fitting for your Disney Vacation! We love that this castle t-shirt has a vintage style to it. This shirt comes in seven different colors and seven sizes!
Sticking with the magical theme, we adore this shirt! How many times have you said that Disney is "the most magical place on Earth"? If you're anything like us, you've said it a lot!
We love the fun vibrant colors on this tee and the fun Mickey Mouse ears on there!
This tee is extremely affordable and comes in a ton of different colors and also in mens sizing. This shirt is perfect for wearing in any of the Disney Parks!
This is another one of those shirts that you can wear both in and outside of Disney and nobody will think twice. We love all the music from Disney movies so this shirt with lyrics from Cinderella is one of our favorites!
*If you love Cinderella quotes like this one, you need to check out our complete list of the best Cinderella quotes!
It might sound cheesy but we truly feel like we come home when we are at Disney World. We also love when we get to our hotel on the Disney premises and the concierge says "Welcome Home!"
This shirt sums up those feelings perfectly! It also comes in Mickey Mouse ears instead of Minnie Mouse ears and also in grey! This would be a great shirt to consider if you want to match with your husband.
Similar to the black shirt earlier, this women's tee has bits and pieces from all the Disney Parks on it! It has the EPCOT ball, the tree of life from Disney's Animal Kingdom, and a vintage Disney's Hollywood Studios logo!
Goofy is one of Katie's favorite characters so we are especially fond of him being on this shirt! It also has Dave's favorite Disney snack on it – a Dole Whip!
We like the reminder to "never grow up" as being at Disney helps remind us of what it was like to be a kid. And as Walt Disney said, "That's the real trouble with the world. Too many people grow up."
(Want an EPCOT specific shirt? Check out this post!)
Our dad is known as someone who always says things are the "BEST EVER" so these tees are perfect for our family! And let's be real, when you're at Disney it's hard to not have the best day ever!
We love the Minnie Mouse ears and bow for all of you Minnie Mouse fans out there!
This shirt also reminds us of Rapunzel when she escapes from her tower and is yelling "BEST DAY EVER!"
This is a very customizable shirt option. This shirt comes in many colors! You can get it it in a short sleeve shirt style or a racerback tank top style. You can also choose a different color print on the shirt!
*We love Disney Princesses! Check out all you need to know about all the Disney Princesses here!
If you want a Mickey Mouse tee instead of a Minnie Mouse tee, here is one more "Best day ever" t-shirt option you might like! Let's be real, any day at Disney is the best day ever!
This short sleeve graphic t-shirt comes in several colors and styles for both women as well as men and children. The whole family can enjoy wearing this shirt!
Check out this shirt in a long sleeve option here (as well as tons of other long sleeve options!)
Anyone else feel like they're done adulting and just want to go to Disney? It can't be just us.
This t-shirt is perfect for those days at home when all you want to do is go to Disney World! Or maybe it's how you announce to your family or friends that you booked a trip. Either way, we love this Disney tee!
On Wednesdays, we wear pink! Minnie Mouse is classic Disney so packing a Minnie shirt or two is a great idea for your Disney vacation! We love this adorable top with stars, pink flamingos and Minnie dressed in pink! If you or someone you know is all about that pink life, this is for her!
*Head here for some fun facts about Minnie Mouse we bet you didn't know (like her real name!).
Can't choose your favorite Disney princess? With this one you don't have to!
You'll be able to show your love for all the Disney Princesses, all at once! This shirt has Jasmine, Tiana, Cinderella, Ariel, Aurora, Belle, and Snow White. This is perfect for when you meet the princesses and get their autographs at Disney.
This shop has tees that come in sizing for the whole family!
Fun fact: this shirt is missing a few of the official Disney Princesses! Can you name the ones that are not there? Go to this post to see if you were right!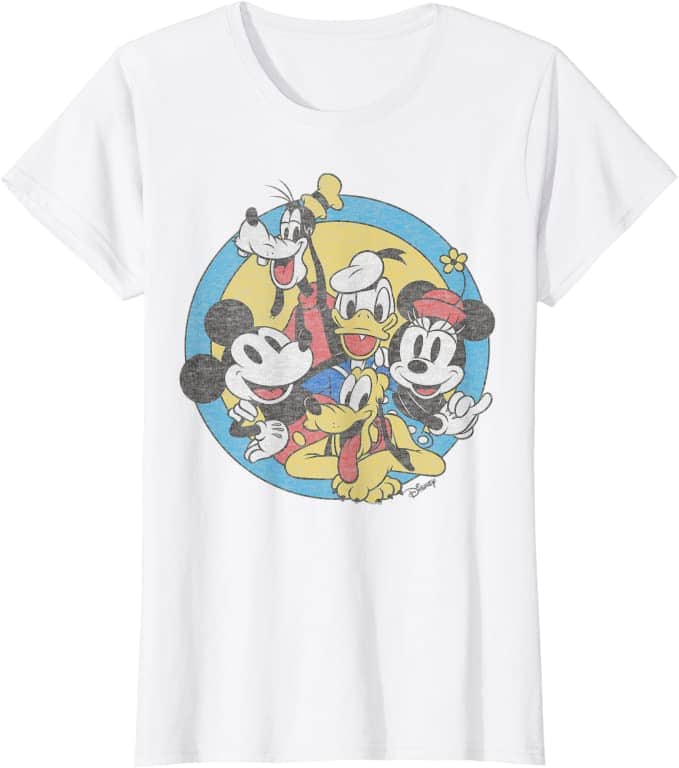 You can never go wrong with the original Disney crew! This t-shirt has all your favorite characters – Mickey Mouse, Minnie Mouse, Donald Duck, Goofy and of course, Pluto!
We love how this shirt has a vintage, used look to it. It will never go out of stye! This is another t-shirt that comes in women's sizing as well as men and kids.
*Head here for Mickey Mouse quotes or Minnie Mouse quotes!
Heading to Aulani, the Disney resort in Hawaii? Or maybe a Disney cruise? Or perhaps you just love flowers and Mickey Mouse?
Whatever the reason, this floral Mickey Mouse t-shirt is a fun floral way to show your love for Mickey!
Oh the villains of Disney. You gotta love to hate them, right? If you're a big fan of some of the cruelest villains around, this shirt is for you!
*Find even more about the 13 Worst Disney Villains on this post and even more Disney Villains shirts here!
Hopefully you have found one or two of these Disney t-shirts that you like! We can guarantee that you will not regret joining in the fun of wearing a Disney shirt at Disney.
You can head here to view even more Disney shirts from Amazon and to find tons of reviews!
It is a blast to walk around Disney and to see all the different types of tee that people are wearing! We definitely recommend putting at least one of these graphic t-shirts on your packing list.
Want more Disney fashion? We've got you covered:
Attention moms and dads! While you are thinking about what to pack on your Disney trip, you may find it helpful to check out tips for traveling with small kids and these travel favorites to make going on vacation easier!