If it were possible to be on vacation all the time, we would be visiting Walt Disney World regularly! Unfortunately, that isn't reality. One thing we love to do is to bring bits of Disney magic home with us.
We love how Disney magic brings the whole family together. Another thing that brings us all together is a board game! Combine the two and you have a magical evening around the table, playing fun games as a family.
We grew up playing games as a family, and now Jen and Katie play games with their own kids. Playing board games is a great way to spend quality time together as a family.
Disney With Dave's Daughters is a participant in the Amazon Services LLC Associates Program. This post may include affiliate links which means I may earn a small commission if you shop using the links below at no additional cost to you. 
Disney has infiltrated the board game industry and has given a Disney spin to some of our favorite classics. There are also newer games that we love that Disney has put its magic touch on. Lets take a look at our favorites!
Best Family Board Game
Ages: 8 and up
Players: 4 or more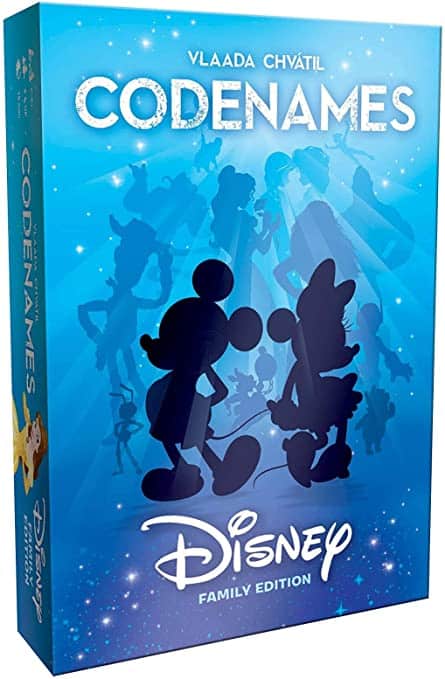 Our family LOVES the original Codenames. It is our "go to" game and has brought an insane amount of laughter and a little bit of irritation. We love that Disney has a version of this game out!
Disney Codenames uses both pictures and words – the clue giver must give a one-word clues to their team and the teammates must to try to identify the Disney items on the cards.
You can play this game with just pictures if you have younger kids who can't read, making this a great game for a variety of ages. There is also the option to play a 4×4 grid or a 5×5 grid.
We earn a commission if you make a purchase, at no additional cost to you.
Best Family Game for Preschoolers
Ages: 4+
Players: 2-6
This is another game that our family actually owns. This game is great for preschool age kids who are just beginning to understand how board games work.
The game board for this game is full of your favorite Disney characters and places. You will see Peter Pan, Arendelle, Radiator Springs, and even Alice in Wonderland.
The Eye Found It games are cooperative games. The player spins the spinner and then moves a certain number of spaces.
During some roles, the group must find a certain item on the board and then every player moves ahead one space for each item found. The goal is to get to the end before the clock strikes 12!
Ravensburger World of Disney Eye Found It Board Game for Boys and Girls Ages 4 and Up - A Fun Family Game You'll Want to Play Again and Again
What you get – Disney Eye Found It Game comes with 1 Six-foot Game Board in three sections, 4 Movers, 4 Mover Bases, 1 Spinner, 10 Mouse-Ear Tokens, 30 Search Cards, 1 Sand Timer, and Game Rules...
Clear instructions – easy to learn with a clear instruction manual. Learn to play in less than five minutes!
Develops critical skills – this game helps children practice their focus, memory, object identification, matching skills, and promotes cooperation and teamwork.
Characters you love – enjoy fun pictures of all your favorite Disney, including Mickey Mouse, Belle, Tigger, Tinker Bell, Buzz Lightyear, Alice, Woodie, Elsa and many more.
Great for kids and families – Eye Found It not just a great game for kids, but is also perfect for adults to join in on the fun. It takes just 15 minutes to play, and less than 5 minutes to teach!
We earn a commission if you make a purchase, at no additional cost to you.
Best New Board Game
Ages: 9+
Players: 2-6
This is a new game that was released in September of 2020. Disney fans will recognize the rooms of the Haunted Mansion in Disneyland! Players go through each of the rooms and collect cards.
This is a strategy game where the goal is to collect as many ghosts as possible before the end of the game. The catch? You never know when the game is going to end! Beware of those hitchhiking ghosts!
Disney The Haunted Mansion - Call of The Spirits: Magic Kingdom Park Edition Game
Socialize with the Happy Haunts by collecting matching sets of ghost cards.
Explore all the classic rooms of the ghost-infested manor, from the festivities-filled Ballroom to the Attic and out to the Graveyard and beyond in search of spirits.
Beware of the Hitchhiking Ghosts, who are notorious for "following you home" as that may spell your doom in the end!
Move around the mansion by rotating the Endless Hallway around Madame Leota's Séance Room, collecting Ghost cards in front of them in sets, each of which are worth different point values.
We earn a commission if you make a purchase, at no additional cost to you.
Best Disney Game for Families with Teens
Ages: 10+
Players: 2-6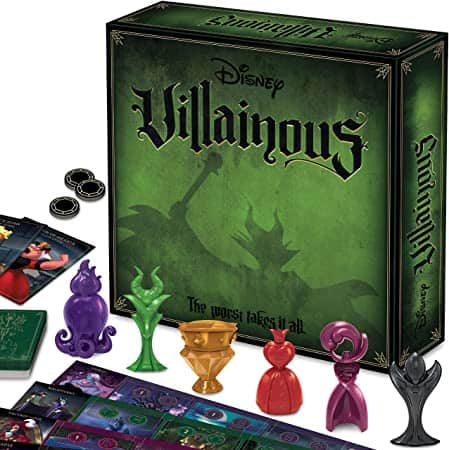 This game is great if you have older kids at home. Embrace your dark side and play with Disney villains – choose between Captain Hook, Maleficinet, Ursula, Prince John, Jafar, and the Queen of Hearts.
Each player has their own board as well as their own special abilities and specific character goal. You want your villain to achieve his or her goal as fast as possible.
This is a really fun Disney board game. It gets incredible reviews and won the 2019 TOTY Awards. That being said, we put this in the teen category because this game can be complicated and will take about 45 minutes to play.
Ravensburger Disney Villainous Strategy Board Game for Age 10 & Up - 2019 TOTY Game of The Year Award Winner
Characters you love - In this asymmetric board game, choose from 6 iconic Disney Villains - each with their own sinister objectives & goals. Disney Villainous comes with Captain Hook, Maleficent,...
Great for Disney fans and families - Whether you're playing with a group of devoted Disney fans, classic strategy gamers, or with your family, Disney Villainous is perfect for any game night occasion...
Clear instructions - Easy to learn with clear instructions! Each of the 6 villains has their own guide, and these guides will inspire you with strategies and tips for crafting the most successful plan...
Compatibility - Disney Villainous can be played as a standalone game or with the other games in the Villainous line: Evil Comes Prepared, Wicked To The Core, and Perfectly Wretched.
2019 Game of the Year - Disney Villainous won the prestigious 'Game of the Year' Award at the 2019 TOTY Awards.
We earn a commission if you make a purchase, at no additional cost to you.
Best Game for Elementary Age Kids
Ages: 7-15
Players: 2-4
We have been eyeing this game for a while now! This is the classic Apples to Apples game with a Disney twist. The red cards have words as well as pictures from Disney theme parks, Disney movies, and Disney television shows.
The Disney edition of Apples to Apples has a twist – poison apple cards! These will turn the game upside down so watch out!
We earn a commission if you make a purchase, at no additional cost to you.
Best Disney Trivia Game for Families
Ages – 7+
Players 2-6
This is a super fun trivia game that is geared towards families. Players draw a card and then make a wager/bet on how well they think they will do on that particular trivia question.
One fun twist on this game is guessing other players answers – this makes the game fun every time you play!
Pictopia-Family Trivia Game: Disney Edition
What you get - pictopia Disney comes with 200 trivia cards, 6 answer cards, 30 wager cards, 1 game board, 6 movers, 1 die, and 1 instruction manual.
Fun play experience - you can play a game of trivia in 25 minutes, and it's perfect for 2-6 players ages 7 and up, Which makes this a perfect gift for families who love to play games together.
Easy to understand instructions - high quality, Easy to understand instructions make it possible to start playing right away.
Great replay value - pictopia is a trivia game with a unique twist - guess-my-answer questions reveal how much players know about each other, meaning the game can be played over and over with...
Long term quality - Since its launch in 2007, Wonder Forge has consistently offered top-quality experiences, raising the bar for preschool and family games everywhere. The preschool titles celebrate...
We earn a commission if you make a purchase, at no additional cost to you.
Best Disney Game for Parties
Ages: 10+
Players: 2 and up
This game is perfect for large groups! Gather up your friends and play this fun trivia game where you will test your Disney knowledge. The categories include Disney animation, Pixar, Live action, Music, and Miscellaneous.
Because many of the questions are open ended (for example, "Name two songs sung by a prince, ") there are no correct answers on the trivia cards. This can be a positive or negative depending upon your family dynamics.
You can turn this into a bluffing game – did they actually know the answer or were they just pretending to know the answer? Or, simply have a phone or computer available to check answers!
We earn a commission if you make a purchase, at no additional cost to you.
Classic Board Games with a Disney Twist
There are a ton of classic board games that have been rereleased with a Disney theme. The games listed below are all inspired by the original game – some are played identically, and some have a fun twist.
Ages: 8+
Players 2-6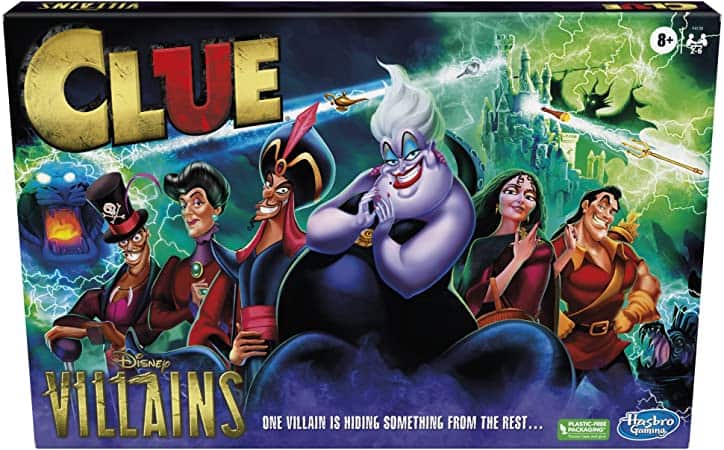 Inspired by the original Clue game! The magic has gone missing and players must determine "who, what, and where." Your favorite villains are the options of who: Ursula, Gaston, Lady Tremaine, Dr. Facilier, Mother Gothel, and Jafar!
Each room on the Clue board is one of the villains liars. Watch out for the Maleficient roll on the die – you will choose a chaos card and have to follow the instructions.
Clue: Disney Villains Edition Game, Board Game for Kids Ages 8+, 2-6 Players, Fun Family Game for Disney Fans (Amazon Exclusive)
A VILLAINOUS TWIST ON CLASSIC CLUE GAMEPLAY: Disney fans will love the Clue: Disney Villains Edition board game with artwork, characters, and gameplay inspired by classic Disney Villains seen in the...
PLAY AS CLASSIC DISNEY CHARACTERS: The game features favorite Disney Villains characters in custom glitter sculpts: Ursula, Gaston, Lady Tremaine, Dr. Facilier, Mother Gothel, and Jafar
WHO, WHAT, WHERE: Who stole the magic. Players move through each Villain's lair on the gameboard, trying to discover who stole the magic, which magical item they stole, and where they hid it
STIR UP TROUBLE: Roll the Maleficent icon on the die. Draw a Chaos card and follow her bidding. Battle other players and force them to reveal a card, or conjure a secret passage
GAME FOR FAMILY GAME NIGHT: Inspired by the classic Disney movies, this edition of the Clue game makes a great gift for Disney fans. It's a fun family game for ages 8 and up
We earn a commission if you make a purchase, at no additional cost to you.
If you love villains be sure to check out our favorite villain t-shirts!
Ages: 8+
Players: 2-6
This version of Monopoly game is very similar to the classic board game. You will find characters from all four of the Toy Story movies! Players can choose to be Woody, Buzz Lightyear, Bo Peep, Jessie, Alien, or Rex. The Chance and Community Chest cards are now Andy's Toy Chest and Birthday cards.
If you want to play Monopoly with your kids but they don't seem into it, try Disney Monopoly and see if they enjoy it!
MONOPOLY Toy Story Board Game Family and Kids Ages 8+, Brown/A
BASED ON THE TOY STORY MOVIES: This family board game celebrates all four of the Toy Story movies with character tokens, Andy's Toy Chest Cards, and Birthday Cards
PLAY AS A FAVORITE TOY STORY FRIEND: This Monopoly Game comes with 6 Toy Story character tokens including Woody, Buzz Lightyear, Jessie, and other memorable characters from the Toy Story films
GREAT FAMILY BOARD GAME FOR AGES 8 AND UP: With similar rules to the classic Monopoly game, families can ease right into playing this Toy Story edition of the game; it's designed for 2 to 6 players
EASY STORAGE FOR TOKENS: Includes a paper toy chest for easy token storage.
Skill Level: Intermediate
We earn a commission if you make a purchase, at no additional cost to you.
Ages: 6+
Players 2-4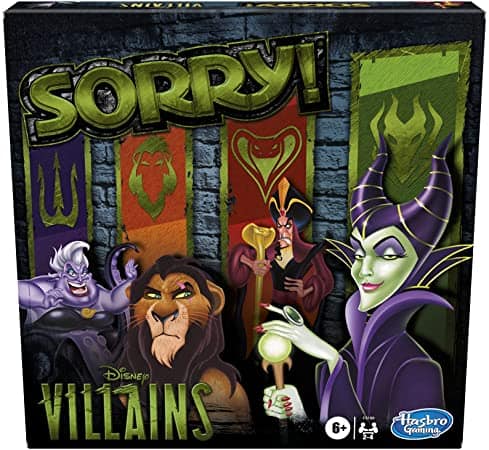 The Disney villains are really making a name for themselves! Here is another game that is similar to the classic Sorry! game. Each player gets four villain pawns (Jafar, Scar, Maleficnet, and Ursula).
Whoever gets their pawns back home first wins! Moves are determined by spell cards. Sorry! is a fun game to introduce both strategy and luck games to your kids.
Hasbro Gaming Sorry! Board Game: Disney Villains Edition Kids, Family Games for Ages 6 and Up (Amazon Exclusive) , Green
CHALLENGING AND EXCITING GAME: The Sorry Game Disney Villains Edition is a challenging game of strategy, chance, and luck. Moves are determined by the Spell cards drawn
FUN FAMILY GAME: Bring the family together for some board game fun; The Disney Villains edition of the Sorry board game is a great choice for players ages 6 and up
INCLUDES 16 DISNEY VILLAINS PAWNS: Each player in this Sorry board game gets 4 Disney Villains pawns. They can move around the board as Ursula, Jafar, Scar, or Malificent
SORRY GAMEPLAY WITH A DISNEY VILLAINS TWIST: This family game combines classic Sorry gameplay with a wickedly fun Disney Villains inspired gameboard, Spell cards, and Villain pawns
We earn a commission if you make a purchase, at no additional cost to you.
11. Disney Trivia
Ages: 6+
Players up to 6
This game has the feel of Trivial Pursuit – but Disney style! This game is designed for families to play and has special cards for the kids. Guaranteed to test your Disney trivia!
The Magical World of Disney Trivia
EXPERIENCE THE MAGIC—Explore the magic of Disney with a 6-player game that's as fun as it is a collectible work of art!
FUN FOR THE WHOLE FAMILY—Kids cards feature easier questions and visuals of the characters so the whole family can play together to their skill levels.
COLLECTIBLE EXPERIENCE—Featuring 3D sculpted points of interest from the films, classic character mover pieces, and a combination of Disney and Pixar original sketch art.
2,000 QUESTIONS—This game is perfect for superfans to casual viewers questions covering a wide range of Disney and Pixar stories!
We earn a commission if you make a purchase, at no additional cost to you.
Ages: 3+
Players 2-4
Here is a classic kids board game – Chutes and Ladders! Kids can choose one of the 12 official Disney princesses and try to get to the top first! This game board is very cute and has all the princesses on it, as well as some of your other favorite characters from Disney movies.
We earn a commission if you make a purchase, at no additional cost to you.
Hopefully this gives you some great options for your next family game night. Tabletop games are such a fun way to pass an afternoon or evening!
We highly recommend you read the reviews of the games before you purchase one for your family. For example, Katie's kids love playing "Life," but the Disney version of it gets bad reviews. Sometimes the classic games should just be left alone!
That being said, the Disney brand knows what they are doing so most of the times the Disney games will be a winner! These games would be a great gift for a birthday or Christmas for the Disney fan.
For more gift ideas, check out: