Love the Disney Princess, Mulan? Mulan, the eighth Disney princess and the first one who wasn't born of royalty or marrying a prince, is also the first Disney Princess of Asian decent. She's strong and independent and her movie shows her bravery and strength in a beautiful way.
Disney movie is a Disney Princesses are a core centerpiece of the Walt Disney Company. Besides Mickey Mouse, Minnie Mouse, and the original gang (Pluto, Goofy, Donald and Daisy), princesses have become a staple of Disney.
Young girls everywhere usually have a favorite princess from one of the Disney movies.
The Disney princesses have really taken on a whole life of their own. There is an entire princess franchise! Disney definitely has capitalized on the success of the Disney princess movies.
There are 12 official Disney Princesses.:
Snow White (Snow White)
Cinderella (Cinderella)
Aurora (Sleeping Beauty)
Ariel (The Little Mermaid)
Belle (Beauty and the Beast)
Jasmine (Aladdin)
Pocahontas (Pocahontas)
Mulan (Mulan)
Tiana (The Princess and the Frog)
Rapunzel (Tangled)
Merida (Brave)
Moana (Moana)
The films that these princesses have been in have become classic Disney films that have etched themselves into our culture. Even if you have not seen each of these Disney princess movies, you likely know the general story line. You can probably pick each princess out of a lineup!
What Is the criteria to be a Disney Princess?
The criteria for being a Disney princess can vary depending upon who you ask. Generally speaking, the criteria to be one of the official princesses is the following:
The character must have a central role in her film.
The character must be human or have a human appearnce.
The character must not be the star of a sequel.
The character must be royal by birth or marriage – or – the character must perform a heroic deed.
The film cannot be a failure.
The character must have broad appeal.
Unofficially…the character must have an animal sidekick.
If you are familiar with the story of Mulan, you probably know she is not a princess by birth and she did not marry into royalty. If you are not familiar Mulan's story keep reading!
Mulan Synopsis:
Mulan is a Disney animated film released in 1998 by Walt Disney Pictures. The film Mulan is the first Disney princess of Asian decent to be based on the Chinese legend of Hua Mulan.
Mulan is the main character of the movie, "Mulan." She is a young woman and the only child in the Fa family. When the Hun Army invades China, her aging father is about to be drafted into the Chinese military.
Concerned that her father will not survive, Mulan disguises herself as a boy and joins the army in her father's place. 
Mulan becomes a trained warrior among fights alongside her fellow soldiers. She is assisted by Mushu, a dragon sent by Mulan's ancestors to help her. Shan Yu is the antagonist in this movie. He is the commander of the Hun Army, responsible for genocide across China.
The Hun arm continues to advance on China, and it becomes up to Mulan to save her people and bring honor to her family, all while attempting to keep her real identity hidden. Li Shang is a commander in the Chinese military who later becomes Mulan's love interest.
Is Mulan a Disney Princess?
Mulan is not royal by birth or marriage so she is not a princess, however, Mulan IS a Disney Princess!
Disney princess mythology says that someone who performed a heroic deed is allowed to be considered a princess. Due to her bravery in the film Mulan is the eighth official Disney princess!
How is Mulan a Disney Princess?
Mulan meets all the requirements of being an official princess. Here is how Mulan meets every requirement:
She is the main character in her movie.
Mulan is the female protagonist in her self titled film.
She is human.
She is not the star of a sequel -more on that below!
Mulan performed a heroic deed by risking her life to save her father.

The story of Mulan is on bravery and heroism – Mulan is the hero of her own story!

Mulan was a huge success, and even has a live-action remake.

The original animated feature grossed $120 million in the USA and Canada, making it the second highest grossing family film of the year.

Mulan has broad appeal and the film was well received!

Mulan's character was well received by little girls everywhere.

Her animal sidekick is Mushu – the lovable dragon!
Mulan received high praise from the Emperor at the end of the film. She was given a position of power on the Emperor's council. Mulan, along with several of the other princess in the 1990s, were active, adventurous, and did not follow the stereotypical "princess" story line. (Think of Jasmine vs. Aurora, for example)
What about Mulan II?
You may be wondering about Mulan II, the sequel to Mulan. Mulan is the main character in Mulan II and she does marry a prince. However, this movie is not considered part of the Disney canon.
Mulan II was a direct to video sequel produced by DisneyToon Studios.
Mulan Live Action Remake Troubles
The live action remake of Mulan is considered part of the Disney canon. It was directed by Niki Caro and had a much more difficult release than the original animated film in 1998. Due to the pandemic, the release date for this movie was changed several times.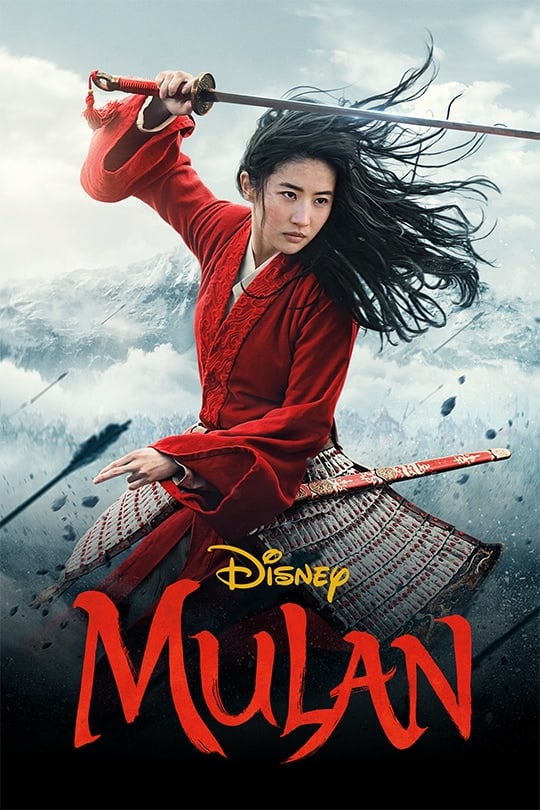 Once the film was finally ready for viewing, it received mixed reviews by both critics and fans. Many said that the live action film was too different from the original (for example, no Mushu, no singing, no li Shang).
Controversy also surrounded the film being partly filmed in China. Overall, the live action version of Mulan is considered subpar to the original.
Mulan Products
Mulan products have made their way into our world and we love it! Mulan is an amazing role model for young girls and we love embracing her, Chinese culture, and her beautiful signature colors!
Disney Princess Royal Shimmer Mulan
This doll would be so fun for your little girl to play with! This dress has Mulan's signature colors and long hair to play with.
Disney Princess Royal Shimmer Mulan
Doll features a shimmering gown in her signature colour
Gown has ideal design that sparkles and shines
Skirt is removable
Collect all 11 dolls (each sold separately)
We earn a commission if you make a purchase, at no additional cost to you.
We have costumes for all the Disney Princesses here – you will love variety of options for Mulan! We have both the hanfu warrior costumes and a dress that matches this doll.
Mulan's Storybook Adventures Lego Kit
Enjoy retelling Mulan's story over and over with this fun Lego kit! Bonus – the pieces come in their own storage case!
LEGO Disney Mulan's Storybook Adventures 43174 Creative Building Kit, New 2020 (124 Pieces)
Open this LEGO Disney Mulan storybook, and you'll find an adorable micro-world packed with micro-dolls, incredible details, action and adventure!
Kids stretch their creativity as they train for battle with Disney's Mulan and Li Shang in the wintry setting or drink some tea in Mulan's garden
Little princess fans will be thrilled to play with their favorite Disney Mulan characters Mulan, Cri-Kee, Khan and Li Shang in micro size!
This LEGO Disney Mulan toy sparks imagination, offers endless build-and-play fun, and is an action-filled holiday, birthday or anyday gift for kids ages 5+ who like Disney princesses, Princess Mulan...
With the open book measuring over 9" (23cm) wide, 4" (12cm) deep and 3" (8cm) high, this awesome playset is big enough for new adventures or packable for on-the-go fun
We earn a commission if you make a purchase, at no additional cost to you.
Thomas Kincaid Disney Dreams Mulan Puzzle
This is a beautiful puzzle that has features from China on it! You will enjoy putting this one together with your family.
We earn a commission if you make a purchase, at no additional cost to you.
Funko Mulan Mushu and Cricket Pop Vinyl Figure
These Funk figurines are so fun! You will enjoy displaying these on your desk or bookshelf – or letting your kiddos play with them!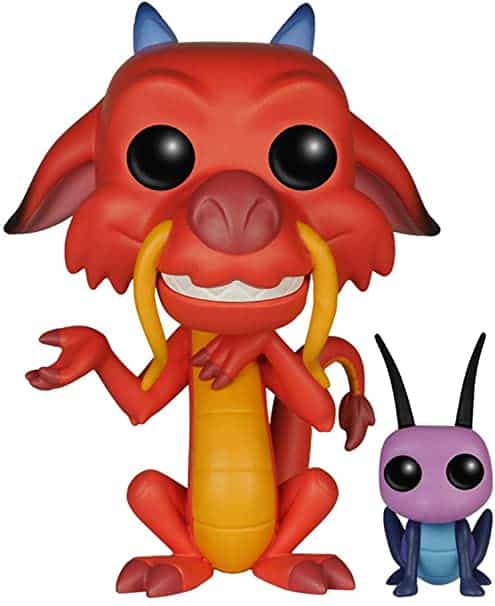 We earn a commission if you make a purchase, at no additional cost to you.
Mulan Quote Keychain or Bracelet
This keychain (or bracelet!) has the following Mulan quote: "The flower that blooms in adversity is the most beautiful flower of all."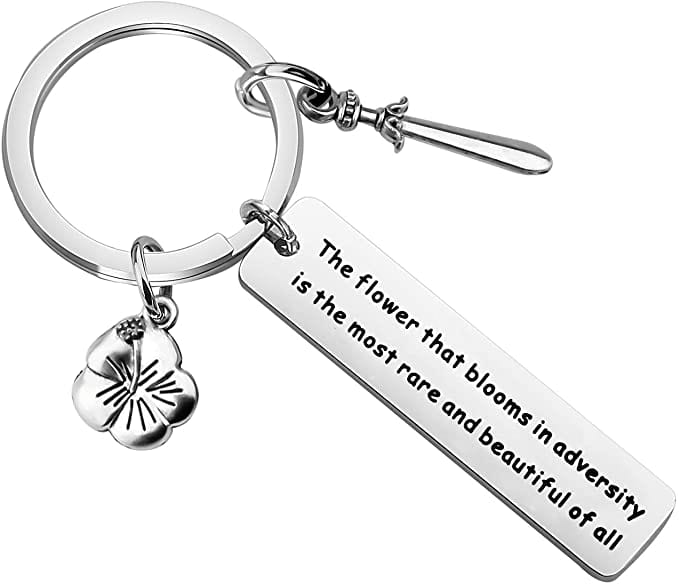 Mulan Quote Cuff Bracelet The Flower That Blooms In Adversity Is The Most Rare And Beautiful Of All Princess Bracelet Jewelry
"The flower that blooms in adversity is the most rare and beautiful of all" engraved inside, and a lotus engraved on the outside. Express your affinity for Mulan with this cuff.
The cuff bracelet is inspired from mulan,inspiration gift.
Material:Stainless steel, it is lead free and nickel free. Stainless Steel is hypo allergenic, it doesn't trust, change color or tarnish.
Size: width 7mm (0.27 inches), inner diameter: 6cm (2.36 inch), 2mm (0.08 inch) thick. TIPS: manual measuring permissible error.
PACKAGE Bangle will come beautifully packaged in a velvet bag jewelry pouches, and ready for gift giving.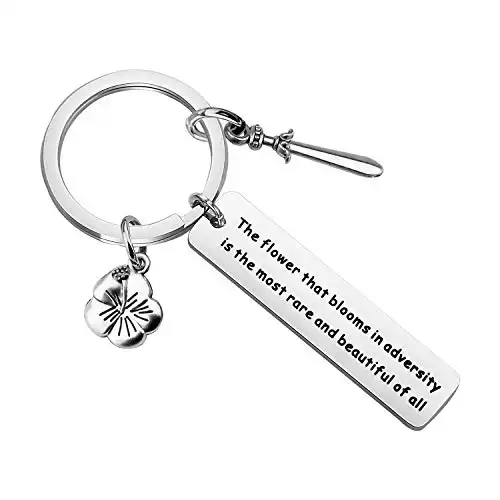 We earn a commission if you make a purchase, at no additional cost to you.
Be sure to check out an incredible Mulan manicure here!
To find out more about all the Disney princesses, check out this post. We have fun facts and exactly what to say to them when you meet them in Disney World! You can find Mulan in EPCOT in the World Showcase.
Do you have a VHS of Mulan, or any other Disney movie? Find out what it is worth here!