If you love the smells of Disney and want to bring them to your home, you're in for a treat! We've rounded up the best candles that will bring the smells of Disney into your home.
One of the best memory triggers is smell – you know exactly what Grandma's house smells like, fresh bread brings back memories, and a recently mowed lawn makes you think of summer!
We have a fun round up for you today – the candles that give you the best smells of Disney! When you burn these candles you will instantly be brought back to your favorite locations at Disney.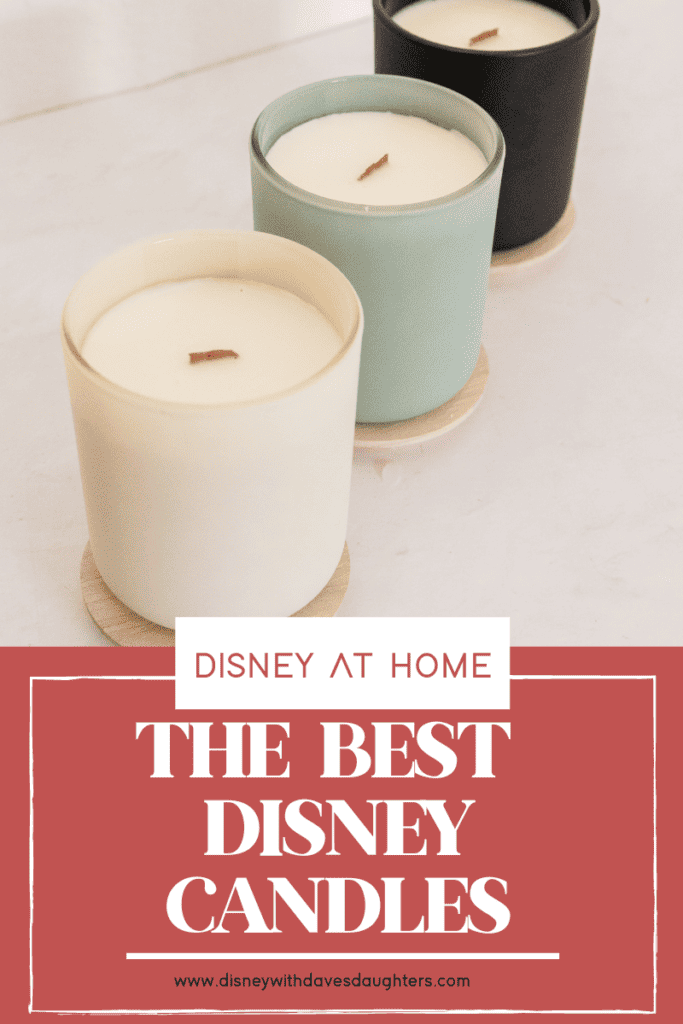 This post includes affiliate links.
History of Scents at Disney World
The Disney Parks use different scents throughout their resorts and parks to fully engulf you in the Disney experience. The use a unique "Smellitizer" technology to push a specific smell into the air. Think about it – the Pirates of the Caribbean has a totally different smell than Spaceship Earth!
This is all intentional to immerse you in the story of the attraction. Each of the hotels have their own signature scents! Crazy enough, even the parades have their own scents! Disney truly has thought of it all.
And science shows that some of your most preserved memories of all times are smell ones. I'm sure you all have that one scent that can immediately transport you back to your childhood, to a first date or maybe even your favorite store or hotel.
Disney fans have been scouring candle companies for years trying to find the best Disney scents to replicate in their own homes.
While it can be hard to find exact replicas, Disney scented candles do exist! There are some companies that specialize in Disney themed smells!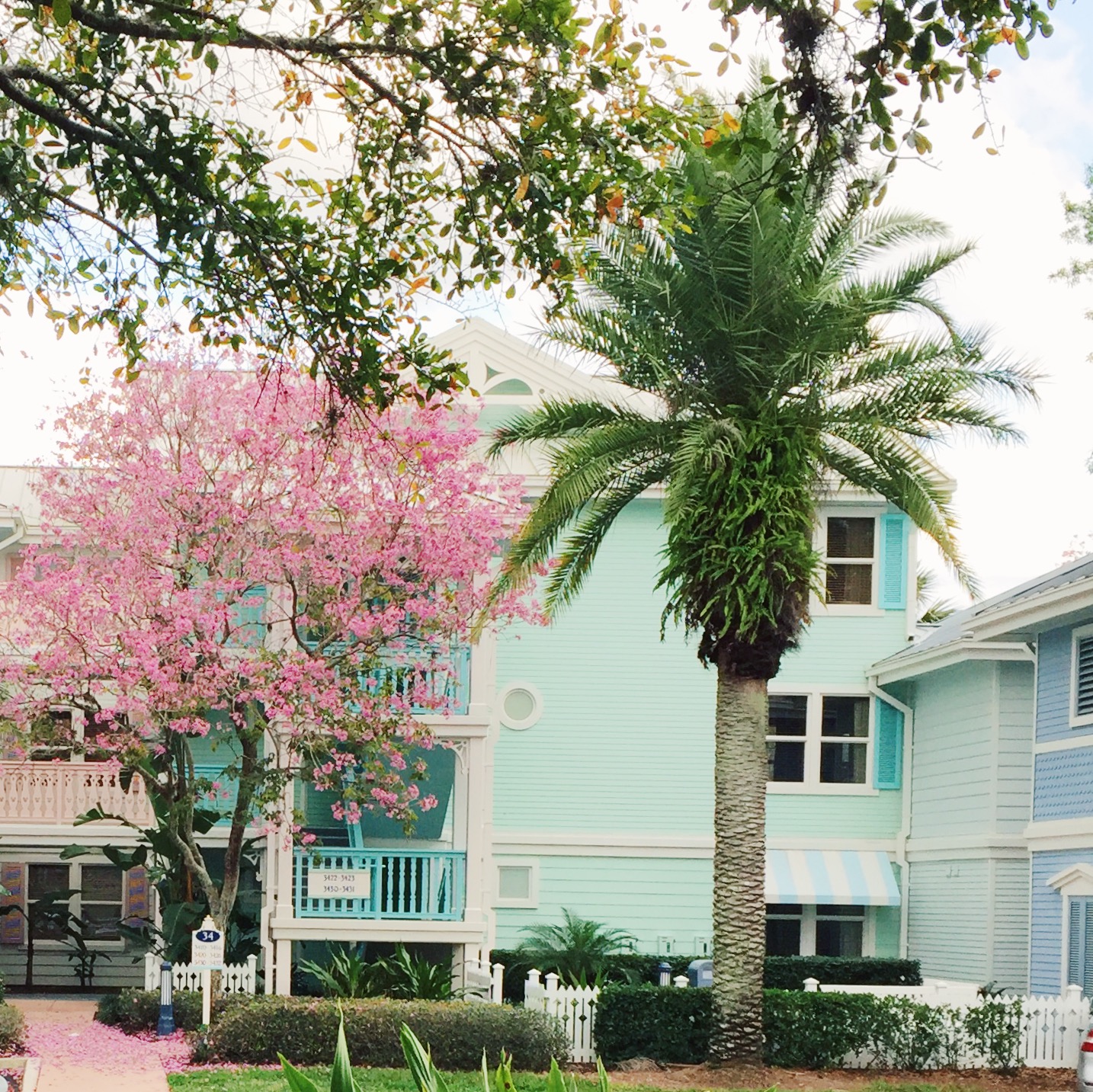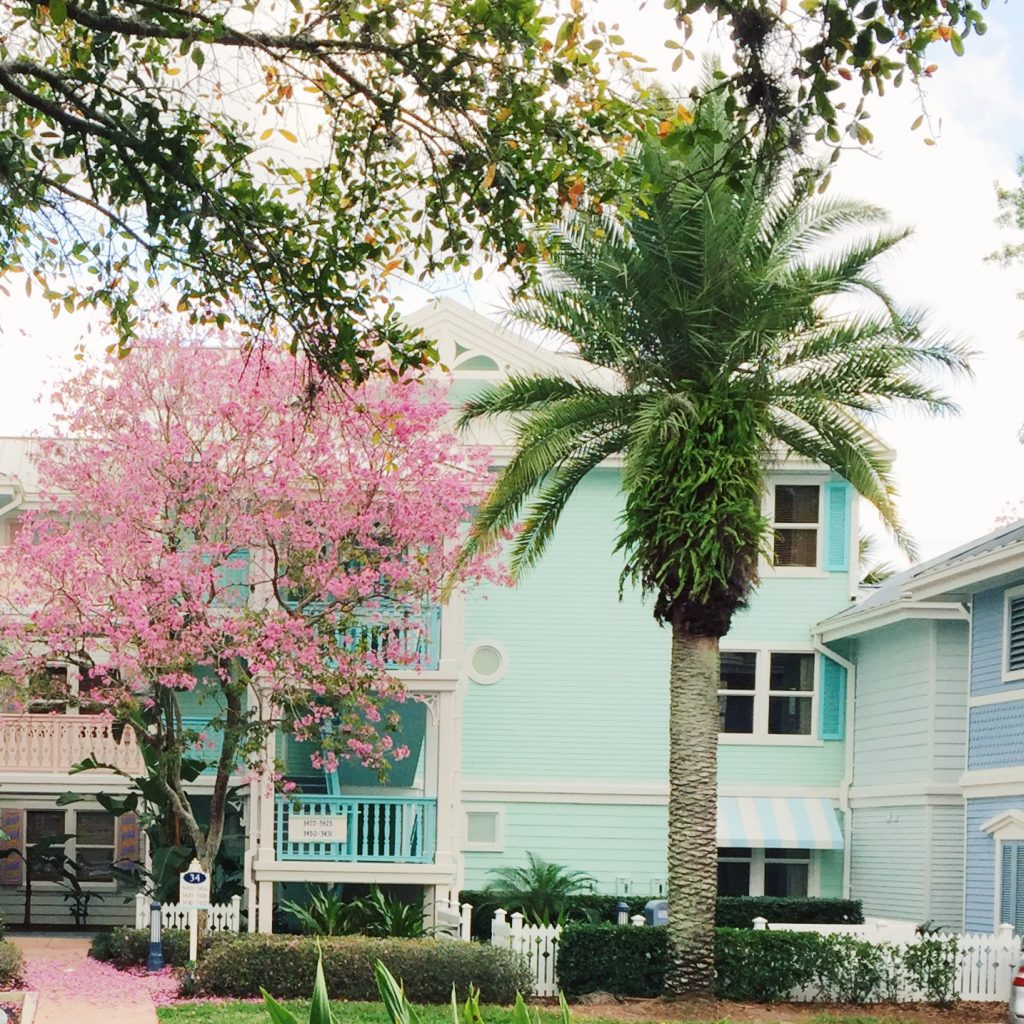 Best Disney Scented Disney Candles
If we have it listed below it is because many people say that particular scent of candle seems to be spot on. If you are looking for different candle scents, be sure to do your research so that your money is well spent.
The Magic Candle Company has a wide variety of products – they sell wax melts, room sprays, air fresheners, and fragrance oils – there is something for everyone!
Well, let's stop talking about it the smells and we will jump into how you can have those amazing Disney scents at your home!
Disney Candles That Smell Like Rides or Parks
Let's start of with candle scents that smell like specific rides or spots in one of the theme parks!
Pirates of the Caribbean
If a pirates life is for you try this candle! This is a great scent even if you don't love the attraction. This candle smells just like Pirates of the Caribbean.
You'll find smells of crisp air, driftwood and green apple. It will transport you back to the start of the ride!
Disney's PhilharMagic
This is one of our favorite 3D attractions in the Disney Parks. Disney Imagineers pipe in smells during the show – the apple pie one is super distinct! The champagne scented candle will also remind you of the show but is a more subtle scent if that is more your preference.
We have 2 candle options that spell like Disney's PhilharMagic!
The first candle option to try is:
With notes of honey-crisp apple cider you'll definitely be reminded of the apple pie scent during the show.
The other candle option is:
If champagne is more your thing, or you just want a scent that isn't a more autumn scent, this champagne toast candle has subtle champagne scents that will remind of of Disney's PhilharMagic.
Haunted Mansion
This seems to be the hardest scent to replicate in the form of a candle. The Haunted Mansion has such a specific smell – musty, old building, mold, sort of sweet, dust….but somehow it isn't a bad smell!
Nobody seems to have been able to exactly replicate the smell of the Haunted Mansion, but these candles come close with slight variations:
With mixes of cedar wood and vanilla, this candle would be a great addition to your annual Halloween party!
This candle gets even more spooky with hints of graveyard dirt, funeral flowers and musty attics. Yikes!
Plaza Ice Cream Parlor
The smell of this candle will bring you right back to the Ice Cream parlor on Main Street, USA!
Main Street Bakery
What's more Disney than walking down Main Street? It's truly one of our favorite experiences, walking hand in hand with family members, pointing out the Mickey balloons to kids in tow, smelling the distinct smells and of course, the view of the castle!
This candle seems to hit the spot for that amazing bakery smell you often smell while walking down Main Street.
EPCOT'S Soarin'
Flying on Soarin' is one of our top Disney rides in EPCOT (for those of us without motion sickness!). Soarin' gives us so many scents as we are flying around the world.
We actually found quite a few candles that evoke memories of that ride. The smells on this ride
This candle from Magic Candle Company has hints of oranges and fresh floral that will make you feel like your "flying over orange groves"!
Reviews all love this candle! Another candle full of notes of floral and oranges, this candle even has the coloring of an orange grove.
Flight of Passage Scent
The Flight of Passage attraction has been an incredibly hard scent to replicate. Disney came out with a Pandora The World of Avatar candle specific to the ride in 2022 but sadly it's now out of stock. We'll keep an eye on it to let you know when it's back in stock!
For those of you who are Target shoppers, this candle is a great option with hints of grapefruit, lavender and linen.
(We've also seen Disney fanatics say this candle is similar to Soarin' – perhaps Disney uses similar smells for these 2 rides!)
You can also keep a look out for Bath and Body Work's Frozen Lake candle. You can find this candle on Amazon. This is a seasonal scent so keep a look out in the winter to see if prices drop!
This candle is popular among people who love the Flight of Passage in the Animal Kingdom!
Walt Disney World Resorts Scents
Many of the Disney Resorts have their own special scent. If you have time during your Disney Vacation hop on the bus or monorail and visit some of the other resorts! They all have a different theme and even smell different from each other.
Polynesian Hotel
The official signature scent of the Polynesian is called Hibiscus Passion and is from a company called Scent Air. Unfortunately, Scent Air only sells to businesses, but lucky for you this Polynesian candle mimics the scent pretty well!
If you want to go through Scent Air you will want to choose the "Paradise Breeze" candle. Just know you'll have to order a fragrance machine as well as a scent cartridge. (Personally, we prefer just burning a candle!)
This candle has notes of hibiscus, teakwood, fruit, musk, citrus and palms. It's the perfect blend for a tropical smell!
Animal Kingdom Lobby
We love the Animal Kingdom lobby! It is so unique and you feel like you have been transported out of Florida. This candle will make you feel like you are back at the Animal Kingdom Lodge, ready to hit up Boma for dinner!
You'll find notes of earthy sage, talc and lemon-lime in this candle that will transport you back to the Animal Kingdom lobby.
Grand Floridian and Boardwalk & Contemporary Hotel & Beach Club Resort
Fun fact – the Contemporary Hotel, the Grand Floridian and the Beach Club all share the same scent! has a green aloe and clover scent when you walk in. Disney is now selling their own candle in celebration of their 50th Anniversary.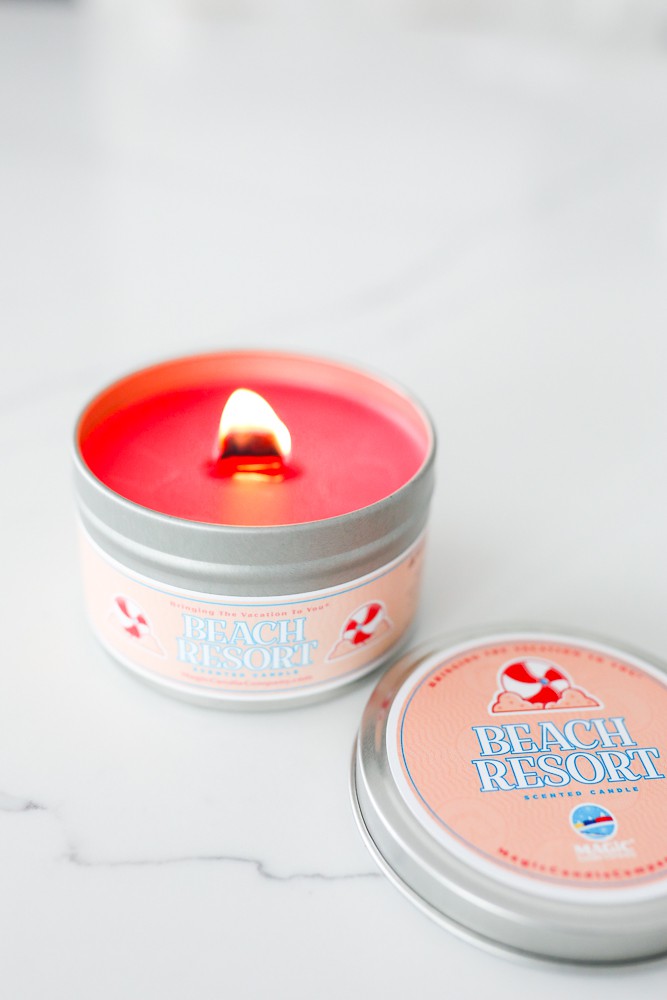 This is a new scent that smells just like the Contemporary. From what we can tell you can only purchase this candle at Bayview Gifts.
If you are in Disney during the celebration you may want to consider picking this candle (or a few) up! It would make a nice souvenir!
One thing we know about these resorts is that they have notes of green clover and aloe. These candles from Amazon don't look like much but everyone swears by how much they smell like these deluxe resorts!
Another candle with notes of green clover and aloe along with a few other scents is the Beach Resort Fragrance from Magic Candle Company.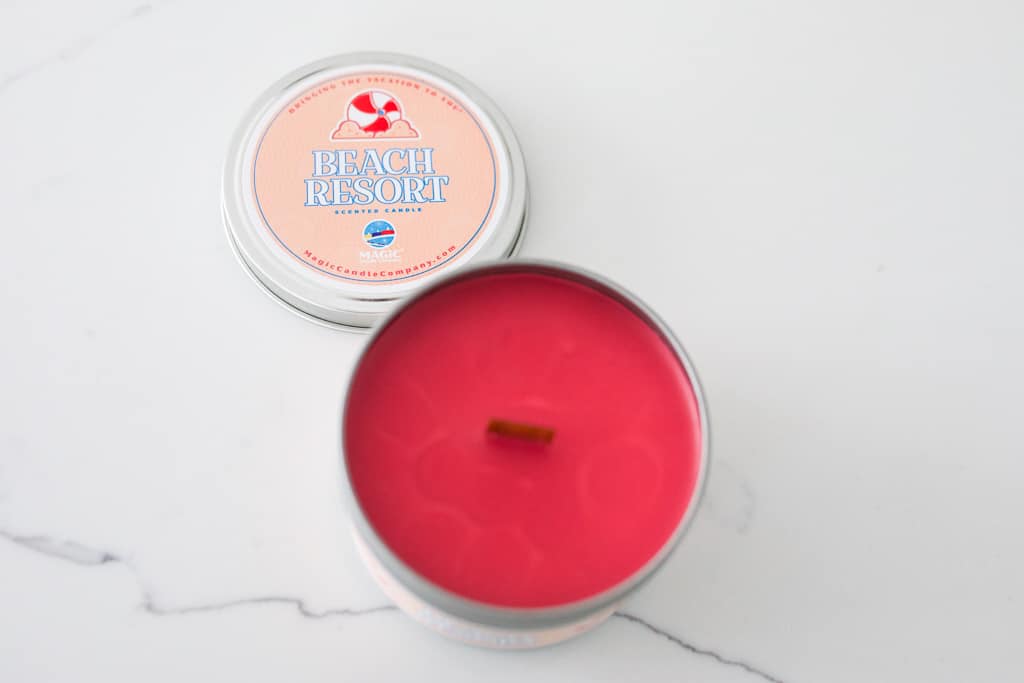 Candles That Smell Like Disney Food
Dole Whip
Another Disney staple is the Dole Whip. Sure, you can make it at home, but it sure doesn't taste as good as it does in Disney!
Close your eyes and this smell will have you at Aloha Isle Refreshments. If you love fruity smells this is a great candle for you.
We have 2 options for this one. The one from Magic Candle Company is seriously amazing! We also have a Bath & Body Works option for you too!
Churros
Of course we all love to munch on Disney snacks! This Spiced Vanilla candle will remind you of churros!
Main Street Popcorn
One scent you'll always smell, thanks to the refillable popcorn buckets, is the smell of popcorn!
Reed Diffusers
If diffuser oils are more your style there are great options for you available on Etsy! You can get that Disney like scent using reeds.
Try BibbidiBobbidiCandle who sells a countless number of Disney smells! You'll find food smells from Main Street, Soarin, Ariel's Grotto, the Tiki room, and more!
Time will tell if The Walt Disney Company will start selling some of their own themed signature candles. If they venture out beyond the 50th Anniversary Contemporary scent we think that they will for sure hit all our favorite scents spot on.
These are all some of the best loved candle scents out there. Candles are such a great way to bring Disney home. (Another great way to enjoy Disney at home is with your Disney pins!)
With your favorite scents burning in your living room, throw on your favorite Disney movie on Disney plus and you have made your home the (second) happiest place on earth!