Looking for matching Disney family shirts? Disney family shirts are such a great way to add to the magic of being in Walt Disney World. Whether you want to do pick matching shirts, picking your favorite character, there are tons of great options!
We always recommend packing at least one Disney themed t-shirt to wear while on vacation. You can make it themed (for example, wearing a Lion King tee when heading to the Animal Kingdom) or just of your favorite Disney movie or character.
As you pack your bags, we bet you'll have questions about what you need to pack. We have a post showing you what to wear each month in Orlando – and a Disney tee is a year round staple!
We have rounded up some of our favorite Disney family shirts and Disney graphic tees that your entire family will love!
22 Unique Disney Family Shirts
Please note: Disney With Dave's Daughters is a participant in the Amazon Services LLC Associates Program. This post may include affiliate links which means I may earn a small commission if you shop using the links below at no additional cost to you. 
1 | 2 | 3 | 4 | 5 | 6 | 7 | 8 | 9 |10 | 11 | 12 | 13 | 14 | 15 | 16 | 17 | 18 | 19 | 20 | 21 | 22
These shirts are everything you want in a Disney shirt – Mickey and Minnie ears, the castle, and even a classic Disney font! We love that these can be personalized for your entire family.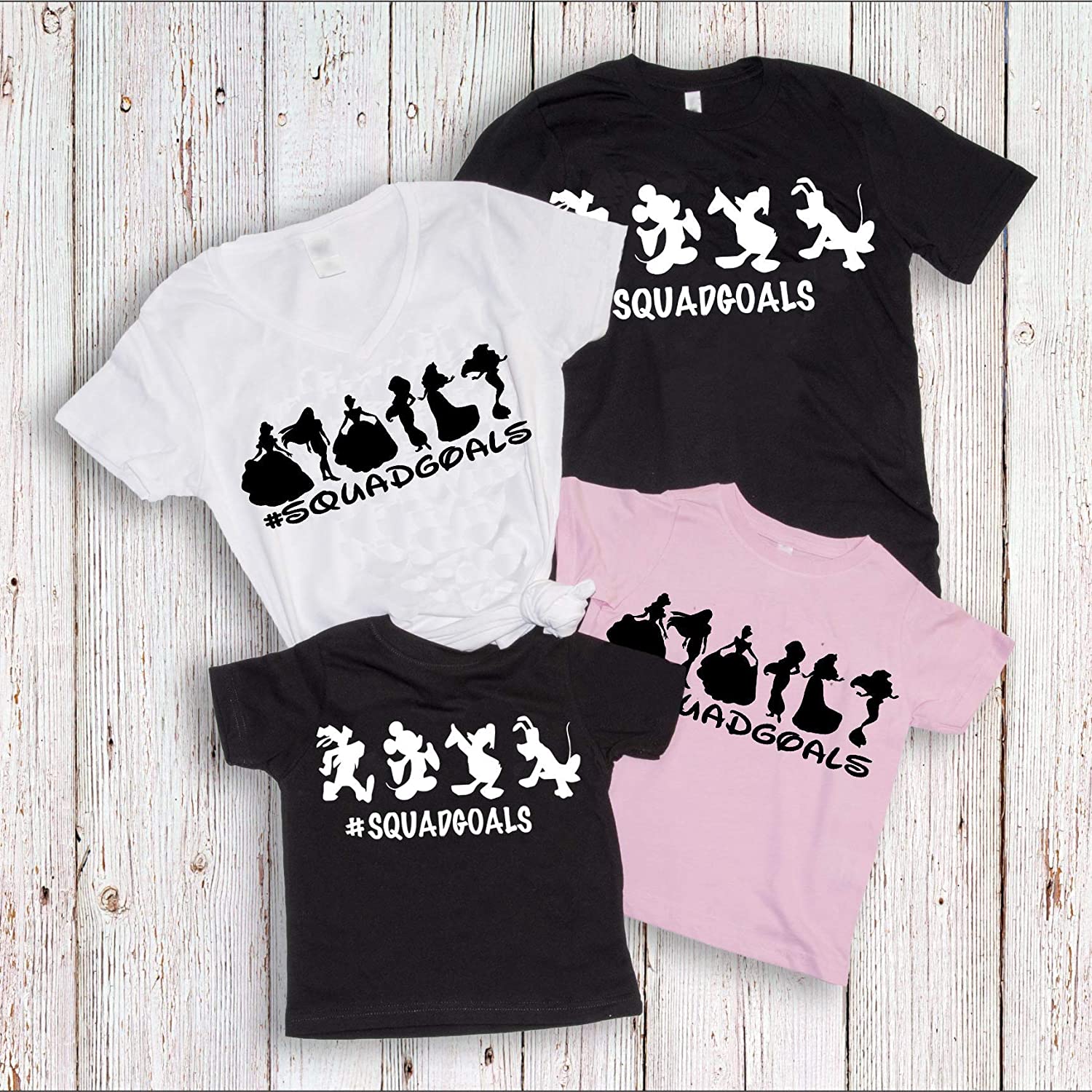 Disney Squad Goals…these Disney family shirts are family shirt goals! You can go with a princess theme or classic Disney characters featuring Goofy, Mickey, Donald, and Pluto. These some in pink, black, and white.
We love the idea of getting princesses for the girls – especially when you get to meet the princesses!
How about a Disney vacation shirt of a Minnie or Mickey head wearing sunglasses? We love it!
One of the best part of these cute Disney shirts is they go with EVERYTHING. Jeans, leggings, printed shorts, non printed shorts, Disney shoes….these are your go to Disney family shirts. We love the sunglasses on Mickey and Minnie!
These Disney t shirts are perfect if each member of your family has favorite characters! These would be a fun gift to give to your family when you arrive – you could choose a shirt that matches each person's personality! These are also able to be personalized.
We love how unique these Mickey and Minnie shirts are. Black with gold images in the shape of mickey and Minnie, these shirts encompass a lot of Disney in one shirt. You will enjoy looking at each of the silhouettes of the characters on this shirt!
For the family that loves "vacation tees," this one is for you! Disney family vacation with the year, this is a shirt that you will enjoy wearing in the future to remind you of your Disney Vacation.
Classic Disney is one of our favorites that can be worn to any of the Disney parks! These shirts can be personalized to say whatever names you like. Great for all families – sizes start at 2T and go up to 2xL! This style even comes in tank tops for those hot summer days.
Here is another personalized family vacation shirt! You can get your family's last name on this shirt with an image of the princess castle on it. We really like the colors of these shirts! This is one of favorite "family vacation" tee shirts.
Similar to the black shirt above, this shirt has Disney characters that make up the images of Mickey and Minnie. This has a more classic Disney theme with red, white, and black colors.
We love these pocket Disney shirts! These are perfect for the family who wants to wear something themed but not go over board.
These would be a great Disney t-shirt if you have tweens or teens who don't want to wear a bright pink princess shirt! We have a round up of other Disney gear teens and tweens will love, so be sure to check it out!
Star Wars Disney themed shirts – yes please! The force will be with your family when you wear these Star Wars t-shirts! These would be perfect to wear when you go to Star Wars Galaxy's Edge at Hollywood Studios!
We love these Snow White themed tee shirts! Find a character that fits the personality of every person in your whole family!
We love the colors that these shirts come in and the wide variety of characters to choose from. Fun Fact – did you know some of the name options for the Dwarfs included Burpy and Dizzy? Get the run down here!
We love these "chill" Mickey and Minnie disney shirts! These shirts come in gray, blue, black or white and can be personalized with the name of each family member for no extra charge.
This Disney World shirt comes in both t-shirts and tank tops and will fit anyone in your family – sizes range from newborn onesies all the way to adult 5xl. 
We love these Mandalorian themed family shirts! These shirts are perfect for your day at Hollywood Studios. These shirts come in a huge variety of colors, so you will be sure to find one for each member of your family. Sizes range from 2T to 2xl and come in both t-shirt and tank top options.
Continuing the Star Wars theme, these unique Disney shirts take Star Wars characters and add Mickey Ears to them to create these fun, unique, family t-shirts!
Choose from 21 different Star Wars characters and add personalize these shirts with your name. These shirts come in v-necks, tank tops, and t-shirts and come in sizes 2T to 3xl. 
With four different design options, these will make choosing a family shirt difficult! Every time we see a "Most Expensive Day Ever" shirt we have to laugh, because yes, Disney is so expensive!
Best Day Ever and the Lets Do This shirts are classic and cute – and of course, you can't beat the snacks at Disney World! (In fact, we have a whole post dedicated to the most popular snacks a Disney World!) These shirt options come in 5 colors and range in sizes from newborn onesie to adult 5xl
Love Snow White and the Seven Dwarves? We have a great shirt for you and your lovable crew.
Pick one of the seven dwarfs, choose one of 20 available colors, choose a size, and you are off to Disney World with your family! These seven dwarfs shirts are a fun way to match without being matchy. Comes in sizes newborn to 5xl.
These ice cream cone t-shirts are so summery and fun. Choose either a Mickey version or a Minnie Mouse version with a bow! These shirts come in a variety of styles and sizes, including a racerback style for women.
Let everyone know you are the happiest family in the world when you are in the happiest place on earth with these fun t-shirts!
We love how these shirts encompass so many parts of Walt Disney World – Epcot, Mickey (optional Minnie bow!), and the castle! These shirts come in a variety of colors in fun, summery shades. Sizes range from toddler 2T to adult 2XL
If you are a princess family these shirts are for you! Choose from a variety of princess shirts – including Princess Leia! Each shirt has a quote or phrase that goes along with each princess.
These shirts are better for a family with older kids as the sizes come in small to 4xl. Be sure to check out other Disney inspired clothes and gear for teens and tweens!
Is your family incredible? If so, consider getting these Incredbles t-shirts! These shirts can be personalized with whatever name you choose. We love that these come in many sizes and a variety of styles, including tank tops and raglan!
Arrrrr Matey! If the Pirates of the Carribean at Magic Kingdom is your jam, these pirate Mickey and Minnie shirts are for you! These creative t-shirts have Mickey and Minnie wearing pirate eye patches and the classic pirate swords featured. These shirts can be personalized and come in seven different colors. Sizes range from infant to 3xl.
There is something so magical about Disney World – and we certainly hope that you and your family add to the magic by wearing Disney family shirts while at the parks!
We know your Disney vacation shirts will bring back great memories from your family trip every time you wear it. Don't forget to complete your outfit with Disney Ears and Disney leggings too!
Now that you know what you are wearing to Disney World, be sure to check out this list of 7 things you need to know before you go! For example, did you know you can't bring a selfie stick into the park? Find out other things you need to know in order to have a great trip!