Updated 2023
One of the best part about the holidays is curling up on the couch with a cozy blanket and watching a movie. We love Christmas movies here at Disney With Dave's Daughters – in fact, as a family, Christmas is our favorite holiday!
December is usually very cold here in Minnesota, so we have zero guilt about spending many nights in front of the TV with the family.
Here are our top five Christmas movies to watch on Disney+:
Home Alone
The Santa Clause
Muppet Christmas Carol
Miracle on 34th Street
A Christmas Carol (starring Jim Carrey)
We have rounded up some of the best Disney movies available to stream right now on Disney Plus. We haven't seen all of these – yet! We have included storyline synopsis by many of the movies and personal notes by some of our favorites!
Please note, this is not an extensive list of all the Christmas movies available on Disney+.
The Best Christmas Movies on Disney Plus (For Families, Kids & Grown Ups)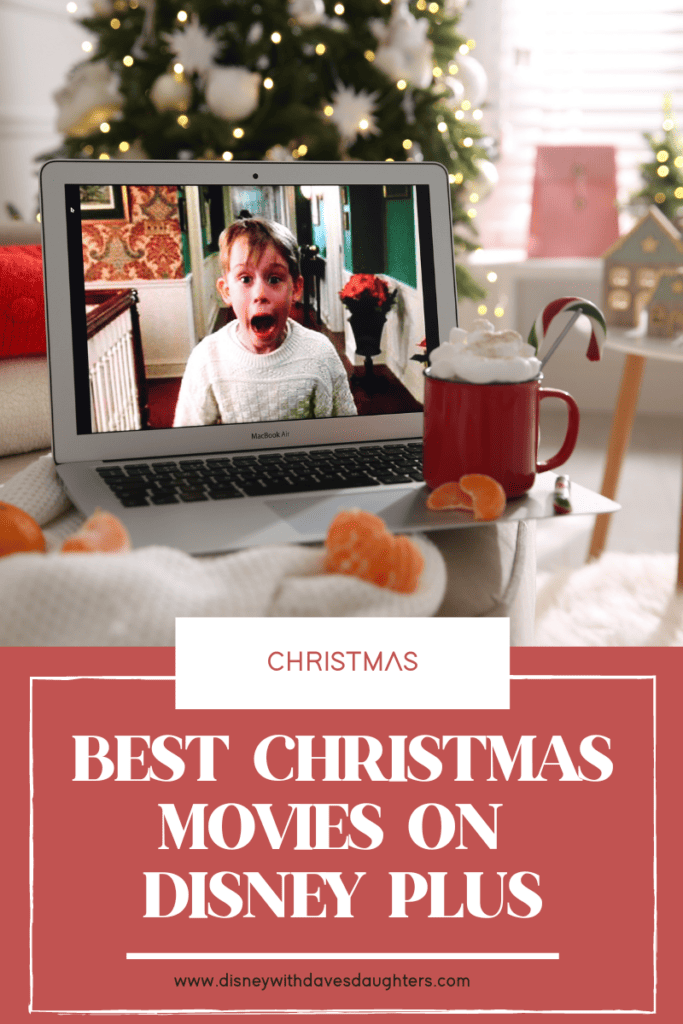 The Best Disney Christmas Movies on Disney Plus For the Family
Here are our suggestions for Christmas movies that the whole family will likely enjoy! Be sure to check these out and watch the trailers to see if these would make good movies for your particular family dynamics and preferences.
(We have our favorite non Christmas family movies here!)
Home Alone (1990)
Does it get any more classic than Home Alone? Kevin is left home while his family goes on a trip to Paris. Chaos ensues as he has to protect his home from the Wet Bandits.
The Santa Clause (1994)
Scott Calvin finds that Santa has fallen off the roof of his home. When Scott gets in the sleigh he finds out that he has become Santa Clause! The Santa Clause is one of our favorite Christmas movies that we watch every year.
Of course, we recommend you watch the sequels! Santa Clause 2 (2002) and Santa Clause 3: The Escape Clause (2006). Sequels are rarely as good as the originals, but these are worth the time.
Tim Allen has brought back his character Scott Calvin for a mini series called The Santa Clauses. We are loving that this story continues and we can enjoy watching with our kids!
The Muppet Christmas Carol (1992)
My family loves all Muppet movies, and this movie is no exception! The music is catchy, the characters are fun, and it follows pretty close to the original storyline. There are a few parts that are a little intense (Christmas future scenes), but if your kids are elementary age and able to handle some darker scenes this is a great family movie.
A Christmas Carol (2009)
Jim Carrey is always fun to watch, and this movie is a good one! This movie was made in 2009 and has some 3D computer animation. Jim Carrey plays 8 characters in this movie and his acting ability really shines! This movie can be intense, especially with real characters, so be aware.
I'll Be Home For Christmas (1998)
A comedy adventure starring Jonathon Taylor Thomas. This coming of age movie came out in 1998 and features a comedy of errors as Jake tries to make it home for Christmas.
The Christmas Star (1986)
This 1986 movie stars prisoner Horace McNickle who escapes from prison due to his uncanny likeness to Santa Cause. Horace enlists the help of two girls who truly believe he is Santa in order to escape the police and recover his loot.
Search for Santa Paws (2010)
This is a great, feel good Christmas movie for families! Discover how the friendship of Santa Claus and Santa Paws began in this film.
Decorating Disney: Holiday Magic
Watch how Disney transforms its property into the most magical place on earth – Christmas style! You can find out more about Disney's Christmas celebration here.
The Nightmare Before Christmas
This movie is a "love it or hate it" story. Pumpkin King Jack Skellington tries to take over Christmas. This movie may be a one and done, or it may become a Christmas tradition!
The Best Disney Christmas Movies on Disney Plus For the Kids
Looking to pop on a holiday movie for the kids? Here are some movies that your kids will love to watch. Featuring their favorite classic Disney characters such as Belle and Mickey as well as new favorites such as Olaf, these are movies your kids will want to watch over and over all season long!
Mickey's Christmas Carol (1983)
This is an animated version of the Christmas classic with all your favorite Disney characters! A great way to introduce your kids to this heartwarming story.
Mickey's Once Upon a Christmas (1999)
Mickey, Minnie, Donald, and Goofy all gather together to reminisce about their favorite Christmases together. This fun movie is three smaller stories put together.
Mickey's Twice Upon a Christmas (2004)
Santa Clause joins Mickey, Minnie, and all their friends as they discover the joy of the Christmas season.
Beauty and The Beast: The Enchanted Christmas (1997)
Inspired by the classic "Beauty and the Beast" movie, Mrs. Potts tells a tale about a Christmas in the past. Court composer Forte tries to keep Belle and the Beast apart forever. Enjoy lovely songs, and themes of love and hope!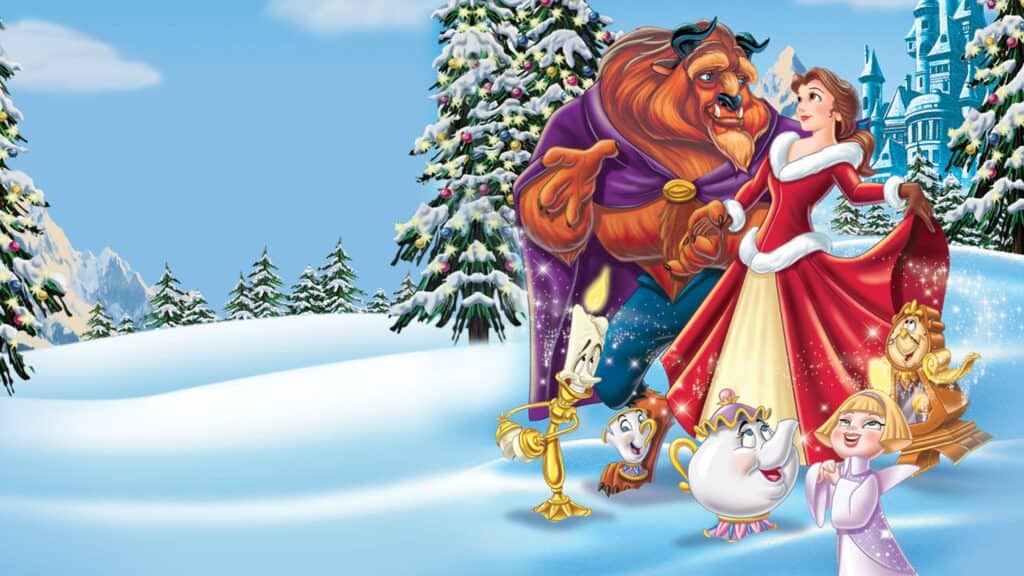 Olaf's Frozen Adventure (2017)
It is the first holiday season since the gates have reopened. Olaf helps Elsa and Anna create new Christmas traditions with the help of Sven!
The LEGO Star Wars Holiday Special (2020)
Rey, Finn, Poe, Chewie, Rose and all the droids come together for this movie that takes place on Life Day, the holiday first introduced in 1978's Star Wars Holiday Special!
The Best Disney Christmas Movies on Disney Plus For Grown Ups
As we always say, Disney isn't just for kids! These movies have more of a grown up feel to them, so sit down to watch these with your older teenage kids or by yourself with some hot chocolate.
Noelle (2019)
Kris Kringle's son, Nick, is struggling with the pressures of someday taking over for his father. His sister, Noelle, suggests he take some time away – and when he doesn't return, Noelle needs to find him to save Christmas.
The Nutcracker and the Four Realms (2018)
This version of the Nutcracker combines fantasy and action-adventure to give you a brand new version of this classic Christmas film!
Babes in Toyland (1961)
This 1961 classic would likely be enjoyed by the the whole family, but younger kids may struggle with this being a dated movie. This movie is a "first Christmas movie of the season!" movie for many families and will continue to be a holiday staple for years to come.
Miracle on 34th Street (1947)
This truly is one of the classics – made in 1947! If you have not seen Miracle on 34th Street be sure to put this on your list. This is one of those movies that everyone should see at least once.
There you have it! Christmas moves for the whole family all available to watch on Disney Plus. What are your favorites? We would love to hear from you! Be sure to wear your favorite Disney Christmas shirt or pajamas while watching!
Want to know about how Disney World decorates for Christmas? Head here!
If you want a blast from the blast, check out this post on what your Disney VHS tapes might be worth!