If you're heading to Disney World around Christmas one of the most important questions is when does Disney World decorate for Christmas?
Most decorations go up the first week of November. This can change year to year but that's the general timeframe.
When Does Disney World Decorate For Christmas
As soon as Mickey's Not So Scary Halloween Party ends for the season and Halloween decorations come down, the Disney World Christmas decorations start to be put up immediately.
In fact, as the Mickey Mouse shaped pumpkins come down, the Mickey Mouse shaped wreaths go up in its place in one motion. The decorating crew is good at what they do and they have a system in place that is done year after year so that it's done to perfection.
As good as Disney is with putting up decorations, please keep in mind that there is a ton to do in all the parks and it isn't literally done over night like some are led to believe.
If you are at the parks during the first week of November you will see a dramatic change right away but it will take a little bit before it is totally complete. This process always starts in early November.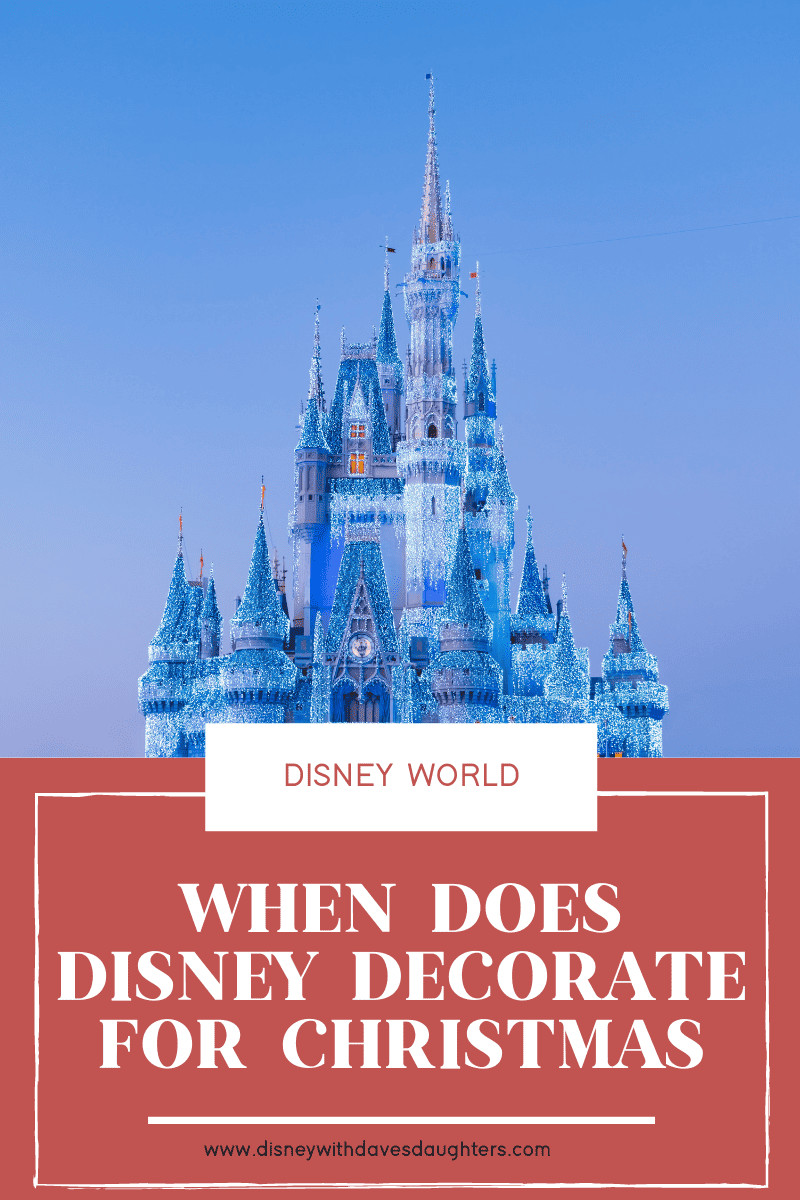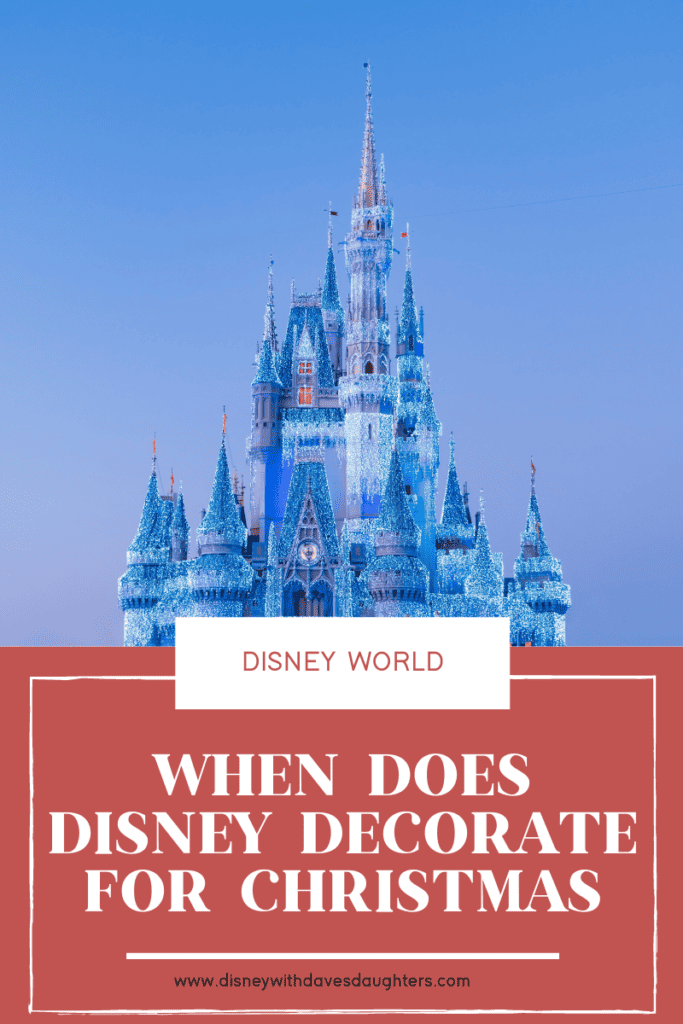 Keep reading for your complete guide to Christmas at Disney World!
Christmas at Disney World – Your Complete Guide
Christmas is the most wonderful time of year. Spending the Christmas season at Disney World…can there be a more magical time than that? We can't think of any!
When it comes to Christmas time and the entire holiday season, Disney knows how to do it right! During the Christmas season Disney World has over the top holiday decorations and perfectly themed entertainment and parades.
You will find all the holiday trimmings – sights, sounds, and smells of the holidays all around the entire Disney property. Disney gives us a multi-sensory experience. It is truly the best time to come to Disney World!
If you are making plans to be at Disney World during the holidays and want to make sure you are there with Disney Christmas decor bringing you into the holiday season, read on.
Let's look a bit more in-depth at when the Disney Christmas decorations go up as well as some specific holiday celebrations found in the parks, resorts, restaurants and shopping district found around the Walt Disney World Resort property.
Christmas at Disney's Magic Kingdom
If you didn't think it was possible for the most magical place on the planet, the Magic Kingdom, to get any more magical, then check it out during the holidays! The Magic Kingdom Christmas decorations are a sight to behold!
Starting with Main Street U.S.A. decked out like Christmas Town with all it's wreaths, lights and garland, you will move down the street toward the most beautiful Cinderella Castle you have every witnessed.
As your eyes smile with delight at the sights, your other senses will also be entertained with fun music of the season and smells that can only be associated with Christmas.
Attractions at Christmas
Attractions such as Jungle Cruise get a holiday face lift. For the holiday season, Jungle Cruise become "Jingle Cruise" with a fun Christmas theme from the Skippers while decorations adorn the boats and queue. This is especially a fun experience at night with the Christmas lights all aglow.
The Haunted Mansion transforms as well taking on Tim Burton's The Nightmare Before Christmas to give it a Haunted mansion Holiday feel. Monsters, Inc. Laugh Floor also has a cute transformation.
The Cinderella Castle is always a spectacular sight during the Christmas season. Not only is it decorated but Disney does an unbelievable job with all their projections on the castle!
Whether it is making it look like a whimsical Christmas sweater or transformed into a Frozen dream castle, Disney will illuminate it so your jaw will drop!
Photo Credit Alexis Larcy
Mickey's Very Merry Christmas Party
Disney has an after hours event called Mickey's Very Merry Christmas party which will be on select nights between November 8 and December 22. The price tag is a bit hefty with last year's prices varying between $159 and $199.
The party times occur from 9PM to 1AM, however, you can enter the park starting at 4PM. So what do you get with your ticket?
For starters because of the lower attendance (there is a cutoff for tickets), you get a super quick wait time for attractions that are available. Rides like Seven Dwarfs Mine, Space Mountain and Splash Mountain are just a few that will be open.
Holiday treats are also available from the kiosks during your time in the park which are complementary. These items include hot chocolate, snickerdoodles and others.
There will also be characters, stage shows, parades, holiday-themed Photopass, your favorite Disney Characters and other little fun items.
Christmas at Disney's Hollywood Studios
Typically the decorations at Disney's Hollywood Studios go up before those at the Magic Kingdom.
Sometimes you will start seeing holiday decorations as early as the middle of October. Hollywood Studios has great decorations as well giving the park that holiday magic.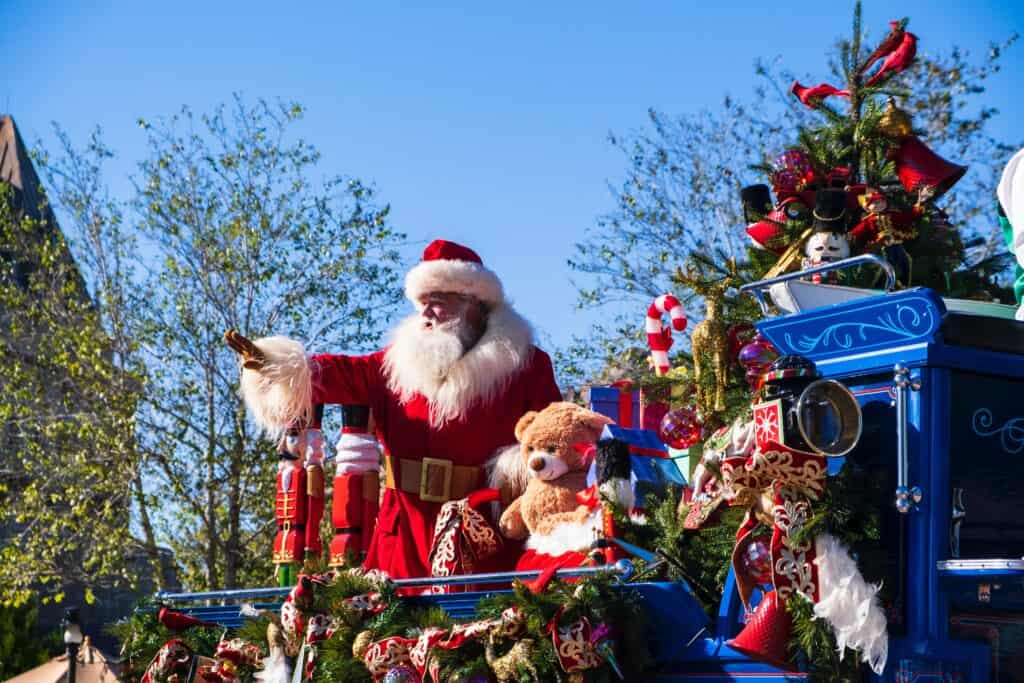 The best treat at this park is the nighttime shows: Sunset Season's Greetings and Jingle Bell, Jingle Bam! Another Hollywood Studio highlight is that Santa Claus makes an appearance in a red convertible!
Be sure to take walk down Sunset Boulevard to Hollywood Boulevard until you get to Hollywood and Vine for Minnie's Holiday Dine.
Christmas at Disney's Animal Kingdom
At the Animal Kingdom you will see the Tree of Life come alive with a musical score that will definitely put you in the holiday spirit. Nighttime is when this park shines!
Pandora, the World of Avatar is beautiful as is Asia and Africa Celebrations with glowing flowers, lantern and wonderful celebrations of the Festival of Lights in India.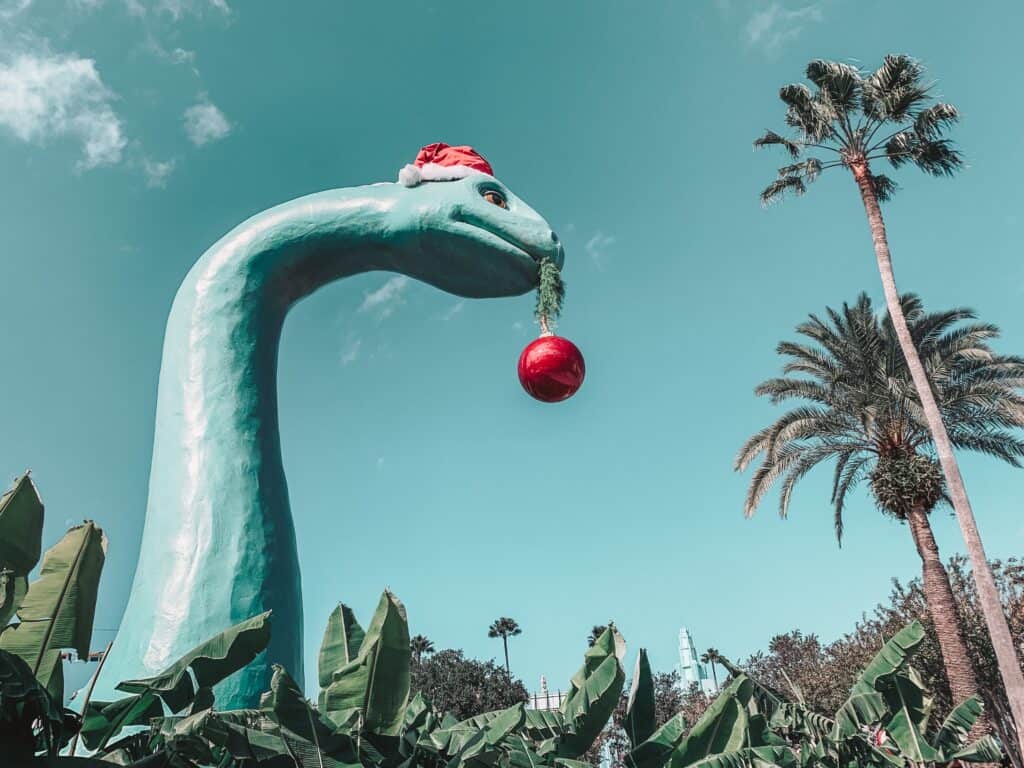 Christmas at EPCOT
As we mentioned before, Epcot is last to get a face lift for the holidays but it makes up for it with the Epcot International Festival of the Holidays in the World Showcase.
This huge event starts immediately after Thanksgiving and the Epcot International Food and Wine Festival has ended and lasts through December.
Formerly called Holidays Around the World, this wonderful event will immerse you in the sights, sounds, flavors, and stories of celebration as you make your way around the world.
The entertainment is off the charts including a Candlelight Processional, Celebrity narrator in each country, storytellers, top musical performances and so much more.
Every country has a wonderful holiday décor which is unique to the country you are visiting. Of course, beautiful gingerbread displays can't be missed!
Christmas at the Disney World Resort Hotels
The timeline for Disney hotels being decorated is hard to predict but it's fairly safe to say that by mid-November all the hotels will have all their festive decorations up.
Gingerbread House displays and massive Christmas tree displays at the hotels are absolutely stunning!
Staying at one of these resorts during this holiday time, whether it be at one of Disney's Deluxe Resorts (such as Disney's Animal Kingdom Lodge, Disney's Grand Floridian Resort or Disney's Contemporary Resort) or any of the other wonderful hotels will be an experience you won't forget.
You will truly be situated in the perfect place for a 24/7 Christmastime immersion.
Christmas at Disney Springs
Of course the wonderful Disney Springs is part of the holiday action when Christmas time comes around! Featured at Disney Springs is a Christmas Tree Stroll in which you can take a tour of the all the beautifully themed Christmas trees.
Wonderful treats, entertainment and of course Santa Claus are all found at Disney Springs too. One fun stop is Jock Lindsey's Hangar bar which evolves into Jock Lindsey's Holiday Bar! Be sure to check out the restaurants at Disney Springs to take in holiday decor.
The holiday season at Disney World is truly amazing! In terms of crowds, well, yes, they will be massive. But this special event that happens every year until early January is something we feel everyone should do at least once if they can.
Being at Disney World when Disney decorates for Christmas is definitely something to consider. Walking down Main Street USA on Christmas Day for the first time, watching a Christmastime parade as it moves down the town square and waving at a Christmas Minnie Mouse brings a joy that is hard to compare! The Disney World Theme Parks do the holidays right!
Be sure to pack your favorite Disney Christmas clothes for your trip! Our favorites are listed here. We also have our favorite Disney theme Christmas pajamas for the whole family here!