Can you believe that Walt Disney World is turning 50 years old in 2021? Disney World's 50th Anniversary is a huge occasion, and as we know, Disney sets the standard for celebrations!
Lets take a quick look back at the start of Walt Disney World.
On October 1st, 1971 the Magic Kingdom, along with 2 hotels – The Contemporary Resort and Polynesian Village Resort – opened for the first time.
Since then, there have been many additions including more parks, many more hotels and countless other elements that make up the Disney World we all know and love!
Did you know EPCOT also officially opened on October 1, 1982? As you can see, October 1 is a special date in Disney World's history. You can read more about Disney's expansion over the years here.
If you know anything about Disney World (and you do because you are on this site), you know they don't do anything halfway. What could be bigger than a 50th Anniversary?!
New attractions, refurbishments and decorations, costumes, and food are all in the works. Of course, special merchandise and souvenirs all are in the plan to celebrate 50 magical years of Disney.
Even though this celebration has been planned for many years leading up to 2021, covid might put a bit of a damper on the festivities. With closures of the parks and Disney enterprises globally being hurt financially, some cuts are being made but only time will tell just how much.
So what do we know? Here we go:
When does the 50th Anniversary Celebration begin?
Everyone wants to know when the celebration "officially" starts. Is it October 1, 2021? We now know that yes, the start of the huge celebration begins October 1, 2021.
Photo Credit Alexis Larcy
How long will Disney World 50th anniversary last?
The 50th anniversary celebration will last for 18 months! The celebration will run through March 31 2023, so don't worry about missing it if you can't be there exactly on October 1, 20201.
What new attractions will be ready for the 50th?
Remy's Ratatouille Adventure, which will be located in the French Pavilion in EPCOT. You will feel like you have shrunk down to the size of a mouse as you go on this 4D culinary adventure. Opening October 1, 2021.
TRON Lightcycle Rollercoaster, which will be located in Tomorrowland in the Magic Kingdom. This is the biggest addition to Tomorrowland since Space Mountain!
Guardians of the Galaxy: Cosmic Rewind will be located in EPCOT's World Discovery area.
Mary Poppins will be located in the United Kingdom in EPCOT. We are hearing this has been postponed but hopefully will get back on track and be ready for the 50th.
Moana Journey of Water, located in EPCOT. As with Mary Poppins, we will need to stay tuned to see if this is completed in time for the celebration.
Mickey & Minnie's Runaway Railroad, located in Hollywood Studios where the Great Movie Ride used to be, is actually already open!
Play! Play!, located in EPCOT is an interactive city where guests will be able to interact with Disney Characters.
Disney Kite Tails – located in the Discovery River Amphitheater in the Animal Kingdom, this is a brand new live show! Kites and windcatchers in the shape of some of your favorite Disney Characters (Simba, Baloo, and more) dance to iconic Disney music.
What new restaurants will be ready for the 50th?
Space 220 We have been waiting since 2019 when it was supposed to be opened for EPCOT's Space 220 but it will be worth the wait if it opens for the Anniversary.
Roundup Rodeo BBQ in Toy Story Land in Hollywood Studios should be up and running for the celebration.
Regal Eagle Smokehouse: Craft Drafts and Barbecue is feeding folks in EPCOT's American pavilion. This restaurant is open and ready for business now!
La Crêperie de Paris located in the French pavilion that will offer both table and quick-service options.
Any new fireworks related to the 50th?
Glad you asked! Disney is being real tight lipped about this but there is something big brewing in the fireworks department!
Big update! We now know that beginning on October 1, 2021, a nighttime spectacular called "Disney Enchantment" begins. This sounds like it will be an incredible show featuring music, lighting, fireworks, and immersive projection that will extend from Cinderella's castle all the way down Main Street, USA.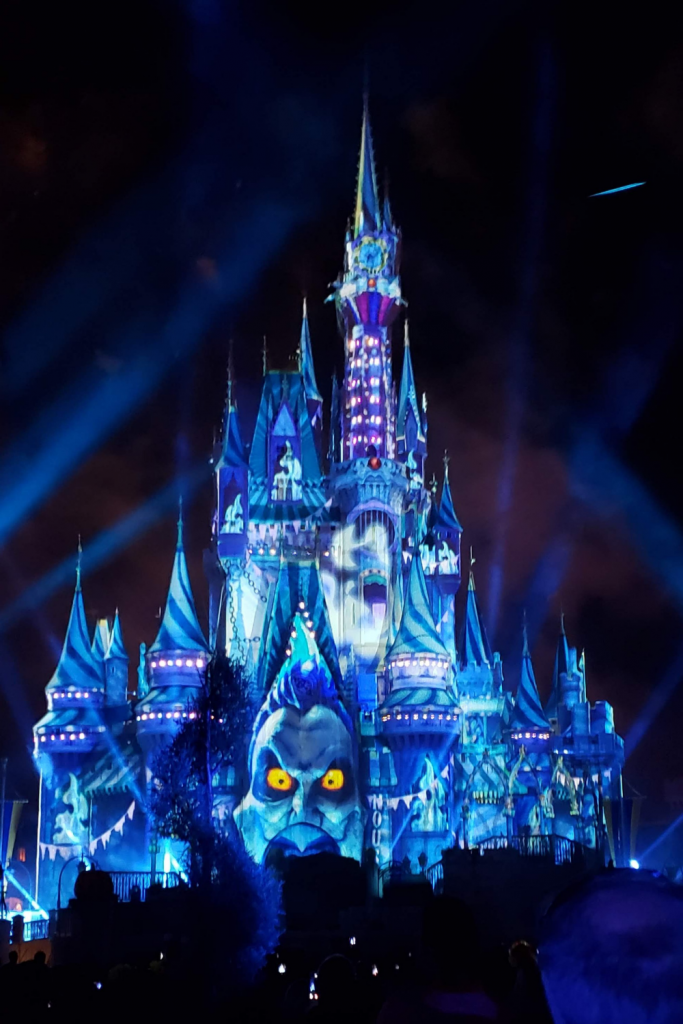 Photo Credit Alexis Larcy
EPCOT will have a new display Called HARMONIOUS! This new fireworks display was supposed to debut in 2020, but it looks like it should be all ready to go by the 50th anniversary celebration in 2021.
How about the parade?
Yep, plans are for a huge 50th Anniversary parade. Disney took out a patent for projection images that can be displayed on 3D objects such as parade floats. This boggles our minds but it's got to be fantastic!
What about the Castle?
A Royal Makeover will occur for the Cinderella Castle just in time for the big Celebration and promises to be quite different from it's normal look. Think gold embroidery, bolder colors on the walls and spires, and rose gold pink on the central tower! Here is the castle with her new look:
Photo Credit Alexis Larcy
Any 50th anniversary updates for the other park icons?
Each of the Disney theme parks will be lit up on October 21, 2021 with special lighting that Walt Disney World is calling "Beacons of Light." The iconic attractions will be getting makeovers that you will be able to see in the evenings after the sun goes down.
Spaceship Earth at EPCOT will be getting new lighting that will resemble stars in the night sky. This new lighting is planned to continue beyond the 50th celebration.
The Hollywood Tower Hotel in Hollywood Studios is also getting a lighting upgrade. The goal is to have it invoke a feeling of the golden age of imagination.
The Tree of Life in the Animal Kingdom will have an amazing light display to give the illusion of fireflies!
We definitely think it will be worth visiting each park at night during the celebration to see the lighting – talk about magical!
New Hotel opening for Disney World's 50th Anniversary?
Star Wars: Galactic Starcruiser Hotel Disney has now announced that this new hotel will be opening sometime in 2022. When it opens, it's going to be an unbelievable two night adventure…but the $3,300 per person for 2 night stay puts a damper in our enthusiasm.
UPDATE: This incredible hotel opened on March 1, 2022. It is getting rave reviews by Star Wars fans but the price point does make it very out of reach for many.
Will there be entrance overhauls for the 50th Anniversary Celebration?
Yes, Animal Kingdom, Magic Kingdom and EPCOT entrances will all be overhauled just in time for the celebration! Along with these, the Transportation and Ticket Center will be given a fresh look.
Any other fun things happening to celebrate?
Many attractions Disney World are getting "magical enhancements." Some of these enhancements had been planned before the pandemic started, and due to financial constraints may now be tabled. That being said, here are some things to look for:
Jungle Cruise scene updates
Carousel of Progress scene enhancement
Big Thunder Mountain updates
Tower of Terror special effects
Mickey and Minnie are getting new clothes! Picture purple, blue, aqua, and silver colors with a beautiful shimmer to them.
Disney's logo is also getting an update to celebrate. Be on the lookout for shimmer rainbow colors and the number "50" inside the castle.
50 of Disney's favorite characters will be made into gold sculptures and placed throughout the parks. Be on the lookout for these "Fab 50" especially if you have a MagicBand+.
There is so much happening for Disney World's 50th Anniversary and we hope you'll be able to take part in some of the Disney magic!