You know Mickey's face when you see it, and you know that Mickey loves Minnie.
But did you know what Mickey's first words on screen were? Did Walt say "it all started with a mouse" or "it all started by a mouse"? Do you know who was the first voice of Mickey Mouse?
Today let's test your Mickey Mouse knowledge with some fascinating facts! Here are 19 things that you probably didn't know about Mickey – everyone's favorite cartoon mouse!
19 Mickey Mouse Secrets We Bet You Didn't Know!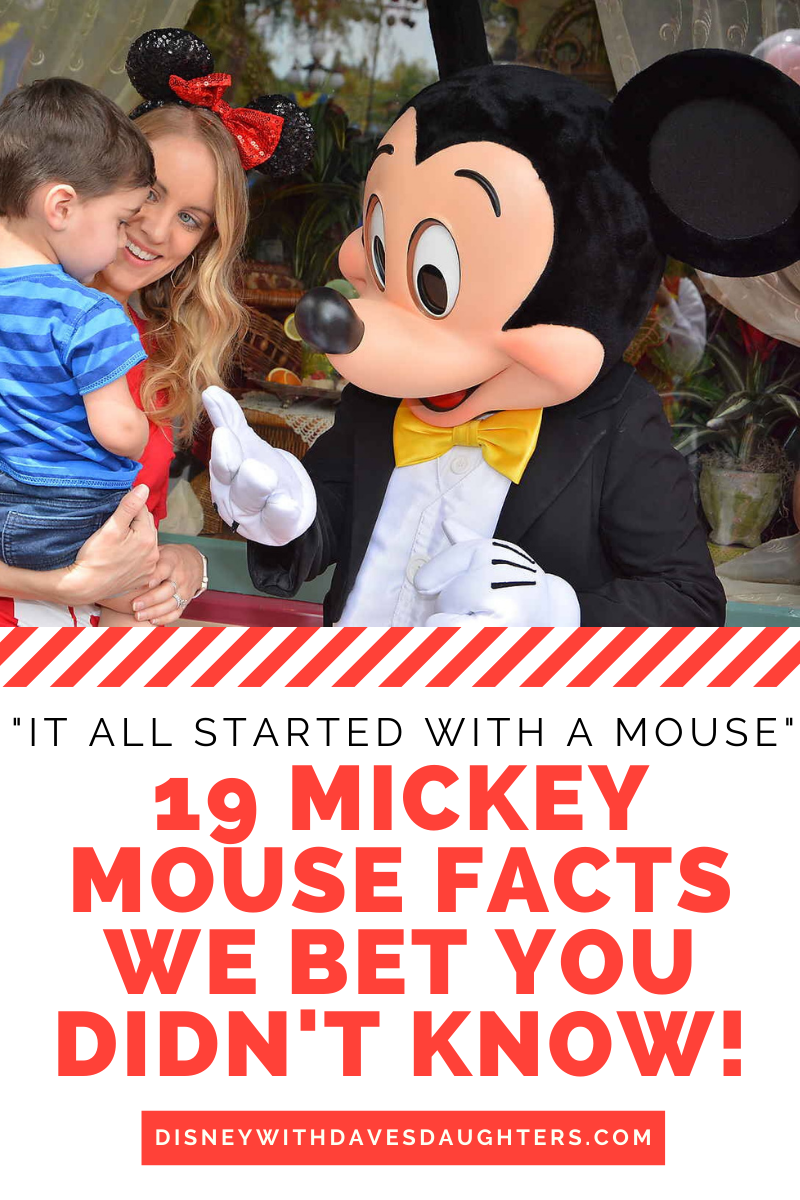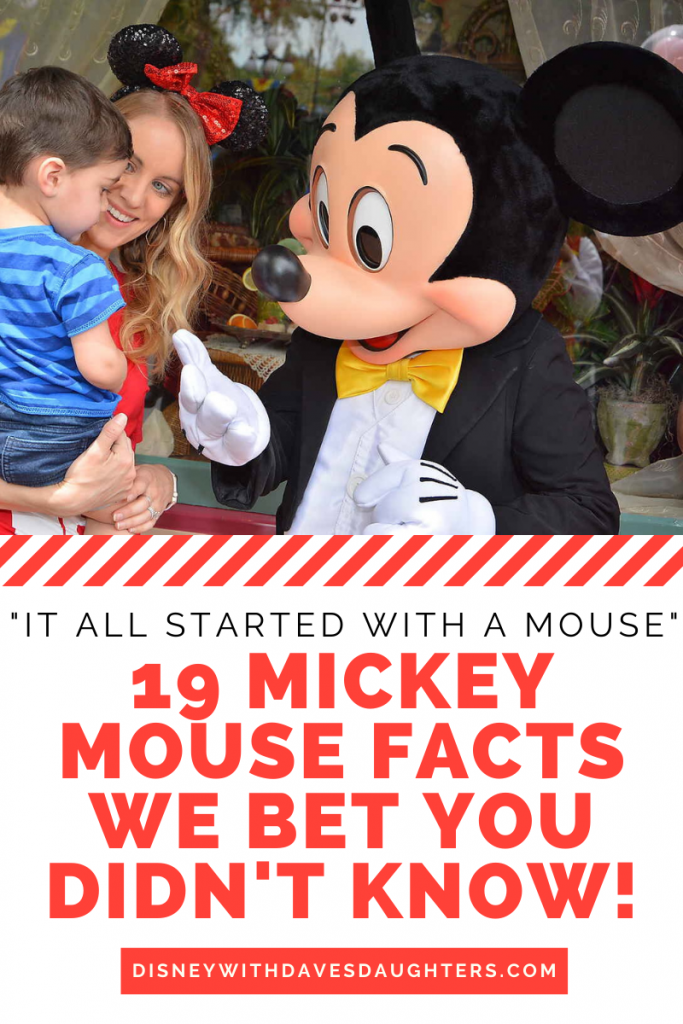 1. Mickey Mouse was the first cartoon character to ever speak.
The very first episode Mickey spoke in was "Karnival Kid". And can you guess what his first words were? You're right! "Hot dog, hot dog"! Mickey had been in 8 films before he finally spoke.
2. Mrs. Disney gave Mickey his name.
Leave it to the Mrs. to make a lasting impact! Walt was all set to name him Mortimer but Lillian Disney, Walt's wife, told him it sounded too depressing.
Instead, she suggested Mickey and rest is history. Interestingly enough, Mortimer went on to become Mickey's rival.
3. Micky Mouse was the first animated character to earn a star on the Hollywood walk of fame.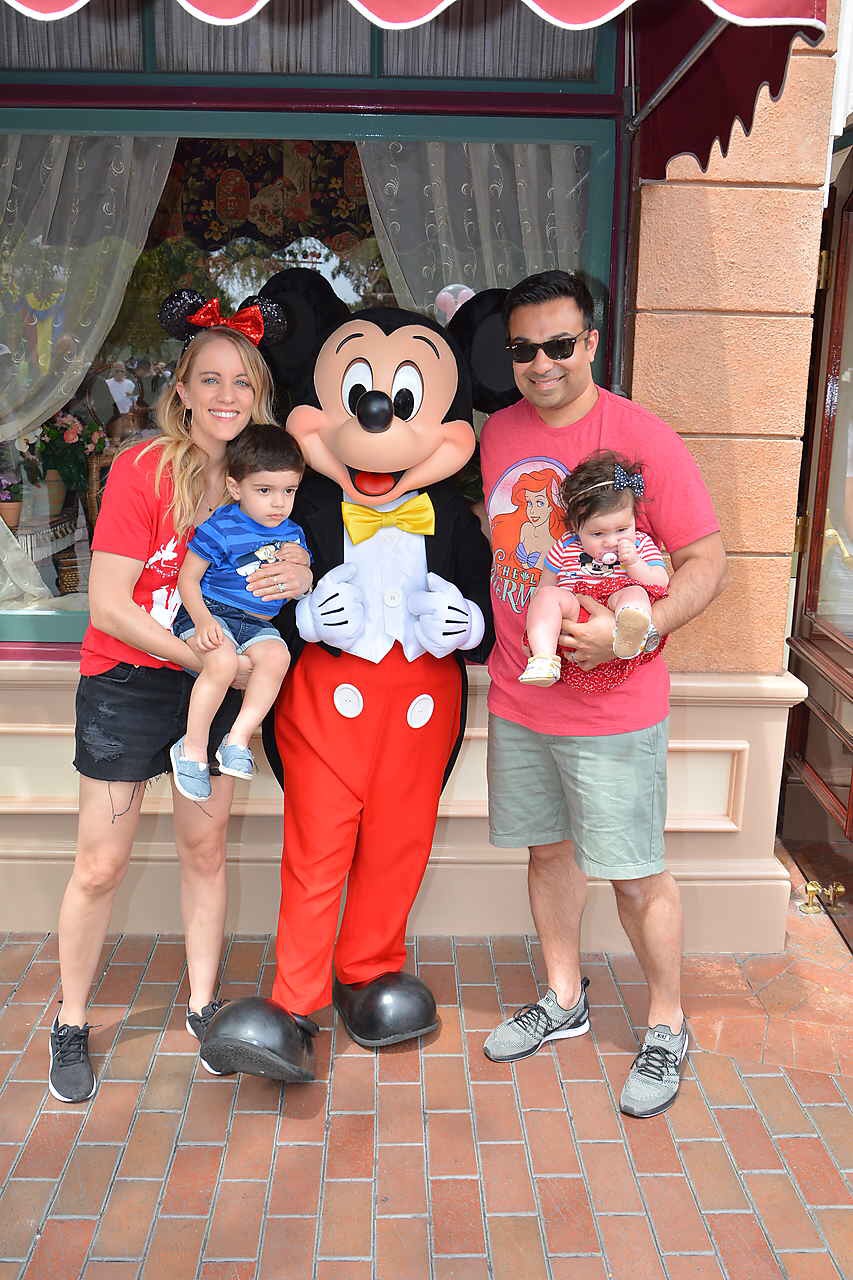 Mickey Mouse received his star on November 13, 1978.
4. Walt Disney gave Mickey Mouse his voice!
Can you guess who gave Mickey Mouse his first voice? Ok, ok, we just told you but it was none other than Walt Disney himself! Walt was the voice of Mickey until 1974's "Mickey and the Beanstalk."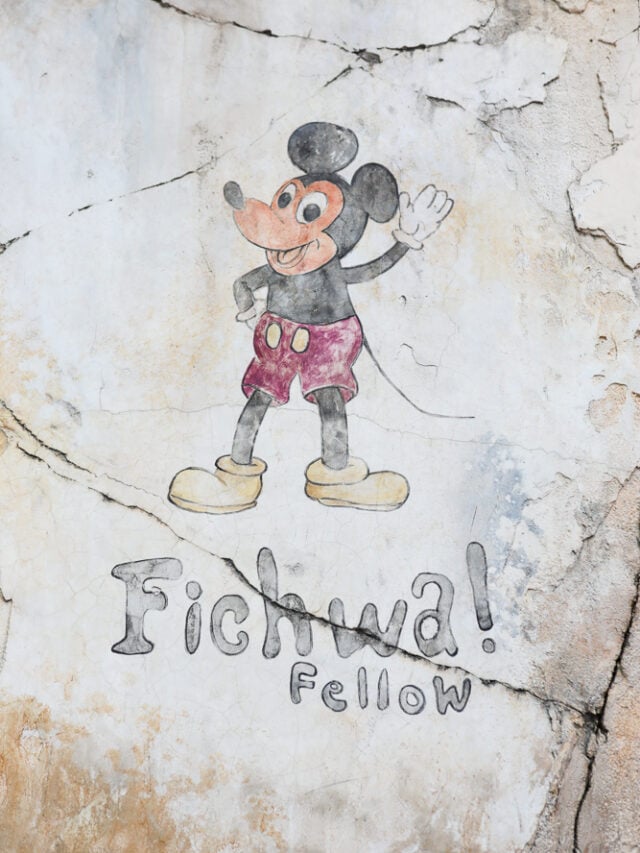 5. Steam Boat Willie was the first Mickey Mouse cartoon.
…well….sorta. Technically there was a show before Steam Boat Willie called Plane Crazy, but it didn't sell right away so it wasn't released to the public. After Steam Boat Willie became a smash, Plane Crazy was re-released.
Fun fact: Steamboat Willie was the first movie to use synchronized sound effects!
6. Mickey received white gloves on March 28, 1929.
What's up with the Michael Jackson gloves? Mickey Mouse received white gloves in the short video, "Opry House" on March 28, 1929 and they have stayed with him ever since. The great thing about the gloves is it can show off his hands from his arms.
7. Mickey Mouse only has four fingers.
Speaking of hands, have you ever counted Mickey Mouse's fingers? We didn't think so. If you do, you'll notice he only has 4. Walt Disney thought a mouse shouldn't have five fingers.
8. Mickey watches are the most popular merchandise.
In 1933 the very first Mickey Mouse watch sold for $2.95. In 1957, Walt Disney was presented with the 25 millionth watch! Of all the merchandise sold of Mickey Mouse, nothing is more popular than a Mickey Mouse watch.
You can see some of our favorite Mickey Mouse merchandise here.
9. "The Band Concert" in 1935 was the first Mickey Mouse color cartoon.
This is the first Mickey Mouse short in color – but some of the characters had been in color before! Mickey Mouse and Clarabelle Cow were in Parade of the Award Nominees, a color film created for the 1932 Academy Awards. Donald Duck and Peter Pig were in the 1934 color film Silly Symphony The Wise Little Hen.
This short is best known for the start of Mickey and Donald's longtime rivalry.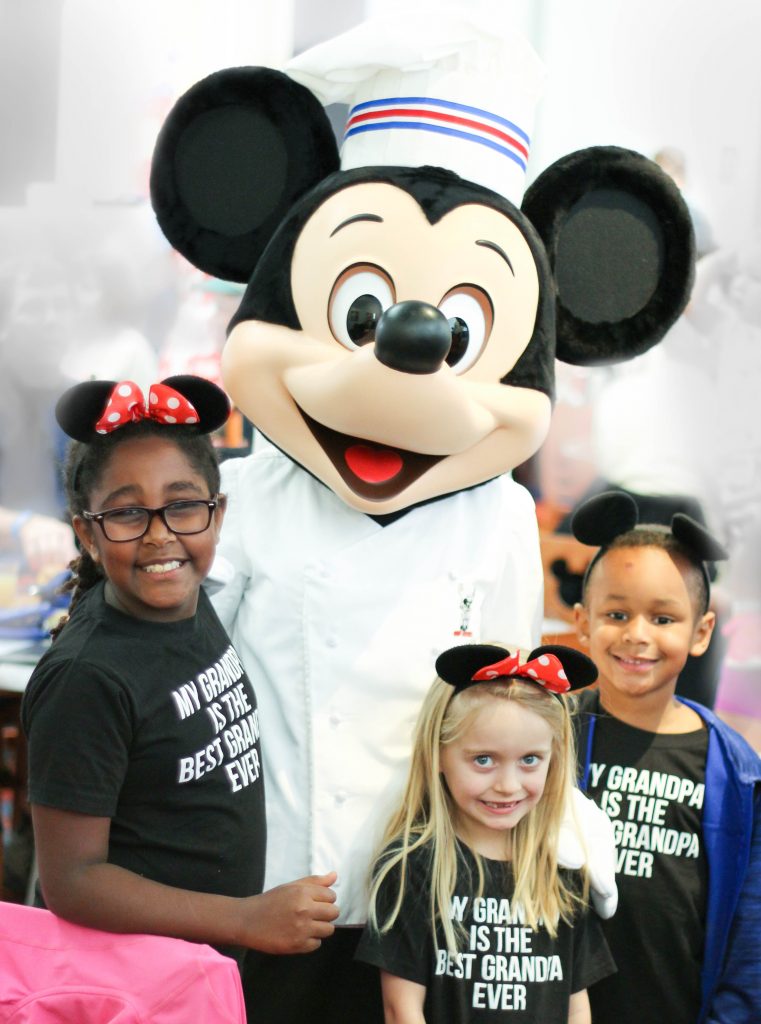 10. Mickey Mouse hit the big screen in 1940 with his first full length motion picture.
What was it? Fantasia! And when we say full length – it was LONG. Fantasia's running time is two hours and five minutes. It is the longest of all Disney animated movies and actually has an intermission.
11. Mickey Mouse is the most popular write in vote for president of the United States in every election.
Mickey Mouse for president!
12. Mickey and Minnie are married!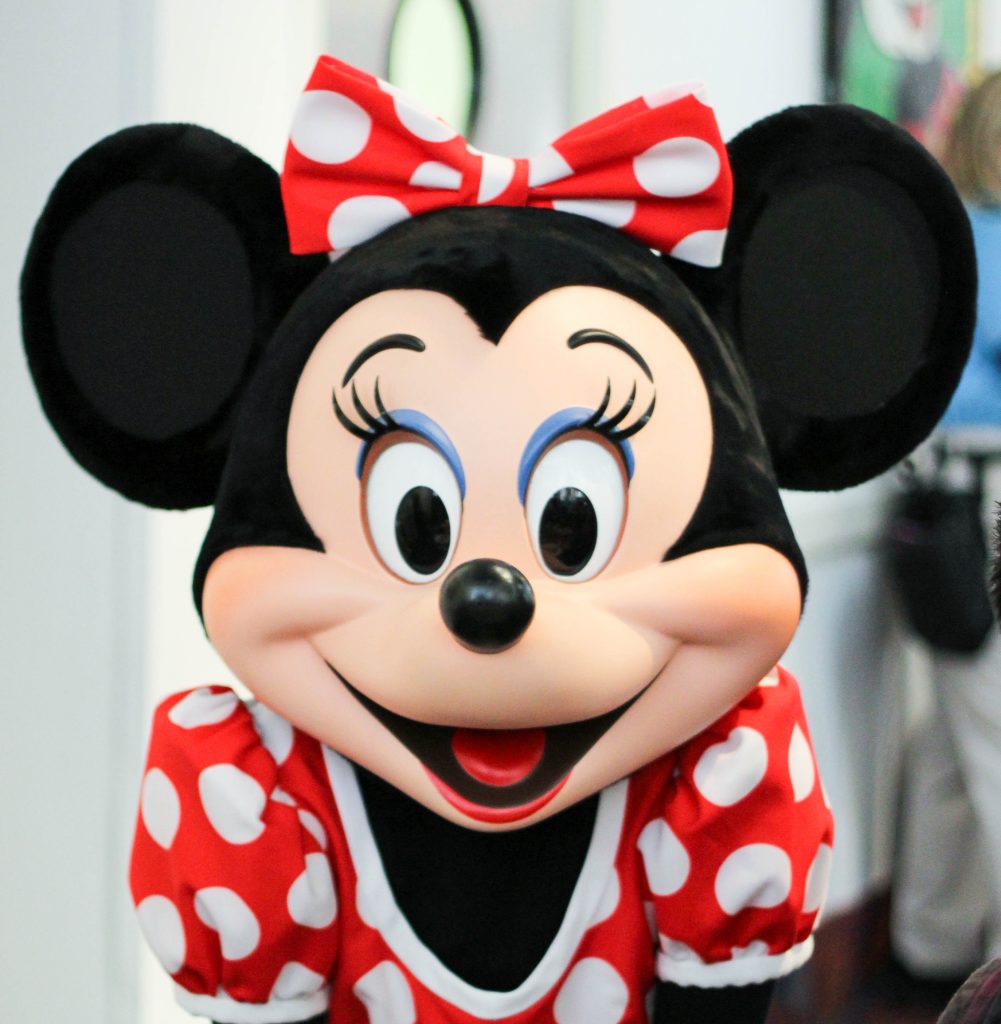 Shhhhhh, they want to keep it a secret but did you know that Mickey Mouse and Minnie Mouse are married? Yep, Walt Disney broke the news in 1933! He said they were married but are keeping it under wraps. We guess that's why they both have the same last name…Mouse!
(Some people actually think Mickey and Minnie are twins!)
13. Minnie is the unofficial Disney princess.
When you name all the princesses of Disney, don't forget Minnie Mouse. Minnie is the unofficial Disney princess. Mickey once said to her, "Gosh Minnie, you've always been a princess to me!" That sealed the deal!
14. In 1991 Wayne Allwine married Russi Taylor.
So what, you ask? Well, what if we told you at that time Wayne was doing the voice of Mickey Mouse and Russi was doing the voice of Minnie Mouse? We knew that would impress you!
15. Walt never had a pet mouse as a child.
Did you know that the very first character Walt created was Oswald the Lucky Rabbit? Walt and fellow animator Ub Iwerks were unable to gain the rights to Oswald from Universal. They stopped drawing a rabbit and went on to drawing a mouse!
Legend has it that Walt had a pet mouse as a kid, but it turns out that isn't actually true.
16. 1955 was a big year for Mickey Mouse!
In 1955 the Mickey Mouse Club premiered and the iconic Mickey Mouse Ears appeared on the show for the first time. And the rest, as they say, is history.
17. To date, there are 121 Mickey Mouse shorts or features out to watch!
Better get on that Disney Plus subscription and get watching! According to IMBDb, the top five Mickey Mouse movies and shows are "Steamboat Willie," "House of Mouse" (a television show), "Lonesome Ghosts," "Fantasia," and "Pluto's Christmas Tree."
18. All Disney movies and the Disney theme parks have "hidden Mickey's" in them.
The Disney imagineers have put hidden Mickey's in all the theme parks, Walt Disney World resorts, and movies. It started in the 70s when EPCOT was being built! Have you spotted them all? Find out more here!
19. "It was all started by a mouse."
The actual quote isn't "it all started with a mouse"! One of Walt Disney's most famous quotes about his accomplishments is: "I only hope that we never lose sight of one thing—that it was all started by a mouse".
How many of those fun Mickey Mouse facts did you know? Did you know the actual quote "it was all started by a mouse" and not the common version "it all started with a mouse"? You can find more Walt and Mickey quotes here!
Want to learn fun facts about Minnie? Did you know that one of the most famous quotes attributed to Tinker Bell was never actually said by her? Find out more here!