You are headed to Disney World with your toddler! We are so excited for you! There's nothing more fun than dressing up for your Disney vacation so we wanted to share some Disney clothes for toddler girls.
Wearing Disney themed clothing at Disney is one of our favorite things! If you are trying to stay on a budget, here is a tip for you: purchase a few new Disney inspired clothing items and sneak them into your child's luggage. When you get to Orlando and unpack…SURPRISE!…your child has new Disney gear to wear!
You got them new clothes at Amazon prices and they no longer have the desire to ask you for that $60 Minnie Mouse t-shirt while you are in the Magic Kingdom!
Little girl Disney World outfits are so much fun! We love the variety of dresses, leggings, and sweatshirts. Here are some of our favorite Disney clothes for toddlers:
17 Disney World Outfits for Toddler Girls
Disney With Dave's Daughters is a participant in the Amazon Services LLC Associates Program. This post may include affiliate links which means I may earn a small commission if you shop using the links below at no additional cost to you.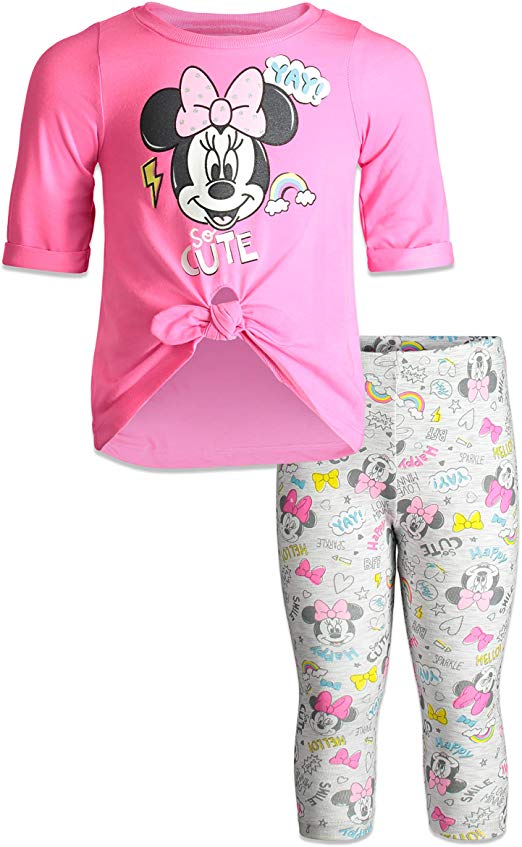 The cutest matching top and legging set from Amazon. We love the tie top (so on trend right now!) and the half sleeve top and leggings are perfect for visiting the Magic Kingdom in the spring or fall!
This matching yellow ruffle top and shorts is adorable and great for cooler months. We love that the shorts have daisy's on them – because who doesn't love a Daisy?! This outfit is perfect for the preschooler who loves Minnie but does not love pink.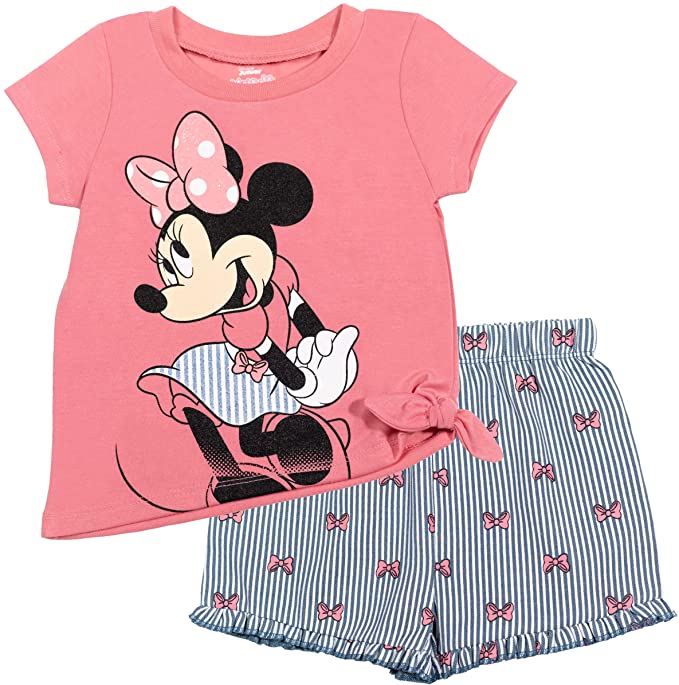 We love this cute Minnie Mouse t-shirt with the knotted tie on the side! This is an adorable shirt with a bit more of a fashionable flair.
The striped shorts with small ruffle on the bottom go perfectly with Minnie's striped skirt on the top. Of course, you have to love the pink bows everywhere! A perfect summer outfit.
You can never go wrong with classic Minnie Mouse polka dots! This silly Minnie Mouse face dress will bring a smile to anyone's face.
Wear this dress to Disney in July or grab a sweater or jean jacket and some leggings and this would be super cute for a cooler day in October.
This fun confetti top with Minnie on it is perfect to pair with either shorts or leggings depending on when you go! The fun colors of the polka dots make this a super versatile top.
This Minnie Mouse hoodie is a great option to layer with for cooler mornings or evenings in the parks! We love that the hood is lined with polka dots and has a cute bow and Minnie ears!
The sleeves and waistline have an adorable ruffle detail that puts this over the top cute. This is a perfect option to bring to Disney World in February or March.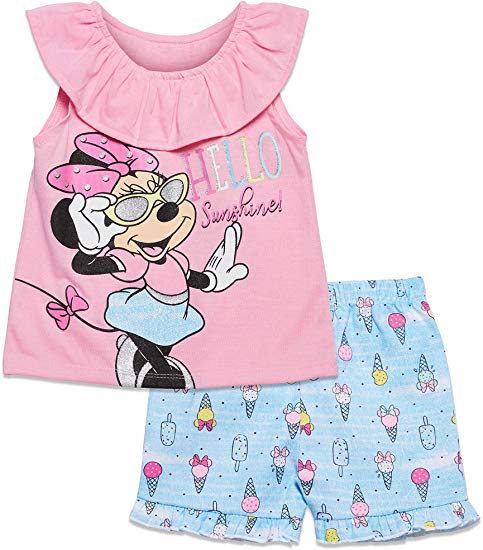 This Minnie Mouse ice cream shorts and top duo is perfect for the hot summer Disney days of July and August!! We are obsessed with the cute ice cream shorts that have Minnie ears on them and ruffle!
Such a cute outfit for a hot summer day in Epcot!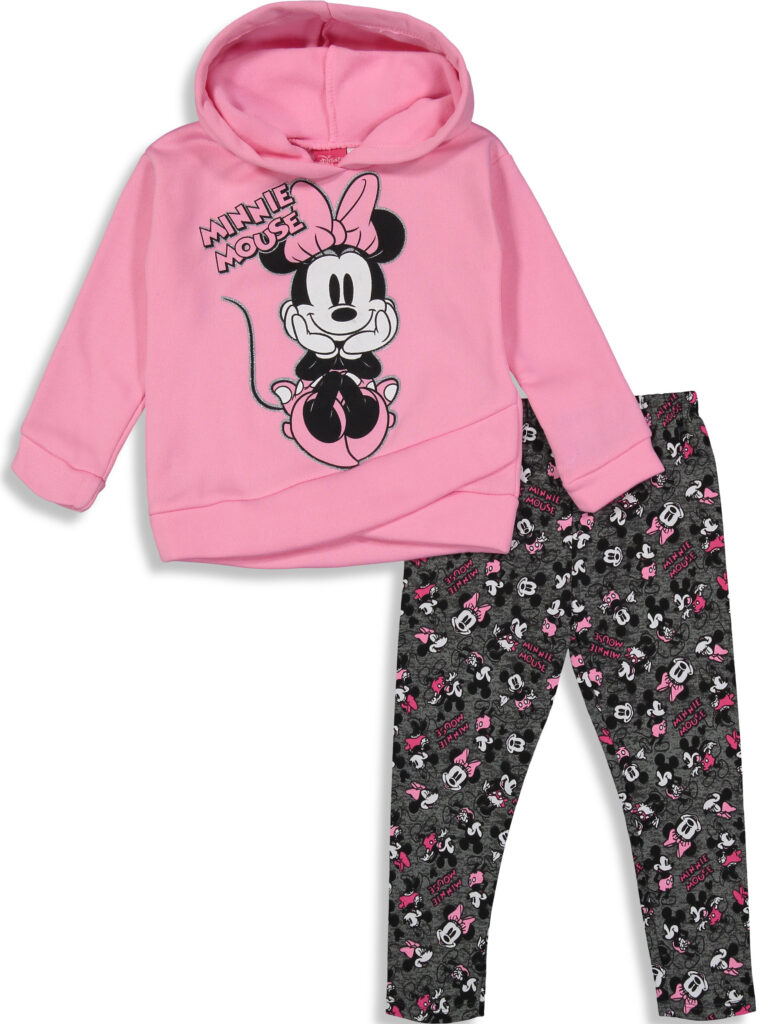 Heading to Disney in cooler weather? This Minnie Mouse sweatshirt and leggings combo is great for cooler temperatures!
The cozy pink sweatshirt with the criss cross hem is exactly what your toddler needs to stay warm while still being in the Disney spirit. We love that the leggings also have Mickey on them!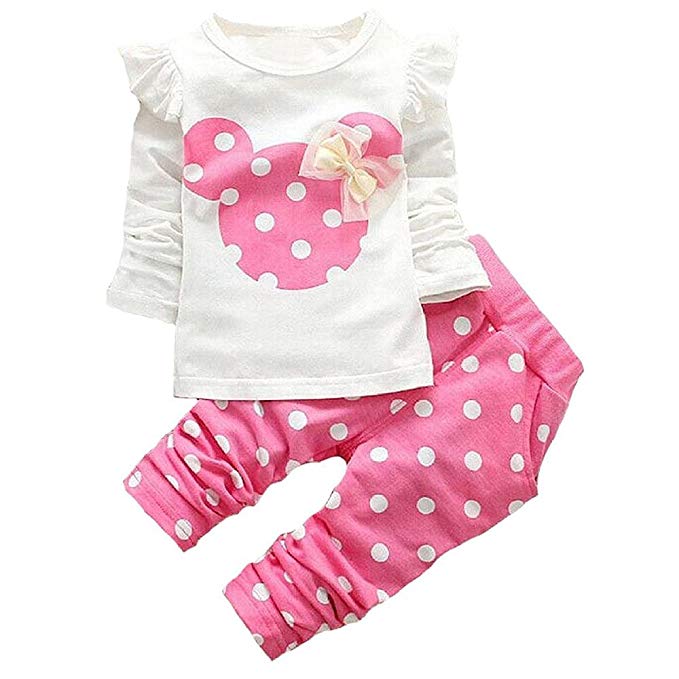 Another classic Minnie Mouse polka dot outfit! Jen actually bought this Minnie Mouse outfit for her daughter's Minnie Mouse themed 2nd birthday party!
You can see Jen's daughter and niece in this outfit here at their birthday complete with Minnie inspired balloon garland!. This is another versatile outfit for different types of weather – swap out the long sleeve top with a t-shirt and you are good to go!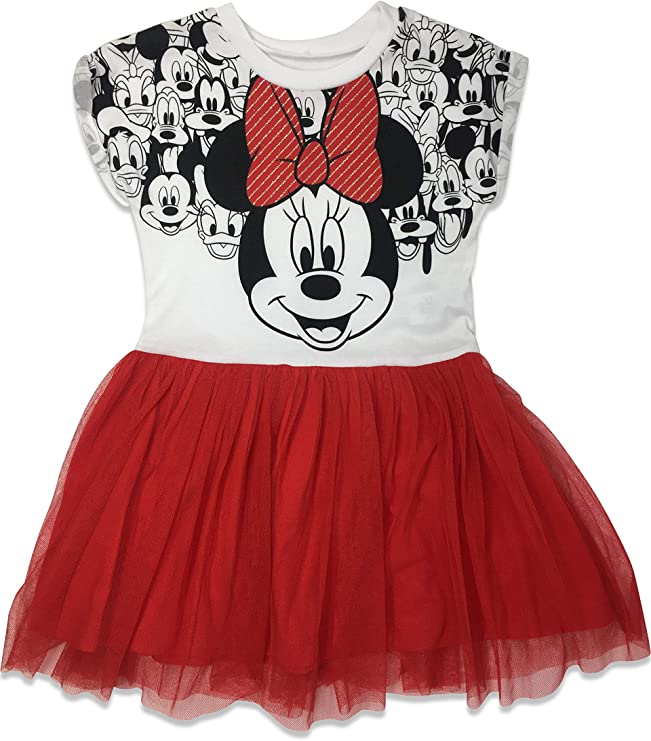 This is such a cute outfit for a little girl who loves to wear dresses! The red tulle skirt is so fluffy and girly and will make any girl smile!
We love that this dress has Minnie, Daisy, and all the classic Disney character gang making an appearance.
More ruffles for all the girls! We are definitely partial to the tunic tops with leggings, so this top is one of our favorites. We also love the darker pink color of the top which also shows up in the flowers on the leggings. This is a perfect fall outfit!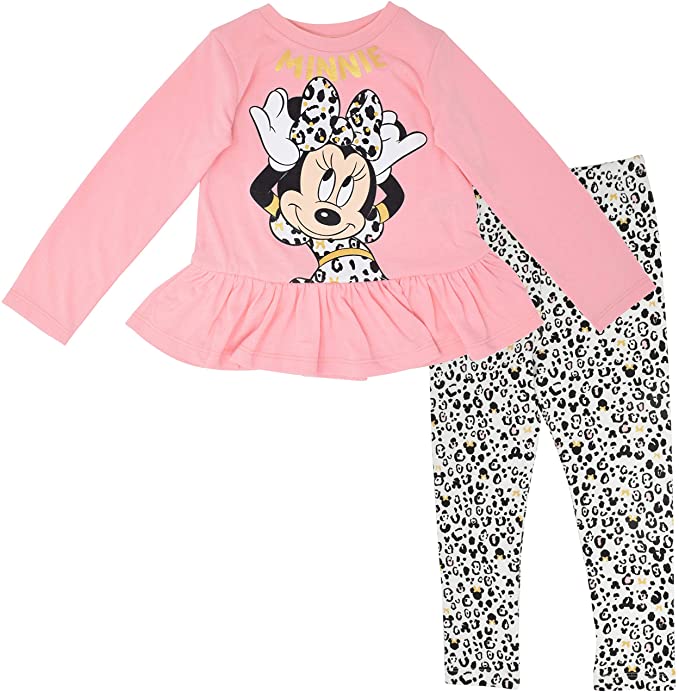 Leopard print and Minnie – we call this a winning combination! We are in love with the cute leopard print pants with the hidden Minnies throughout the pattern!
The light pink ruffle top is a perfect pair to these great leggings. This outfit comes in multiple colors and designs.
This three piece set has everything you need for a cute Minnie Mouse outfit! The short sleeve top with ruffle sleeve and a tie bottom make this such a unique shirt.
We love the blue biker shorts with starts and Minnie silhouette – and the matching pink scrunchie is perfect for a ponytail! This outfit comes in five different color options.
I think we all can agree that rompers are absolutely the cutest outfits for toddler girls, right? Put a princess on it and it's the perfect Disney World outfit for toddler girls!
This one comes with 6 different Disney Princesses on it!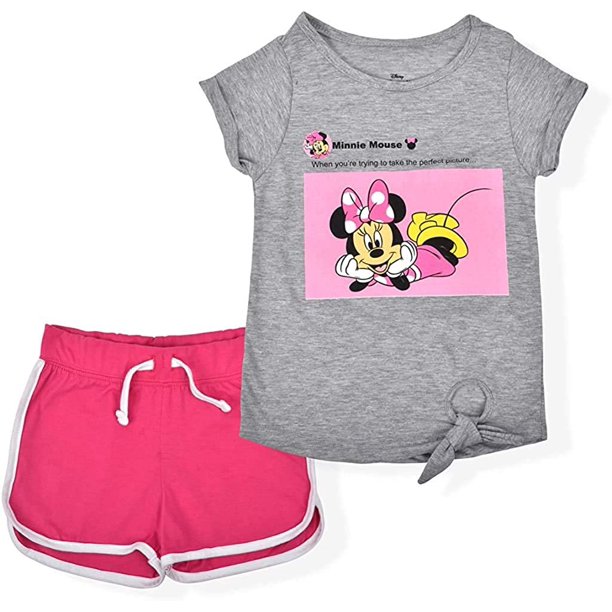 For your sporty little girl, check out this cute combo! This adorable Minnie Mouse graphic tee has a knot already in it and the vintage inspired gym shorts can be mixed and matched with other tops during your Disney vacation.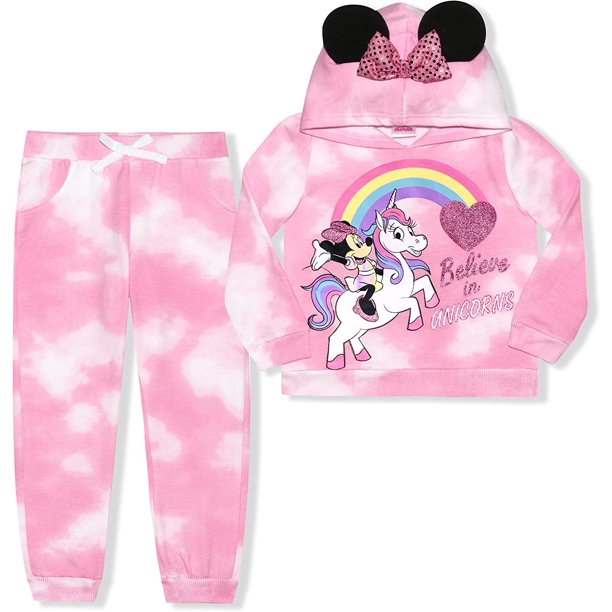 If you're heading to Disney World during the cooler season (or just live where it's cooler!), this is a great option! The tie dye pink color is fun and whimsical and any unicorn loving Minnie fan will love this outfit!
The added bonus is the fun Minnie Ears on the hood!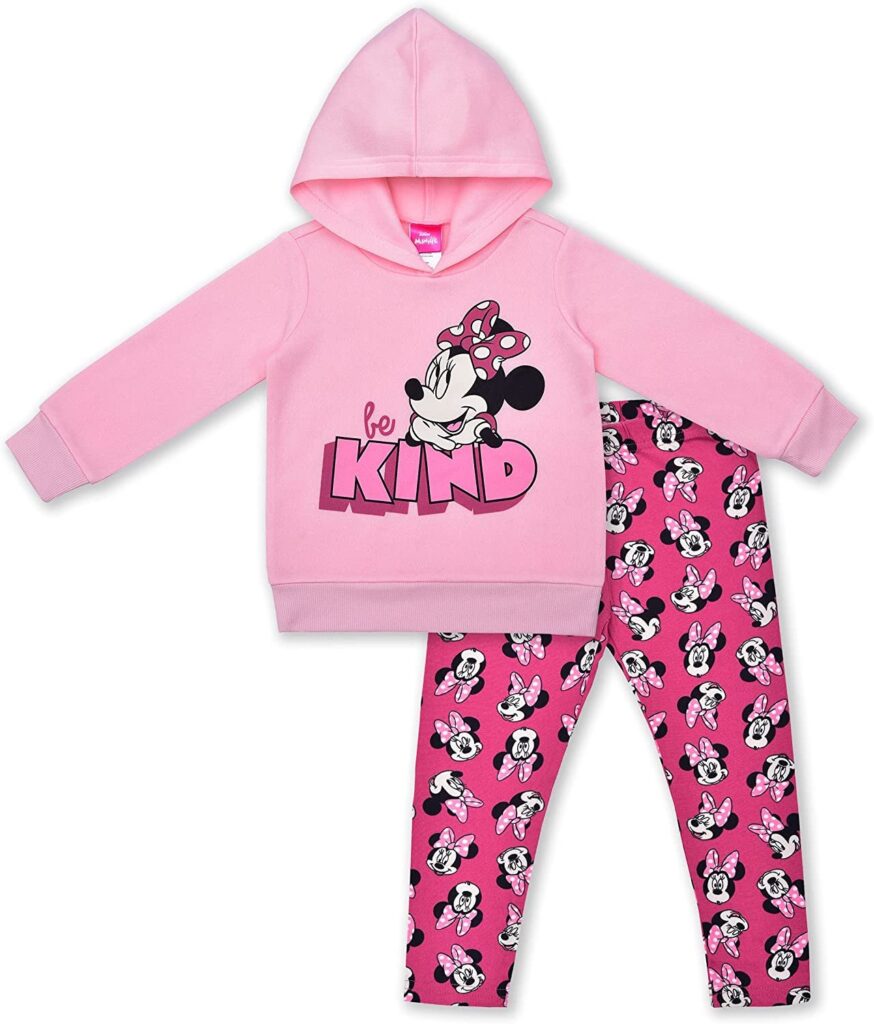 Another cute long sleeve, long pants outfit is this pink Minnie Mouse ensemble! The pants are covered in cute Minnie Mouse faces while the sweatshirt says "be kind".
This one also comes in 2 other colors and prints!
Be sure to check out our favorite Little Mermaid clothes for girls!
There you have it! Some of our favorite Disney clothes and outfits for toddler girls. Be sure to add these to your packing list as you plan for Disney trip with your toddler! If you need shoes for your toddler for your trip we have a round up of shoes for toddlers (and the whole family) here. Our favorite costumes for every single Disney princess are here.
Did you know that there a plenty of attractions and rides at the Magic Kingdom that you can take your little one on?
They will probably love Peter Pan's Flight – and you definitely can't miss the Festival of Fantasy parade! We have a whole list of things to do with your toddler in the Magic Kingdom – including a tip for where to find pop up dance parties with Disney Characters!!