When it comes to packing for your upcoming trip to Walt Disney World the most common question is: what kind of shoes should I wear? Lucky for you, we have all the information you need to help you make the best decision!
Regardless of if you are packing shoes for your toddler or helping Grandma pack, there are some principles that must be followed when choosing footwear for your trip. Remember, you will walk an average of 8 miles and over 18,000 steps every single day in the Disney parks.
That means if you are in the parks with a 4 day park hopper you are looking at 32 miles in four days. That is a lot of walking – making footwear important. Sore feet can ruin your time.
What To Look For In Shoes
1. Not Brand New
If you want to purchase brand new shoes for your trip that is fine, but you need to do this months in advance and break them in.
Bringing new shoes to Walt Disney World is a huge mistake you do not want to make. Make sure that you know your shoes can handle hours of walking. Your shoes need to be high quality, good shoes that will be ok for long hours on your feet.
2. Comfort
This may be a no brainer but it must be said. You must have comfortable walking shoes. We are saying that your shoes should be so comfortable that you don't even think about your footwear.
If your shoes bother you even a little bit but you think "this will be fine" – don't bring those shoes. It will not be fine on day three at the parks, trust us. Get a comfortable pair of athletic shoes.
3. Breathability and Weight
This is an important factor to consider especially when going to Orlando in the middle of the summer. You want your shoes to be able to breathe so that your feet don't get as hot, sweaty, and swollen.
Along those lines, make sure your shoes aren't too heavy! Breathable shoes will almost certainly be lightweight which are perfect for Disney.
What about sandals?
As a general rule, we don't recommend sandals as your primary footwear for walking through the parks. Athletic style sandals (think Teva or Keen) are good options for the parks – but stay away from flip flops!
You absolutely should pack a pair of sandals – but wear them after you return to your hotel in the evenings or to the pool. Your feet will be happy for the break from your sneakers at the end of the day.
We will break down our favorite options for men, women, and kids. Of course, footwear is quite subjective, so use your best judgment.
Best Disney Shoes for Kids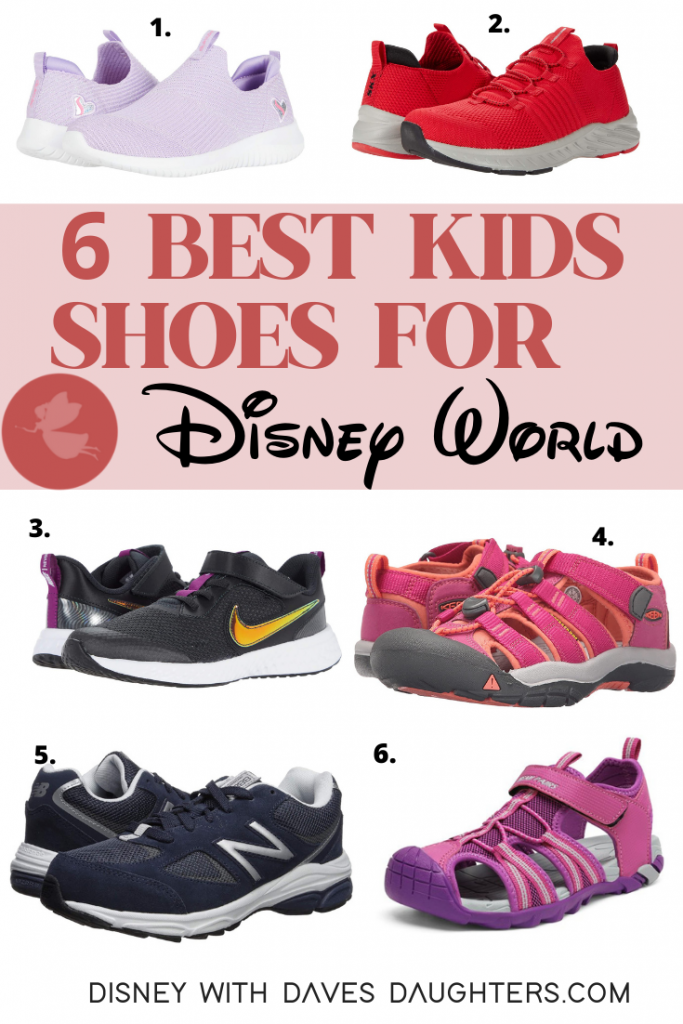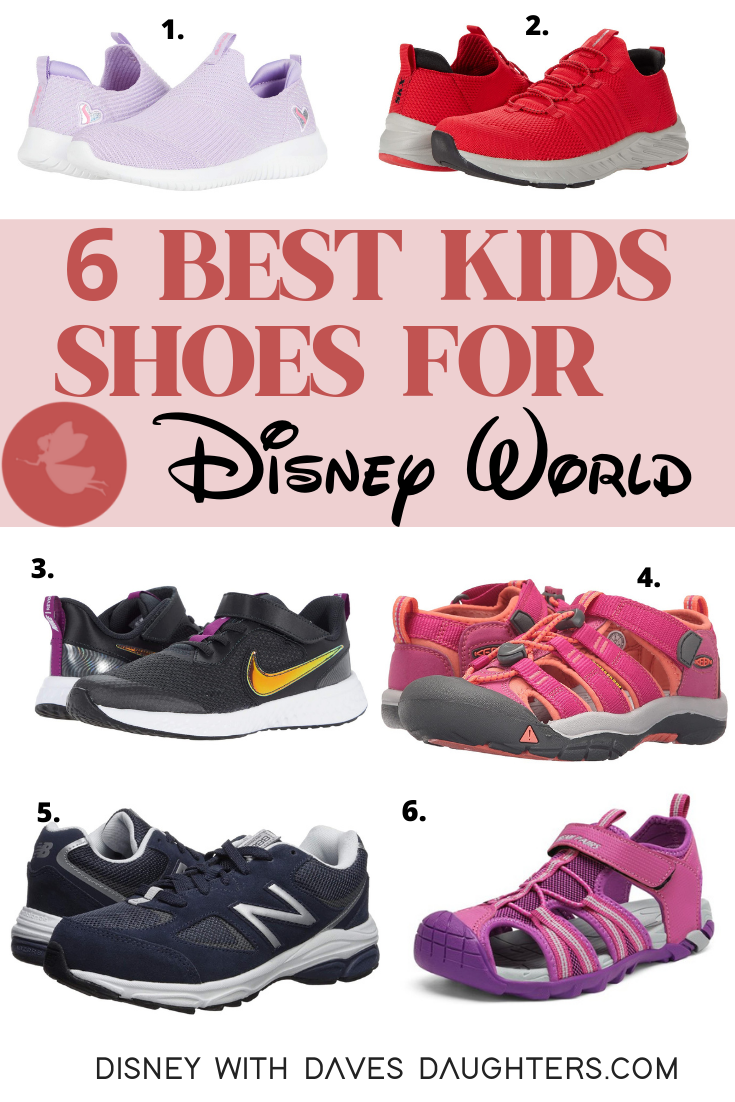 If your child is young enough to spend some time in a stroller you don't need to worry too much about their footwear. Whatever your kids will wear, not kick off, and not complain about is the best option here! Your little kids will have time off their feet in the stroller and are probably small enough to be carried so don't over think it.
We will be focusing on footwear for elementary age kids. Most of the following shoes come in sizes for older toddlers all the way up through "big kids" sizes. The options here are helpful if you are looking for a new pair of shoes for your child – but of course, if you already own a great pair that your kiddo loves, use those! We always suggest staying on budget. Lets jump in!
Skechers brand consistently ranks high for comfortability for kids, making these a great option. For a trip to Disney World, we like these sporty slip on sneakers that have a super breathable mesh material. The sole is memory foam and these shoes have a sock-like fit! 
These sneakers have an amazing, elastic slip on style! Your kids will be able to easily put these on by themselves and you won't have to worry about needing to re-tie shoelaces all day long.
These Nike running shoes have the look of lace up shoes but the ease of velcro! These lightweight, very breathable shoes have a padded tongue and a flexible fit. There is a velcro strap at the top to allow these shoes to fit perfectly.
Yes, these are called sandals, but they function just like a shoe! Many of the kids in our families have worn Keen sandals and they are truly fantastic.
The toe is covered to prevent stubbed toes, the shoe will not fall off your child's foot, and your foot won't get hot! These are perfect for the playground or the Disney parks. Added bonus of not needing socks, and if it rains, these dry quickly! (Find more rain gear on this post!)
These classic looking New Balance sneakers are another great shoe option for your child who can tie his own shoes. These shoes have a breathable mesh material and soft leather uppers for extra comfort. These come in both black and gray!
Here is one more pair of athletic sandals that comes in 13 color options! These sandals are lightweight with a rubber sole for good traction. They have a hook and loop strap with bungee elastic lacing to make getting these on and off a cinch!
Of course, you can't go wrong with Disney Crocs featuring Mickey Mouse for your little one!
Best Shoes For Walt Disney World For Women
If you have a favorite sneaker or walking shoe we recommend going with whatever fits you best. The best shoes for Disney World are whatever the right shoes are for YOUR feet.
That being said, if you are in the market for new footwear we have a number of options for you! These are not the cheapest choices, but comfortable shoes are oftentimes worth the extra cost.
Of course, your feet have stopped growing so these shoes can last you for years to come!
*We do have a whole post of Disney inspired shoes here!
These Nike shoes are an amazing mix of athletic shoe and leisure shoe. The simple, classic look of these shoes will go with any outfit. These come in light gray, dark gray, white, and black and feature a breathable mesh fabric. These are a fan favorite and might be considered the perfect shoe for Disney!

These are considered an incredibly comfortable walking shoe that also works for running. These are a knit, lace up sneaker that have a Cloudfoam sole, making these a great choice for wearing around the Disney parks! Your tired feet will thank you for a cushiony sole to walk on!
New Balance shoes are a fantastic option if you are looking for a good, solid walking shoe. You will easily be able to walk miles in this shoe with no discomfort! They are considered one of the best walking shoes out there and are a really good option for your day at Disney.
These waterproof shoes are perfect for when you are visiting Disney World during hurricane season when there is a high chance for rain! These are slip on shoes with a glove-like fit. If you are looking for a waterproof sneaker, definitely check these out!
If you are dead set on wearing sandals in Disney World, check out these classic Teva sandals. They get 5 stars for a reason! These are incredibly comfortable, won't slide off your feet, and are adjustable to any foot. This classic style has been around forever because of their versatility.
Best Shoes For Disney World For Men
This a casual shoe that is one of the best sneaker options for walking around Walt Disney World! The mesh, breathable material along with lightweight construction make these one of the best walking shoe options out there. These come in both mens and women's as well as lace up or slip on styles. This is an excellent choice for your Disney trip!
These stylish yet comfortable shoes are ranked high for comfortability while walking. Merrell is known for their comfortable footwear, and these live up to their expectation!
These have a mesh fabric lining and a removable footbed, making this a great option if you need to have custom insoles for plantar fasciitis or high arches.

With a name that includes the words comfort, fitness, and walking, you know these are oneof the best men's walking shoes out there! These are extremely comfortable, look great, and come in 3 different colors. These shoes have great arch support with LL Bean's True Performance footbed.
These Swiss shoes are some of the most lightweight shoes on the market. Your feet will love the flexible sole that these shoes have to offer. These feature a bungee style lace up closure.
These feature the same things as the women's Teva Sandals, only in a men's style! These are some of the best sandals for all the walking you will be doing on your Disney vacation. Teva's have excellent support for your arches so be sure to check them out.
Thsee Keen sandals are one of the the top choices if you want to have the stability of a shoe but the feel of a sandal. These Keens have been on the market for years and have been loved by outdoor hikers for ages. You know that these will be a great option for your trip to Walt Disney World!
Hopefully you will find a shoe that works well for your vacation here! The last thing you want to deal with is uncomfortable shoes. Just remember – you will be doing a lot of walking for long days and a good walking shoe is worth its weight in gold! 
Don't forget to head to our complete packing list post to know exactly what to bring to Disney World!
Want more shoe fun? Check out our post of Disney inspired shoes here!