When it comes to packing for your upcoming trip to Walt Disney World the most common question is: what kind of shoes should I wear?
This is truly one of the most important aspects in planning your Disney trip because it can make or break your vacation. Sore feet, achy backs or blisters on your toes can make for a pretty miserable trip.
Regardless of if you are packing shoes for your toddler or helping Grandma pack, there are some principles that must be followed when choosing footwear for your trip.
Remember, you will walk an average of 8 miles and over 18,000 steps every single day in the Disney parks.
That means if you are in the parks with a 4 day park pass (EPCOT, Magic Kingdom, Disney's Hollywood Studios and Disney's Animal Kingdom) you are looking at 32 miles in four days.
On our last Disney trip we walked over 40 miles in just 3.5 days. We were so glad we had good sneakers to wear!
That is a lot of walking – making footwear important. Sore feet can ruin your time.
What To Look For In Shoes
1. Already Broken In
If you want to purchase brand new shoes for your trip that is fine, but you need to do this months in advance and break them in.
Bringing new shoes to Walt Disney World is a huge mistake you do not want to make. Make sure that you know your shoes can handle hours of walking. Your shoes need to be high quality, good shoes that will be ok for long hours on your feet.
Bringing brand new shoes to Disney World is one of our 7 things to not do on your Disney vacation!
2. Comfort
This may be a no brainer but it must be said. You must have comfortable walking shoes. We are saying that your shoes should be so comfortable that you don't even think about your footwear.
If your shoes bother you even a little bit but you think "this will be fine" – don't bring those shoes. It will not be fine on day three at the parks, trust us. Get a comfortable pair of athletic shoes.
3. Breathability and Weight
This is an important factor to consider especially when going to Orlando in the middle of the summer.
You want your shoes to be able to breathe so that your feet don't get as hot, sweaty, and swollen. Swollen feet and legs can contribute to the Disney Rash.
Along those lines, make sure your shoes aren't too heavy! Breathable shoes will almost certainly be lightweight which are perfect for Disney.
Can you wear sandals to Walt Disney World?
You can wear sandals to Disney World, but consider if you can walk 8-9 miles per day for several days in them.
As a general rule, we don't recommend sandals as your primary footwear for walking through the parks. Athletic style sandals (think Teva or Keen) are good options for the parks – but stay away from flip flops!
You absolutely should pack a pair of sandals – but wear them after you return to your hotel in the evenings or to the pool. Your feet will be happy for the break from your sneakers at the end of the day.
We will break down our favorite options for men, women, and kids. Of course, footwear is quite subjective, so use your best judgment.
Best Shoes for Kids for Walt Disney World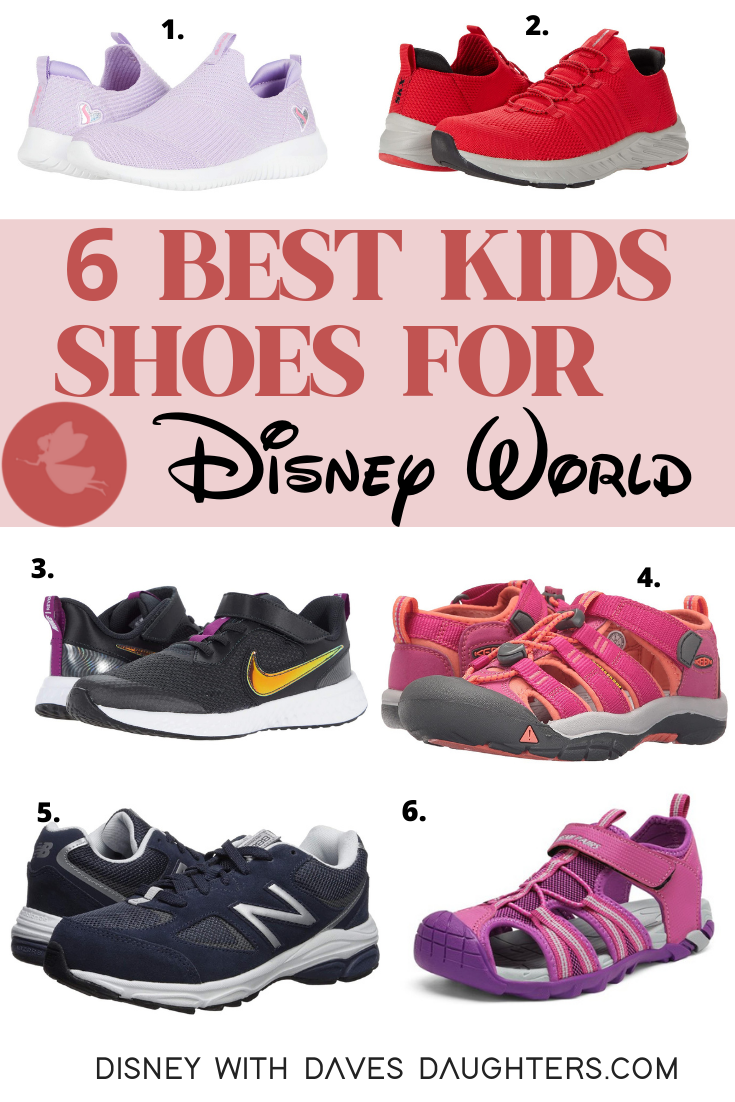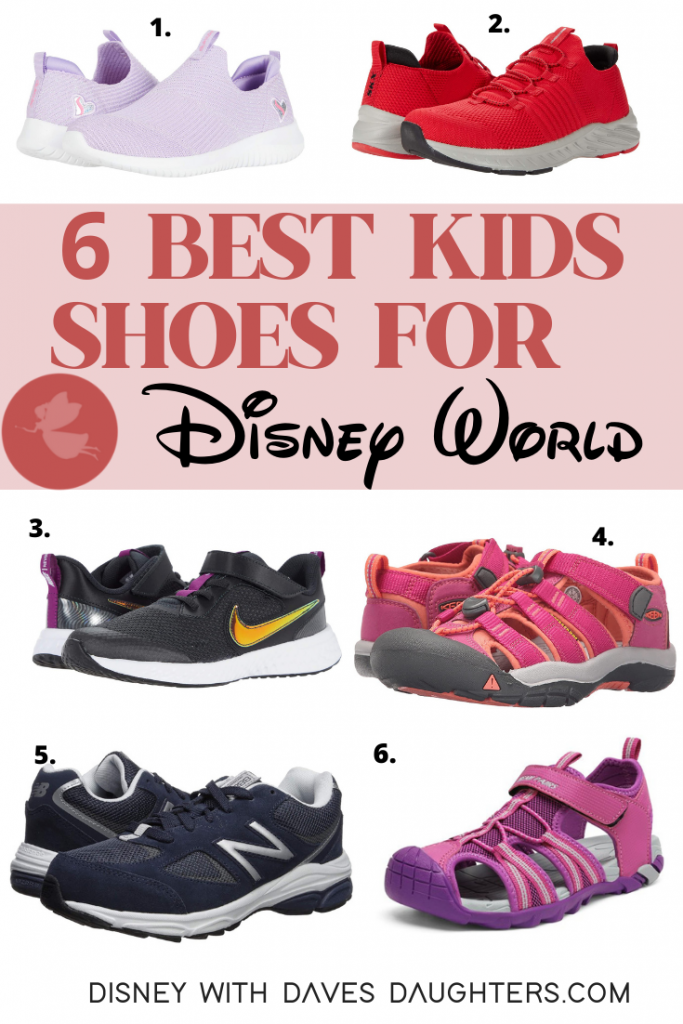 What kind of shoes should kids wear to Walt Disney World?
Kids should wear shoes that are comfortable and won't fall off while at Walt Disney World.
If your child is young enough to spend some time in a stroller you don't need to worry too much about their footwear. Whatever your kids will wear, not kick off, and not complain about is the best option here! Your little kids will have time off their feet in the stroller and are probably small enough to be carried so don't over think it.
We will be focusing this section on footwear for elementary age kids. Most of the following shoes come in sizes for older toddlers all the way up through "big kids" sizes. The options here are helpful if you are looking for a new pair of shoes for your child – but of course, if you already own a great pair that your kiddo loves, use those! We always suggest staying on budget. Lets jump in!
Skechers brand consistently ranks high for comfortability for kids, making these a great option. For a trip to Disney World, we like these sporty slip on sneakers that have a super breathable mesh material. The sole is memory foam and these shoes have a sock-like fit!
We earn a commission if you make a purchase, at no additional cost to you.
These sneakers have an amazing, elastic slip on style! Your kids will be able to easily put these on by themselves and you won't have to worry about needing to re-tie shoelaces all day long.
Nike Kids Revolution 5 PS Smoke Grey University RED Gold Size 2.5
REVOLUTIONARY COMFORT: The Nike Revolution 5 big kid's running shoes cushion your stride with soft foam to keep you running in comfort.
BREATHABLE SUPPORT: Lightweight mesh is stretchy and breathable, making these the Nike shoes kids need. Foam around the ankle is soft and comfortable. Revolutionary comfort helps kids run and play.
DURABLE & FLEXIBLE TRACTION: These Nike shoes are made with flexible and durable with rubber soles. Traditional laces create a secure fit.
KID'S RUNNING SHOES: Imported, fabric: lightweight mesh knit upper, rubber outsole, foam ankle lining.
We earn a commission if you make a purchase, at no additional cost to you.
These Nike running shoes have the look of lace up shoes but the ease of velcro! These lightweight, very breathable shoes have a padded tongue and a flexible fit. There is a velcro strap at the top to allow these shoes to fit perfectly. These come in a ton of different colors.
Yes, these are called sandals, but they function just like a shoe! Many of the kids in our families have worn Keen sandals and they are truly fantastic. They are a more expensive option but in our opinion, they are worth every penny.
The toe is covered to prevent stubbed toes, the shoe will not fall off your child's foot, and your foot won't get hot! These are perfect for the playground or the Disney parks. Added bonus of not needing socks, and if it rains, these dry quickly! (Find more rain gear on this post!)
We earn a commission if you make a purchase, at no additional cost to you.
These classic looking New Balance sneakers are another great shoe option for your child who can tie his own shoes. These shoes have a breathable mesh material and soft leather uppers for extra comfort.
These come in an incredible 33 different color options! Pricing ranges fro $25 to $140 depending upon the color and specific style. (The link below will take you to all the styles available.)
Here is one more pair of athletic sandals that comes in 13 color options! These sandals are lightweight with a rubber sole for good traction. They have a hook and loop strap with bungee elastic lacing to make getting these on and off a cinch!
Of course, you can't go wrong with Disney Crocs featuring Mickey Mouse for your little one!
Best Shoes For Walt Disney World For Women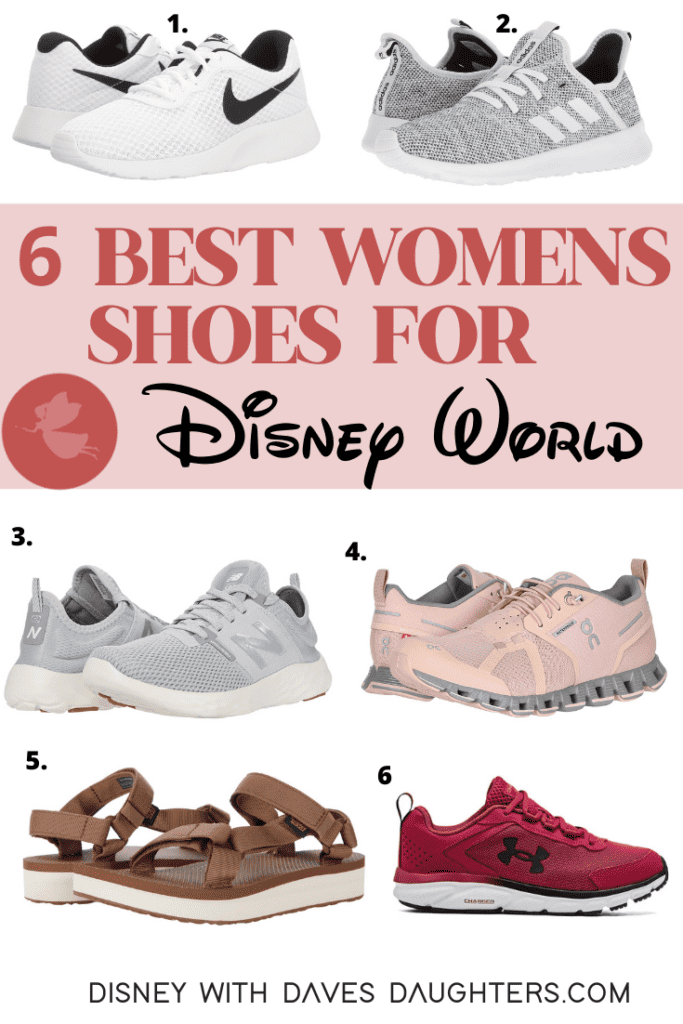 If you have a favorite sneaker or walking shoe we recommend going with whatever fits you best. The best shoes for Disney World are whatever the right shoes are for YOUR feet.
That being said, if you are in the market for new footwear we have a number of options for you! These are not the cheapest choices, but comfortable shoes are oftentimes worth the extra cost.
Of course, your feet have stopped growing so these shoes can last you for years to come!
*We do have a whole post of Disney inspired shoes here!
Nike Women Free RN 942837-001
BREATHABLE: The mesh inside provides ventilation, resulting in extra-comfortable men's walking shoes. The mesh lining wicks sweat away from your feet, keeping them cool and dry while also improving...
DURABLE: The materials used are of great quality, ensuring that the shoe is durable. This shoe will last you a long time and is greatly adaptable to various weather and terrain conditions.
ADJUSTABLE: The adjustable lace closure allows you to tailor the fit of your shoes to your specific foot shape. You can tighten it to increase its grip to perfectly suit the situation that you're...
STYLISH: The appearance of the shoe is aesthetically pleasing. Beautiful mix of colors utilizing pink in various parts of the shoe. The silhouette of the shoe appears to suit the trend among sneaker...
VERSATILE: Suitable for a wide range of activities, including running, jogging, gym, sport, athletic, casual, work, vacation, shopping, driving, camping, travel, indoor and outdoor activities, and so...
We earn a commission if you make a purchase, at no additional cost to you.
These Nike shoes are an amazing mix of athletic shoe and leisure shoe. The simple, classic look of these shoes will go with any outfit. These come in 18 color options and feature a breathable mesh fabric. These are a fan favorite and might be considered the perfect shoe for Disney!
Adidas Women's Cloudfoam Pure 2.0 Running Shoe
Athletic shoes with crisp and clean style. These women's running shoes feature Cloudfoam in the midsole for elevated comfort. A synthetic outsole is flexible for running on any surface.
We earn a commission if you make a purchase, at no additional cost to you.
These are considered an incredibly comfortable walking shoe that also works for running. These are a knit, lace up sneaker that have a Cloudfoam sole, making these a great choice for wearing around the Disney parks!
Jen wore these during our last Disney trip and absolutely loved them. There's a good reason why they're called Cloudfoam – it literally feels like you're walking on clouds! She was worried they wouldn't give her enough support but they did an amazing job.
These come in a variety of colors and are incredibly chic. Your tired feet will thank you for a cushiony sole to walk on!
New Balance Women's Fresh Foam 1080 V11 Running Shoe
Fresh Foam midsole cushioning is precision engineered to deliver an ultra-cushioned, lightweight ride
Bootie upper construction hugs your foot for a snug, supportive fit
Synthetic/mesh upper
Ortholite sockliner for comfort
Ultra Heel design hugs the back of the foot for a snug, supportive fit
We earn a commission if you make a purchase, at no additional cost to you.
New Balance shoes are a fantastic option if you are looking for a good, solid walking shoe. You will easily be able to walk miles in this shoe with no discomfort! They are considered one of the best walking shoes out there and are a really good option for your day at Disney.
Needed an extra comfy pair of shoes for a trip to Disney and work. These are perfect! I have plantar fasciitis and have to wear custom orthotics. I also have a bunion and need very wide and soft sided shoes to alleviate any pressure on that area. I was able to get a 7 1/2 extra wide with this shoe and the material is very soft and stretchy. The sole of the shoe is very thick and soft for all day standing and walking.

part of an Amazon review from a.payne
We earn a commission if you make a purchase, at no additional cost to you.
These waterproof shoes are perfect for when you are visiting Disney World during hurricane season when there is a high chance for rain! These are slip on shoes with a glove-like fit. If you are looking for a waterproof sneaker, definitely check these out!
We earn a commission if you make a purchase, at no additional cost to you.
For a non waterproof option, check these out! You will see people wearing these shoes are all over the Disney Parks. We think these are a fantastic option and definitely worth the money.
Katie got these shoes to wear on a recent trip to Disney World and she really liked them. They were immediately comfortable and did not require a ton of breaking in. These shoes provide plenty of support but also feel almost "bouncy." It is the best of both worlds – support and comfort together!
OnClouds come in a ton of different styles and colors and we definitely recommend trying these.
If you are dead set on wearing sandals in Disney World, check out these classic Teva sandals. They get 5 stars for a reason! These are incredibly comfortable, won't slide off your feet, and are adjustable to any foot. This classic style has been around forever because of their versatility.
6. Under Armour Women's Charged Asset Running Shoe
These shoes are lightweight, breathable, and come in 18 different colors! The molded foam and the sockliner provide amazing cushioning for these shoes.
Walked 8 miles a day in Disney! Two days in a row! 6 miles on partial day. My favorite shoe now! Would not change a thing.

amazon review from Billy McCrary
Under Armour Women's Charged Assert 9, Black (002)/Black, 5 M US
Lightweight mesh upper with 3-color digital print delivers complete breathability
Durable leather overlays for stability & that locks in your midfoot
EVA sockliner provides soft, step-in comfort
Charged Cushioning midsole uses compression molded foam for ultimate responsiveness & durability
Solid rubber outsole covers high impact zones for greater durability with less weight
We earn a commission if you make a purchase, at no additional cost to you.
Best Shoes For Disney World For Men
We earn a commission if you make a purchase, at no additional cost to you.
This a casual shoe that is one of the best sneaker options for walking around Walt Disney World! The mesh, breathable material along with lightweight construction make these one of the best walking shoe options out there. These come in both mens and women's as well as lace up or slip on styles. This is an excellent choice for your Disney trip!
2. Merrell Alpine Sneaker
Merrell Men's Alpine Sneaker, Bracken, 7
Suede leather and textile upper
100 percent recycled webbing upper
Breathable mesh lining
Lightweight EVA foam midsole and 50 percent recycled EVA foam insole for stability and comfort
Rubber outsole for reliable traction
We earn a commission if you make a purchase, at no additional cost to you.
These stylish yet comfortable shoes are ranked high for comfortability while walking. Merrell is known for their comfortable footwear, and these live up to their expectation!
These have a mesh fabric lining and a removable footbed, making this a great option if you need to have custom insoles for plantar fasciitis or high arches.
Merrell Cloud Sneakers
If these are out of stock, try these Merrill Cloud Sneakers. These are incredibly breathable and lightweight!
We earn a commission if you make a purchase, at no additional cost to you.
With a name that includes the words comfort, fitness, and walking, you know these are oneof the best men's walking shoes out there! These are extremely comfortable, look great, and come in 3 different colors. These shoes have great arch support with LL Bean's True Performance footbed.
These Swiss shoes are some of the most lightweight shoes on the market. Your feet will love the flexible sole that these shoes have to offer. These feature a bungee style lace up closure.
We earn a commission if you make a purchase, at no additional cost to you.
These feature the same things as the women's Teva Sandals, only in a men's style! These are some of the best sandals for all the walking you will be doing on your Disney vacation. Teva's have excellent support for your arches so be sure to check them out.
These Keen sandals are one of the the top choices if you want to have the stability of a shoe but the feel of a sandal. These Keens have been on the market for years and have been loved by outdoor hikers for ages. You know that these will be a great option for your trip to Walt Disney World!
FAQs
Do you need sneakers for Disney World?
While you aren't required to wear sneakers, we highly recommend that you do get sneakers to wear at Disney World.
How many pairs of shoes should you bring to Disney World?
We recommend bringing at least two pairs of shoes to Walt Disney World. You will want your park shoes (good walking shoes) and a pair of shoes to change into once you get back to your hotel to give you feet a break.
Hopefully you will find a shoe that works well for your vacation here! The last thing you want to deal with is uncomfortable shoes. Just remember – you will be doing a lot of walking for long days and a good walking shoe is worth its weight in gold!
We have a breakdown of how much walking you can expect in EPCOT here.
Don't forget to head to our complete packing list post to know exactly what to bring to Disney World! We also have a list of the best backpacks to use as your Disney park bag. If fanny packs are more your jam, check out our favorite fanny packs here.
Want more Disney fashion?