Planning on going to Disney World with toddlers? Today let's chat through the 7 things you must know before you head to the happiest place on Earth!
Taking your children to Disney World is something you may have dreamed about since your little one was born.
One common question is: Is my child too young for a Disney Vacation? You absolutely can bring your toddler or preschooler to Disney World and have a great time!
If you are heading to Disney World with your toddler, there are some things you really need to consider before setting foot in the Land of Mickey Mouse.
These will prepare you to have more magic and less frustration in the Disney theme parks. First of all, know how to visit each of the parks. We have a run down of how to visit the parks with toddlers and preschoolers here. These posts will guide you through the best rides for toddlers in each park and tips and tricks that are specific to the park itself.
Pro tip: We think Magic Kingdom is the best park for toddlers, but Animal Kingdom has some massive perks for little kids! Be sure to click through to read why.
Disney World With Toddlers? 7 Must Know Things!
There are several other important things you need to take into consideration before packing your bags for vacation. Here are 7 things you must know before heading to Disney!
1. Strollers
You will need a stroller! We know, your child moves around the house at light speed and has more energy than TIgger.
Now imagine tons of people, hot weather, and walking 9-11 miles in one day, and your child is not on his normal nap and sleeping schedule. You will also need a way to carry all the gear that small children need in a day. Did we mention that a stroller is a great place for a toddler to hang out during their nap time at Disney?
Let us say it again, you WILL want a stroller! What are your options:
Option 1 – Bring Yours
Bring your own stroller from home. We recommend this if you don't mind traveling with it.
Why? You and your child know it best. It will easier to maneuver, set up and take down and most importantly, identify it in the sea of strollers parked outside each attraction and restaurant.
Two important notes about your personal stroller:
You cannot have a stroller wagon. Disney has a policy that you cannot have anything in the parks you pull, only what you push.
Your stroller must not be larger than 31 inches wide and 52 inches long.
photo credit Alexis Lariscy
Option 2: Rent a stroller
Costs are: $15 a day for a single stroller, $31 a day for a double stroller.
Sneaky Money Saving Tip: You can save some money by pre-paying the number of days you will require a stroller and save a few bucks.
When you get to the theme park, show the receipt to the rental place and receive your stroller for the day. Check out our other tips for saving money on your vacation here!
Option 3: Buy a stroller in Orlando
Buy a stroller when you arrive. Depending on how many days you are going to be at Disney World, you may consider buying an inexpensive stroller to use for your vacation. Whether it's in a Walmart, Target or an Amazon purchase, it will be worth looking into for the cost of purchasing vs. renting.
At the end of your vacation you can bring it home, or, make someone's Disney experience super magical and gift it to another family that is waiting in line for a stroller as you are leaving the park on your last day.
2. Hotels
You have a number of options of where to stay on your Disney Vacation. You can stay on site at a Walt Disney Resort Hotel or you can stay off site at a local hotel in Orlando. If you are traveling with your small children we highly recommend that you stay at a Disney World hotel on site. We have a run down of all the perks here, but the biggest perk for families with small kids is convenience. You are close to your hotel room at all times with convenient transportation via Disney's bus system, monorail, or Skyliner.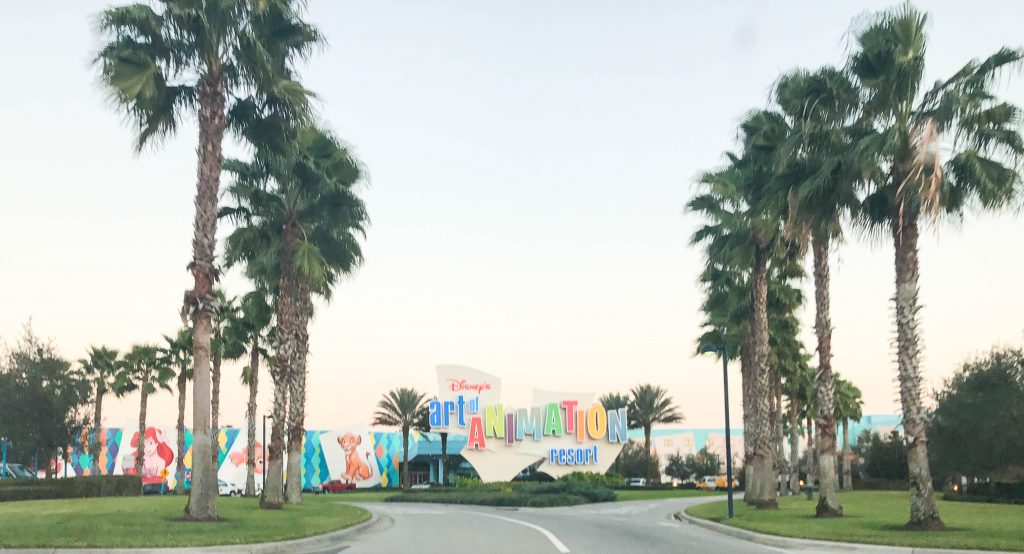 photo credit Alexis Lariscy
We have good news about hotels with your toddler…we recommend you stay at the cheapest place at Disney World! The Disney Hotels are fantastic and you really can't go wrong with whatever one you choose.
The Value hotels tend to be the most fun for the little ones! The Value hotels are decorated in amazing themes that the whole family will enjoy. Check out Pop Century, All Star Movies and Art of Animation hotels! We have an entire post dedicated to the best Disney Hotels for toddlers so be sure to check it out!
3. Know Height Requirements
It's a good idea to figure out what attractions your child can go on before you get to the parks so there is no disappointments!
There are plenty of attractions that have no height requirement so don't worry about not having things to do. Feel free to use our Disney World height chart for reference:
Disney has a fantastic system called Rider Switch. You really need to be aware of this Disney system and utilize it. This is one of our best tips for traveling to Disney with younger kids.
If the entire family wants to go on a ride but one person is too short to go on it, use rider switch!
The non-rider (in this case, the toddler) can stay with one adult while another adult rides the ride. Then, when the adult who just rode the ride is finished, you swap places and the person who was with the non-rider can now ride the ride while the one who just rode the ride stays with the non-rider. You do not have to wait in a long line again, you just tell the cast member tha tyou are using the rider switch pass and you will zip up to the front and avoid long lines.
We have a more thorough explanation of how this system works here, so be sure to check it out.
4. Plan Differently!
It doesn't take too long reading our material to realize we are sticklers for planning your Disney World trip in order to make it great. That being said, we realize that it is nearly impossible to keep a rigid touring schedule with toddlers.
You must plan your trip with this in mind. We can't tailer make your trip for you but you can tailer make it for yourself by knowing how your family operates best.
Are your children early risers? If so, try to take advantage of Early Theme Park Entry – you can get into the Disney Parks 30 minutes early first thing in the morning!
If your kids hate the early morning you may want to let them sleep and not try to hit rope drop.
You can't "wing it" when you get to the park so you do need to plan out your meals and fast passes accordingly. You must plan ahead in order to avoid lines and eat meals with characters.
A dining reservation is a must for a character meal. These need to be made well in advance and you need to be thinking about what restaurant your kids will enjoy – not necessarily what place has a the best food. Chef Mickey's and Cinderella's Royale Table is our favorite option for character breakfasts.
Trust us, you do not want to wait in line for 90 minutes with a 3 year old. If you are feeling overwhelmed, don't worry – we have a helpful planning guide to take the stress out of this part of planning.
You will probably not stay at the parks all day. Possibly head back in the early afternoon for a nap and quick swim and then go back to the parks at night for the fire works and few more attractions. This is why we highly recommend staying on the Disney property if your budget allows.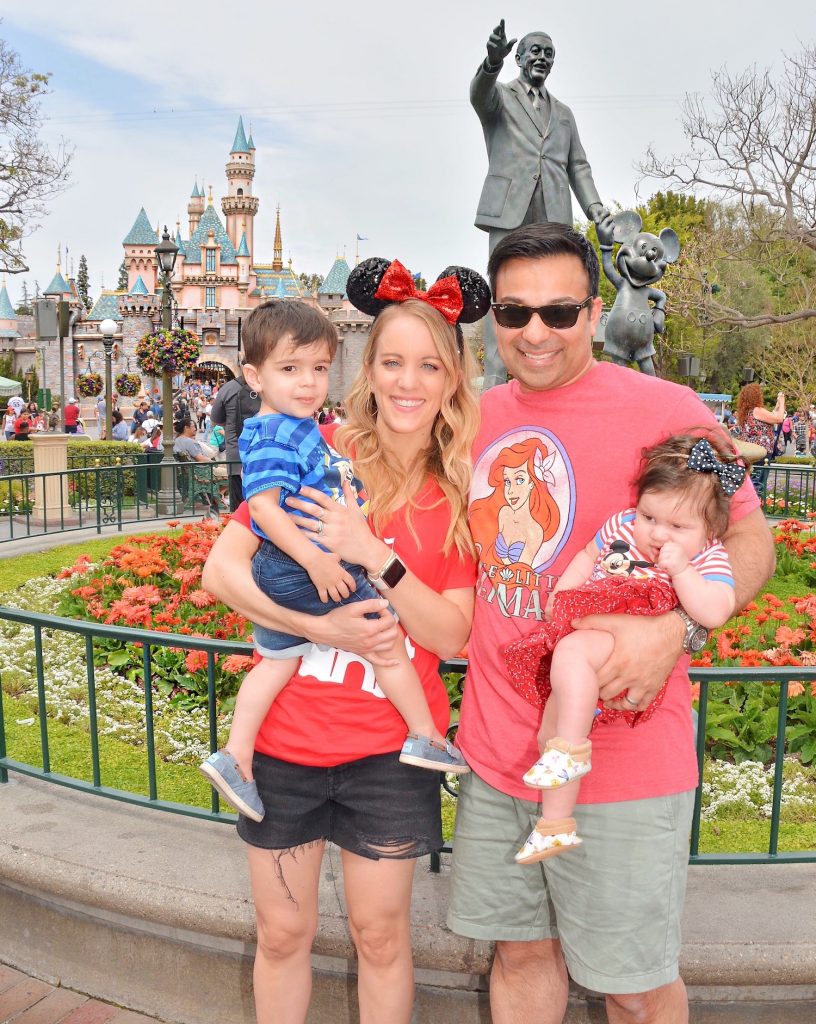 Slow it down to your pace! This is the best way to enjoy your trip with your toddler. Slow down and know you won't be able to do everything.
If you are traveling primarily with toddlers we do recommend spending more time at Magic Kingdom than the other parks because of the kid friendly attractions. This leads us to number 5…
5. Stay Extra Days
Stay extra days if you can. We know what you are thinking…yeah, I'd love to stay a long time but we have this little thing we call "work" that we need to do and it's hard to get away from it. We get it!
Here's the deal. With teens and older elementary age kids you can fly through the parks at a much quicker pace than you can with toddlers.
With older kids you only need a few hours of sleep and then they can get up and do it again. With toddlers you can't get through the parks so quickly. If at all possible, stay longer to spread out your visit and give yourself extra days,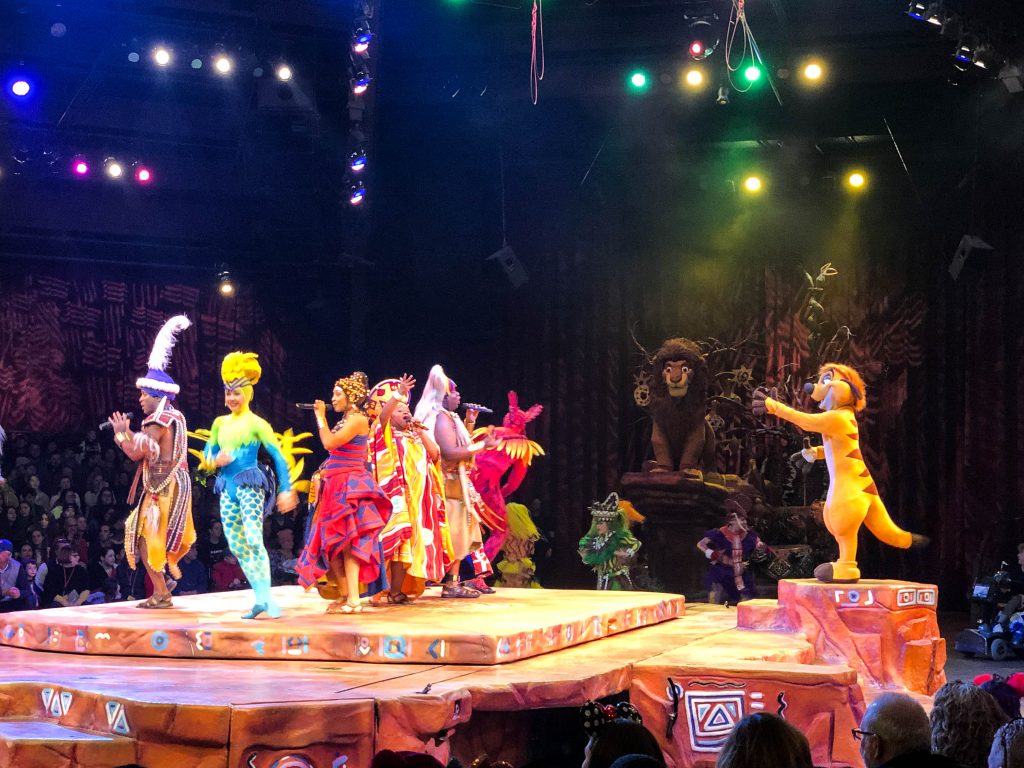 photo credit Alexis Lariscy
You may be surprised to find that sometimes staying extra days can end up costing less per day when you tack on an extra day or two. See if you can financially swing it. You do not need to pay extra for the park hopper pass when you are doing Disney with young kids. Enjoy the park you chose for the day and don't worry about trying to do everything.
6. Pack For the Day
Pack a backpack and throw it in the stroller! You know what's best to bring for everyday but here are some items you might not have thought of that will help on your trip:
Favorite snacks, new snacks, food pouches, baby food, meals, sippy cups and a water bottle
Disney costume or Disney clothes. Buy these before you go and save money!
Sunscreen, hat and rain protection for the stroller and toddler
Battery operated fan. If you going in the summer, consider a clip on fan in the stroller
Fun surprises. Glow sticks, sticker tattoos, Mickey ears etc…
Change of clothes, sweatshirt, towels and disinfecting wipes
Rain cover and rain gear
Baby carrier to utilize when standing in line
*Check out this post for exactly what we recommend you bring in to Walt Disney World!
7. Adjust Your Expectations
Your Disney Trip Will Not Be Perfect! Let's just get it out there!
If you are dreaming of the Disney World commercial where you and your family are the only ones at the park and Mickey and Minnie come running up to you as your child gives them a big group hug and takes you into the castle, I need to wake you up right now…this is only a dream…it won't happen. That commercial is so annoying, isn't it?
The reality is there will be a massive amount of people! It will be hot! You will spend time standing in lines!
You will see Mickey, Minnie, and your favorite Disney characters but your child will run away in terror instead of giving them a hug! Katie's daughter hid under a table at Chef Mickey's when she saw Goofy and started crying – it happens! Young children can be so unpredictable.
Here is what we want you to do. Plan for the worst. Plan for 100 degrees, massive humidity, 2 hour lines, crying children and no characters to be seen anywhere. Bottom line is, take it easy. Have a plan but be willing to relax and change it at the last minute if you have to.
Enjoy meandering main street . Hang out at your Walt Disney World Resort and enjoy looking for hidden Mickey's. Let your toddler play in the play areas in the Animal Kingdom. Ride "Its A Small World" and avoid the Haunted Mansion. And for Pete's sake, let your toddler ride that flying elephant ride that she's seen on the commercials!
Just relax and you and your child will have wonderful, magical memories for a lifetime!
Next, click over to read our 3 expert tips for taking toddlers to Animal Kingdom!