Disney World is an expansive place and it has a reach far beyond little girls who love princesses. It is a place for the young and the young at heart!
When planning a Walt Disney World Vacation, you may be wondering what you will encounter when you are there. Will there be couples? Families? Little kids? Which park will be the busiest? When do people go?
Disney With Daves Daughters has conducted some surveys among over a thousand Disney fans to get information that will help you – and us! – know what to expect on your next Walt Disney World Vacation.
A note about our surveys: We conducted surveys in Facebook groups for people who are planning Walt Disney World vacations. The respondents are adults with computer and internet access. The respondents are people who have recently been to Walt Disney World or are about to go.
Let's jump in.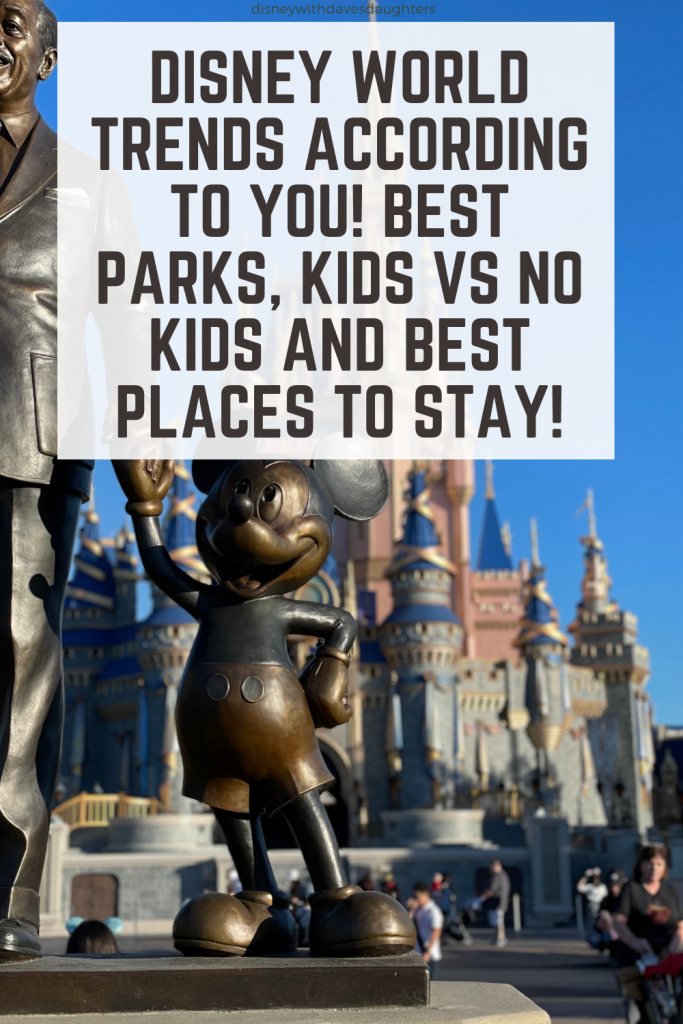 What Disney Park is The Most Popular?
One of the most common questions is this one: what Disney Park is the most popular? There are four parks to choose from – Disney's Magic Kingdom, EPCOT, Hollywood Studios, and Disney's Animal Kingdom.
We surveyed 256 people who have recently been to Walt Disney World and asked them "What is your favorite park at Walt Disney World?"
Magic Kingdom is the clear winner. 152 respondents said that the Magic Kingdom is their favorite park. Most love it because it is "classic Disney" – it has Cinderella's castle and the classic Disney attractions.
EPCOT came in second with 61 vote, Hollywood Studios had 51 votes, and Disney's Animal Kingdom had 42 votes.
It will be interesting to see how these change in the coming years. Hollywood Studios has been updated in the last several years with Toy Story Land and Star Wars – as more and more people experience these two worlds we wonder if more people will find Hollywood Studios to become more attractive.
EPCOT does seem to be the favorite park for adults who are visiting Disney World without kids. You can find out more about that here.
EPCOT is undergoing construction as of this writing and we wonder if it will become a new family favorite – or if it will continue to be the best place for adults to visit!
Things brings us to our next survey question:
Do You Bring Kids to Disney World?
We had 1,154 people respond to this question. People feel very strongly about kids and Walt Disney World.
We asked "How many kids will you be taking on your next Disney trip?"
Answer options: 0, 1, 2, 3, 4, 5 or more
Does this surprise you as much as it surprised us? 42% of respondents – 336 people – said they are not taking ANY kids with them on their next trip to Walt Disney World!
Another 42 percent of respondents take 1-3 kids with them to Disney. 200 people said they will be taking one child with them, 354 said two kids, and 137 people said they will be taking 3 kids with them on their next trip.
A smaller percentage take more than three kids. 64 people said they will be taking four kids with them on their next Disney trip, and 63 respondents said 5 or more kids. Those are mostly larger families or multiple family groups.
This brings us to our next survey question:
What Age Range Best Describes The Ages of Kids You Will Bring With You to Disney World?
We had a huge response to this question as well. We had 1,247 people respond. People are very opinionated about what ages of kids should – or should not – go to Disney World!
Our response options were:
None
Babies
Toddler/Preschool
Elementary
Middle School
High School
Adult kids
Unsurprisingly, almost 2/3 of people who bring kids to Disney World are between the ages of 1 and fifth grade. Personally, early elementary is our favorite age of kids to bring to Disney World!
We think five years old is the best age! They're old enough to remember it and young enough for the magic to be extra special. We have been to Disney World with little kids, as adults with no kids, and with babies.

In our opinion, no age is right or wrong age of kids to take to Disney World, but clearly there is a popular age range. Toddler and Elementary age kids would also find the Magic Kingdom to be the most fun, which could factor in to the Magic Kingdom also being the favorite park.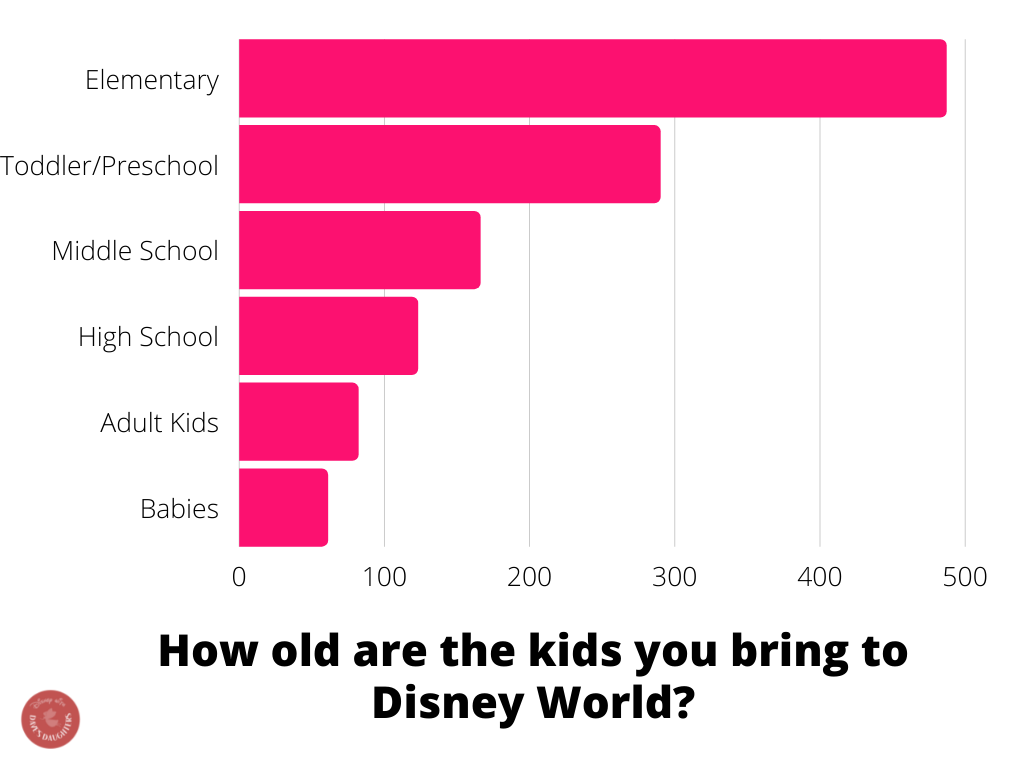 Lets break down the actual numbers. 487 respondents said they bring elementary age kids to Disney World and 290 said toddler/preschool. If you are one of the almost 25% of people bringing toddlers to Disney World, you will want to check out this post! It has everything you need to know about going to Disney with small kids.
As far as older kids go – 166 people said they will take middle school age kids, 123 said high school age, and 82 said adult kids! Only 61 people said they take babies to Disney World.
We were curious as to where people stay when they visit Walt Disney World. With the plethora of hotel options out there, what works for people?
We asked:
On Your Last Disney Trip, Where Did You Stay?
We had 248 people respond to this survey question. We wanted to find out if people stay on or off site.
We also wanted to know which tier of hotel people chose if they stayed on site.
The answer options were:
Off site hotel
Airbnb/VRBO/similar
Value Disney Resort
Moderate Disney Resort
Deluxe Disney Resort
The VAST majority of people stay on the Walt Disney World properties, and of those, they stay at the Deluxe hotels. There are definite perks to choosing the Deluxe hotels (including extra evening hours at the parks), but the price can make these out of reach for many people.
Here is how the numbers broke down for us:
8 people said they stayed at an off site hotel
14 people said they stayed at an Airbnb, VRBO, or similar accomodations
69 people stayed at a Disney Value hotel
52 people stayed at a Disney Moderate hotel
105 people stayed at a Disney Deluxe hotel
As you can see, over 90% of respondents stayed on site at Disney World. Of those, 46% of people stayed at a Walt Disney World Deluxe Resort. Where people choose to stay is dependent upon many factors, including price, kids, and proximity to the parks.
This brings us to our last survey question.
When Do You Plan To Visit Walt Disney World?
We had 478 people respond to this question. Our answer options were:
EPCOT's Food and Wine festival
Christmas
Halloween
Summer
Spring Break
Run Disney Event
Other Disney Event
Other time of year
These answers fit with our Disney Crowd Calendar predictions. Summer used to be the absolute worst time to go (as far as crowds are concerned). It is now not as bad as it used to be. What makes summer bad is actually the heat and humidity!
These responses do show that Disney events do draw in crowds. The food and wine festival will bring in lots of adults. Halloween – Mickey's Not So Scary Halloween – is an extremely popular time to go.
Disney has running events, cheerleading competitions, and other sporting events. These are all things to be aware of.
Overall these answers should help you know what to expect for your next trip to Walt Disney World!
As you begin to plan your next trip, we're here to help! Here's some posts to check out:
If you're determining when to go, check out our Disney World Crowd Calendar.
If you already have a trip planned, figure out where to stay by looking at how to decide if you should Stay onsite vs offsite and also get our complete guide to Disney World Resort Hotels.
This post has key topics you need to know before you go so don't miss it!