One of our favorite parts of visiting Disney is eating our way through the parks and resorts. When we go to Walt Disney World there are a couple of snacks that we just have to have.
First – we always get a Dole Whip, done any way we like. It is Dave's favorite snack! Of course we love the Mickey shaped waffles and we look forward to them at Chef Mickey's. Last, but definitely not least, are Mickey-shaped beignets.
Probably the least well known of these three delicious treats are the beignets. If you have never had wonderful warm beignets, you absolutely must try one on your next Disney World adventure.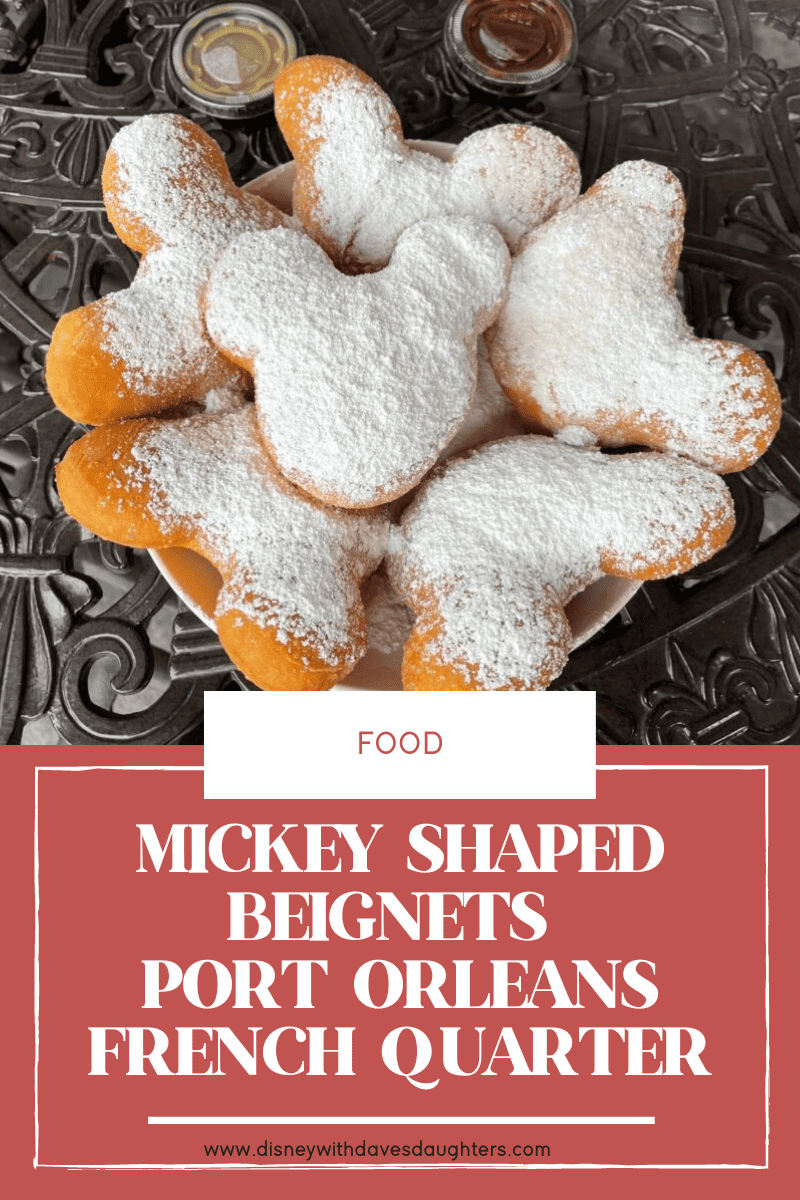 What Is A Beignet?
A beignet is a fluffy, light deep fried pastry that is made of yeast dough and covered with powdered sugar. They are kind of like a donut, (think Krispy Kreme) after they come right out of the oven – all warm and airy, but with powdered sugar and without the glaze. In a word, beignets are absolutely delicious!
Where Can I Get A Beignet in Disney World?
There is only one thing wrong with the amazing Mickey Beignet and that is that Disney World cleverly hides them in a secret spot. The scarcity of these beignets is what makes them so special!
You can only get Disney World beignets at one place in all of Disney World, at a place called Scat Cat's Club Cafe. You can also find the Mickey beignets at its neighbor, the Scat Cat's Club Lounge. Many people know that you can get Mickey beignets but they have no idea where these restaurants are located. Don't worry, we've got you covered!
Scat Cat's Club Cafe and Lounge are located at Disney's Port Orleans Resort – French Quarter. That's right, this is the absolute only place you will be able to enjoy this sweet treat. If you must get a mickey beignet (and take our word for it, you must) then you need to get over there.
There are two things we need to mention. First is, in case you were wondering, they are not sold at Disney Springs.
Second, you CAN find Beignets at Les Halles in the France Pavilion in Epcot, however, they are not the "official" Mickey Beignets and come served a bit differently.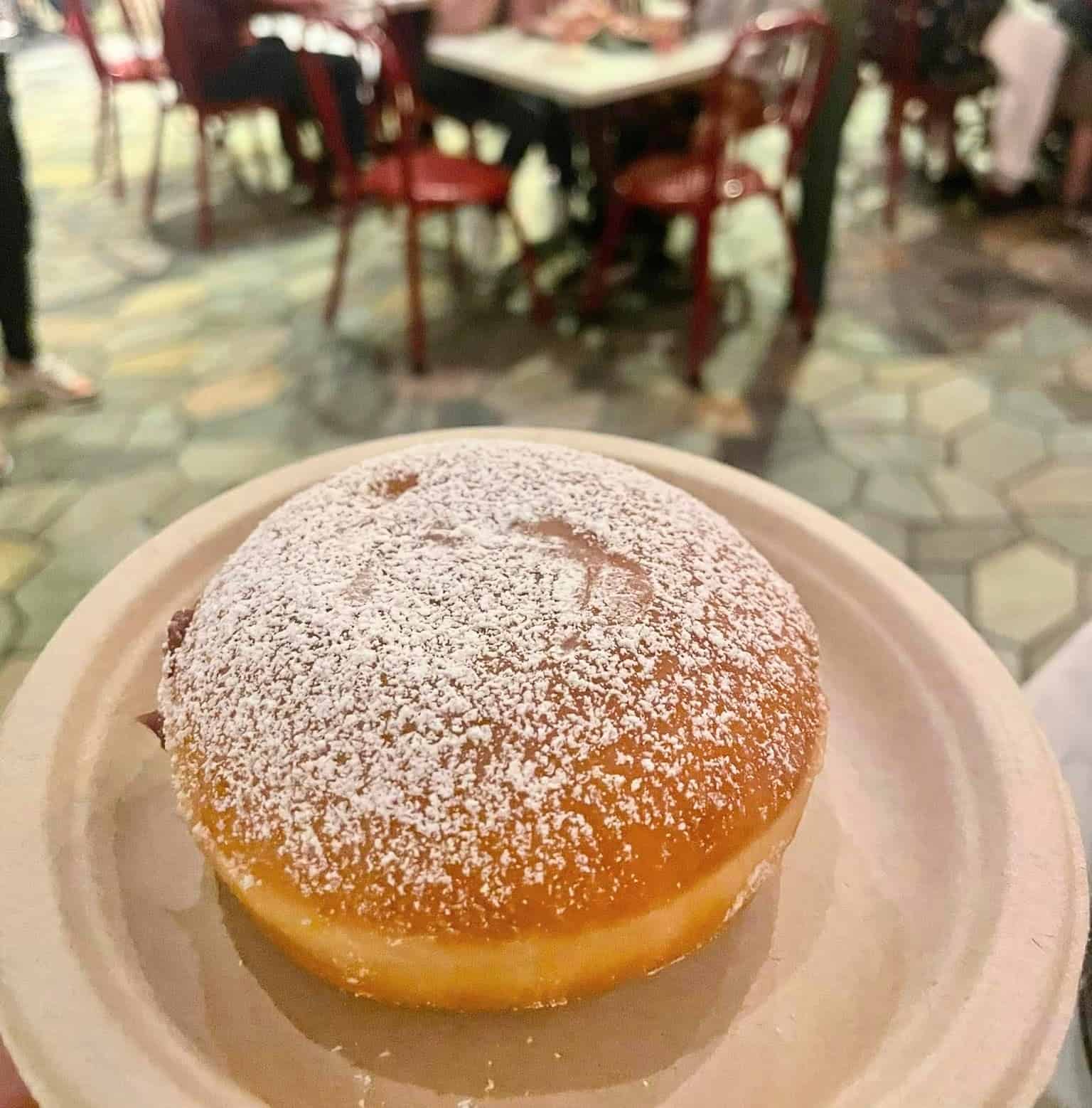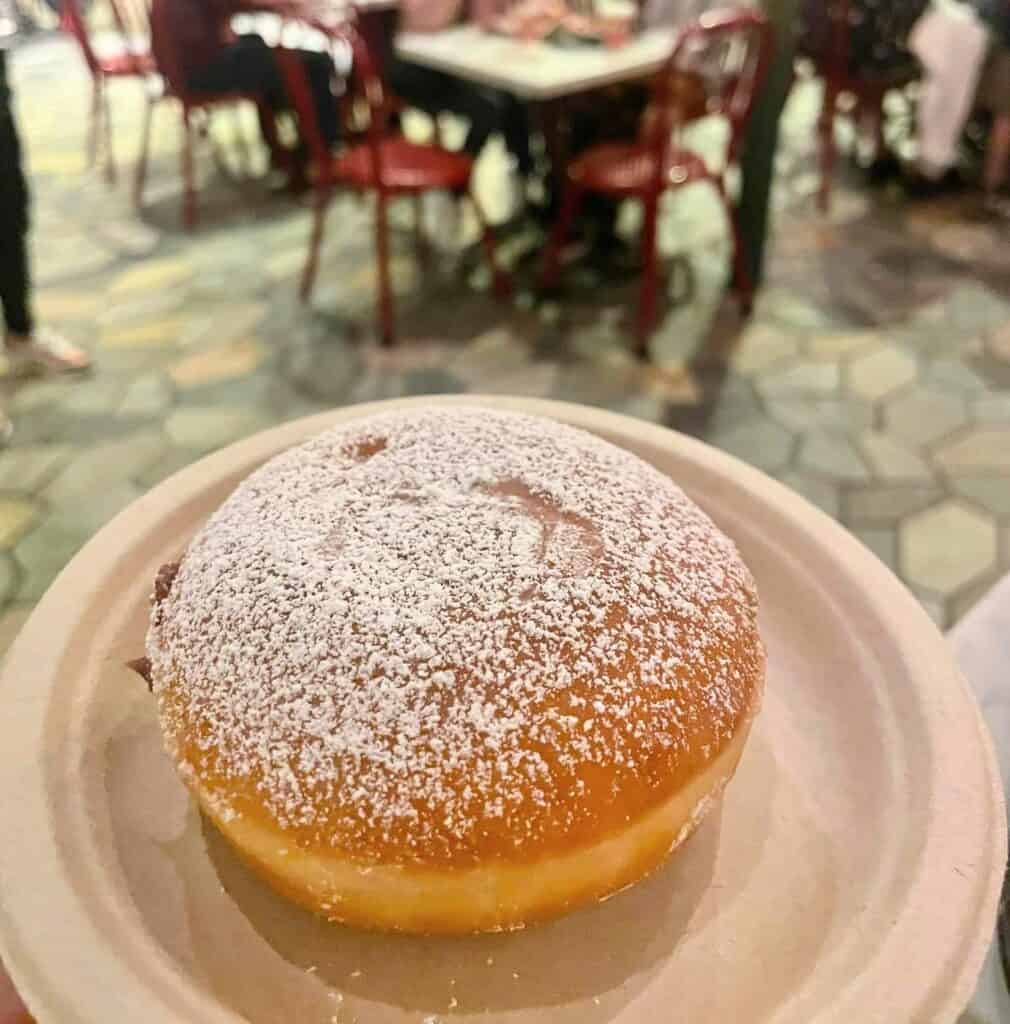 What's the Difference Between the Scat Cat's Club Cafe and the Scat Cat's Club Lounge?
Scat Cat's Club Cafe

The cafe is open all day so you can feast on your Beignet from early morning (fantastic with a good cup of coffee) to late night. Scat Cat's Club Cafe is a walk up counter and other than the Beignets options, they serve some hot and cold beverages.
Scat Cat's Club Lounge
The lounge is open from 5pm until midnight (this is subject to change). In addition to the beignets, they serve other snack style foods as well as cocktails, craft beer and other full -service bar drinks.
Children are welcome into the lounge (they serve non-alcoholic beverages) and there is typically jazz music playing for your entertainment. You will find live entertainment starting at 7:30 Wednesday through Sunday.
Beignet Options at Port Orleans French Quarter Resort
Ok, so you've made your way over to Disney's Port Orleans French Quarter and you are ready to indulge! Now you have some decisions to make regarding which Beignet you want.
Here are your options served at the Scat Cat's Club Cafe:
Mickey-Shaped Beignets (3 or 6) – these comes with one of three different dipping sauces: strawberry, salted caramel or chicory chocolate ganache. You can purchase additional dipping sauces for about a dollar each. Salted caramel is a favorite!
Baton Rouge Beignets – This one is strictly for the adults. Two Beignets jazzed up with your choice of Baileys Irish cream, Kahlua or RumChata. We like to refer to them as "boozy Beignets".
Mickey-Shaped Beignet Sundae – This great treat is served with ice cream, sauce and whipped cream.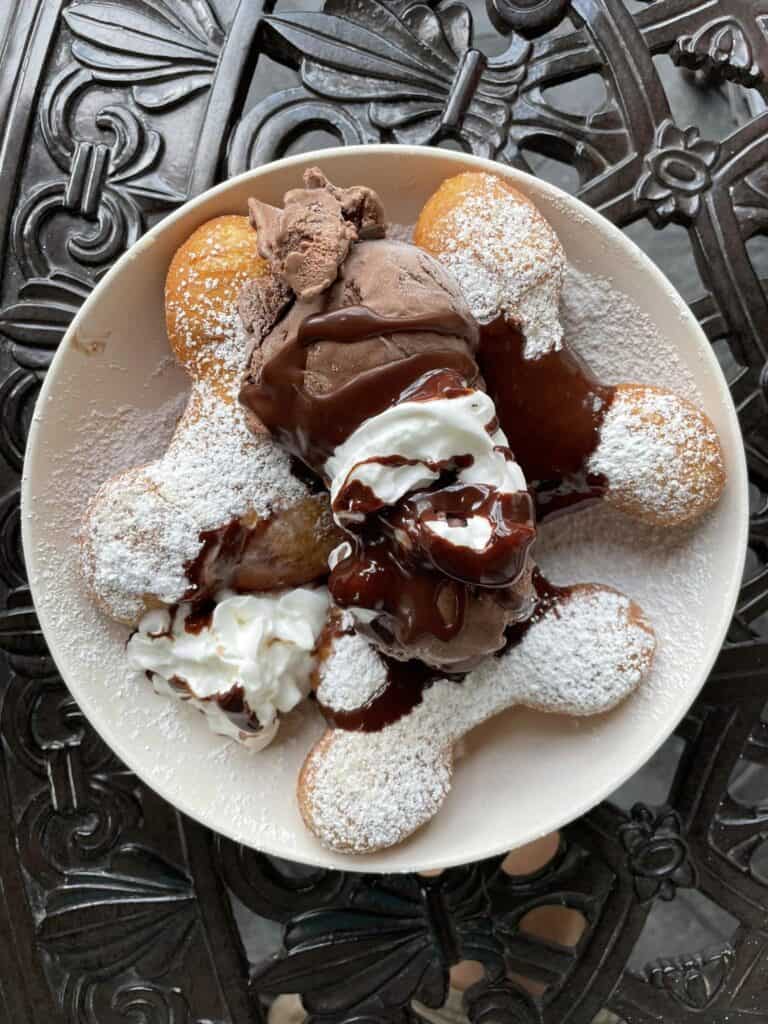 Beignets can be messy!
Make sure you take plenty of paper towels with you as you leave to eat them. The powdered sugar can get everywhere…on your face, all over your hands and on your clothes…everywhere! Not only does it get all over but it gets sticky.
Our suggestion is as soon as you finish your delicious Beignet, you head to a washroom and clean the stickiness off with warm water. Take your time to enjoy the beignets – we don't suggest grabbing them to go for breakfast and then running to catch a bus. Your sticky hands will regret this decision!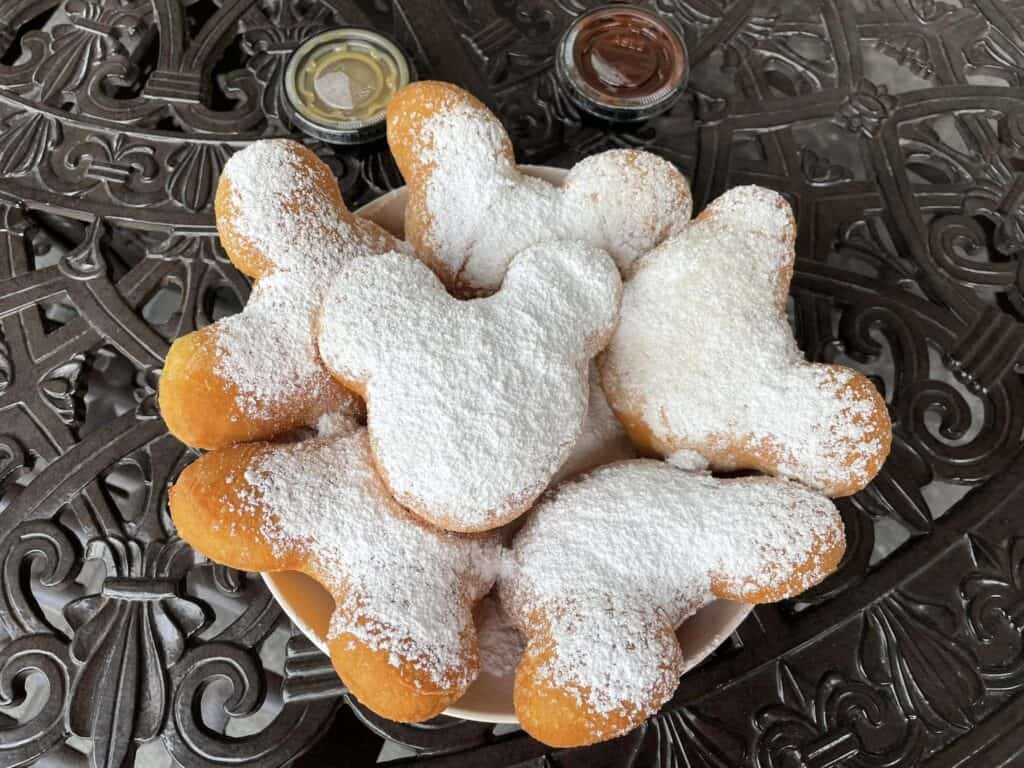 If you order the sundae, be aware that the vanilla ice cream on top of the warm individual beignets will turn to soup really quickly and even though it's served in a small bowl, our suggestion is to eat it at a fairly good pace.
Mickey Shaped Beignet Recipe
Good news! You can enjoy Disney's beignets at home! Disney has graciously given to us the recipe on how to make their famous Beignets at home.
Ingredients
The ingredients needed to make the Beignets are as follows:
1 egg
1/4 cup sugar
1 tsp dry yeast
4 cups all-purpose flour
1/2 cup heavy cream
1/4 cup warm water (105°)
2 tablespoons vegetable shortening
1/2 cup boiling water
Vegetable oil for frying
1/2 teaspoon salt
Powdered sugar
Directions
Sprinkle yeast over warm water in a small bowl, stirring to dissolve. Let stand for 5 minutes.
Combine sugar, shortening, salt, heavy cream, egg, flour and boiling water in a large bowl; stir in yeast mixture. With the dough hook attachment of an electric mixer on medium speed, mix the dough just until combined and smooth. Let dough rest for 30 minutes.
Roll to 1/4-inch thickness and cut individual beignets with a Mickey Mouse-shaped cutter
or cut into 2 1/2 to 3-inch squares. Cover with a towel and let dough rise until doubled in size in a warm, draft-free area, about 1 to 1 1/2 hours.
Using caution, heat 3 inches of vegetable oil to 350°F in a deep, heavy pot over medium-high heat. Fry beignets until golden brown, about 2 to 3 minutes, turning as soon as they brown on one side. Remove with tongs and place on paper towels to drain. Dust warm beignets with powdered sugar and serve immediately.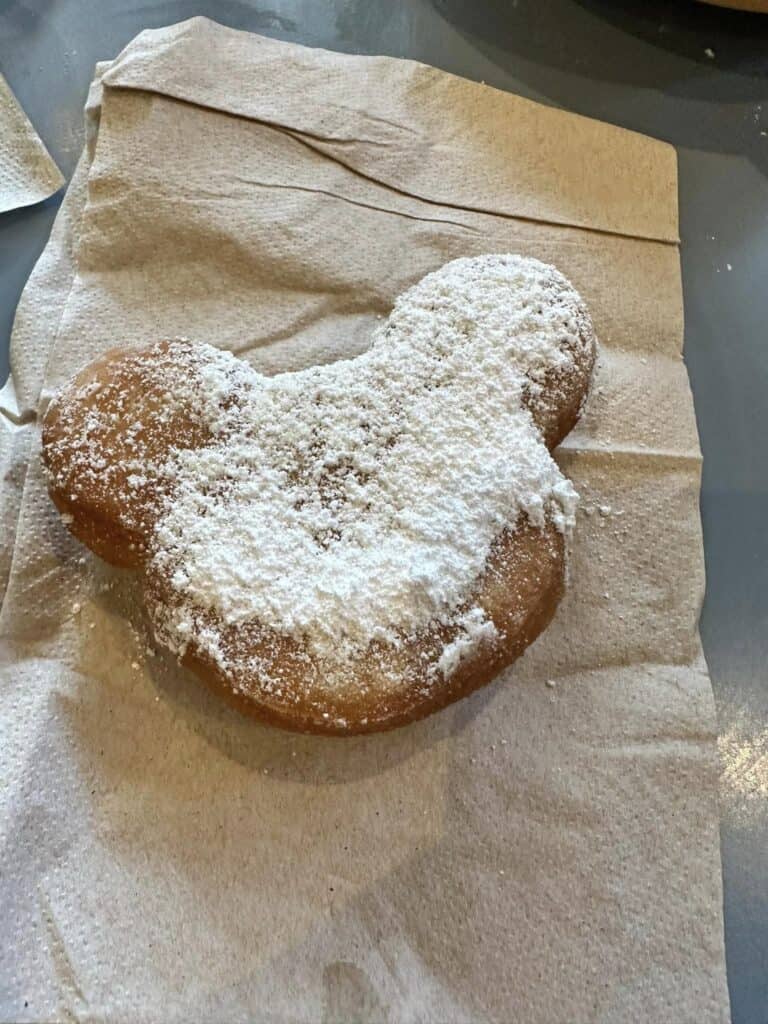 Your kitchen will be smelling delicious in no time! Speaking of smells – we hear that the smell of beignets will be pumped into Tiana's Bayou Adventure! We can't wait.
One final tip: we recommend not booking a park day on your arrival day. Instead, check in to your hotel and then head over to Port Orlean's French Quarter and get yourself some Mickey beignets! It is one of our favorite ways to kick off our Disney trip.