Disney World with your toddler can be a wonderful experience! There really is no age that is "too young" to bring to Disney World.
If you are bringing toddlers to the Disney parks, your touring schedule, pace and expectations will need to be planned out much differently than you would with older children and adults. Deciding where to stay is one of the first steps if you are following our planning guide.
There are pros and cons to staying on site at Disney or staying in a hotel off site in Orlando. If you are planning on staying on site at Disney, you will need to figure out the best Walt Disney Resort to stay at. This is both fun and a bit overwhelming! Let's jump in.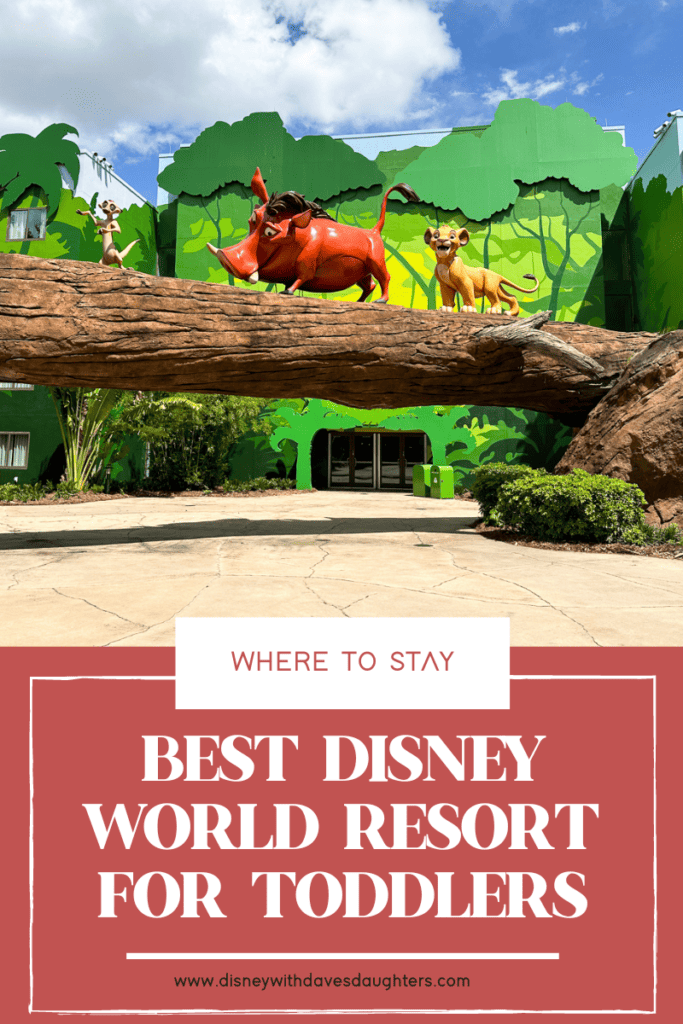 What to Know About Disney World Hotels
The first thing to remember in picking out a Disney resort is there is really no bad choice. If this is your first time to Disney World, rest easy knowing that every resort, restaurant, shop and anything else on the Disney Property caters to kids.
Cast members understand crying, potty emergencies, meltdowns and everything else that real life toddlers and their adult companions (parents) go through. Instead of a condescending glare, you almost always get a smile and assistance from one of the Cast Members working at the resort.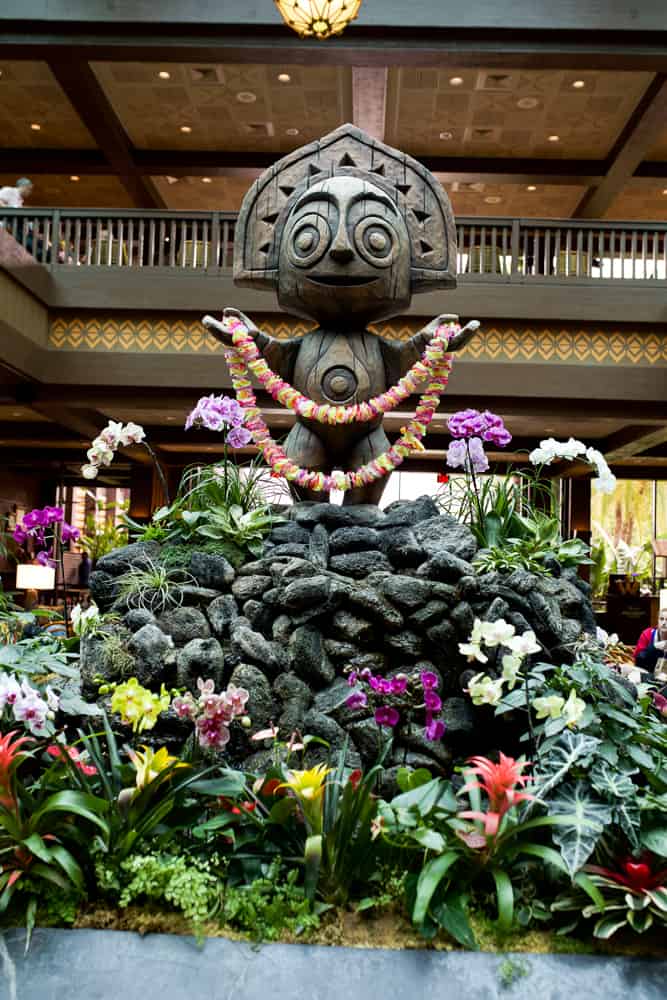 You will even find that some Disney hotels offer bed rails to help prevent your toddler from rolling off that queen bed!
Second, all Disney World hotels have some things in common. All have at least one swimming pool, restaurants, as well as transportation link to the parks and other Disney properties (bus, monorail, or walking path).
There are many perks you receive by staying on the Disney Property like Early Theme Park Entry, advanced dining reservation booking, gifts and other purchases sent to your room, and many other little perks.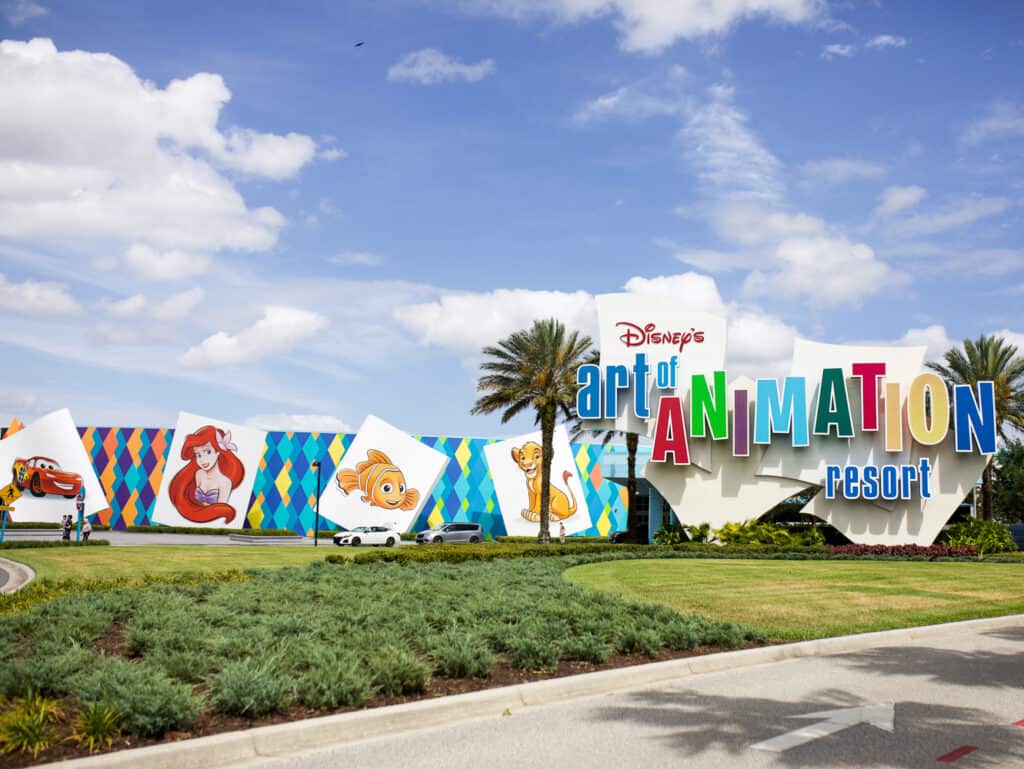 Finally, no matter which Disney resort you choose, Disney does a wonderful job of making you feel part of the Disney magic no matter if you are in one of the parks or back at your resort. It truly is one of the great benefits of staying in one of the resorts.
List of the Walt Disney World Resorts Categorized by Tiers
Disney has three tiers of resorts: Value, Moderate and Deluxe. There is a 4th category called Deluxe Villas. The Villas are accommodations mostly for Disney Vacation Club members, however, non-members can book them when they are available.
Most people look to book in one of the three main resort tiers – this will be our focus. We have an entire post dedicated to help you understand the Disney Resort tier system. You can find details about sizes of standard rooms, pricing, pools, and more.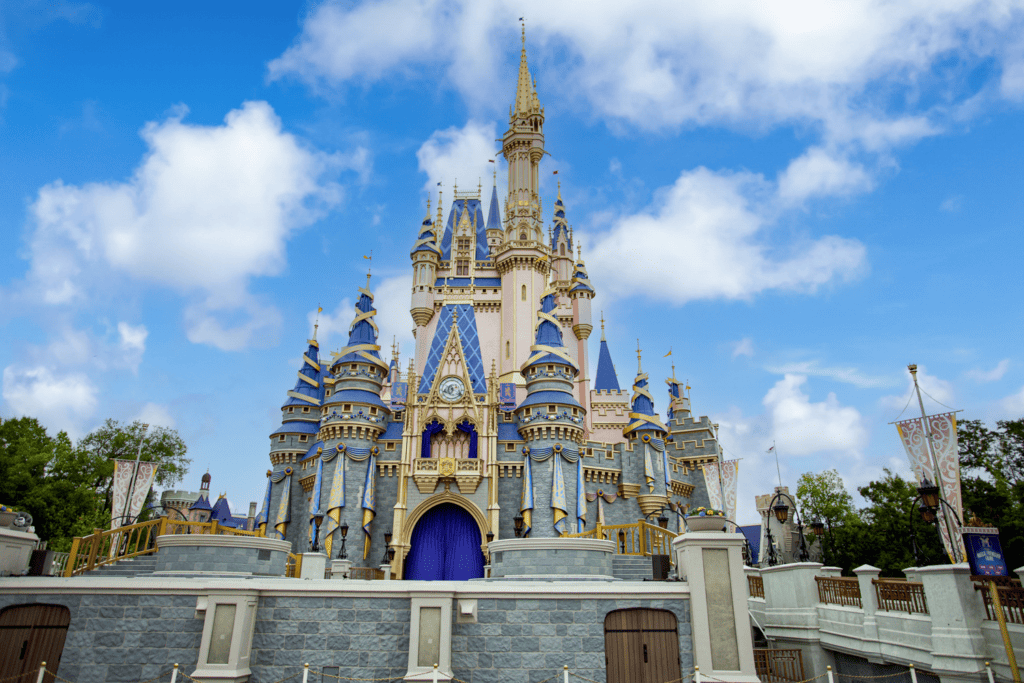 Disney Value Resorts
This is the least expensive hotel option. Currently Disney Value resorts include:
Disney's All-Star Movies Resort
Disney's All-Star Music Resort
Disney's All-Star Sports Resort
Disney's Art of Animation Resort
Disney's Pop Century Resort
The Campsites at Disney's Fort Wilderness Resort
Disney Moderate Resorts
These hotels are middle of the road pricing. Currently Disney Moderate resorts include:
Disney's Caribbean Beach Resort
Disney's Coronado Springs Resort
Disney's Port Orleans Resort – French Quarter
Disney's Port Orleans Resort – Riverside
The Cabins at Disney's Fort Wilderness Resort
Disney Deluxe Resorts
This is the most expensive category of hotel. Currently Disney Deluxe resort include:
Disney's Animal Kingdom Lodge
Disney's Beach Club Resort
Disney's BoardWalk Inn
Disney's Contemporary Resort
Disney's Grand Floridian Resort & Spa
Disney's Polynesian Village Resort
Disney's Wilderness Lodge
Disney's Yacht Club Resort
What Is The Best Disney Resort For Toddlers
It is hard to pick just one hotel as "the best" for families with young children. There are many variables – especially price – that each family needs to take into consideration.
We will share with you the top two Disney Resorts for toddlers in each of the three hotel tiers.
Factors to Consider When Choosing A Disney Resort
There are several factors you need to consider when choosing a Disney resort for your family. Before you look at hotels, think through how much time you will be spending at your resort. Then factor in the following. They include:
Price – in our opinion, this is the most important factor.
Theming – how important is theming to your family?
Pool – if you plan on spending time swimming know what pools are at your resort
Transportation – every hotel has busses, but not ever hotel has the monorail, boat, or Skyliner
Dining Options – food court, poolside, quick service, and table service are all options that may or may not be at your chosen resort
Best Disney Value Resorts For Toddlers
Value resorts are fantastic for toddlers as the theming is incredible! If you are planning on spending a lot of time at your hotel this is something to consider.
The All-Star Movies Resort
The All-Star Movies Resort is considered not just by us, but many others, as the very best Value Resort for families with toddlers.
This hotel is themed very well with huge, larger than life statues! In the Toy Story area, you'll find statuses of both Woody and Buzz Lightyear. One thing we love about this area is the huge door you have to walk through to get to the area with the character statues. It feels like you've become a toy, walking through Andy's bedroom door!
There's also a 101 Dalmatians themed area with giant statues of Pongo and Perdita. Of course you'll see some smaller Dalmatians all around!
Find more photos from this area and read some of our favorite 101 Dalmatians quotes here!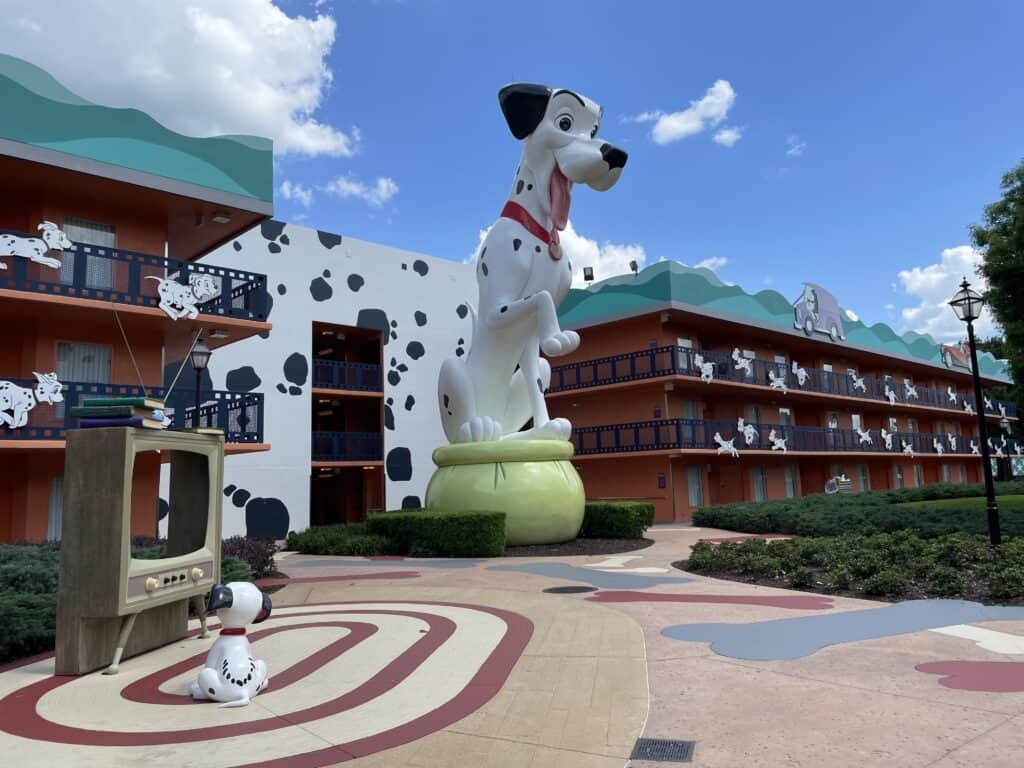 For hockey fans (or fellow Minnesotans), you'll love the Mighty Ducks themed portion of All Star Movie. There's a giant hockey mask by the pool, the pool bathrooms resemble locker rooms and fun hockey paraphernalia throughout the area.
Of course you will also find Mickey Mouse and other Disney favorites your little one will love to see. The resort is like a huge playroom except the toys are all ginormous!
There are two wonderful pools at All Star Movies but the main pool we want to draw your attention to is called Fantasia. As you may have guessed, the Fantasia pool is centered around Sorcerer Mickey Mouse with a huge fountain.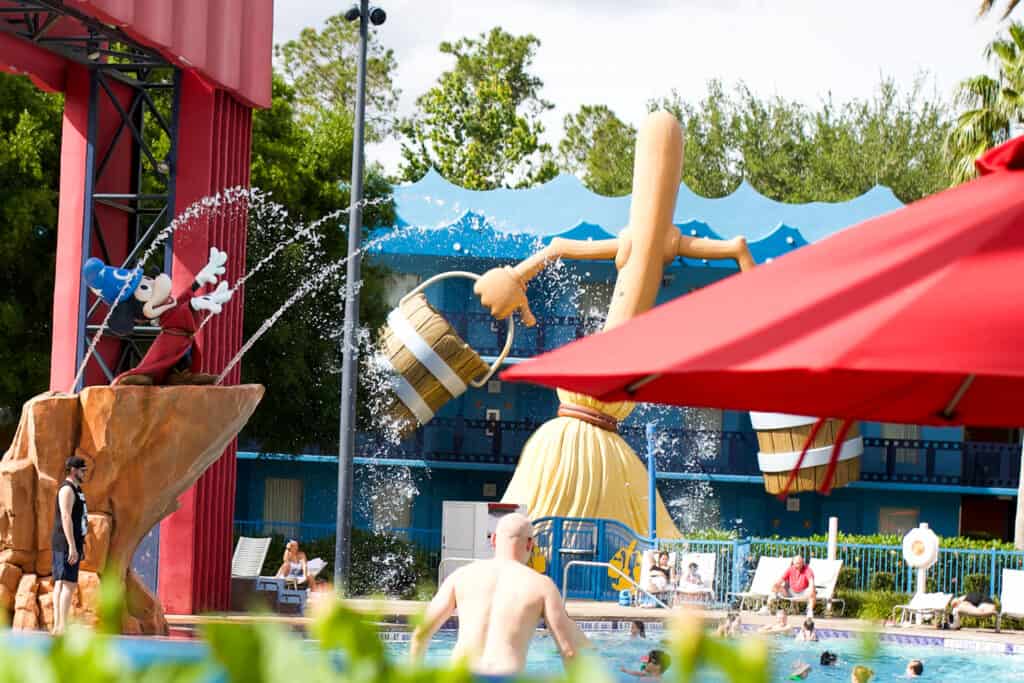 The World Premiere Food Court is decorated like a movie theater box office. The cuisine is divided up into different sections. There is plenty of seating in the dining area and of course, wide screen TV's everywhere showing Disney cartoons to keep your small children from eating. But seriously, there is plenty of kid friendly food.
Right next to the food court is a wonderful kiddie pool where your toddler will enjoy cooling off with Mickey in the background. (You can find out more about the best Disney Hotel pools here!)
The Art Of Animations Resort
We love The Art of Animation Resort for toddlers! First, this resort has family suites that are roomy, sleep up to six (actually 7 if your toddler is under three years old and in a crib). Do keep in mind that family suites cost extra, but you may find the extra space to be well worth the price.
Each room has a fridge and microwave which is perfect for your toddler along with the older kids.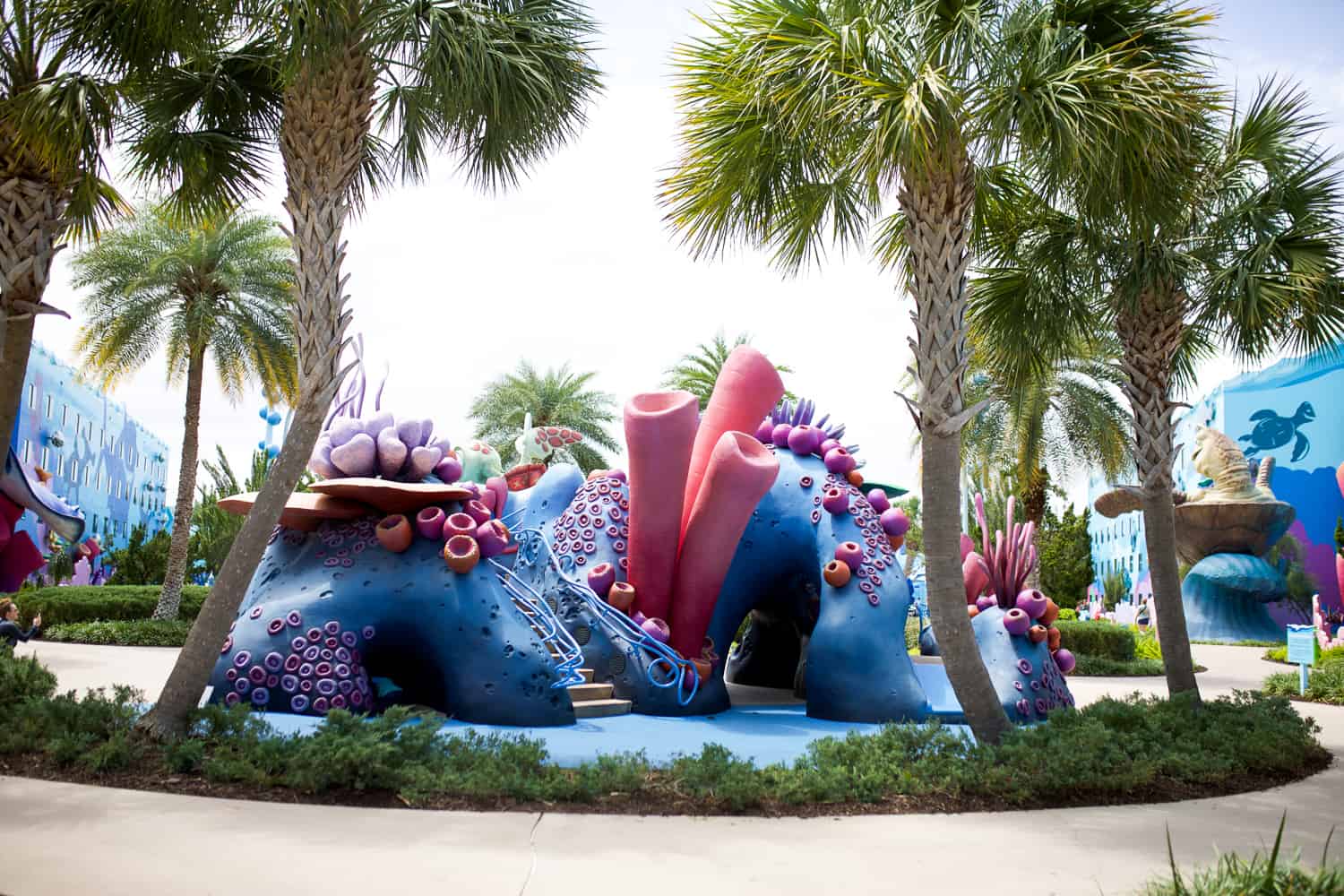 If your little one has ever seen Ariel from Little Mermaid, Nemo and friends from Finding Nemo, Simba from The Lion King, or Lighting McQueen from Cars or any other Pixar/Disney characters, they will be overjoyed at the themed decor around this resort.
There are four different sections at Art of Animation. There's the Cars section which transports you to Route 66 (literally the sidewalk becomes a road!) and you'll see all of Lightning's friends like Tow Mater, Sheriff and Sally. There's a smaller pool in this section as well.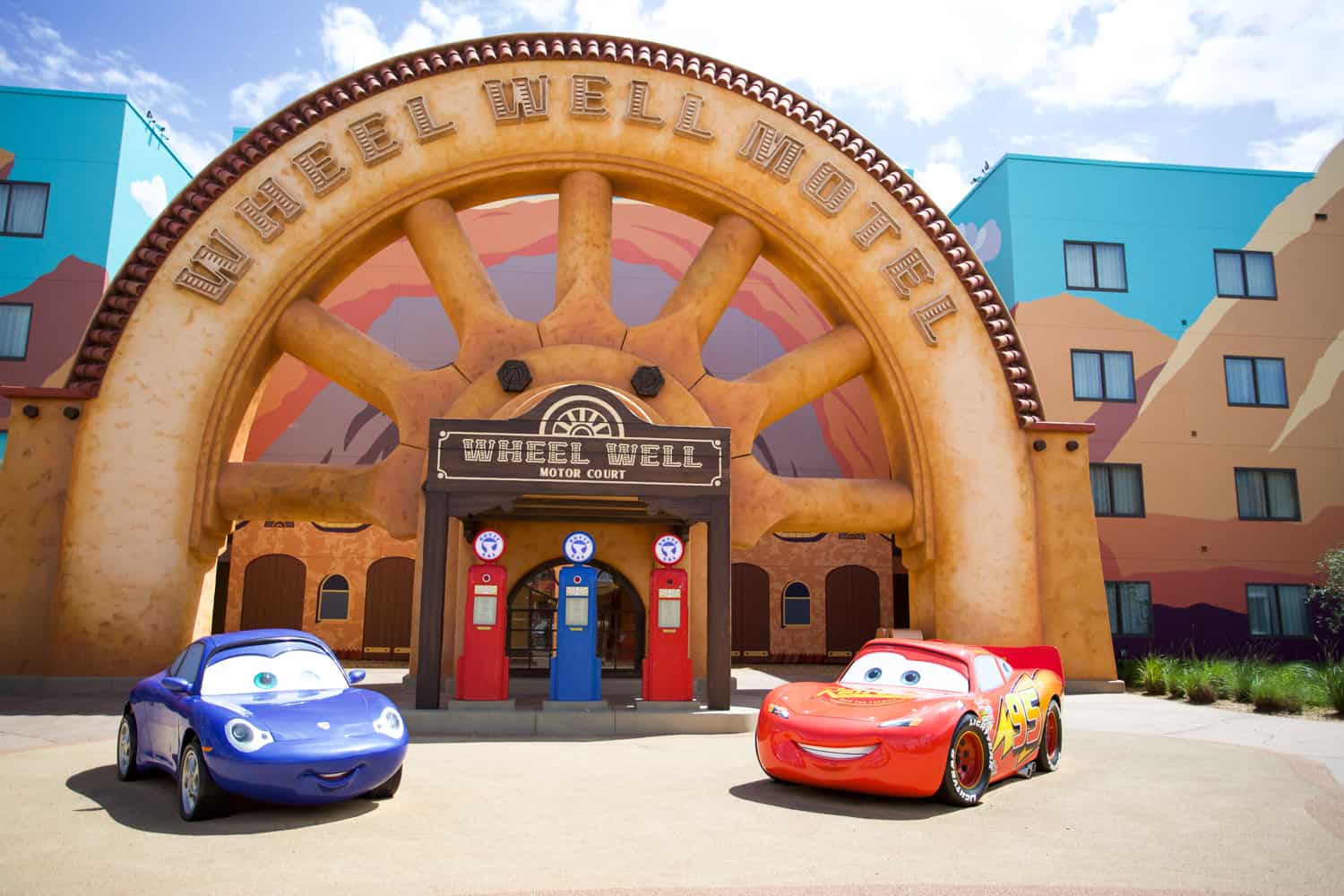 Walk into the Lion King part of Art of Animation and you'll see Scar perched up on the rock, watching everything below him (yes, including you). Timon, Pumba and SImba are joyfully walking across a fallen tree. Rafiki welcomes you into the Lion King section and you'll see Mufasa too.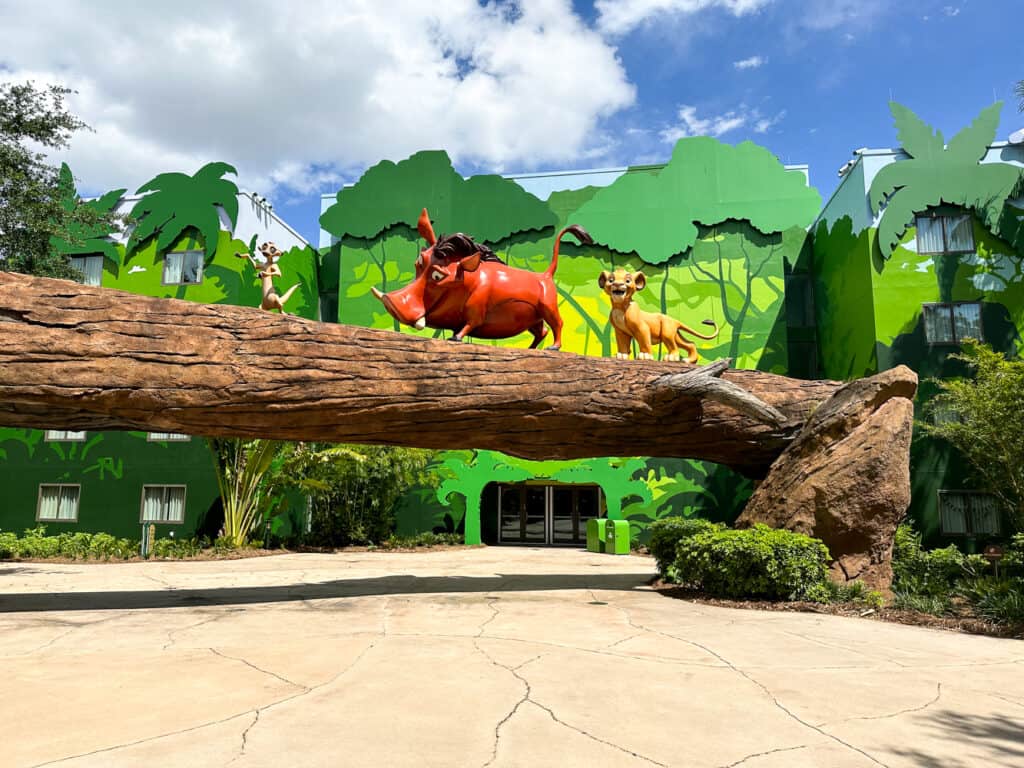 The Little Mermaid part is a colorful area with giant statues of King Triton who is facing Ursula and Ariel surrounded by tons of fish. It's beautiful! There's a smaller pool in this section and yes, you'll see Sebastian and Flounder as well!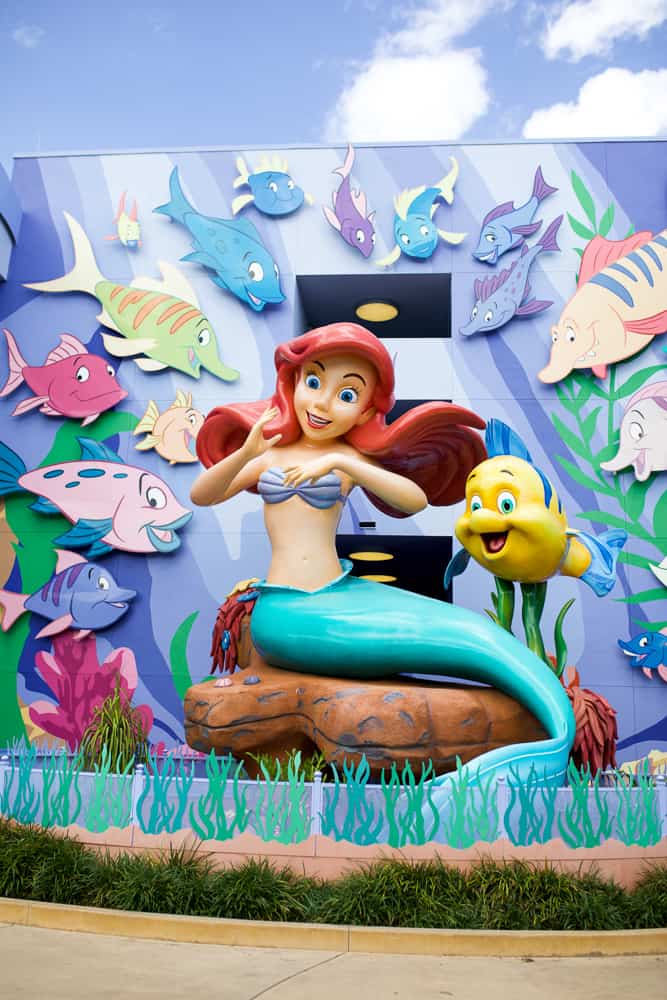 One of the highlights of Art of Animation for kids is the Finding Nemo part with the Big Blue Pool. It's one of the best pools for kids with its giant jellyfish, giant sharks on surrounding walls and fun music piping through the speakers. This is the largest pool on any Disney property.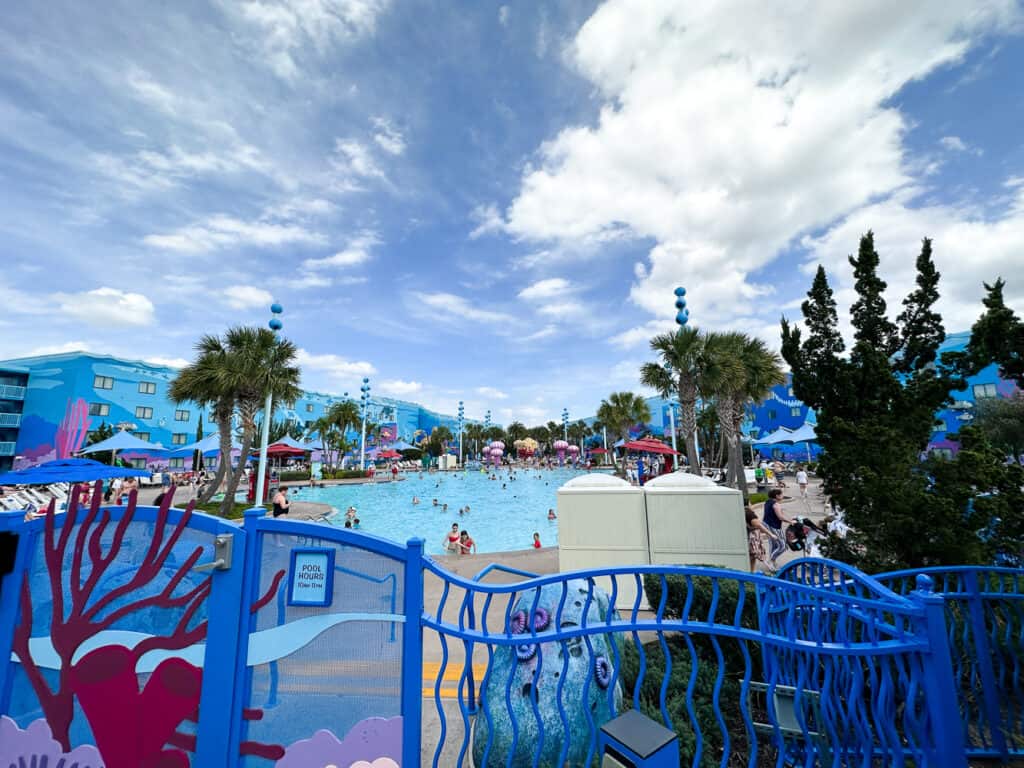 The three pools are beautifully themed as well with one of them even playing music underwater. When it comes to dining, the Landscape of Flavors restaurant caters to children with many kid favorite foods from Uncrustables to the ever popular Mac and Cheese.
One note about value resorts is there is no full service dining, however, the large food court has a fairly diverse menu. Keep in mind that the food is not cheap – a burger, fries, and drink cost us $17.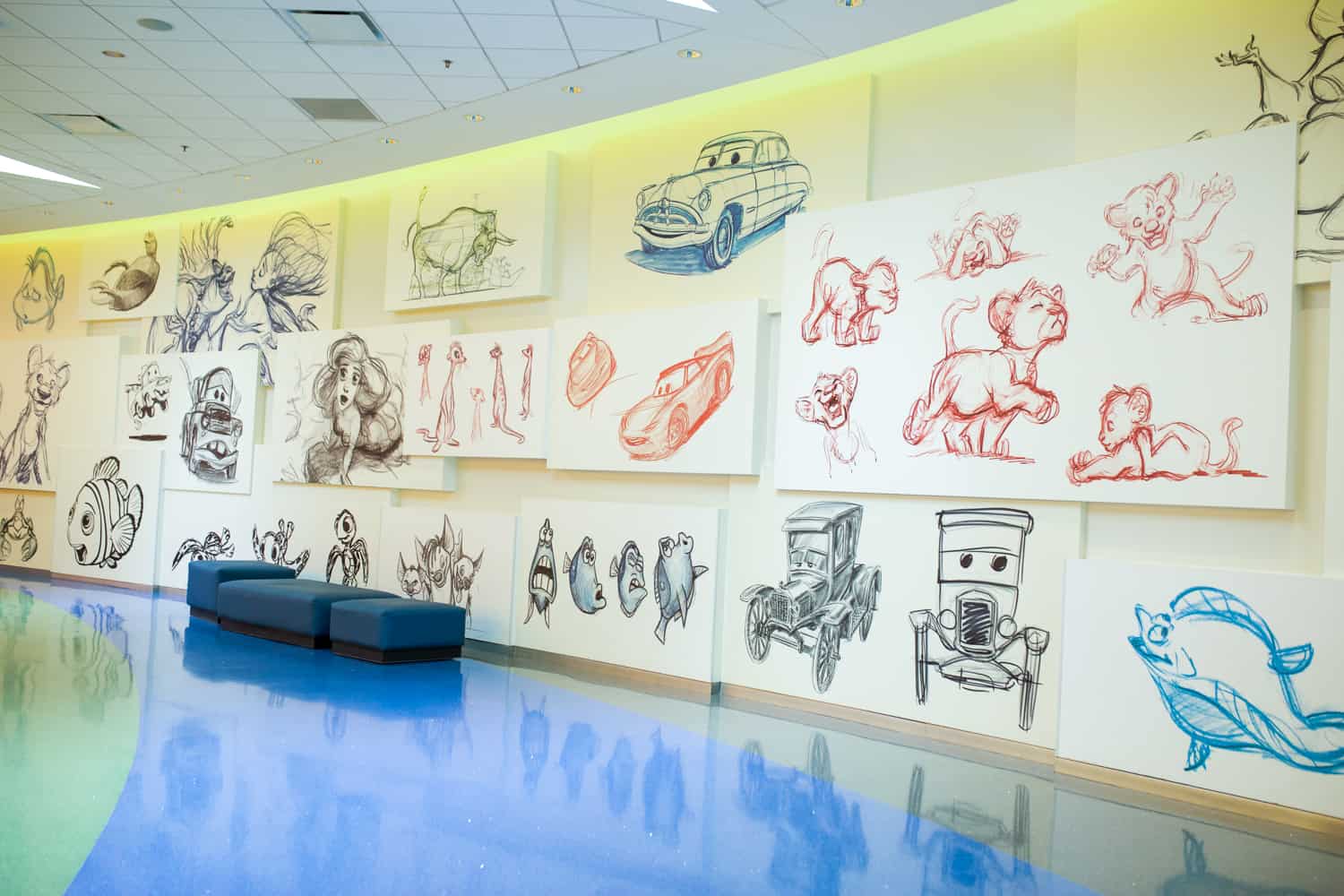 Finally, the Disney Skyliner is accessible to The Art of Animation Resort. It is completely free, a fun way to get easy access to the parks (some directly) and your toddler will be thrilled by the experience. As a bonus for parents – you can roll your single stroller right on to the Skyliner without having to fold it down!
Keep in mind: the Skyliner will shut down temporarily in case of bad weather. You can always use alternate forms of Disney transportation or use Lyft/Uber/Minnie Vans to get where you need to go if this happens.
Best Disney Moderate Resorts For Toddlers
Caribbean Beach Resort
Disney's Caribbean Beach Resort might be a head scratcher for you. Obviously a toddler is not going to get the themed pirates and buccaneer lingo, and the cute Pixar/Disney animation Characters are not around much. The hotel is set up in 5 distinct islands: Barbados, Jamaica, Martinique, Trinidad and Aruba.
That being said, the Caribbean Beach Resort does have some great appeal for young kids.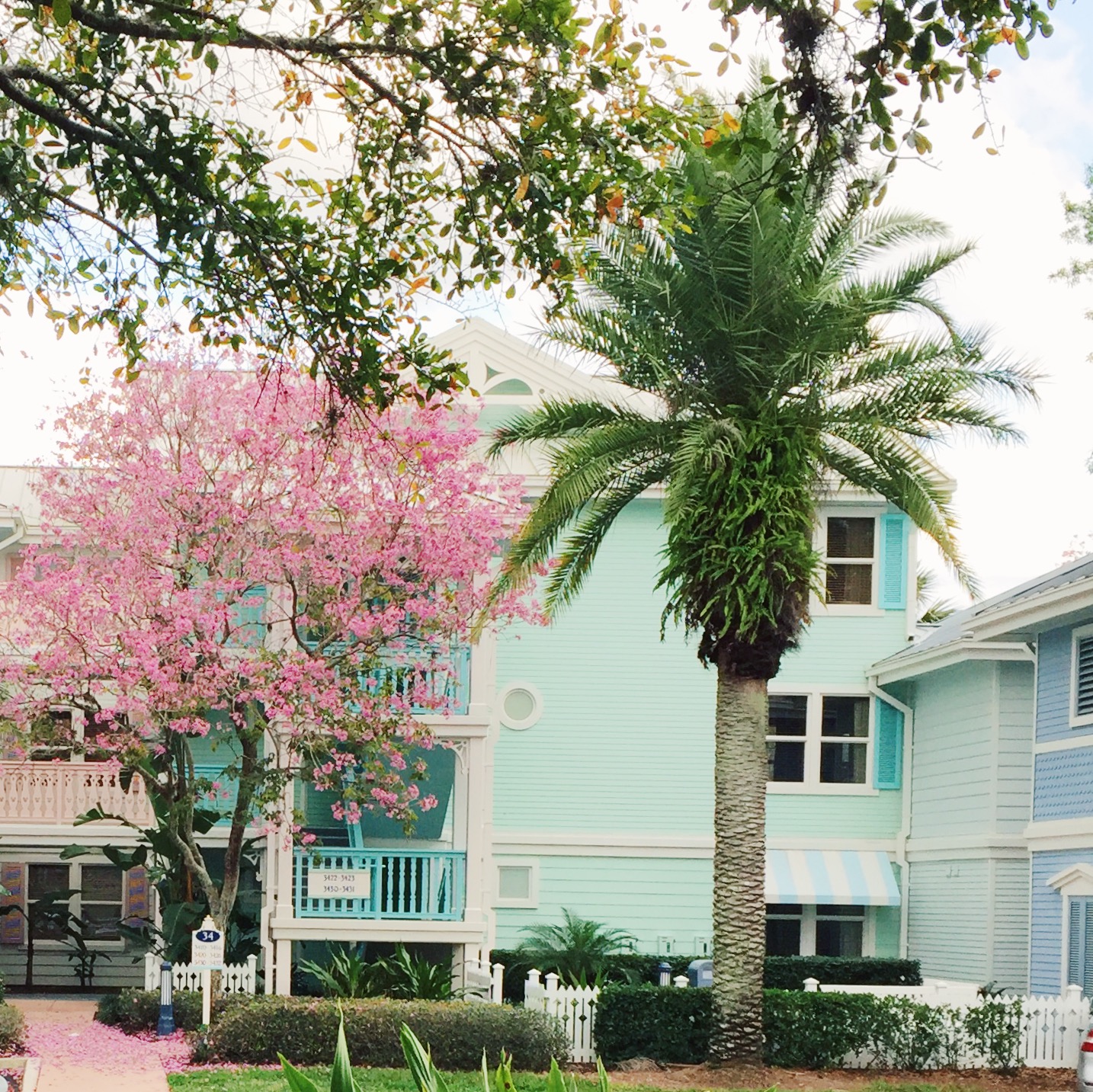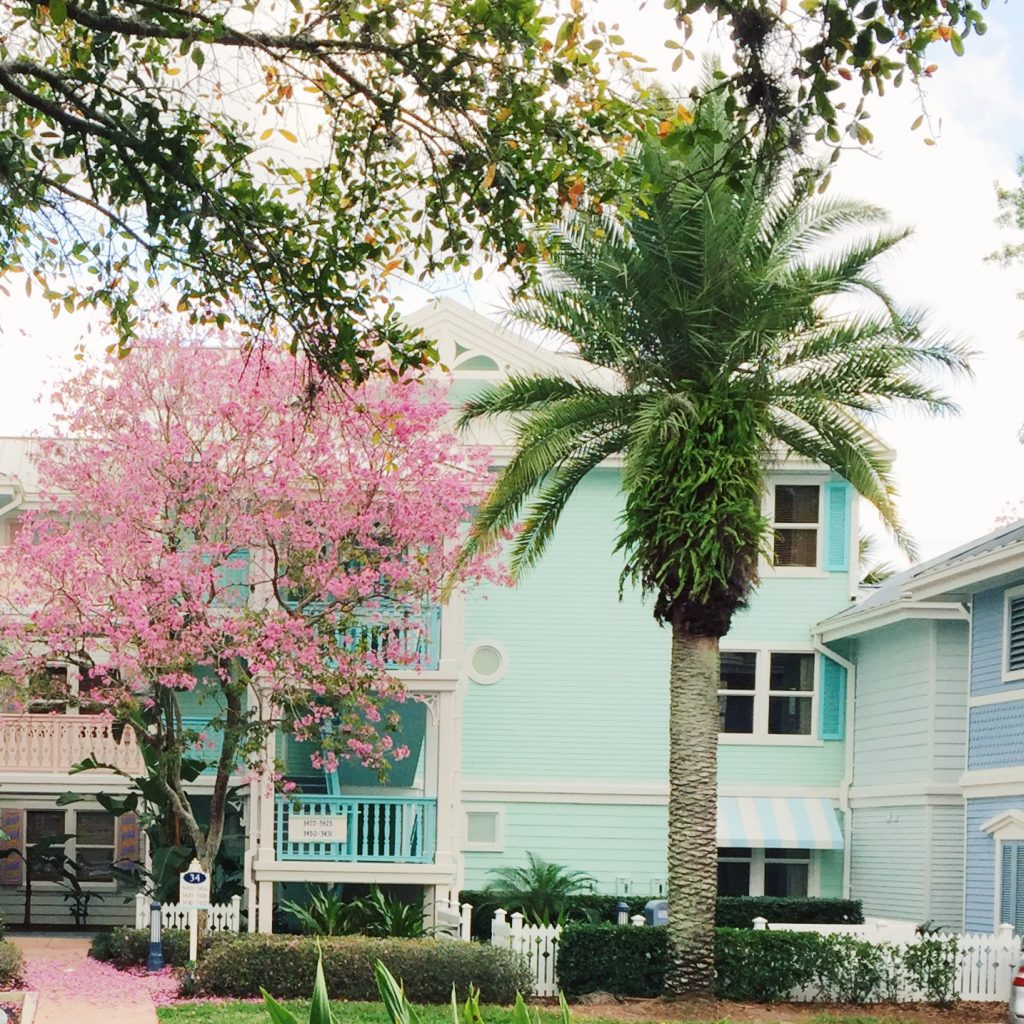 First and foremost, this hotel is the hub for the Skyliner. As we told you in the Art of Animation Resort, the Skyliner has great appeal for the little ones. Additionally, it can get you places quickly – including a direct route to Disney's Hollywood Studios and Epcot.
Furthermore, the Caribbean Beach hotel is full of bright colors, giving it a happy feeling that everyone will love. This resort has a great kids splash pad pool area with a pirate ship dumping out large buckets of water as your toddler plays.
The resort has recently been refurbished making the dining not only easier to navigate but making the dining options better too.
This is a great option for families with toddlers and elementary age kids.
Port Orleans French Quarter Resort
If spending time with your toddler in the pool is important, then Port Orleans needs to be high on your list to consider. The resort's Doubloon Lagoon is a fantastic aquatic play area where you will be able spend hours with your child. This pool has great colors and characters, including a Sea Serpent water slide.
In addition to the pool, Port Orleans French Quarter is small (relative to many other resorts), so the distance to the main buildings and the bus stop is shorter.
To put it in perspective, there are 1,008 guest rooms at POFQ and Port Orleans Riverside has 2,048 and Coronado Springs Resort has 1,917, so you can see the difference.
The smaller size also means you are closer to the main lobby, which is great if you need help from any of the Disney cast members.
There is no formal sit down dining at this hotel. You will need to decide how much you will be eating dinner at the Resort and if sit down dining is important to you.
Photo Credit Alexis Larcy
Finally, smaller size means quieter. The resort doesn't cater as much to large tour groups and the peaceful atmosphere can be just what you need with your little one.
Best Disney Deluxe Resorts For Toddlers
The Contemporary
Disney's Contemporary Resort is a fantastic choice in the Deluxe category! What makes it a great choice? It's proximity to Magic Kingdom makes it a fantastic option alone.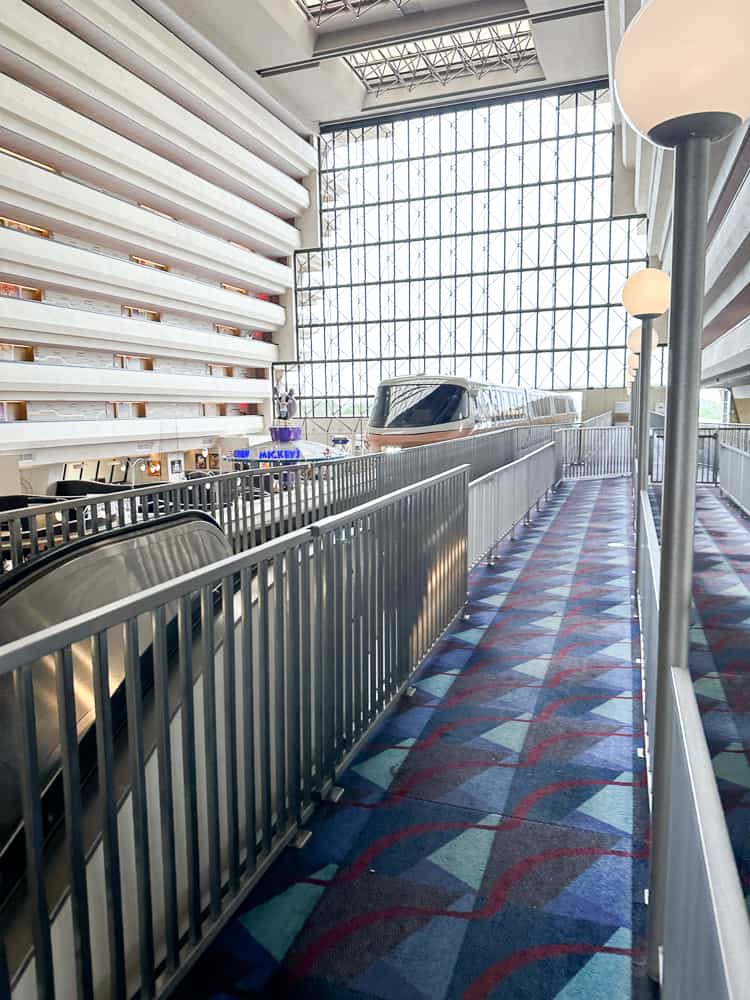 If you are going to Disney World with a toddler and you are walking distance from the Magic Kingdom, the park little ones love the most , you can't do any worse.
You can leave the park for naps very easily. You can head back to your room in a moments notice if there is any kind of issue that can happen from time to time with toddlers.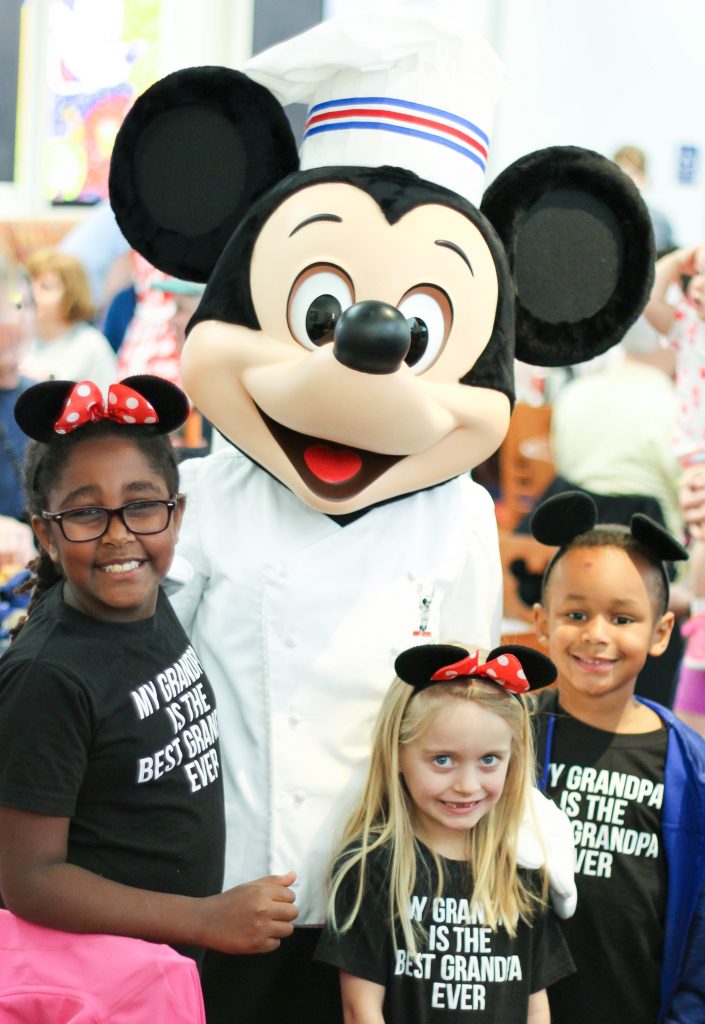 Additionally, the Contemporary is simply a beautiful resort with multiple dining options including the famous Chef Mickey's. Your little one will love to eat here as Mickey, Minnie, and other Disney characters come out to visit each table.
The rooms at the Contemporary are themed to the Incredibles. This gives your toddler something to enjoy – but the theming is more understated than the Value resorts. If you want to give your toddler some Disney theming but you want a bit of a Disney break when you get back to your hotel this is a great option as it is the best of both worlds.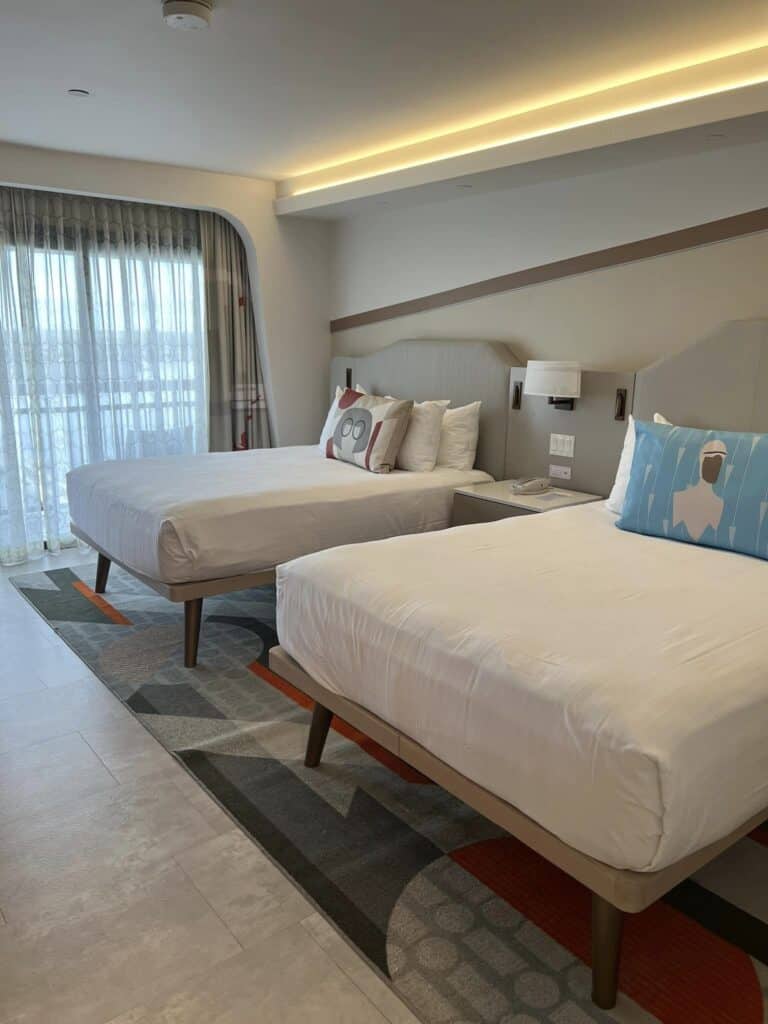 One drawback of the Contemporary is that the pool is a bit understated. There aren't the wild statues and crazy serpent slides as are in the other resorts, but again, you need to figure out what is most important to you.
Disney's Animal Kingdom Lodge
Last, but certainly not least, is the wonderful Animal Kingdom Lodge in the deluxe category. Let us ask you a question…does your toddler love animals? We thought so. They all do. So what is better than staying at a place that is surrounded by exotic animals?
If you are in the Savannah view room, you will literally be able to view animals from your own balcony! Imagine the delight of your little one when a couple of giraffes saunter by….or a few antelopes appear. There are educational activities for your toddler throughout the day and there is a zero-entry pool as well.
This resort is themed well and even the lobby is quite breathtaking for you and your little one. One of our favorite restaurants, Boma, is at this resort!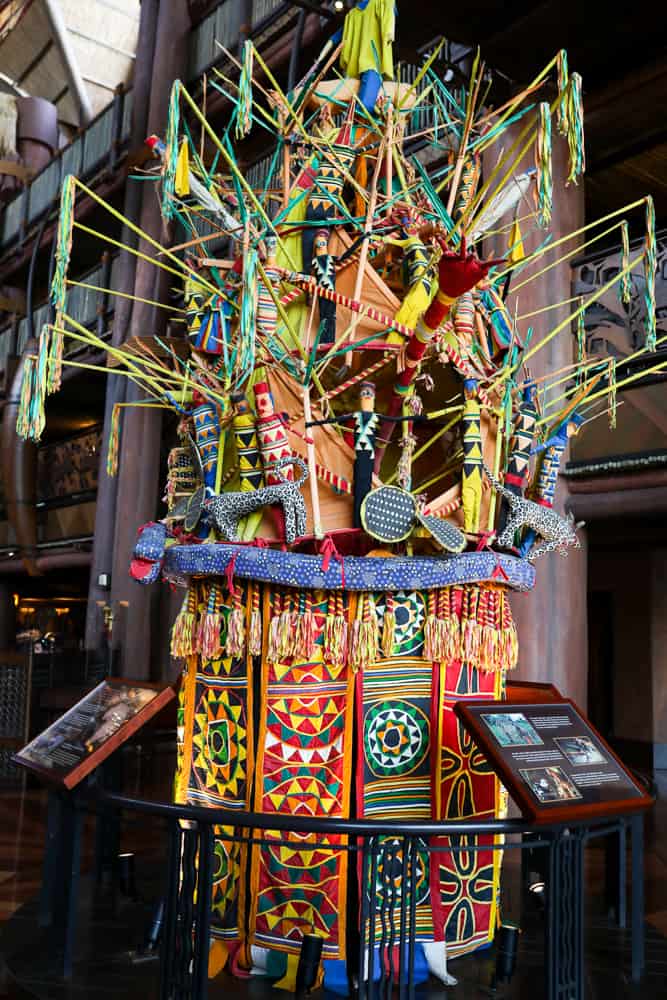 One other fun perk of the Animal Kingdom lodge is that some rooms have bunk beds! This can be a blast for kids of all ages.
One special feature about Walt Disney World Deluxe hotels is that several have club level options. Both the Animal Kingdom and Contemporary have club levels. These are quite expensive, but are worth checking out because some of the perks (food and alcohol!) can make it well worth your money.
Resorts with Water Slides at Disney World
One final note. We know that many kids love pools and water slides. Out of all the resorts, none of the value level resorts have waterslides. Yes, that includes the Big Blue Pool at Art of Animation!
If you're a family that lives and breaths for the thrill of a water slide, here's a list of all the resorts that have one.
Disney's Contemporary Resort
Disney's Grand Floridian Resort
Disney's Polynesian Village Resort
Disney's Wilderness Lodge
Disney's Beach and Yacht Club Resort
Disney's Caribbean Beach Resort
Disney's Animal Kingdom Lodge (Jambo House)
Disney's Animal Kingdom Villas (Kidani Village)
Disney's Boardwalk Inn
Disney's Swan and Dolphin Resort
Disney's Riviera Resort
Disney's Coronado Springs Resort
Disney's Port Orleans Resort (French Quarter)
Disney's Port Orleans Resort (Riverside)
Disney's Saratoga Springs Resort
Disney's Old Key West Resort
Disney's Fort Wilderness Resort and Campground
As you can see, there are a number of great options for you to consider. Which hotel is the overall best Disney hotel? That is truly only a decision you and your family can make!
Take into consideration your family's needs, wants, and budget and you will be sure to find a hotel that works for you. Like we said, there really is no wrong choice! But if you are still waffling between on site and off site, consider these 10 off site hotels that are magically close to the Disney Parks.
Want more toddler fun? Here's some of our favorite Disney outfits for toddler girls, the best rides for toddlers and some of our best tips for planning your Disney World Vacation with your toddler.