Whether you are heading to Mickey's Not So Scary Halloween Party in Orlando or heading out in the neighborhood on October 31, Disney family themed Halloween costumes are a fun option!
Our goal for these Disney family costume ideas is to have the ability to incorporate adults and children into these themed disguises. Families with babies, toddlers, and teens should be able to find something that works for you!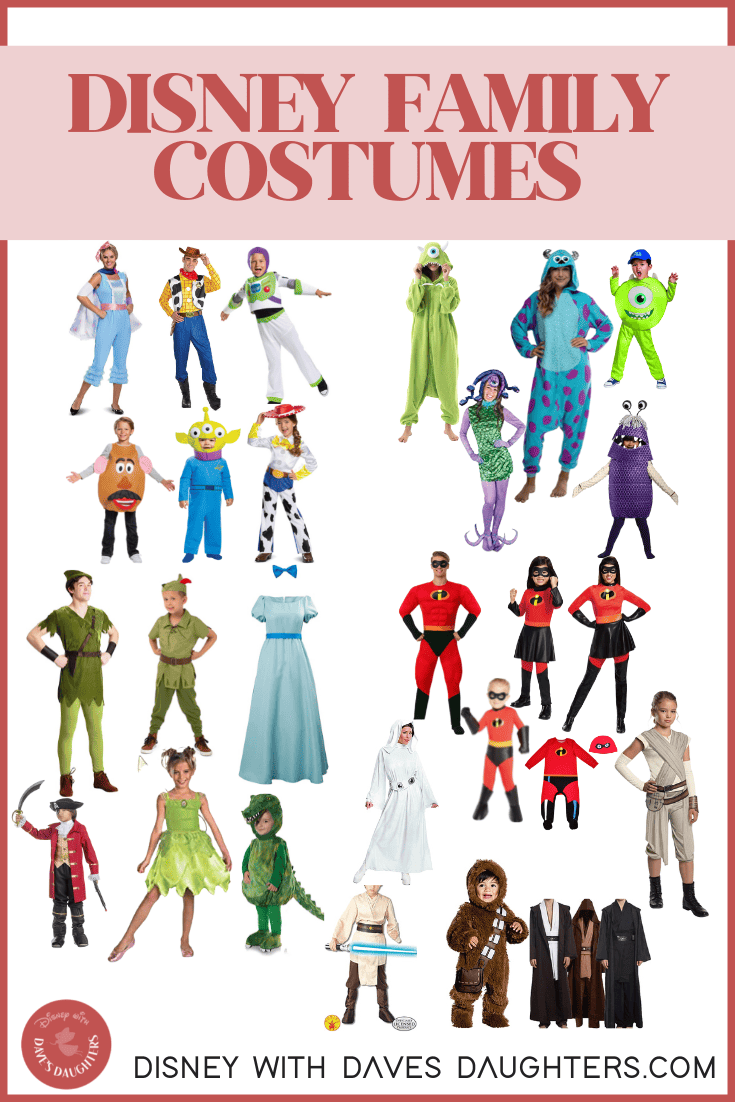 Disney With Dave's Daughters is a participant in the Amazon Services LLC Associates Program. This post may include affiliate links which means I may earn a small commission if you shop using the links below at no additional cost to you. 
Please keep in mind that if you are considering these costumes for your Walt Disney World vacation that adults cannot wear costumes in the park. Adults may only wear costumes to Mickey's Not So Scary Halloween Party.
Kids may wear costumes to the Disney parks at any time of year! If your child is dressed up as a character be prepared for some incredible interactions with cast members.
The Incredibles Family Costumes
The Incredibles are the perfect family costume! Mr. Incredible, Mrs. Incredible, Dash, Violet, and Jack Jack are a fun family to dress up as! This is a great group costume idea for a family with a baby.
Mrs. Incredible Skirted Costume
We are particularly fond of this costume because of the skirt! This would be a fun costume to wear to a family themed Halloween party.
Mr. Incredible Costume
With built in muscles, dad will love dressing up like Mr. Incredible!
Violet Incredible Costume – Kids
If your little girl loves to match mom be sure to get her this Violet costume with a skirt.
Dash Incredibles Costume – Kids
This super cute Jack costume includes the jumpsuit, gloves, and eye mask.
Jack Jack Incredibles Costume – Baby
This is an amazing footie outfit for your baby to look like Jack Jack! The hat with the eye mask can be worn all winter long.
Monsters Inc Family Costumes
Monsters Inc costumes are great because they are basically pajamas! Anyone can wear these disguises and be comfortable and ready for a party.
Monsters Inc costumes are also great for families with older kids who still want to do a themed costume but aren't wanting to dress up as a princess.
We also love these costumes as they are great for cold weather climates! You can actually go trick-or-treating outside in these fun costumes in the northern states.
Sulley Costume – Adult
This is an officially licensed Disney costume so you can rest assured this will look as close to Sulley as you can get. Made of super soft sherpa fleece and with a baggy fit, this costume will fit anyone!
Sulley Costume – Kid
If your kiddo wants to dress up like Sulley this is a perfect outfit! This particular Sulley disguise is an official Disney Pixar Monsters University costume.
Mike Wazowski Costume – Adult
This cozy costume is available in a ton of different characters – be sure to click on Mike Wazowsk! This fun costume can be worn as pajamas, too.
Mike Wazowski Costume – Kid
This official Disney Pixar Monsters University Costume is perfect for your child! This Mike Wazowski costume comes with a super cute MU baseball cap.
Boo Costume
We LOVE Boo!! This costume is incredibly cute. It comes with a top with attached mittens, a vest, and the adorable hat. (Fun fact – Dave once had a cat named Boo, named after this Disney character!)
Celia Mae Costume – Adult
Mom can dress up like Mike Wazowski's girlfriend! We love this one! This costume has a tunic, pants, shoe covers, and an amazing hat! The tentacles on the shoes are our favorite detail.
You can meet Sulley and Mike Wazowski in Disney's Hollywood Studios at Walt Disney Presents.
Star Wars Family Costumes
The only downside to Star Wars costumes is that there are so many to choose from! These costumes would be perfect to wear in Disney's Hollywood Studios. Here are some of our favorite costumes focusing on the Rebellion:
Princess Leia Adult Costume
This hooded dress is perfect for dressing up like Princess Leia! This dress has a side slit, a zipper, and a belt.
Jedi Knight (Luke Skywalker) kids
This is an officially licensed Jedi Knight kids costume. This is a very thorough costume that comes with a tunic, shirt, pants, belt, and boot tops!
Obi-Wan Kenobi or Annakin Skywalker – Adult
Pick a robe set to match your favorite Jedi! Choose from all black, all brown, brown tunic without robe, white tunic with brown robe, or white tunic. (Note, light saber not included)
Chewbacca Costume – Toddler
Chewbacca is Katie's favorite Star Wars character and she LOVES this super cute Chewbacca toddler costume! Your little one will be ready for a day of fun at Hollywood Studios or out at at Trunk or Treat party.
Rey Costume – Kids
This costume is spot on from The Force Awakens! This deluxe jumpsuit comes with attached sash, detached sleeves, cuff, and belt with pouch.
Peter Pan Family Costumes
These are classic costumes that your family will love to wear! Our favorite out of this bunch is the toddler crocodile costume!
Peter Pan Costume – Adult
This is a classic tights and tunic costume that perfect embodies Peter Pan. Comes in sizes extra small to extra large.
Peter Pan Costume – Child
This is a super comfortable Peter Pan outfit for a child! Comes as a four piece set – top, pants, belt, and hat.
Tinker Bell Costume – Child
Every little girl loves dressing up like Tinker Bell! This is an adorable dress with detachable wings. Comes in sizes 3T to 10/12!
Check out all our favorite Tinker Bell quotes here!
Wendy Costume – Adult
Join the Neverland fun by dressing up like Wendy! This blue maxi dress is comfortable and adds to the Peter Pan costume party. This costume includes the dress, a belt, and a hair bow.
Captain Hook Costume – Kids
Your little one will enjoy dressing up like the evil Captain Hook! This intricate costume set comes with a jacket with an attached vest, pants, boot covers, lace jabot, and eye patch.
Tic Tock the Crocodile Costume – Kid
Dress your toddler up like Tic Tock the crocodile! This cozy, adorable costume has velcro closures and is designed for easy diaper changes. Comes with a super cute hood and shoe covers.
Toy Story Family Costumes
Toy Story costumes make great family costumes! Mom and Dad can be Woody and Bo Peep and the kids can pick their favorite character!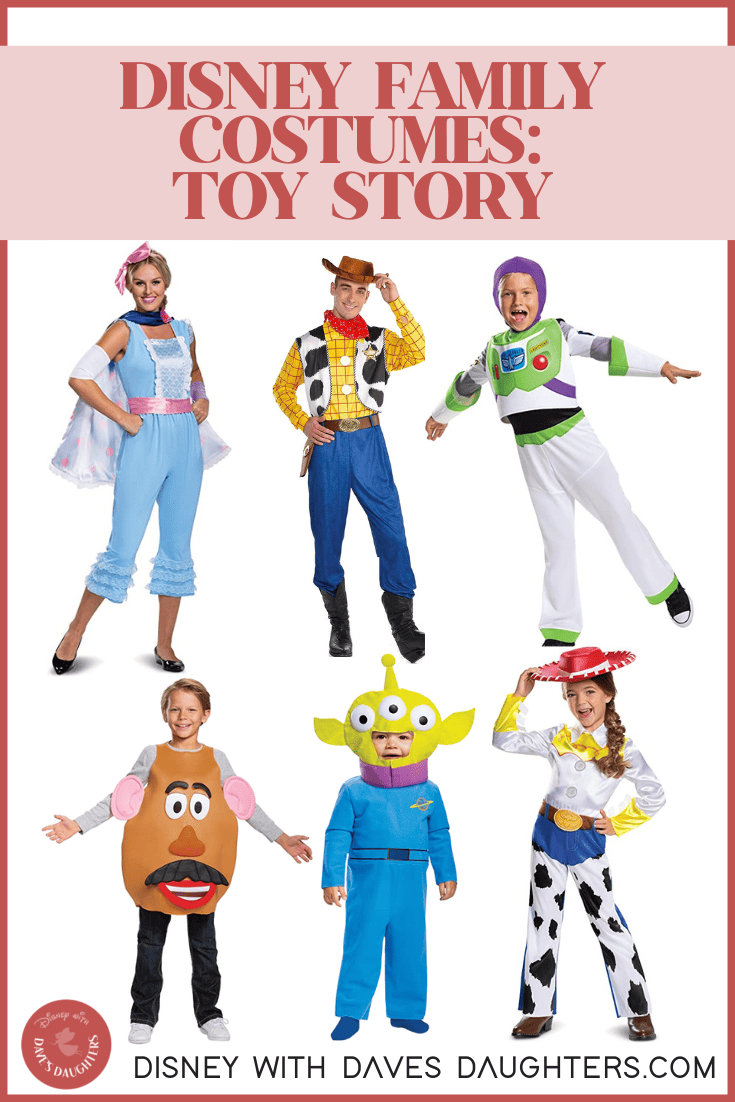 Woody Costume – Adult
This printed jumpsuit makes for an easy and comfortable Woody costume for an adult. This costume also includes a hat, bandana, belt, and holster to make a completed look.
Bo Peep Costume – Adult
This officially licensed Bo Peep Costume is straight out of Toy Story 4! This costume Includes a jumpsuit, belt, cape, headband and pair of arm bands.
Alien Costume – Kid
This is a simple costume that kids will love. An easy to wear blue jumpsuit and a fun headpiece make your kiddo look just like one of the aliens out of Toy Story!
Check out our favorite alien headband here!
Buzz Lightyear Costume – Kid
Your child will want to go to infinity and beyond with this Buzz Lightyear jumpsuit! This costume also includes foam sleeve cuffs and a chest piece. Comes in sizes 3T all the way up to 10/12.
Mr. or Mrs. Potato Head – Kid
This officially licensed foam overlay Mr Potato Head costume is easy to throw on. We love that you can make this costume look however you want! Costume includes attached ears, detachable male eyes, nose moustache, mouth, female hat, eyes, nose, lips and earrings.
Jessie – Kid
Here is another officially licensed jumpsuit that your kiddo will want to wear! We are particularly fond of the fringe on the sleeves
Hopefully some of these Disney family costumes are perfect for your family! If you are looking for more costume ideas, be sure to check out all our Disney Princess costumes! These are great for your visit to Disney World or for Halloween. We also have our favorite Disney Halloween t-shirts here!
Did you know that Halloween is one of the top times to visit Disney World? Check out our visitor statistics here.