One of the most fun – and most time consuming – parts of planning your Disney World Vacation is figuring out your Disney outfits. It is very common for Disney park visitors to be dressed to fit the park they are in.
It can be a bit harder to figure out what to wear to EPCOT. Hollywood Studios is Star Wars and Toy Story, Animal Kingdom is animals of course, and the Magic Kingdom is full of whimsy and classic Disney.
But there's still fun things to wear to EPCOT! From amazing food and drinks to all of the different countries to special events like the Flower and Garden Festival, there are tons of great options for EPCOT outfits.
If you're heading to EPCOT during your Disney trip you need to look the part! We have rounded up some of our favorite EPCOT gear to help you figure out what to wear in this park.
Disney Dress Code
Before we get to the outfits, we have to mention the Disney World dress code for all of the Disney theme parks. (Yes, Disney has a dress code!)
Anyone older than the age of 14 is not allowed to wear any costumes or costume masks (with the exception of specific Halloween and Christmas events as well as some outfits inspired by Star Wars).
Themed t-shirts, like the ones we have below, are great options to follow the dress code. You can't wear anything that drags on the ground, costume masks or anything that would be inappropriate for a family environment.
Quick Tips on What to Wear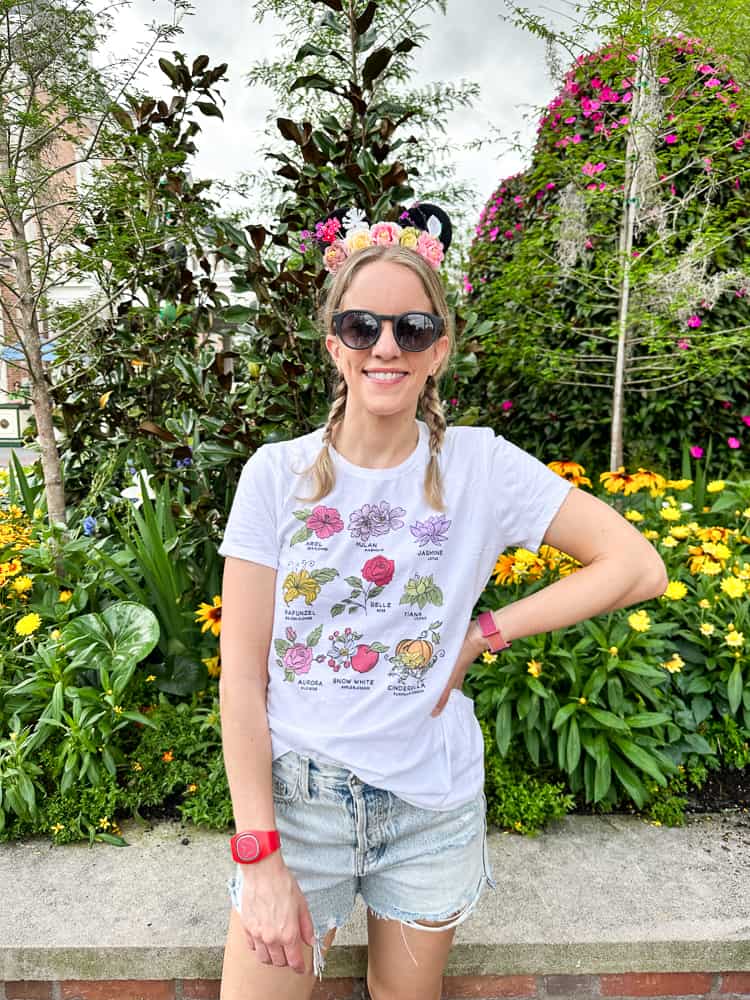 Dress for the Weather
One of the most important things to remember is to wear proper attire for the Florida weather! Dressing appropriately will help you have a great time on your trip rather then being miserable because you're too hot or cold.
During the winter months it can be cooler so bringing long-sleeved shirts, a light jacket or even long pants can be a good idea.
Hot days are common at Disney so wicking shorts are a great option (like the bike shorts we have linked) and lightweight t-shirts or tank tops will keep you cooler.
We actually had changes of clothes in our park bag to be able to swap shirts and shorts partway through the day on super hot days and we were so glad we did! Sweating is inevitable especially in the summer months and sometimes the best way to stay comfortable during a long day at the park is to bring a change of clothes with you.
Of course you could always swing back to your Disney resort to change if you want but if you're on a time crunch and trying to fit lots of things into one day, a good option is to just bring a change of clothes with you on especially warm days!
Don't Forget Rain Gear
And don't forget to add a rain poncho to your packing list whenever you go! Even if it's not hurricane season, you will likely see some rain whether it's a little sprinkle or a torrential downpour.
Rain is common at all times in Florida and you don't want to get stuck in the rain with no protection. Even if there's no rain, you could always use a rain poncho on water rides so your clothes don't get soaked!
Wear Good Shoes
Probably the most important thing when it comes to Disney outfits is good, comfortable shoes! Your best option is always tennis shoes over things like flip flops since you'll likely be walking multiple miles in one day.
Ok, on to the outfit ideas! Here's some of our favorite EPCOT inspired looks for your next Disney vacation!
6 Best Epcot Outfits
Disney With Dave's Daughters is a participant in the Amazon Services LLC Associates Program. This post may include affiliate links which means I may earn a small commission if you shop using the links below at no additional cost to you. 
1. Food and Wine Festival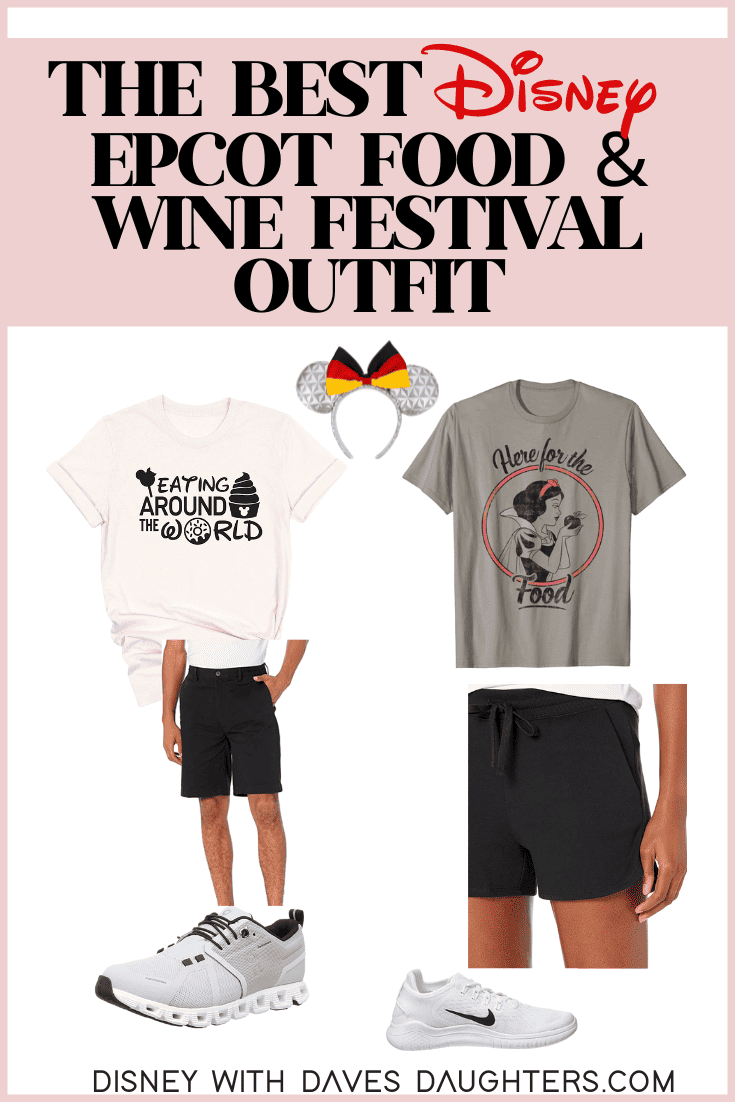 Shop these looks:
Eating Around the World + Mens Shorts + On Cloud Shoes
Here for the Food + Black French Terry Shorts + Ears + Nikes
Both of these shirts come in both men and women's sizing so pick and choose what you like! The "Eating Around the World" shirt also comes in a "Drinking Around the World" shirt too!
This pair of EPCOT Disney ears that are perfect for wearing in the World Showcase. The ears themselves have the EPCOT ball print on them, and the bow has the colors of the German flag.
2. Epcot Flower and Garden Festival Outfits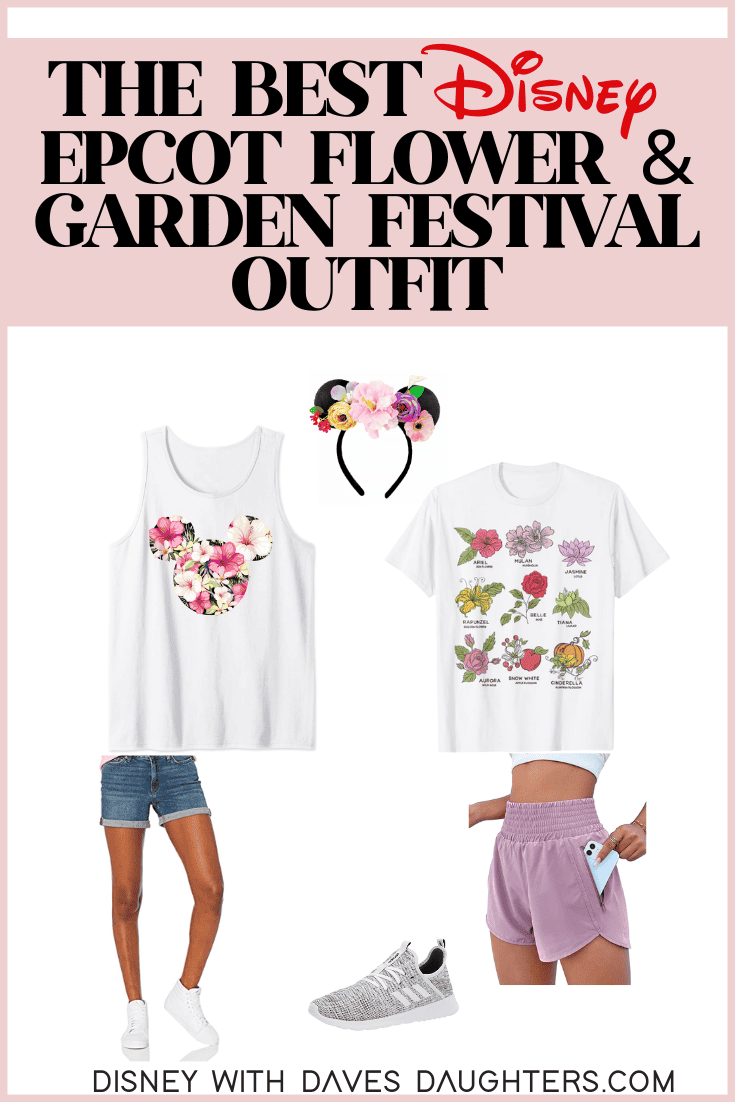 Shop the Looks
Mickey Floral Fill Tank Top + Denim Shorts +
Disney Princesses Types of Flowers + High Waisted Athletic Shorts + Flower Ears + Adidas
If you're heading to EPCOT during the International Flower and Garden Festival adding a little bit of flower fun is a great idea! We were able to visit during it and it was so fun.
These shirts are both so unique and perfect to celebrate the flowers at Disney and make such cute outfits.
For more of a classic Disney shirt you can choose the Mickey silhouette that is filled in with beautiful flowers. A tank top is a good idea when you're at Disney during the summer months when it is hot out!
Our last visit to Disney was in the month of April. There were unseasonably high temperatures and we were so hot! If you run hot or are just going during warmer months, consider getting tank tops to help keep you cool and comfortable.
For something a bit more unique, we love the shirt where each princess is "assigned" a flower that fits her story.
The Mickey ears are made with beautiful silk flowers and will look stunning in your hair! This adds the prefect finishing touch to your Flower and Garden Festival outfit.
These ears were so light and didn't bother my head at all! I was actually shocked at how beautiful they were in person.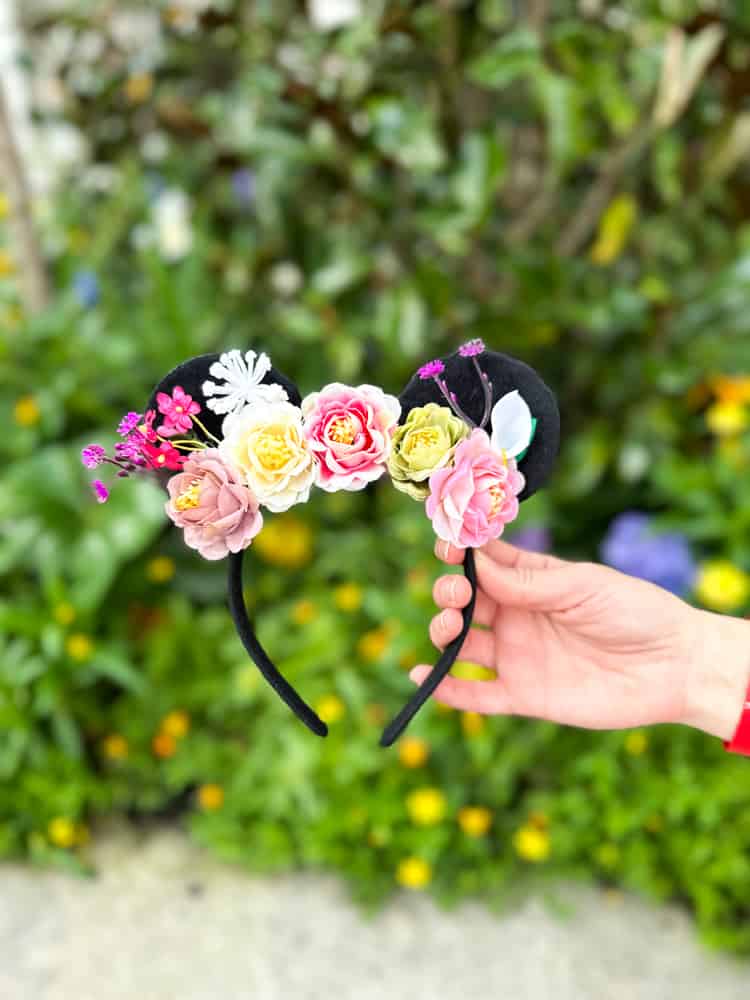 In my personal experience, these Adidas shoes were by far one of the best shoes to wear to Disney. They were incredibly comfortable and my feet weren't sore at all even when walking 7+ miles in a day!
3. Frozen Outfits for Women
Frozen Princesses Shirt + Denim Shorts + Frozen Princesses Ears
Frozen Cast T-Shirt + High Waisted Athletic Shorts + Adidas
EPCOT is where you can visit Elsa and Anna, so this is the perfect location to wear your favorite Frozen outfits featuring your favorite character! Jen and Katie are particularly fond of these outfits – they are perfect for sisters (or friends!) to wear.
To start with, the Mickey ear headbands come in a set of two and are extremely affordable. One is themed for Anna and one is themed for Elsa.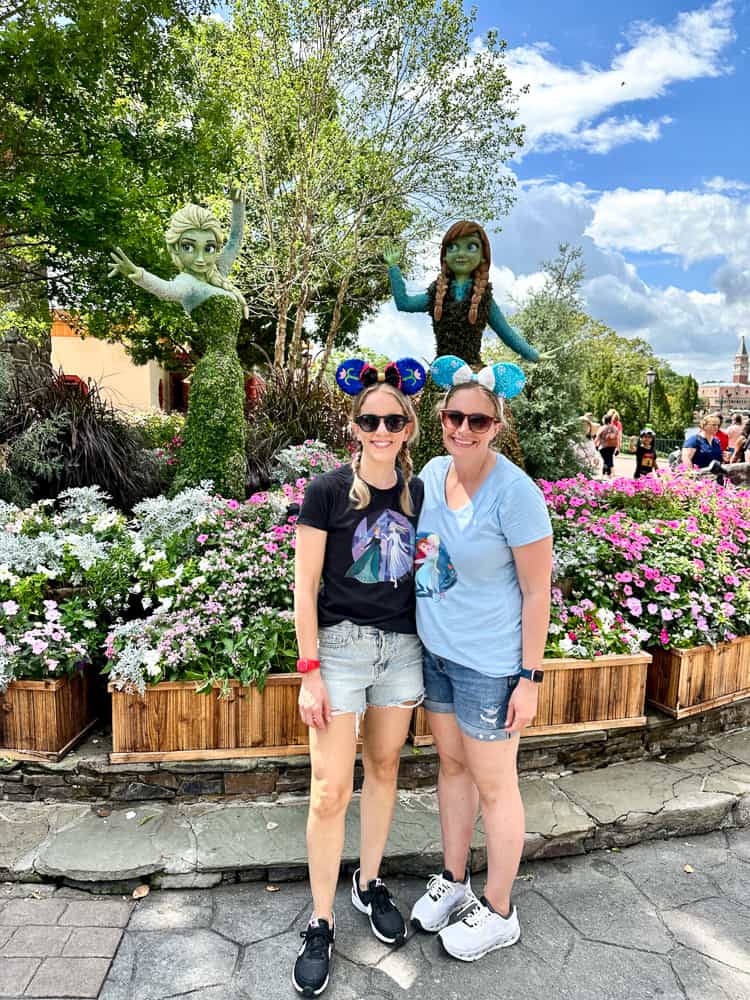 The t-shirt options we chose can fit any personality. If you like a bit more abstract and beautiful designs, choose the black shirt design on the left and pair it with a pair of stretchy denim shorts. This shirt comes in 10 color options.
For a more classic look, choose the design with the entire Frozen cast and pair it with a colored pair of athletic shorts. You can't go wrong with either outfit!
4. Olaf Outfits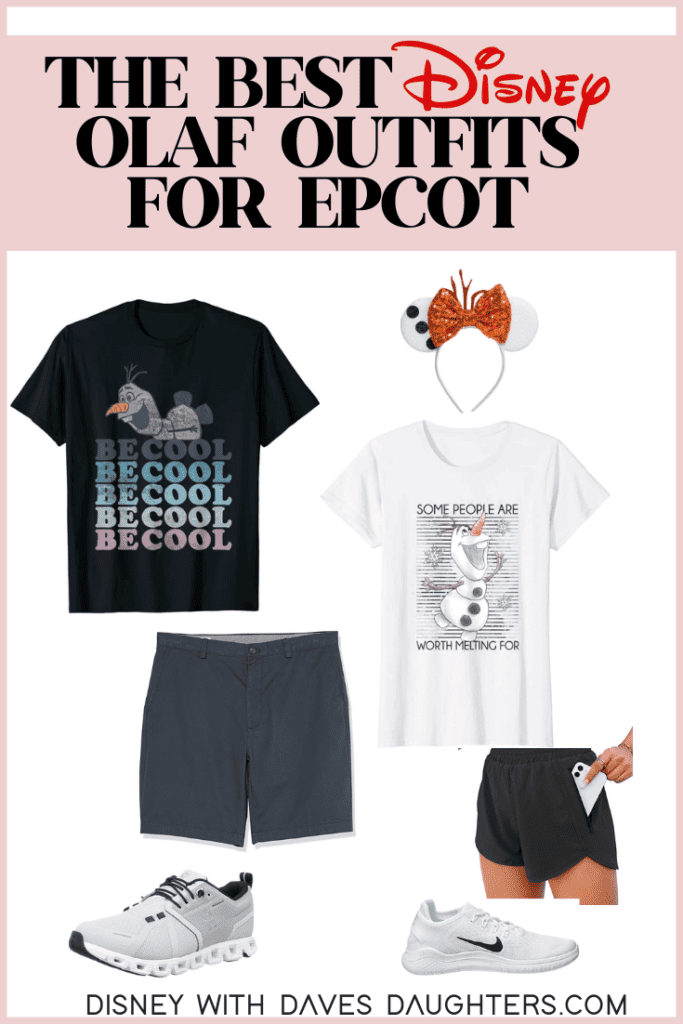 Be Cool T-Shirt + Mens Shorts + On Cloud Shoes
Some People Are Worth Melting For + Olaf Ears + High Waisted Athletic Shorts + Nikes (Women)
Olaf is everyones favorite snowman (find some of our favorite Olaf quotes to see just how much we love him!) – and we have Olaf outfits for men and women!
For men, we love the vintage looking "Be Cool" Olaf shirt. Throw this on with a comfy pair of shorts and a good walking shoe and you are ready for your day at Disney!
For women, we love the "some people are worth melting for" happy Olaf shirt. Pair this shirt with some high waisted athletic shorts with pockets and a pair of sneakers and you are off to EPCOT!
5. Frozen Outfits for Men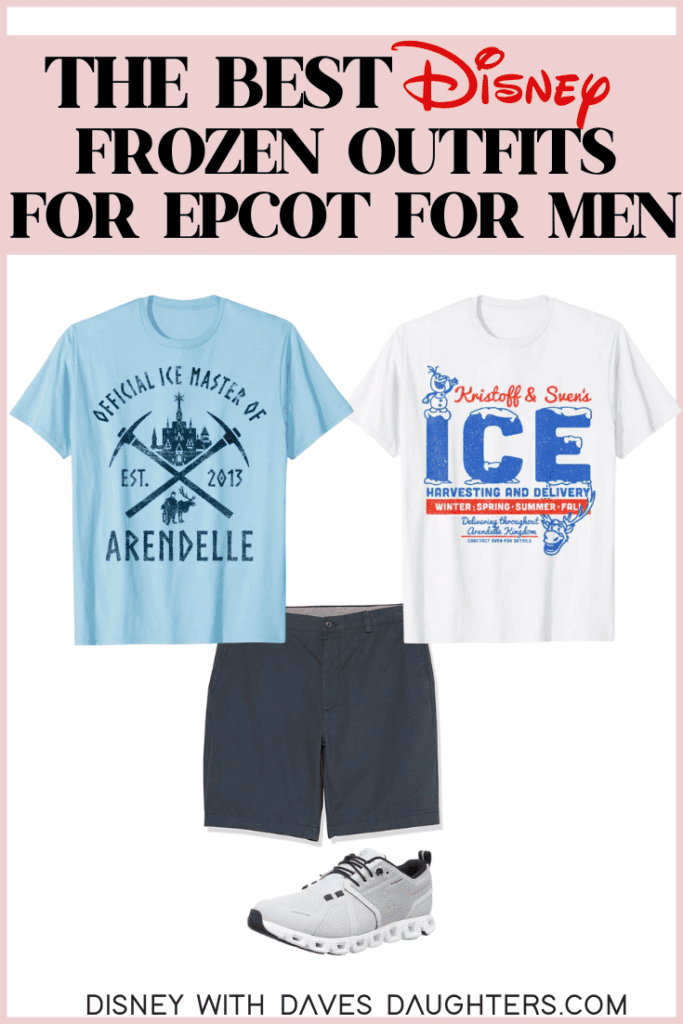 Shop these looks:
Official Ice Master of Arendelle + Kristoff & Sven's Ice Harvesting and Delivery + Mens Shorts + On Cloud Shoes
Sometimes it is hard to get men in the "Disney outfit" spirit, but we think men will be ok wearing these shirts to EPCOT!
Both of these shirts are a nod to Kristof's ice business in Arendelle. We like the creativity of these shirts and the bit of vintage feel to them. It would be easy to wear these shirts outside of the Disney parks as they don't scream "Disney."
6. Ratatouille Remy Outfits for Men & Women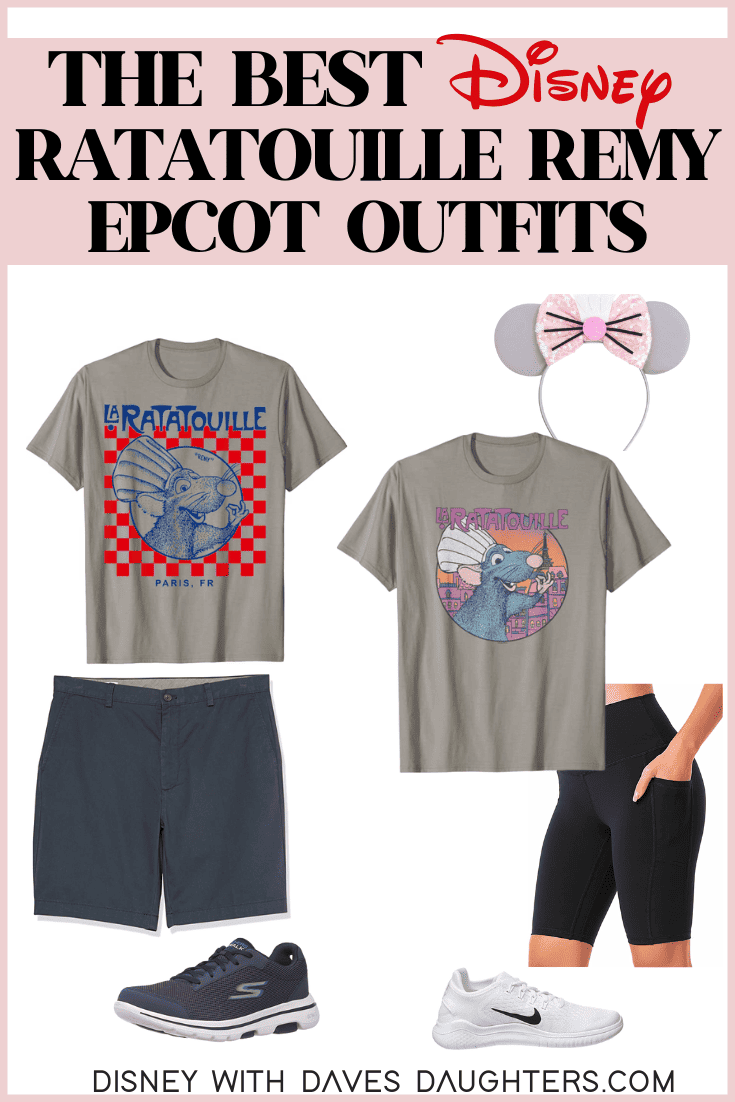 Shop these looks:
Ratatouille Pizza Box Shirt (Men) + Mens Shorts + Sketchers (Men)
Ratatouille Bon Appetite T-Shirt (Women) + Bike Shorts (Women) + Ratatouille Epcot Minnie Ears + Nikes (Women)
If you love Ratatouille Remy, these are perfect for you! Mens and womens short sleeve shirts and the cutest Remy ears that feature a chef's hat, mouse nose and whiskers, and a sparkly sequin bow. Make sure you stop by France while you are wearing these ears!
Hopefully these outfits have given you some inspiration! Also remember that when you go will have an impact on what you wear.
FAQs
How should I dress for Epcot?
Wearing lightweight clothing will help you stay cooler in the warm Florida sun. Always wear good comfortable shoes to prevent sore feet!
Can I wear a sports bra to Epcot?
There is no hard and fast rule about wearing a sports bra to Epcot. Disney has the right to prevent anyone from entering the park if the deem your clothes not family appropriate therefore they may not allow you to enter if you're wearing a sports bra, crop top or something similar.
Do you wear ears to Epcot?
Yes, you definitely should wear ears to Epcot!
Can I wear flip-flops at Epcot?
Yes, you can wear flip flops at Epcot but we don't recommend it unless it's a specific shoe that's great for walking longer distances.
Be sure to check out some of our other Disney outfit posts: