How Old is Flynn Rider? What is all the controversy about?
Tangled is Disney's wonderful remake of the story of Rapunzel. It is in our family's top five movies that the Walt Disney Animation Studios ever produced.
We love the story, the humor, and the absolutely stunning animation that is said to have cost $260 million to make! Of course we also love the wonderful interaction between a young girl, Rapunzel, and an "older" guy, Flynn Rider, throughout the course of the film.
Wait! Why was "older" in quotations? How much older IS Flynn?
We have noticed there is quite a bit of discussion on social media concerning the age difference between Rapunzel and Flynn Rider. Since we were actually wondering about Flynn's age ourselves, we decided to do a deep dive and get the facts straight about these two lovable characters and bring you our verdict.
Spoiler alert – Flynn is 23 years old in the movie!
We feel It's important to tell you we will be using two sources for our research. We are using the feature film, Tangled, as well as the tv series sequel, Tangled: The Series (which became Rapunzel's Tangled Adventure).
The television animated series does a wonderful job of continuing the story after the movie. The series even employs the original voice actors Zachary Levi as Flynn Rider and Mandy Moore as Rapunzel. Because it continues the story of Rapunzel and Eugene, Flynn's real name, we can gather more information and clues regarding the age difference between the two.
Let's explore the ages of our sweet Disney couple!
How Old Is Rapunzel in Tangled
Before we figure out how old Flynn Rider is, let's start with Rapunzel's age. This one is pretty straight forward and easy to find.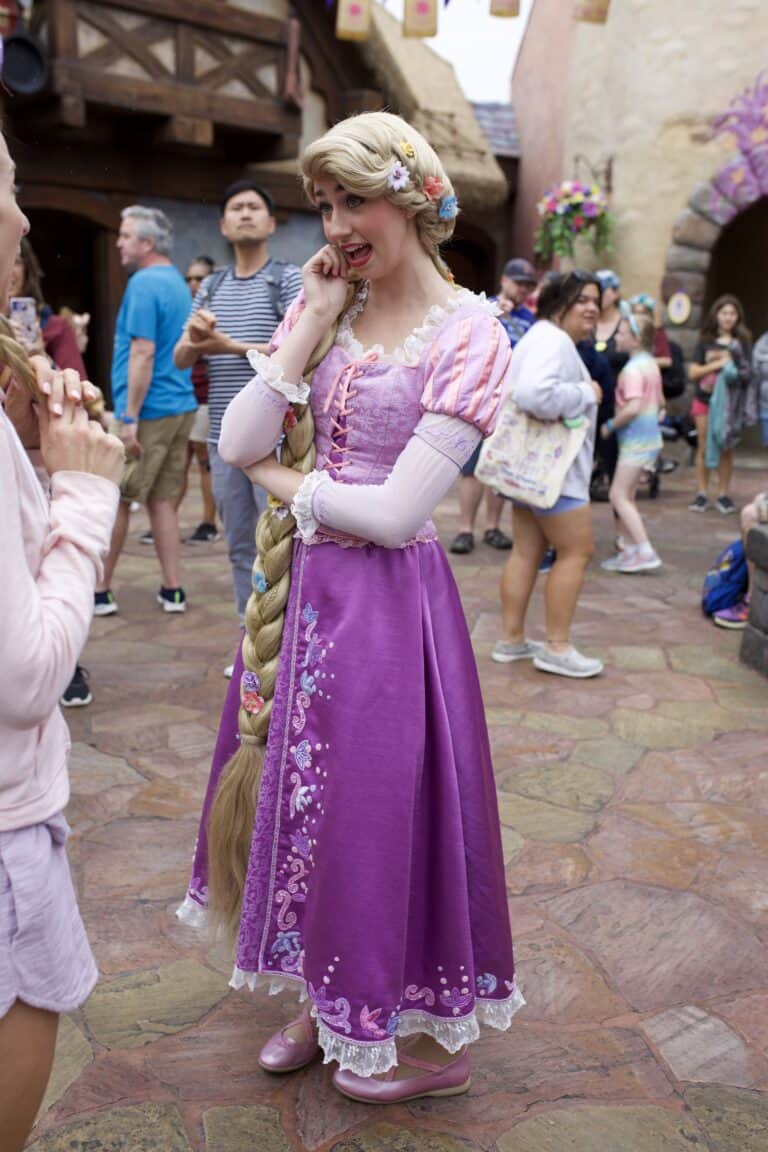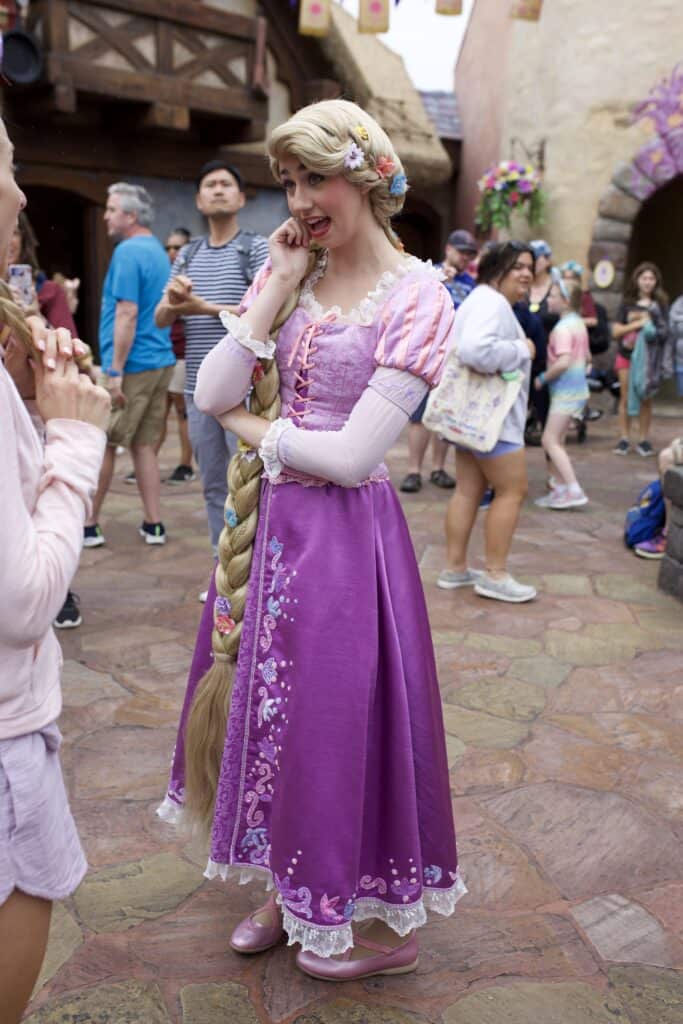 We know from the beginning of the 2010 Tangled movie that Rapunzel is 17 years old. She is on the verge of her 18th birthday.  How do we know this?  
In the movie Rapunzel says to Mother Gothel, "So, Mother, earlier I was saying tomorrow is a pretty big day, and you didn't really respond, so I'm just gonna tell you: IT'S MY BIRTHDAY! TADA!" Then she continues saying, "Mother, I'm turning eighteen, and I wanted to ask…" Rapunzel continues the conversation about wanting to see the floating lighted lanterns.
With certainty we can then conclude that Rapunzel is turning 18 by the time we see her in the first movie, Tangled.
How Old Is Flynn Rider In Tangled
Flynn Rider's true age is not quite as easy to find as Rapunzel's. Let's look at what we know about him.
First, we know that Flynn's birth name is Eugene Fitzherbert. Eugene was actually born to royalty, the son of King Edmund. Due to a powerful opal threatening the kingdom, a servant took Eugene and put him in an orphanage.
While in the orphanage, Eugene found solace in reading the thrilling and entertaining stories of a swashbuckling thief named Flynnigan Rider from the "Tales of Flynnigan Rider." Eugene pictured himself in each adventure and decided to use Flynn as his new name.
As Eugene embraced the character of Flynn Rider, he took on his own "adventures." He found out that being a bandit and running from the law as a wanted man was not quite as glamorous in real life as it was in the stories. Life changed when Flynn found Rapunzel's tower.
If we only go by the first Tangled movie we would have absolutely no idea of Flynn's age. This is why we must bring in the animated series for further clues. In Rapunzel's Tangled Adventure we discover in the 3rd season in the episode entitled Cassandra's Revenge, Eugene (Flynn Rider) has a birthday and turns 26.
That means if you figure the television series started immediately after the original Tangled movie, and each year of the television series was equal to one year in real life, Flynn would have to be about 23 years old when he first met Rapunzel. So, we could conclude that Flynn Rider is 23 and Rapunzel is 18 making their age difference only 5 years.
Other Speculation Regarding Flynn's Age
Though we feel our calculations are correct concerning the 5 year difference between the two, you will find differing opinions if you look hard enough. Some people have cited animators of Tangled, as well as writers of the original Tangled film, having the age of Flynn Rider anywhere between 24 to 26. This would make him much older than our calculations.
However, this is just speculation and would not coincide with the television series assertion of Flynn turning 26. Flynn's looks show him as someone in his 20's so we can't use that for much assistance to verify his age.
Flynn Rider's Looks
It was revealed by Tangled's directors, Nathan Greno and Byron Howard that the process of getting the look of Flynn Rider was quite a process. Women were asked to bring in pictures of the hottest hunks (Brad Pitt, Hugh Jackman, Errol Flynn, David Beckham etc…). The animators would take various features of each person to make the ultimate Prince Charming.
Not only did the directors want Flynn Rider to have chiseled good looks for the film but they wanted a carefree, reckless Han Solo or Indiana Jones persona. I guess you could say Flynn Rider had it all.
And we agree! Flynn Rider has been compared with Gaston from Beauty and the Beast and to Aladdin from the movie of the same name.
But Flynn Rider is in a league all his own. Yes, he has the handsome look of Gaston – and to some degree he knows it and tries to flaunt it ("here comes the smolder"). However, unlike Gaston he doesn't have an arrogant and narcissistic personality. He is much more human and real about who he is – including his shortcomings.
Flynn is similar to Aladdin in many ways. Most notably the fact that they were loners who were also thieves. Again, Flynn Rider is more honest, forthcoming and funnier than Aladdin, although we do love Aladdin too!
We can see why Flynn has become one of the most loved princes of the Disney franchise. He is funny and good looking with a great personality. And you don't need to wonder how old Flynn Rider is any more. It turns out, he isn't too old for Rapunzel after all!