Rapunzel is the tenth official Disney princess and is the heroine of the movie "Tangled." This is one of our personal favorite Disney princess movies, as we find it charming and funny all at the same time!
Tangled was released on November 24, 2010. It reportedly cost $260 million dollars to make, which makes this movie the most expensive animated film of all time. This movie was the most successful Disney animated movie since The Lion King.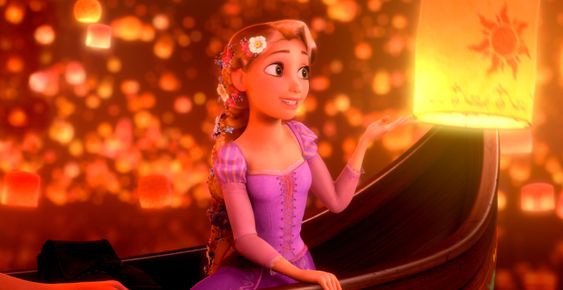 Tangled Movie Summary
Rapunzel's hair has magical healing powers that come to life when Rapunzel sings. Mother Gothel wants Rapunzel's magic for her own use, so she kidnaps Rapunzel when she is a baby and keeps her locked up in a tower and hidden from the world.
One day, Flynn Ryder, a thief, uses the tower as a place of refuge and meets Rapunzel. Rapunzel ends up running away from the tower with Flynn with the goal of seeing the floating lanterns that are sent up every year on her birthday.
Mother Gothel wants to get Rapunzel back before the magic wears off and she turns into an old woman. Will Mother Gothel find Rapunzel? Will Rapunzel find out that she is actually a princess? What will happen to Flynn?
Who is Rapunzel's Prince?
Flynn Ryder is Rapunzel's prince…although technically he's not actually a prince!
Who Voiced Rapunzel in the Disney Film?
Rapunzel was voiced by Mandy Moore. The producers actually auditioned hundreds of people before finally discovering Mandy Moore. As a long time fan of Disney movies, she was the perfect fit!
You can see Mandy talking about the challenges of doing voice over work in this video.
Tangled Characters
Rapunzel is the main character and princess in this movie.
Pasqual is Rapunzel's lizard (chameleon) friend.
Mother Gothel is the antagonist in this story. She kidnaps Rapunzel and raises her as her own.
Flynn Ryder (whose real name is Eugene Fitzherbert) is Rapunzel's love interest.
The Stabbington Brothers are thieves used to help capture Flynn.
Fun Facts about the movie Tangled
Tangled was debuted in 2010 and has the distinguished title of being Disney's 50th animated feature film! It is, of course, loosely based on Rapunzel by The Brothers Grimm.
Tangled is meant to have a look of oil paintings on canvas which goes along well with Rapunzels amazing painting talent that you see her doing in the film!
There is no prince in Tangled. Of course, Flynn has become a well loved character so we are fine with it!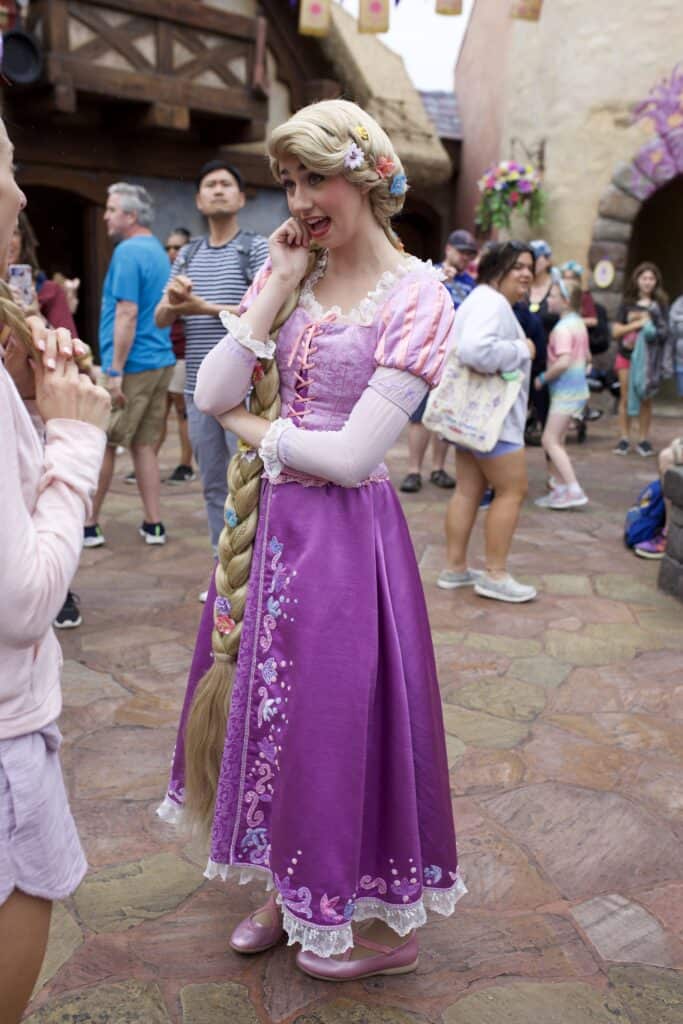 9 Fun Facts About Rapunzel:
Rapunzel and Flynn make a cameo appearance in Frozen!
Rapunzel's trademark color is purple, the color or royalty. All of her clothes in the movie are purple.
Rapunzel is the first princess to have green eyes
She is also the first Disney Princess to have magical powers!
Rapunzel has 100,000 strands of hair in the film.
Rapunzel is the first one to be computer animated.
Rapunzel is the first to have her hair change color.
Rapunzel is the third princess (along with Cinderella and Snow White) to have a cruel maternal figure.
Rapunzel has an interest in both art and astronomy.
What to say to Rapunzel in Walt Disney World:
What to ask Rapunzel when you meet her in Disney:
1. Ask her where Flynn is.
2. Ask her how long it takes her to brush her hair.
3. Ask her if she uses frying pans to cook or just as a weapon!
One of our favorite nooks in Disney World is an area where you can see Rapunzels tower, and if you look down on the pavement you'll find some fun things imprinted in it!
What songs does Rapunzel sing in Tangled?
Rapunzel sings "When Will My Life Begin," I See The Light," and contributes to "I've Got a Dream."
Rapunuzel Quotes
"I want to see the floating lights!"
"That's the funny thing about birthdays, they're kind of an annual thing."
"I know I'm safe as long as I'm here."
"Look at those fireworks. They are as if they are for me."
"I knew they weren't stars!"
"I CAN'T BELIEVE I DID THIS!"
"BEST. DAY. EVER!"
"I will use this."
"Please don't freak out."
"Find your humanity! Haven't any of you ever had a dream?"
"Flower gleam and glow, Let your powers shine, Make the clock reverse, Bring back what once was mine. Heal what has been hurt, Change the fate's design, Save what has been lost, Bring back what once was mine, What once was mine."
"I have magic hair that glows when I sing."
"And the thing is, I'm not scared anymore."
"You were right, mother. You were right about everything."
"No. You were wrong about the world, and you were wrong about me, and I will never let you use my hair again!"
"No! I won't stop. For every minute of the rest of my life I will fight. I will never stop trying to get away from you!"
"Eugene!"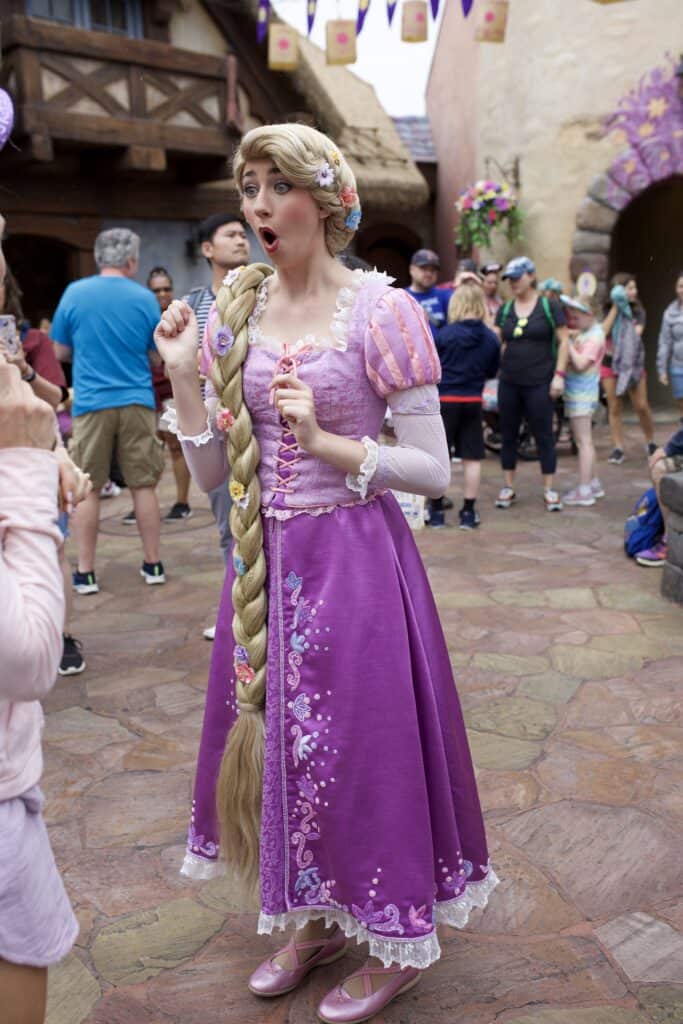 Official Disney Princesses
How well do you know all the Disney princesses? Who is your favorite? Check your Disney princess knowledge here: