If you ask most people who Jiminy Cricket is, they will tell you he's a talking cricket from the Disney film Pinocchio. Did you know that it is amazing his character even made his way into the movie to begin with?
You see, in the original story Pinocchio by Carlo Collodi, (in which Walt took the inspiration for the animated film, Pinocchio) there was a cricket, but in a fit of anger Pinocchio throws a hammer at him and accidentally kills him. Yikes!
In other words, he was a minor character in the book. Not so for the Disney movie we know and love! Jiminy Cricket not only became a big part of the movie's success, but his character drastically changed from the character in the book.
In the original book, the cricket was more of a philosopher. Walt Disney brilliantly turned the cricket into a fun, outgoing, personable, and tenderhearted character who became Pinocchio's conscience.
With the help of voice talent Cliff Edwards, (after Cliff died, Eddie Carroll took over) Jiminy Cricket was given even a bigger role of being the narrator of the movie. Its hard to imagine the movie Pinocchio without Jiminy Cricket!
7 Fun Facts About Jiminy Cricket
Here are 7 interesting facts about Jiminy Cricket that we bet you didn't know!
1. Jiminy Cricket doesn't really look like a cricket.
Jiminy Cricket's creator was Ward Kimball. Kimball worked on Walt's first film, Snow White and the Seven Dwarfs animating a soup eating scene. That particular scene was eventually cut and left on the editing floor, which so often happens in movies.
So devastated Kimball was, that he was going to quit as one of Disney's animators. As he approached Walt with the idea of leaving, Disney hit him with the job of creating Jiminy Cricket for the upcoming movie, Pinocchio, promising the character would play a major role.
Kimball later would say, "Walt was a salesman!" At first, Kimball started sketching Jiminy as anyone would, a cricket with very insect type features. After many revisions, Jiminy eventually became the character we know today – top hat, tails, an umbrella, no ears and shoes.
Jimmy did not look much like a cricket but Walt loved him and that's all that really mattered. The most interesting part is years after making him, Kimball never really liked the final version of Jiminy Cricket!
2. Jiminy Cricket sings the most famous Disney song of them all.
Well, actually the voice of Jiminy Cricket is done by Cliff Edwards in the first Pinoccio movie, so he did the most famous Disney song of all. Can you guess the signature song? "When You Wish Upon a Star"!
Think about it. You have Mickey Mouse ears and Cinderella's Castle as visual "hooks" for Disney. When it comes to sound, as soon as you hear the melody for "When You Wish Upon A Star" you know beyond a shadow of a doubt that it is Walt Disney.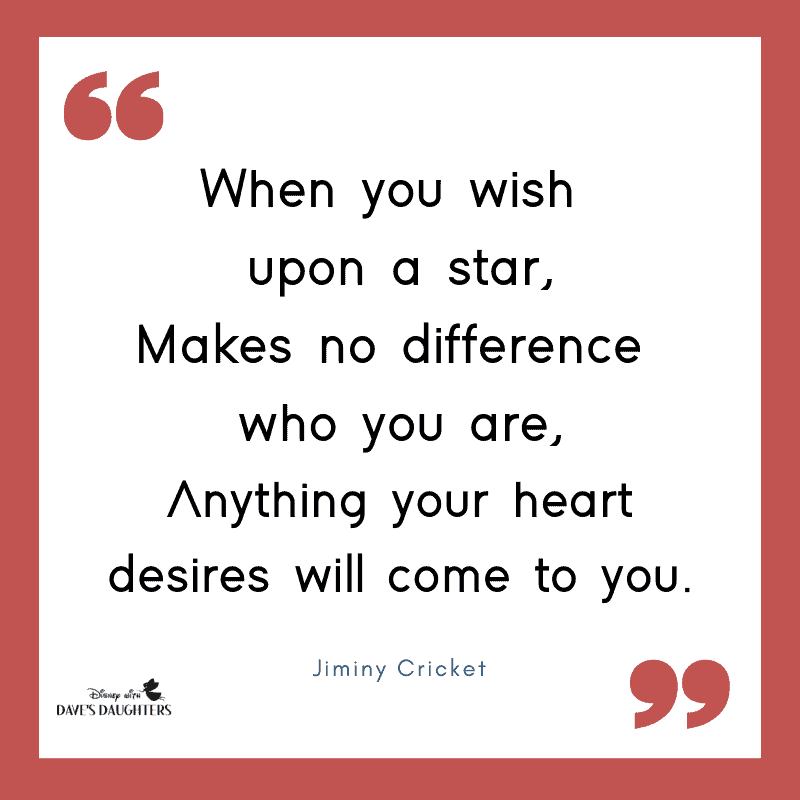 This iconic song is used in many ways to promote the Disney Enterprise. Walt Disney Productions uses the theme at the start of all the Disney movies and shows. It is used in their logo.
The first seven notes are even used on the Disney Cruise ships as their horn blasts! Furthermore, this song, written by Leigh Narline and Ned Washington catapulted Jiminy Cricket into a bigger role in the movie. They loved the song so much that it pushed Jiminy into the narrator.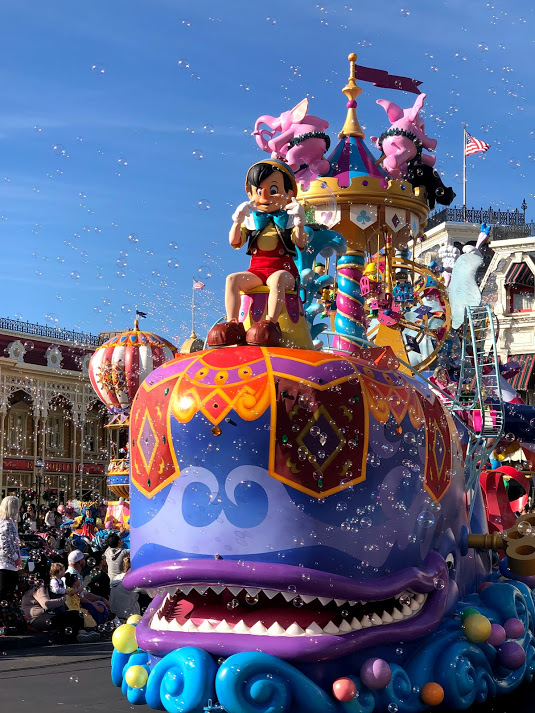 Photo Credit Alexis Larcy
3. Jiminy Cricket's character was vitally important to Pinocchio.
You see, the early drafts made Pinocchio a mean, unlikable puppet like he was in the book. In fact, Walt said, "one difficulty is that people know the story, but they don't like the character" commenting about Pinocchio.
So how did they fix this? Enter Jiminy Cricket. Walt made the loveable cricket the heart and soul of the feature film, befriending Pinocchio and the bond made the story work. He is one of the more iconic sidekicks of all the Disney movies.
4. Jiminy Cricket became an educational star.
In the 1950's and 60's, Jiminy appeared in educational films directed at grad school students called the "I'm No Fool" series. The subject matter was on different life lessons such as walking through traffic areas, exposed electrical lines, swimming safety and many more. Here is an example of one:
A second show was called "This Is You" and it taught children about the human body.
Finally, a third show was called "The Nature of Things" which taught about animal in nature.
5. The Name Jiminy Cricket wasn't thought up by Disney.
The name Jiminy Cricket was already around as an expression – sort of like an exclamation. You can actually hear it in Snow White and the Seven Dwarfs, The Wizard of Oz and other shows during that time period. Walt simply took the expression since it already had "Cricket" in the term and used it for Jiminy.
6. Jiminy Cricket's autograph at the Disney Parks is quite unique.
If you are going to one of the Disney parks (Disneyland, Disney World etc…) and you run into Jiminy Cricket, ask him for his autograph. He signs it with the J becoming an umbrella, his signature prop.
7. Jiminy Cricket has stared and made cameos in many Disney productions since Pinoccio.
Whether it was the iconic Mickey Mouse Club, the wonderful Mickey's Christmas Carol, or many other Disney shows and productions, Jiminy has been around a lot. Very often he takes the role of either the narrator or the wise friend, which was similar to his role in Pinocchio.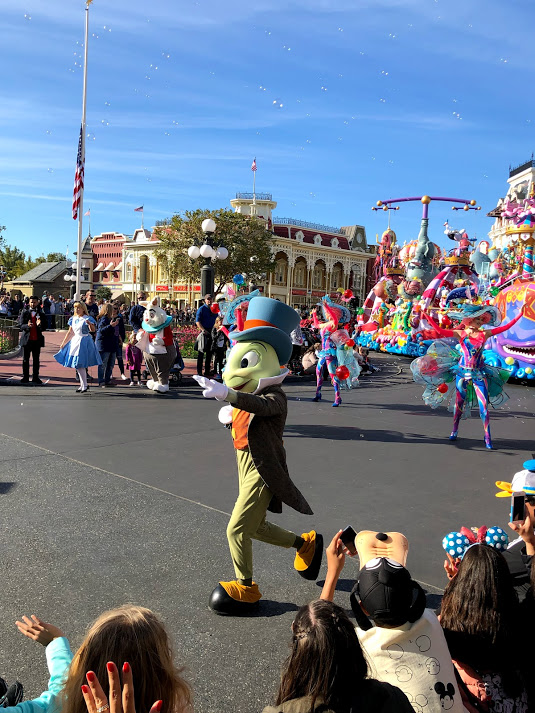 Photo Credit Alexis Larcy
Video games is another avenue Jiminy is making a showing, namely, Disney's Villans Revenge and the Kingdom Hearts Series.
Finally, He can be found in the Disney Parks usually with Pinocchio and Geppetto. In Disneyland and Walt Disney World he can be found in Fantasmic!
Knowing these fun bits of trivia about the different Disney characters can add some extra fun to your visit to Walt Disney World! Be sure to check out our post about the 33 Disney cats you need to know!