In our opinion, there are two must have fashion items for your trip to Disney World: a Disney themed t- shirt and Disney ears!
We truly love from all things Disney, but one of our favorite ways to accessorize is with ears! There are so many amazing Mickey Mouse ears, Minnie Mouse ears and Disney ears out there.
For many of us, it's become a hobby to collect ears! Pick up a new pair of ears for each trip and pretty soon have the perfect ears to match each outfit and each them park during your Disney vacation.
Why Buy Ears Before You Get to Walt Disney World
Story time! I was in California with my family when we had just two kids (we now have three) and we decided to take them to Disneyland on a whim. I wasn't really prepared with outfits, ears, etc. and I was totally feeling left out when we arrived.
Naturally I decided I needed a pair of sequin Minnie ears for our short time at the park so I decided to splurge. And a splurge it was! Those ears set me back quite a bit of money. Most ears at Disney can cost anywhere from $30 to $100+! I don't know about you but I can find plenty of other things to get for $100 that aren't a pair of ears.
While yes, they'll last me a long time and I do love the memory behind them of our kids first trip to Disneyland, I would much rather spend less money and get a more unique pair of ears for upcoming trips.
So whether you want to save money or get a more personalized or unique set of ears, we highly recommend picking up your ears before your trip and not on it. There's plenty of other things to splurge on while you're there and ears aren't really one of them.
21 Best Disney Ears (2022)
And now, let's get to our favorite Disney ears!
From sequins to velvet to fur to Epcot ears (our fav!), here's some amazing Disney ears to choose from.
Please note: Disney With Dave's Daughters is a participant in the Amazon Services LLC Associates Program. This post may include affiliate links which means I may earn a small commission if you shop using the links below at no additional cost to you.
We love anything with a touch of "classic" Disney, so we are digging the red bow on these Minnie Mouse ears! The sparkly ears are perfect for someone who loves a little bit of bling. These ears will go with any of your Disney t-shirts!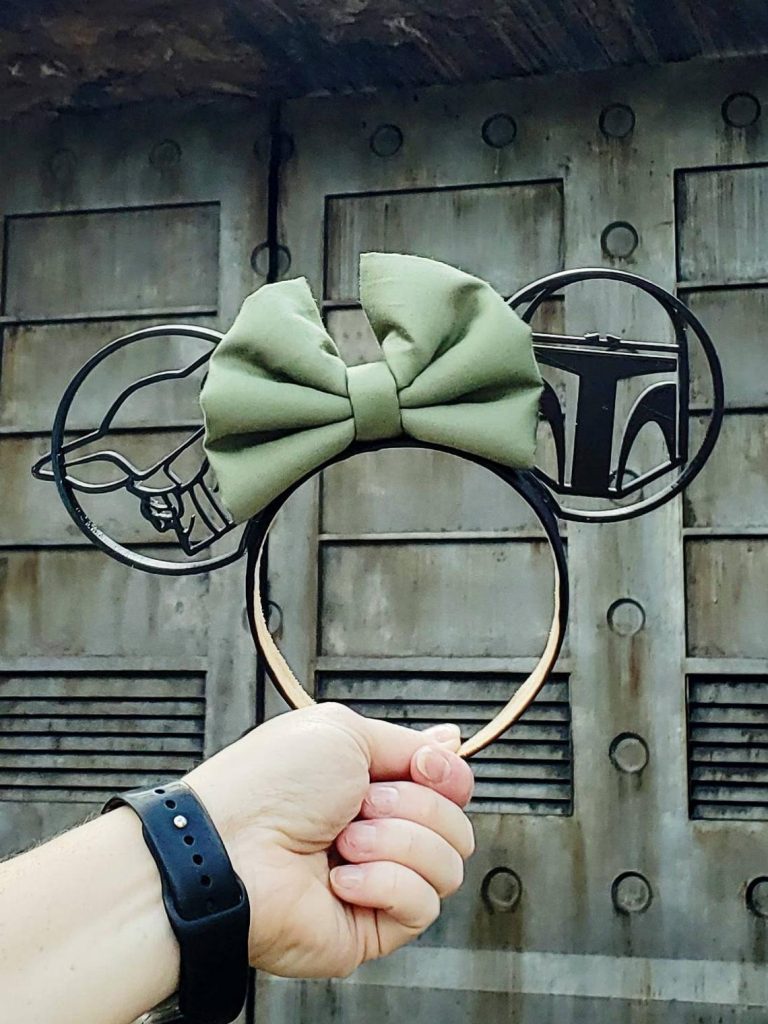 Have you watched The Mandalorian on Disney Plus? We have and we love it! These baby Yoda (Grogu!) inspired ears are our new favorite! These are black ears made with a 3D printer.
You will find The Child on one side and Mando on the other. These would be perfect to wear for your day in Hollywood Studies or for any Star Wars fan.
These Toy Story themed Woody ears are unique and perfect for someone who adores the Toy Story movies! We love the sparkly red bow and the subtle nod to Woody.
You can get these ears in a 3″ or 4″ ear – and with or without the bow! Perfect for boy and girls who love Toy Story.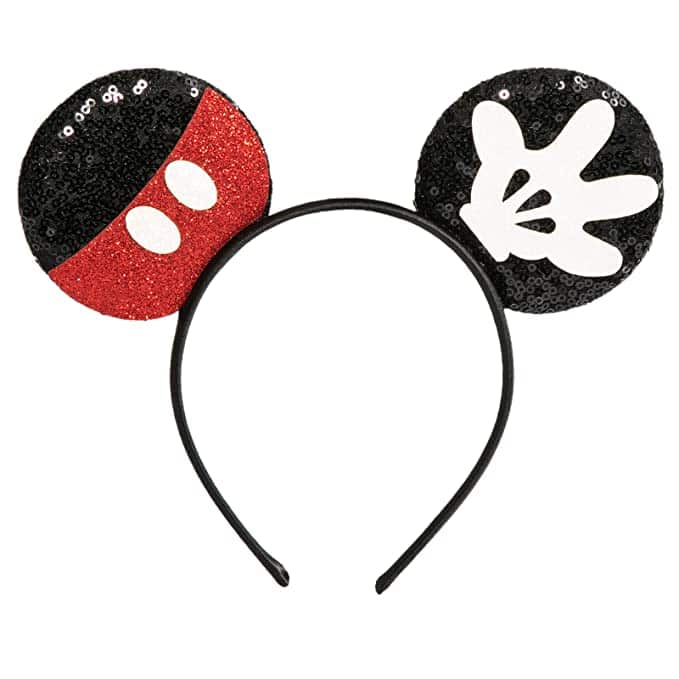 These Mickey ears are perfect for boys or girls! The classic ears featuring Mickey's hands and pants make these ears incorporate everything that we love about Mickey.
If you are looking for some classic Disney mouse ears but with an updated flair, these are for you! These are geared towards men, so your son (or husband!) will love having his own ears.
These fur Minnie Ears remind us of ear muffs and we think would be perfect to wear for a winter trip to Disney!
We especially like the little polka dot bows on each ear! This set of ears comes in three colors – black, pink, and light pink….and have free shipping. These are great for someone who wants to have super unique Minnie ears.
If you have a little girl who is obsessed with mermaids like Dave's granddaughter is, this is the perfect pair of ears for her! We love these Ariel (The Little Mermaid) inspired Minnie ears so much! Ariel is one of our all time favorite classic characters.
We love that the "ears" part of the headband is actually shells….and the bow looks like Ariel's fins. This is such a fun design and a great way to celebrate one of our favorite Disney princesses.
For the girl who loves sparkles, Olaf, and all things Frozen, these ears are for her! Once again we love the glitter ears and bow. These would be so fun to wear when meeting Elsa and Anna! (See where to find them here.)
These ears comes in a TON of different styles! You can find Snow White themed hears, Halloween, and Tinker Bell! If you are in the market for new ears, be sure to check this out.
For the Disney fan who loves Disney's villains, check out these Maleficent inspired ears! These sparkly glitter ears give you the fun of Disney ears…but with a villainous edge!
These ears are on Amazon prime so you will enjoy free shipping and free returns. There are a variety of sparkly options available from this seller – you will find some of your favorite characters with ear themes, such as Cinderella and Snow White.
There are also Disney's Animal Kingdom inspired ears!
*Get a matching Disney Villain t-shirt here!
If you're going to Disney World at Christmas time, you need these fun ears. We love the classic green and red with snowflakes. You'll definitely feel festive in these ears!
If you want to find out when Disney World decorates for Christmas you can find out all the information here. Christmas is a special time to be at Walt Disney World! You will find Mickey ears everywhere and the castle is draped in gorgeous lights – so be sure to fit in with these Christmas themed ears!
These ears are so fun and perfect for a day in EPCOT! The iconic look of the geodesic sphere of Spaceship Earth makes these not only unique, but classic! Be sure to wear these ears as you walk around EPCOT and as you enjoy the magnificent World Showcase.
*Find out how many miles Epcot is here or what EPCOT stands for here!
These ears are perfect if you are celebrating your birthday at Walt Disney World! The bow is filled with colorful pom poms and the ears are sequin making this a colorful and happy option. Don't forget to stop at guest services to get your free birthday button!
This Lion King inspired Disney ears is perfect for the person who loves this classic film. The ears are a bright yellow with Simba on one side and a shining sun on the other. The bow is full of sequins which will shimmer as you walk through the parks!
These would be the best ears to wear to the Lion King show in Disney's Animal Kingdom!
If you love Frozen and the Frozen Princesses, Elsa and Anna, these ears are for you! Whether you have two people who want to coordinate or if you just want options of which princess ears to wear, this pair is a fun addition to your collection of ears!
(Did you know that Anna and Elsa aren't official Disney princesses? Find more here!)
If you love Toy Story you will love these alien ears! This isn't technically Mickey ears, but you will fit right in wearing this fun headband. This one is perfect for riding Slinky Dog Dash in Toy Story Land in Disney's Hollywood Studios.
These ears would also be fanatic to go with a Halloween costume – simply get a green shirt and pants! What a fun way to get an extra use out of these alien Disney ears!
Did you know that Halloween is one of the most popular times to go to Disney World? These fun ghost ears are perfect for the Not So Scary Halloween Party. We love the cute ghosts that look like a Mickey face or Minnie face and the polka dot bow!
Bonus: these ears glow in the dark!
These ears would also be fun to wear in the Magic Kingdom – the hitchhiking ghosts on the Haunted Mansion will love them.
Disney is full of magic and there isn't anything much more magical than a unicorn. These sparkly ears have a fun unicorn bow on it for that little girl that is obsessed with the mythical creature! These super cute Mickey Mouse ears are a non-slip style so you know it will be comfortable all day long.
Mickey and flowers? Yes, please! We love these flower ears! The colorful flowers pop on the background of the black ears.
These would be so perfect to wear to EPCOT's flower festival.
If you are getting married in Disney World or celebrating your honeymoon there, you must get these classic Mickey wedding hat ears! Let everyone know that you're newlyweds (who love Mickey)!
There is no better way to celebrate your "happily ever after" than in the happiest place on earth. Be sure to wear a couples Disney shirt to go with your ears!
Halloween fans, we have more ears for you! Here is another fantastic pair of Halloween Mickey ears! If ghouls and villains are your jam these spooky Disney ears are perfect for you.
Here is another great flower option for Disney ears! Daisies are the friendliest flower, and you will be thrilled to wear these to the parks. This headband is made by Loungefly so you know that it is great quality. Don't worry about this headband getting dirty – it is made of faux leather you can easily wipe it clean!
These are the best ears to wear at the Epcot International flower and Garden Festival! You'll have to be sure to meet Daisy Duck while you are wearing these ears!
Snacking through Disney World is one of our favorite things to do, and these "half eaten" ears are one of our favorite things! It looks like you took a bite out of Mickey's ear!
Of course if you are crafty you can also make your own pair of custom Disney ears! Simply grab some unique headbands, some hot glue and other craft supplies and you are well on your way to creating Disney ears featuring your own designs.
There are tutorials all over the internet to help get you started, but use your imagination and inspiration from your favorite Disney characters and places.
Want more Disney fashion? We've got you covered:
Let us know if any of these end up in your bag! Be sure to check out our post breaking down exactly what to wear each month in Walt Disney World. We have a list of 14 things you should purchase before your trip in order to save some money and time!