In our opinion, there are 2 must have fashion items for your trip to Disney World: a Disney themed t- shirt and Mickey or Minnie ears! There are so many amazing Mickey Mouse ears out there, so today we're narrowing them down for you. We are giving you our top 9!
We truly love from all things Disney, but one of our favorite ways to accessorize is with ears! Here are some of our favorites. All of these are Mickey ears headbands. You can definitely search for Mickey ear hats, but our preference is the headbands.
From sequins to velvet to fur to Epcot ears (our fav!), here's some amazing Mickey ears to choose from. hese are our favorite because they are unique ears and many come form independent sellers on Etsy. We love supporting small businesses whenever we can!
The Best 9 Mickey Ears (2021)
Please note: Disney With Dave's Daughters is a participant in the Amazon Services LLC Associates Program. This post may include affiliate links which means I may earn a small commission if you shop using the links below at no additional cost to you.
We love anything with a touch of "classic" Disney, so we are digging the red bow on these Minnie ear headbands! The sparkly ears are perfect for someone who loves a little bit of Disney bling. While we are partial to the white and red, but the best part of this pair of ears is that these ears are completely customizable! Both the ears and the bow come in a ton of different colors.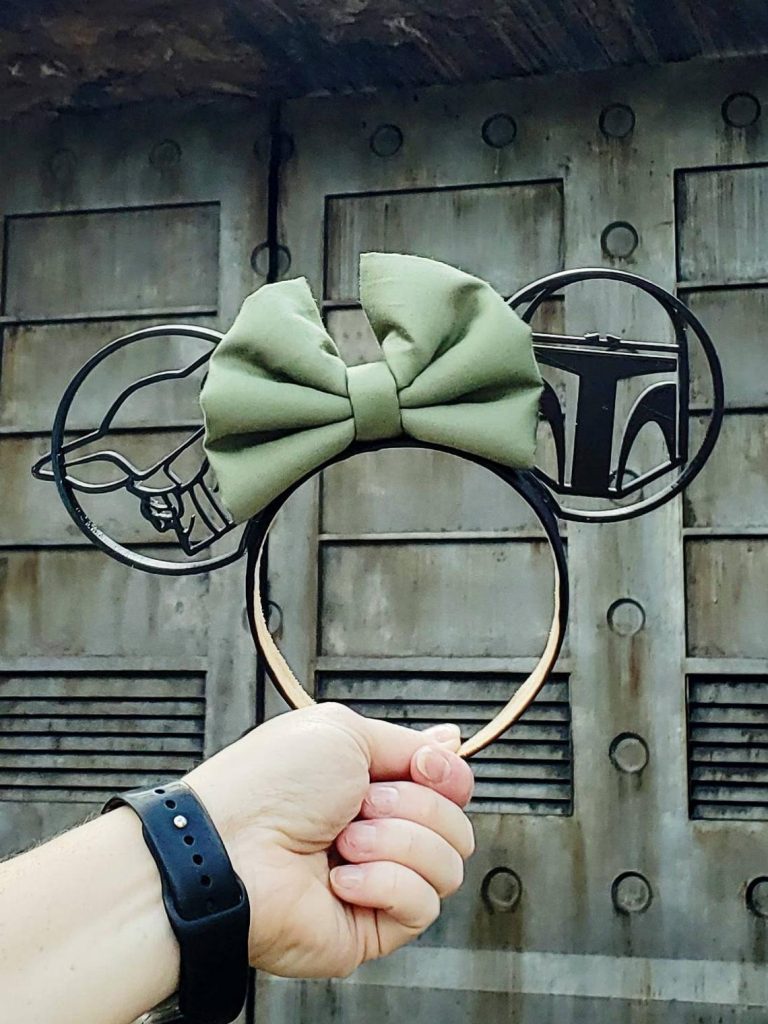 Have you been watching The Mandalorian on Disney Plus? We have and we love it! These baby Yoda (Grogu!) inspired ears are our new favorite! These are black ears made with a 3D printer. You will find The Child on one side and Mando on the other. These would be perfect to wear for your day in Hollywood Studies or for any Star Wars fan. (Be sure to know how to use the Hollywood Studios fast pass tier system before you go!
These Toy Story themed Woody ears are unique and perfect for someone who adores the Toy Story movies! We love the sparkly red bow and the subtle nod to Woody. You can get these ears in a 3″ or 4″ ear – and with or without the bow! Perfect for boy and girls who love Toy Story.
These Mickey ears are perfect for boys or girls! The classic Mickey ears featuring Mickey's hands and pants make these ears incorporate everything that we love about Mickey. If you are looking for some classic disney mouse ears but with an updated flair, these are for you! These are geared towards me, so your son (or husband!) will love having his own ears.
These fur Minnie Ears remind us of ear muffs and we think would be perfect to wear for a winter trip to Disney! We especially like the little polka dot bows on each ear! This set of ears comes in three colors – black, pink, and light pink….and have free shipping
If you have a little girl who is obsessed with mermaids like Dave's granddaughter is, this is the perfect headband for her! We love these Ariel (The Little Mermaid) inspired Minnie ears so much! Ariel is one of our all time favorite classic Disney characters. We love that the "ear" part of the headband is actually shells….and the bow looks like Ariel's fins. This is such a fun design!
For the girl who loves sparkles, Olaf, and all things Frozen, these ears are for her! Once again we love the glitter ears and bow. These would be so fun to wear when meeting Elsa and Anna! (See where to find them here.)
This headband comes in a TON of different styles! You can find Snow White themed hears, Christmas, Halloween, and Tinker Bell! If you are in the market for new ears, be sure to check this out.
For the Disney fan who loves the villains, check out these Maleficent inspired ears! These sparkly glitter ears give you the fun of Mickey ears…but with a villainous edge! These are on Amazon prime so you will enjoy free shipping and free returns. There are a variety of sparkly options available from this seller – you will find some of your favorite characters with ear themes, such as Cinderella and Snow White. There are also Disney's Animal Kingdom inspired ears!
These ears are so fun and perfect for a day in EPCOT! The iconic look of the geodesic sphere of Spaceship Earth makes these not only unique, but classic Disney! Be sure to wear these as you walk around EPCOT!
Of course if you are crafty you can also make your own pair of custom ears! Simply grab some unique headbands, some hot glue and other craft supplies and you are well on your way to creating Mickey ears featuring your own designs. There are tutorials all over the internet to help get you started, but use your imagination and inspiration from your favorite Disney characters and places.
If you want more Disney fashion fun, head to our favorite Disney family tee shirts, Disney leggings and our favorite Disney women's graphic tees
Let us know if any of these end up in your bag! Be sure to check out our post breaking down exactly what to wear each month in Walt Disney World. We have a list of 14 things you should purchase before your trip in order to save some money and time!