We love everything about the Magic Kingdom at Walt Disney World! We love the smells, the colors, the treats, the food, the parades, the fireworks and even the fun ways they make your queue (this is just a fancy way of line) wait just a bit more enjoyable.
But the biggest reason we (and probably you) love the Magic Kingdom is because of the rides!
We want to take a look at which rides at Disney's Magic Kingdom are the best. Of course this is subjective to a point, but there are surveys done by magazines, tourist agencies and even Disney themselves to find the best Magic Kingdom rides.
We have compiled this data, mixed in our personal favorites, and we are giving you the results. This can come in handy if you only have one day to tour the Magic Kingdom and you want to get in the best and most popular attractions.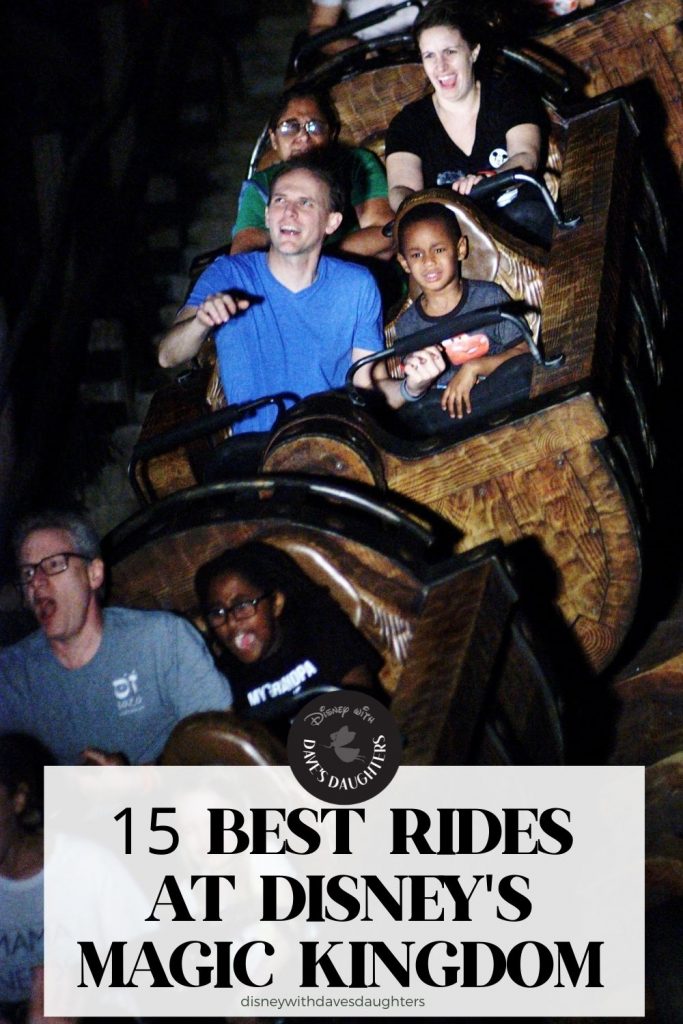 If you have small children in your family be sure to check out our run down of the best rides for toddlers in the Magic Kingdom. Small children will not be able to ride some of the bigger Magic Kingdom attractions but there are plenty of rides and stage shows that the whole family will enjoy.
You will want to keep in mind the height restrictions for any attraction you want to go on. Keep in mind that Disney World does have a rider switch system available which allows one adult to ride Space Mountain or other thrill rides while the other adult waits with the kids – and then you swap!
You get to avoid waiting in long lines twice with rider switch. We give you a full explanation of that system here so be sure to check it out.
Top 15 Magic Kingdom Rides
1. Space Mountain
This roller coaster is a dark ride through outer space experience is definitely a must do. You are flying past celestial satellites, shooting stars, comets and meteors while a futuristic soundtrack sets the adventure perfectly.
This is an extremely popular ride but absolutely worth it. If you are at the Magic Kingdom when the rope drops go to Space Mountain first. There is a height requirement for this thrilling ride. Guests need to be at least 44" to ride.
Location: Tomorrowland
Ages: Kids (at least 44") to adults
Additional Notes: This is a thrill ride that is dark and has big drops.
2. Big Thunder Mountain Railroad
Legend has it that soon after good was first discovered in the 1850's, weird things began to happen…Trains would start racing through the tunnels all by themselves. That is the synopsis of Big Thunder Mountain Railroad. You are on a speeding train on a thrilling roller coaster style ride.
Location: Frontierland
Ages: Kids (at least 40") to adults.
Additional Notes: fairly tame coaster
3. Seven Dwarfs Mine Train
Heigh-Ho, Heigh-Ho, you absolutely don't want to miss this great ride! Taken from Snow White and the Seven Dwarfs, you ride a creaky cart that actually sways back and forth as you move through turns.
This ride is similar to Big Thunder Mountain Railroad in regards to the severity of the coaster ride which is pretty tame. The queue for this ride is enjoyable as you feel like you are actually heading down into the mine!
Location: Fantasyland
Ages: Kids (at least 38") to adults
Additional Notes: fairly tame coaster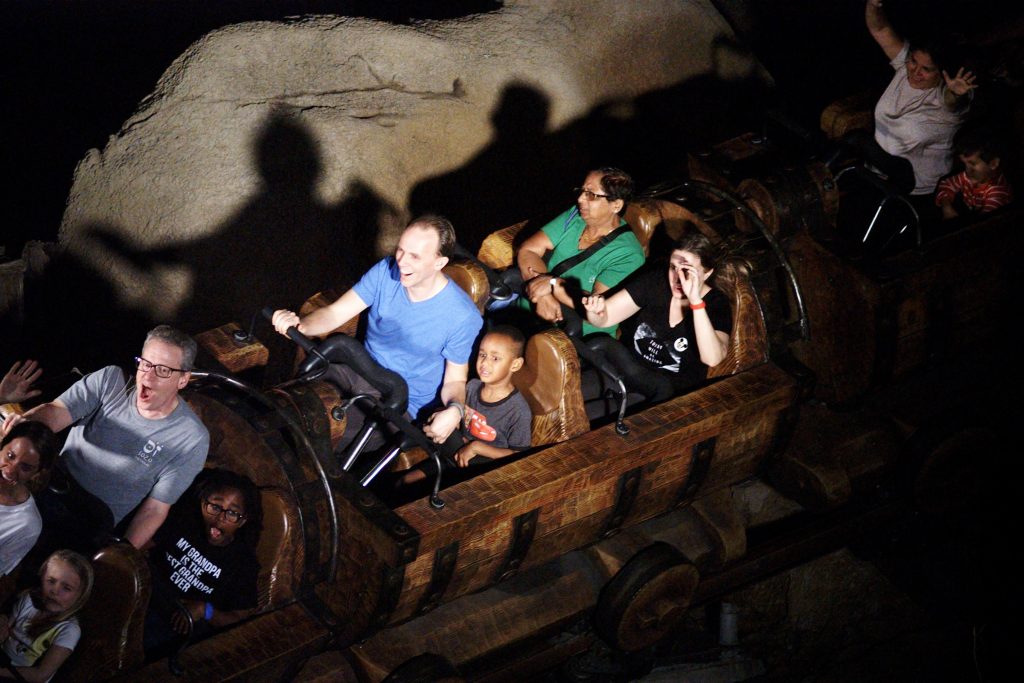 4. Pirates of the Caribbean
This iconic attraction is another winner! This is a slow moving boat ride that is considered a Disney World classic. Audio animatronic Pirates will entertain you with swashbuckling songs and lighthearted pirate antics. Even Captain Jack Sparrow gets into the fun! This is Disney at it's best in our opinion – enjoyable for every age regardless if you have seen any of the movies.
Location: Adventureland
Ages: All Ages
Additional Notes: Slow ride, dark and loud in some places.
On a personal note, we love this ride because Dave remembers riding it as a kid with his brother and now he gets to ride with with his grandkids! There seems to be some minor updates to this ride on a regular basis, making it fun to experience each time we visit Disney World.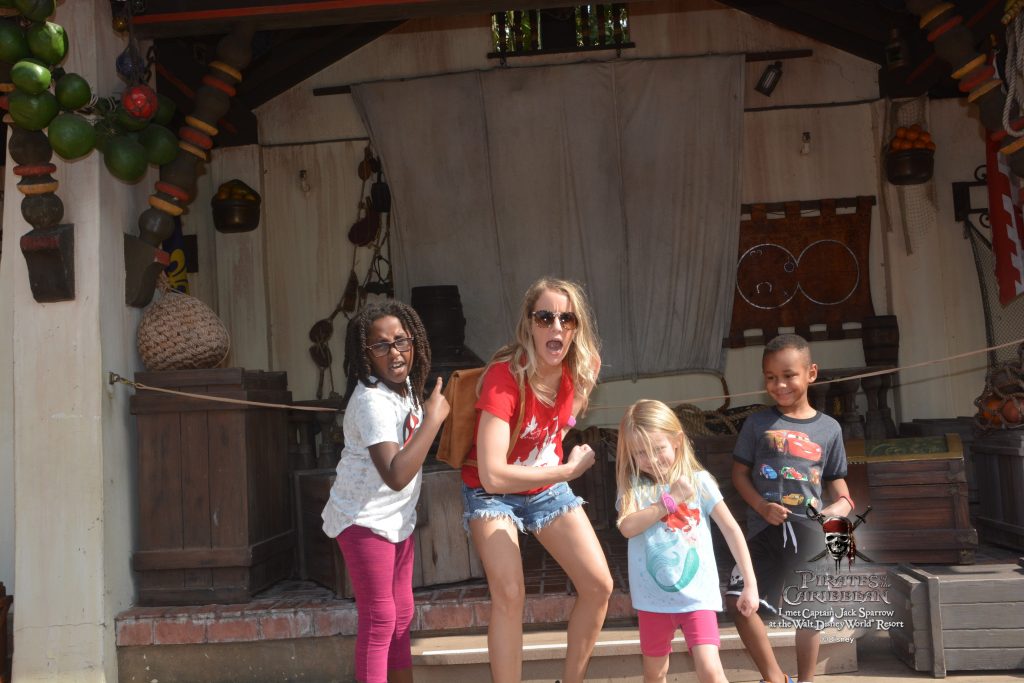 5. The Haunted Mansion
Make sure this one is on your list! You climb into a "Doom Buggy" after being introduced to the Mansion and go on a ghostly adventure throughout the Haunted Mansion. 999 happy haunts entertain you as you tour the home. Great music and special effects give this ride a "not too" scary feel but it may be too much for young children. Be sure to keep an eye out for the hitchhiking ghosts!
Location: Liberty Square
Ages: All Ages
Additional Notes: Slow ride, dark and some things may be too scary for little ones, however, this is not a horror attraction. It is meant to be fun, silly and happy. Be sure to preview this ride on You Tube or other videos to get a sense if it will be too scary for your child. We find that many little kids are nervous to get on this ride, but once they get off they want to do it again.
*Check out all you need to know about the Haunted Mansion Ride here.

6. Buzz Lightyear's Space Ranger Spin
You board your XP-37 star cruiser and go deep into the Gamma Quadrant and shoot your laser cannon blasting all the targets you can! This is an interactive ride with interactive games which makes it more like an arcade game than an attraction.
As you collect points you can compete against your cruiser partner and others you are with. This one is tons of fun, we absolutely love this ride. If you have a competitive family you will love seeing who has the most points by the end of this ride!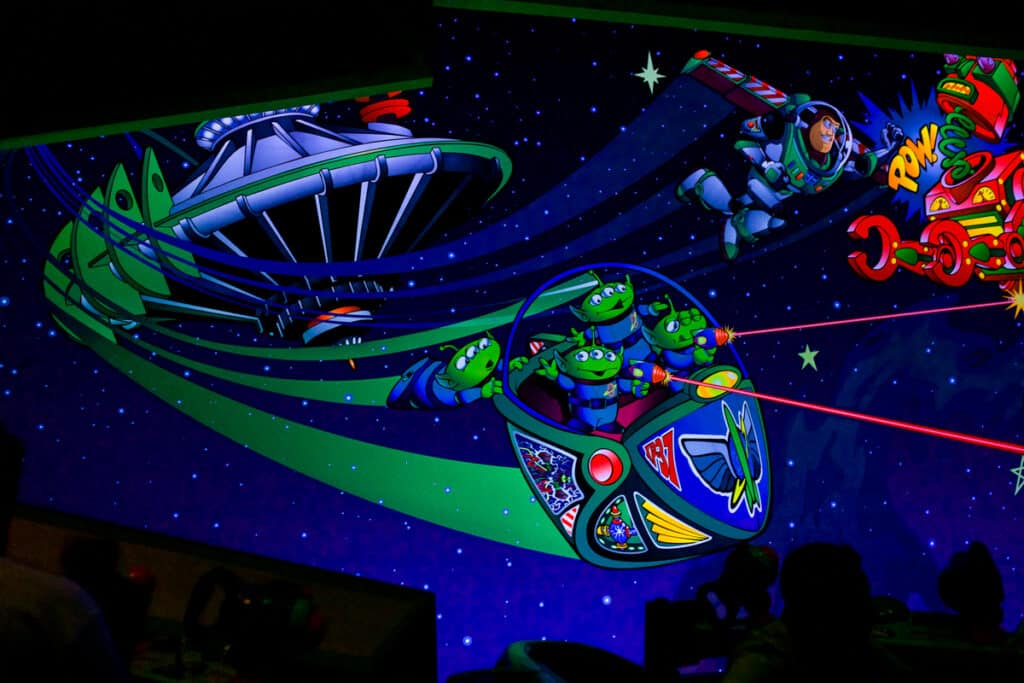 Location: Tomorrowland
Ages: All Ages
Additional Notes: Slow ride. The cruiser rotates 360 degrees but you have total control over the spin, so there are no concerns for people who can't handle spinning rides. You just might not get as many points!
Want to beat your family at this ride? Get our tips for a top score on Buzz Lightyear's Space Ranger Spin here!
7. Mickey's Philharmagic
This is a 3D experience that you use opera glasses for. A 180-degree wraparound screen is the setting for this 12 minute adventure starring Donald Duck. Great music and special effects that you got to experience.
This show incorporates music parts from a variety of classic animated Disney movies. You will hear songs from Aladdin, Beauty and the Beast, Peter Pan, and more!
Location: Fantasyland
Ages: All Ages
Additional Notes: It's best to explain the 3D sensation to smaller children. It can be a bit overwhelming the first time a child experiences it, but remember, they can always take the glasses off and listen!
There are some light water splashes and a few other kid friendly sensory items in this show. The air conditioning and ability to sit for a minute are additional perks!
8. Peter Pan's Flight
This is a fantastic experience for all ages! You board a pirate galleon and follow Peter Pan on a great adventure. One of the best parts is flying over London at night. You can see Big Bend and the Tower Bridge lit up. This attraction was updated in 2016 making it an even more magical experience. Since then, this ride often has very long wait times!
Location: Fantasyland
Ages: All Ages
Additional Notes: Slow ride that has some small drops.
9. Splash Mountain (currently closed until 2024)
This is a slow moving flume-log ride with a major waterfall drop towards the end. The colorful ride brings you through audio-animatronics animals and and critters while nostalgic songs from Disney ditties like Zip-a-Dee-Doo-Dah are playing during your ride. You will get wet!
Location: Frontierland
Ages: All Ages (children must be at least 40" tall)
Additional Notes: The drop towards the end is big but everything else is fun and easy.  Disney World has announced that it will be re-theming Splash Mountain to The Princess and The Frog.
10. Jungle Cruise
Our list of "try as humanly possible to not miss" is the Jungle Cruise. Another iconic Disney attraction that is a boat ride through the jungle while you encounter hippos, lions and other things along the way.
This ride is fun if you have a great skipper, appreciate corny jokes, and are ready to be a bit wild and crazy. You have to have a good sense of humor to ride this attraction.
Location: Adventureland
Ages: All Ages
Additional Notes: Flip on your wild and crazy side before you get into the boat and you will have a great time.
11. Carousel of Progress
This is a Disney masterpiece that needs to be seen if at all possible. Originally seen at the 1964-1965 New York World's Fair, it has gone through some revisions over the years including a new song, "The Best Time of your Life." You sit in a theater that rotates through 4 generations of technological progress. It really is worth it!
Location: Tomorrowland
Ages: All Ages
Additional Notes: Fun, relaxing and if it's hot outside, air conditioned!
12. It's a Small World
You embark on a boat and sail through a 10 minute journey through all seven continents taking in the sights, costumes and culture of each continent, all the while singing the famous "It's a Small World After All" song in every language.
This is an enjoyable, classic ride with an unbelievable amount of scenery and people. Everyone from very small children to grandparents will enjoy this one!
Location: Fantasyland
Ages: All Ages
Additional Notes: We dare you not to sing the song the rest of the day!
13. Under the Sea: Journey of the Little Mermaid
Boarding a clamshell, you become part of Ariel's world on a musical adventure! Sebastian, Flounder, Scuttle and even the sea witch, Ursula make appearances. There is no actual water on this ride! The line tends to move quite fast.
Location: Fantasyland
Ages: All Ages
Additional Notes: Slow ride
14. Monsters Inc. Laugh Floor
A very entertaining and different attraction. You are part of an interactive comedy show that is truly amazing to be part of. Mike Wazowski is the "Monster of Ceremonies" and all we can say is, it's a blast!
Location: Tomorrowland
Ages: All Ages
Additional Notes: Some audience members get to be a part of the show!
15. The PeopleMover
The full name is really Tomorrowland Transit Authority PeopleMover. This is a 10 minute tour of Tomorrowland which in and of itself is a bit low key and not very exciting, but when you have been walking all day and you are exhausted, this is the perfect ride!
Seriously, the ride shows you unique vantage points to Space Mountain and other places. It's great! The line moves very fast and we have been known to ride this a couple times in one day.
Location: Tomorrowland
Ages: All Ages
Additional Notes: Slow ride
These are the 15 best Magic Kingdom rides! We have experienced all of these and would be disappointed if we missed out on them while in the Magic Kingdom. What are your favorites?
Now head over to our 9 best rides at Animal Kingdom (including Dave's daughters' favorite Expedition Everest) and all the Epcot rides listed and ranked! Also be sure to check out our 9 tips for avoiding long lines!
What about Magic Kingdom food? Don't worry, we got that covered too!