We all know Disney is full of magic and fun secrets. You've probably walked right past some fun Disney magic and didn't even realize it!
One of these fun secrets are Hidden Mickeys. Hidden Mickeys are something you should know about!
A hidden Mickey is an image of Mickey Mouse – either his full body or just the head and ears silhouette – that has been worked into a Disney structure. This could be at a hotel, attraction, or any other structure designed by the Walt Disney imagineers.
Hidden Mickey's can be found all over the Walt Disney World theme parks and hotels, Disneyland and all the international Disney theme parks!
If you want some tips and tricks for spotting a Hidden Mickey or two, this is for you!
History of Hidden Mickey
It is believed that hidden Mickeys made their debut in the 1970s when Disney World was planning EPCOT. Since EPCOT is more adult themed and served alcohol, the management wanted to restrict the number of characters who showed up there.
Because of this, the imagineers started incorporating Mickey Mouse silhouettes and images into the design of EPCOT. Guests and Disney cast members started finding hidden Mickeys and loved it.
What started out as an inside joke became a Disney pastime as now hidden Mickeys are everywhere at all four theme parks!
It should be noted that not everything is a hidden Mickey. A true hidden Mickey is not meant to be obvious or noticed easily.
For example, cast members might put three circle objects together to create a classic Mickey silhouette (3 pancakes or 3 scoops of butter or even fallen flower petals). That wouldn't necessarily be a hidden Mickey – although it sure is fun!
We found this Mickey silhouette at Animal Kingdom! I literally stepped right inside it before my sister yelled at me to watch out for the Mickey! Thankfully I didn't mess it up.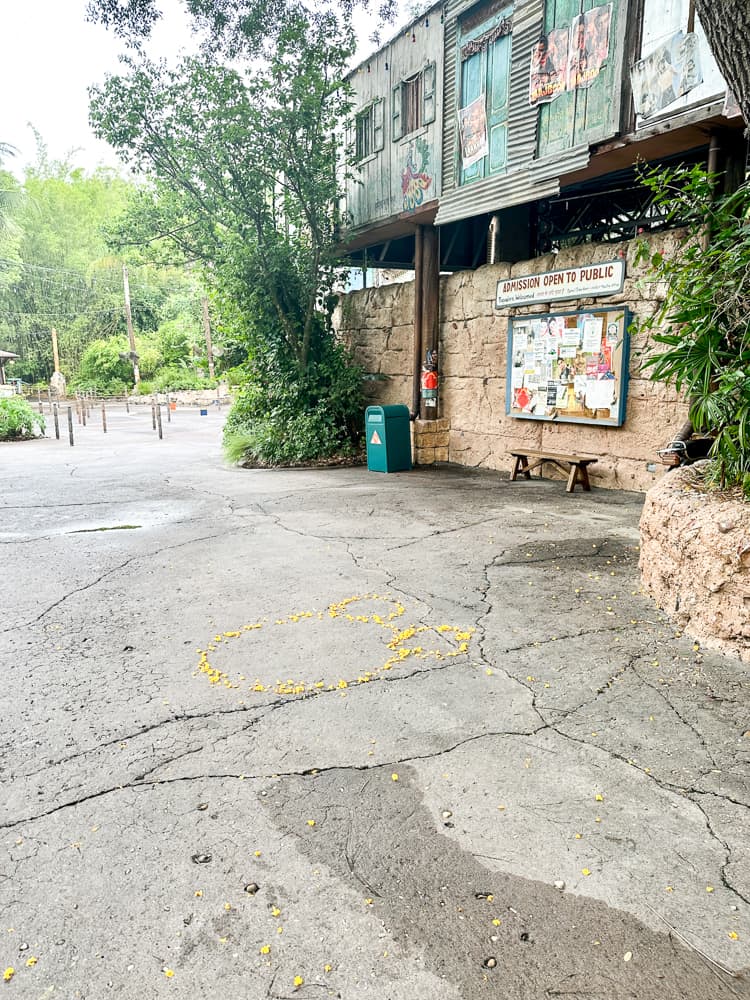 That is an example of a fun Disney surprise but not a true hidden Mickey.
Images that are in plain sight are called decorative Mickeys. These might be Mickey Mouse on lampposts or other very obvious decorative designs. Remember, hidden Mickeys are NOT obviously seen.
(There are also decorative Pascals! Look around and you might find Rapunzel's lizard friend hiding in the parks.)
So, if you happen to notice a large circle next to two smaller circles in a place that isn't super obvious….you may have spotted a hidden mickey!
How do I find hidden Mickeys?
You just have to look – it is kind of a scavenger hunt! Finding Mickey is one of the magical parts of Walt Disney World. He is often hiding in plain sight and you just need to notice him! The shape of Mickey Mouse truly is found everywhere on the Disney property.
Hidden Mickeys are also constantly changing. Every time an attraction gets refurbished some Mickeys leave….and new ones may arrive! There is no master list of hidden Mickeys due to the changing factor. Disney fans are constantly finding new hidden Mickeys in the theme parks.
Are any other Disney characters hidden?
Yes, not only will you find images of Mickey Mouse, but Disney imagineers also hide images of Minnie, Goofy, Pluto, Baloo, and Winnie the Pooh in the Disney parks and resorts.
Where are hidden Mickeys?
We can't list all of the places that you can find hidden Mickeys, but we will give you a few examples to help get you started on your hidden Mickey hunt!
Hidden Mickeys in the Magic Kingdom
Big Thunder Mountain Railroad – as you pull out of the loading station, look on the ground on the right hand side at the gears.
Buzz Lightyear's Space Ranger Spin– watch for the planet Pollost Prime to see a profile of Mickey Mouse!
Carousel of Progress – watch at the end during the final scene. There's several hidden Mickeys including one on the mantel (hint – it's a nutcracker)!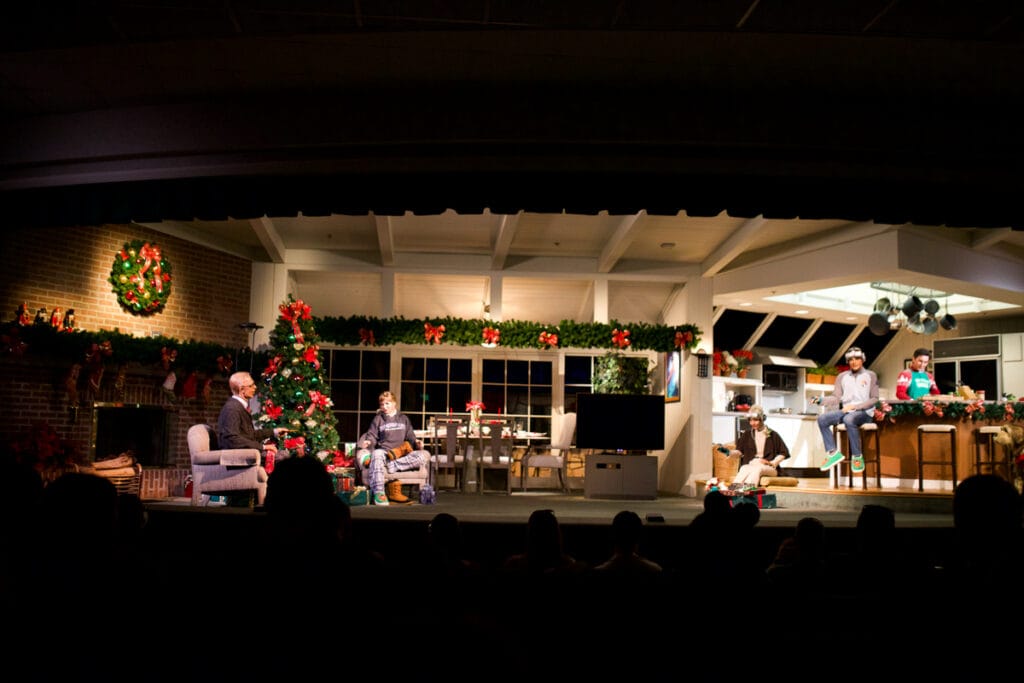 Main Street Railroad Station – look for a Mickey shaped lock upstairs
Merchant of Venus Shop – two hidden mickeys in the wall mural
Haunted Mansion – there are several hidden Mickeys throughout the ride
Its a Small World – several hidden Mickeys throughout the ride – be sure to check the elephant!
Pirates of the Caribbean – look at the lock towards the end where the 3 pirates in jail are trying to get the dog to bring them the keys
Space Mountain – check out the dog's collar in the exit walkway
Keep an eye out in the following attractions for popular hidden Mickeys: Hall of Presidents and Peter Pan's Flight.
Hidden Mickeys in EPCOT
Test Track – hidden Mickeys are all along the queue line
Soarin' – pay attention to the fireworks at the end of the attraction
Mouse Gear shop in future world – head out back and to the right….you will find a classic Mickey in the sidewalk
Mission: Space – look closely at the mosaic and you will find hidden Mickeys…or are they? Decide for yourself!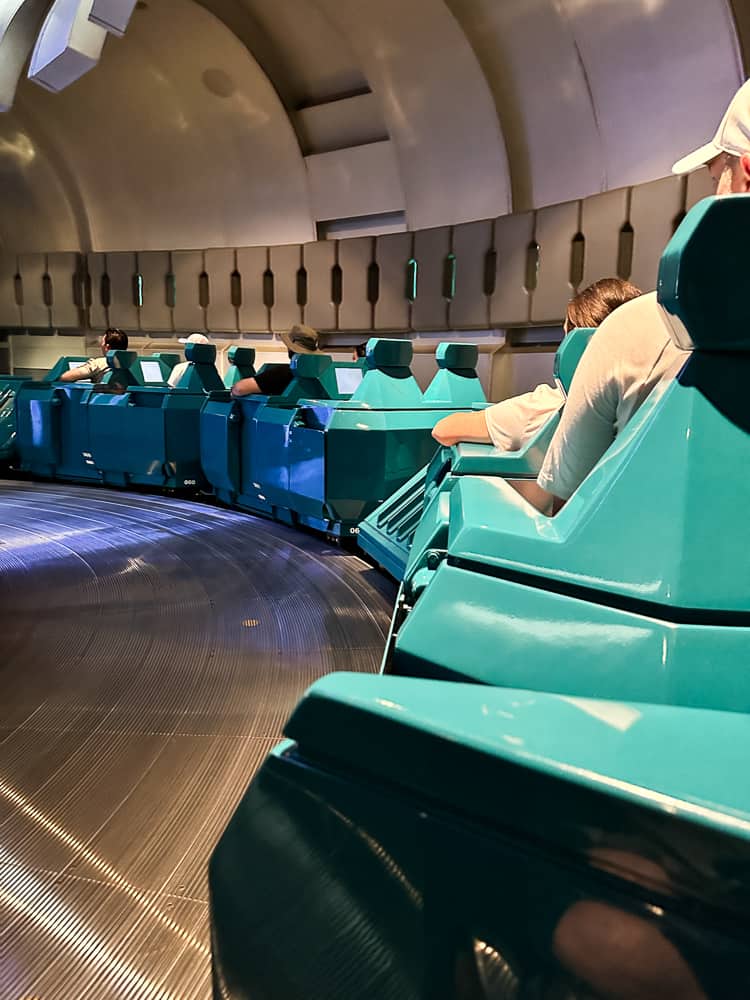 Spaceship Earth – check out the scrolls on the left hand side of the vehicle
Japan – Look at the drain in the koi pond behind the pagoda
Morocco – Look at the brass plates!
United Kingdom Pavilion – Check out the Sportsman's Shoppe Sign
Canada – towards the top of the Totem Pole is one!
Hidden Mickeys in Disney's Hollywood Studios
Hidden Mickeys in Disney's Animal Kingdom
Rafiki's Planet Watch – this is the place to be if you want to search for Mickey! There are reportedly 25 hidden Mickeys on this attraction.
Conservation Station – again, there's tons of Hidden Mickeys here!
Muppet Vision 3D – look at Kermit's balloons (there is also a hidden thing to check out before you enter this ride! Find it here)
Voyage of the Little Mermaid – look at the map on the wall when you are in the queue.
Kilimanjaro Safari's Island – when you get to the island with all of the flamingos, take a look at the island! It looks just like a Hidden Mickey
Expedition Everest's Track – the largest Hidden Mickey can only be seen from an aerial view. The track of Expedition Everest forms a Hidden Mickey. Also be sure to check out the Yeti museum. The bear standing on his two hind feet has different ears!
Dinoland's Pavement – check out the pavement inside a parking space in Chester & Hester's Dino-Rama
Tree of Life – we all love the Tree of Life but have you ever noticed the hippo? Check out what's going on above his eye!
Hidden Mickeys in Walt Disney World Resort Hotels
There are hidden Mickeys at every single Walt Disney World hotel. Here are a few resort hidden mickeys to look for:
Disney's All Star Sports – Main lobby gift shop carpet
Disney's Caribbean Beach – check out the lighthouse on the sign that says "Barefoot Bay Boat Yard"
Disney's Polynesian Resort– look at the tiles in front of the waterfall in the lobby. Also check out the hanging lanterns from the second floor as well as the statue in the gift shop!
Disney's Port Orleans – notice the lattice work details in the lobby
Disney's All Star Music – check out the top of the cymbal stands
Be sure to look at drapes, wallpaper, carpet, and shower curtains in your Disney World or Disneyland resort! You will often find a Mickey head somewhere!
Hidden Mickeys in Disney Springs
World of Disney Store– look at the Sleeping Beauty book cover in the window display
Splitsville Luxury Lanes – you will find a classic mickey on the upper level painted mural.
Disney Style – a hidden mickey in the sidewalk as you walk towards Starbucks
Searching for hidden Mickeys can be a fun part of your Disney World vacation! Looking for hidden Mickey's is a fun activity if you have small children. Disney often hides Mickeys in line queues which makes standing in long lines a little more bearable (find out how to wait in lines less here).
The next time you are planning a trip to Disney World be sure to remember to keep an eye out for Mickey – the hidden ones! For more trivia about Mickey Mouse, check out these 19 secrets that you probably didn't know.
Hidden Mickey App and Books
If you are wanting to learn more about Hidden Mickey's, check out this book by Steven Barrett that serves as a Hidden Mickey field guide. It even includes six scavenger hunts!
We earn a commission if you make a purchase, at no additional cost to you.
There's also this book by Kevin Neary which also gives you an idea of where some classic hidden Mickeys are!
Who found the first hidden Mickeys?
The first published sighting of a classic hidden Mickey was found by Arlen Miller in 1989.
What is the biggest Hidden Mickey?
The biggest hidden Mickeys are:
Expedition Everest – the ride itself is a hidden Mickey when viewed from the air
Lake Mickey – a classic Mickey shaped lake that you used to be able to drive by. This is also known as Mickey's Forest.
The EPCOT Solar Panel farm is in the shape of Mickey Mouse
How many hidden Mickeys are in Disney World?
There's no exact number but we know there are over 1,200 Hidden Mickey's in Disney World!
Disney pin trading is another past time that people love. Find out how to make the most of your pin trading here! Speaking of favorite Disney activities…be sure to get autographs from the characters!
You can find unique ways to collect autographs here – our favorite idea is a picture frame mat you can frame after your trip!