If you're heading to a Disney World theme park, chances are you're going to need a place to eat, even if you go just for the day! Well lucky for you, there's some amazing popular restaurants at all the parks. Today we're going to share about the best table service restaurants at Epcot.
Before we get too far, you need to know the difference between table service restaurants and quick service restaurants. Quick service includes meals and drinks at most places in the Disney World parks and resorts that are quick, on the run, and don't need a reservation.
Table-Service gives you a full sit-down meal which would includes an entree or a complete combo meal, as well as a desert and beverage OR a buffet or a family-style meal.
Normally, these restaurants will require a reservation and much more time to be thoroughly enjoyed. Character meals are usually table service restaurants.
Full disclosure, table service restaurants can be VERY expensive. If you are wanting to eat at more than one table service restaurant it would be wise for you to explore the Disney Dining Plan.
Most restaurants will take table service credit from your plan. Of course, we always recommend staying on budget!
You may choose to splurge on one table service meal during your vacation and save money by bringing in your own snacks. Do what works best for your family and your budget.
It can be hard to choose what table service restaurant to spend time and money at, so we are breaking it down for you! We've started with what we consider to be the best restaurants at Epcot and moved our way down the list.
When we say "best" we are referring to a few things including popularity, recommendations from Disney veterans, and what we personally feel are the top restaurants.
By no means are we saying a restaurant you may like is bad or even not one of the best! Our goal is to give you a jumping off point to help you make the best decision for your family.
Be sure to check them all out to get a feel for the food and environment to find one that's right for you and your family while on your Disney vacation!
11 Best Table Service Restaurants at Epcot
1. Le Cellier Steakhouse
Arguably the best Epcot restaurant, the Le Cellier Steakhouse is located in the Canada Pavillion and offers a wonderful menu with some of the best food around!
This restaurant features Canadian inspired foods including poutine fries, seafood, and amazing steak. This restaurant has beautiful ambiance – think stone arches and candle lighting – vintage wines and their famous cheddar cheese soup to go with amazing pretzel bread.
Fine wines and traditional beer is available to those ages 21 and older. This is a high-end eatery and a top of the line dining experience. Be aware that reservations are booked months in advance, so you will definitely want to plan ahead to eat here.
Find out how to make reservations here.
2. Biergarten Restaurant
The German Pavilion brings us this delightful, buffet style lunch and dinner with a rotating selection of rotisserie chicken, pork schnitzel, bratwurst and salads.
Here you will find live music as German bands entertain on most nights and they offer a large dance floor open to all who would like to polka dance. German beer and wines are available for adults. You will feel like you are in a traditional Bavarian village as you celebrate Oktoberfest all year long!
One note: between the seating in a communal wooden table, the buffet, and the dancing area, this wouldn't be our first choice for a romantic dinner for two, but more for an adventurous group dinner experience.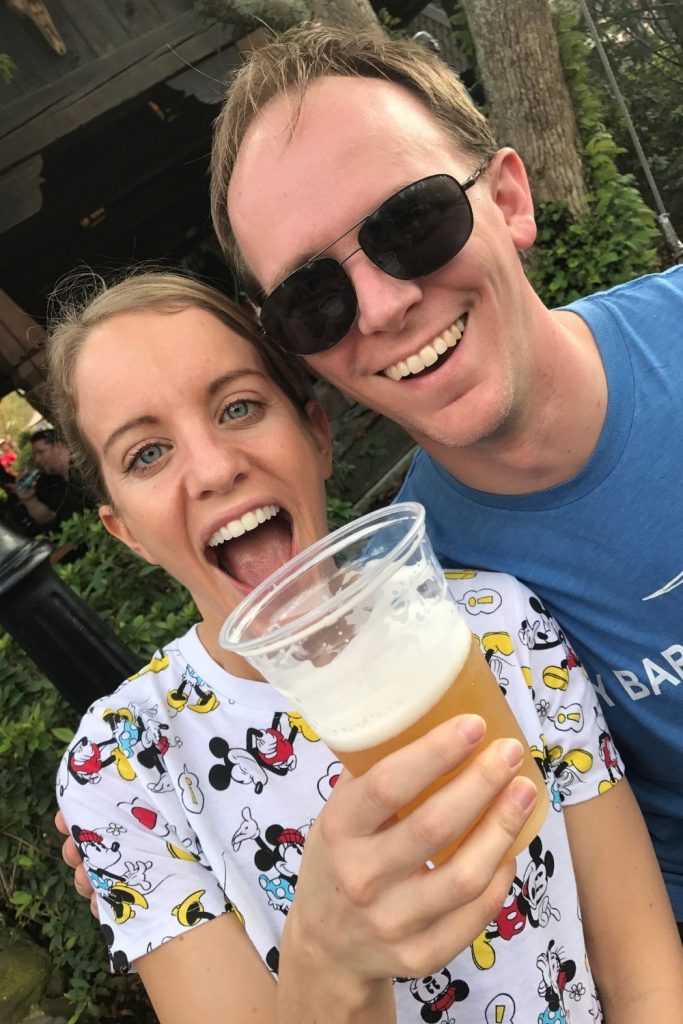 3. Teppan Edo
On of the best places for a fun dining experience is Teppan Edo! This restaurant is part dining and part entertainment as you get the joy of watching chefs cook right in front of you in the Japan Pavilion.
Delicious Japanese cuisine of meat, vegetable entrees paired with udon noodles and steamed rice is featured along with sushi rolls and Japanese beer, saki, and wine. Teppan Edo serves both lunch and dinner.
Something to consider: This is a wonderful restaurant if you are bringing the children as they will be fully entertained throughout the dining experience.
4. Via Napoli Ristorante e Pizzeria
Obviously from the name, this restaruant specializes in a thin crust pizza cooked in 800 degree wood burning ovens. However, if you are so-so about pizza, they have other wonderful Italian menu items that are to die for.
This family friendly Italian restaurant serves everything from risotto balls, to soup, to lasagna! The atmosphere is absolutely gorgeous as well. This is a great place if you are hungry but don't want to make a lot of decisions.
Something to know: Via Napoli Ristorante serves both lunch and dinner. The do not accept same day reservations, advance dining reservations are required.
5. La Hacienda de San Angle
In Mexico you can dine in perpetual twilight modeled after a 17th-century hacienda at the base of Mayan ruins. Always flowing chips and salsa start your meal with salsas that have different heat levels. Homemade corn tortillas are made each day.
You will have wonderful entertainment provided throughout your dining experience. If you are a tequila fan, a Tequila Ambassador is available to help you choose three options from their extensive collection for your own personal tequila flight.
One note: though this restaurant ranks high, it is primarily because of atmosphere. Most people comment that the quality of the food is alright but the ambiance would make them return. This restaurant only serves a dinner menu.
6. Monsieur Paul
The France Pavilion invites you to enjoy French cuisine at Monsieur Paul. Located upstairs from Les Chefs de France, you will find delights like roasted duck breast, seared scallops and red snapper. French architecture with modern bright touches are displayed as you dine to give your palate and your eyes a wonderful experience.
This is your place for the romantic dinner for two as you have incredible views of the World Showcase from your dinner table! White linen service is elegant in every way.
To know: this was formerly the Bistro de Paris restaurant in Epcot. This restaurant does have a dress code: Per the Monsieur Paul Website: Men must wear khakis, slacks or dress shorts and collared shirts. Jeans may be worn if in good condition. Sport coats are optional. Women must wear Capri pants, skirts, dresses or dress shorts. Jeans may be worn if in good condition. Not permitted are tank tops, flip-flops, swimsuits, swimsuit cover-ups, hats for gentlemen, cut-offs, torn clothing and t-shirts with offensive language and/or graphics.
7. Akershus Royal Banquet Hall
The Norway Pavilion hosts this wonderful restaurant. This restaurant is a bit different in a few aspects from the others on our list. This is a buffet restaurant and it has Disney Princesses that you can meet while dining.
You may meet Cinderella, Belle, Aurora, Snow White, and Ariel. The atmosphere of this restaurant is beautiful with royal crests and dark wood beams.
The food is based on Norwegian fare – you will find Scandinavian seafood, cheeses, meats, and Norwegian meatballs! Kids menus are available.
To know: Akershus serves breakfast, lunch and dinner.
8. Coral Reef
Photo Credit Alexis Larcy
This is one of the only table service restaurants not in the Epcot World Showcase. The restaurant has been built with 8 foot high windows looking into a huge saltwater aquarium.
Photo Credit Alexis Larcy
Fish of every kind as well as a periodic scuba diver can be seen while enjoying a wide variety of food, featuring seafood. Here you will find items such as lobster bisque, shrimp and grits, and chicken.
Photo Credit Alexis Larcy
This is a fun restaurant to go with children and there are kids menus available. Every table does have a view of the aquarium, however, some tables are much closer than others.
To Know: Coral Reef serves both lunch and dinner.
9. Restaurant Marrakesh
Finally, we have a little gem tucked away in the Morocco Pavilion called Marrakesh. The decor is colorful, elegant and beautiful.
The atmosphere is bustling and welcoming. The cuisine features Moroccan salads and desserts with entrees like Roasted Lamb Shank, Chicken Kebabs and North Atlantic Salmon.
You'll see cast members belly dancing around the dining room throughout your meal to make you feel like you're truly in Morocco. A wonderful dining experience.
10. Spice Road Table
Located at the Morocco pavilion in the World Showcase, open for lunch and dinner service. Picture yourself sitting in a Moroccan seaside outdoor cafe and that is exactly what you have while eating at the Spice Road Table.
It offers wonderful Mediterranean cuisine and drink that is not only delicious but served in a very scenic dining location.
Spice Road Table is a tapas restaurant. If you are unfamiliar with tapas restaurants, it can best be described as smaller portions of food that you share with others in your party.
This is actually a great, fun way to enjoy the wonderful variety of food while casually talking with your table mate (s) about the dining experience.
Some things to consider if you are thinking of eating at the Spice Road Table. They do accept the Disney Dining Plan and Tables in Wonderland. The overall pricing is higher than most quick-service options but lower than most table service restaurants.
The open-air seating right on the water will give you a fantastic view of the nighttime fireworks, Epcot Forever.
11. Chefs de France
Located at the France Pavilion in the World Showcase serving lunch and dinner. Chefs de France is a charming cafe with high ceilings and mosaic flooring featuring French cuisine.
The dining experience is upscale with white tablecloths in the elegant surroundings but of course you are at Disney World so shorts and t-shirts along with children of all ages are welcome and you won't feel a bit out of place.
The dishes are inspired by three great French chefs for whom the restaurant is named: Paul Bocuse, Gaston Lentre and Roger Verg. Along with the wonderful French cuisine, you will find the overall ambience breathtaking.
The best tables overlook the waterfront of the World Showcase Lagoon but really, anywhere in this restaurant is beautiful and creates an enjoyable dining experience.
Some things to consider if you are thinking of eating at Chefs de France. They do accept the Disney Dining Plan and Tables in Wonderland.
The Prix-Fixe meals are a great choice if you are unsure about what to order. They are a complete three-course meal which makes it easy to order. Of course, as you would expect, the wine list is extensive but the Wait staff is very attentive and will be happy to steer you to something you will like.
And there you go! Nine of the best table service restaurants at Epcot to choose from. Truly you can't go wrong with any of these restaurants so we know you'll have a great time.
As you continue along the parks, be sure to check out some of our other food posts like the best restaurants at Disney Springs or what to know about the character breakfast with Chef Mickey!
Also be sure to check out our review at Boma at Animal Kingdom (and read about the special surprise from our last visit!) and where to find the best snacks at Disney World!