If you are headed to Disney World soon and someone in your crew simply must meet Princess Aurora, you have come to the right place.
Princess Aurora, also know as Sleeping Beauty along with her good friends, Snow White and Cinderella have been around longer than all the other princesses and have a great fan base because of it.
What is the difference between Meet and Greets and Viewings?
Meet and Greets are different from Viewing the Princesses in that guests can get up close and personal during Meet and Greets.
Little girls especially enjoy dressing like their favorite princess and meeting them, asking questions, getting an autograph in an autograph book, having their picture taken with the PhotoPass Photographer and getting a special hug. It really gives the guests that personal touch that makes the WDW visit so special.
Where to Meet Princess Aurora
Even though Princess Aurora is a Disney featured Princess, Sleeping Beauty fans will need to temper their expectations when it comes to her availability around the Walt Disney World Resort.
She is nowhere to be found in Disney's Hollywood Studios or Disney's Animal Kingdom and only sparingly in the other two parks. In fact, if you want to see her without paying extra, the only Disney Park is Epcot.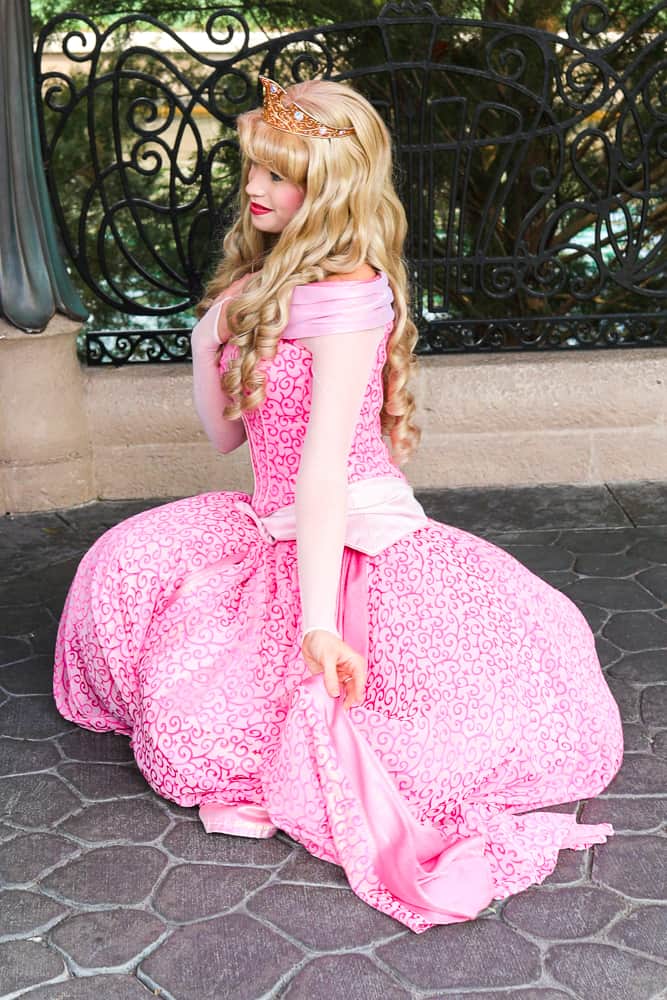 France Pavilion of the World Showcase in Epcot
Aurora makes visits throughout each day at the France Pavilion in Epcot. (Please note: as with all the meet and greets, please check your My Disney Experience App for available times before you go.)
You can usually find her at the gazebo near Remy's Ratatouille Adventure and there will be a sign which will have the times she will be meeting guests. Lines can become long to see her but we have found mornings to be the best time with the shortest lines.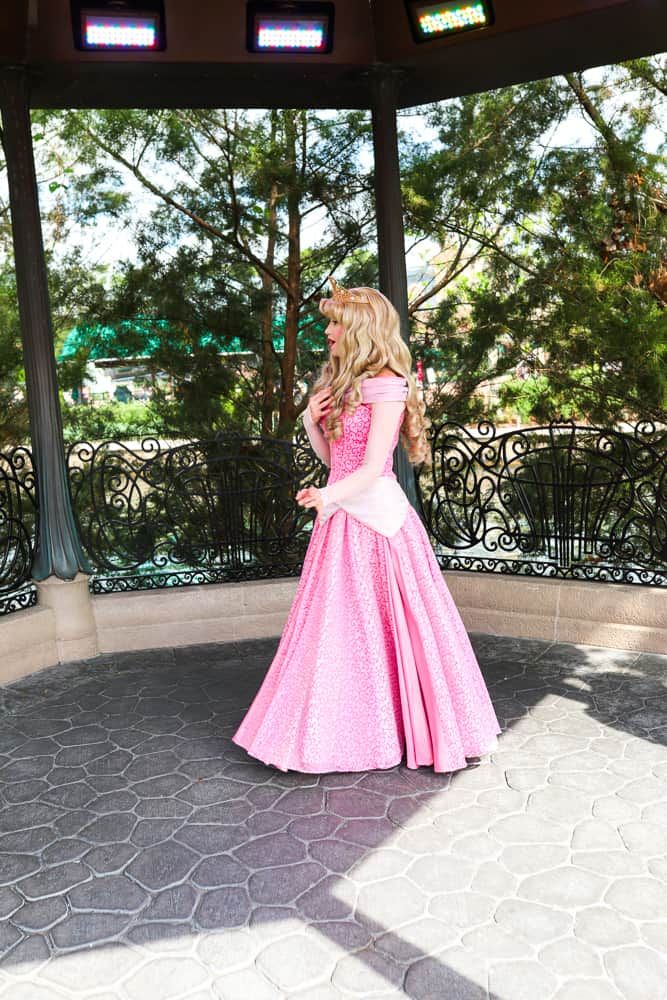 This is the only character meet spot without paying extra money and the best way to meet her. As a side note, Belle and the Beast from Beauty and the Beast are also usually doing meet and greets but not at the same place as Aurora.
Cinderella's Royal Table in Magic Kingdom
In the Magic Kingdom, located in Cinderella's castle, you will discover a wonderful, but very popular character dining opportunity called Cinderella's Royal Table.
Serving breakfast lunch and dinner, guests experience meets from from favorite Disney Princesses, Cinderella, Snow White, Princess Jasmine, Ariel (the Little Mermaid) and Princess Aurora. Once inside the Cinderella Castle, you receive a personal meet and greet from Cinderella and then move to the dining area for your meal.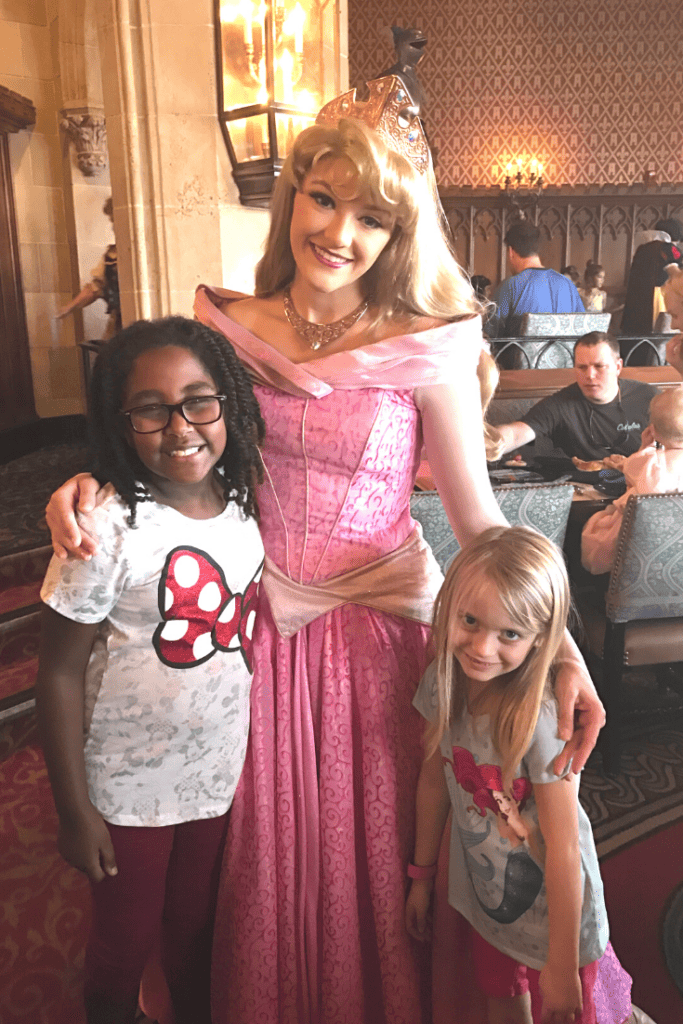 During the meal, the princesses take turns being introduced, after which they make their way around the room for pictures, autographs and talking with guests.
The meals are on the expensive side but we highly recommend this wonderful chance to see all your favorite Princesses including Princess Aurora.
Akershus Royal Banquet Hall in the Norway Pavilion in Epcot
Just like Cinderella's Royal Table, Akershus Royal Banquet Hall features features character meals with Belle, Snow White, Jasmine and of course, Aurora all in attendance.
Breakfast, lunch and dinner are all available and this is a wonderful way to get your favorite Princess to come to your table for pictures, autographs and a short chat. The setting is a medieval castle with soaring archways and cathedral ceiling as the guests watch the princess promenade take place before them.
Beside the fact that Cinderella's Royal Table and Akershus Royal Banquet Hall are extra money, we feel these are the best places to meet Disney World Princess Aurora, eat and be moving through the theme parks without missing a beat, especially if you have a big Princess fan in your bunch.
Princess Fairytale Hall in Magic Kingdom
Currently, Aurora is NOT at the Princess Fairytale Hall. She has been there in the past but currently she is not on the Princess rotation. We will update this post as soon as we hear she is back.
My Disney Girl's Perfectly Princess Tea Party
Presently, the My Disney Girl's Perfectly Princess Tea Party is NOT being offered, however, there are rumors that it will re-open in the near future. With that in mind, we wanted to share with you a bit about what the tea party consisted of.
Disney's Grand Floridian Resort hosted a special Tea Party with Princess Aurora. The party was held for guests age 3 – 10 for a fairly hefty price tag, but the kids would receive a My Disney Girl doll in a matching Princess Aurora gown, plus all the accessories.
In addition, they would get a "magical" fresh rose (Rose Petal), a tiara, silver princess link bracelet, scrapbook and a Best Friend certificate. Tea, sandwiches, cakes and fruit are served in this 2 hour time block with also give the kids a Princess Parade and Aurora reading a story to the kids.
This was truly a magical time for anyone that was a big Princess Aurora fan. We are hoping that it opens again very soon.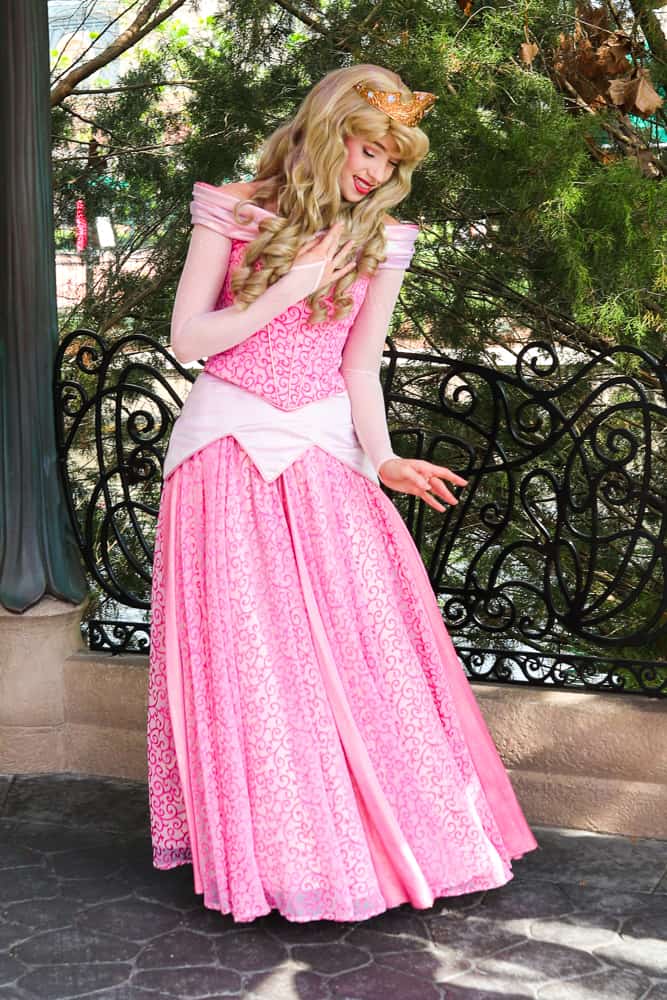 Where to See Princess Aurora
Unfortunately, at this present time Princess Aurora is NOT in any events or parades where you can see her.
The Festival of Fantasy Parade does include Maleficent as a dragon, Prince Phillip, and Flora, Fauna, and Merryweather, all from Sleeping Beauty, but Aurora is not involved.
Also, from time to time, especially during the holiday season, Princess Aurora pops up in different places unexpectedly but it is usually not told in advance.  
If haven't had a chance to see Aurora during your Disney World visit you might want to consider trying a brand new Aurora inspired treat in the Magic Kingdom! Storybook Treats has debuted a new dessert called the Aurora Cone. This dessert is a Dole Whip strawberry and blue soft-serve topped with white chocolate crisp pearls in a sugar cone. We have no idea how long it will be on the menu, so get it while you can!