As we all know, the rides at Walt Disney World are fantastic! We spend much of our Disney vacation planning focused on making sure we don't miss any of the rides that we love – as we should.
That being said, sometimes in our planning we don't pay enough attention to the world class entertainment Disney puts on with their live shows. It is a mistake to forget to plan seeing a show or two during your vacation to Walt Disney World.
The mistake many people make in their planning is this: they will focus on rides such as The Twilight Zone Tower of Terror and Millennium Flacon: Smugglers Run…and then as an after thought they might try to fit in a show- such as the Voyage of the Little Mermaid.
We realize there are only so many hours in a day and many people are only able to find the time and money to visit one park during their Disney World vacation. We want to strongly recommend you give consideration to the many shows Disney has to offer in all four Disney parks if you have the option to visit more than one park.
In order to help with your planning, we are sharing with you some of the best shows Disney has to offer. One of the remarkable things Disney does so well with their live shows is making them entertaining for literally any age.
Your children will be spell-bound by familiar music, bright colors, and incredible props. Grandpa and Grandma will be totally captivated by the performance. It truly is a win-win for all ages! So which shows should you consider in your planning? Read on.
Best Live Shows at Disney World
Be sure to check Disney's site for exact show times as these may vary.
1. Indiana Jones Epic Stunt Spectacular
Disney used to have a few shows that looked at the "behind the scenes" aspect of Hollywood but only one has remained: Indiana Jones. Quite frankly, we are not certain how much longer it will be around. Call it nostalgia or just good old fun entertainment, we still think it's great!
Opening in 1989, this show started out as one of Disney's great live shows with the famous rolling boulder that Indy narrowly escapes – a scene straight out of Raiders of the Lost Ark!
The rolling boulder, along with epic fight sequences, falls, and of course, huge explosions are standard in this amazing stage show! Now, over 30 years later, we feel this stunt show doesn't get old. Our family has watched this show on several occasions and have enjoyed it each time!
Location: Disney's Hollywood Studios
Time of show: 30 minutes
Show Schedule: five or six shows per day depending on park attendance
Fastpass +: We suggest not using a Fastpass + on this show.
Notes: Some lucky people are chosen to be in the show. Get there early and be super enthusiastic and you never know.
2. Festival of the Lion King
Photo Credit Alexis Larcy
Opening in 1998, this wonderful show is as fresh today as it was when it started headlining almost 25 years ago. We first want to tell you what it's not, so you won't be disappointed.
This is not a retelling of the movie and isn't similar to the Broadway musical. What it is, is a charming show that incorporates dancers, extravagant costumes, acrobats, fire jugglers and other visually amazing performers – think a mix of broadway, the circus, and cirque soleil.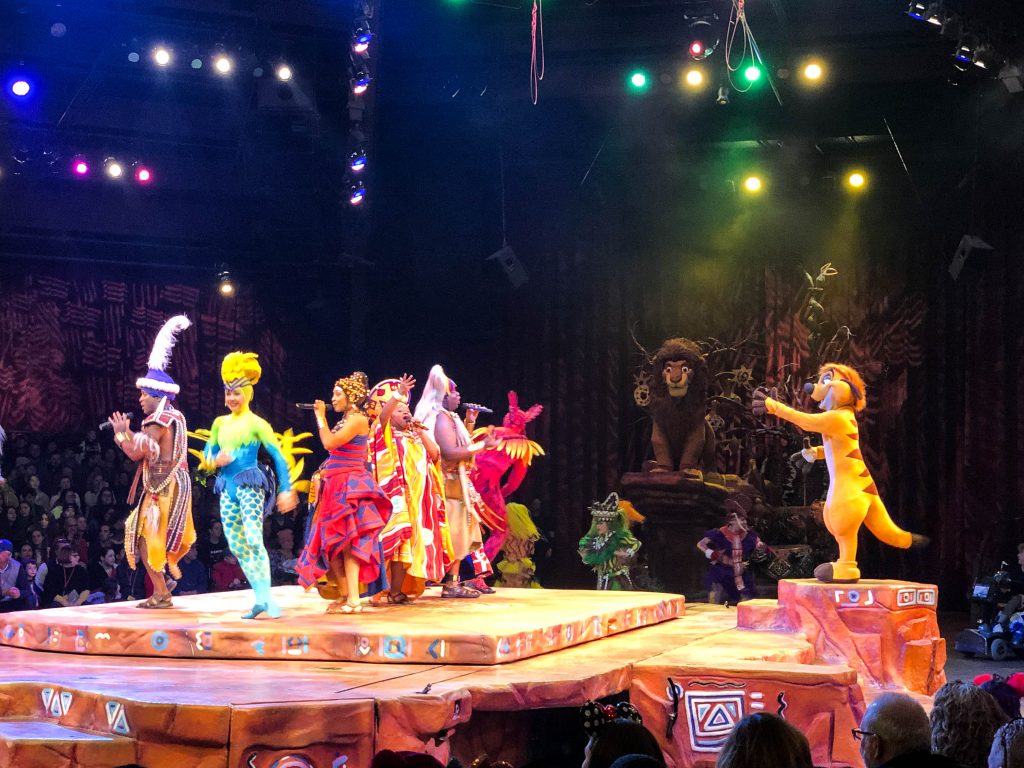 Photo Credit Alexis Larcy
This incredible performance is all centered around the wonderful music that came from The Lion King movie. Can you Feel the Love Tonight, The Circle of Life and the fun, Hakuna Matata along with other nostalgic songs will have you singing and cheering during the finale.
Location: Disney's Animal Kingdom
Time of show: 30 minutes
Show Schedule: the top of each hour beginning at 10am
Fastpass +: We suggest not using a Fastpass + on this show.
Notes: The theater is "in the round" so there is really no bad seat.
*Be sure to check out our post on Animal Kingdom's Kilimanjaro Safari for some secrets we bet you didn't know!
3. Finding Nemo – The Musical
Unlike Festival of the Lion King, Finding Nemo is an adaptation of the original movie. Finding Nemo The Musical has human performers paired with huge – seriously gigantic – creative puppets. At times the actors/puppeteers will come off the stage and into the aisles, making this extra entertaining.
It is an amazing concept to watch as the original story of Finding Nemo is condensed to make it fit in the time of the show. Children and adults alike are captivated by the puppetry, sound and music. You will find yourself forgetting that there are actors on stage as you become immersed in the story and songs.
The show has 14 original songs composed by Robert Lopez and Kristen Anderson-Lopez, Tony Award winners, who incidentally also wrote the wonderful songs in Frozen.
Location: Animal Kingdom
Time of show: 40 minutes
Show Schedule: Up to six times a day
Fastpass +: We suggest not using a Fastpass + on this show.
Notes: This wonderful show is the closest thing you will find to a Broadway Show at Disney World.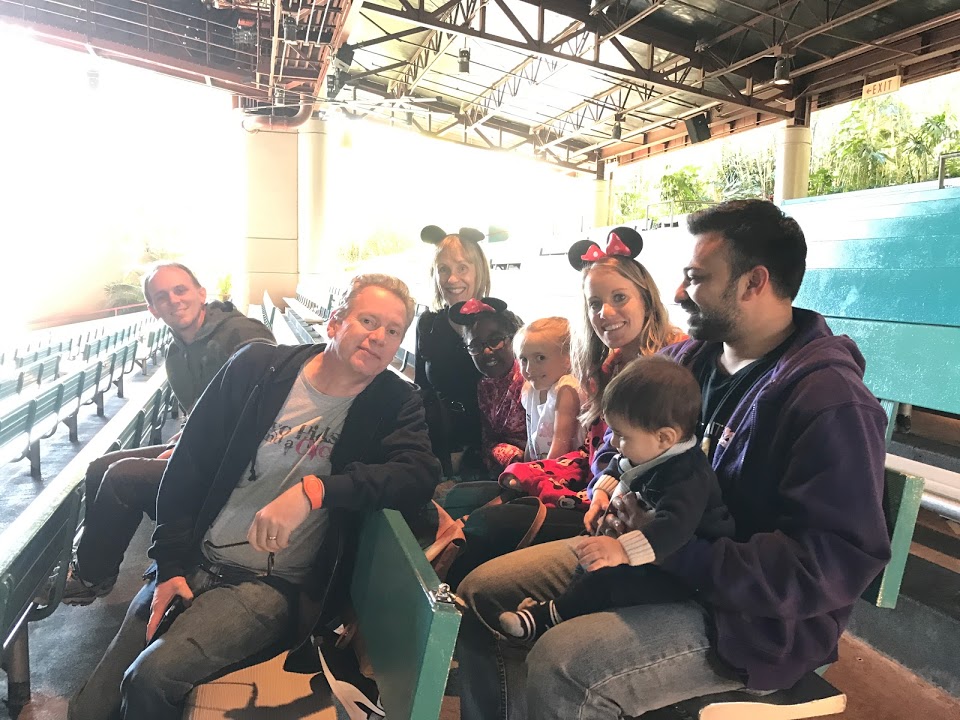 4. Fantasmic!
If you are looking for a nighttime show, Fantasmic is a great option. This show includes over 50 live performers centered around the canvas of water as you sit in a 7,000 seat amphitheater that curves around the lagoon. You will be amazed by what Disney can do with light, water, and technology mixed together.
The storyline: Mickey Mouse falls asleep and dreams he is a mighty sorcerer's apprentice with the power to control water, color and magic. Unfortunately, the Disney villains turn Mickey's dream into a nightmare! However, have no fear, it all works out in the end. Many of the classic Disney Characters make cameo appearances which is fun to anticipate. Along with everything else, there are great special effects and fireworks effects you are sure to enjoy.
Location: Hollywood Studios
Time of show: 30 minutes
Show Schedule: every night, one performance
Fastpass +: We suggest not using a Fastpass + on this show.
Notes: If you sit in some of the first rows of this huge theater, you could get a bit wet.
5. Voyage of the Little Mermaid
This show is another oldie but goodie! Opening in 1992, this delightful show presents an abridged version of the Little Mermaid movie highlighting all the great songs we know and love.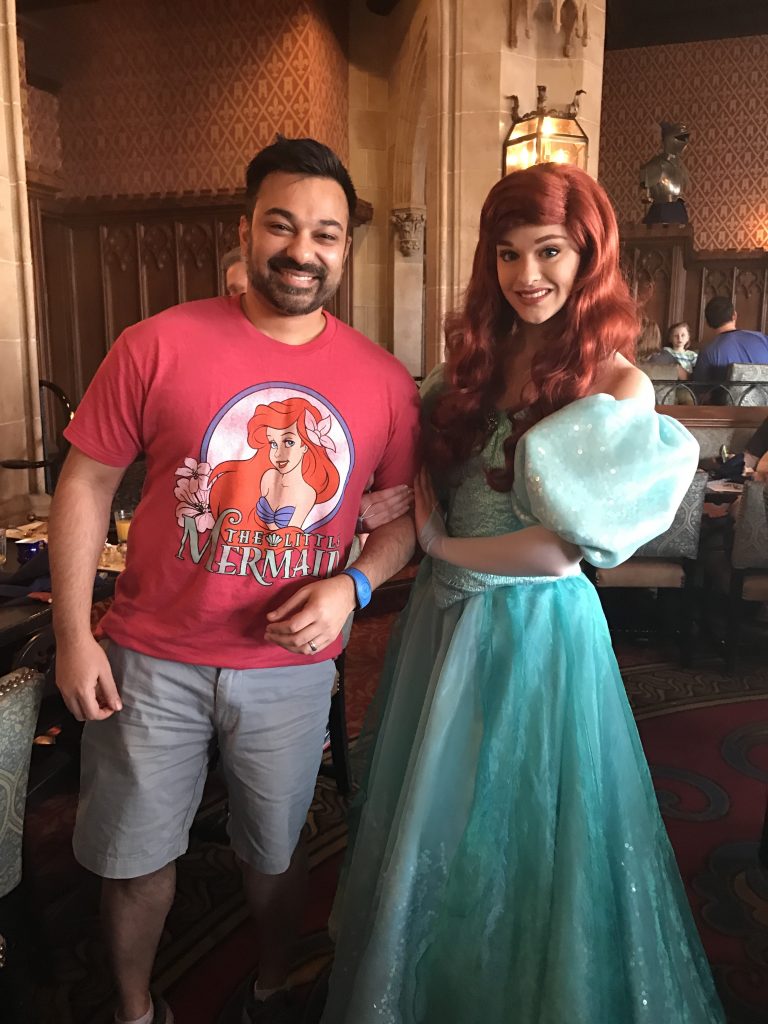 Ariel's vocals are all done live and the black light puppetry and impressive set are presented in typical Disney fashion, which is top notch!
One of the "extras" that Disney often does is make you feel like you are really in the place they are presenting. Voyage of the Little Mermaid is no different. The way they use bubbles and air blowing along with all their lighting techniques is simply amazing. For 17 minutes you are immersed in Ariel's world and it is easy to forget that you are actually still in Florida!
Location: Hollywood Studios
Time of show: 17 minutes
Show Schedule: runs continuously throughout the day
Fastpass +: We suggest not using a Fastpass + on this show.
Notes: Great theater with lovely air conditioning on a hot day.
6. Mickey's Royal Friendship Faire
Performed in front of the Cinderella Castle, everyone's favorite classic characters (Mickey, Minnie, Donald, Daisy, and Goofy) interact with modern Disney characters (Tiana, Rapunzel, Flynn, Olaf, and more!) This is a festive, incredibly produced stage show with music and even some Disney magic thrown in. This is a great show, however, it does have some drawbacks.
First, there is no seating for the 22 minute presentation. If you have been on your feet all day with very tired children who have also been on their feet all day, it can make this a difficult show to stand through.
You may want to consider hitting this show up earlier in the day. As an added perk to an early show – your child will see Mickey, Minnie, and others early on, making it less stressful to try to find these characters later on in the day!
Second, there is no shade at all. If it's a typical hot Florida day, all you can think of is finding some shade! It must be said that this is really the only "show" that features Mickey Mouse so if you want to see him, this is where you need to be. You are guaranteed to see many of the Disney World favorite characthers in this show.
Location: Magic Kingdom
Time of show: 22 minutes
Show Schedule: typically, there are 5 shows a day
Fastpass +: We suggest not using a Fastpass + on this show.
Notes: As covid restrictions are ending, and the 50th celebration is beginning, this show may see a huge makeover or be totally revamped.
Check out everything you need to know about every Disney Princess here!
7. For the First Time in Forever – A Frozen Sing- Along Celebration.
Ok, let's get the elephant in the room out in the open right away. This show will definitely not be for everybody! In some respects we think of Frozen as a one hit wonder. It came on the scene and blew up!
Of course, Disney wanted to capitalize on the success of the movie, but in playing the same songs over and over again it has gotten a little irritating to many people. Not to all, but to many (parents out there, you hear us)!
If you, your children or grandpa must have their Frozen fix and hear their favorite songs, this is the show for them. It features all the Frozen tunes, sung by very talented actors with a wonderful stage show and fantastic production quality.
The question is, will you be loving every minute of every song or will you be fuming that Twilight Zone's Tower of Terror's line just expanded to an hour's wait while sitting here? Only you know the answer to that question!
Location: Hollywood Studios
Time of show: 30 minutes
Show Schedule: Many shows throughout the day
Fastpass +: We suggest not using a Fastpass + on this show.
Notes: If you are doing this for your child, bless you and remember it's only 30 minutes long.
Other Live Shows To Consider
As you're planning your Walt Disney World vacation, we hope this helps you in not only knowing what the best stage shows are but which one is right for you and your family! Do consider trying to hit up at least one of these shows!
Of course there are often live performances popping up all over the Walt Disney World theme parks. You may see the barbershop quartet performing on Main Street or the muppets hanging out of windows in the Magic Kingdom.
You never know when a character will be strolling by or when a dance party will pop up in Tomorrowland. Be sure to take a minute and enjoy the entertainment happening as you walk by! We promise you won't regret spending 10 minutes dancing with the Incredible characters or 2 minutes listening to a song. Disney World is a magical place, and part of the magic is stopping to notice it.
Each Disney theme park is full of amazing popular attractions. You can see some of the best rides at Magic Kingdom, the best rides at Animal Kingdom and how to avoid long lines at Disney World here!