No Walt Disney World vacation is complete without some magical Disney food! Disney snacks are some of the highlights of your visit to the Disney Parks. They are delicious and beautifully themed to each park.
Many people think of only the classic favorite snacks when considering what to purchase –a funnel cake, turkey leg, Mickey bars or a Mickey pretzel, but there are so many more options in the Disney parks!
Where are the best snack options at Disney World? Most people agree that Disney's Animal Kingdom has some of the best snack options among the Disney Parks but that EPCOT has the widest variety of snacks.
The downside of Epcot is that many kids don't love spending time touring the countries, which is were you can find the best snacks. If you don't hit up the World Showcase, your snack options aren't great.
Animal Kingdom gives you amazing snacks without having to visit one specific part of the park! While the variety isn't the same as in Epcot, there are some fantastic and convenient snack options to choose from.
Keep in mind – it is not uncommon for Disney to stop making certain food items from time to time. Sometimes they will change the location of where you can find a particular snack. If you are dying to try a specific item on the list, it is a good idea to check menu to make sure it is available the next time you head to the Disney theme parks!
Please note: Several of the items on our list are not considered official Disney "snacks" on the menu – they are listed as entrees. We have noted that on the applicable items. These entrees are great for sharing for snack sized meals!
15 Best Animal Kingdom Snacks
Let's jump into some of our favorite snack options in Disney's Animal Kingdom. Most of these locations have various levels of outdoor seating nearby.
1. Chocolate Covered Frozen Banana Various Ice Cream Kiosks
The chocolate covered banana is what it sounds like! It's a whole banana on a stick that's been frozen and dipped in chocolate and nuts. This is a healthier snack option!
The frozen banana reminds you of ice cream when you are eating it and the chocolate is great if you're craving a sweet treat. On one of our trips to Disney it was incredibly hot. We came across the stand selling the frozen bananas and it was so refreshing!
2. Colossal Cinnamon Roll Kusafiri Bakery, Africa
This cinnamon roll isn't just colossal, but it's shaped in the form of Mickey's head! It's flaky but still tastes like a cinnamon roll. This is a big treat making it great to share with one or two people. ($7.49)
3. Dole Whip with Dark Rum (you can order a non-alcoholic version) Tamu Tamu Refreshments, Africa
A spiked dole whip? You heard us right! It's your classic dole whip with a splash of rum! If you're 21+ and wanting to try one of the classic snacks with a twist, this is a great one to try! You can get this with either dark rum or coconut rum. ($11.50)
Fun fact – Dole created this just for Disney! You can find this on Tamu Tamu's dessert only menu.
Are you looking for a classic pineapple dole whip? You can get it here – but our favorite place to get a a Dole Whip is in the Magic Kingdom.
4. Simba Sunset Dole Whip Tamu Tamu Refreshments, Africa
Yes, we have another Dole Whip option on here. But can you blame us? This one has the creamy pineapple Dole Whip with strawberry sauce…nothing more perfect for a hot day! ($5.99)
Are you more into villains? Check out Scars Lair – a pineapple Dole Whip with with sour apple!
5. Grilled Corn On The Cob Harambe Fruit Market
You will probably see people walking around with corn on the cob as this is fast becoming a favorite snack offering at Disney's Animal Kingdom! Head over to the Harambe Fruit Market and order a grilled corn on the cob. You can get this with or without African spices, but we highly suggest you get it with the spices. You will not be disappointed! ($5.29)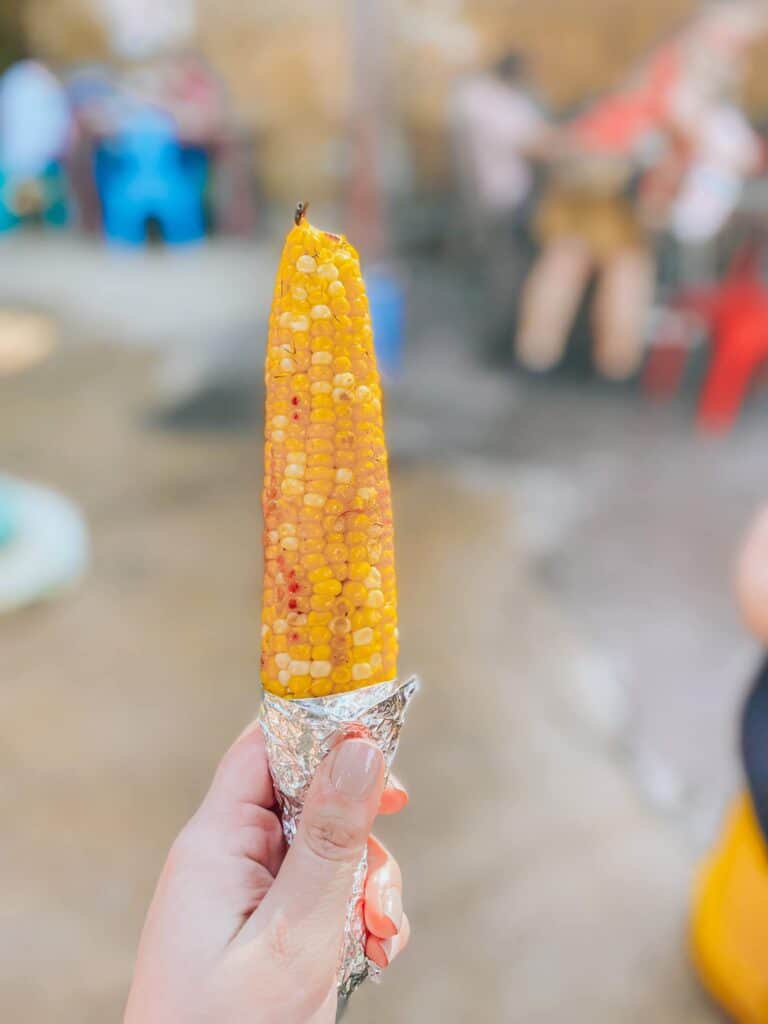 6. Cinnamon Glazed Almonds or Pecans Drinkwallah
You will smell these before you see them, and once you smell them you will have to eat them! Cinnamon glazed almonds or pecans can be just the ticket after slurping down Dole Whips and Mickey ice cream sandwiches. If you need something to wash them down with, consider some frozen Coke! ($5.59)
7. Pongu Lumpia Pongu Pongu, The World of Avatar
This is a pineapple cream cheese spring roll with sugar on top. Some people enjoy this as a breakfast treat! This spring roll has a warm, creamy filling on the inside.
We popped over to Pongu Pongu after riding Na'vi River Journey at rope drop. There was no line and we thoroughly enjoyed the Pongu Lumpia! One note – be careful when you take a bite of the spring rolls as filling can squeeze out and fall to the ground!
Some other amazing snacks at Pongu Pongu are Pongo's Viper Claw or the Colossal Pretzel. There is something for everyone here! ($3.79)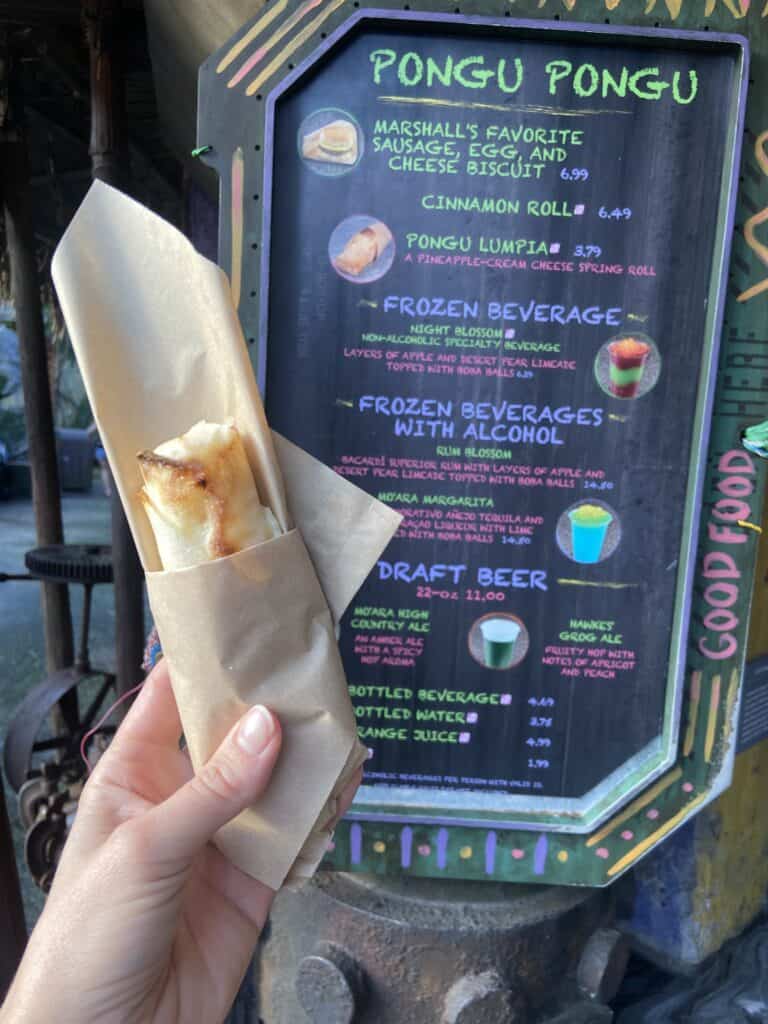 8. Night Blossom Pongu Pongu, The World of Avatar
A non-alcoholic layered drink of pineapple and pear limeade topped with passion fruit boba! This is a beautiful layered pink and green treat that is refreshing on a hot day. For an extra price, you can get a souvenir cup. This treat also comes in an alcoholic version, made with rum. ($6.29 for the non-alcoholic version)
9. Mr. Kamal's Seasoned Fries Mr. Kamal's, Asia
Are you looking for something a little salty? You can find seasoned French fries served with your choice of curried honey mustard or Korean chili ketchup at Mr. Kamal's. These are great for people in your family who prefer salty over sweet.
And lets be honest – you really can't go wrong with fries, right? Give these Animal Kingdom ones a try and see how much you love them.
10. Blueberry Cream Cheese Mousse Satu'li Canteen, The World of Avatar
This creative snack is made of bright blue blueberry mousse topped with a pretty yellow passion fruit curd. This is a unique, Disney snack that is not only good, but good looking! Head over to the World of Avatar to get this Avatar inspired dessert. You will not regret trying this! ($5.79)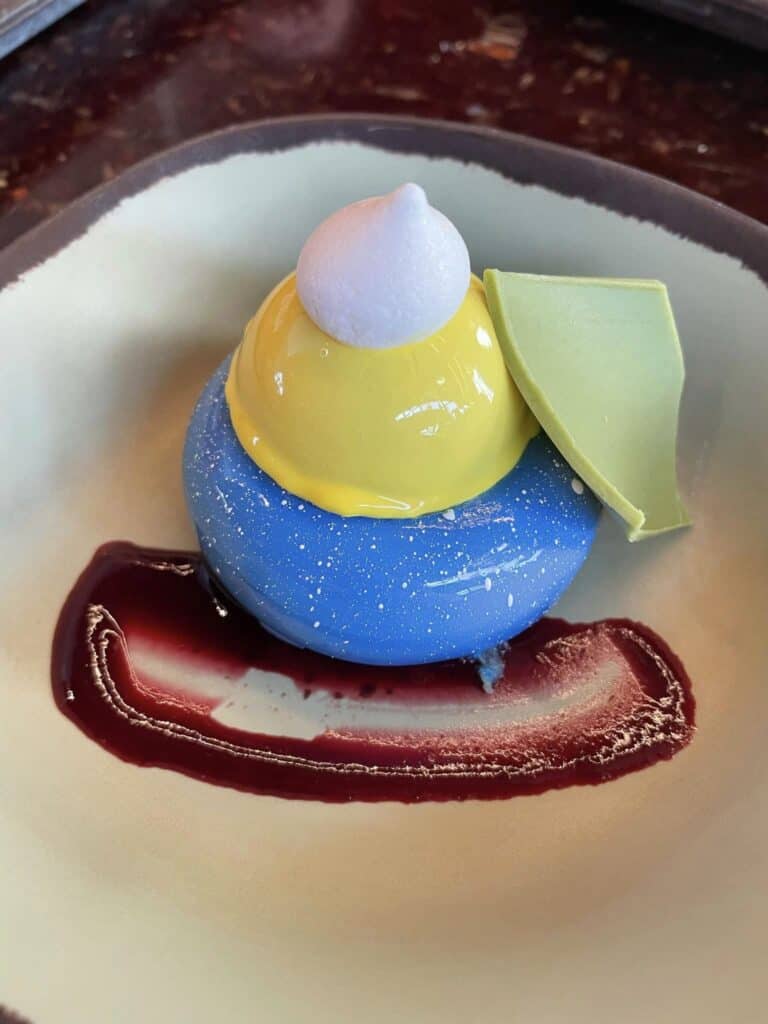 11. Baked Macaroni and Cheese with Pulled Pork Eight Spoon Cafe
This is a delicious snack that will not disappoint! Make a pit stop on Discovery Island at the Eight Spoon Cafe and grab some creamy macaroni and cheese topped with bbq pulled pork. This was shockingly delicious! We will definitely get this again.
You can get a fancier entree version of this at the Flame Tree Barbecue, but sometimes all you need is a snack to push through the afternoon! This is big enough for a full meal lunch portion for one or for sharing a snack portion.
We ordered this on an extremely hot day when we didn't have a huge appetite for hot food. We shared this between two people and it was the perfect size! ($6.79)
12. Cheeseburger Steamed Pods Satu'li Canteen
This is listed as an entree, but would be very easy to split with someone for more of a snack portion. You will receive two steamed cheeseburger pods stuffed with ground beef ketchup, mustard, pickles, and cheese! These are served with a vegetable slaw and veggie chips. ($13.29)
These are extremely popular and a unique meal. We definitely think you should consider this one!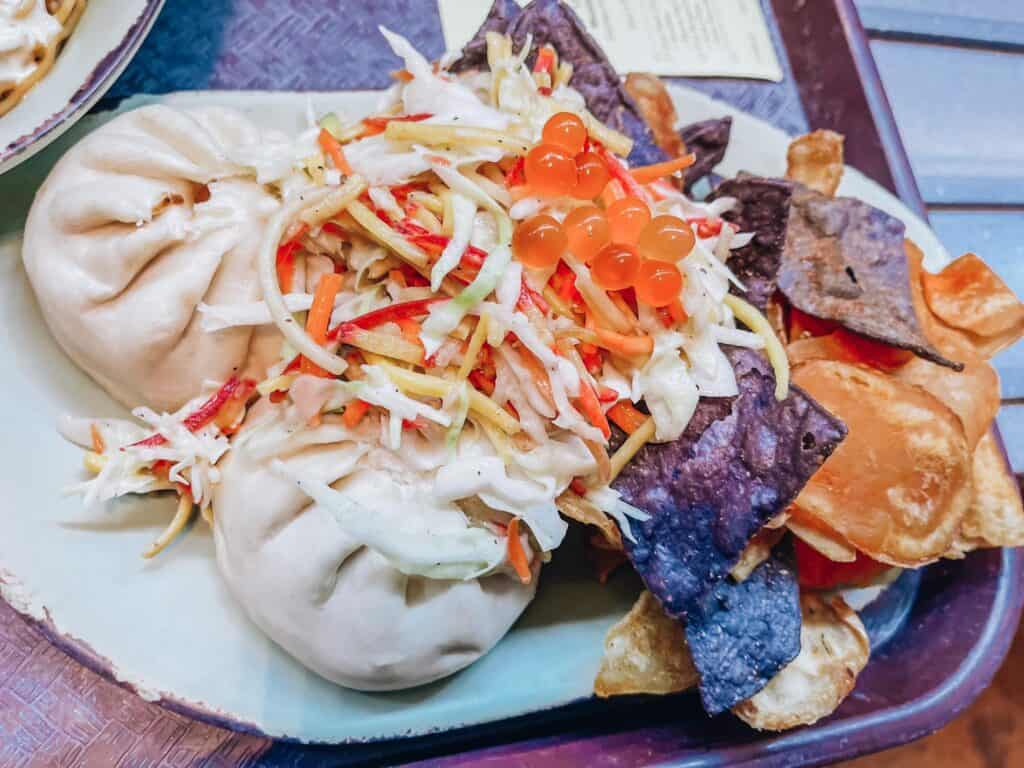 13. Pork Egg Rolls Yak & Yeti
For some people, these egg rolls are a must eat while in Disney's Animal Kingdom. If you enjoy egg rolls, be sure to try these. They come with a very good chili plum dipping sauce that make these a unique eating experience. These egg rolls are considered a "small plate" and you will receive two rolls. ($11.99)
14. Ice Cream Cookie Sandwich Dino-Bite Snacks in Dino Land USA
This is a classic ice cream cookie sandwich: Vanilla ice cream sandwiched between two fresh chocolate chip cookies. The best part about Dino-Bites is that these desserts change up with the seasons! ($7.29)
In the fall look for pumpkins flavors, in the winter look for peppermint! Disney is always adding these limited time flavors so be sure to stop by and see what the current flavor is.
15.Buffalo Chicken chips Trilo-Bites in DinoLand U.S.A
For the people in your family who love spicy foods, this is your stop! Here you will find homemade chips topped in buffalo chicken and served with celery, tomatoes, and blue cheese. This is a great snack to get when you are over sweets and you want something a bit more substantial to get you through the afternoon. ($9.59)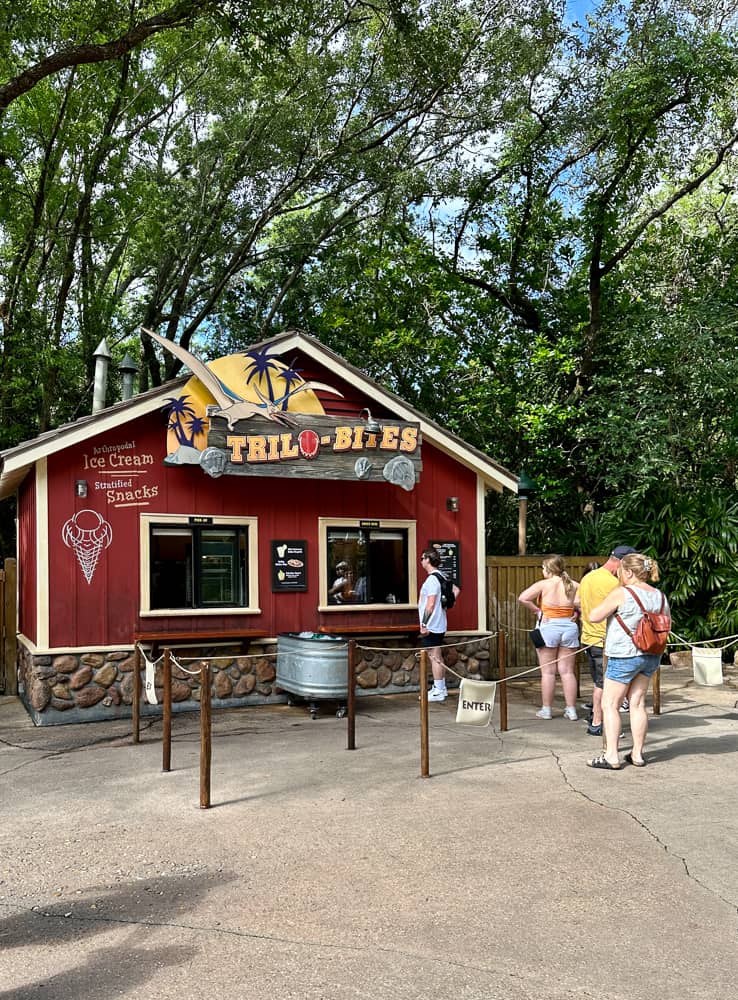 These are some of our favorite and most popular snacks in Disney's Animal Kingdom! Be sure to check them out on your next trip. We have a run down of our favorite snacks in all the parks here.
If you are looking for some more substantial food items in Disney's Animal Kingdom there are plenty of quick service dining options available. One of our favorites is Satu'li Canteen.
If you are interested in getting the refillable popcorn bucket, we have all the info you need right here!