Few people will argue that the Dole Whip is the most popular snack in all of Walt Disney World. Oh sure, you have your huge delicious Cinnamon Roll at Gaston's Tavern. You have the weird but wonderful Fuzzy Tauntaun at Oga's Cantina. You even have your Bubble Waffles in Disney Springs, but on a hot day, there is nothing more satisfying than a cold delicious Dole Whip!
A bit of Dole Whip History
The Year… 1986. The place…The Enchanted Tiki Room in Adventureland, Disneyland.
The Dole company (the ones that make pineapples and other things…well, they don't "make" them…they grow them…well, not sure they even grow them themselves…but I digress) sponsored The Enchanted Tiki Room and in doing so, introduced a new wonderful treat called Dole Whip.
What is a Dole Whip?
Dole Whip is a soft serve, yet dairy free treat traditionally made of pineapple (but now there are other flavors). It is gluten-free, made with vegan ingredients (except with vanilla), comes in different forms and presentations, with or without alcohol and has absolutely zero calories!  We are just kidding about the calories…just seeing if you were still reading…but in all seriousness, the basic Dole Whip is said to have only 110 calories.
Some of the most popular flavors of Dole Whips are traditional pineapple, strawberry, lemon, coconut, orange, and raspberry. You can get many of these flavors in twist or float options throughout the parks!
Is the Dole Whip on the Disney Dining Plan?
Well, yes and no. The basic Dole Whip cup that is just over $5 bucks IS on the Disney Dining Plan. There are many variations of the Dole Whip that move up in contents and price and they are NOT on the Dining Plan.
Where Are Dole Whips Sold at Walt Disney World?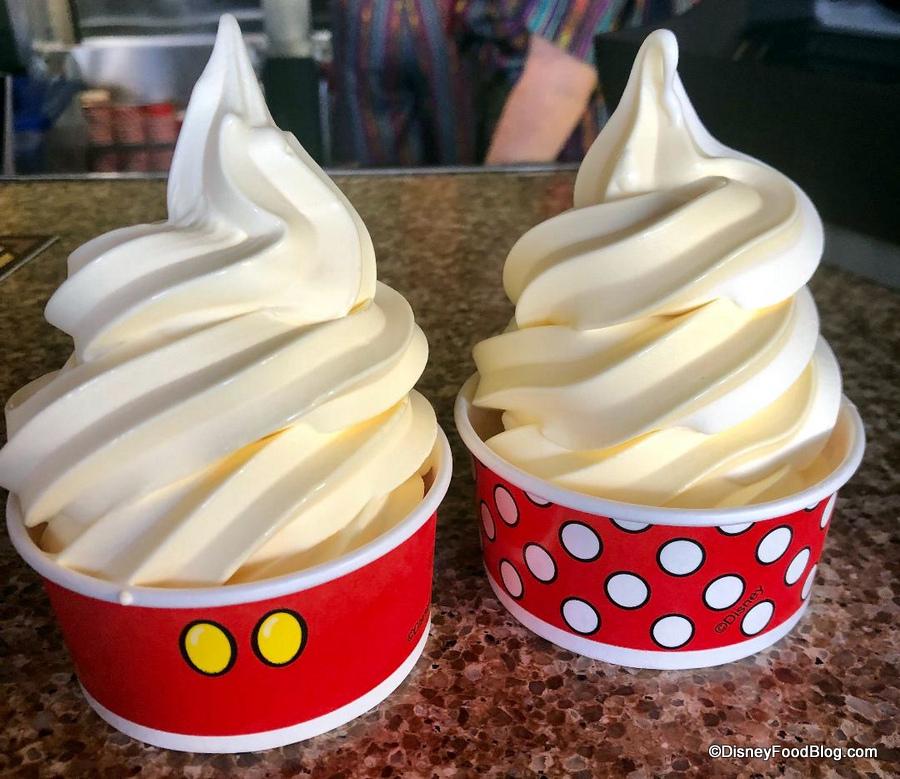 (Dole Whip photo courtesy of Disney Food Blog)
Ahhh, we thought you'd never ask! Each site can have different versions of the Dole Whip but they all will offer the original. So without further ado, here we go:
Magic Kingdom
Aloha Isle in Adventureland by the Enchanted Tiki Room. This is the original spot for Dole Whips at Walt Disney world! It's super popular and the lines can be long. Hint: mobile ordering is available here which will help if there is a long line. (Use the My Disney Experience App)
Sunshine Terrace in Adventureland. It's located near the Adventureland entrance. Mobile ordering is not available here.
Storybook Treats in Fantasyland near Peter Pan's Flight. They have Peter Pan options to check out!
Epcot
Canadian Pavilion has The Refreshment Port which has Dole Whips.
Festival Locations. During the Flower and Garden Festival you can find Dole Whip locations popping up in various locations.
Animal Kingdom
Tamu Tamu heading into Africa. Mobile ordering not available.
Hollywood Studios
Believe it or not, as of this time you will not get to indulge in a Dole Whip if you are visiting Hollywood Studios. There's nowhere to get one! For shame!
Disney Springs
Marketplace Snacks near World of Disney. Mobile ordering not available.
Disney Water Parks
Typhoon Tilly's in Disney's Typhoon Lagoon.
Frostbite Freddy's in Disney's Blizzard Beach
Disney Hotels
Polynesian Resort Mobile ordering not available.
Art Of Animation Resort Mobile ordering not available.
Pop Century Resort at Everything Pop food court – Mobile ordering not available.
All Star Movies Resort at Silver Screen Spirits Pool bar – Mobile ordering not available.
The Boardwalk at Joe's Marvelous Margaritas
There you have it! Everything you need to know about finding and enjoying your favorite Dole Whip at Disney World!