Epcot is far and above the very best place to get snacks. It surpasses the Magic Kingdom, Disney's Animal Kingdom, and Hollywood Studios. With the World Showcase on the premises, Epcot has the best variety of snack options – you can literally travel the world through taste!
Not only does Epcot have a great variety of food, it also has some of the best Festivals. These festivals often have special food options. If you are a foodie we highly recommend visiting Epcot during the Food and Wine Festival (and other special events, such as The Festival of the Arts).
During this festival there are extra snack (and other food and drink) options available in the World Showcase. This festival is included with your park pass, so don't worry about any additional costs!
The Food and Wine Festival takes place for a couple months – often starts late August and runs until early November. You can get more information by checking out the Disney Special Events calendar.
With so many food options available at Epcot, we wanted to give you a list of some of our favorite and most popular snacks! Almost all of these are available in the World Showcase. You will find both sweet treats and savory options in the park.
If you are headed towards the World Showcase from the main park you can head right towards Canada or left towards Mexico. It really doesn't matter which direction you go – it just depends upon how hungry you are and what you want to eat!
One thing to note: Disney often changes up the snack options. Sometimes menu items leave permanently and sometimes they leave temporarily. New food options also come and go seasonally. Be sure to check the current menu offerings if your heart is set on something specific!
Let's jump in to some of our favorite Epcot snacks!
The Best Snacks In Epcot
1. Caramel S'mores Karamell-Kuche Germany
This is a fun twist on a s'mores. Marshmallows and caramel are smashed between two graham crackers and surrounded by chocolate. This is an incredibly sweet treat – perfect if you have a sweet tooth! Make sure you grab some napkins!
2. Macaroons Les Halles Boulangerie-Patisserie France
You will find this amazing bakery tucked back in an alley behind the Monsieur Paul restaurant. This bakery is The Bakery to visit in Epcot, possibly in all of the Disney Theme Parks. You will find great snacks such croissants, eclairs, tarts, cheese plates, and other tasty treats in the bakery case!
A variety of macaroons are available, and keep an eye out for special edition flavors! You can get a 6 pack of macaroons, making this snack a perfect treat for sharing with your family.
3. Tarte Au Fraises (Strawberry Tart) Les Halles Boulangerie Patisserie France
This delicious dessert has a pie crust bottom topped with vanilla ice cream and sweet glazed strawberries. Some people claim that this is the best dessert in all of Epcot making it a fan favorite.
4. Almond Pastry Tangierine, Morocco
A simple signature treat that describes itself! A light and flaky pastry is filled with an almond filling.
Tangierine is a fantastic spot to stop for a quick service meal – be sure to check out the menu in the Morocco pavilion to see if you want to eat lunch here!
5. Funnel Cake With Ice Cream America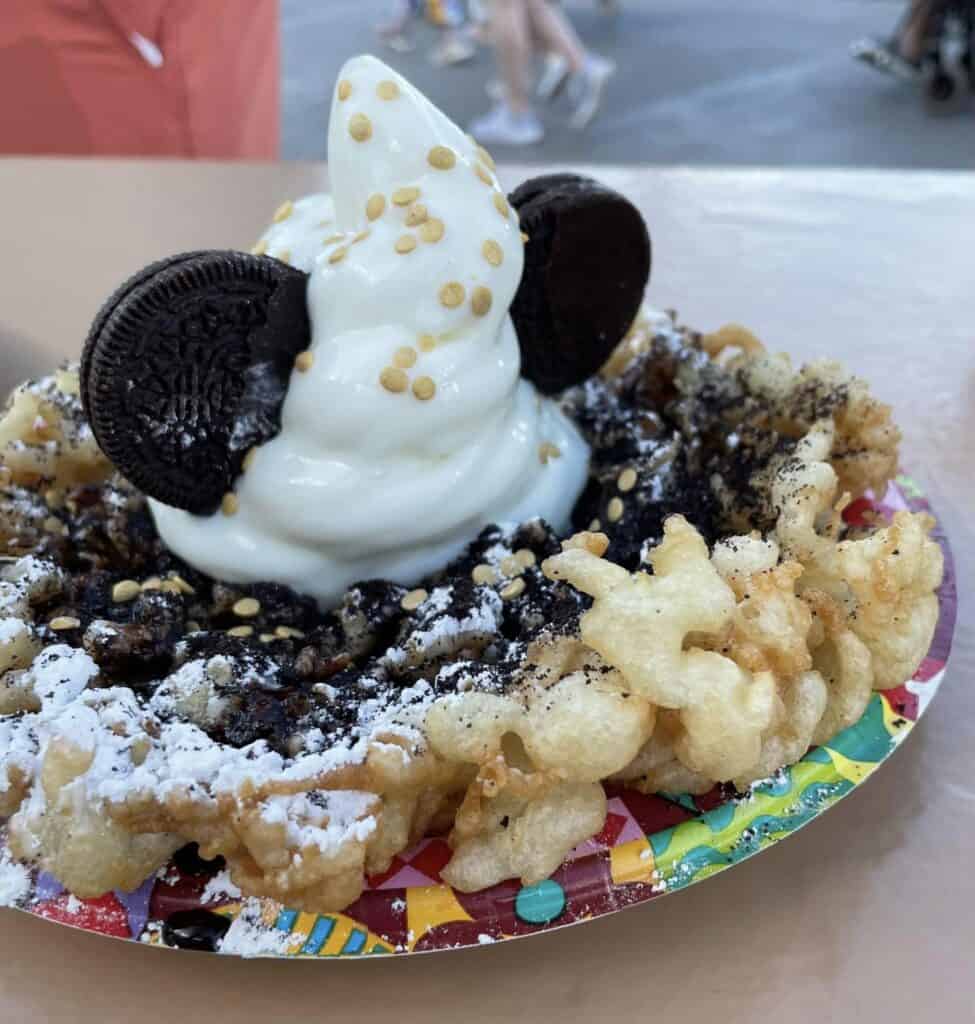 Fried dough with ice cream, who wouldn't want this delicious snack! Of course, you can find it in America at a simple funnel cake stand, just like you would find at an American amusement park! Toppings include chocolate, vanilla ice cream, and even cookies and cream.
During the Epcot festivals you will often find new flavors pop up, so be sure to keep an eye out. One year during the Food and Wine Festival there was a maple bacon funnel cake available!
*Be sure to check out some of our favorite Food and Wine Festival shirts here!
Another great place to get funnel cakes in the Disney Parks is at Hollywood Studios. It is on our list of best Hollywood Studios Snacks!
6. Cronut The Refreshemnt Port, Canada
This is an incredible mix between a croissant and a donut – topped with cinnamon and sugar! Imagine a light flaky croissant in the shape of a donut – and fried. That, my friend, is a cronut! Take it to the next level by getting this delicious, unique treat topped with ice cream.
The Refreshment Port also features Poutine, a classic Canadian food that is essentially French fries, gravy, and cheese curds! Can you really pass that up?
7. Churro Bites with Nutella Sauce La Cantina de San Angel, Mexico
These delicious fried Mexican snacks used to be served with caramel sauce – Disney has now switched it up to a hazelnut chocolate sauce (basically Nutella) and people are loving it! This is one of our favorite items in Mexico.
8. Fish and Chips Yorkshire County Fish Shop, United Kingdom
A classic English meal, you will love this beer battered fried fish with a side of French fries. Condiments are available, including malt vinegar, tartar sauce, and ketchup. Some say this is the best fish in all of Walt Disney World, so if you are in the mood for seafood this is a good option.
The United Kingdom doesn't have much for other snacks, so if you are using your snack credits in the UK this is one of your only options. Of course you can find other great options for food items in the UK for quick service meals. If you are 21 or older, feel free to enjoy some international beers at the United Kingdom Pavilion!
9. Gelato Cookie Sandwich Italy
One quick warning: snacks and food in Italy are expensive. That being said, there are some things that are absolutely worth it! A gelato cookie sandwich is one that we recommend getting. Imagine ice cream cookie sandwiches – but filled with gelato instead of ice cream. Choose a pre-made frozen cookie sandwich or customize your own gelato sandwich with your favorite flavor of gelato smashed between two chocolate chip cookies!
If you want to spend some extra time in the Italy Pavilion and are looking for a bit more food, consider heading over to Tutto Gusto Wine cellar and getting Tagliere – a meat and a cheese plate!
10. Caramel Pecan Bar Karamel Kuche, Germany
A soft caramel and chocolate bar topped with pecans and served at room temperature, making the caramel extra delicious. You can also get caramel corn, caramel apples, and caramel corn cupcakes here! You can smell the caramel before you get here.
Another option would be the Carmel Butter Bar!
The Germany Pavilion is a great place to purchase authentic beer steins, see ornate cuckoo clocks, and pick up a lovely Christmas ornament to help remember your Disney vacation! Also to note, the Biergarten restaurant in Germany is on our list of one of the best table service restraints in Epcot! You can find out more here.
11. Kaki gori Kabuki Café, Japan
A cold, Japanese shaved ice treat with sweet syrup! Think of a snow cone – but way better. Flavors include strawberry, tangerine, melon, or cherry. You also have the option to pour sweet milk on top! These are a perfect snack for a hot day in the summer. If you have never tried one of these, take the opportunity to do so!
If sushi is your thing, the Kabuki cafe is a great place to get some. You will find a California roll, spicy roll, and nigiri combo roll on the snack menu. Be sure to take a minute to enjoy the Japan pavilion – it is beautiful space to stop and rest and you will find excellent shopping!
12. Palmier Les Halles Boulangerie Patisserie, France
Tastes kind of like a churro, but more flaky! You can get this dipped in chocolate.
13. Berry Cream Puff Kringla Bakeri og Kafe, Norway
This is a simple, traditional cream puff made with real, lightly sweetened whipped cream and berries! This is an enjoyable treat that is a bit lighter in flavor than some of the heavier options in Epcot.
14 School Bread Kringla Bakeri go Kafe, Norway
You can smell this delicious bread as you walk by! If you have never tried school bread we highly recommend giving it a taste while you are in Epcot. This is a wonderful soft pastry filled with vanilla ice cream and topped with coconut. This is one of these treats that is sweet, but not TOO sweet.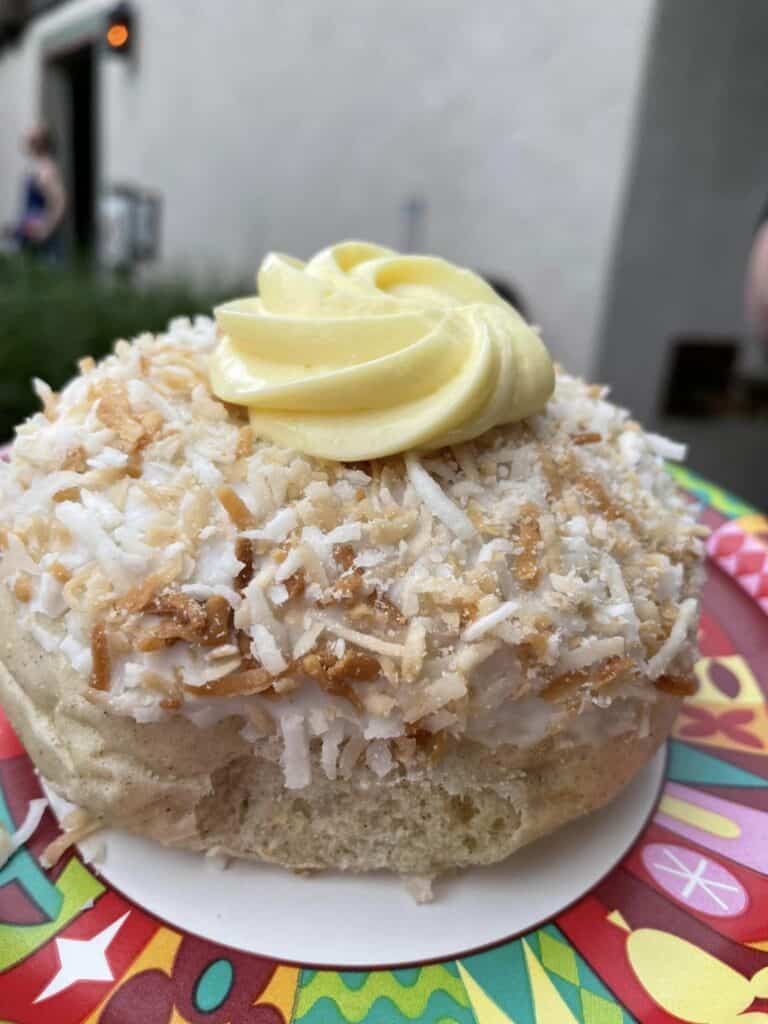 15. American Dream Fife and Drum, America
This is a delicious, refreshing slushie with vanilla soft serve ice cream. Perfect for a hot day! You will love this red white and blue snack – frozen Fanta strawberry, blue raspberry, and vanilla ice cream!
16. Pork and Vegetable Egg Rolls Joy Of Tea, China
A delicious traditional egg roll filled with pulled pork and veggies! These are different from the egg rolls in adventureland – but just as good. Definitely worth spending your snack credits on these savory snacks .
17. Nachos, La Cantina de San Angel, Mexico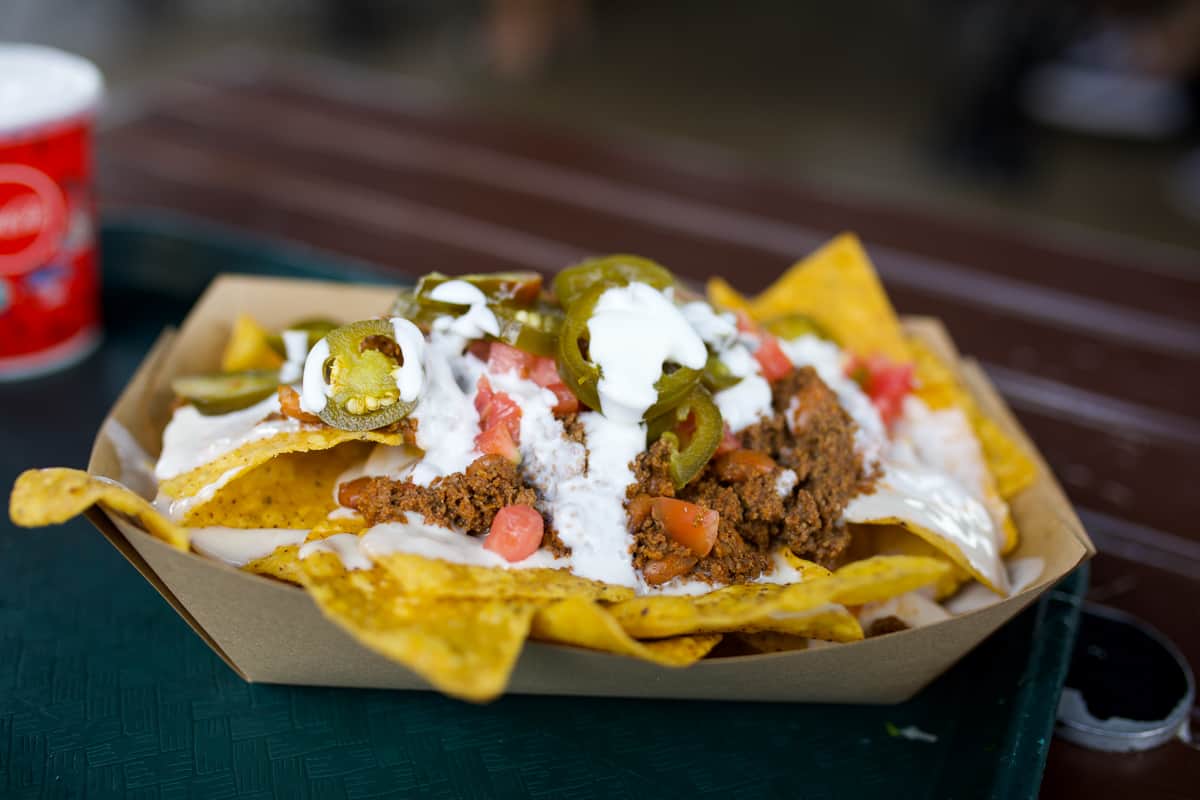 We have these nachos on our list in part because they are delicious and in part because they are so big, you could consider them a small meal, making them a good value! You will love these tortillas covered in ground beef, jalapeños, and Queso cheese dip.
We got these during our last trip and let's just say YUM!! You need to get these especially if you're a nacho fan!
If nachos aren't your thing, then consider getting empanadas con Queso – all at La Cantina de San Angel. You will get 3 perfectly made empenadas which are covered and stuffed with Queso!
There is so much to see and do in Epcot, especially in Epcot's world showcase. Epcot is considered to be the best Disney park for adults, and as you can see, there is good reason!
The international food is amazing, adult beverage options are available, and you can easily kill a few hours shopping in each of the pavilions. Your Walt Disney World vacation is not complete until you have taken some time to visit the World Showcase!
If you love trying new drinks, don't forget to check out our drinking around the world guide!
Lastly, visiting Epcot is more fun when you dress the part! Check out 6 different Epcot outfit ideas for both men and women.
For more snack options, be sure to check out our overview of the best snacks in each of the Disney Parks. We also do deep dives into snacks in Disney's Animal Kingdom (some people say the best snacks are here), Hollywood Studios, and the Magic Kingdom!