We love quick service restaurants. For us, it all boils down to what is the best use of time when you are at the parks.
We enjoy grabbing a quick bite and getting back to the action as opposed to a longer sit down meal, especially for lunch.
Disney's Animal Kingdom has some of the best quick service restaurants in all of Disney World! They are the most unique, tasty, healthy.
What is Quick Service Dining
Quick Service, also called Counter Service, are restaurants where you can walk up to a counter, order your food and eat it at the restaurant or take it to go. It is the "fast food" of Disney.
These restaurants are at each Disney Theme Park (Magic Kingdom, Epcot, Disney's Hollywood Studios and Disney's Animal Kingdom) and Walt Disney World Resorts.
A newer option for ordering from quick service restaurants is mobile ordering, where you can also order your food in advance using your My Disney Experience app. This helps you avoid waiting in long lines. We are fans!
If you are on the Disney Dining Plan, you can use Quick Service credits for your meal. (note: Disney Dining Plan will be returning January 9, 2024.)
Best Quick Service Restaurants at Disney's Animal Kingdom
So what are the best places for great food? The following are the best Quick Service restaurants in the Animal Kingdom. Each of these dining areas have a kid's menu, and offer full meals in a counter service restaurant (as opposed to table service restaurants).
Very important: Until January 9, 2024, you must have a valid theme park ticket and Animal Kingdom reservation in order to visit these quick service restaurants.
Of course, these are subjective rankings!
Satu'li Canteen
Food offerings: The menu is inspired from Pandora's bounty. You will find healthy, wholesome, and delicious menu items that include grains, fresh vegetables, and hearty portions.
Theme: Intergalactically inspired restaurant designed to look like an old RDA mess hall of the Na'vi. This restaurant is owned and operated by Alpha Centauri Expeditions (ACE) and supplies travelers with a unique, casual menu.
Location: In Pandora-The World of Avatar, next to Flight of Passage exit.
Why you should go: This is an excellently themed restaurant with the Nav'i artifacts and the backstory of being an abandoned mess hall. The food at Satu'li Canteen is truly "out of this world"! (sorry, couldn't resist).
The menu consists of cheeseburger steamed pods and five bowl options. Most bowls consists of a protein, crunchy slaw, boba balls, and your choice of a base and sauce. Protein options are grilled beef, chicken, chili-garlic shrimp, and tuna.
The kids options include a cheeseburger pod, quesadilla, and an all beef hot dog wrapped in dough.
The popular and colorful blueberry cream cheese mousse can be purchased here as well as a plethora of alcoholic and non-alcoholic drinks.
This is definitely one of the top Animal Kingdom quick service restaurants!
Flame Tree Barbecue
Food offerings: Barbecue! You will find smokehouse items like ribs, chicken and pulled pork. You will also enjoy Disney's signature baked beans, coleslaw, and salads.
Theme: African jungle with colorful animal cavings and fun decor. This restaurant has wonderful outdoor seating where you will enjoy giving your feet a break.
Location: In Discovery Island, as you walk toward Dinoland.
Why you should go: Obviously if you are a fan of barbecue, the Flame Tree BBQ is the place to eat. Many great menu items including the famous ribs, chicken and pulled pork sampler – which is not only a great option but also a good value.
At the Flame Tree, you really get a lot of bang for your buck. Great portions of good food that is a rarity at Disney World but this place delivers well. The seating area is huge and a great spot to view Expedition Everest while dining.
One thing you should consider is there is no air conditioning as it is all outdoor dining. There are pavilions to protect you from the sun and rain and most days it feels comfortable. Overall, Flame Tree BBQ is a great place and has been a popular spot to eat from the moment they opened their doors!
Harambe Market
Food offerings: Harambe Market offers African themed meals that are unique, with healthier and lighter options. You will find a several meat bowl items as well as some salads, fries, and cilantro rice.
For example, the Harambe salad is a Mediterranean influenced salad with pepperoncini, kalamata olives, cucumber, tomato, feta, Greek vinaigrette dressing and optional chicken.
The menu is smaller than some other quick service restaurants but the food is worth checking out. The Simba cupcake is served here as well!
Theme: Themed like an African marketplace made to look like an old train depot. Fun artifacts and decor that reenacts an African village. You will see a water tower in this area! The seating makes you feel like you are in an outdoor market in Africa eating authentic food.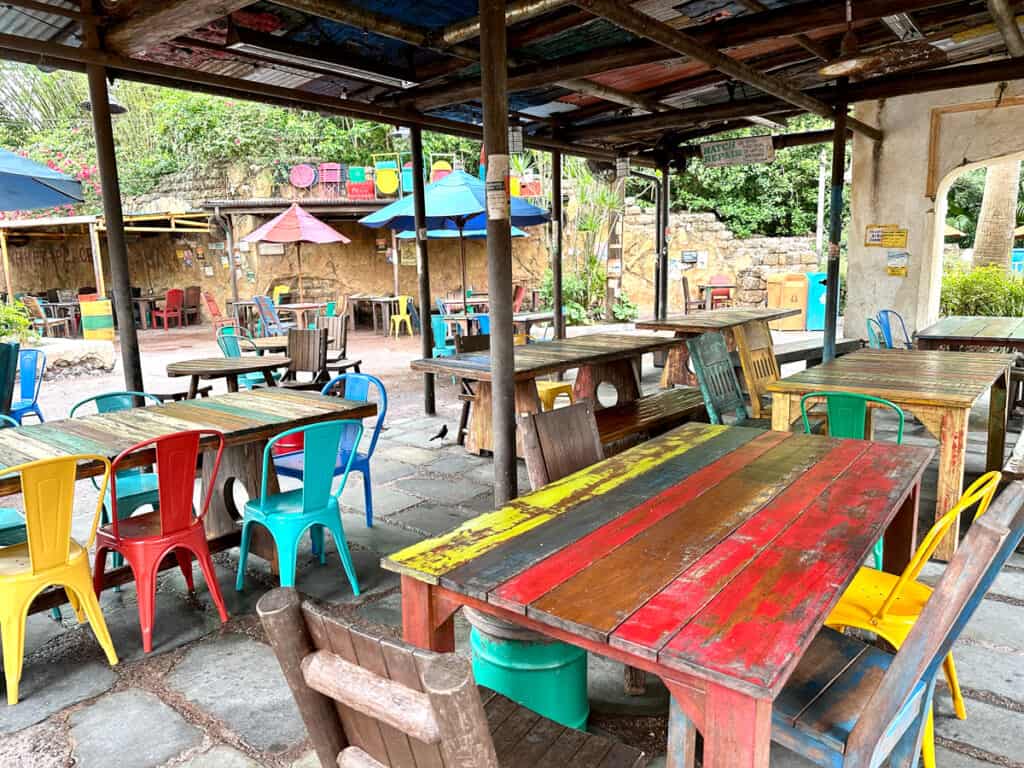 Location: Open-air plaza near the entrance to Rafiki's Planet Watch in the African section
Why you should go: Quick Service options include salads, chicken bowls, and the plant-based "Hot Link Bowl". Children can order chicken nuggets as well as a peanut butter and jelly (PB&J) Uncrustable. Some specialty non-alcoholic drinks such as the Frozen Flamingo are also available.
The outdoor only seating, similar to the Flame Tree Barbecue can get hot in the summer and many prefer an air conditioned dining option. All that being said, Harambe Market is healthy and will be the perfect option for many guests.
Though we feel this is a good place to eat, personally, we have it ranked just under the first two options.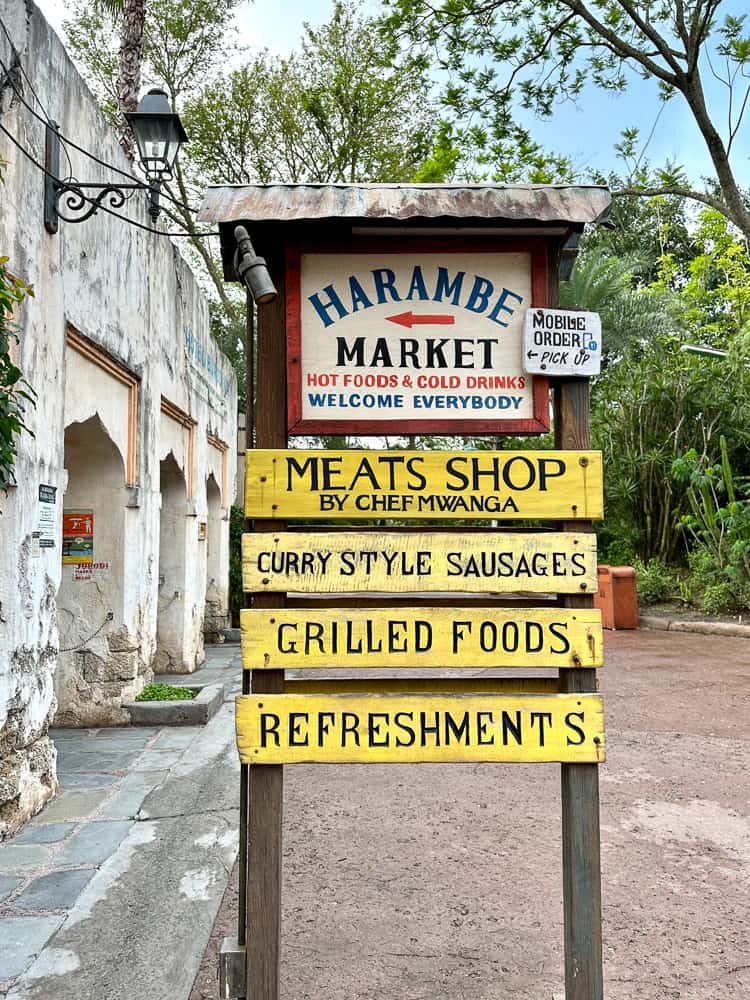 Pizzafari
Food offerings: The menu is mostly pizza that is classic American fare – cheese, pepperoni, sausage and pepperoni. Be sure to check out the Bugs and Grubs Cupcake.
Theme: Colorful murals and mosaics in five themed rooms highlight this fun restaurant.
Location: Located in Discovery Island. If you head left from the Tree of Life walking into the park, it is one of the first places you will see.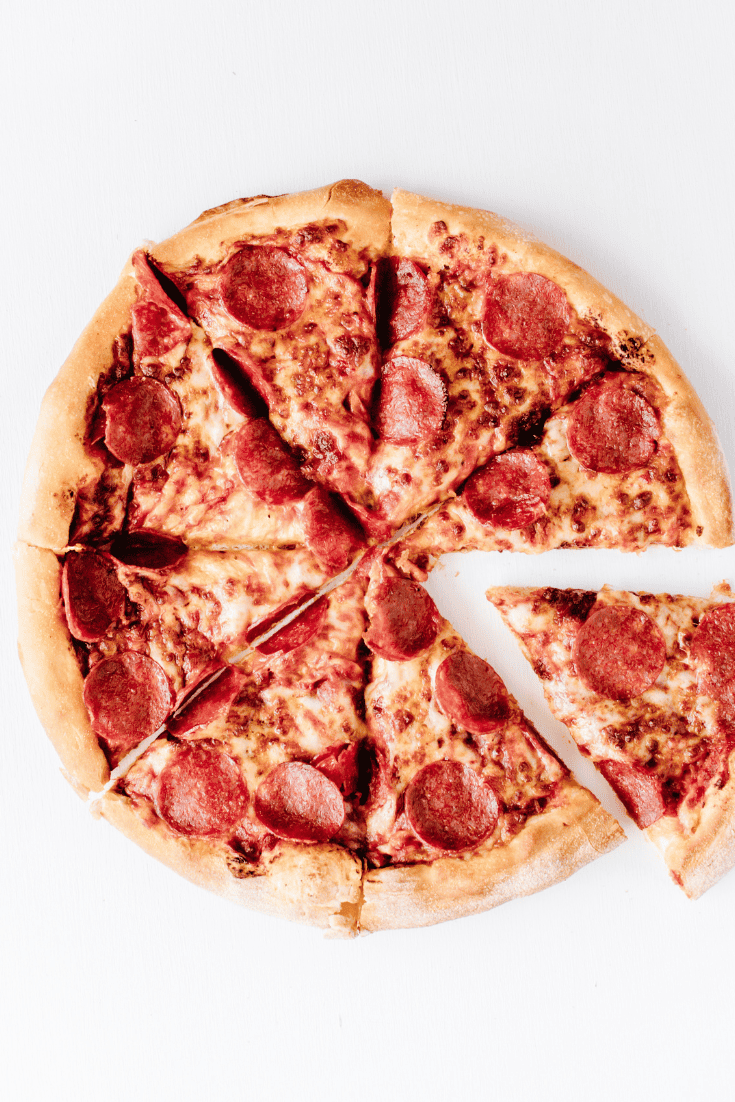 Why you should go: Don't be scared off if you are not a pizza fan. They do, indeed, have pizza but they also have sandwiches, salads and a plant-based "Greens and Grains salad" which is very delicious. The pizza is not anything to write home about, but sometimes you need something predictable that will make the whole family happy.
Draft beer and fountain drinks are available. This is a great place for large families looking to save some money on food by sharing pizza.
Yak & Yeti Local Foods Cafe
Please note: this is different from Yak & Yeti Restaurant which is a table service option.
Food offerings: Asian cuisine with flavors from around the world! This cafe serves breakfast options such as breakfast bowls and English muffins as well as a ton of lunch options! You will find items such as a Korean fried sandwich, Sweet and Sour tempura shrimp, rib tips, and a teriyaki chicken salad.
Theme: Decorated with Southeast Asian artifacts. Bright and elegant
Location: Located in Asia near Kali River Rapids.
Why you should go: One of the best things about the Yak & Yeti Cafe is there are many different offerings for everyone in your group. The full menu with many different options makes the restaurant a good option to eat lunch or dinner and a favorite place of many park goers.
Restaurantosarus
Food offerings: American fast food (Classic burgers, chicken strips, fries and hot dogs)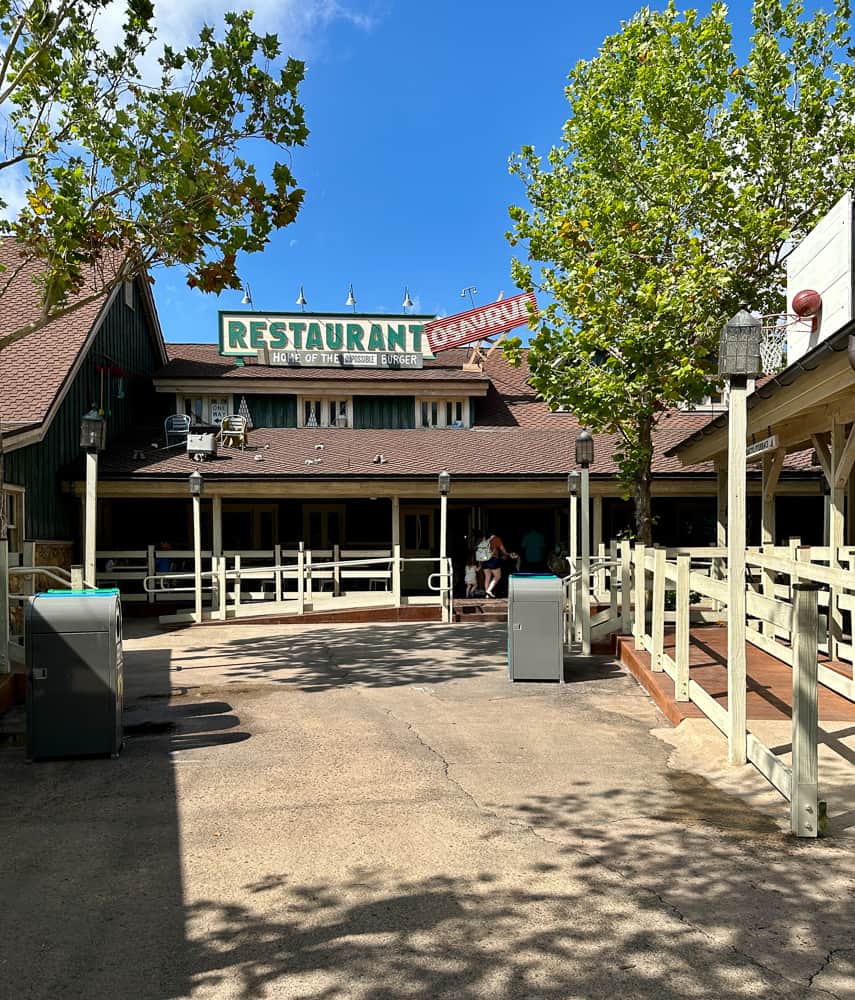 Theme: Cute theme. Backstory of College students in DinoLand U.S.A. for a dig
Location: DinoLand U.S.A
Why you should go: Come for the atmosphere, stay for a burger. This is nothing to write home about food wise with burgers and french fries but it is a super cute place to eat for adults and kids alike. There are other options including a cob salad and breaded shrimp but when you think of quick service meals, this is what we think of.
Disney's Animal Kingdom is a great place to grab a unique bite to eat. If you are in the area and are looking for a table service restaurant, we highly recommend Boma over at the Animal Kingdom Lodge. You will need reservations in order to eat here!
Be sure to check out our 15 favorite snacks to try at the Animal Kingdom!
For the best quick service restaurants in Hollywood Studios, check out this post.