Taking a toddler to Walt Disney World? You may be wondering what the best rides are to do with little ones in tow. As a family we've gone to Disney with our share of toddlers! Dave's own daughters went as super young kids and we've brought our own kids when they were little!
It's pure joy bringing little ones to experience the magic of Disney but yes, it is has it's challenges so we're here to help!
Disney World attractions, like beauty, is in the eye of the beholder. One person's favorite attractions may be on another's "skip it" list. We all have different tastes, and kids are no exception to this. Some children get scared very easily and can't watch Monsters Inc. and others are ok watching much scarier movies.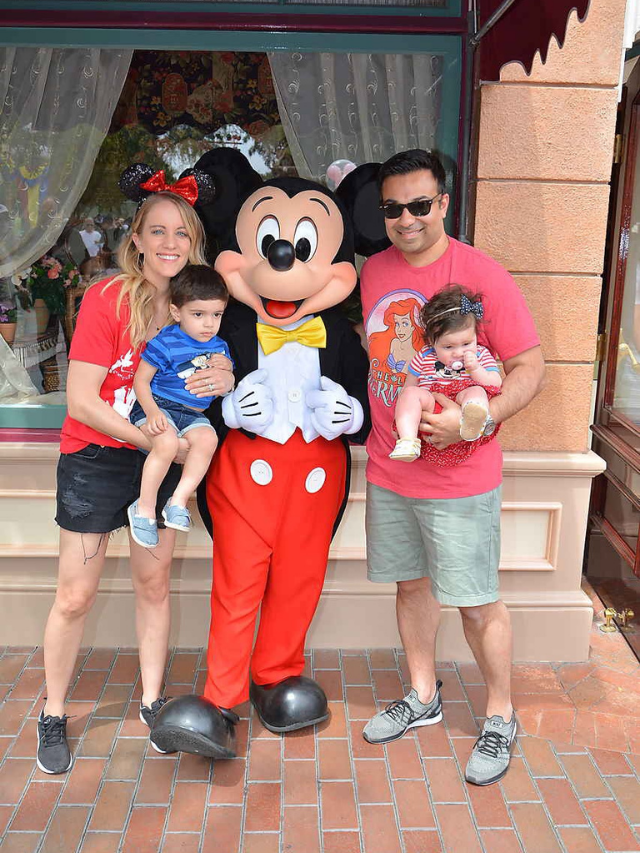 Keeping this in mind, we are giving you our suggestions for taking your toddler to any of the Disney parks. We've broken down a number of attractions and other areas of the all 4 Disney Parks that we think your toddler will likely enjoy.
The Best Rides For Toddlers at Disney World
There are a ton of amazing attractions for toddlers and kids in the four Disney parks. We have our favorites listed below, broken down by park. Before we go any further, let's cover a couple things.
A few disclaimers
We are considering toddlers to be approximately age 2-4.
Our goal is to give you a good base of what to explore in the Disney parks with your toddler. This is not an extensive list but this gives you an excellent starting point.
You know your child best. Read the pros and cons list carefully and use your best judgment. For example, if your child is extremely scared of the dark, you may want to avoid a particular ride even though our suggestion is to try it. If you think your child can handle rides such as Haunted Mansion or Pirates of the Caribbean, go for it!
Many of these rides do not have a height requirement, making it a perfect ride for families to enjoy together. When in doubt, be sure to check the height requirements for attractions here.
Disney With Dave's Daughters is a participant in the Amazon Services LLC Associates Program. This post may include affiliate links which means I may earn a small commission if you shop using the links below at no additional cost to you. 
According to our statistics, almost 25% of families who go to Walt Disney World bring a toddler. We're going to go through all of the best rides for this age group by park starting with our favorite – Magic Kingdom!
The 7 Best Magic Kingdom Rides For Toddlers
Our favorite Magic Kingdom attractions for toddlers are:
Jungle Cruise
Peter Pan's Flight
Its a Small World
Under the Sea – Journey of the Little Mermaid
The Many Adventures of Winnie the Pooh
Tomorrowland Speedway Authority
Buzz Lightyear's Space Ranger Spin
Honorable Mentions: Tomorrowland Transit Authority People Mover, Spinning Rides
Jungle Cruise
This is an outdoor boat safari ride that the entire family can go on! Jungle Cruise is an extremely popular ride at Walt Disney World and constantly has long wait times. This is definitely one of those 'love it or hate it' attractions – but your toddler will likely love it! Be prepared for corny jokes!
We must admit, it's not one of our favorites for adults, especially because of the lines. Kids love this one, so it worth going on at least once. Consider hitting this one up right away or use Genie+ Lightning Lane.
Peter Pan's Flight
Our family really enjoys this attraction. You get on a flying ship that takes you through London on an adventure with the help of pixie dust! The scenes in this ride are incredibly enjoyable making this a great ride! This is a calm ride that will take you on the well known story of Peter Pan, Wendy, and Captain Hook in Neverland.
Cons: You will have the sensation of flying and it will get dark as you "fly" over the city at night but it shouldn't be an issue for your toddler. This attraction is very popular which means it can have long lines!
It's A Small World
Another indoor boat ride the entire family can enjoy. Hop on this ride and enjoy a visual journey through cultures all around the world! You will enjoy seeing the details that Disney has added to each scene, and little kids will love the bright colors and music. This attraction is another Disney classic!
Under The Sea – Journey of the Little Mermaid
Little kids will enjoy hopping on board a clamshell and riding through Ariel's world. You will not get wet on this ride. This is a great children's ride that moves slowly and tells the story of the Little Mermaid – hopefully a story your little one is familiar with. Of course, this attraction has great music! We guarantee you will find yourself singing along.
Cons: None. The story gets condensed at the end but hopefully your preschooler will not be analyzing the ride's production qualities.
The Many Adventures Of Winnie The Pooh
This is an enjoyable attraction as you wander through the pages of A.A. Milne's stories about Winnie the Pooh! Young kids will love the familiarity of the characters and stories. This is a perfect children's attraction! This attraction is happy and sunny as you ride a Hunny Pot through the pages of Hundred Acre Wood. The queue is half the fun! You don't mind waiting in line for this one.
Tomorrowland Speedway
Race around a miniature speedway! Ride vehicles around curves and bends – and enjoy some great views! Driving cars…what little one wouldn't like that? Please note: Children under 54" tall must be with an adult, however, they can steer while you work the foot pedals. The max speed for the cars is 7 mph.
Buzz Lightyear's Space Ranger Spin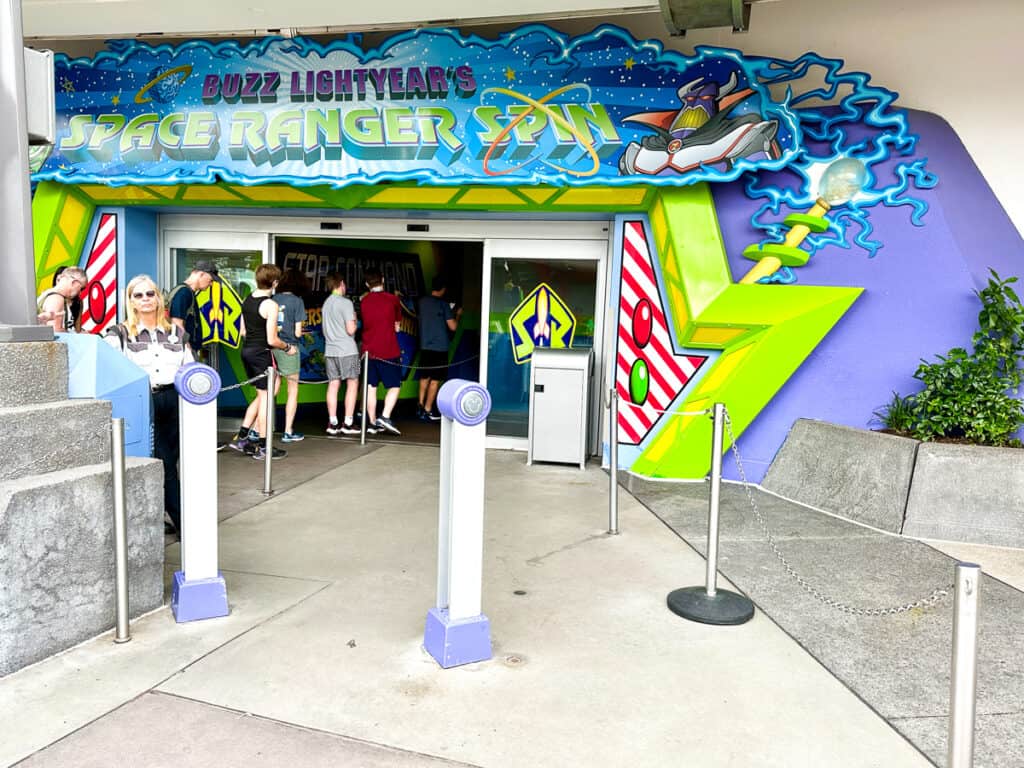 Hop in your very own spaceship for a fun ride that is also a game! Defeat the evil Emperor Zurg as you shoot your laser in a space battle. This is a fun ride where you shoot laser canons at targets and compete against your partner.
This is great fun even if you get zero points! This is one of our favorite rides and we wish it lasted longer. Your toddler will love this ride because he can control the direction of your vehicle!
We have a whole post dedicated to getting a top score on this ride if you want have even more fun!
Tomorrowland Transit Authority Peoplemover
Head on up an escalator and ride an elevated tram for a fresh view of Disney World! This is meant to be an idea of mass transit of the future. This ride is simple, calm and a great place to rest your feet as you move on this 10 minute ride through Tomorrowland.
This ride is a family favorite – we ride it at least twice each time we visit the Magic Kingdom! You even get a sneak peek at the inside of Space Mountain!
Midway Type Attractions: Spinning Rides
We are putting these together in one category because they are similar. These are the types of rides you might find at a county fair with a Disney "spin"!
If motion sickness is a concern to your child or you, our suggestion is keeping your child's lunch where it belongs and not ruining your day by going on any of these attractions.
You may even consider avoiding these parts of the Magic Kingdom in order to not entice your child with an attraction you will not be able to take them on. However, if spinning is ok for you and your child, go for it!
Mad Tea Party
Dumbo The Flying Elephant
The Magic Carpets Of Aladdin
Astro Orbiter
Additional Toddler Activities in the Magic Kingdom
There are many things you can do with your toddler at Disney World that are not under the heading of "Attractions" but are things you should consider doing with your little ones – such as the Prince Charming's Carousel and the Steamboat. We have a ton more info on attractions and activities for toddlers in Disney's Magic Kingdom!
Top 6 Animal Kingdom Rides for Toddlers
The 6 best attractions in Disney's Animal Kingdom for toddlers are:
Kilimanjaro Safaris
Wildlife Express Train
Rafiki's Planet Watch
Triceratop Spin
Festival of the Lion King
Nemo – The Musical
Many people wonder if they should take their toddler to see "Its Tough To Be A Bug." This is a show inside the Tree of Life. For everyone's sanity, we advise skipping Its Tough To Be A Bug. We feel this attraction is way too scary for young kids.
Kilimanjaro Safaris
Calling your animal loving little one! You have to check out Animal Kingdom's African Savanna Kilimanjaro Safari.
Located on 110 acres in the Animal Kingdom in Walt Disney World, the Kilimanjaro safari attraction makes up 20% of the entire Animal Kingdom park. Guests take a 20 minute ride on an open-air truck which weaves it's way around a realistic African reserve, full of African wildlife roaming free.
You and your kids see up close live animals in a controlled yet seemingly wild environment. This is a "must do" at Animal Kingdom with your little ones! Do not miss the safari.
Cons: Because it's a "real" environment, sometimes the animals are not as active or seen as much as other times. That being said, your child will definitely see animals.
Wildlife Express Train
This 7 minute train transports you to Rafiki's Planet Watch. You get to see animal homes and an inside peek at the Animal Kingdom Park. This is enjoyable and scenic and gives a look at some of the inner workings of Animal Kingdom. As an added perk, you get off your feet for a bit!
Rafiki's Planet Watch
You will find animals, a petting zoo, and trails to discover! This is a backstage look at how Disney cares for the animals at Magic Kingdom. At Rafiki's plant watch is The Animation Experience, Conservation Station and Affection Section.
Triceratop Spin
Bob up and down on the triceratops ride that goes round in circles and up and down. It seats 4. This is a "midway" style ride similar to Dumbo and Magic Carpet ride at Magic Kingdom.
Note: Motion sickness can be an issue if you or your child have issues with spinning.
Festival Of The Lion King (Stage Show)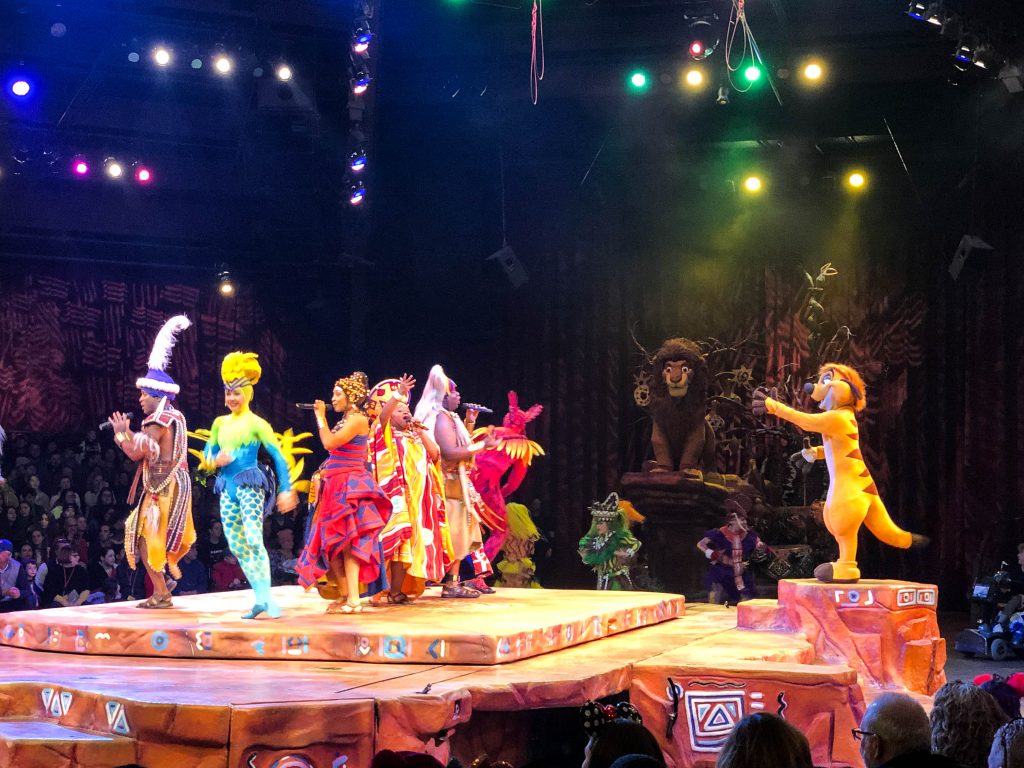 A Broadway style show full of singing and dancing! This show is on our list of the best live shows at Walt Disney World. This live show has acrobats, dancing, and singing which will keep your toddler entertained! This is a 30 minute Broadway style show.
Note: Loud noises and crowds may overstimulate some children
Nemo – The Musical (stage show)
Pros: A Colorful live show with giant puppets retelling the story of Finding Nemo which includes all your child's favorite sea creatures, including Dory and Crush! This 40 minute show is one of our favorites.
Note: Loud noises and crowds may overstimulate.
There are a ton of places to visit with your toddler in Disney's Animal Kingdom. One of the favorite spots for toddlers is a play area called The Boneyard – a Disney-style dinosaur themed sand box! Animal Kingdom is a great place for small children!
Best 8 Rides for Toddlers at EPCOT
The top attractions for toddlers at EPCOT are:
Frozen Ever After
Gran Fiesta Tour Starring the Three Caballeros
The Seas with Nemo and Friends
Turtle Talk with Crush
Spaceship Earth
Journey into Imagination with Figment
Disney and Pixar Short Film Festival
Remy's Ratatouille Adventure
Epcot is a surprisngly great place to visit with your preschooler! Epcot has a more low-key feel than the Magic Kingdom and has some gems hidden in it that your toddler will love. Let's jump in!
Frozen Ever After
Probably THE most popular attraction at Epcot for not only toddlers, but for everyone. It is imperative that you Genie+ or Rope Drop this one or you will be standing in line for a long time. This popular ride is a calm, beautifully designed boat ride with one VERY minor "drop."
Gran Fiesta Tour Starring the Three Caballeros
This is an easy, fun boat ride at the Mexico Pavilion in the World Showcase. Think of a modern version of "It's a Small World" that stars Donald Duck and The Three Caballeros.
The Seas With Nemo and Friends
Sitting in your "clamobile" you are searching for Nemo with Dory and Marlin. Very kid friendly and fun! As the ride concludes, it deposits you into the SeaBase aquarium where your toddler will enjoy looking at the fish, mammals and crustaceans in a 200 foot diameter, 27 foot deep tank! It may be hard to get your preschooler to leave this area as it truly is amazing. We go on the seas and spend time at the aquarium on every trip – even when we are at Disney without kids!
Note: Some scenes are dark and there are some sharks that are a bit frightening but we would say nothing to get worried about, especially if your child is familiar with Finding Nemo.
Turtle Talk With Crush
This 15 minute interactive animated "film" with the 153 year old surfer dude is great fun for your toddler! Crush will actually have a conversation with guests! It is pretty amazing for both adults and kids.
You will find Turtle Talk in the same area as the aquarium, so it is a great time to split up if some kids want more time looking at fish and others want to do something else.
Spaceship Earth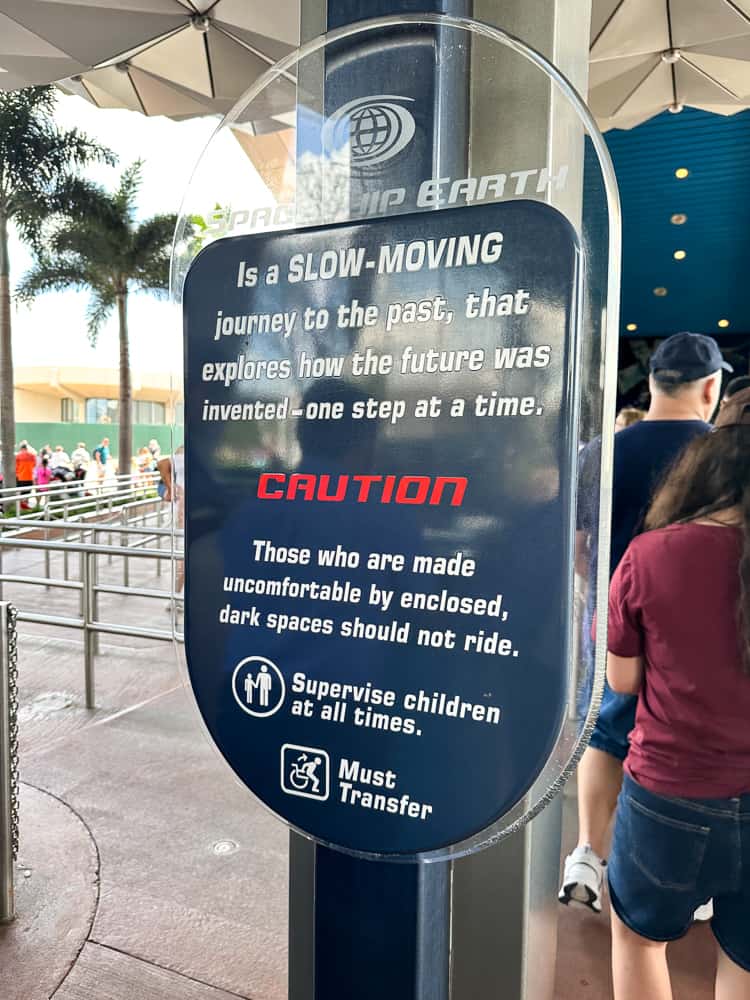 The attraction is a slow moving history lesson that will probably lose your child, but the visual elements should keep them engaged enough to not be completely bored. One of the big reasons for going on this attraction is because kids love the fact they are going into this big ball and you get to go backwards for part of the ride! (Don't worry, you won't get sick.)
Cons: No Mickey, no Minnie, and no typical Disney characters can make this a "skip it" if it's only your child's happiness you are after.
Journey Into Imagination With Figment
This fast moving attraction gets some bad reviews by people but we have always enjoyed it! Except for the few cons below, we feel it's a great must do with your toddler, especially if she is on the older side. One added perk – this part of EPCOT has some fun fountains to watch, so plan on taking some time to enjoy them!
Note: Loud noises and some very surprising moments are found on this attraction.
Disney & Pixar Short Film Festival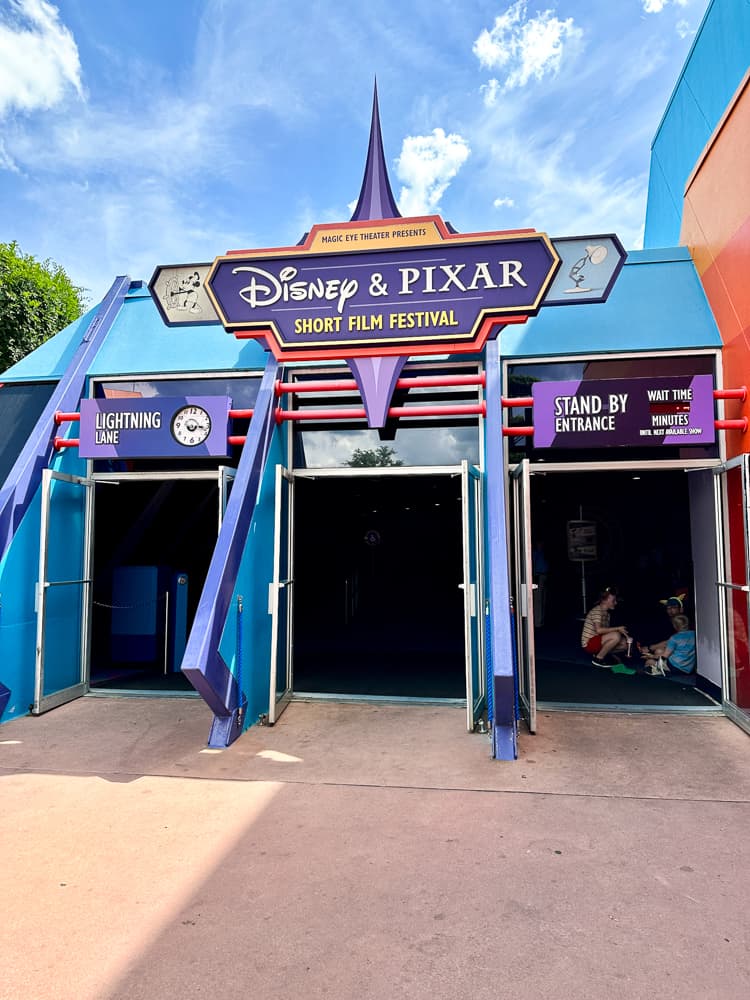 A wonderful 18 minute experience featuring three short films and in-theater 4D effects. These films can actually be found on-line, but the atmosphere is part of the experience. Be sure to check out the fun fountains in this part of EPCOT.
Remy's Ratatoile Adventure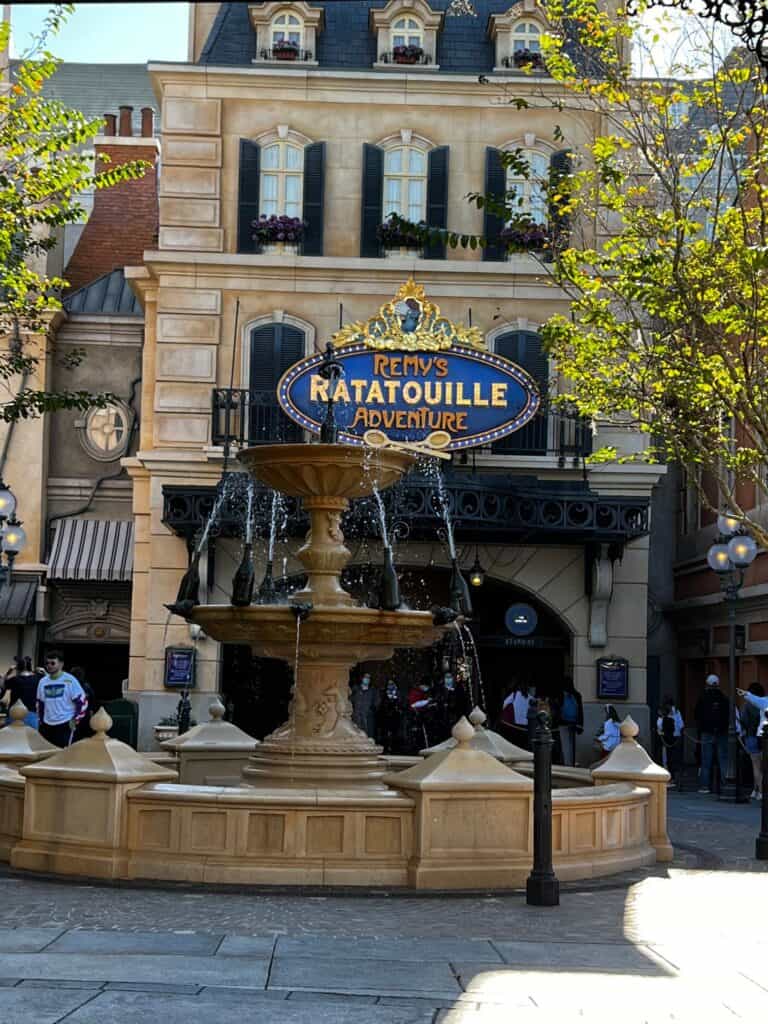 On this attraction you are shrunk down to the size of a rat and you follow Chef Remy (the rat from the film Ratatouille) on an adventure through Gusteau's Restaurant. The vehicles taking you on twists and turns through the kitchen and dining areas. This is a 3D trackless ride in France.
Find more tips for visiting EPCOT with toddlers here.
Top 6 Rides for Toddlers and Hollywood Studios
Hollywood Studios – where we find Toy Story Land! We love spending time at Hollywood Studios and there is plenty there that your toddler will enjoy. Our top 7 attractions are:
Toy Story Midway Mania
Beauty and the Beast Live on Stage
Alien Swirling Saucers
Slinky Dog Dash
Lightning McQueen's Racing Acadamey
Muppet Vision 3D
Mickey and Minnie's Runaway Railroad may be a good option for your child, but for many kids it is simply too much for them to handle. Use your best parental judgment when it comes to this one.
Toy Story Mania!
This is a unique 3D carnival style ride where each guest uses a pull-string "shooter' to toss digital objects at the on screen targets. Fun for children even if they aren't interested in pulling the shooter. The queue is fun as well, so standing in line is pretty enjoyable.
This attraction jerks around a bit so not necessarily a gentle ride.
Beauty and The Beast – Live on Stage
This is a broadway musical style production of the movie in an open-air amphitheater. Great songs, costumes and theatrical surprises. This is a very enjoyable 30 minute performance that the whole family will enjoy. Make sure your kids have seen the movie (the play closely resembles the animated version) before you go.
Alien Swirling Saucers
This is a "midway" style ride that spins like the Mad Tea Party. Cute, bright and kids love it. Keep in mind that this attraction has a 32 inch height requirement. You can find a Disney attractions height chart here. This ride can also cause motion sickness – parents, beware!
Slinky Dog Dash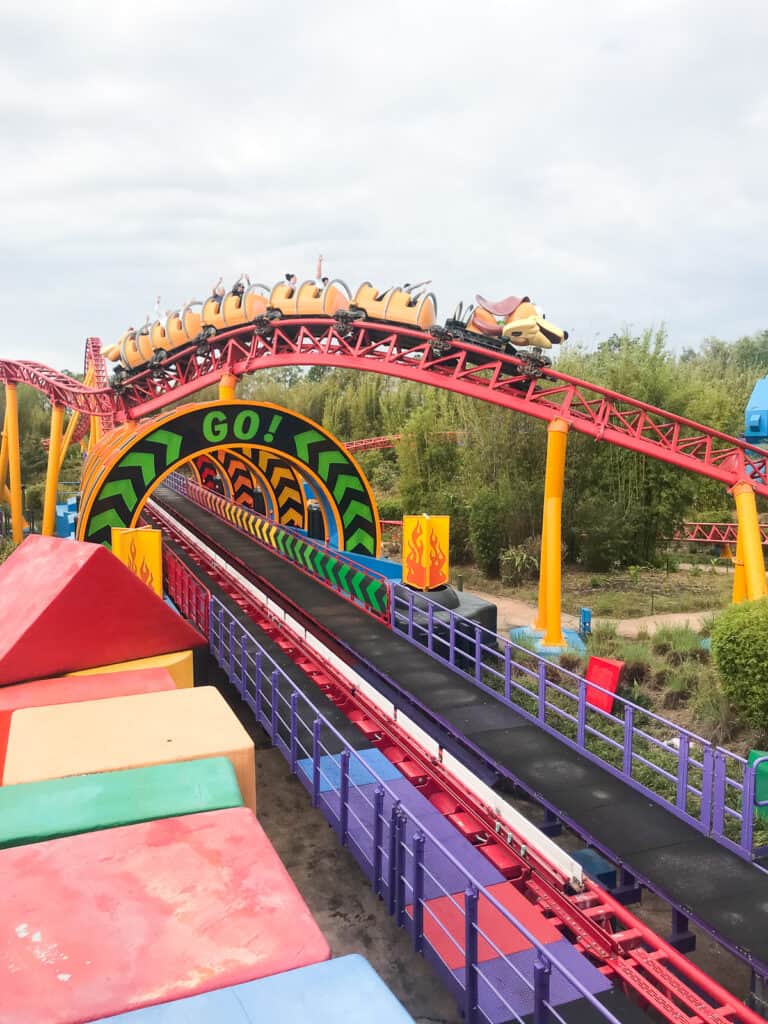 This is a family roller coaster ride sitting in Slinky Dog from Toy Story. A 38 inch height requirement and and thrill ride tolerance needs to be taken into consideration. If you child is tall enough to ride this coaster you will all enjoy it!
Muppet Vision 3D
This is a 3-D vision 15 minute show which features all the Muppets. Some of the 3D effects can get pretty "real" for the kids. Loud sounds and surprises can be a bit overwhelming. If you are interested in this show do your research before going to make the best judgment.
Tip: If you get to this show early, read the sign and do what it says!
Lightning McQueen's Racing Academy
A 10 minute show centered on Lightning McQueen with great animatronics in an impressive theater. This is right next door to Rock n' Roller Coaster which makes it a great attraction to see while older family members are enjoying the Aerosmith ride.
Disney Junior Play and Dance!
This 10 minute dance party and sing along has characters such as Doc McStuffins, Timon, Vampirina, and Mickey Mouse. Live people/characters and animation combines for a fun interactive experience!
Voyage Of The Little Mermaid – PERMANENTLY CLOSED
The Voyage of the Little Mermaid closed during covid and it is not reopening. We hope Disney replaces this attraction with something soon!
Find more tips for visiting Hollywood Studios with toddlers.
Our hope is that you now have a good idea of what to do at all of the Disney Parks with your toddler. Keep these ideas in mind as you make your plan, and you are off to a great start! We have many more tips for visiting Disney with toddlers, such as what to pack here! We have a list of the best Disney hotels for toddlers here.
Remember the Rider Switch
Remember that Disney has Rider Switch which allows you to ride an attraction while another family member waits with a child. A cast member will assist the alternate adult to skip the line and ride after the first adult is done! You can find out more and see a list of attractions here.
If this is your first Disney vacation, we have a guide for you! It will answer many of your general questions and help get you acquainted with what needs to be done for your trip.