Sometimes we joke that planning your Disney vacation requires a PhD. You have worked on purchasing tickets, getting dining reservations, and figuring out Genie+, reserving your park days, chose a hotel, and planned your transportation for several months.
Here we are at one of the final details: What do you need to pack in your daily Disney park bag?
Obviously, there are many personal items that only you can decide to put on your list. With that in mind, we would like to give you a list of basic things which will not only make your touring of the parks more efficient, but it will save you money and time!
Please note: Disney With Dave's Daughters is a participant in the Amazon Services LLC Associates Program. This post may include affiliate links which means I may earn a small commission if you shop using the links below at no additional cost to you.
Disney Park Bag Checklist
The following items are broken down into different categories to help you figure out exactly what you need to pack.
We have made an extensive list so that you are thinking through the daily items you want to consider bringing. Our goal is to help you be prepared. Let's dive in!
Disney Park Bag Daily Essentials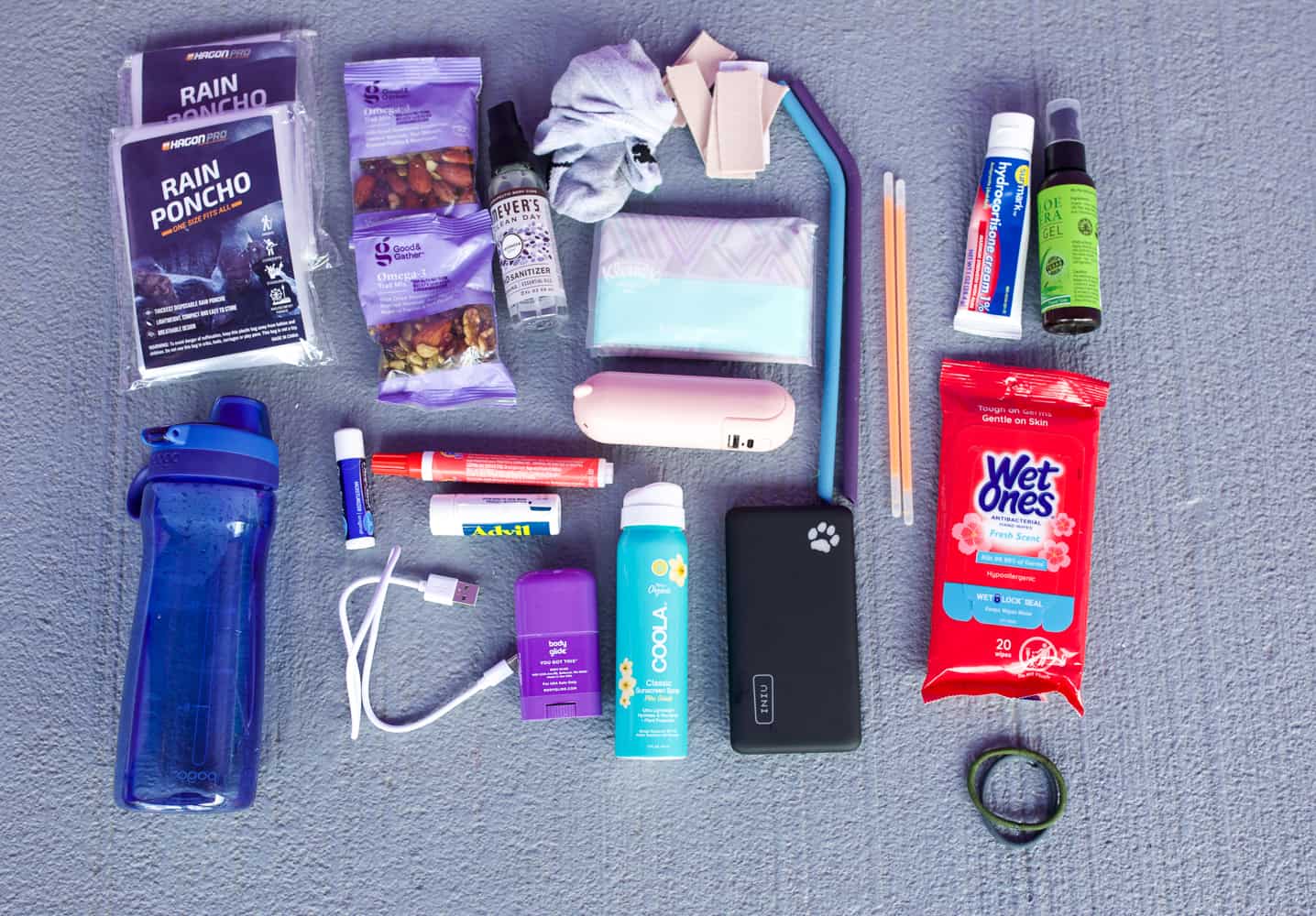 1. Cell phone (and cord!)
By far, this is the most important item you need! Be sure you have the My Disney Experience App on your phone.
Park information, your touring plan, communication, pictures, and everything else you will need is attached to your phone. Be sure to turn off any apps you aren't using to save battery power!
2. Portable phone charger
Because your phone is the most important item since you need it to access the Disney App, you will need to make sure it's running all day. You don't have time to plug it in so you will need a portable phone charger.
If you are in a group with several cell phones you may want to consider two or more portable chargers. This slim, lightweight portable charger has almost 34,000 reviews on Amazon with 4.5 stars!
We used this one on our most recent trip to Disney World and it worked perfectly! Just make sure you don't forget your cord to plug in your phone!
We have 8 additional great options here, including one that has a solar power option!
3. Magic Bands
These should be on your wrist and not in your bag, but be sure you have your magic bands on your list.
You do NOT want to show up at the park and realize you left your magic band on the hotel night stand. The MagicBand+ bands do need to be charged, so it can be easy to forget it in your hotel room.
4. Park maps/touring plans/day itinerary
You may have your touring plan and itinerary on your phone. If you are old school, you may have this on paper. Just make sure you (and all the adults in your group) have your daily itinerary.
We do suggest grabbing a paper parks map each day. If you are in the Magic Kingdom have ONLY the Magic Kingdom map in your bag. It saves batteries on your phone to look at a paper map, and oftentimes it can be faster and easier to navigate.
5. Cash, credit card, ID
You never know when you will need these items. You need to decide if you want to use your magic band to make purchases (it can be connected to your credit card).
Personally, we prefer to use the MagicBand as it is one less thing to lose in the parks, but many people would rather use their actual card.
Figure out your plan before you go and pack your bag accordingly. You will need to have an ID with you if you plan on purchasing alcoholic beverages.
This slim leather wallet would be a great option to throw your cards and cash in. It is less than $10, comes in 25 colors, and has RFID blocking technology. It gets great reviews on Amazon!
Disney Park Bag Personal Care Items
6. Bandaids/Moleskin
We aren't talking anything big. Get a snack size ziplock bag and put bandaids (Disney themed, of course!) and moleskin bandages in it. If blisters start to happen you can quickly and easily treat them the parks. Bring enough of these to last you all week.
The Dr. Scholl's Moleskin padding is the best option, but you will need to cut the roll up into pieces before you bring it into the park. We cut these into 1″ strips before leaving on our trip.
You also may opt for a travel size first aid kit instead.
7. Wet wipes
These are mandatory! Great for wiping down tables, chairs, sticky hands, and more. We love these small 6 pack pouches of wet wipes so you're not lugging around a giant pack of wipes!
8. Tissues
A travel pack of tissues is definitely worth throwing in your bag. Pick up something like this 8 pack of tissues to easily distribute among your entire group for all of the days you'll be at the park!
9. Lip balm with SPF protection
Trust us, get one of these lip balms with SPF protection for each family member. Put them in their pockets or backpacks and remind everyone to reapply often!
You do not want to have sunburned lips on vacation. Here is a 3 pack for less than 4 dollars!
10. Pain Medication
You definitely should bring some sort of pain medication into the parks. Bring some for both kids AND adults.
This can help with headaches, sore muscles, and aching feet. Choose the chewable option for kids.
11. Allergy Medicine
If you are prone to seasonal allergies definitely bring allergy medicine in your park bag. This is especially true if you are traveling from a completely different climate. Bring some for the whole family just in case.
12. Antacid Medicine
You will not be eating your usual food while on your Disney vacation! Throw some Tums in your park bag to ward off any upset stomachs. Hopefully you won't need it…but if you do, you'll be glad to have it!
Weather Related Items For Your Disney Park Bag
12. Sunglasses
Make sure you have your sunglasses! We suggest leaving the RayBans at home and getting an inexpensive pair to bring to Disney.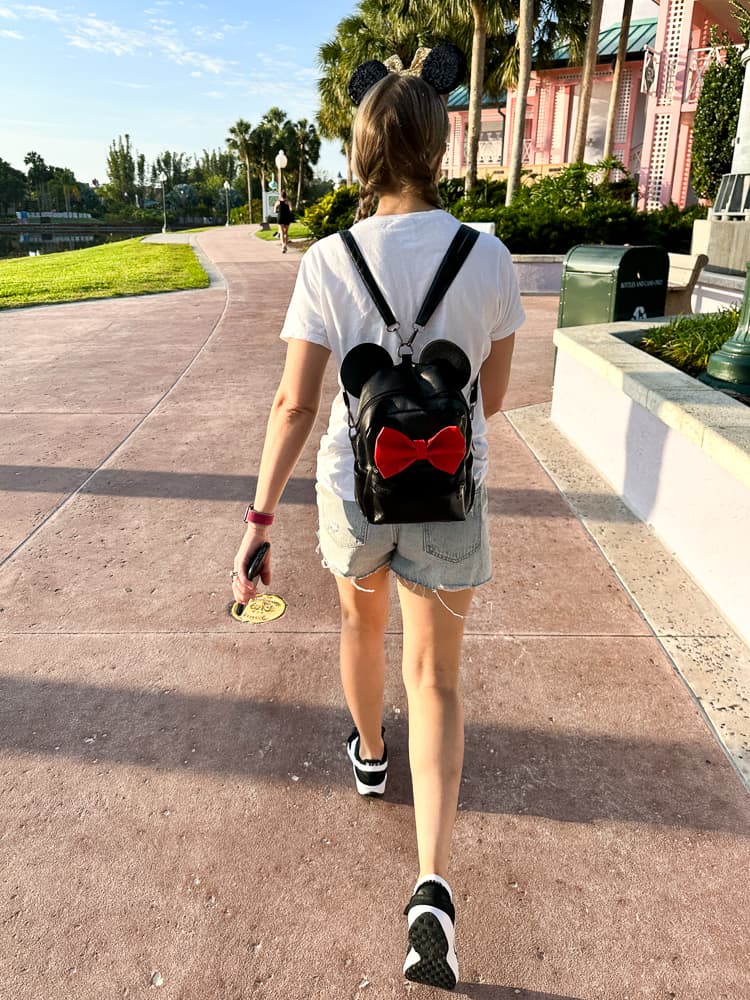 Disney World has 200 pairs of sunglasses turned into the lost and found every single day – you don't want your vacation ruined because you accidentally lost your favorite (expensive) pair of shades.
These sunglasses come in a variety of styles and colors for both men and women. They are less than $20 – and the best part – they come with a coupon to get another pair free! Katie owns several pair of these and loves them.
13. Hat
Any kind of baseball cap or sun hat will do! You don't need to put this in your backpack, but do put it on your list and on your head! A hat will keep the sun off your face and prevent sunburn.
14. Poncho/Umbrella/Rain jacket
If you are visiting Orlando during hurricane season or during the summer months rain showers are common. A cheap, dollar store poncho is something to consider tossing into your backpack. Of course, you can also opt for a more substantial expensive rain coat.
If you use umbrellas regularly, a fun Disney themed umbrella would be fun to bring!
We have an entire post dedicated to the best rain gear for Disney – including ponchos, rain jackets, and shoes! You can see why we suggest ponchos over rain coats if you are in the market for purchasing something for your trip.
15. Sunscreen
Bring a small bottle of sunscreen with you in your backpack. We recommend one of the stick style sunscreens – you will likely need to reapply sunscreen to your face and these make the task easy.
Plus, you will not have the risk of sunscreen accidentally opening in your backpack and squirting all over.
16. Fan
If you are in Disney World during the summer months the heat can be absolutely brutal. A battery operated or rechargeable fan can be a lifesaver in the sweltering afternoon heat and humidity.
Get one that can strap onto a stroller to help keep your little ones cool.
17. Cooling Towel
Cooling towels are another easy way to "keep your cool" during the summer. These take up very little room in your backpack. These are especially great to help kids stay cool and keep going on long park days. Additionally, if you happen to get the Disney Rash these can help for treatment in the parks or in the hotel. (See how Katie got rid of her Disney rash super fast here!)
18. Misting Water Bottle
Some people swear by a misting water bottle! If you are especially sensitive to heat this might be a good option for you. Hollywood Studios has very little shade and the heat can be a beast, so consider packing this! Throw some loose ice in here from your hotel to make it extra cold.
19. Lightweight jacket
If you are visiting Disney World in a cooler month it is a good idea to put a lightweight jacket, long sleeve shirt, or sweatshirt in your backpack.
It can be quite cool in the mornings at the bus stop and while watching the fireworks.
When we went in April of 2023 one of the days it was so chilly that Jen kept her sweatshirt on most of the day! Of course the following days were so hot we couldn't stop sweating. You have to be prepared when you go to Disney!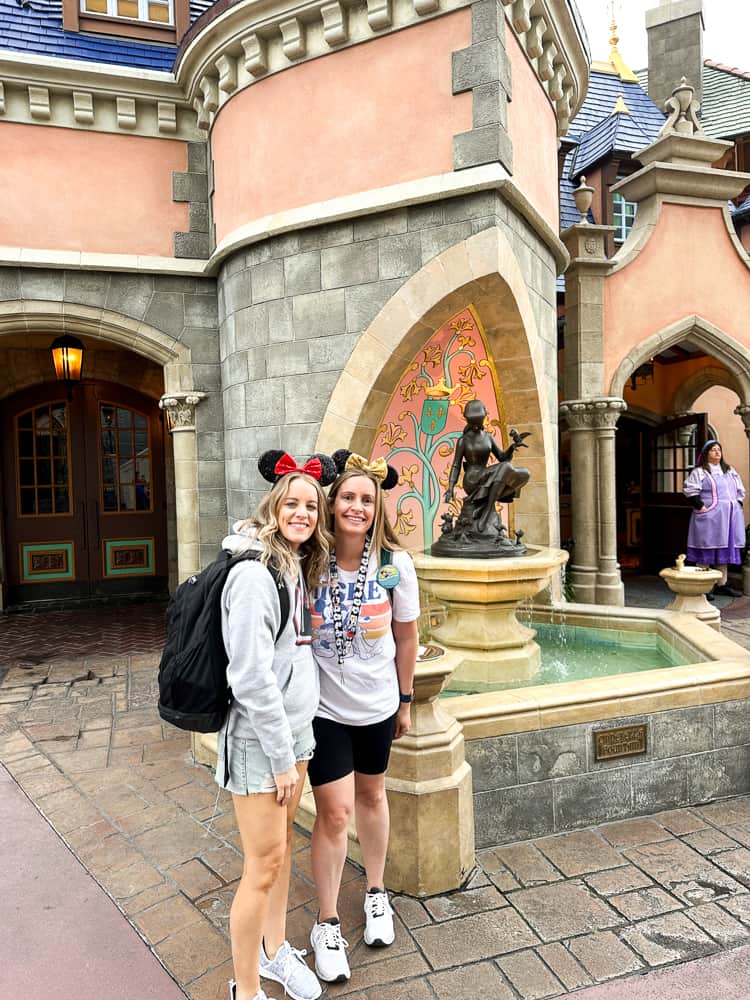 20. Quick Dry Towel
A small quick dry towel is a good year round thing to consider. Use this to wipe off chairs after it rains, to dry hands, and for something to sit on! It can work to wipe up spills from toddlers, a bib, and to wipe away sweat.
Food and Drink Items
20. Water bottle
Bring a refillable water bottle into the Disney theme parks (and water parks)! You can fill your water bottle in the parks and quick service restaurants will give you a cup of ice cold water that you can dump into your water bottle! This is a fantastic way to save money as bottled water at the parks is very expensive.
We recommend lightweight, plastic, inexpensive water bottles, especially if you are carrying your children's water bottles as well as yours in your backpack. All our favorite water bottle options are listed here.
21. Snacks
Yes, you CAN bring your own food into the Disney World theme parks! You and your kiddos could go quite a while between meals so make sure you have healthy snacks. Bring your own snacks that won't melt easily, such as pretzels, granola bars, raisins, nuts, or crackers.
Pro tip – bring snacks that you don't normally have at home. If you can find Disney themed snacks bring those!
Your kids will feel like they are getting a special snack and will be less likely to whine about not getting the ice cream bar they see another kid eating! If you are staying at a Club level at your Walt Disney World Resort grab some items to bring with you to the park.
Keep in mind you cannot bring glass containers into the parks. You may also consider bringing a small cooler with reusable ice packs
22. Silicone Straws
Disney only offers paper straws which is not an ideal way to enjoy many of our favorite Disney snacks. Packing some silicone straws can make that $12 milk shake splurge more enjoyable.
This may sound like a silly add but trust me, it was so worth it. We had numerous times when we literally couldn't drink our drinks because the straws were either too small or had gotten too warped to be useful. We were so glad we had these!
These particular straws come in a straight or bent style:
23. Gum
Did you know that Disney World doesn't sell gum anywhere? If you want gum, you'll have to pack it!
24. Plastic Bag (Ziploc bags)
Ziploc bags are perfect for storing leftover snacks. We recommend throwing a few plastic bags of different sizes in your backpack for the day!
Park Bag Items for Kids
25. Pins for trading
If your child (or you!) are in to pin trading, be sure to pack some pins and a lanyard! Not sure what pin trading is? Check out this post for the full run down.
26. Autograph Books
Autograph books are a must have item for kids who want to meet their favorite Disney characters. Did you know that there are lots of ways to collect autographs?
Our favorite is using a picture frame mat! When you get home you can put it in a frame with your favorite Disney photo. You can find all our favorite ways to collect autographs here.
27. Change of Clothing
We recommend putting a change of clothing in a gallon size ziplock bag for your child. If you get caught in a down pour, if your child spills a sticky drink all over, or if he has an accident you have what you need.
Take off the wet clothes and put them in the ziplock to keep the rest of your bag dry.
28. Glow Sticks
Glow sticks super fun for the kids if you are at a Disney park after dark!
29. Stroller identification
If you are bringing or renting a stroller while you are in Walt Disney World we highly recommend bringing some sort of stroller identification.
People have brought signs, plastic flowers, balloons…anything that will help identify your stroller out of the hundreds in the park. For more information about strollers, go here.
Purchasing these items before you go to Disney World is an easy way to save some money and to feel prepared. Of course, you may not need all of these items, so only take what you will need for your family.
Am I allowed to bring a bag into the Disney World Parks?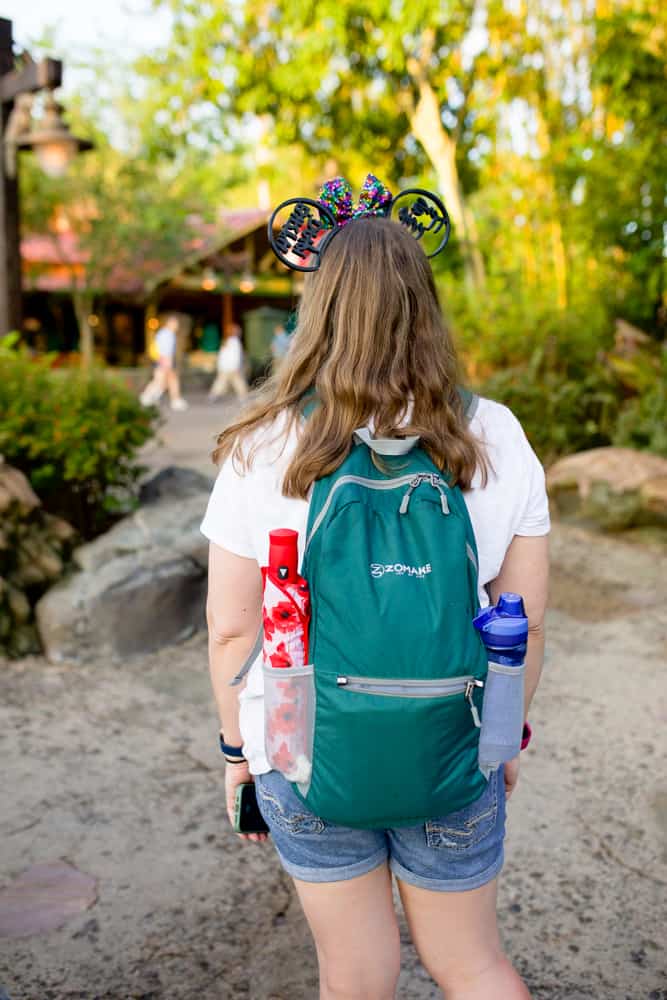 YES! Not only can you bring bags into the Disney parks and Disney Springs but you can bring them on the attractions. Disney used to require all bags get screened but now that's not the case.
You will have to get your bag checked if you have an umbrella, camera/camera battery, metal water bottle, metal glasses case or metal can of sunscreen. However, you can take those out, hold them away from your body as you walk through the metal detecter and you can typically bypass getting your bag checked!
Our favorite park bags are here.
For more packing help, be sure to check out our month by month clothing guide. We also have the ultimate Disney packing list to help make sure you don't forget anything!