You have planned your Disney World trip through every last detail. If you are using our Disney Vacation timeline for planning, you have worked on purchasing tickets, getting dining reservations, and figuring out Genie+ for several months. Here we are at one of the final details: What do you need to pack in your daily Disney park bag?
Please note: Disney With Dave's Daughters is a participant in the Amazon Services LLC Associates Program. This post may include affiliate links which means I may earn a small commission if you shop using the links below at no additional cost to you.
Obviously, there are many personal items that only you can decide to put on your list. With that in mind, we would like to give you a list of basic things which will not only make your touring of the parks more efficient, but it will save you money and time!
Before we jump into the list, we need to cover a few basics.
Am I allowed to bring a bag into the Disney World Parks?
YES! Not only can you bring bags into the parks but you can bring them on the attractions. You will need to have your bag checked by security as you enter each park. We suggest you have your bag unzipped and every item in the bag unzipped so security can quickly look in and move you along.
If at all possible, use see through bags (ziplock bags, for example) for items in your large bags as this really helps in the screening process. You do not want to waste extra time in the bag check line. If you have a stroller, you will likely need to empty the space under the seat or pocket storage compartments.
What should I use to carry around my items?
This needs some serious thought! First, figure out how much stuff you are actually bringing into the parks. You don't want a huge bag with only a few things in it but you also don't want to bring in a overly stuffed bag. You want to be able to get to your items quickly and without hassle.
There are two main points of consideration when choosing a backpack:
1. Comfort: You will be carrying this backpack around all day so it must be comfortable
2. Organization: You want to be able to find the items you need quickly and without irritation.
We have an entire post dedicated to a wide variety of backpacks, coolers, and bags. To get you started, we would recommend a good backpack like this one. This backpack has a cushioned back panel, comfortable straps, and enough zippers and compartments to keep you organized and not overwhelmed. A nice backpack like this one may be more than you were originally planning on spending, but it will last you for years. This particular backpack is $75 and we feel it is worth every penny.
If you are not afraid of the fashion police pulling you over just as you are getting on Space Mountain and you want a great, secure, smaller bag, consider strapping on a "bum bag" or "fanny pack" as we used to call them. You can get your phone, money and other important stuff in there, it's pretty comfortable and super secure!
We recommend this fanny pack! If you are looking for something Disney themed we have 21 fantastic options here.
Remember that there are lockers in every park. If you only want to carry smaller things, you can store the bigger things in the locker and retrieve them later or as needed (example, ponchos or a picnic lunch). Personally, we are not a big fan of lockers simply because of the time element but it really depends on how streamlined your group is.
Now that you have your backpack or fannypack picked out, here is what we suggest putting in it! This is the bare minimum of what you should have on your checklist:
Disney Park Bag Checklist
1. Cell phone (and cord!)
By far, this is the most important item you need! Be sure you have the My Disney Experience App on your phone. Park information, your touring plan, communication, pictures and everything else you will need is attached to your phone. Be sure to turn off any apps you aren't using to save battery power!
Because your phone is the most important item, you will need to make sure it's running all day. You don't have time to plug it in so you will need a portable phone charger.
If you are in a group with several cell phones you may want to consider two or more portable chargers. This slim, lightweight portable charger has almost 34,000 reviews on Amazon with 4.5 stars! We have 8 additional great options here, including one that has a solar power option!
3. Magic Bands
These should be on your wrist, and you really shouldn't take them off, but be sure you have your magic bands on your list. You do NOT want to show up at the park and realize you left your magic band on the hotel night stand.
4. Park maps/touring plans/day itinerary
You may have your touring plan and itinerary on your phone. If you are old school, you may have this on paper. Just make sure you have it them.
We do suggest grabbing a paper parks map – if you are in the Magic Kingdom have ONLY the Magic Kingdom map in your bag. It saves batteries on your phone to look at a paper map, and oftentimes it can be faster and easier to navigate.
5. Cash, credit card, ID
You never know when you will need these items. You need to decide if you want to use your magic band to make purchases (it can be connected to your credit card).
Personally, we prefer to use the magic band as it is one less thing to lose in the parks, but many people would rather use their actual card. Figure out your plan before you go and pack your bag accordingly.
This slim leather wallet would be a great option to throw your cards and cash in. It is less than $10, comes in a TON of colors, and has RFID blocking technology. It great reviews on Amazon!
Stay away from metal, heavy duty water bottles. These add extra weight to your backpack and truly are not worth it for your Disney trip.
You can fill your water bottle in the parks and any quick service restaurant will give you a cup of ice cold water that you can dump into your water bottle!
Drink up – you don't want to get the Disney Rash!
We recommend lightweight, plastic, inexpensive water bottles. You don't want to lose your expensive hydro flask on this trip!
7. Snacks
Yes, you CAN bring food into the Disney Parks! You and your kiddos could go quite a while between meals so make sure you have healthy snacks. Bring foods that won't melt easily, such as pretzels, granola bars, raisins, nuts, or crackers.
Pro tip – bring snacks that you don't normally have at home. If you can find Disney themed snacks bring those! (For example, Goldfish crackers often have Mickey themed options). Your kids will feel like they are getting a special snack and will be less likely to whine about not getting the ice cream bar they see another kid eating!
8. Bandaids or a First aid kit
We aren't talking anything big. Get a quart or snack size ziplock bag and put bandaids (Disney themed, of course!), itch cream, ibuprofen and aspirin in it. Be sure to have both adult and child medicine – opt for the meltable/chewable rather than liquid.
These are mandatory! Great for wiping down tables, chairs, sticky hands, and more. We love these small 6 pack pouches of wet wipes so you're not lugging around a giant pack of wipes!
A travel pack of tissues is definitely worth throwing in your bag. Pick up something like this 32 Packs of 9 Tissues to easily distribute among your entire group for all of the days you'll be at the park!
Make sure you have your sunglasses! We suggest leaving the RayBans at home and getting an inexpensive pair to bring to Disney. Disney World has 200 pairs of sunglasses turned into the lost and found every single day – you don't want your vacation ruined because you accidentally lost your favorite (expensive) pair of shades.
These sunglasses come in a variety of styles and colors for both men and women. They are less than $20 – and the best part – they come with a coupon to get another pair free! Katie owns these and loves them.
Bring a small bottle of sunscreen with you in your backpack. We recommend one of the stick style sunscreens – you will likely need to reapply sunscreen to your face and these make the task easy. Plus, you will not have the risk of sunscreen accidentally opening in your backpack and squirting all over.
Trust us, get one of these lip balms with SPF protection for each family member. Put them in their pockets or backpacks and remind everyone to reapply often! You do not want to have sunburned lips on vacation. Here is a 3 pack for less than 3 dollars!
Any kind of baseball cap or sun hat will do! You don't need to put this in your backpack, but do put it on your list and on your head!
15. Light jacket/hoodie
Depending upon the time of year a lightweight jacket or hoodie is necessary for those early magic hours in the park and when you are out after the sun goes down. Get one that is not bulky, such as this one.
If you are visiting Orlando during hurricane season or during the summer months rain showers are common. A cheap, dollar store poncho is something to consider tossing into your backpack or you might consider something more substantial like this.
If you use umbrellas regularly, a fun Disney themed umbrella would be fun to bring!
Or consider your lightweight jacket (from above) being waterproof. This one comes in a bag for easy storage in your backpack. We have an entire post dedicated to the best rain gear for Disney – including ponchos, rain jackets, and shoes!
If You Are Worried About The Heat…
The following items are "as needed". If you think you can handle the heat we suggest leaving these items at home. However, if you feel the heat will really disrupt your Disney experience for you or the kids, then by all means, pack these items!
Other Items To Consider
Many Disney travelers participate in pin trading and collecting autographs. You may want to add these to your list:
Pins for those do Pin collecting.
Autograph book for those who gather autographs. We have a ton of our favorite options here.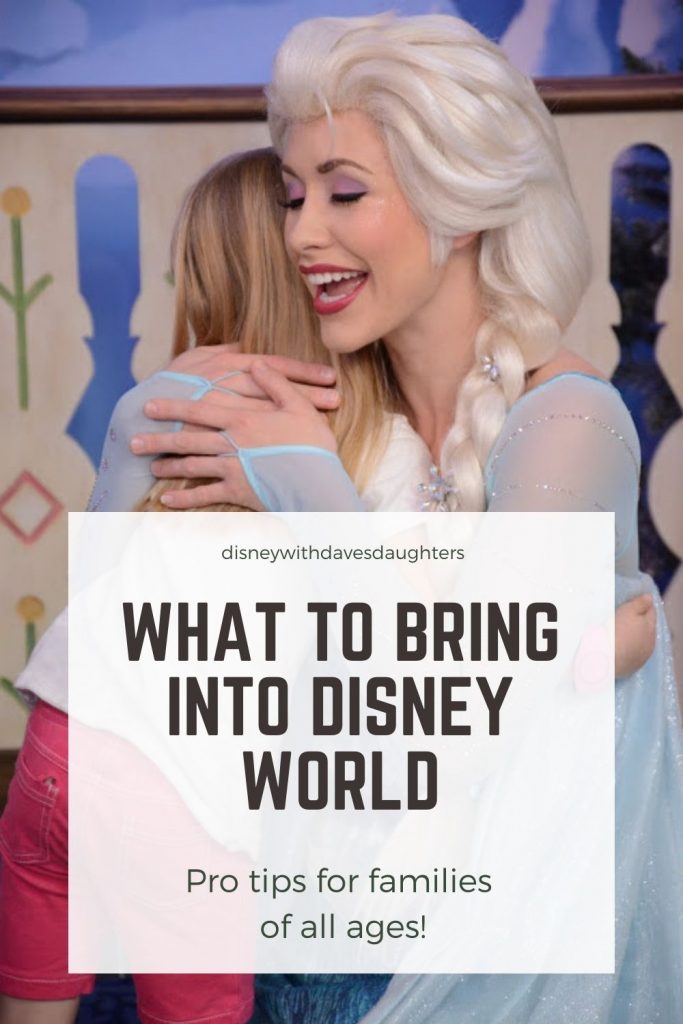 Finally, here are some other items we recommend you consider taking into the park. Personally, we have brought gum and smart watches on our last Disney Vacation. Our next Disney Vacation we will absolutely be bringing glow sticks in our day pack!
Change of clothes – so many ways to get wet and they are nice to have.
Picnic blanket/Towel – not just for drying but sitting on at parades and wet rides.
Glow sticks – super fun for the kids if you are at a park after dark. Get these at the dollar store.
Plastic storage bags – bring different sizes for different uses including keeping important things dry if it rains or on a water ride.
Smart watch – to track your miles
Bug spray (we have never needed this)
Gum – no gum at the parks
Use this list as your starting point for what to bring with you in your bag! We recommend getting all these items before your trip so that you will save money. We have a full list of 14 recommended items to buy before you Disney Vacation here. If you are looking for tips to save money, we have 15 tips to go to Disney on a budget here! For example, did you know that you save money if you use a travel agent? Be sure to check out the other tips – you can't afford to miss it!