Tiana is the ninth official Disney Princess! She is the heroine in the movie "The Princess and the Frog."
The Princess and the Frog was released on December 11, 2009. It was directed by John Musker and Ron Clements who also directed Aladdin and The Little Mermaid. The movie is based on the novel "The Frog Princess" which was written by E.D. Baker and is based on a story by the Brothers Grimm.
The Princess and The Frog started what has been known as Disney's "New Age Renaissance." Splash Mountain in Disney World is currently getting renovated to become "Tiana's Bayou Adventure"!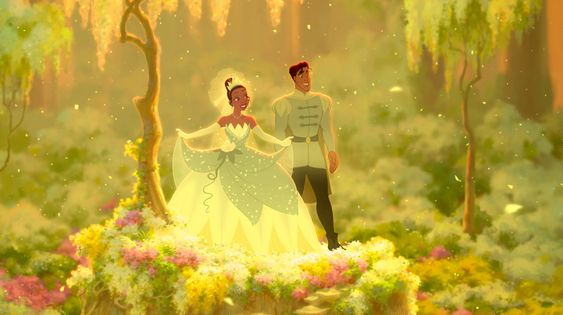 The Princess and The Frog Summary
Tiana dreams of opening up her own restaurant someday. Her dream takes a turn when she meets Prince Naveen, who has been turned into a frog by Dr. Facilier. Naveen believes Tiana to be a princess and kisses her, hoping to break the spell. Instead, Tiana turns into a frog as well.
Tiana and Naveen head through the bayous in order seek the help of Mama Odie. With the help of Louis, Tiana and Naveen try to break the spell before it is too late.
Who is Tiana's Prince?
Prince Naveen is Tiana's prince.
Who Voiced Tiana in the Disney Film?
Tiana was voiced by actress Anika Noni Rose. Elizabeth M. Dampier voiced the character when she is shown as a child. Check out Anika describing Tiana in the video below!
What does Tiana sing?
Tiana sings "Almost There" as well as "Down in New Orleans (Prologue).
The Princess and The Frog Characters
Tiana is the main character and protagonist of this movie. Her parents are Eudora and James.
Prince Naveen is the oldest prince of the kingdom of Maldonia.
Dr. Facilier (also known as the shadow man) is the villain witch doctor in this story.
Charlotte La Bouff is Tiana's best friend.
Mama Odie is the voodoo priestess.
Louis is the trumpet playing, jazz loving alligator.
Fun Facts about The Princess and The Frog
Music for this film was done by Randy Newman who is well known for his musical involvement in Pixar films such as Cars and the Toy Story movies.
This was the first hand drawn Disney movie since 2004. When Toy Story came out many movies went to CGI animation. The Princess And The Frog was a welcome return to hand drawn movies.
Tiana Quotes
"There's no way I'm kissin' a frog and eatin' a bug on the same day."
"Lawrence! Glad to see you're finally gettin' into the music. Do you get my joke? Because your head is, it's in the tuba."
"Prince Naveen: You must kiss me.
"My daddy never did get what he wanted. But he had what he needed. He had love! He never lost sight of what was really important. And neither will I!"
"The only way to get what you want in this world is through hard work."
"It serves me right for wishing on stars."
"I'm gonna do my best to take my place in the sun."
"Goodnight Cal's, good morning Duke's."
"I've climbed the mountain, I've crossed the river, and I'm almost there."
"My dream wouldn't be complete without you in it."
"If you do your best each and every day, good things are sure to come your way."
"There's magic in the air tonight, and anything can happen."
"When you hear that music playin', hear what I'm saying, it make you feel all right."
"Congratulations on bein' voted king of the Mardi Gras parade."
"Beignets? Got me a fresh batch just waitin' for you."
Official Disney Princesses
How well do you know all the Disney princesses? Who is your favorite? Check your Disney princess knowledge here: