The fall of 1971 was a magical time! Disney's Magic Kingdom was about to open.
At that time there was no EPCOT, there was no Animal Kingdom, there was no MGM Studios (which now is called Disney's Hollywood Studios). Life was very different back in the 1970s, and a brand new theme park was about to open that would change both The Walt Disney Company and Florida forever.
Here are some fun and amazing facts about the early days of Walt Disney World.
When did Disney World open?
Walt Disney World opened its doors for the first time on October 1, 1971. It was called "The Most Magical Place on Earth."
On opening day, Mickey Mouse led the first guest, William Windsor Jr. down Main Street in a parade. Man, wouldn't you have wanted to be him?
Disney World had its Grand Opening Celebration party on October 23-25, 1971. There was a musical television special that aired on October 29. Julie Andrews sang classics such as "Zip-A-Dee-Do-Dah" and "It's A Small World." Bob Hope dedicated the Contemporary Hotel. A parade and other musical numbers were performed – it was quite the event!
There were 5000 cast members at that first opening. Just as a comparison, today there are approximately 77,000 people employed by Walt Disney World.
The opening day crowd at Disney World was 10,000 people. Just as a comparison, today the average crowd to just the four theme parks is approximately 160,000 – thats about 58 million people per year.
Walt Disney's Plans For Disney World
Walt Disney opened Disneyland on July 17, 1955. One of the biggest problems with Disneyland was that it had no availability for expansion. Walt decided he wantd to build a second theme park on the East side of the United States. He settled on Florida due to its pleasant weather throughout the entire year, and the fact that it already had an established tourism industry.
Walt started looking for the perfect location in Florida, and in 1964 and 1965 he secretly started buying acres and acres of land.
Walt Disney finally spilled the beans on November 15th, 1965 that he was building what would become Walt Disney World. Incidentally, Walt ended up paying 5 million dollars for 43 square miles of land.
Did Walt Disney die before Disney World opened?
Walt had the plan for Disney World many years before it opened but, unfortunately, he never saw it materialize because he passed away on December 15, 1966 from lung cancer. Walt never got to see anyone enter the place he had invested so much time, energy, and money.
Walt's brother, Roy, came out of retirement took the helm to push the park through to completion. After Disney World opened, Roy passed away the same year in December.
The park was going to simply be called Disney World but Walt's brother, Roy, insisted that it always be called Walt Disney World and that's exactly what it is.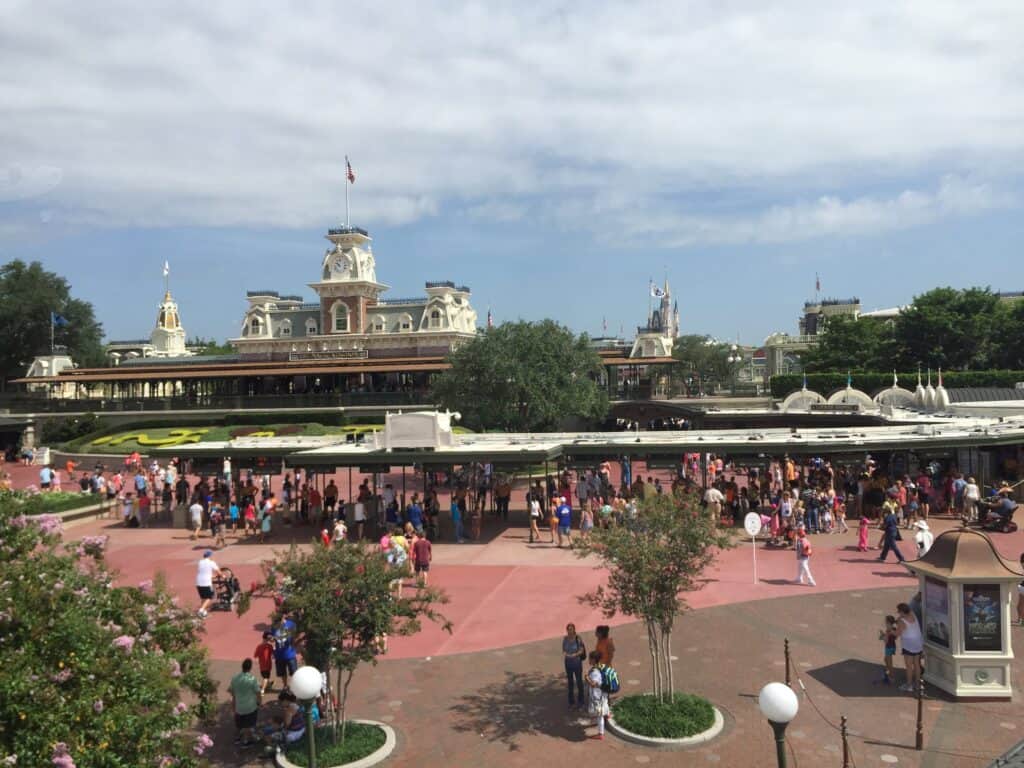 Opening Day Ticket Prices
Ticket prices on opening day were $3.50 for adults, $2.50 kids under 18 and $1.00 for children under 12. Just as a comparison, today the basic bare bones ticket price starts at $109.
How much did it cost to build Walt Disney World?
The amount of money to build Disney World was $400 million which sounds like quite a bit of money. This actually isn't much when compared to $3.5 billion which has been the cost of all the additions.
Disney World Resort and Hotels At Opening
In 1969 Walt Disney announced that there would be at least five "theme resorts" at Walt Disney World.
Contemporary Hotel and Polynesian Village Resort
At opening, the only Hotels that Disney had open were the Contemporary Hotel and the Polynesian Village Resort. These are now two of Disney's most popular Deluxe level resorts. Disney's Fort Wilderness Resort and Campground was also open in 1971.
You can check out some pretty amazing photos of the contstrution of these hotels here.
In the 1970s the Contemporary and Polynesian Village Hotels would set you back starting at $24 and if you wanted to really splurge, you would need to pay a whopping $44!
The remaining hotels that were in the original "phase one" plan never came to be. Of course, other hotels and incredible resorts have taken their place.
Today there are currently 36 resorts at Walt Disney World, including nine Disney Vacation Club properties. In total, today Disney World has over 30,000 hotel rooms, 409 wilderness cabins, 799 campsites, and 3,293 DVC units. Quite a change over the years.
One Disney Park – The Magic Kingdom
In 1971, there was just the one theme park: Disney's Magic Kingdom. There were a few golf courses, and of course, a couple resorts. Since then three additional theme parks have been added: Epcot in 1982, Disney's Hollywood Studios in 1989, and Disney's Animal Kingdom in 1998.
Opening Day Magic Kingdom Attractions
Nineteen attractions were at the very first opening of Walt Disney World in the Magic Kingdom. They were:
Country Bear Jamboree
Diamond Horseshoe Revue
Dumbo The Flying Elephant
Frontierland Shooting Gallery
The Hall of Presidents
Cinderella's Golden Carousel
It's a Small World
Jungle Cruise
Mad Tea Party
Mickey Mouse Revue
Mike Fink Keel Boats
Mr. Toad's Wild Ride
Skyway
Snow White's Scary Adventures,
Swiss Family Treehouse
Tropical Serenade
Grand Prix Raceway
Walt Disney World Railroad
Two weeks after opening, 20,000 Leagues Under the Sea opened to guests
The Hall of Presidents had its origins as an audio-animatronic exhibition called "Great Moments with Mr. Lincoln," which premiered at the 1964-65 New York World's Fair.
Tropical Serenade was sponsored by the Florida Citrus Growers and part of the beginning of Orange Bird. It eventually became the iconic Tiki Room attraction.
On opening day the Liberty Square Riverboat, Liberty Belle, a large paddle-wheel riverboat started to navigate the waters around Tom Sawyer Island and Fort Langhorn. It's still running today!
If you are interested to see which attractions Disney has abandoned over the years, check this out! You'll get some fun info about how Disney's Animal Kingdom came to be.
It is so fun to look back at Disney World and see how far it has come! Disney has made a huge impact in the world of entertainment, amusement parks, and films. The opening of Walt Disney World certainly added a huge dimension to the company.
FAQ
When did Disney World open to the pubic?
Disney World opened to the public on October 1, 1971.
How long did it take to build Disney World?
It was just under 6 years from Walt's announcement of his plans for Disney World to opening day.
Which came first Disneyland or Disney World?
Disneyland in California opened before Disney World.
Did you know that Disney's Mickey Mouse was the first animated character to speak in a movie? You can find 18 additional fun facts about Mickey here!
If you are in Walt Disney World today be sure to try to meet some of the characters! Find out how to do that here.