Sleeping Beauty and Cinderella have a lot in common! Both are princesses, both got married to stud prince's and are living happily ever after. Both have awesome homes!
Sleeping Beauty and Cinderella each have a castle that is located in two of the happiest places on earth (which would make sense if you are living happily ever after). Where are those places you ask? The two Walt Disney World parks in America!
Sleeping Beauty lives in a castle in Disneyland, California.
Cinderella lives in a castle in Disney World, Florida.
So the question at hand is this: who has the better digs? When the Disney princesses get together at Jasmine's place for a tea party and the conversation starts to weave to who's castle is better, how does it play out? Wouldn't you like to be a fly on the wall for that conversation?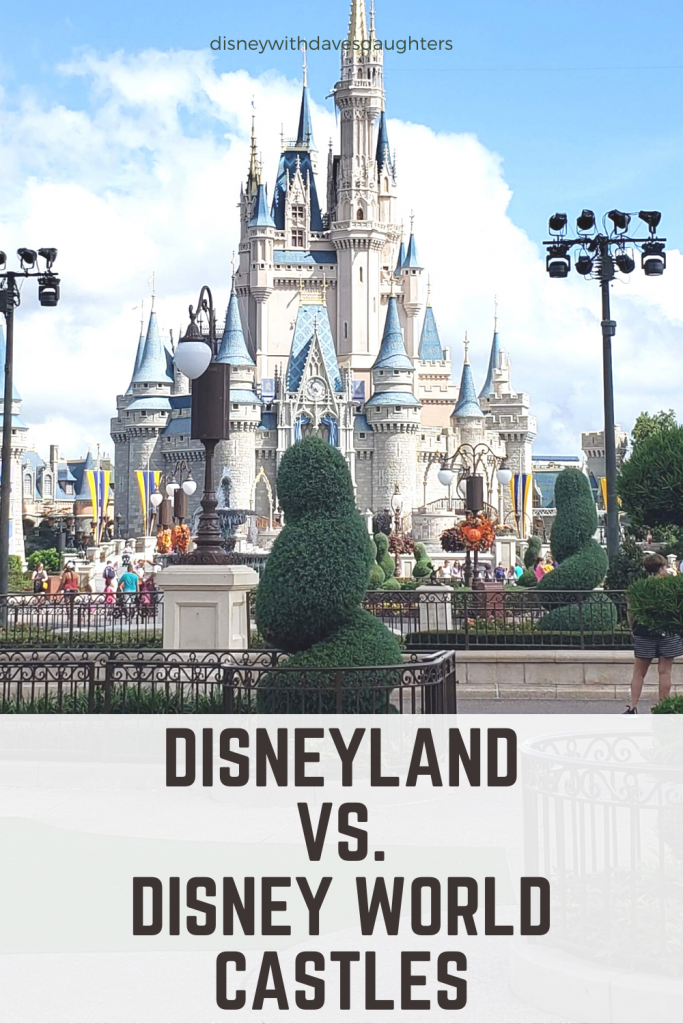 We thought it would be fun to take a look at both of these beautiful castles and give some facts and figures about each one and let you decide which is better.
When Did Each Disney Castle Open
Sleeping Beauty Castle
Located in Disneyland in California, this castle took 18 months to be constructed and debuted on July 17th, 1955. It was based on the late 19th century Neuschwanstein Castle in Bavaria, Germany and the construction was personally overseen by Walt Disney himself.
Originally the inside was to be used as storage but Walt saw that as wasted space, so in 1957 they made a walkway through the castle.
Cinderella Castle
Walt Disney started his Florida Project in the 1960s, and gave a formal announcement in 1965 that "the biggest thing we've ever tackled" was coming. Disney World was on its way….and with it, the castle!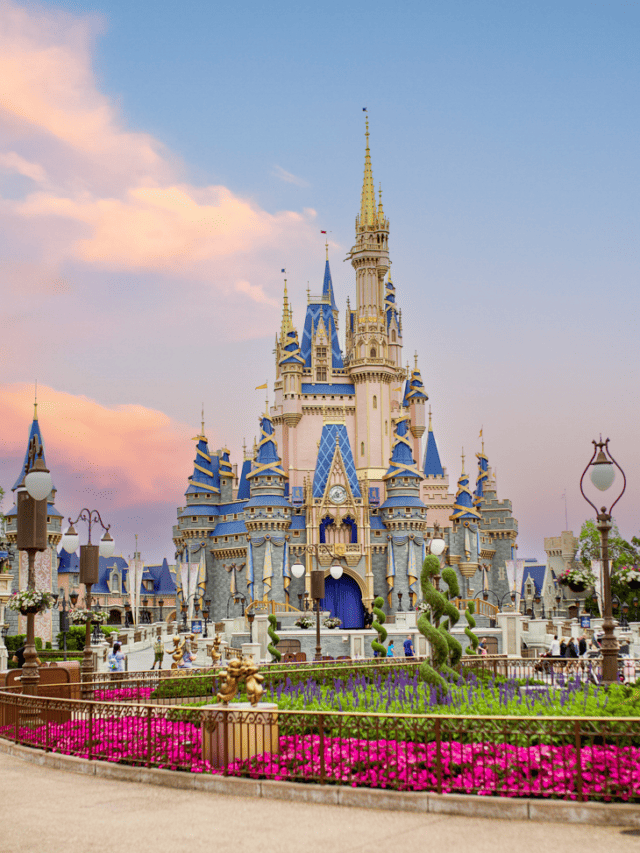 Located in Walt Disney World in Orlando, this castle was finished in July of 1971 with an official opening date of October 1 of the same year. It was based on a variety of Castles throughout Europe, including the Neuschwanstein Castle, as well as fictional palaces.
This castle had a lot more going for it from the beginning including a much bigger budget than the Disneyland castle. It took 18 months of construction to finish this magical castle. You can find out more about Disney World's opening here.
How Big Are The Disney Castles?
How Big Is Sleeping Beauty's Castle?
The California Disneyland castle was designed by Herbert Ryman as he and Walt sat down to sketch what the park might look like. After he had the original concept, Imagineer, Fred Joerger created a model that they presented to Walt for final approval.
The overall size of this castle is 77 feet high with 22-karat gold-leafing adorning the spires, which is rumored that Walt snuck in past his brother, Roy Disney.
A nearly identical copy of Sleeping Beauty's castle could be found in Hong Kong Disneyland up until 2020. In 2020 the castle became redesigned in a tribute to the Disney Princesses. Disneyland Paris also has a close replica of the Sleeping Beauty Castle.
How Big Is Cinderella's Castle?
The Florida castle is 189 feet tall which is more than 100 feet taller than the Sleeping Beauty Castle! It has 27 towers on it, each one numbered. Originally there were 29 towers but 2 could not be seen anywhere in the park so they removed them.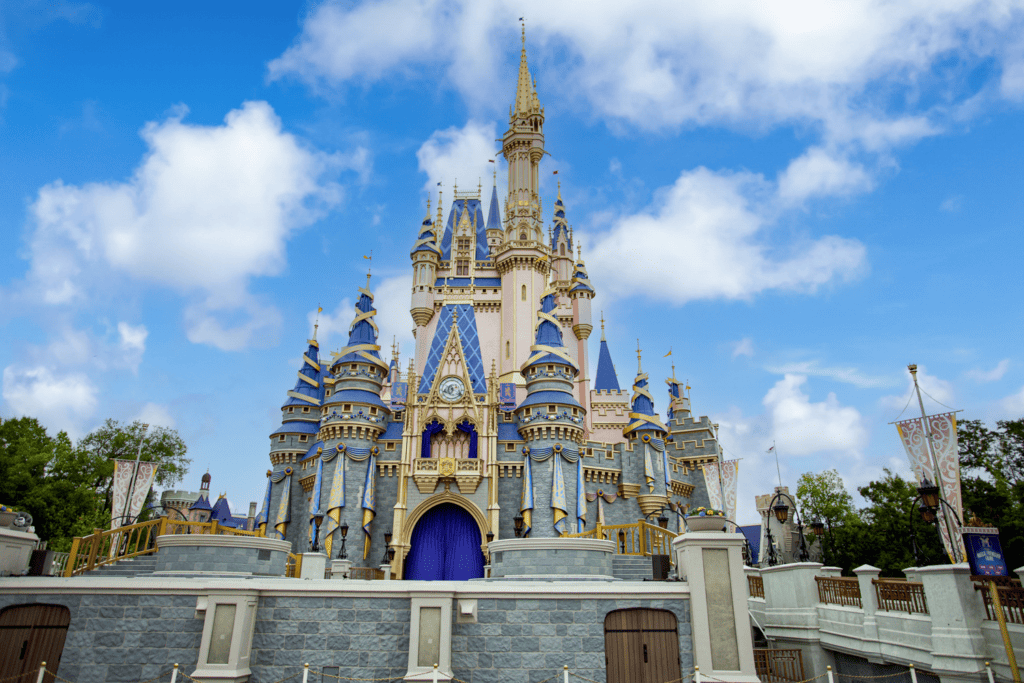 Because of it's bigger size, there are more rooms and services inside the castle including a restaurant, a suite, a kitchen, a boutique and 3 elevators.
Tokyo Disneyland has a replica of the Cinderella Castle with Cinderella's Fairy Tale Hall inside. The Cinderella Castle Mystery Tour took place in Tokyo, not Orlando.
Photo Credit Alexis Larcy
Unique Features of Each Disney Castle
Each of the Disney castles has features and history that are unique to themselves. These fun facts and trivia add a depth of interest that we love.
Sleeping Beauty Castle
1. Actress Shirley Temple cut the ribbon at the opening of the castle.
2. Upon entering the castle guests can see scenes from the Sleeping Beauty film by two hand-rendered fresco paintings.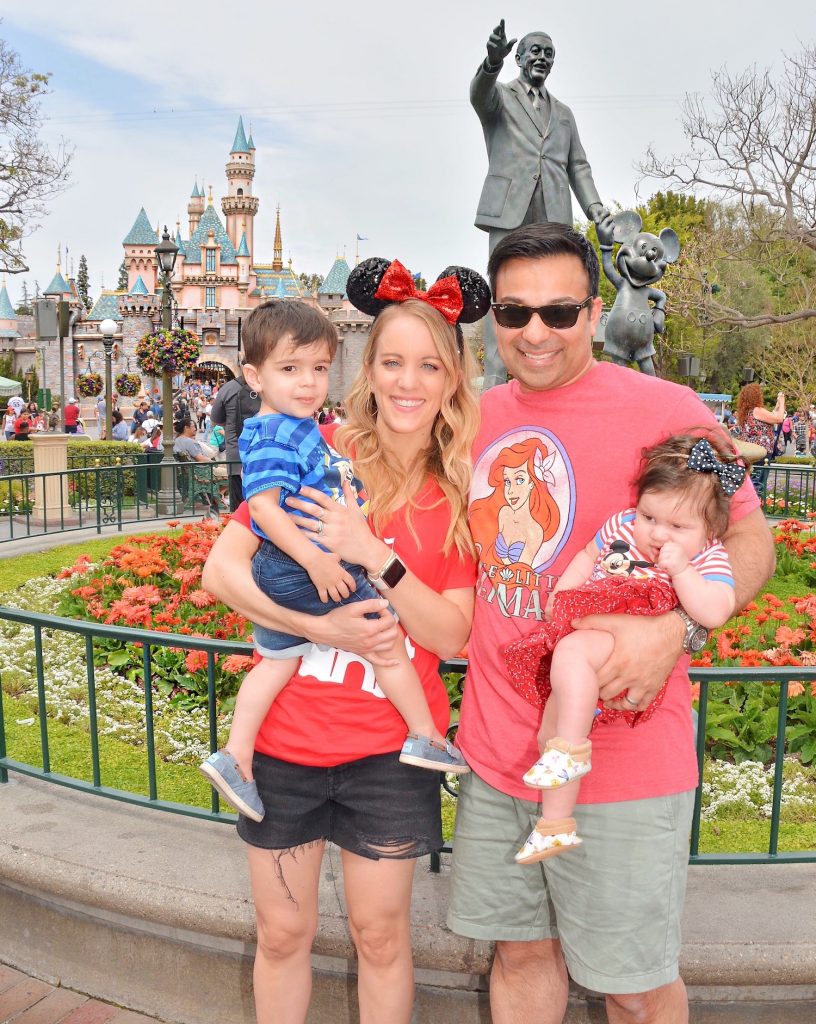 3. The Sleeping Beauty castle's drawbridge really works (unlike the Cinderella Castle's bridge). It has only been used twice: once in 1955 when the park opened and again in 1983 when Fantasyland was rededicated.
4. There is a "Sleeping Beauty Walkthrough" in which you can walk through the castle and watch the story of Sleeping Beauty through glass window displays. Enter the castle from Fantasyland and follow the path. You will end up on Main Street, USA.
5. There are three ways through the castle: over the drawbridge, through the narrow archway by the Heraldry Shop and a small path next to the Bibbidi Bobbidi Boutique.
6. It is a common myth that Walt Disney's family crest is above the archway to the castle. Actually, nobody knows the origins or meanings of the crest.
7. One of the spires is not gold plated which Walt wanted. He said "Disneyland will be incomplete so long as there is imagination in the world."
8. At the back of the castle is a gold spike in the ground. Many people think that this marks the center of Disneyland, however, this is not true! The gold spike was placed there by surveyors to make sure that the drawbridge lined up with Main Street, USA.
Photo Credit Alexis Larcy
Cinderella Castle
1. It appears that the castle is made of stones but there is not one stone used in the construction. The outside of the castle is made of fiberglass over steel and concrete.
2. It took six people 2 years to complete the beautiful mosaic murals inside the castle. These murals tell the wonderful story of Cinderella.
3. This castle has a stage in front for shows and the central hub of mainstreet becomes the audience viewing area. All of your favorite Disney characters will show up from time to time to put on shows in front of the castle. Sleeping Beauty castle does not have a stage area.
4. The rumor has been spun that the castle can be taken apart in case of a hurricane. Nope, that is not true, however, it can withstand 110 mile an hour winds, which is important as Florida often is in the path of hurricanes.
5. As mentioned earlier, the castle has a boutique called Bibbidi, Bobbidi Boutique where "fairy godmothers" give makeovers to kids to turn them into princesses and princes, a restaurant called Cinderella's Royal Table, and a bedroom suite.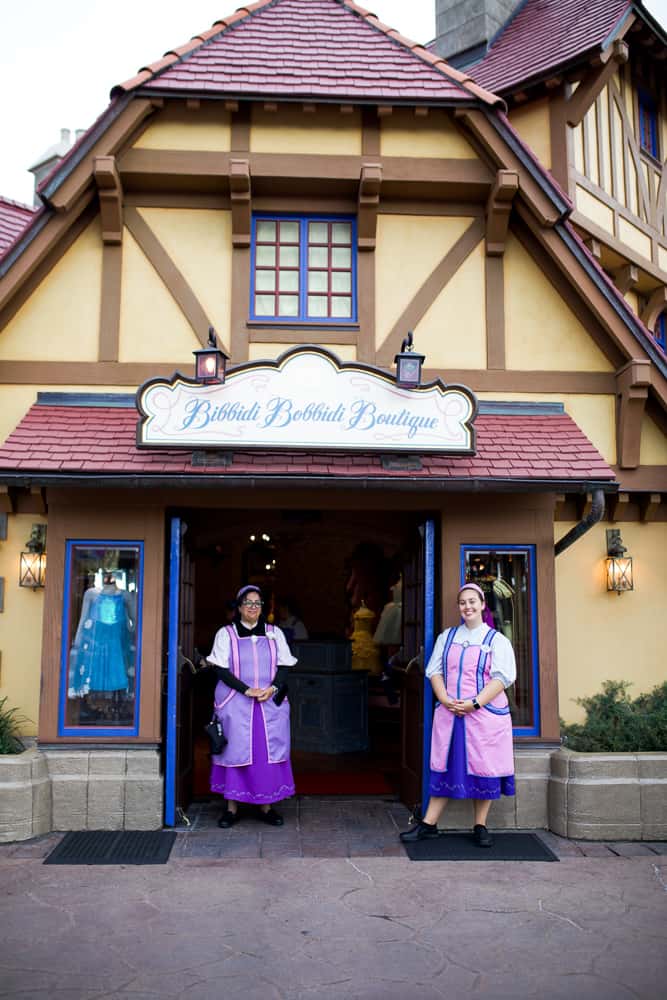 6. The suite was originally slated for the Disney family but after Walt died it was turned into a Dream suite hotel for special guests and prize winners (for example, winners of the Disney Dreams Giveaway). Unfortunately for all of us, the Cinderella Castle Suite is not rentable! It is gifted by Walt Disney World. You will just have to choose to stay in one of the 25 Disney Hotels instead.
7. There are more than 40 coats of arms on display inside Cinderella's Royal Table. If you want to see these, be sure to get dining reservations!
Photo Credit Alexis Larcy
8. Walt Disney World's Cinderella castle has become an icon not only of Walt Disney World's Magic Kingdom, but an icon of Walt Disney World itself.
What do both castles have in common?
1. Both castles are the centerpieces of the happiest places on earth. They are iconic representations of Walt's original dream where children of all ages could come and be "home".
2. Each castle is not only impressive structurally, but it serves an important function at their parks. In the words of Walt Disney, "Make it tall enough to be seen from all around the Park." "It's got to keep people oriented." Mary Sklar, a Disney legend described it as a "Visual target, designed to lead visitors clearly and logically through an experience." And it works! Everyday, people in both parks use it to get their bearings on where they are and where they are going.
3. Walt had a thought that the look of the castle could be intimidating and make guests feel like peasants because of their great size. To accommodate this, he had the castles constructed to seem big but in reality they are much smaller than realize. In doing this, they appear friendlier and more welcoming to families.
4. Both castles have a moat but Disneyland's is much bigger.
5. Both castles use a common Disney technique called "forced perspective" in which details like bricks and boards on the outside of buildings progressively get smaller to trick your eye that the building is bigger than it really is.
6. Both have brick simulation on the bottom and blue roofs with gold detail around the castles.
7. Tinker Bell flies out of the top of the castle in both castles in dramatic form each night!
8. Both have wishing wells: Snow White Grotto and Cinderella Wishing Well. Walt had a great idea that the wishing well would do two things. First, it would cause people to throw money in a designated place instead of the moat. Second, he could easily collect the coins and give them to charity.
9. Mickey Mouse does not live in either castle! Mickey, Minnie, and our favorite Disney characters will often do shows in front of the castles.
Which Disney castle is better?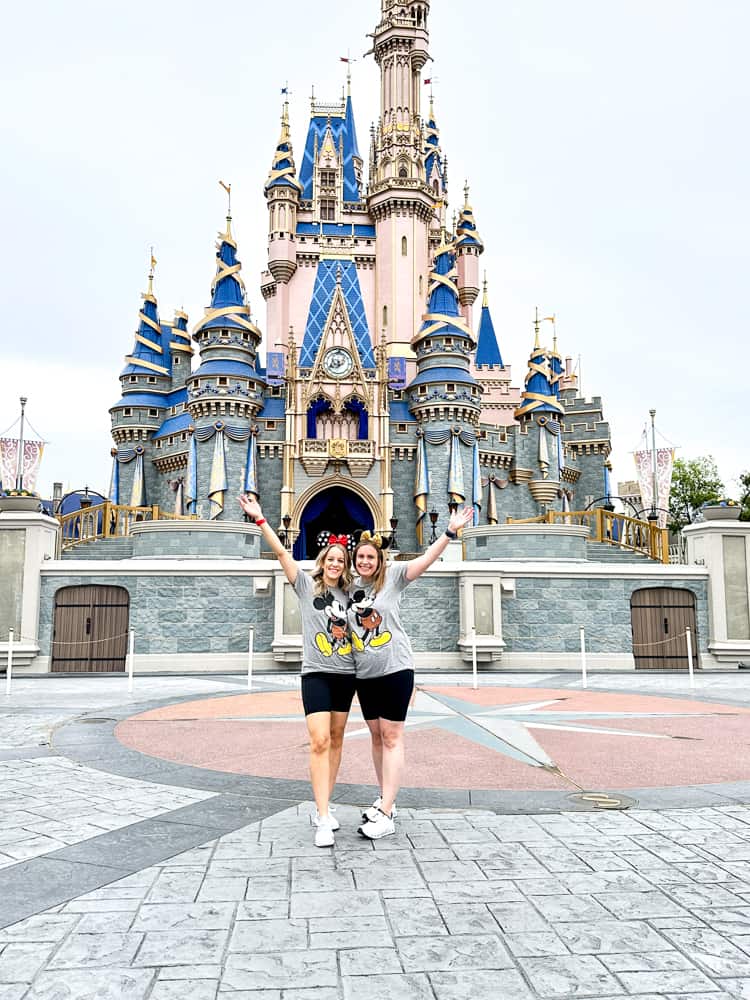 Sleeping Beauty's castle or Cinderella's castle?
That's like asking which daughter is the best. Both princess castles equally beautiful and special in their own way. Disney fans have their own opinions of which one is their favorite.
One thing we do know: there really is nothing like walking down Main Street and seeing that enchanted storybook castle in front of you. It is truly like being in a fairy tale, and it is one of the very best ways to start out your magical Disney day.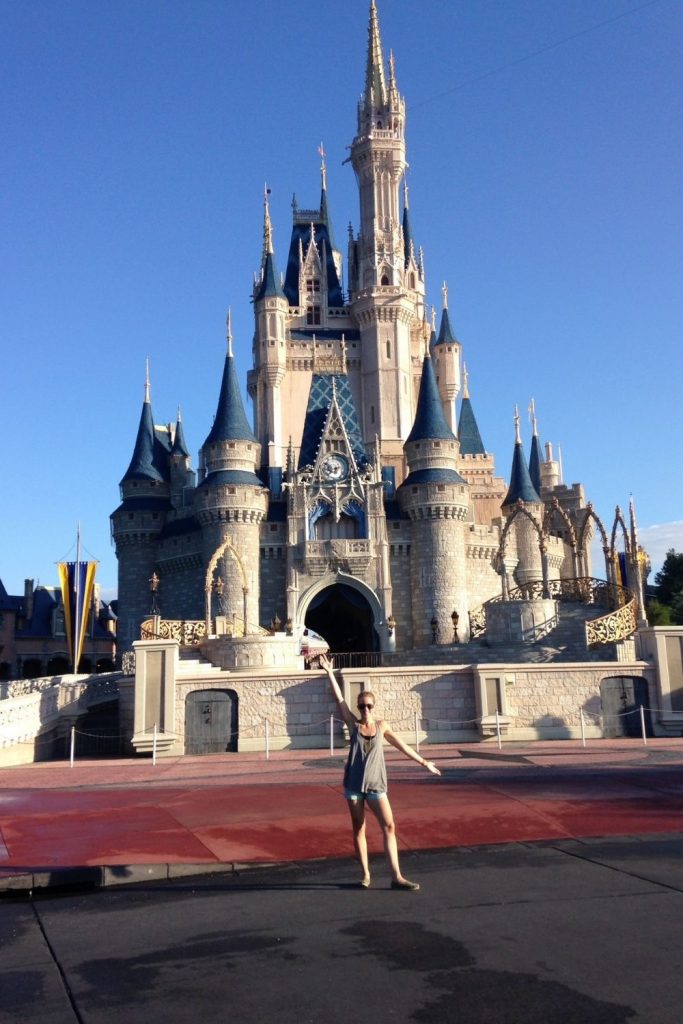 If you are with your kids and it is their first time seeing the castle, make sure you stop and let her take it in! You won't regret spending extra time enjoying the Disneyland or Disney World castle.
If you like Disney secrets, be sure to check out our fun facts about Disney World! Did you know that Disney doesn't sell gum? Find out more here!
If you want to know more about how Disney decorates for Christmas, including how the castle is decorated, head here!