Heading to Disney World? Taking kids? You may not realize it, but one of the most important things to do is to look into the height requirements for Disney rides.
You need to know what the Walt Disney World Height Requirements are for all the different attractions throughout all the parks early on in your planning.
You might be wondering why we feel this is so important.
Walt Disney World theme parks are full of amazing attractions and things to do, and it can be easy to forget that your kids may not be able to do some of the classic rides that you love, like Space Mountain. You need to know this information well before you go so you can plan appropriately!
As you begin to prep your kids for the excitement of Disney World, check into what rides they will be tall enough to go on. The last thing you want to do is get to Disney only to realize your child can't ride any of the amazing attractions you told them about.
Knowing what rides have height requirements will help in your planning, securing of lightning lane passes – and, probably most important – avoiding disappointment when little Susie finds out she is too short to ride the Seven Dwarfs Mine Train when you are about to get in line.
You will also save yourself the disappointment of accidentally using one of your few lightning lane passes for a ride that your child won't even be able to go on.
If you are curious about height requirements we are assuming you have smaller children in your family. We are firm believers that you can have a great time at the Disney World theme parks no matter what age your children are. (
Dave has taken his kids as teens as young adults, and we have gone back to Disney with Dave's toddler and baby grandkids!)
We have a whole series of posts to help you navigate Disney World with toddlers and preschool age children.
We suggest starting here, as this post will give you a fantastic overview of what you need to know when going to Disney World with a toddler or small child.
Is Disney World strict with height requirements?
Yes, Disney World is strict about their height requirements for attractions. All theme parks and water parks have height requirements for safety reasons.
They will measure your child each time they get in line to make sure the meet the minimum height requirement.
If there is a minimum height requirement you will have to abide by it. Disney is strict on safety and you will need to rely on their measuring guide while you are in the parks.
The vast majority of rides, attractions, and shows do not have height restrictions. Anyone of any height – including babies – can ride most attractions! There is plenty to do while on vacation in Disney World for people of all heights, so don't worry!
This is good news for those families traveling with a variety of ages in their group. You will rarely need to split up while experiencing different attractions.
If you do have some younger children in your family, Disney World does have a Rider Switch system which allows you to ride an attraction while another family member waits with your child. The alternate adult is able to skip the line and ride the attraction once the first parent is done!
Rider Switch at Disney World
One thing that you need to know about is Rider Switch (also known as Rider Swap or Child Swap)! If the entire family wants to go on a ride but one person is too short to go on it, use the rider switch program!
The non-rider can stay with one adult while another adult rides the ride. Then, when the adult who just rode the ride is finished, you swap places and the person who was with the non-rider can now ride the ride while the one who just rode the ride stays with the non-rider.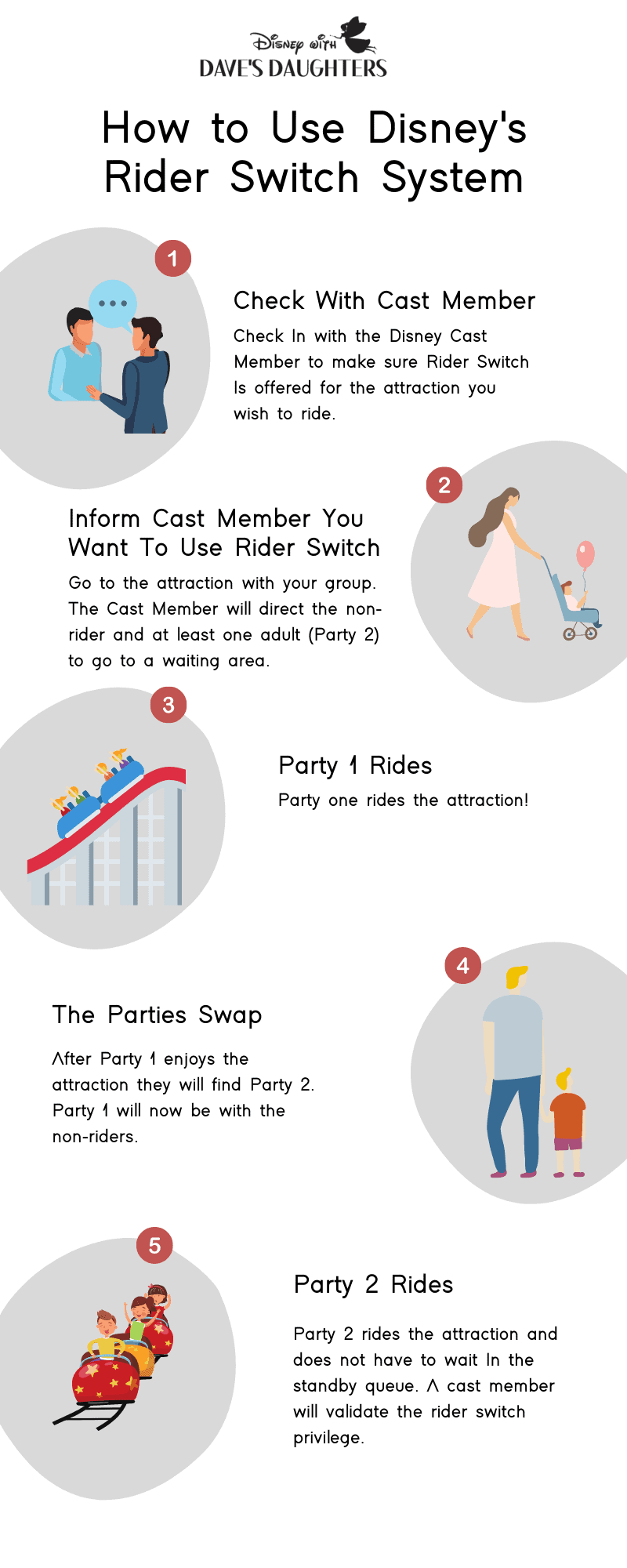 Here's how it works:
1. First check with a Cast Member to make sure the attraction you're going on has the rider swap availability (not all have them).
2. Get in line as a group (as if you all will be riding the ride).
3. When it's your turn to ride the attraction, let a Cast Member know you will be using the Rider Switch system. One adult will need to be with the person not riding. Group 1 will go and ride the ride. The Cast Member will scan the MagicBands or tickets of those in Group 2 (the one not riding) and bring them to a waiting area.
4. While the adult waits with the child (usually this is outside the attraction) you can take the non-rider on another ride! You have an hour to go back and have the waiting adult in Group 2 ride the ride. This person will be able to use the fast pass lane to get on the ride faster.
The rider switch is a great option not only for small children, but also for pregnant women, people who have back problems or motion sickness, or any other reason that might keep them for going on a ride.
Walt Disney World Height Requirements For Attractions And Rides
Let's jump right in with our complete guide with height requirements for all the rides at Walt Disney World!
Just a note – we are not including any attractions that don't have a height requirement such as shows, carousels, boat rides, etc. We only have the ones that have a minimum height requirement.
Height For Disney Rides

Magic Kingdom Height Requirements
The Magic Kingdom in Disney World currently has six attractions that have height requirements. These rides range from very intense (Space Mountain) to less thrilling but still very enjoyable.
Barnstormer (35 inches)
Big Thunder Mountain Railroad (40 inches)
Seven Dwarfs Mine Train (38 inches)
Space Mountain (44 inches)
Splash Mountain (40 inches)
Tomorrowland Speedway (32 inch minimum to ride, 54 inch minimum to drive)
TRON (48″)
The Magic Kingdom is our favorite park for families! If you can, try to spend two days here. For tips for visiting the Magic Kingdom with toddlers check out this post to see our top 15 rides for little kids.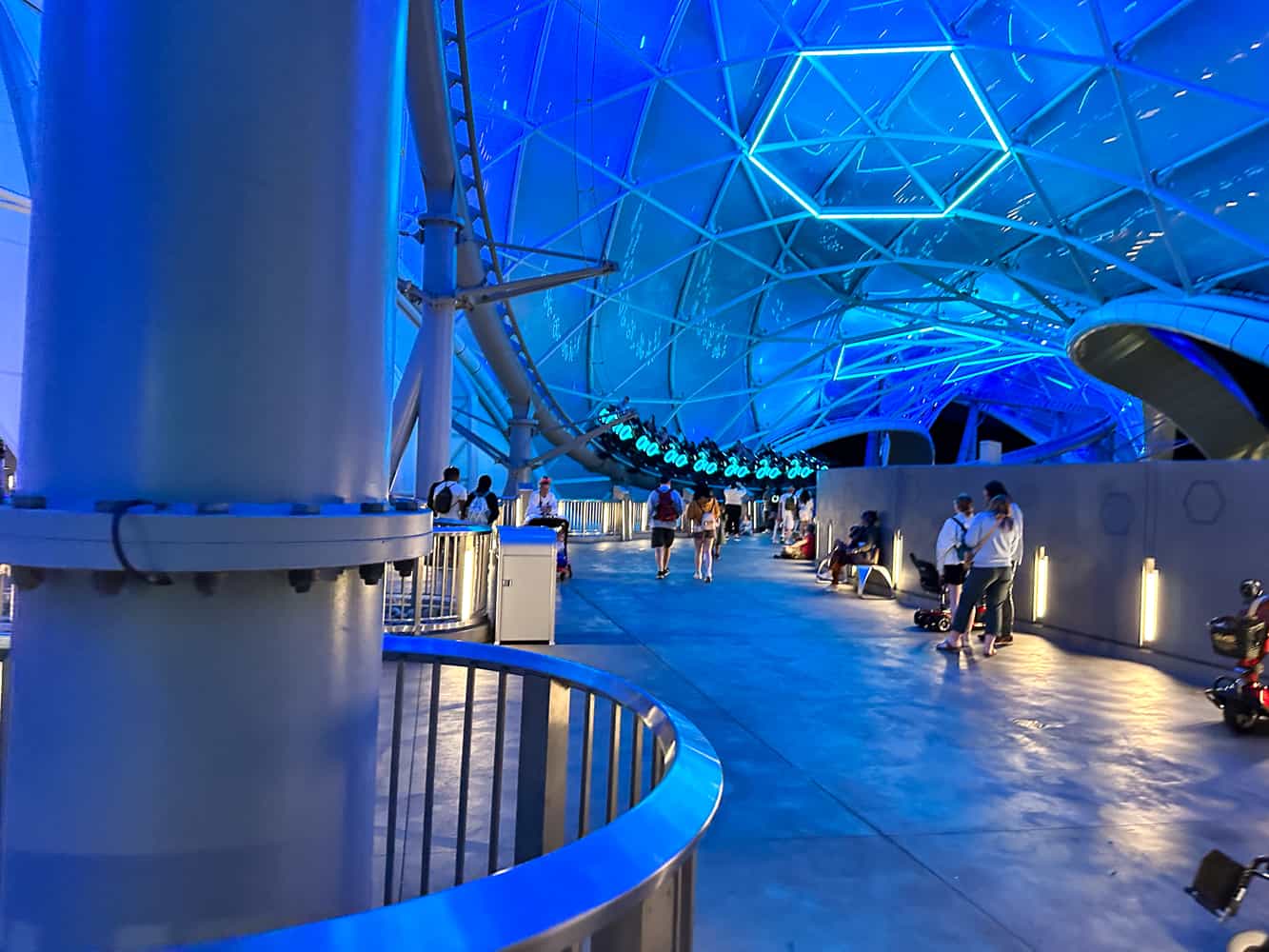 EPCOT Height Requirements
EPCOT has four attractions that have height requirements. These rides can cause motion sickness so guests need to be aware of that before getting in line!
Mission: SPACE (green mission is 40 inches, orange mission is 44 inches)
Soarin' (40 inches)
Test Track (40 inches)
Guardians of the Galaxy: Cosmic Rewind (42 inches)
Check out our Guide to Epcot Attractions for more information on all the attractions you can find here! Many are located in the World Showcase. You will also find many characters in this park, so keep an eye out! One of our favorite spur of the moment character interaction was with Mary Poppins in the United Kingdom. We also ran into Snow White!
If you happen to visiting EPCOT without kids go here!
Disney's Hollywood Studios Height Requirements
Hollywood Studios in Disney World has the most attractions that have height restrictions for guests. This is definitely something you want to be aware of before heading to the rides in this park. Of course, there is plenty to do in Disney's Hollywood Studios for the younger ones in your group!
For tips on how to visit Hollywood Studios and EPCOT with toddlers go here!
Disney's Animal Kingdom Height Requirements
The Animal Kingdom in Disney World is a fantastic place to visit, especially with little kids. In fact, we recommend going to this park on your first day at Disney World if you have toddlers!
Four attractions at Disney's Animal Kingdom have height requirements:
DINOSAUR (40 inches)
Expedition Everest (44 inches)
Kali River Rapids (38 inches)
Avatar Flight of Passage (44 inches)
Note – the DINOSAUR ride can be extremely intense for kids. Expedition Everest does go backwards in the dark for a short amount of time, so if you get motion sickness be aware!
Don't miss the Kilimanjaro Safari ride in this park! There is no height requirement and it is absolutely worth waiting in line.
Typhoon Lagoon Height Requirements
Typhoon Lagoon is one of Disney World's water parks. Here are the height requirements for the bigger water slides at Typhoon Lagoon:
Bay Slides (60 inches)
Crush 'n' Gusher (48 inches)
Humunga Kowabunga (48 inches)
Ketchakiddee Creek (48 inches or shorter)
Blizzard Beach Height Requirements
Blizzard Beach is the other water park at Walt Disney World. Here are the height requirements at Blizzard Beach water park:
Chair Lift (32 inches)
Downhill Double Dipper (48 inches)
Slush Gusher (48 inches)
Summit Plummet (48 inches)
Tike's Peak (48" or shorter)
Disney Springs Height Requirements
Marketplace Carousel (42 inches)
Marketplace Train Express (48 inches)
Star Wars: Secrets of the Empire by ILMxLAB and The VOID (48 inches)
You are now ready to secure those lightning lane passes for your favorite rides and get ready to have the time of your life at Disney!
Be sure to bookmark this post so you can reference it before you head into a Disney theme park so you know what ride your entire family can go on and which one's you'll need to use the Rider Switch on!
If you are thinking of staying at a Walt Disney World resort, be sure to check out our list of the best swimming pools for families!