Have you ever seen the adorable little orange bird while visiting Walt Disney World? Perhaps you have seen him on Disney merchandise and wondered who he is.
Though not as popular as Mickey Mouse and the other iconic Disney characters, the Orange Bird has a great history with The Walt Disney Company and Walt Disney World in particular.
If you don't know about Orange Bird, you need to read on! He is making new waves in Walt Disney World and you should know why.
Walt Disney World Comes to Florida
When Disney World opened up in Florida in 1971, they were on the lookout for corporate sponsorships to help pay for and be involved with attractions at the Disney Parks.
At that time, the Florida Citrus Commission – a board of appointed representatives of Florida citrus growers, processors and planters – was excited to be involved with Disney World. A wonderful partnership emerged between the Florida Citrus Commission and the Walt Disney World Company!
At first, it wasn't clear which attraction would be best suited for the Florida Citrus Commission (FCC) as there wasn't anything close to citrus in any of the rides.
Finally, at Disney's suggestion, the FCC decided to sponsor a tropical theme attraction known as the Tropical Serenade. Later, the Tropical Serenade became the Enchanted Tiki Room located in Magic Kingdom's Adventureland.
Photo Credit Alexis Larcy
The cost for the partnership was $3 million dollars and a ten year commitment. The Florida Citrus Commission was allowed to run a juice and snack bar located next to the attraction called the Sunshine Tree Terrace.
Orange Bird is Born
The Florida Citrus Commission wanted some type of identifier, or mascot, that could be used in the parks and outside of Disney for consumers to recognize their citrus products. Because Disney was reluctant to allow the FCC to use any of their characters for endorsements, they decided to make up a new character for their citrus products.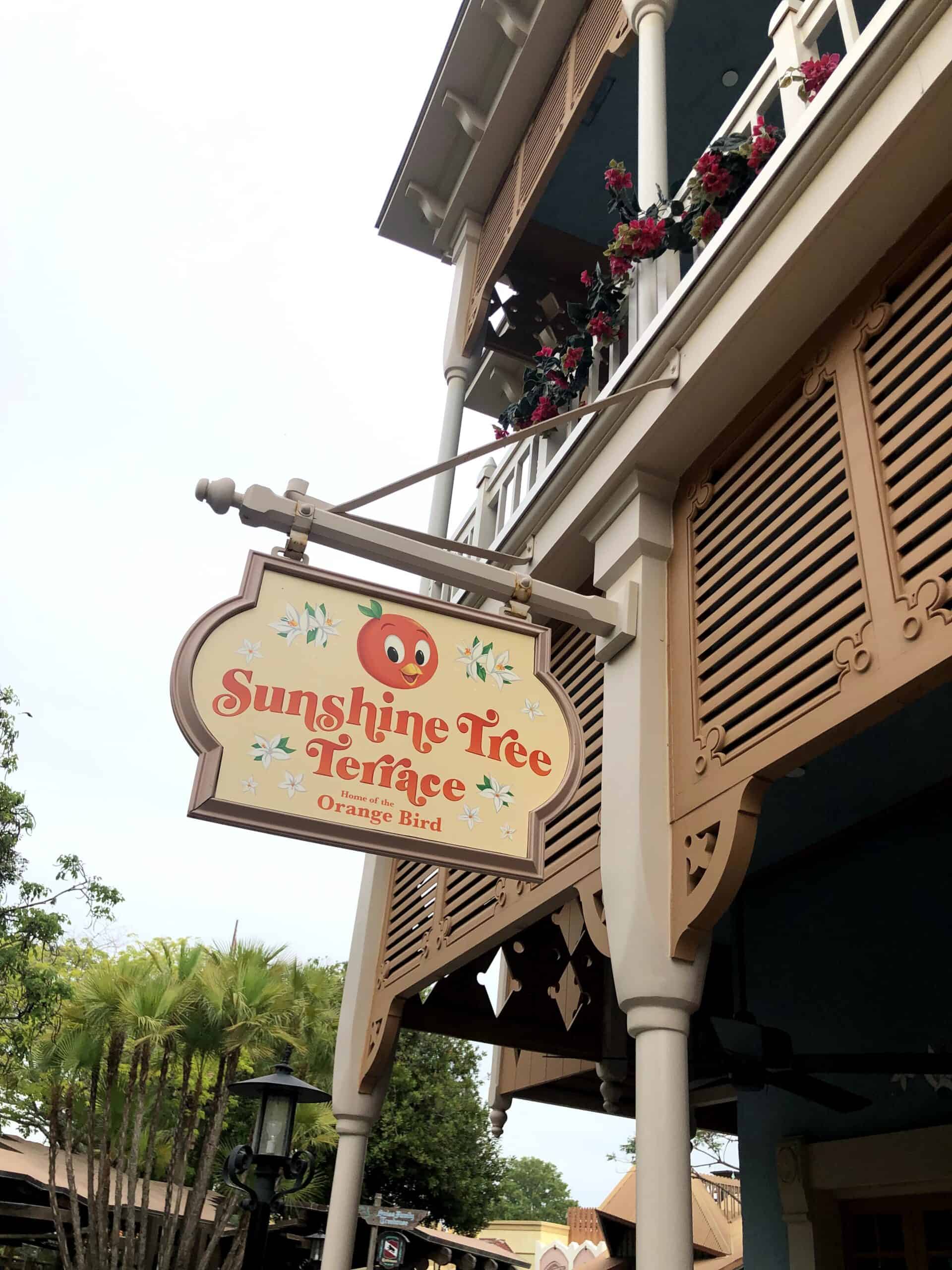 Animators Don Mclaughlin and Bob Moore developed a little bird with a head that resembles an orange and arms that have leaf wings…or is it an orange head with a bird body…either way, it was well liked by the FCC and Orange bird took off as the official Tropical Serenade mascot.
Orange Bird was created never to say a word. Instead, he thinks orange thoughts with thought bubbles appearing above his head, usually in orange letters or orange smoke.
He had a back story of migrating from the North and he calls the Sunshine Tree in Adventureland his home. He's a shy, fun-loving bird who wanted to settle in Florida because of its wonderful high quality oranges.
Orange Bird's Popularity grows 1971 – 1987
When Disney World opened in October of 1971, Orange Bird opened with it. Disney immediately created a cast member character of Orange Bird and he would hover around the Sunshine Tree Terrace in Adventureland as a walk-around mascot.
He would do meet and greets with the guests, posing for pictures, always pointing the guests to grab some orange juice. At the same time, the FCC started making ads for Florida oranges and orange juice in particular, using an animated version of Orange Bird who was accompanied by singer Anita Bryant.
In addition to the television and print ads (like the one below), two educational shorts (films) were produced. These two films were Foods and Fun: A Nutrition Adventure and The Orange Bird and the Nutrition Bandwagon.
The Citrus Swirl….the beginning of Dole Whip
Along with orange juice and snacks, Disney created an amazing treat called the Citrus Swirl. Made with frozen orange juice and vanilla soft-serve ice cream, this cold concoction was a hit from the start. It was a deliciously tart treat that was very refreshing on a hot Florida summer's day. That is, until 1987.
In 1987, the Florida Citrus Commission no longer sponsored the Sunshine Tree Terrace so the Citrus Swirl, along with the other orange treats, went away. Well, not exactly forever, but at this time, you couldn't get a Citrus Swirl anymore.
Quickly, a treat that was introduced to Disney in 1986 took over the hearts of Disney Guests. That treat was the Dole Whip. The Dole Whip is very similar to the Citrus Swirl with it's soft serve ice cream mixed with tropical pineapple flavor (instead of orange juice).
Orange Bird gets a Recording Contract
Also in 1971, Disney put out a phonograph record (A Disneyland Record) with book accompaniment (New Little Golden Book) of Orange Bird entitled "The Story and Songs of The Orange Bird".
This record (a 45 rpm) was important for a few different reasons. First, the songs were written by the famous Sherman Brothers, which wrote many of the iconic Disney songs and soundtracks during the 60's, 70's and beyond – including Mary Poppins among many others!
Since The Orange Bird can't speak, Anita Bryant sang and spoke on the album along with Rex Allen (Father in Carousel of Progress) and June Foray. Another interesting voice in the record is Ron Howard! It is a true Disney original and the book at record are sought after by collectors of all ages.
The Orange Bird starring Anita Bryant
Orange Bird goes into hibernation
Everything was going pretty well until 1987. Because Disney owned the rights to Orange Bird, the FCC had to pay a fee for every appearance the bird made. In addition, when the sponsorship was renewed in 1981 (after the original 10 year contract was up) the rate of the sponsorship went from $150,00 a year to $190,00 a year.
The final blow was when Disney ordered a second snack bar and the FCC simply could not make enough money to continue the sponsorship. With the loss of the contract came the loss of Orange Bird both around Disney and in all the advertisements.
Orange Bird Makes A Comeback
After 17 years of laying dormant, the Orange Bird made a comeback, but it happened in a strange way. It wasn't in Disney World but in the Tokyo Disneyland theme park!
Disney made Orange Bird merchandise for Japan's annual Orange Day and it was an immediate hit with the guests. Just like that, the small bird with the big eyes came roaring back.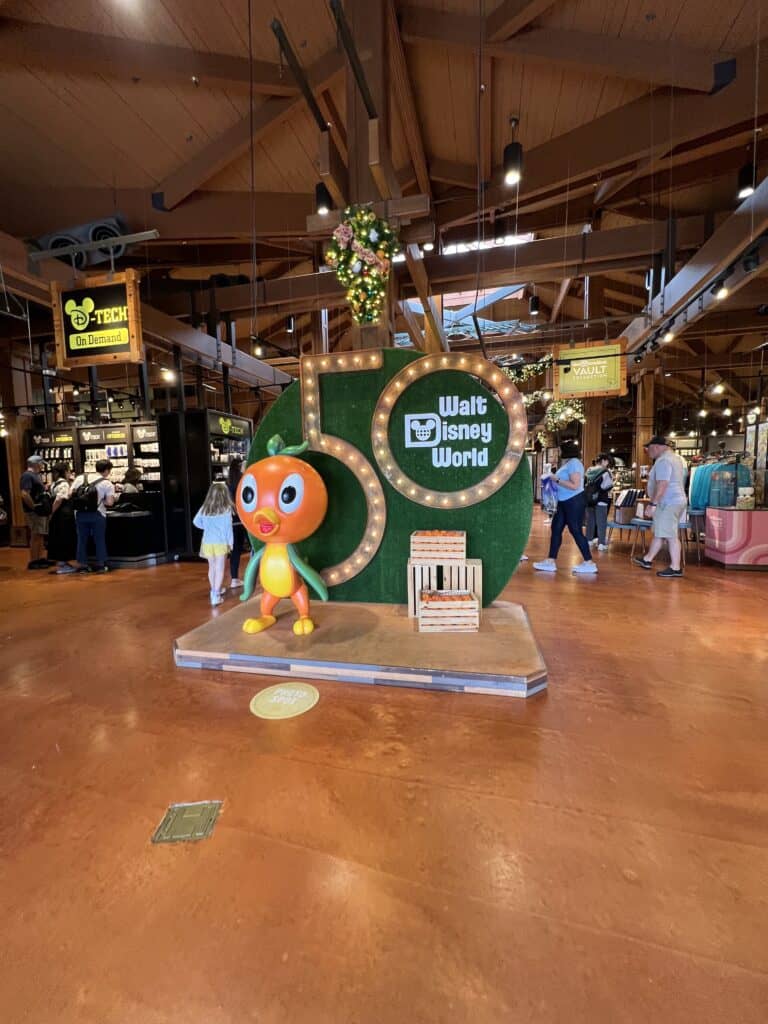 Eight years later, in 2012, marked the return of the historic Orange Bird character to the United States and Adventureland. It can't be over emphasized the importance of Orange Bird merchandise. T-shirts, pins, ear hats, vinylmation figures, cups and so many other items have done a wonderful job of moving the character's story to a lot of people!
Recently, Orange Bird is being offered in new merchandise including a comic book, clothing apparel, jewelry, purses, planters, trading pins, MagicBands and many many more items! You can see some of our favorites here!
Today, Orange Bird in Disney World
Today, you can find Orange Bird back at his home location at Sunshine Tree Terrace and you find the original sculpture of Orange Bird there. You can also find him as a figurine over the bar at Trader Sam's Enchanted Tiki Bar.
Look for him at Trader Sam's Grog Grotto at Disney's Polynesian Village Resort hotel – Orange Bird is in a tiny form. When at Disney's Hollywood Studio's you can find him on posters in the hallways.
Orange Bird FAQs
Who is the Orange Bird from Disney?
The Disney Orange Bird was the mascot for promotional campaigns with the Florida Citrus Commission.
Where is Orange Bird merchandise at Disney World?
You can consistently find Orange Bird merchandise the in Disney Springs. Orange Bird products also pop up during the EPCOT Flower and Garden Festival.
When did Orange Bird come to Disney World?
Orange Bird made it's debut in 1970.
One of our favorite locations for Orange Bird is found at Disney Springs. In the Orlando shopping district on Disney property you can find Orange Bird on his own mural. It is a big monument to this wonderful iconic character in the world of Disney!