If you have been hanging around here for any amount of time you know we love Disney themed clothing! While we always recommend sticking to a budget, we think everyone should bring at least one Disney themed shirt to wear on your vacation.
We have rounded up some of our favorite Disney themed long sleeve t-shirts for you to add to your packing list! Almost all of the shirts are officially licensed by Disney so you can rest assured you are getting legit designs.
For the winter months you will want to bring some long sleeve shirts with you. Even though Florida is a tropical climate, the weather can be cool, especially in the evenings and mornings! We have been to Florida in January when the weather was unseasonably cold – we only wore long sleeves (and gloves and hats on a couple of days!).
We also recommend bringing a lightweight long sleeve shirt in the summer months as the hotels and restaurants can be quite chilly. Check them out!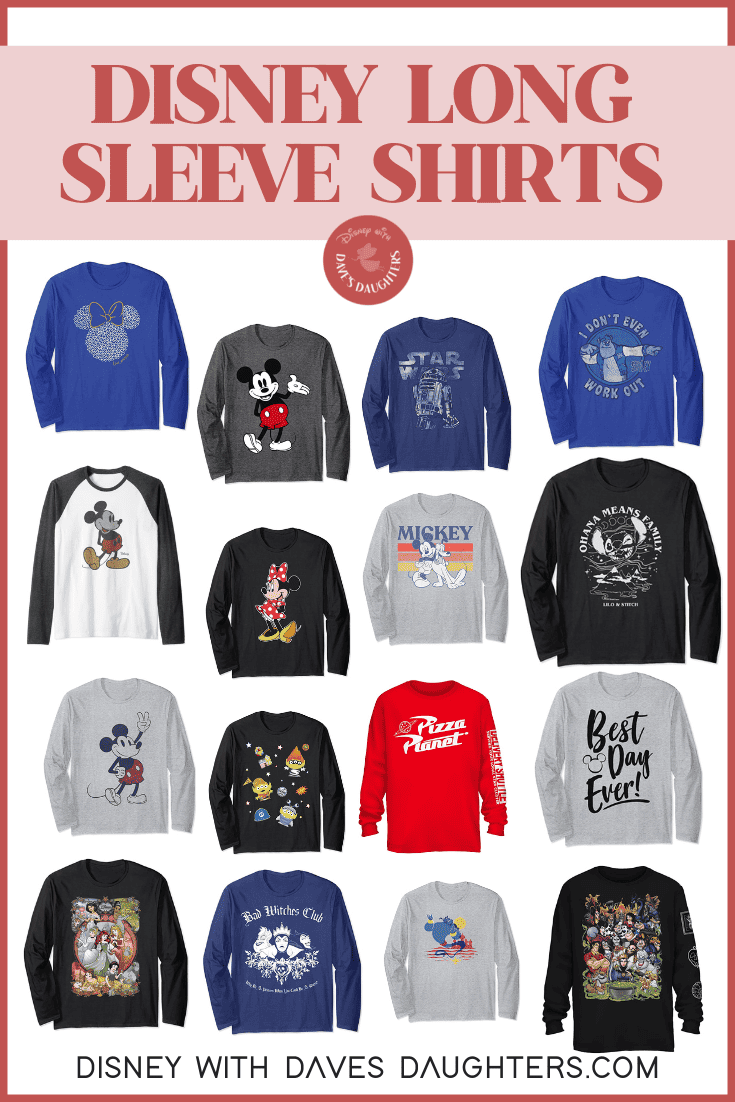 Disney With Dave's Daughters is a participant in the Amazon Services LLC Associates Program. This post may include affiliate links which means I may earn a small commission if you shop using the links below at no additional cost to you. 
Mickey Mouse True Original Long Sleeve
You can't go wrong with a classic Mickey shirt! This shirt will never go out of style – you can pack it for all your future Disney trips!
This is a lightweight, classic fit long sleeve shirt that comes in light gray and dark gray. This shirt is available in sizes small to XX large. If you are looking for couples shirts, pair this one with the Minnie Mouse ones shown below!
Mickey and Friends Retro Long Sleeve
This retro style shirt features Mickey and his animal best friend, Pluto! Katie owns this shirt in the t-shirt style.
This is a lightweight shirt that comes in a heather gray background. We love the orange stripes that give it a nice pop of color. This is a great shirt that goes with anything! Unisex sizing small – xxLarge.
Pizza Planet Long Sleeve
Attention all Toy Story fans! This Disney Pixar Pizza Planet shirt is a fun way to show your love for the Toy Story movies. Be sure to wear this shirt to Disney's Hollywood Studios for your time in Toy Story Land.
This shirt is 100% cotton, so keep that in mind when choosing a size. This shirt is a mens fit and comes in sizes small to 3X-large.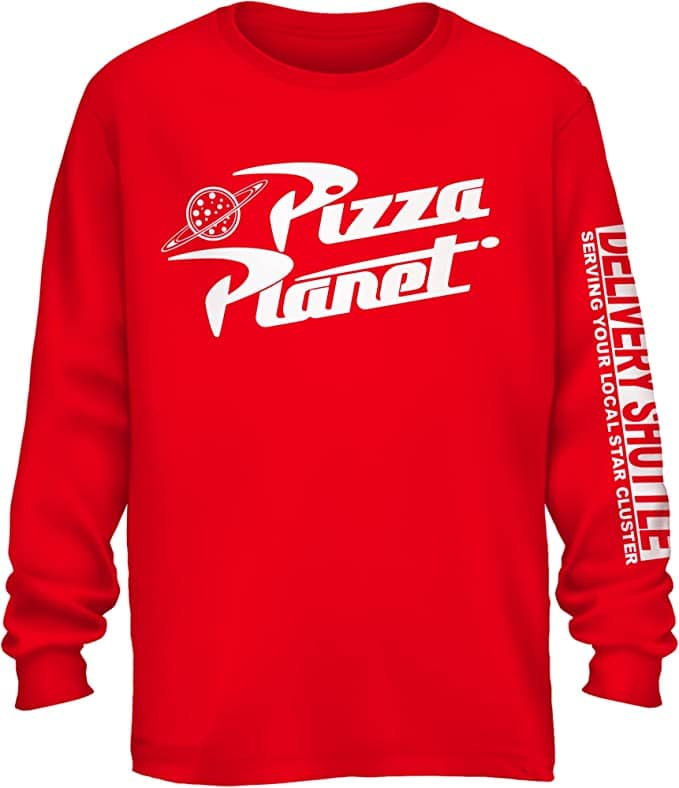 Lilo and Stitch Celestial Ohana
Ohana means family, and this Lilo and Stitch shirt is a perfect one to wear with your family to the Ohana restaurant in the Polynesian resort.
For all you Stitch fans, we love this officially licensed Disney shirt. The black will go with anything and you can enjoy bringing Stitch with you to all the Disney theme parks.
Classic Disney Princess Long Sleeve
Can you name all the Disney princesses? This shirt features the seven classic Disney princesses – Jasmine, Tiana, Aurora, Cinderella, Ariel, Belle, and Snow White!
We love that each princess has extra features from her movie with her – Raja is with Jasmine, Tiana is holding a frog, Mrs. Potts is hanging out with Belle! This is a fun shirt to show your love for those classic princesses that are a part of your childhood.
This shirt comes in sizes small to double extra large and in black or light gray.
Classic Minnie Mouse Long Sleeve Shirt
We love these classic shirts so much! This shirt comes in black or dark blue and has our girl Minnie Mouse front and center! This is a simple shirt that you can wear for years to come. Comes in sizes small to xxLarge
R2D2 Star Wars Shirt
One of our new favorite places in Walt Disney World is Star Wars land in Disney's Hollywood Studios. This R2D2 shirt is perfect for wearing while hanging out with the storm troopers, drink blue milk or while making a droid! We love the worn in look that this shirt has.
This shirt comes in navy blue, royal blue, dark gray, and light gray. Any Star Wars fan will love wearing this even when not at the Disney parks! This would make a great gift.
Disney Villains Long Sleeve Shirt
This is a killer shirt! (Get it? ha ha!) This shirt has all the Disney villains on it – the characters we love to hate!
This is one of our favorite villain shirts because it has everyone from the infamous Cruella de Vil and Gaston all the way down to Prince John from Robin Hood and Captain Hook.
This would be a fantastic shirt to wear if you are going to Disney World during the Halloween season. This shirt comes in sizes small to 3xLarge.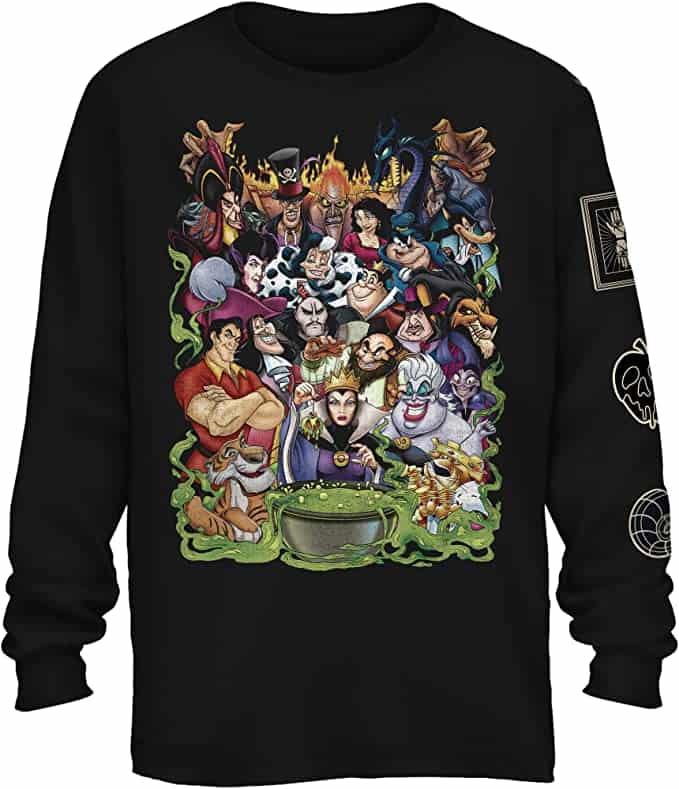 Minnie Mouse Doodle Love
This is a fun take on Minnie Mouse! Her silhouette is made up of tiny hearts and her giant bow takes center stage! This officially licensed product is incredibly affordable at under $15 – shocking for Disney!
This shirt comes in black, navy, dark gray, and royal blue. Available in sizes small to xx-Large
Mickey Mouse Raglan Baseball Shirt
Here is another one of those classic shirts we just love! This shirt comes in both men and women sizing so you can get the style you want. This shirt is available in six different color designs, including two options with a gray background instead of white. This shirt runs on the small side so we recommend ordering a size up.
Aladdin Genie Long Sleeve Shirt
Its the Genie of the lamp of Disney's Aladdin! This shirt will bring a smile to your face every time you put it on. Show your love for one of the most lovable Disney characters of all time with this shirt! Comes in sizes small to xxLarge.
Bad Witches Club Long Sleeve
It is the question the most evil of villains ask…why be a princess, when you can be a queen? This bad witches club shirt features Ursula, the Evil Queen, and Maleficent. Embrace your evil side with this fun shirt!
This shirt comes in black, navy, dark heather, and royal blue.
Best Day Ever Long Sleeve
We can all relate to Rapunzel from Tangled as she yells "best day ever" on her first day out of the tower. That is how we fell walking up Main Street with Cinderella's castle in view!
This is the prefect shirt to wear any day of your Disney World vacation! The simple gray and white means it will go with any outfit. Comes in size small to XXL.
Plaid Shorts Peace Sign Mickey
This is such a fun and unique Mickey shirt! Mickey is wearing super fun plaid shorts and giving the peace sign. It would be a blast to wear this shirt and then take a picture in the same pose!
This shirt is a unisex fit and comes in sizes small to XXLarge.
Pixar Aliens Long Sleeve
If you are a Pixar fan you NEED this shirt! This fun shirt is a mash up of the aliens from Toy Story, the Incredibles, Up!, and Monsters Inc! We love the creativity of this shirt so much!
This shirt comes in black, navy, and royal blue and in several sizes.
Sulley Doesn't Work Out Long Sleeve
Sometimes its hard to fund fun Disney shirts that guys will wear. Well, look no further! This is a fun shirt with Sulley from Monsters Inc. "I don't even work out" is the perfect shirt for the guy with a great sense of humor!
This shirt comes in light gray and blue and in sizes small to XX-Large.
You are now ready to add a shirt or two to your Disney World packing list and head out on vacation! If you are looking for more Disney clothes, be sure to check out these posts: