What to wear to Walt Disney World is one of the most commonly asked questions people have.
You will have dozens and dozens of pictures taken so it is smart to put a little bit of thought into what to wear. When you look back at your photos you want to love them! You don't want to be annoyed at your outfit choices.
It is also important to be comfortable and ready for long days at the parks. You do not want to have to run back to your hotel for a sweatshirt or a raincoat.
We want to help you figure out what to pack for your trip to Walt Disney World. Our goal is to help you simplify your clothing so you can focus on other things!
This post is dedicated to what to wear (and pack) to Walt Disney World in December.
What Is The Weather at Disney World in December?
The weather in December is almost identical to February. The highs are in the mid 70's and the lows are in the mid 50's. There is very little rain in the Orlando area in December, however, it is more rainy than November. You will find there are about 4 days of rain. The entire month sees 2.2″ of precipitation.
What to wear to Disney World in December
December is a great time of year to visit Disney World. The Christmas decorations are out and the parks are beautiful and festive.
As far as what to wear to Disney In December – layers are your friend. If you are getting to the parks early for rope drop or staying late for an event or extra magic hours, you will definitely want to have a sweatshirt or jacket with you.
Disney Packing List – December
We recommend packing the following:
T-shirts
Long sleeve shirts
Sweatshirts, fleece jacket, or cardigan for layering
Several pairs of pants or jeans
One or two pairs of shorts
Socks
Consider gloves, hat, and a packable blanket
1. Tee Shirts
Pack at least one t-shirt per day that you will be at the Disney Parks. We always bring at least one Disney themed t-shirt because we love adding to the Disney Magic!

Many, many people wear Disney themed shirts at Disney World! It is fun to match your shirt to the park you will be in. For example, wear a Star Wars shirt in Disney's Hollywood Studios and your classic Mickey shirt in the Magic Kingdom
You may want to bring a Christmas themed Disney shirt if you are going to Disney World in December. This is especially true if you are going to Mickeys Very Merry Christmas Party. There are so many options out there! We have an entire post dedicated to Christmas apparel for Disney!
Disney Group Shot Christmas Wreath T-Shirt
Officially Licensed Disney Mickey And Friends Apparel for Women - Men - Youth - Toddler; Mickey Mouse T-Shirt; Holiday T-Shirt: Seasonal; Christmas; Vintage; Disneyland; Disney+; Disney Plus; Disney...
19DNMC00441A-001
Lightweight, Classic fit, Double-needle sleeve and bottom hem
We earn a commission if you make a purchase, at no additional cost to you.
You could also consider getting some Disney Christmas nails done as well
Because we love Disney t-shirts so much, and we really think you should bring at least one to the park, we have posts dedicated to all our favorite Disney shirts.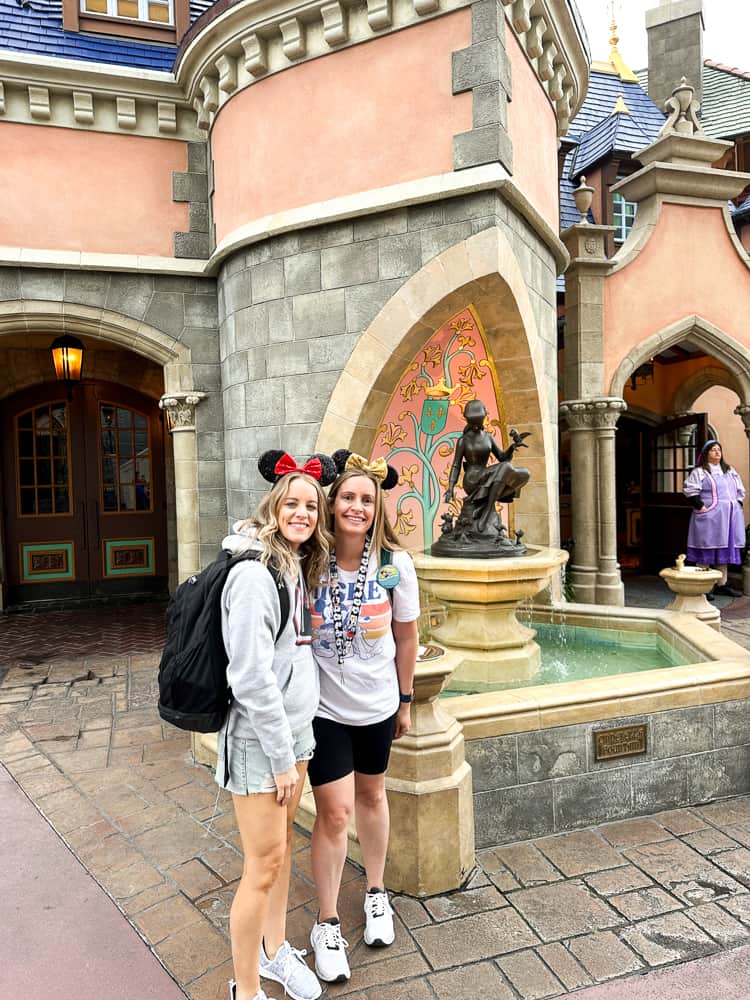 2. Long Sleeve Shirts
We definitely recommend bringing several long sleeve shirts to Walt Disney World in December. Lightweight long sleeve tops are easy to throw in your backpack and will give you a warm layer for those chilly restaurants and early mornings.
Layering is key to enjoying your time in the parks! Make sure the long sleeve shirts will fit comfortably over your t-shirts. Try on your outfits before you go! We cannot stress this enough. You want to be comfortable and not thinking about your clothes while you are in the parks.
We have a list of our favorite long sleeve Disney themed shirts here.
3. Sweatshirt, fleece jacket, or cardigan
You will want to bring at least one sweatshirt, fleece jacket, or other layering piece for extra warmth. Early mornings at the bus stop and late evenings at the fireworks can be quite cool. Our motto is this: we would rather have a sweatshirt and not need it vs. wishing we had a sweatshirt and not bringing it!
Your layering piece is completely up to you. If you already own a lightweight jacket or have a favorite sweatshirt simply bring that! You will want to be aware that you will likely not wear this layering piece for most of the day, so make sure it will fit easily into your backpack and isn't too heavy.
While we love the look of jean jackets, they can be bulky and heavy to carry around. Puffer jackets are a great option as they are lightweight, squish easily into a backpack, and provide plenty of warmth!
This one from amazon is incredibly affordable and comes in several color options.
We earn a commission if you make a purchase, at no additional cost to you.
4. Several pairs of pants or jeans
You are going to want to bring pants or jeans on your December vacation. The number you will bring is subjective based on the exact weather and your personal preferences. Again, consider what your optimal comfort level is and pack accordingly. Pants options could include: joggers, jeans, leggings, or athletic pants.
While 75 degrees is typically shorts weather, do keep in mind that that is the HIGH temperature. Most of the day it will not be 75, especially later in the month.
Of course, if you are experiencing unseasonable warmth, you will want to pack lighter pants (leggings, joggers). If it is cooler than normal you will want to pack more jeans and heavier sweat pant style joggers.
5. A couple pair of shorts
We do recommend that you bring a couple pairs of shorts, even if you think you won't wear them. The weather may surprise you!
You will be walking a ton and often shade is not easily accessible, especially in Disney's Hollwood Studios. You may find shorts to be a better option. They take up very little space in your suitcase, so throw in a pair!
6. Socks
This is its own category because you CANNOT forget to bring socks! You will not want to wear sandals to the parks in December (we don't recommend sandals as your park footwear anyway, but especially not in December). Pick comfortable socks that will not give you blisters.
We actually recommend that you pack two pair of socks for each day of vacation. If your feet get sweaty in the parks it will feel amazing to swap out your socks for a clean pair when you get back to your hotel. Trust us on this one – we are from Minnesota and understand socks.
If you are in the market for new socks, check out Darn Tough socks. They are super comfortable, merino wool (they will hep keep your feet dry!), and are made in Vermont! The best part is that they have a lifetime guarantee. If you get a hole in them, send them back for a new pair! Our entire family wears this brand.
Darn Tough Women's Run No Show Tab Ultra-Lightweight with Cushion
Ultra Lightweight with Cushion - Provides a light layer of cushioning along the bottom of the foot. Ultra-Light, ultra-comfortable.
No Show Tab Height - The toughest sock you'll never see.
Composition - Knit with 49% Merino Wool 47% Nylon 4% Lycra Spandex. The fast action wicking pulls moisture away from skin, so no more sweaty, stinky socks. The soft, breathable merino wool has fast drying, all weather performance that keeps you cool in the summer and warm in the winter.
Guaranteed for Life - If these socks wear, tear, or develop holes, Darn Tough will replace them.
Made in the USA - Every pair of socks is knit in Northfield, Vermont
We earn a commission if you make a purchase, at no additional cost to you.
7. Additional Things To Consider
Rain Gear – while the amount of rain in December is not very high, you may want to consider grabbing a poncho to throw in your backpack in case you get caught in an afternoon rain shower.
Dressy clothes – some dining locations have a dress code, so please keep that in mind. If you are planning a nicer date night at Disney Springs or the Boardwalk make sure you have appropriate clothes!
Hat and gloves – a lightweight pair of gloves or a hat may be something to consider, especially if you will be pushing a stroller around and unable to put your hands in pockets.
Be sure to check the weather right before your trip to Disney World in the winter. One year we visited Disney in the winter (January) and it was freezing. We wore hats and mittens every day to the parks. It was windy, which made the temperature feel colder. We were very, very glad to have brought gear to keep us warm.
Is December A Good Time To Go To Disney World?
Generally speaking, December is a great time to visit Walt Disney World, especially early in the month. We absolutely love the way Disney decorates for the holidays.
Be aware that the crowds are unbelievably high during Christmas and New Years. Be sure to check out our Disney Crowd Calendar for more detailed information.
FAQ
What do I wear to Disney in December?
You will want to wear layers to Disney in December. Most people choose pants and t-shirts and layer with long sleeve shirts, sweatshirts or jackets.
Is it cold at Disney World in December?
The average December high is 73 and the average low is 53. It does not rain much in December.
Can you swim in Disney in December?
Yes, the pools are heated and open year round.
Other Disney Packing Tips
Of course, we didn't cover packing a hat, sunscreen, pajamas (check out our favorite Disney Christmas pajamas) and other personal items! We have other packing tips to help you plan your December vacation to Disney World.
If you are looking for an overview of what clothes to pack for Disney World check out our month by month guide!