Planning a trip to Disney? Need to know how save money at Disney World? We're here to help! We've been going to Disney World as a family for years, most of which were on a teacher's salary so you can trust us when we say we know how save money at Disney World!
A trip to Disney World costs a lot of money. We know that almost everyone who goes to Disney has to think about budgets. We have always gone to Disney World on a budget – and while our budgets have changed over the years, we still use one every time we go! We have figured out many tips for how to save money each time we have gone to Walt Disney World.
We gave you 15 Tips For Planning A Trip To Disney World On A Budget which covered many of the larger factors about planning your Disney trip. Today we have 11 more tips to help you save money on your Disney World vacation.
1. Bring your own stroller to save money on rentals.
You will need to pay $15 bucks per day to rent one and it's $31 for a double. YIKES! Furthermore, they are not available at the Disney World resort itself or any of the water parks. Bringing your own stroller from home can save you tons of money – you have already paid for it, so it is free! You also have the freedom to use it anywhere at Disney, not just in the parks.
Hey, why not just buy this inexpensive Disney stroller from Amazon and have it shipped to your hotel room? Not only will you save money but you won't have to find your rented stroller in the sea of rented strollers that ALL look the same!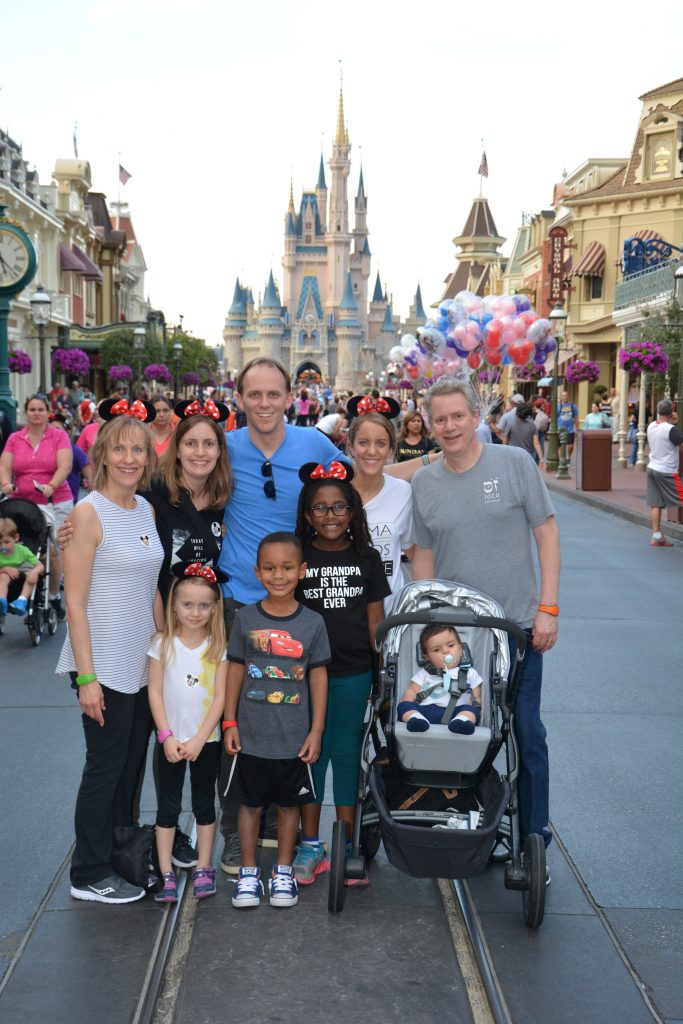 2. Buy Disney gift cards at a discount.
If you're a member of Sam's Club or Costco, you can purchase Disney gift cards at a discount and use them on anything Disney (hotels, park tickets, food on the property, merchandise etc…). This is a great way to easily save money and help you stick to a budget.
You may also consider getting a Disney rewards credit card where you can redeem your rewards (or points) towards your Disney trip. This is a similar idea to the gift cards – you will have a set amount of money to put towards your trip each month.
Just remember to pay off your bill every month! You are not saving money if you are going into debt.
3. Put cash in envelopes for Disney souvenirs.
This money saving idea is great for people who tend to overspend on their credit card. Instead of letting your kids (and yourself) grab everything in sight and swiping your magic band (which is connected to your card) to pay for it all, figure out a price everyone can spend before you go and put the cash in each person's envelope. When the money is gone, there are no more shirts, stuffed mickey's or mouse ears to be bought.
Of course, if Grandpa Dave hears one of his grandkids say, "please, mom, please?" , then all bets are off.  By the way, mom should keep the envelopes in her park bag – it is not a good idea to have the 5 year old carry around her own envelope of cash!
You can use regular paper envelopes or head to amazon and purchase a package of laminated envelopes. This will hold up a little better throughout your trip. Each person can pick their own print!
If carrying around cash at Disney World stresses you out, get each family member their own Disney gift cards. When the balance becomes zero, that's it!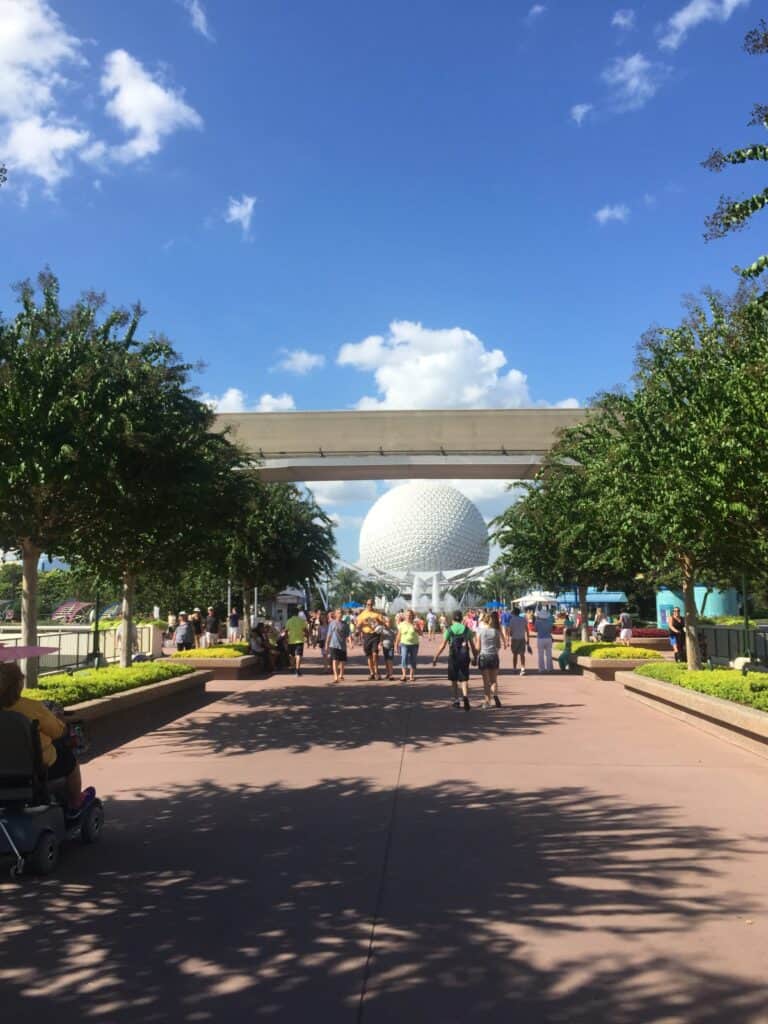 4. Kids under 3 get into Disney World Parks and Disney World hotels for free.
If you are on the fence about bringing your little one under 3, maybe a deciding factor is knowing that they will get in to the park for free! You do not have to pay for a Disney World admission ticket for ages 3 and under. This is a significant saving if you initially thought you had to pay for your toddler.
Kids under 3 also do not have to pay at Disney World restaurants – which is fantastic at the "all you care to eat" places! This is a free meal for your toddler.
And yes – you can have a great time with your toddler! Here are 7 tips to help you have a great time at Disney World with your little one!
5. Do not get a Disney World park hopper ticket.
Pass on the park hopper ticket to help you save some money. Just purchase base Disney World tickets and go to one park each day and don't try to go to two or more by purchasing the Park Hopper Ticket. This will save you quite a bit of money!
This is a repeat from 20 Tips For Planning a Trip To Disney World On A Budget, but it can't be said enough, don't give it a second thought -you don't need it if you are trying to save money!
You will be very tempted to purchase the park hopper but you do not need to do this. With the right amount of planning you won't need a park hopper ticket anyway – saving you literally hundreds of dollars.
We have gone to Disney World many times without purchasing a Park Hopper and have enjoyed our trip to the fullest!We have a whole post dedicated to helping you plan your trip here.
6. Periodically revisit your Disney World park tickets and hotel reservations for savings.
Generally you can rebook your Disney World reservation at a lower price if a discount all of a sudden comes up. This actually happened to us and we saved a lot of money re-booking our hotel with the discounted rate! If you are using a travel agent this is something they can help you with.
Sometimes Disney World will offer free dining (keep an eye out for when the Disney Dining Plan returns!) or other discounts. For example, Disney has offered a discount on hotels for people who had a Disney+ subscription. There are also certain times of the year where Disney hotels are less expensive (April and November are often cheaper).
Disney will refund you money if you or your travel agent call Walt Disney World and ask for the savings to be applied to your credit card. Just remember, it is up to you to find these savings. Disney will not proactively do this for you.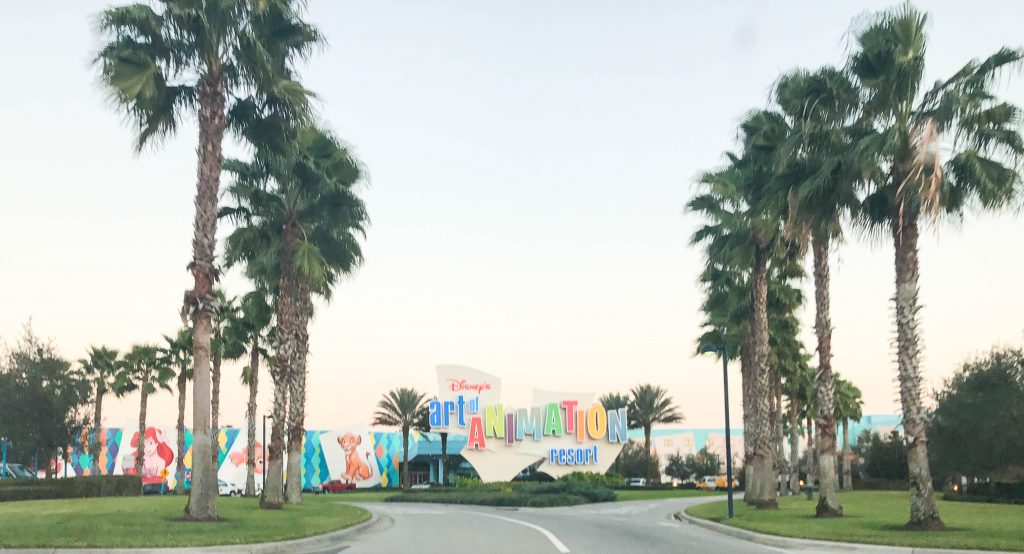 photo credit Alexis Lariscy
7. Save money on food – bring snacks and meals into the Disney Parks.
When trying to save money, this can save hundreds in food costs! Disney World restaurants are EXTREMELY expensive. We are talking $30+ per child and $50 for adults! (Don't believe us? Check the menu and prices for any table service restaurant) Add on a tip, plus additional adult beverages and you are looking at a huge price tag. You can skip this expense!
Remember, you can't bring a cooler into the park but you can bring food, so you need to get creative about ways to bring your food in and keep it fresh. Think about renting a locker for the day or purchasing an insulated backpack!
We definitely recommend using a grocery delivery service (such as Shipt) to have food delivered to your hotel room, especially if you are staying at a Walt Disney World Resort and don't have a rental car. Be sure to think about things such as Ziplock bag – you will either need to add them to your list or pay for individually wrapped grocery items.
Bonus – bringing your own snacks and food will help you save time by not having to wait in line for quick service meals!
Remember – buying things like Uncrustables, snack size pre-packaged vegetables, individual size hummus and crackers and juice boxes will be SO MUCH cheaper than buying lunch or snacks in Disney. Don't feel bad about paying a few extra dollars for the convenience of pre-packaged food.
8. Buy Disney stuff before you go and love the savings!
We all know things at Disney World are much more expensive than if you would buy them from Amazon, Target or any other store before you get to the parks.
Rather than getting Mickey ears from $25 (minimum!) at the Disney parks, get some before you go! We have a ton of our favorite Mickey ears here. Same goes for things like Disney t-shirts, rain ponchos and essentials like bandaids, sunscreen and sunglasses! Truly, the cheapest way to "do Disney" is to plan ahead and purchase these items at discount stores prior to your trip.
This is one of our favorite tips, and the easiest way we have found to save money on souvenirs.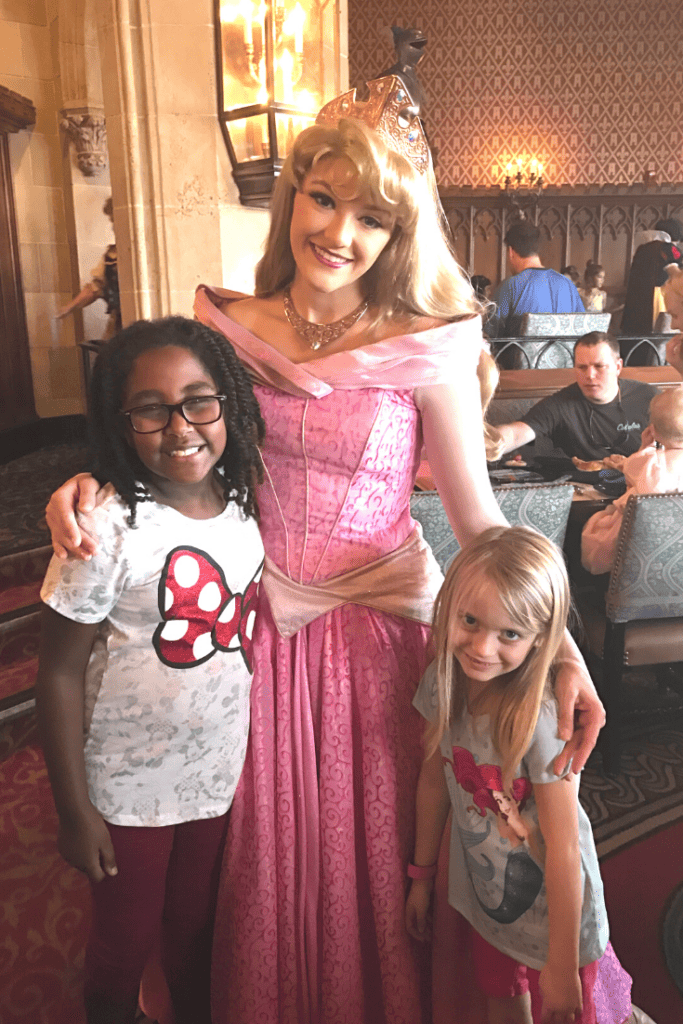 9. Take a picture of the Disney attraction photo.
If you didn't purchase the Disney PhotoPass for all your photos a cool trick is to pull out your phone and take a picture of the attraction photo that comes shows up after the ride. No, it won't be the most amazing quality but at least you'll have documentation of the attraction – and it is free!
Just a reminder, if you did purchase the PhotoPass, it will be on it automatically. If you are wanting to save some money, skip the PhotoPass – is not necessary at all.
Bonus tip: Any of the Disney World photographers will take pictures of your family for you with your phone for free!
10. Buy the Disney refillable mug – a sneaky money saving tip!
If you are staying at a Disney Resort you can buy a Rapid Fill mug for $20. The great thing is you can use it to fill up the mug with coffee, soft drinks, water or tea at any time while you are staying at the resort. Unfortunately, it will not work for soda in the Disney parks, however, you can take it in for water and ice.
It does seem a little counter intuitive to suggest buying something to save money, but for some families this can be a huge money saver. Our family has bought the Refillable mug several times when staying at a Walt Disney Resort for the coffee alone! We would get coffee in the mugs in the morning before rope drop (two cups if we could drink it fast!) and then when we got back we'd have another drink of choice before crashing in our hotel room.
We have a post giving you all the details on the refillable mug here.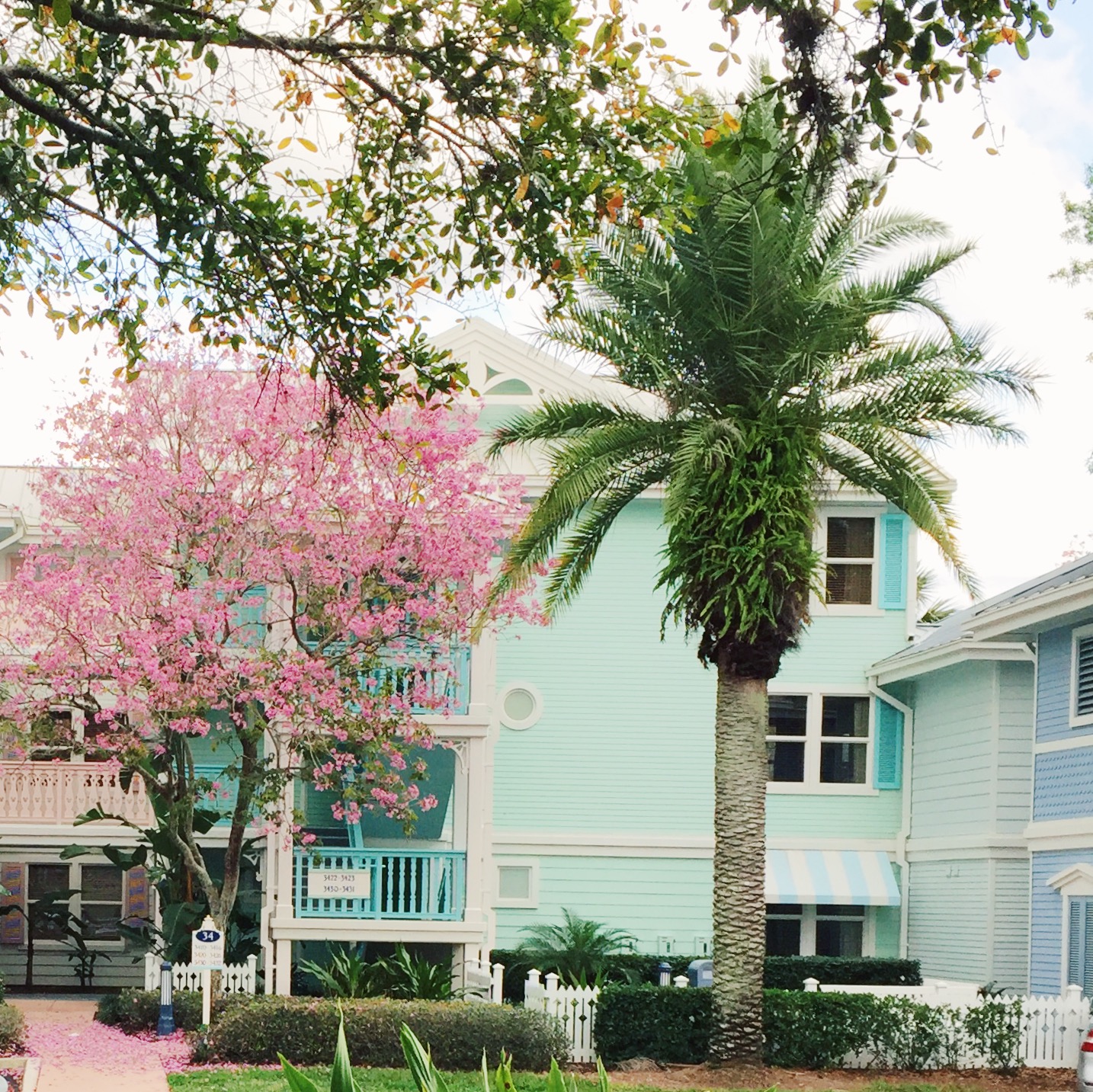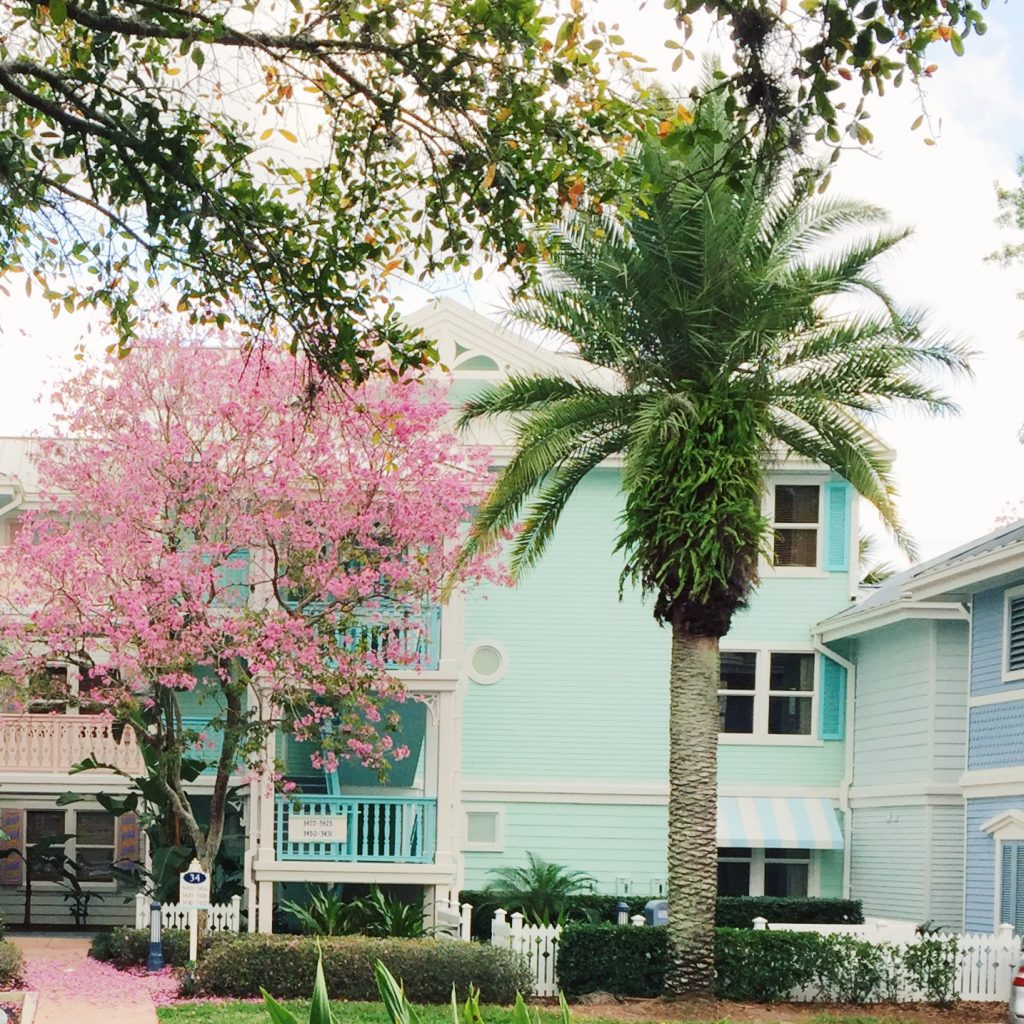 11. Drinking water is saving money – don't buy soda in the Disney parks.
Buy the refillable mug and get your caffeine fix at your Disney resort but while in the park just get free water with your meal. Soft drinks are over $3 and it can really add up with your family eating throughout the week, not to mention the not good for you part. You can bring in your own water bottle to refill as well. We have a list of all the water bottle stations here. Select water instead of soda and this alone can save you a ton of money.
Save your calories for the snacks and Dole Whips! Keeping hydrated with water will also help prevent the Disney Rash. Trust us, you don't want to ruin your trip with the rash!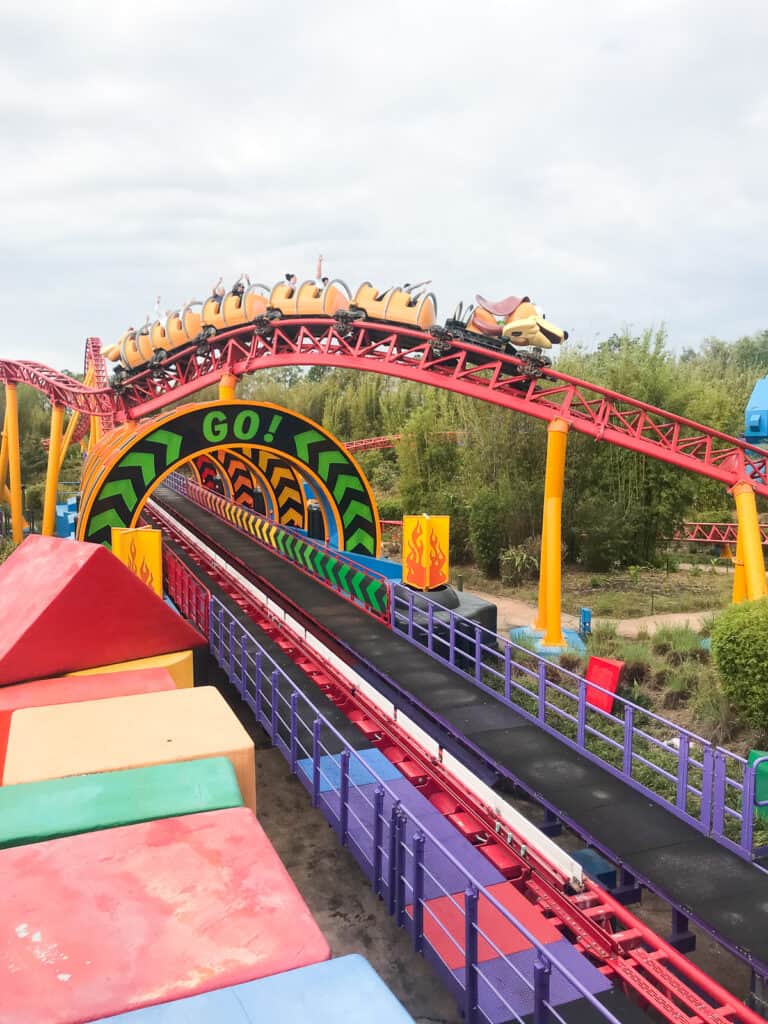 With some planning and creativity you absolutely can go on a Disney World trip on a budget! You can also save quite a bit of money by staying in an off site hotel. Ten of our favorite off site hotels are listed here – all are VERY close to the parks!
We have a post dedicated to helping you make a budget conscious decision about where to stay – including 5 perks to staying off site. Don't be ashamed about saving money. You are being fiscally responsible and you are making amazing memories without going into debt! Be proud!
Get creative with your money saving ideas. Do you have airline miles on a credit card? Use them for your trip. Do you have discounts with a hotel chain (like the Marriott) through work? Go ahead and use it! Can you use credit card points towards a rental car? Do it! (Make sure you are aware of the terms in case you need to cancel or adjust your vacation.)
One more way to save money is to be sure to buy the basics before heading to Disney World. Be sure to check out our list of 14 things to purchase before leaving home!