If you're heading on a Disney trip, you'll need something to carry your essentials in. If you're looking for something to fit just your credit cards, lip balm and cell phone, chances are you just want something on the smaller side! A Disney fanny pack is the perfect option for Disney fans.
While things like backpacks and diaper bags are great to carry snacks and baby supplies around, not everyone needs that much space! A fanny pack is perfect to carry your essentials. Today we're going to share some of the best Disney fanny packs for your next Disney vacation!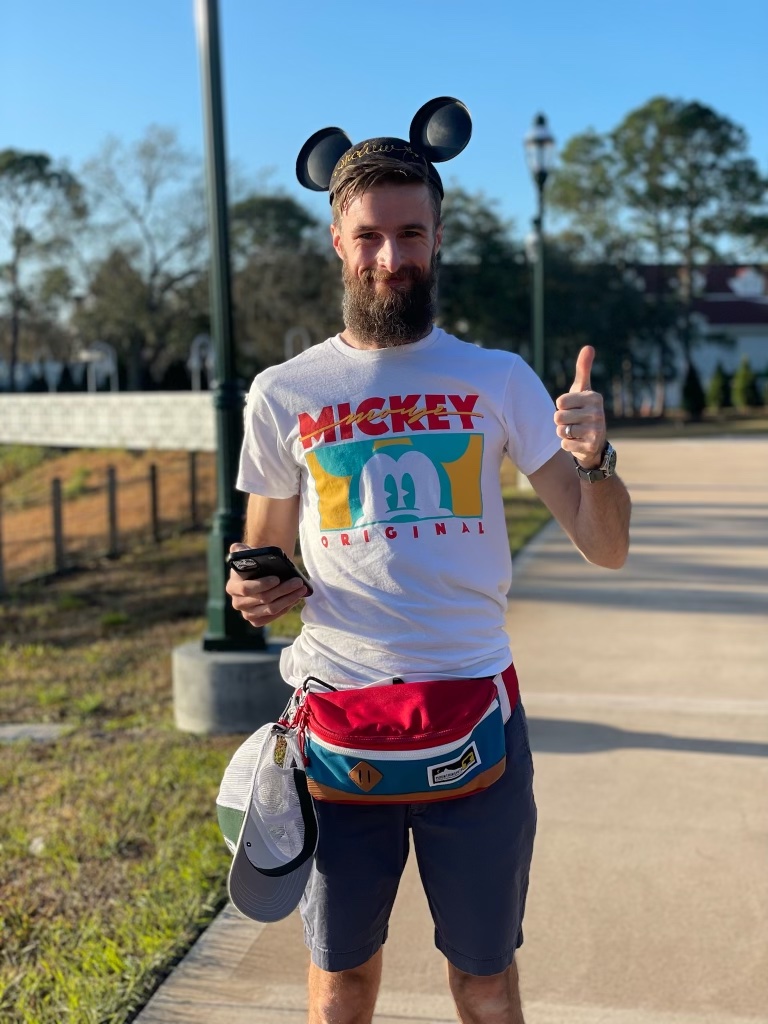 Why Use a Disney Fanny Pack
If you aren't needing to carry things like that, you definitely don't want to lug around a backpack all day.
We have the perfect solution for you – fanny packs (or as some people call them hip pack or bum bag)! They are hands free, give you easy access to everything you need, and there are tons of great options out there. You can also easily wear them as crossbody bags!
Fanny packs are also the perfect size for young children to carry their own snacks or personal items. Throw in a granola bar or trail mix or even their own compact rain poncho if you're going during the rainy season and they're ready to conquer a day at Walt Disney World!
Here's some reasons why we love a fanny pack for Walt Disney World:
1. Hands Free
Nobody wants a sore shoulder or back from carrying a purse or backpack on your Disney vacation. Fanny packs can be easily worn as a waist pack (all of these have an adjustable strap) or as a front crossbody bag. With these there's no aches and pains at the end of the day!
2. Easy Access
Need cash for your favorite snack (Dole Whips anyone?). Want a squirt of hand sanitizer? Fanny packs make everything super accessible in a jiffy.
3. Great for Kids
If you're carrying a backpack or diaper bag with all your kids' necessities, offload a few things to each child's fanny pack! (Let them carry their own granola bars or goldfish crackers!) They'll love wearing their cute fanny pack and you'll free up some space in your own bag.
4. They're Fashionable and On Trend
Nothing better than function meeting fashion! Coordinate your outfit to your fanny pack and you'll be the trendiest person at the parks.
5. They Won't Fly Out Of a Ride
As you're flying through Space Mountain, hands in the air, you don't need to worry about your bag flying out of the ride since it's strapped on you!
While these are harder to carry things like water bottles, you could always use a carabiner to connect your water bottle to your bag.
21 Best Fanny Pack for Disney World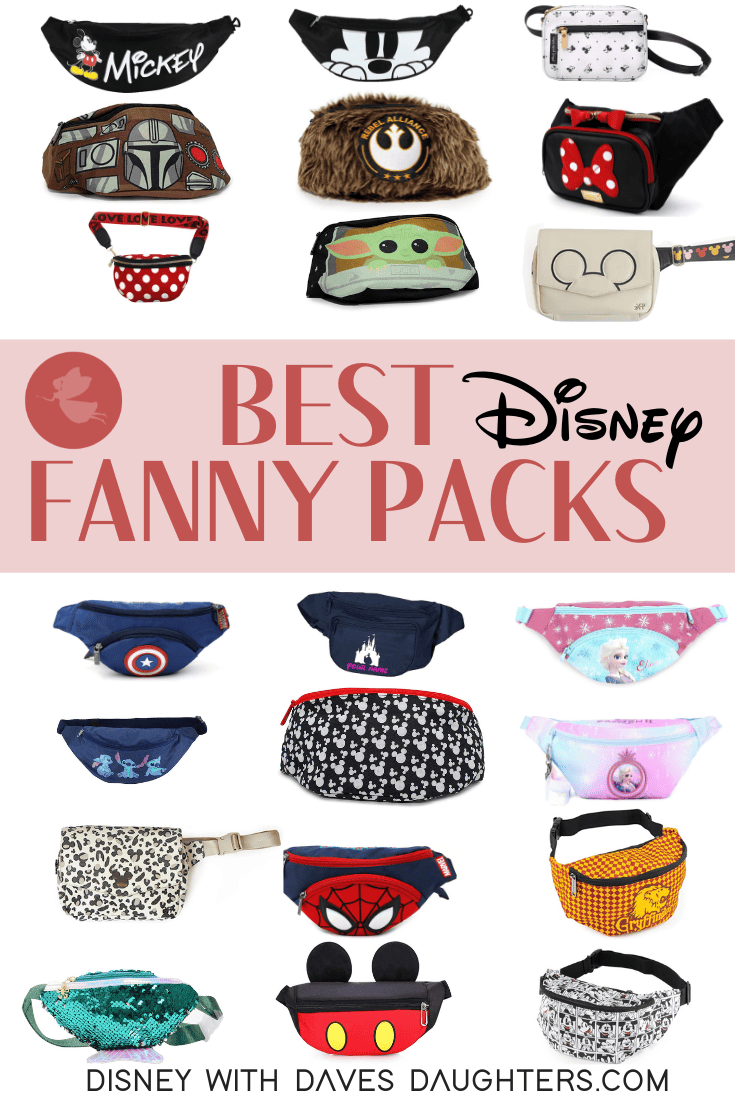 This post includes affiliate links.
Here's some perfect options for fanny packs for your next Disney vacation. All of these can be worn around your hip or across your chest as a crossbody bag. How you choose to wear it is your personal preference. Either way it's the perfect accessory to carry your essential items.
Without further ado, here's some of the best fanny packs for Disney World!
Of course, we need to start off with this classic Mickey hip bag! This black fanny pack has Mickey Mouse on with the word "Mickey" in the classic Disney font.
This cute Disney fanny pack has one zipper in the front and one zipper in the back. The waist strap is adjustable up to 46″. At under $20, this is a great Disney park bag!
This fun fanny pack has Mickey Mouse's face peeking out! We love the look of the one. This bag has an adjustable waist strap and two zippers.
Exactly as advertised! We wanted something to hold a phone and camera. More than enough room. Stood up to all Disney World could dish out! So happy with the quality. Lots of room to expand the belt. Loved it

Amazon review from Debbie
3. Petunia Pickle Bottom Adventurer Belt Bag
This super cute white leather bag has Mickey Mouse's face printed on it – featuring images from the earlier Disney classics.
This bag can be worn as a belt bag, a cross body bag, or a wristlet! This leather bag has two exterior zippers and one interior zipper to keep all your important items organized.
Purchased this for my wife before we went to Disney and it was perfect. Better then walking around with a bulky purse. Held everything we needed!

Amazon review from SeanK
This fanny pack is made of premium canvas right here in the USA! Featuring the Mandalorian, this artwork is printed on the canvas using new technology to make sure it lasts.
This is a licensed Lucas film product so you know it is high quality!
Hey Star Wars Fans, this one is for you! You will love this Star Was fanny pack featuring our favorite wookie – Chewbacca!
This fun, furry fanny pack has an adjustable plaid strap and two zipper compartments. This roomy bag is made in the USA and is an official LucasFilm product!
If you love Minnie Mouse you will LOVE this bow fanny pack. Our favorite feature is the pulls on the zippers are made to look like Minnie's bow when they are together! With three outside zippers and an adjustable strap, this is a great bag to bring with you into the Disney parks.
A must for Disney! Loved my Minnie fanny pack!! Great quality! Took it on several wet water rides and the inside contents held up perfectly fine!

Amazon review from Busy Mommy
This is a unique fanny pack that we really like! The main compartments has Minnie Mouse style polka dots and the adjustable strap has the word "Love" repeated on it.
This would be perfect for meeting Minnie Mouse at a character meal or for starting your trip off at Magic Kingdom where you're bound to see Minnie!
For the Mandalorian fans out there, this one is for you! This canvas bag has The Child (baby Yoda) scene printed on the front.
This fanny pack has two zippers and an adjustable strap and generous storage capacity. This is a perfect fanny pack for Hollywood Studios!
This is a high quality fanny pack from Freshly Picked – a brand name you can trust! This belt bag is made out of vegan leather and will last you for years.
The inside print of this bag is gorgeous! This bag will keep you organized with card slots and several zipper options. This is definitely one to check out.
I have a few Freshly Picked bags and they are all amazing quality that last!
Marvel fans, this one is for you! This blue Captain America fanny pack has Cap's shield sewn on the front. This bag has two zippered outside compartments and one inside compartment to help keep you organized.
Looking to personalize your fanny pack? Look no further than this Disney Castle bag!
Not only can you personalize this bag with your name, but you can pick one of many color options! This is a super fun Disney bag!
This Elsa fanny pack is great for you (or your young kids) to carry your things! This has an adjustable clip belt for a variety of waist sizes and two outsize zippers, as well as an inside zipper pocket
This fun fanny pack has Stitch in three cute poses! The navy blue will go with everything. One big pouch makes this easy to use.
We love the look of this Mickey Mouse fanny pack! The black and white will go with all your amazing Disney outfits. Our favorite part of this bag is that the two zippers are a bright accent color.
This Disney Princess fanny pack waist bag is made for kids or teens and is the perfect bag for them to carry their stuff! This has an adjustable belt with a clip, two zipper pockets, and an embroidered "frame" around Elsa's portrait.
If your daughter is wanting to meet one of the princesses you can find out how to do that here.
At first glance this is a leopard print belt bag. As you look closer, you see that these are actually Mickey Mouse silhouettes!
We are loving this look. This is a high quality bag that you can bring on all your Disney trips.
Another Marvel inspired fanny pack – perfect for boys! This Spider Man bag is dark blue with red Spider Man front zip pocket. Your son will love to keep his small items in this fun bag!
18. Harry Potter Gryffindor Bag
Ok, we know that Harry Potter isn't Disney, but if you are into Disney chances are you might also be in to Harry Potter so we wanted to throw this one in.
If you are in Orlando and planning to go to Disney World and The Wizarding World of Harry Potter at Universal Studios you might want to consider this bag!
This is the perfect bag for young girls! This mermaid fanny pack has flip sequins that will keep your kiddos entertained while you wait in lines to ride attractions.
This mermaid bag comes in different colors so be sure to check it out. At under $10, you won't mind if this gets ruined or lost on your trip!
We have more mermaid fashion here!
Here is another great small size option for younger children or toddlers! This bag has the classic Mickey shorts logo on it – and Mickey ears! Also comes in Minnie versions with or without the hand!
This is such a cute Disney bag featuring all sorts of Mickey faces! This bag is made in the USA and is officially licensed by Disney. With one big zipper pocket (and one on the inside), you will have plenty of space to hold all your items.
We have a list of things you want to consider packing in your Disney park bag, so be sure to check out this list before choosing a fanny pack!
If you decided you are wanting to carry around a backpack instead of a fanny pack, we have the best backpacks for Disney here! It also has a link to the fanny pack shown below. It's not a Disney specific fanny pack but one that I wore during my last Disney vacation!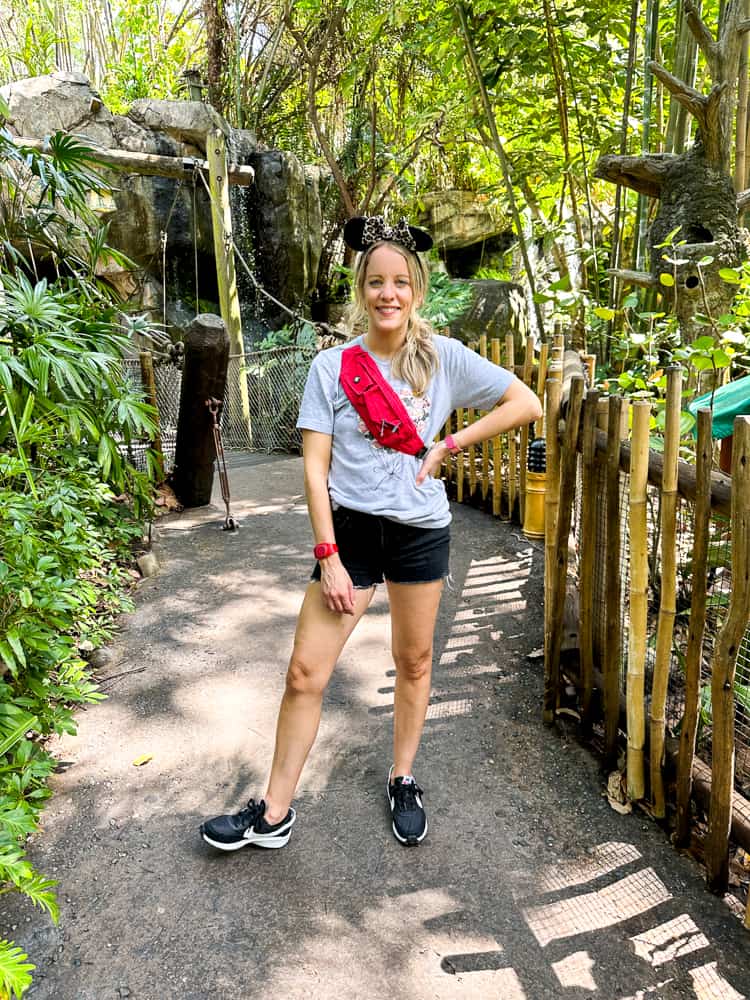 FAQs