Interested in knowing more about Club Level at Disney for your next Disney vacation? There's many perks and fun things you can access when you are a Disney World Club Level guest and today we're going to share all you need to know!
Vacationing in one of the Disney World resorts is such a wonderful experience. We love the feeling of being around the magic 24/7 while staying on the property and receiving all the little Disney perks along the way.
Staying as a guest in one of the Club Level rooms at a Disney hotel moves the perk level up another notch! And depending on what you are looking for, it can be a real nice upgrade to your vacation when staying at one of the Disney resorts!
You are probably here reading this because of one of two reasons. Either you want to learn about the Club Level experience at Disney World, or you already know about it but want to know which one is the best and why. This post will help be your guide for both!
This post includes affiliate links.
What is Club Level at Disney?
Club Level at Disney can also be referred to as the Concierge or Club Level Concierge area. They are located in all of the Deluxe Walt Disney World Resorts, but have their own area, oftentimes a club level floor, within the resort.
You will have special access to these lounges when you stay as a guest at the Club Level.
By being a guest at Club Level you are entitled to benefits that are not available to the other guests.
What are the Club Level Benefits at Disney?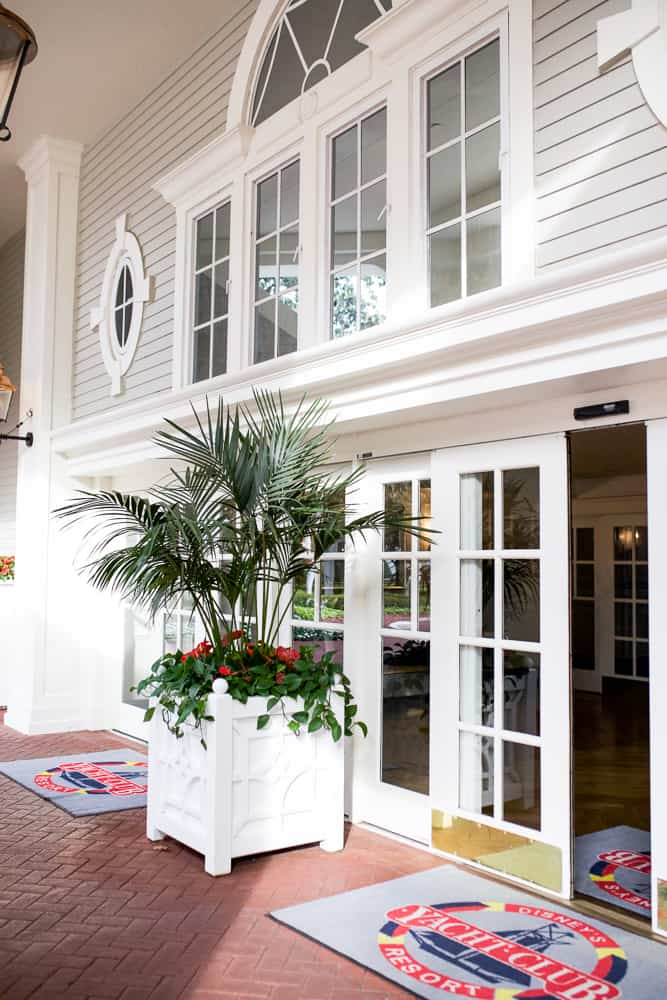 1. Complimentary Food and Drinks
By far the biggest perk of your Club Level stay at at Disney World Resort is the complimentary food you will have access to in a secure club level lounge. Each Disney lounge has a bit different selection of food, beverages, and atmosphere, but generally they are very similar to each other.
The food in the concierge lounges is not an entire meal! This must be stressed at this point.
Despite this, we have found that the Club Level food selection is a wonderful supplement to your day at any of the Disney theme parks.
We are able to feed everyone a fairly nice and filling breakfast before we hit the pavement and depending on when we return, we can grab a modest lunch or dinner as an addition to a meal out during the day.
That being said, everyone has different expectations when it comes to food.
Food offerings at Disney's club level
Here is a sample of the food offering you'll see Club Level throughout a typical day:
7:00 – 10:30 a.m. Continental Breakfast with juice, coffee, tea, cereals, fruit, breakfast pastries and breads
11:00 a.m. – 4:00 p.m. Light Snacks and foods like crackers, pretzels, cookies and nuts. Beverage assortments available.
5:00 – 7:00p.m. Hot appetizers, hors d'oeuvres, cheese, beverages, wine and beer (yes, these are complimentary!).
8:00 – 10:00 p.m. Desserts and cordials with a selection of cordials and desserts from the resort's restaurants.
All Day: Whole fresh fruit and beverages
Another perk is the Club Level lounge which is open to you even on the day you check out! You can stay in the Club Level lounge until midnight on your last day at the resort. Talk about an added perk, especially if you have a late flight!
In addition to the complementary food and beverages, here are some other benefits of the Club Level experience:
2. Club Level Signature Services
Disney Signature Services are available to Club Level guests as well as guests who book a private Disney VIP Tour or have a reservation at a suite in a Deluxe Resort, Grand Villa, 2-Bedroom Villa at Disney's Riviera Resort, Bungalow at Disney's Polynesian Villas & Bungalows or Cabin at Copper Creek Villas & Cabins.
Some of the signature services that the cast members on the Club Level will help with are Genie+ problems and dining reservations. We must let you know that they are not miracle workers when it comes to dining reservations but they can oftentimes help.
You should not arrive at your hotel thinking you will be able to make all your dining reservations with Signature Services because you're staying Club Level. However, we know they are very good at finding canceled reservations and getting you into a particular restaurant.
Please understand, this is not something you should count on. We do stand by our recommendations for planning ahead to get into the restaurants you want.
Unfortunately, Disney doesn't give Signature Services staff a certain amount of reservations for Club Level guests.
Disney's concierge cast members also can provide assistance with transportation, Magic Bands, ticket problems and a multitude of other small things you may need during your stay.
They even have a dedicated phone and text line that you can use when staying Club Level. If you run into any problems while at the parks, you have immediate access to help, just for staying in Club Level!
After you book your stay you can contact Disney Signature Services 7 days a week from 9:00 AM to 5:00 PM Eastern Time at (407) 939-7777 or at [email protected].
4. Additional Club Level Hotel Room Amenities
Other additional concierge services Disney offers for your hotel room are:
Turndown service
In additional to your regular housekeeping services, you can also receive an evening turndown service! Bedding will be turned down and you will oftentimes find a small surprise waiting for you! A bit of Disney magic right in your own room.
Upgraded toiletry items
Staying at a club level room means upscale H20 brand toiletries waiting for you, including extra bonus products like sunscreen and aloe. This isn't guaranteed and is subject to availability. If it's not in your room you can always call and ask for some!
Robes and slippers
Need a moment to relax after a long day of walking around Disney World? Slip into your cozy plush robe and slippers and take a moment to reflect on all of the magic at Disney.
Daily newspaper
Sip your coffee and stay caught up on on the daily news with a complimentary newspaper.
They can also help with your daily itinerary as well as check in at the Club level. This allows you to bypass the front desk line!
Which Disney World Resorts Have Club Level Rooms?
All the Disney World Club Level rooms are located in the Deluxe Resorts except for one Moderate Resort.
Keep in mind, if you stay at a Deluxe Resort you are also getting the benefit of Extended Evening Theme Park Hours.
The Value resorts do not have a Club Level. You will find a Club level at:
Disney's Animal Kingdom Lodge – Kilimanjaro Club Lounge
Disney's Beach Club Resort – Stone Harbor Club
Disney's Boardwalk Inn – Innkeepers Club Lounge
Disney's Contemporary Resort – Atrium Club Level (12th floor) and Tower Club (14th floor)
Disney's Grand Floridian Resort – Royal Palm Club and Sugar Loaf Key Club
Disney's Polynesian Resort – King Kamehameha Club
Disney's Wilderness Lodge Resort – Old Faithful Club
Disney's Yacht Club Resort – Regatta Club Lounge
Moderate Resort:
Gran Destino Tower at Disney's Coronado Springs Resort – Chronos Club
Which Disney World Club Level is Best?
Considering that there are a lot of similarities between all of the Club Levels in regards to the services they provide and even in what they offer, it comes down to things like the lounge atmosphere, location and cost.
Club Level at each resort have a different look, feel and price. While you'll find reviews that say one Club Level is much better than another Club Level, these factors are quite subjective. Each lounge is different and unique.
Below we will break down each Club Level by resort to show you all of the different offering that each Club Level has. Our hope is that this helps you get a better idea of what each lounge is like to help you decide which Club Level is best for your family's Disney vacation.
Disney World Animal Kingdom Lodge Club Level
Animal Kingdom Club Level has the obvious highlight of being able to watch the animals. We recommend this Club Level if you are not visiting the parks all day long and are staying around the resort simply because there is more to see and do here.
The dining offerings are usually some of the best of all the Club Level resorts but this can change so we are reluctant to say it is definitely the best.
Overall, especially if the people in your group are into animals, this is a great place to stay for an amazing Club Level experience.
*If you like this resort you'll want to check out our review of dining at Boma and 9 Secrets & Expert Tips for Kilimanjaro Safaris!
Beach Club Club Level
The Disney Beach Club Club Level has one of the largest lounges of all the clubs. The lounge is spacious yet nothing spectacular with the design.
We have always loved being guests here for no other reason than the wonderful location. Staying at the Club Level here is an added perk to a great resort. We chose club level at Beach Club for one of ur vacations and we absolutely loved it. We started and ended our days in the club level lounge.
We love the walking distance to Disney's Epcot and a quick boat ride to Disney's Hollywood Studios. This is a solid choice.
Boardwalk Club Level
This Club Level is located on the Boardwalk and, like the Beach Club, has easy access to both Epcot and Hollywood Studios. It has one of the smallest lounges but it's beautiful and has everything the other clubs have.
If you are planning on staying at the Boardwalk Club Level and you are considering spending the extra money on this Disney Club Level, we encourage you to check out some of the local restaurants on the Boardwalk before committing to the club level.
The Boardwalk has such great dining that it may make sense to spend your budget on the restaurant instead of the Club Level. You can find out more about the Boardwalk here.
Of course, if you have smaller children and want to crash at the hotel once you get back from the Disney World parks, the club level may make more sense!
Contemporary Club Level
The Atrium Club is one of the most amazing Club Levels on this list. For the Disney purist, the Taj Mahal of the Disney experience is the club level in the Contemporary Resort! This lounge is spacious with a view of the entire Magic Kingdom which, for many, is worth the price of admission alone.
The dining is ok but it is not extra special. Be advised that you can watch the fireworks from the balcony of the Atrium but it gets very crowded.
During the day you can enjoy the view of the Magic Kingdom without many people around. Obviously, you have the wonderful perk that it is just a short walk from the Magic Kingdom and the monorail stops at your doorstep.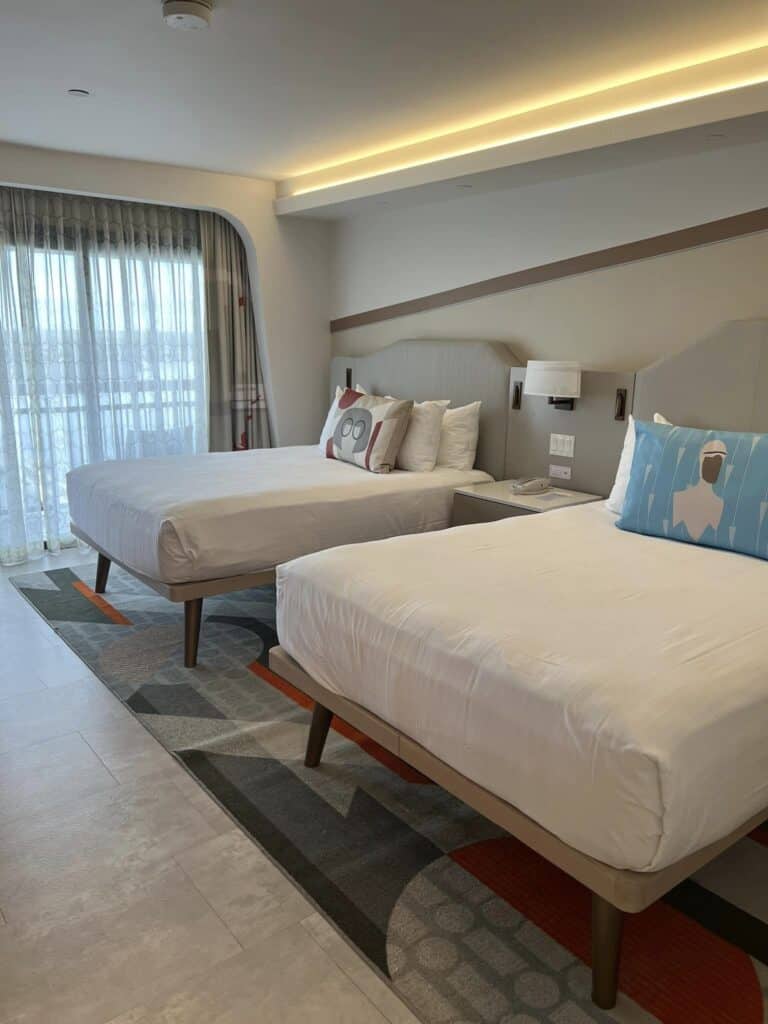 One unfortunate thing to be aware of is that you cannot see the monorail from this concierge lounge area. We don't want you to be disappointed.
Tower Club at the Contemporary
This is a step above (if that's even possible) the Atrium. It is exquisite in every way! The Tower is the absolute best!
The lounge is a bit smaller but given the fact that there's fewer people, it doesn't really matter. There's also seating both inside and outside at this lounge with amazing views of Disney's Magic Kingdom and wonderful food.
Grand Floridian Club Level
Royal Palm Club is absolutely beautiful and could be considered to be the cream of the crop! With a dedicated elevator to the spacious lounge, this is classy all the way.
Polynesian Club Level
One of the most expensive of all the club level resorts. Located near the Magic Kingdom, one of the highlights of staying club level here is a great view of the fireworks from an air conditioned area sipping on your favorite beer or wine.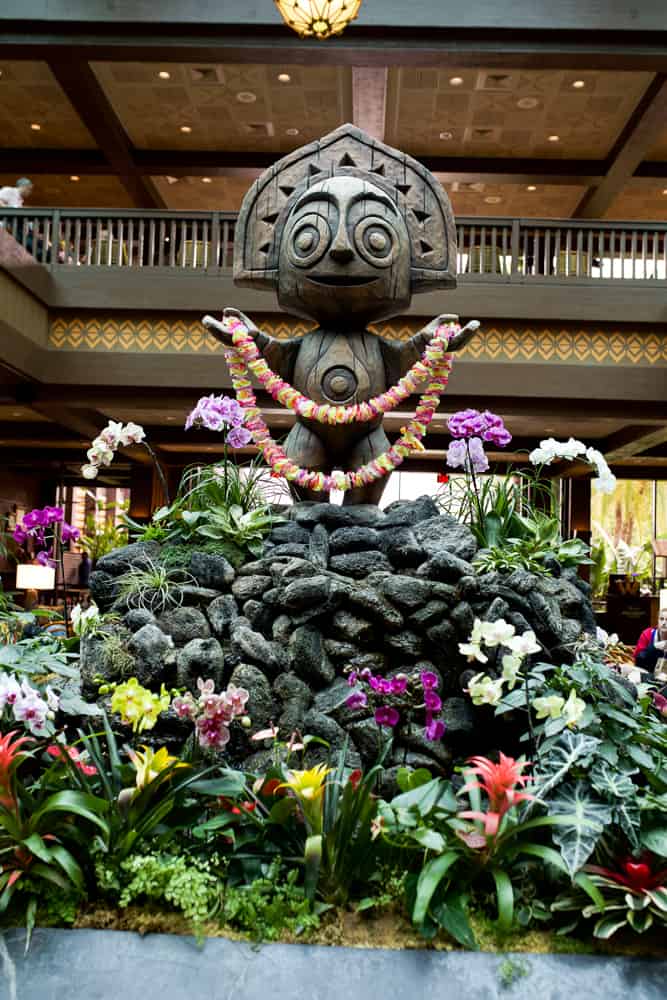 This is a beautiful spot with above par dining. This club, though expensive, is one to check out.
For more information on the dining options at the Polynesian, go here.
Wilderness Lodge Club Level
If a wilderness lodge motif is to your liking, you will love the Wilderness Lodge Club Level! Nothing is spared here and we feel they go a little extra in the hospitality department.
Some of the highlights here are sitting with a cup of coffee or drink and looking down at the amazing lodge. The balcony is faced toward the Magic Kingdom but you will not be able to see more than the Atrium Club.
You can see the fireworks from the Wilderness Lodge club level.
Yacht Club Club Level
Similar to the Boardwalk Club Level, the Yacht Club Club Level has one of the smallest club level lounge areas and, frankly, is a bit underwhelming – especially for the price.
The location is great with easy access to Epcot and Hollywood Studios but of all the Club Level resorts, for the cost, this is one of our least favorites.
We've also heard the food here is quite mediocre.
Gran Destino Tower at Disney's Coronado Springs Resort
This is the only moderate priced hotel that has a Club Level. If you are price conscious (and who isn't), you will definitely want this one to be in your consideration.
The food is on the same level with the other Disney Deluxe Resorts and this Club Level lounge is spacious and nice. We really recommend this one especially for the Club Level experience at a bit of a reduced price.
FAQ
Can I Use the Direct-to-Room Service if I am Staying in a Concierge Level Room?
Yes! You can use the direct to room service which is available for all rooms, including a Club Level room.
How Much Does it Cost to Stay Club Level?
The price a club level room depends on which place where you stay. For the most part you should plan on at least $700 per night.
Which Club Level Service Has The Best Food?
The Kilimanjaro Club Level at the Animal Kingdom Lodge has the best food.
Which Club Level Has The Best Views?
The Atrium Club Level at Disney's Contemporary has the most amazing views.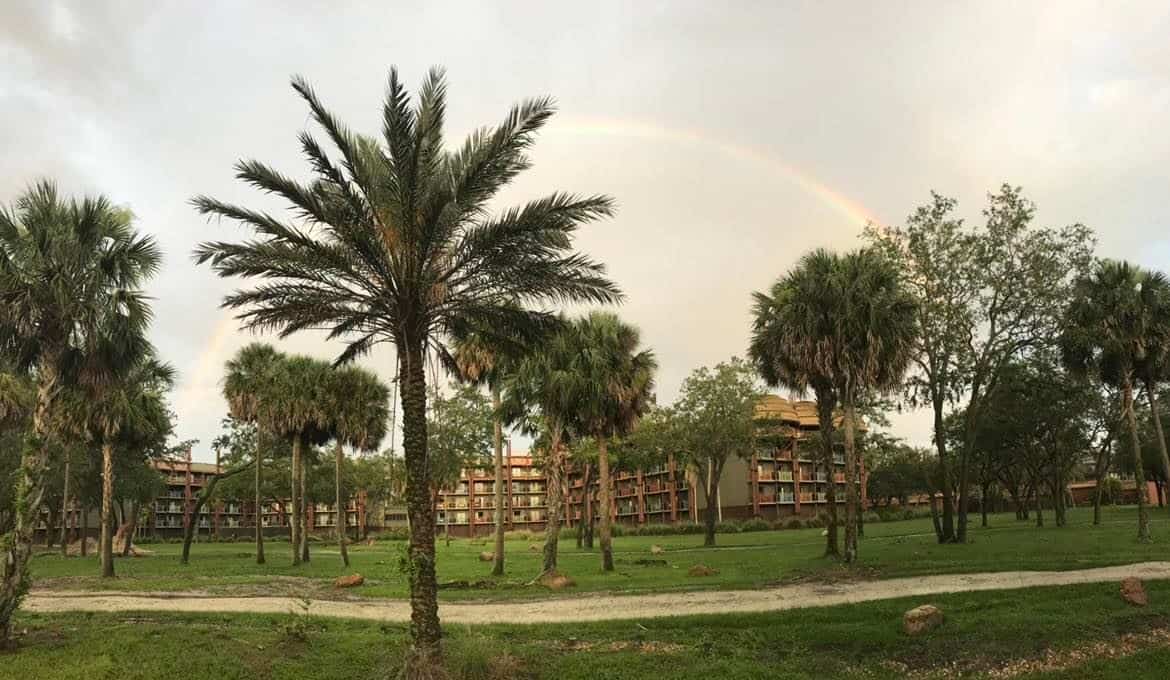 Final Thoughts
Overall, a Walt Disney Club Level is something you should take into consideration if your budget allows. Personally, we have used the Club Level at Disney and have enjoyed it immensely! You may want to look into using the Disney Payment Plan if a club level is something you want to make happen. As always, we never recommend going into debt to go to Disney World.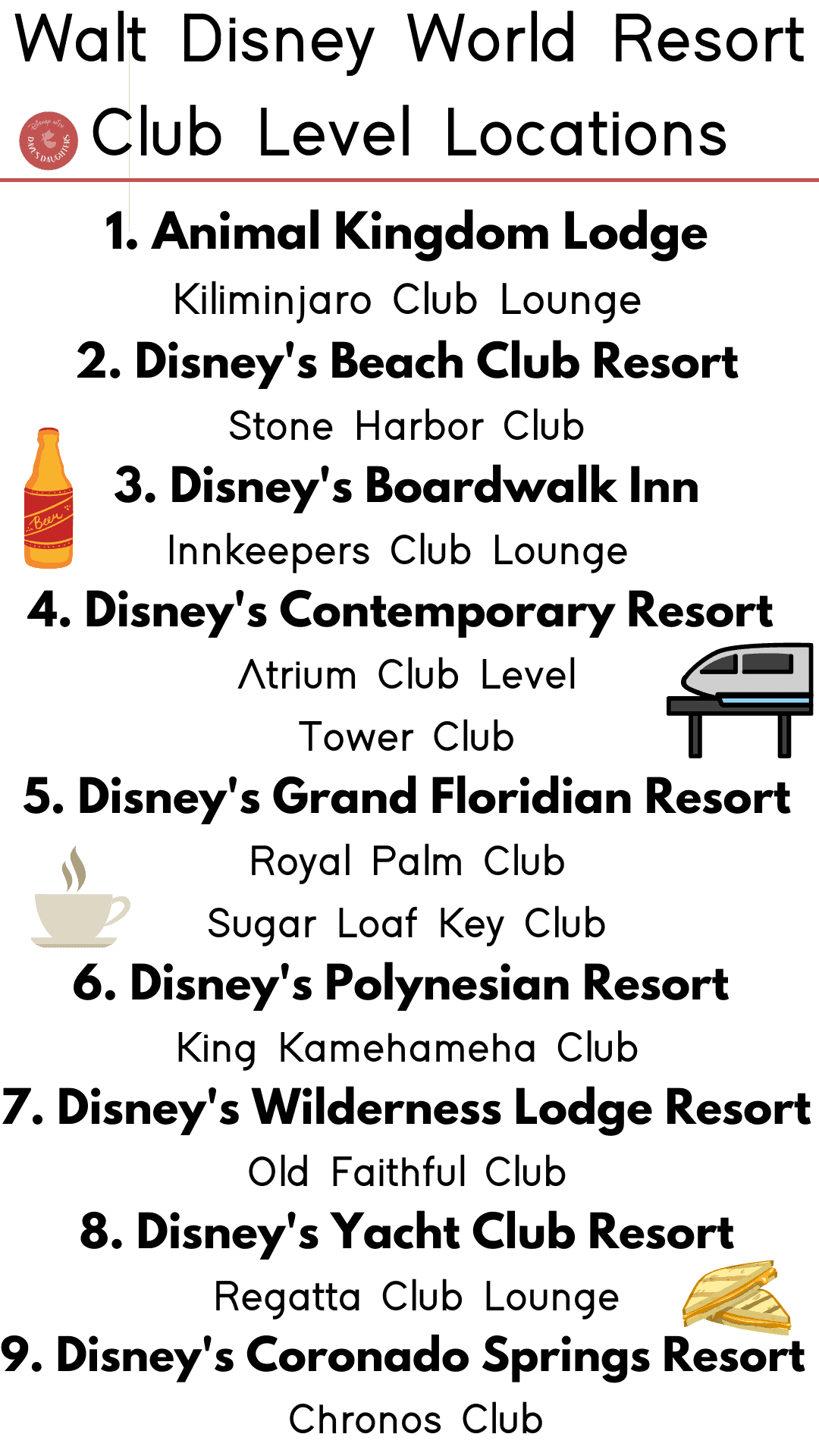 If you are wanting more information on the Disney deluxe hotels, we have them ranked in order of best to worst here.
If you want additional information where to stay, head to our guide on where to stay at Disney World!
And of course, bringing your own snacks and food into Disney World is an easy way to save some money! There is a way to experience the magic of Disney on every budget.