Love Disney? Looking for Disney shoes for women? We love rocking Disney inspired shoes to rock both at Disney World and at home.
While we definitely don't recommend buying brand new shoes right before your trip, we do encourage you to get a fun new pair before your next trip (and wear them out and about for awhile to make sure they're comfortable!).
And let's be real. When you can't be at the most magical place on Earth, you might as well bust out some cute Disney shoes to make you feel magical!
Check out these 9 super cute Disney shoes for women – everything from sandals, boots and flats perfect for every season! We also have a full post with Disney graphic tees! (Please note, some of these shoes have sold out so we are linking similar items in the post – be sure to check them out!)
9 Perfect Disney Shoes for Women
*this post may contain affiliate links which means I may earn a small commission on something you purchase at no additional cost to you. Thank you for helping us support our family!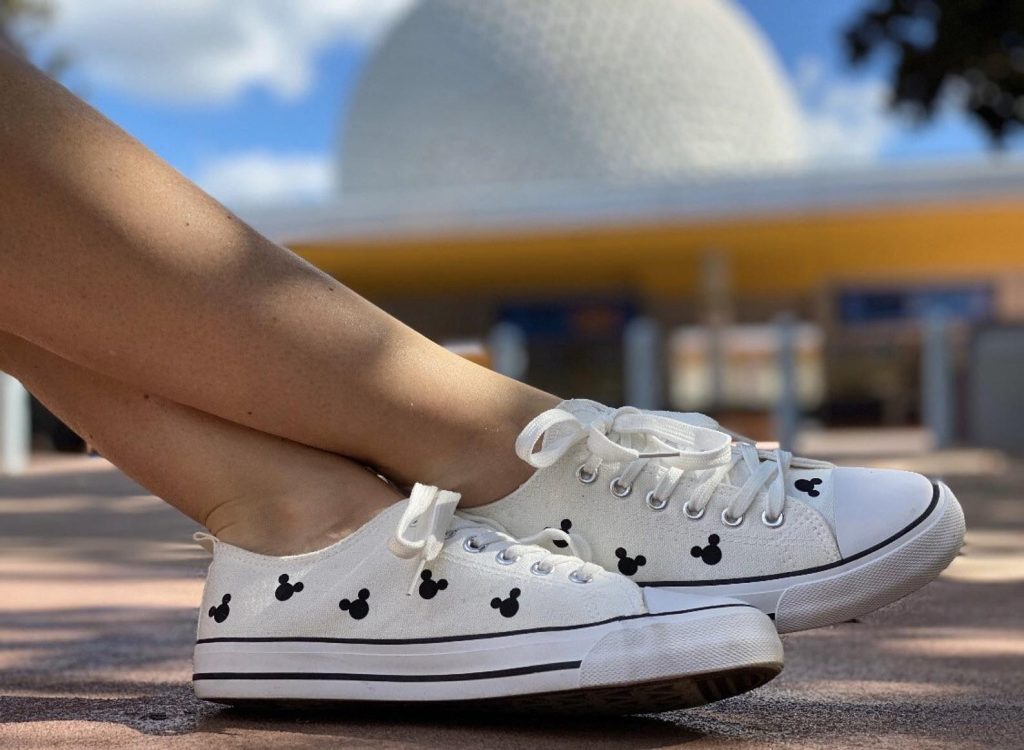 These Mickey Mouse sneakers are both Disney cute and American classic! We love the all white sneakers with the cute black Mickey icons all around. These are great because the will go with literally any outfit you pack on your Disney vacation, including dresses!
Calling all Frozen fans! These converse sneakers are AMAZING. We love the look of converse all star shoes in general, so the fact they now have Disney inspired shoes is great. We love that these shoes have Elsa and Ana on them without screaming "Frozen!"
Similar styles here, here and a Star Wars version here!
Talk about cute and comfy! These fun Goofy inspired adidas are great for all the miles you'll be walking at Disney as well as showing your Disney love at home!
Do you love TOMs? We do! These shoes are summery and happy and are perfect for your trip to Disney World. We love pink shoes because they add a fun pop of color to your outfit – especially if you pack more neutral clothes!
These cute, silver Sorel boots are a great option to wear at the parks when it's cold OR just show your Disney pride all winter!
Admittedly these probably aren't the perfect option for wearing in Orlando, but a viable option if you will be visiting in the winter months. As a bonus, you can wear these boots both on vacation in Hollywood Studios and also back home in the snow!
Here is a similar pair of Ugg boots with a Disney flair!
These Mickey Mouse slide on sandals are a classic shoe with Disney flair! A fun option for walking to and from the pool or if you are spending the day at Disney's Typhoon Lagoon.
Did you know Crocs are back in style?! They are, and Disney inspired crocs are a great choice for wearing around the parks!
Many people swear by their comfort for hours of walking. These are a great choice for teens who love to wear crocs with socks!

For all you moms out there, here is a pair of mermaid crocs for kids, and also a pair of buzz lightyear crocs! These are perfect for the pool!
Who doesn't love a pair of slide on sneakers? These Mickey loafers come in multiple prints which means you will be sure to find a pair you love. Grab some no show socks and you are ready to wear these all around Epcot and the Animal Kingdom!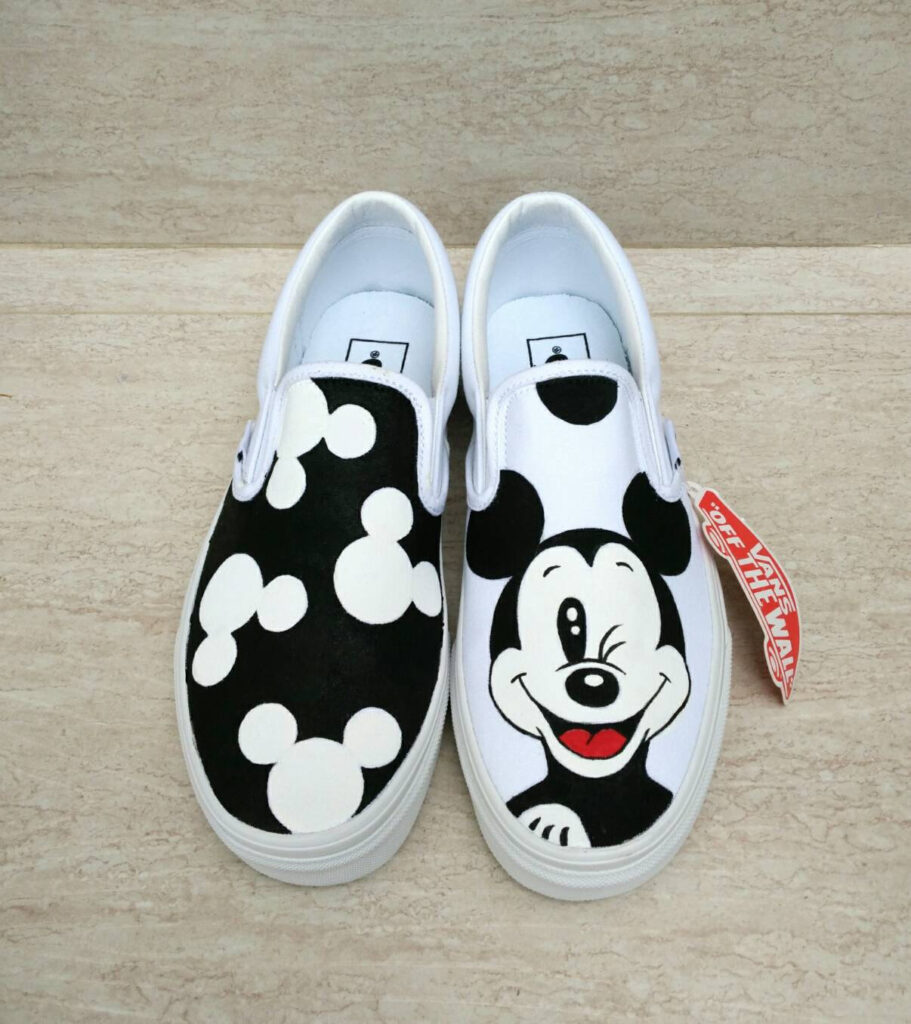 Hand painted Disney shoes? YES! Etsy is full of amazing options and these are perfect if you are wanting something unique that nobody else will have. We love not only having a fun pair of shoes but supporting a small business artisan on Etsy!
We hope you found a pair of Disney shoes for women to brighten your day (or the lucky lady in your life)! Which one did you like the best?
One quick tip – if you are going to purchase new shoes for your trip make sure you wear them around well before your trip. Purchasing new shoes immediately before your trip is one of our things to avoid while planning a Disney Vacation.
Now that you have your footwear figured out be sure to check out our tips for saving money while on your Disney vacation!