As you are preparing for your Walt Disney World family vacation you are thinking through many things: Where to eat, where to stay, and more.
One thing that slips past many people is being physically prepared for walking at Walt Disney World.
The Disney parks are big. Most people will walk an average of 7-9 miles each day of the Disney vacation. That is around 14,000-18,000 steps per day.
If you are staying in Orlando for four days, you are looking at 28-36 miles walked. We are willing to bet that you are not walking nearly that much each day right now.
Being physically ready for a large amount of walking will make your trip much more enjoyable. You won't be as tired. You will sleep better and be able to wake up easier.
You will have the energy to make last minute trips to see a Princess or any other character that you pass. You will prevent the dreaded Disney rash.
How Big Is Walt Disney World?
Walt Disney World is a total of 27,000 acres – making it the biggest theme park in the world. Of course, you won't be walking all of that!
To give you a better grasp on how much walking you will do, let's break it down by each Disney park.
How Much Will I Walk In Epcot?
The World Showcase at Epcot alone is 1.2 miles around the lagoon. There is a boat that leaves from Showcase Plaza and will drop you off in Morocoo or Germany to help cut some of the walking out.
To get from the front gate of Epcot to the start of the World Showcase you are looking at close to a mile.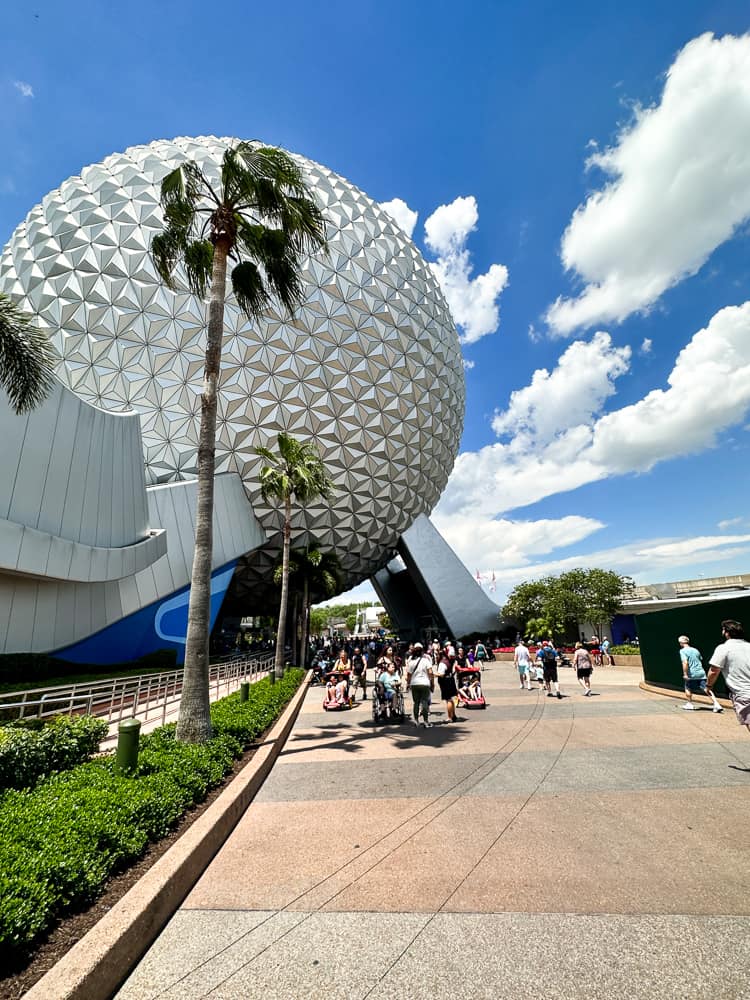 Epcot has the longest amount of walking paths, so you will walk a ton here. You can find more details here. If you are visiting all four parks and plan to go through the World Showcase you can plan on this day likely being your highest mileage day.
Because not everyone goes through the World Showcase, especially families with young children, Epcot can be a bit lighter on miles.
(If you want to know more of the history of Epcot, head here!)
How Much Will I Walk In The Magic Kingdom?
You may be surprised to know that Disney's Magic Kingdom is the smallest of the four parks. That being said, you are most likely to backtrack quite a bit here.
Most families find they put in the most miles in the Magic Kingdom.
If you loop the entire park you would walk about 1.6 miles. We can almost guarantee you, however, that you will not walk in one straight circle in the Magic Kingdom!
If you are following our tips for fast passes you will start out in one land and then immediately head to another. If you want to avoid lines in the Magic Kingdom, you will be doing extra walking and a lot of backtracking.
In our opinion, it is a good trade off.
How Much Will I Walk In Hollywood Studios?
A straight loop around Hollywood Studios is around 1.2 miles. This park feels smaller than some of the other parks. You likely will not backtrack too much here, but if you do just be prepared with good walking shoes.
Photo Credit Alexis Larcy
How Much Will I Walk In Animal Kingdom?
A walk around the Animal Kingdom is about 2 miles – and you feel it. This park has attractions that are very spread out. We recommend following a map and having a plan before coming here.
While other parks have lots to see and do as you walk, Animal Kingdom is much more laid back without as much happening. You can easily feel more tired here without the distractions along the way.
5 Tips To Prepare Your Body For Walking At Walt Disney World
We recommend starting to get your body ready for all this walking about 3-6 months prior to your trip. Here are our tips to train for your trip!
1. Get a fit bit, smart watch, or pedometer.
You will want to know how many steps you are taking on average right now. Keep track of your steps for 1-2 weeks prior to starting your training.
Figure out what your average number of steps is per day. It doesn't matter what number you get – you start where you start!
2. Get a good pair of shoes.
We don't recommend buying new shoes immediately before your trip. Blisters and sore feet will ruin your vacation. 3-6 months before your trip is a perfect time to get a good pair of walking shoes.
Be sure to pick out a pair that you like and look forward to wearing! We have a list of recommended shoes here. On our last trip, we wore On Cloud, Adidas, Hoka, and Nike.
3. Get your family involved.
Make this a family event! Get your spouse and older kids on board with increasing their walking mileage before the trip.
Get toddlers excited for extra stroller time! Be sure to practice pushing that stroller for miles and miles!
4. Start increasing your steps on a weekly basis.
Each week, aim to increase your daily steps. The amount that you want to increase each week will depend upon how many weeks it is until your vacation and how many steps you need to increase.
5. Celebrate little victories
Keep track of your steps each week and celebrate every time you meet your weekly goal! This would also be a fun way to countdown to your Disney trip!
Celebrations could be as easy as getting Mickey Mouse ice cream bars on a Friday night or picking out a Disney fitbit band to wear while in the parks!
35 Ways To Increase Your Daily Steps
Don't get too overwhelmed thinking about needing to all of a sudden walk 8 miles right this instant. Remember, at Disney World this will be spread out over an entire day.
As you train for your trip, remember that your goal right now is to increase your daily steps – not to be more efficient with your time. Increasing your steps will mean that some things take longer or are less convenient, but trust us, it is worth it.
We have a list of ways to help you easily increase your overall daily steps. We are assuming that a majority of our readers are families with children at home so our goal is to make these ideas as easily accessible for families as possible.
Photo Credit Alexis Larcy
Park far away from the grocery store entrance.
Walk around the block every hour.
Go outside and literally walk around your house several times a day.
Walk up and down the stairs in your home before and after each meal time.
Go on a 30 minute family walk after dinner no matter what the weather is. Dress for it!
Consider getting an inexpensive treadmill.
In the winter, go to the mall once a week and power walk.
Go to your local school and walk the track when it is not in use. Your kids will love this!
Walk around your kitchen island several times every hour.
Make multiple trips to the car to bring in groceries.
Dance in the living room with your kids.
Walk in place while watching Netflix.
Walk around your house when talking on the phone.
Create a "loop" in your house that you walk every morning and evening.
Find workout videos on youtube for free – or other fitness apps.
Set an alarm on your watch or phone to remind you to move. When the alarm goes off – MOVE!
Take the stairs instead of the elevator or escalator
Go to a new park with your kids and play with them.
Take your dog to a dog park and walk a trail.
Take the family to a state park or local walking (or biking) trail. Plan these! Put them on your calendar.
Walk up and down the sidelines or bleachers at your child's sports practices or games. Don't worry about looking silly! You will be thrilled with the amount of steps you get.
Walk around the house while you are waiting for your coffee to brew in the morning.
Fill your water bottle up from a sink that is farthest away from where you are.
Drink more water so that you are needing to get up and use the bathroom more frequently.
Use a bathroom that is farther away.
Skip the drive thru at Starbucks – walk inside to order your drink.
Walk the perimeter of the grocery store before you start shopping.
Opt for in-store pick up from Target rather than drive up.
Go sledding with your kids and walk up the hill as many times as you can.
Go snowshoeing in the winter – this increases steps AND strength!
Mow, shovel, and rake. Have the kids help pick up sticks, gather leaves, or play in the snow while you shovel.
Walk during your lunch break: go outside, down the halls, up and down stairs, or go through the skywalk.
Meet a friend for a walk rather than dinner. Or do both: meet up at a mall or park and walk for 30 minutes and then grab an appetizer after!
Walk through your house every night and tidy up before sitting down to watch a show.
Check your phone to see how much time you are spending on social media. You will see that yes, you do have time to walk!
With a little preparation and the right mindset you will be ready to walking at Disney World!
Once you are at Disney World make sure you stay hydrated (you can get free water at quick service restaurants), give you feet and legs breaks, and stay cool. You are ready to have the most magical time ever!