If you're looking for the best water bottle for Disney look no further! You can't go to Disney without one (at least we think so!) and this post will help you find the right water bottle for your trip.
You are in Florida and it is hot and humid. What is the number one thing to do in those conditions? Drink water! When you are in Disney World it is vitally important that you stay hydrated, especially if you are there during the sticky summer months.
If we were your bossy older siblings, we would tell you that you MUST bring a water bottle with you into the Disney Parks. You will save money, save your health, and save your sanity!
Staying hydrated helps you keep your energy levels up even in the intense Florida heat which we all know is necessary to do all the Disney things you want to do!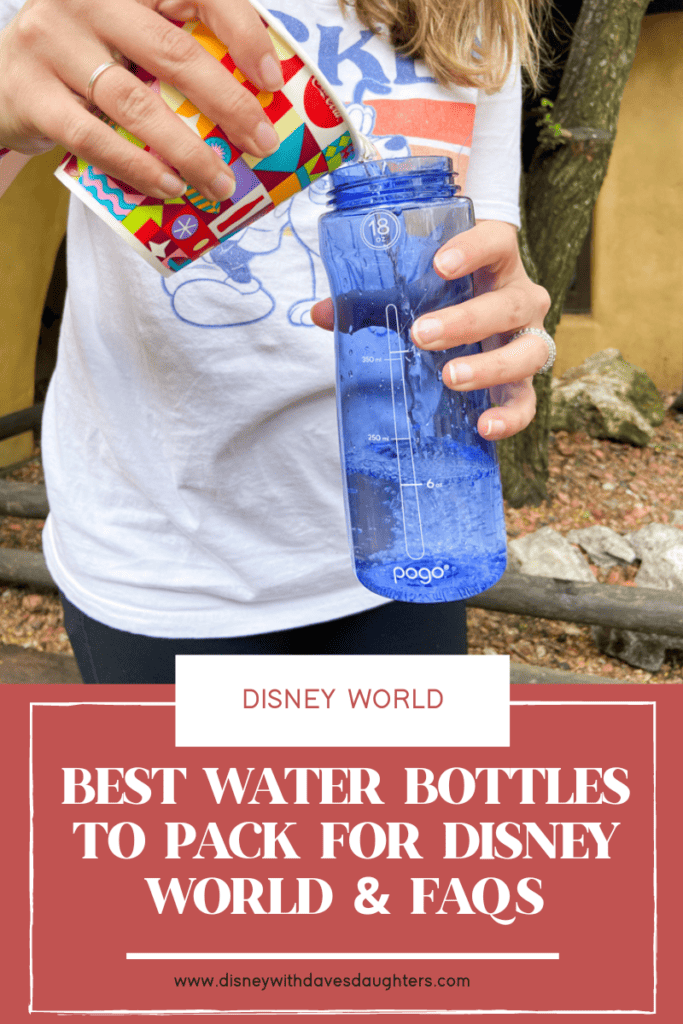 Disney With Dave's Daughters is a participant in the Amazon Services LLC Associates Program. This post may include affiliate links which means I may earn a small commission if you shop using the links below at no additional cost to you. 
We just spent 4 days at Disney and let me tell you, having our own reusable water bottle in our backpack available to drink as we needed helped us so much!
Even on the day that it was cooler we still drank a ton of water since we were able to fill it up throughout the day and not have to pay for it. The last thing you want it to deal with heat exhaustion or the dreaded Disney rash (which yes, dehydration plays a part in!) because you're not drinking enough water.
We actually even packed some Liquid I.V. packets for extra hydration. We put these in our water bottles at the end of the day and started every morning with them to stay extra hydrated. We just used the tap water in our room and added some ice from the ice machine. It worked great!
Best Water Bottles for Disney
Short on time? Here are our top two water bottles:
Best Budget (we bring this one)
Let's answer a few questions about bringing a water bottle to Disney before we get into our top picks.
First up, the most common question!
Can I bring my own water bottle into Walt Disney World?
Yes, you can bring your own water bottle into any of the four Walt Disney World Parks!
You are permitted to bring non-alcoholic beverages into the parks as long as they are not in glass bottles. You can bring in any kind of water bottle you like.
We recommend bringing a lightweight plastic water bottle with you in your Disney park bag for several reasons.
First, you do not want to be carrying around extra weight from a heavy water bottle. If there are five people in your family consider carrying 5 metal water bottles all day long on your back (plus everything else). Plastic bottles are lighter and will make your bag less heavy. At home we use aluminum water bottles – when we go to Disney we bring plastic.
Second, if you happen to set down your water bottle and walk away it won't ruin your day to discover you lost it. We try to only bring things into the park that we know might get lost.
Of course, you might completely disagree with us and you may want to bring your amazing Hydro Flask or Yeti water bottle with you! That choice is completely up to you!
9 Best Water Bottles for Disney World
Disney With Dave's Daughters is a participant in the Amazon Services LLC Associates Program. This post may include affiliate links which means I may earn a small commission if you shop using the links below at no additional cost to you. 
As we mentioned earlier, it truly is your personal preference. We will share a few favorite options!
Best Lightweight Water Bottles for Disney World
1. Our Personal Favorite – Pogo BPA Free
This lightweight water bottle comes in three different sizes – 18 oz, 32 oz, and 40 oz. It also comes in 7 fun colors making it easy to keep yours separate from the rest of your family.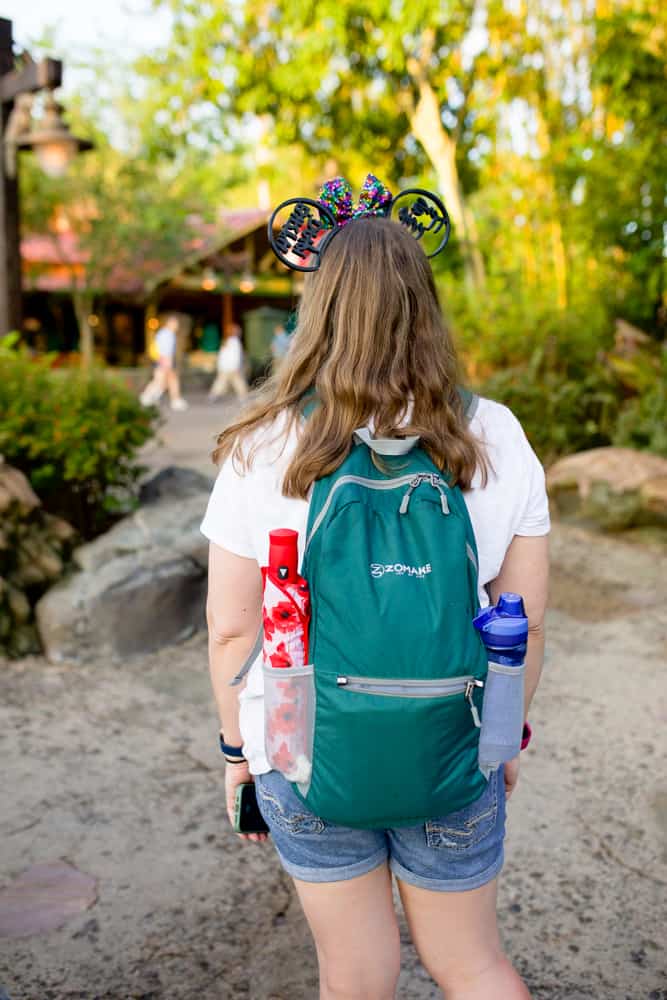 This is the water bottle we personally have taken to Disney World. It is lightweight and the lid latches closed, making it less likely to spill.
We bought the 18 oz size and it was a great choice! It was small enough to fit in our bag but big enough to keep us hydrated.
We carried these water bottles on the outside of our backpacks in the water bottle pouch. We were very happy with this water bottle and would bring it again!
Pogo BPA-Free Tritan Plastic Water Bottle with Chug Lid
Ideal for lunch bags, purses and briefcases
Made from sturdy and stylish Tritan
Great to have while working out or in the cup holder when you are on the go
Chug-style lid has a leak proof cover and is great for fast hydration
BPA, phthalates, PVC, lead and cadmium free
We earn a commission if you make a purchase, at no additional cost to you.
This collapsible water bottle will help you save space in your suitcase or airplane backpack! This silicone water bottle folds down to 8cm and has handy little straps to help keep it folded when not in use.
This is a great option to have if you want an extra water bottle in the parks but you aren't sure if you will need it for the entire day. This one is a 20 oz water bottle.
This water bottle has a wide mouth making it super easy to fill and clean!
SPECIAL MADE Collapsible Water Bottles Leakproof Valve
【Use safe silicon】The water bottle is BPA free and odorless, made of BPA-free food-grade organic silicone, passed LFGB, SGS and as obtained FDA certification, to ensure safe drinking, no PVC, latex, phthalate and plastic smell, etc. odor. It is safe and hygienic, because it uses a food-grade liquid silicone bottle and a food-grade plastic cap,children can also use it with confidence.
【LEAK-PROOF AND EASY-TO-CLEAN】The patented sealing screw cap is used to eliminate leakage and splashing and effectively prevent the bottle from accidentally opening. The wide-mouth design makes it easier to clean the inside of the collapsible soft water container or add ice or lemon to it.
We earn a commission if you make a purchase, at no additional cost to you.
If you are going on an adults only Disney trip and are in need of new water bottles check out this two pack! These are leak free, lightweight, and hold a good amount of water. These come in a variety of colors.
Contigo Ashland 2.0 Leak-Proof Water Bottle, 24oz 2-Pack
NO LEAKS WITH AUTOSPOUT TECHNOLOGY: Spout pops up for easy drinking from the straw; seals with straw down for no spills
SIP CLEANER: Spout cover helps to protect the spout from dirt and grime
LOCK IT IN: Button lock ensures the spout doesn't open accidentally
CARRY ON: Integrated handle makes it easier and more comfortable to pick up and go
EVERY LAST DROP: Angled straw fits securely into the lid so you can sip every last drop
We earn a commission if you make a purchase, at no additional cost to you.
You can't go wrong with a classic Nalgene bottle. This water bottle comes in 15 different colors. The smaller spout on this design makes it easy to drink from while you are walking through Disney!
This water bottle is guaranteed to last. In our family we have Nalgene bottles that have been around for 20+ years and are still going strong!
Nalgene also has fantastic customer service (we know this from personal experience), so if you do happen to have an issue with your water bottle you can be sure they will take care of you.
Nalgene Sustain Tritan BPA-Free Water Bottle
Our new Nalgene Sustain product line is made from Tritan Renew, 50% certified recycled content further offsetting the use of fossil fuels and lowering greenhouse gas emissions.
This Nalgene water bottle is completely leak proof, made of virtually indestructible BPA-free Tritan, easy to clean and dishwasher safe on the top rack.
Suitable for both warm and cold beverages (-40 to 212 degrees Fahrenheit);
Free of BPA, BPS and phthalates, opening accommodates most water filters; marked with milliliters and ounces for easy measurement
We earn a commission if you make a purchase, at no additional cost to you.
Best Insulated Water Bottles for Disney World
This incredible water bottle comes with three different lids! You get a straw lid, flip lid, and handle lid with each bottle. This water bottle is insulated so it will not sweat and cause the items in your Disney Park bag to get all wet.
You will have 28 different color options to choose from and a 100% satisfaction guaranteed promise! I (Katie) personally own this water bottle and I love it.
I use the straw lid and it works great! It keeps my water cold for a long time, fits in my car cupholder, and I love that I can throw it in my backpack when we go to our local amusement park and it doesn't sweat! Iron Flask also has amazing customer service.
6. Best Disney Water Bottle – Simply Modern
If you are wanting a Disney themed water bottle you HAVE to check these out. These water bottles come in forty, yes FORTY different designs!
You will find the Disney villains, princesses, Star Wars characters, Mickey, Avengers, and more. You can choose tumbler or classic water bottle styles.
7. Leakproof Stainless Steel – Takeya 18 oz
This is a steel insulated water bottle that will keep your water nice and cold! We love the innovative lid design that keeps water from leaking (Katie's daughter has this water bottle and she loves it!).
Takeya comes in 6 different sizes, a spout lid or straw lid, and 14 different colors. (Check out the reviews on amazon – 18,000+ reviews and 5 stars!)
Of course, keep in mind that the steel water bottles will be heavier in your backpack.
Takeya Actives Insulated Stainless Steel Water Bottle with Spout Lid
Actives Insulated Water Bottle: Takeya Actives Stainless Steel Water Bottle is a sleek and rugged sports water bottle with a powder coated finish. The 18oz water bottle's unique double-wall vacuum insulation keeps drinks hot (12 hrs) and cold (24 hrs).
Insulated Spout Lid: This stainless steel water bottle comes with an innovative leakproof insulated spout lid that allows for easy one-handed drinking or pouring. It features a hinge lock that keeps the cap out of your way while drinking
BPA Free Hydration Solutions: From insulated stainless steel water bottles to beverage makers and pitchers, as well as a variety of product accessories, Takeya USA products help you stay cool, refreshed and hydrated for an active, on-the-go lifestyle
We earn a commission if you make a purchase, at no additional cost to you.
Best Filtered Water Bottles for Disney World
8. Water Bottle With Filter – Brita 36 oz
If you are sensitive to the taste of water this is the water bottle for you. This 36 oz Brita water bottle comes with a filter that fits in the straw.
This water bottle is dishwasher safe and the strap on top makes it easy to carry or clip onto a stroller!
Brita Insulated Filtered Water Bottle with Straw
Brita's Premium 36 ounce Filtering water bottle is our largest Brita bottle yet; it holds 36 oz of water, and is designed with a Brita filter that fits in the straw and makes water taste great
This 36 oz Brita water bottle is car cup holder friendly, and features a built-in carrying loop, easy open lid and is top rack dishwasher safe for easy cleaning; Height 10.6"; Diameter 3.8"; Weight 1 pound
The filter reduces chlorine (taste and odor) and more with every sip; compatible with Brita water bottle replacement filters
We earn a commission if you make a purchase, at no additional cost to you.
9. Water Bottle with Filtered Straw – SurviMate Ultra
Here is another great filtered water bottle option. This water bottle will give you clean, fresh water at all times. This water bottle is BPA free and extremely durable.
SurviMate Ultra-Filtration Filtered Water Bottle
4-Stage Filtration - The Survimate water filter bottle adopts a composite filter technology, can reduce most contaminants. The filter element uses a coarse filter screen, a 0.01μm hollow fiber UF membrane, a sediment PP membrane and an activated carbon fiber to reduce chlorine, bad odor and intercept heavy metals, sediment, soil, organic matter and other impurities, etc.
Smaller Filter Pore Size
Built-in Compass
Long Lifespan - The filter element can filter up to 1,500L (396 Gallons) drinking water.
We earn a commission if you make a purchase, at no additional cost to you.
Can I refill my water bottle at the Disney World parks?
Yes, you can refill your water bottle! Each of the Disney Parks has drinking fountains or water bottle refilling stations.
You are more likely to find water bottle refill stations at Galaxy's Edge in Disney's Hollywood Studios and Pandora in Disney's Animal Kingdom. Some of the older parks, like the Magic Kingdom and EPCOT, will mostly have regular water fountains.
We actually had a hard time finding them during our last trip to Disney. Our best option was to ask for water at quick-service locations and fill up our water bottles that way.
You are also able to get free ice water from any of the quick service dining options. Simply pour your cup of water into your refillable water bottles. This is what we did most of trip and it was a great way to have cold drinks all day long.
Where are the water bottle refilling stations at Disney World?
Currently you can find water bottle refilling stations at the following locations:
Disney's Magic Kingdom
Inside Cosmic Ray's Starlight Cafe
At TRON Lightcycle Run
At a station in the Pinocchio Village Haus restaurant
EPCOT
Near Starbucks in the World Showcase
Odyssey Event Center
EPCOT Experience
Disney's Hollywood Studios
By the entrance to Slinky Dog Dash
By the bathrooms in Galaxy's Edge
By the exit of Smugglers Run
The Transportation Plaza
Disney's Animal Kingdom
By the entrance to Expedition Everest
By the entrance to Na'vi River Journey
By the entrance to Flight of Passage
Jambo House Playground
FAQs
Do you need a filtered water bottle for Disney World?
The water at Walt Disney World is drinkable so unless you are sensitive to the taste of water you don't need one.
How much is bottled water at Walt Disney World?
A bottle of Dasani water in Walt Disney World will cost you $3.50 at quick service restaurants and snack shops.
Can I use my refillable resort mug for water?
Yes, you can bring your refillable mug into the parks and fill it up with water. There are not soda stations for you to use in any of the parks. You can find out more about refillable mug pros and cons here.
Should I bring a refillable water bottle to Disney World?
Yes, you should! Per Disney, Guests are welcome to bring bottles, cups and mugs into the theme parks provided that they are not glass containers and they do not bring alcohol into the theme parks.
Hopefully you have found a water bottle option for your Disney World vacation that will work well for you! You can always have disposable waters delivered with your grocery order and bring those into the parks as well.
Be sure to check out our recommendations of what else you should add to your Disney park bag! (You'll want to bring band aids and snacks!)