You just got done with a long, magical day at Disney only to discover a strange rash on your lower legs and ankles! Is it the Disney Rash?
It very well could be the dreaded Disney Rash. But don't worry! This rash is a very treatable, preventable skin condition.
We want you to have the most magical Disney trip ever and knowing and understanding the Disney rash will help. We will give you all the information you need about the Disney Rash as well as some tips on preventing and treating it! We have first hand experience with the Disney Rash and know it can put a damper on your vacation if you aren't prepared.
Keep in mind, we are not doctors. We simply have researched and experienced the Disney rash.
This information is to help you understand, prevent, and treat the rash. We are not medical professionals. Speak to your healthcare provider if you have any medical conditions that concern you.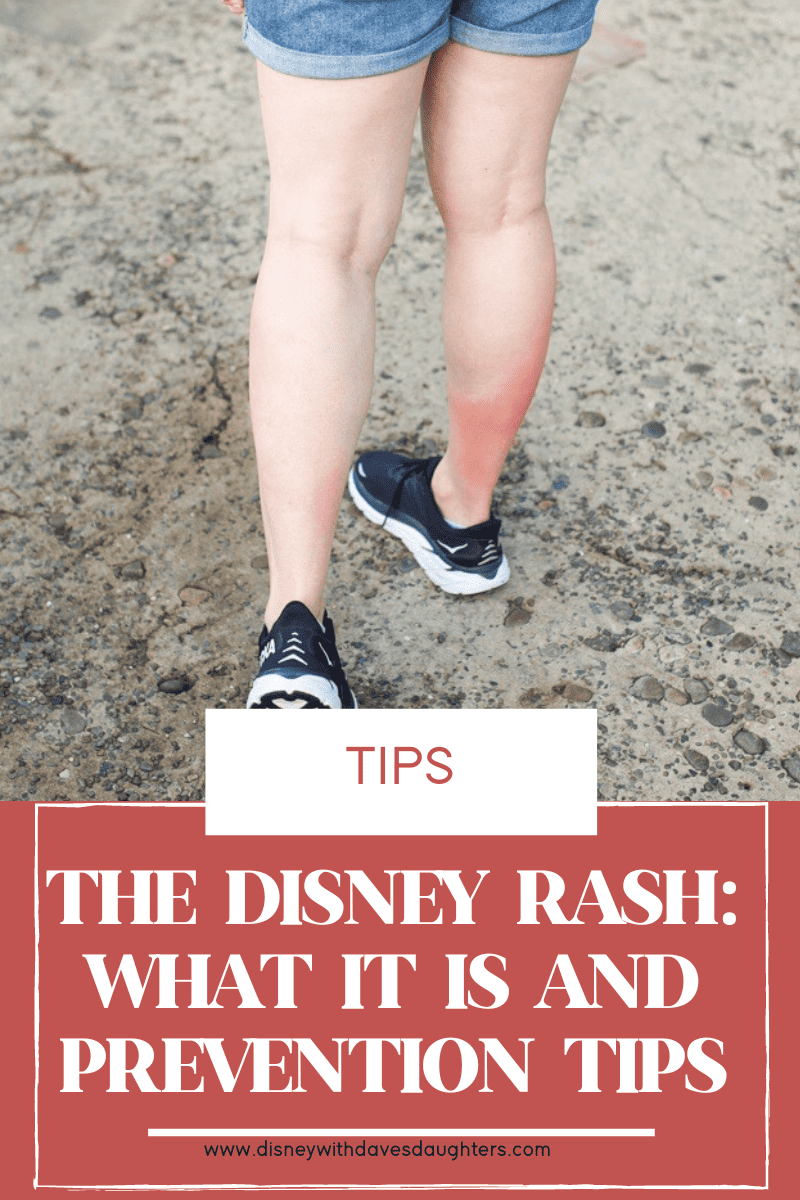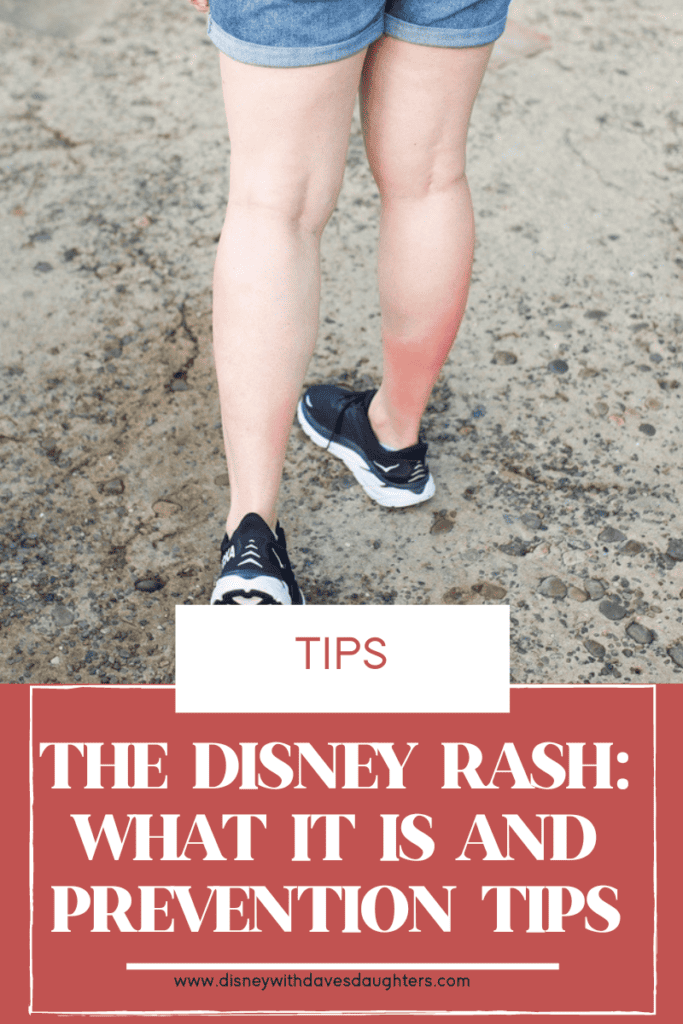 This post includes affiliate links.
What is the Disney Rash?
The Disney Rash (sometimes called the Epcot rash) is a rash that appears on your lower legs with red bumps appearing on the skin. It is harmless and will usually resolve itself in 3-10 days. You may experience itching or a sunburn sensation.
The medical name for Disney rash is exercise-induced vasculitis (EIV). This rash is sometimes called golfer's rash, hiker's rash, and golfer's vasculitis. The Disney Parks are not the only place you can get it. Some people get the rash at the beach, at theme parks, after strenuous exercise in hot weather, or on trips where you are walking much more than usual.
During hot weather and humid weather your legs and ankles may start to swell from excess standing and walking in the heat. The swelling from excessive standing inflames small blood vessels in your legs and ankles and red bumps may appear on the surface of the skin. These bumps on your skin look like a rash – and that is what is called the Disney rash.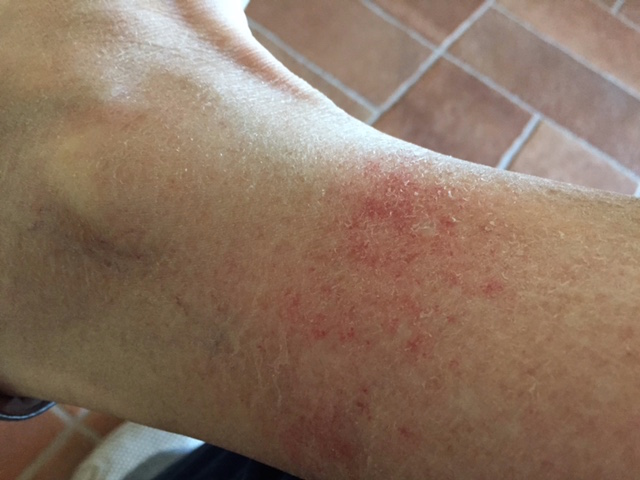 What does the Disney Rash look like?
The Disney rash is red or purple blotches or spots on your lower extremities. You may also see some swelling at the site of the rash. At times, the Disney rash can cause some moderate stinging, itching, or burning sensation.
Early symptoms of the Disney rash may be a warm sensation on your lower legs, itching, or a feeling that your calf muscles are swollen.
Why is it called Disney Rash?
This particular rash is called a Disney rash because it so often occurs to Disney guests due to the high heat and excessive amount of walking that happens at the Disney parks! It is similar to a heat rash, although usually not quite as severe.
Is the Disney Rash contagious?
The rash is not dangerous or contagious. You don't get it because of a chemical found at the parks (as some have hypothesized). It is not an allergic reaction.
Chiggers, sand flies, bed bugs, poison ivy, and viruses are not to blame for it. The rash is not caused by anything that will make it spread to the rest of the family.
How do you get the Disney rash?
Basically, the Disney rash is a combination of the sunlight exposure, warm weather, humidity, and prolonged walking. These conditions contribute to the swelling of the blood vessels in the legs, causing the rash.
On your Disney vacation you will have long days outdoors and you will be walking long distances at each of the Disney Parks. Some of the parks, such as EPCOT, have very few shortcuts.
Animal Kingdom is simply huge and you will be walking a lot. You will find yourself criss-crossing in the Magic Kingdom, which causes extra steps. This is especially true if you are using Genie+.
Hollywood Studios is known for not much shade which is another factor that plays into getting the rash. After several days of heat and walking at these parks, the rash may show up.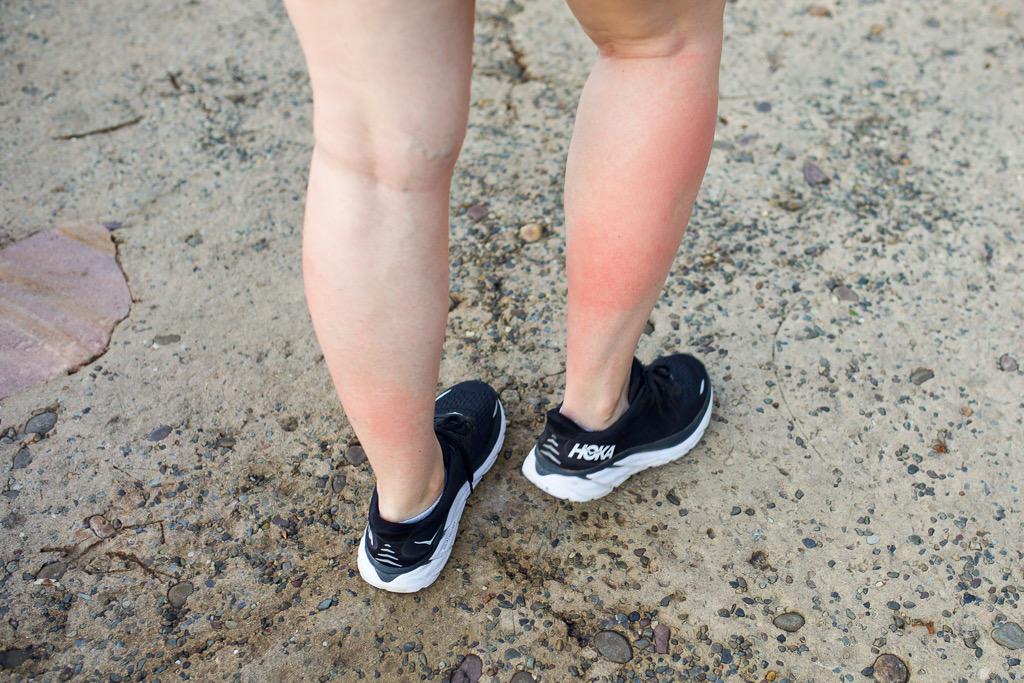 You are more susceptible to getting the Disney Rash during the summer months (May, June, July, August, September) so be more cautious during those months. Months that are typically cooler (November, December, January, February, March, April) aren't as bad as the other months but it's still possible to get a rash!
How to prevent Disney Rash
The rash can affect anyone (both healthy people and unhealthy people, kids and adults) but women over the age of 50 tend to be more susceptible to it.
There are some preventative measures you can consider implementing during your Disney vacation. Here are some tips to prevent getting the rash on your skin:
1. Cover Your Skin at Disney
Because direct sunlight is a big culprit, clothing covering the skin can help in the prevention. Long pants and socks that are longer can be a good idea to help limit sun exposure. If it is hot, wear thin workout leggings to help your body temperature stay cool.
Some have even said that sunscreen has the same effect as long pants so apply it before you leave your ree. If you're worried about the rash, we recommend fully covering your skin!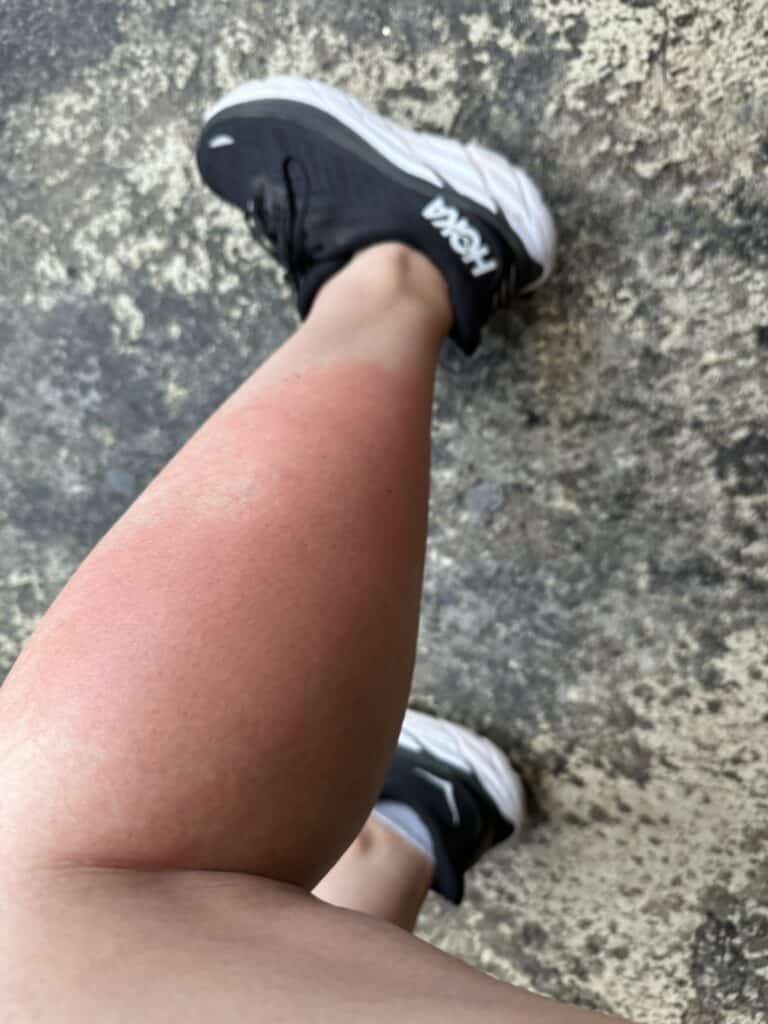 2. Consider Compression Socks
Yes, you will get a sock line from the sun, but wearing compression socks can help prevent the rash. Tall compression socks may help even more, as the socks help prevent the legs and ankles from swelling as much.
Physix Gear Sport Compression Socks for Men & Women 20-30 mmhg
A Durable Compression Sock designed to last, without compromising quality or Comfort.
Quality stitched & easy to get on even though they are a compression sock!
Wash well without losing compression keeping all the Excellent vascular toning benefits.
The compression and support are perfectly located on the heel foot calves so the toe area wont squeeze your toe joints.
Provides instant comfort support, with moisture wicking properties that rapidly air dry in a few hours.
We earn a commission if you make a purchase, at no additional cost to you.
Promising Review:
"These socks are amazing! While hiking or walking for long periods of time, my feet and lower legs swell and I get EIV (Disneyrash). I decided to try compression socks to see if it would help, and these socks exceeded my expectations. After a 2.5 hr/5.5 mi hike, I had NO swelling!"
-Partial Amazon review from Chloe K King
3. Drink Water
In order to diminish the swelling to the legs, drink plenty of water and try to avoid lots of salt. Start hydrating yourself 2-3 days before your Disney trip. You want to start your trip hydrated and stay that way.
Remember that any quick service restaurant will give you free cold water or just keep a water bottle in your backpack.
(This is one way way save money at the parks! See or other tips here.)
4. Elevate Your Feet
When you rest at the parks, elevate your feet as much as you can. Anytime you can get your feet up off the ground will help. Definitely elevate your feet for a while when you get back to your hotel. Put your feet up on some pillows, or lay on your back on the bed and put your feet on the wall.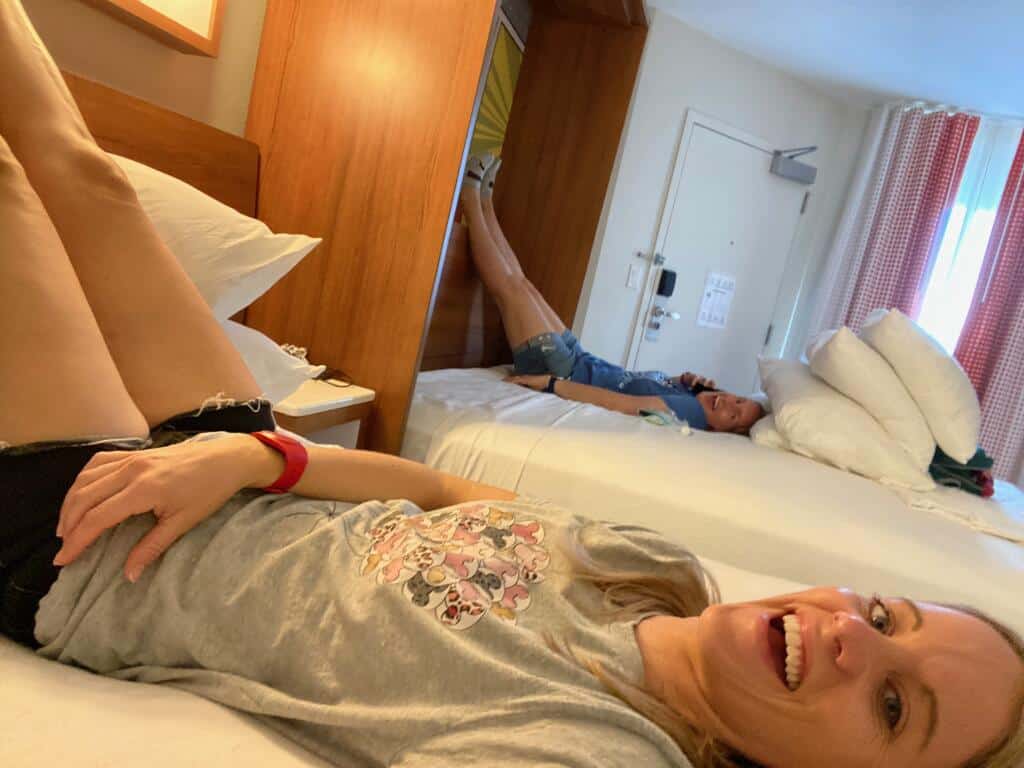 5. Use Cooling Towels
I know, I know, where are you going to find "cool towels" while waiting in line for It's a Small World? Well, when you get on the ride, take your towel out of you pack and dip it in the water and wrap it around your legs…problem solved! (Just kidding!)
if at all possible, wrap cool towels around the skin on your legs. You can bring cooling towels in your day bag! These towels get cool with a simple snap – we highly recommend them not just for your legs, but to help stay cool in general.
4 Pack Cooling Towel (40"x12")
$29.99
$16.99 ($4.25 / Count)
Instant cooling and reusable.
Keep chilled up to 3 hours.
Carrying pouch with carabiner clip.
We earn a commission if you make a purchase, at no additional cost to you.
Promising Review:
"This was so great to have at Disney World. My sister ended up getting exercise-induced vasculitis, or apparently, it's also called Disney rash because of how common people get it at Disney. The poor thing had the most swollen legs but these things came in handy to help cool her legs down. Note to those who don't do a lot of walking: when going to Disney, also buy compression socks."
-Amazon review
Another idea that we did is simply taking ice cubes and massaging your legs with them. Whenever you get a drink immediately take an ice cube out to use on your legs.
The goal is to keep your legs cool so that your blood vessels don't swell as much.
6. Keep Out of the Sun at Disney World
Another thing to do to prevent this rash is to limit how much you're in the sun! You'll really want to try to keep out of the sun as much as possible. Look for shade whenever possible.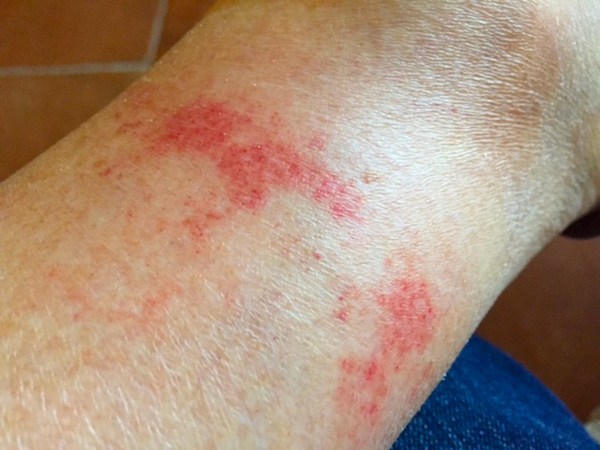 You may even consider heading back to your hotel during the hottest part of the day. Your kids can swim and you can put your feet up on a lounge chair! This will go a long way in preventing the Disney rash.
7. Exercise Before You Go to Disney World!
Start a walking program and be sure to exercise well before you go to Disney. Exercise will help your legs, muscles, and cardiovascular system get prepared for all the walking you'll be doing while at Disney.
This is especially important if you are traveling to Florida in the winter from a cold climate where you have not been able to get outside for regular walking. Additionally, your body is not used to the heat and you will be more likely to get the rash. Head to this post for tips on how to increase your steps before you go!
A walking program will help prevent you from getting a rash! If you are thinking of getting new shoes before our trip we recommend getting them early so you can start your walking program in the shoes you will be wearing to Walt Disney World.
We have recommended shoes for the whole family here.
8. Take Ibuprofen
One final thing you can do is consider taking Ibuprofen before you start the day as it has anti-inflammatory properties. Make sure you bring your own ibuprofen, as purchasing it at your Disney Resort can be extremely expensive.
How do I get rid of Disney rash?
If you find yourself at Walt Disney World and notice you got the Disney rash, don't worry!
First, you are not alone. Many people get it so there is nothing to be embarrassed about. Katie got it on our last trip to Disney World. She realized on our Magic Kingdom day the rash was starting. Katie started treating the rash as soon as we got back to our hotel.
The next day we were at Animal Kingdom in the morning and her legs were pretty inflamed, red, itchy, and very bothersome by the early afternoon. By the third day, EPCOT day, her legs looked like they had a mild sunburn! The rash healed up very fast thanks to quick treatment.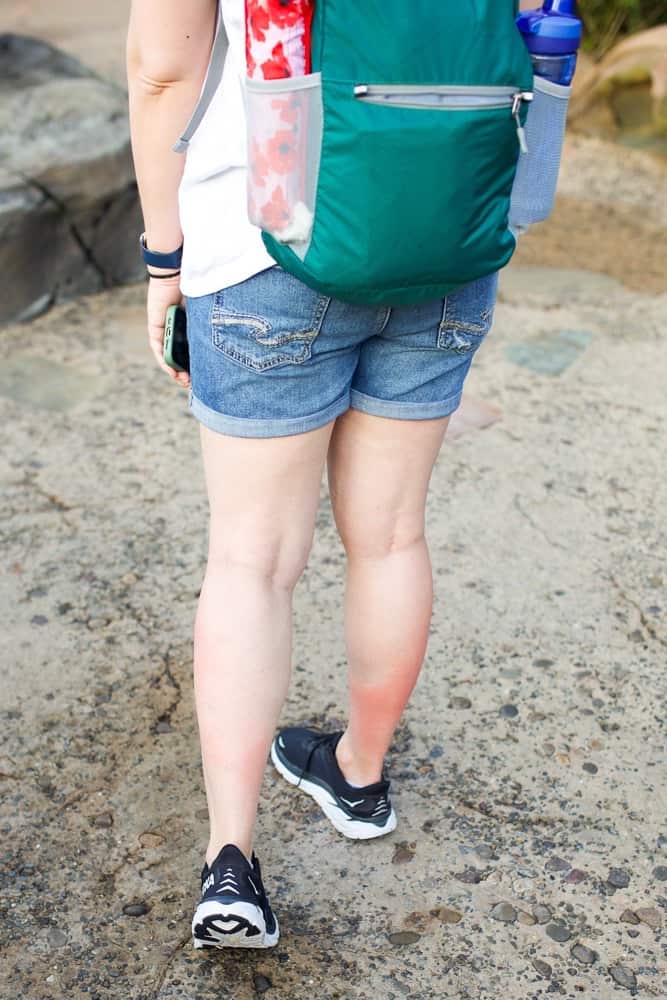 Most of the prevention tips are the same for treating the rash. Here is what Katie did to treat her Disney rash – hopefully this will help you too!
7 Ways to Treat the Disney Rash
Elevate your legs each night for 15+ minutes.
Drink copious amounts of water and use hydration packs (we used Liquid IV).
Use ice to cool down your calves and rash while eating or taking breaks at the parks.
Switch to pants for the afternoon/evening. Having the sun off of your legs can give immediate relief even when it was hot.
Take ibuprofen.
Put epsom salt gel on feet and lower legs.
Use aloe and hydrocortisone on the affected area as soon as the rash appeared. Katie switched off between the two throughout the day. These items may be available at your resort for purchase, or stop by a first aid station to see if they can assist you.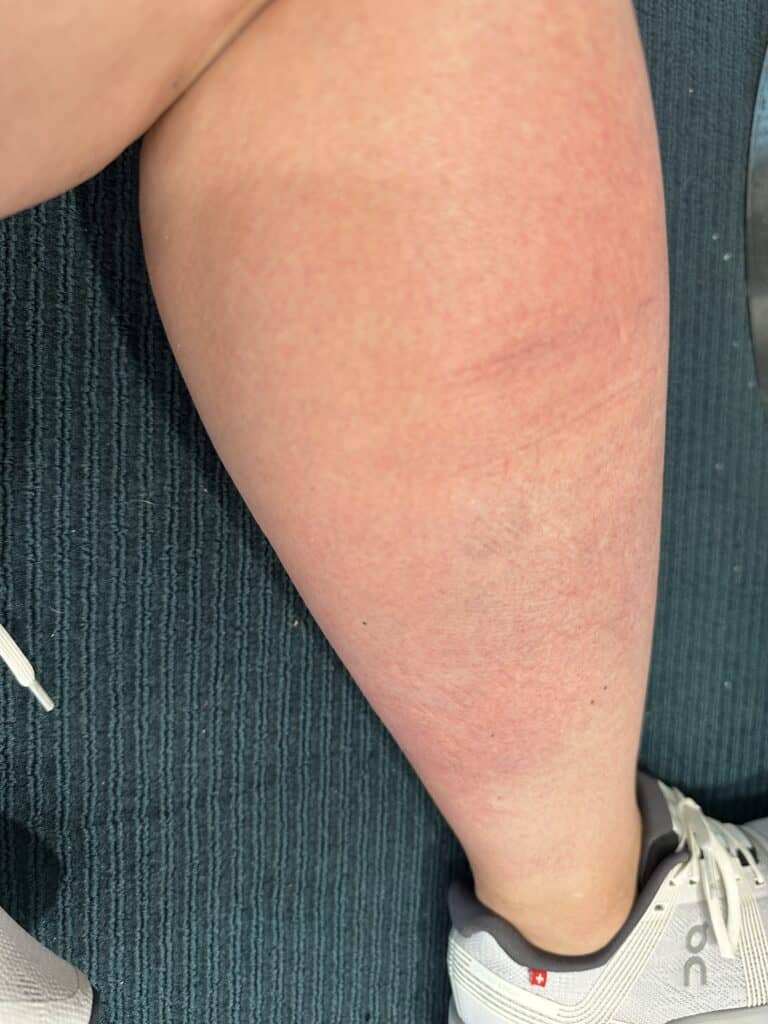 If you get the Disney rash, put some aloe, hydrocortisone, and ibuprofen in a ziplock bag in your backpack to help treat it throughout the day.
The good news is that most people do not need to seek medical attention from a medical provider for their Disney rash. It will eventually go away on its own.
That being said, if you have any concerns about your rash be sure to stop by a first aid center in Walt Disney World. If the rash does not go away on its own in a week or so you will want to get medical help.
To sum it all up, a rash might put a fashion damper on your Disney vacation but won't prevent you from doing anything you had planned!
Starting a walking program before your vacation is so important, we have it mentioned on our list of 7 things not to do before going to Disney (don't be out of shape!). You can see the other 6 here.
If you are trying to figure out the best time to book your Disney World vacation, head here. Be sure to check out our crowd calendar to give you an idea of the crowds fore each month – the cooler months will help you avoid the Disney rash!