You just got done with a long, magical day at Disney only to discover a rash on your legs! Is it the Disney Rash? Here's what the the Disney Rash is along with some tips on preventing it and treating it to allow you to have the most magical trip ever!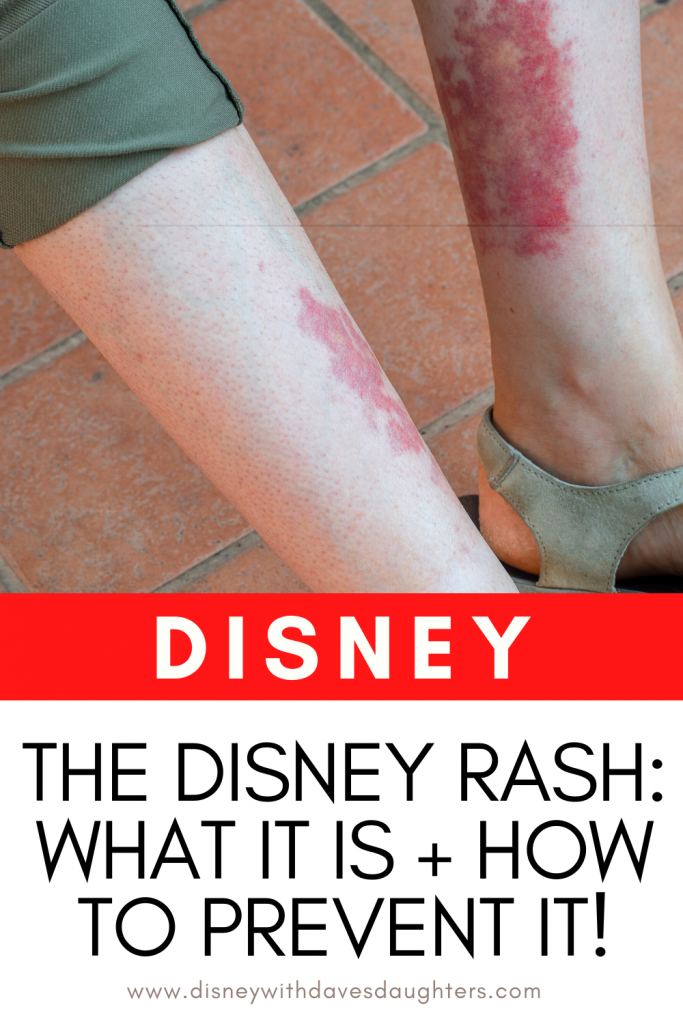 Disney Rash? What is this Disney Rash everyone is talking about? We will tell you all about it – but keep in mind we are not doctors! This information is to help you understand, prevent, and treat the Disney rash. Speak to your healthcare provider if you have any medical conditions that concern you.
The Disney Rash (sometimes called the Epcot rash) is a red or purple rash that appears on your lower legs with red bumps appearing on the skin.
Why is it called Disney rash?
The medical name for Disney rash is exercise-induced vasculitis (EIV). Golfer's rash, hiker's rash, and golfer's vasculitis are also names associated with this because the Disney Parks are not the only place you can get it.
It's simply called a Disney rash because it so often occurs to people at Disney due to the high heat and excessive amount of walking that happens at the Disney parks! It is similar to a heat rash, although usually not quite as severe. 
During hot and humid weather your legs and ankles may start to swell from excess standing and walking in the heat. The swelling from excessive standing inflames small blood vessels in your legs and ankles and red bumps may appear on the surface of the skin. These bumps look like a rash – and that is what is called the Disney rash.
What the Disney Rash is NOT.
The Disney Rash is not dangerous or contagious. You don't get it because of a chemical found at the parks (as some have hypothesized). Chiggers, sand flies, bed bugs, poison ivy, and viruses are not to blame for it. It usually doesn't itch or burn but it does look nasty and it usually goes away after a few days. 
How do you get the Disney Rash?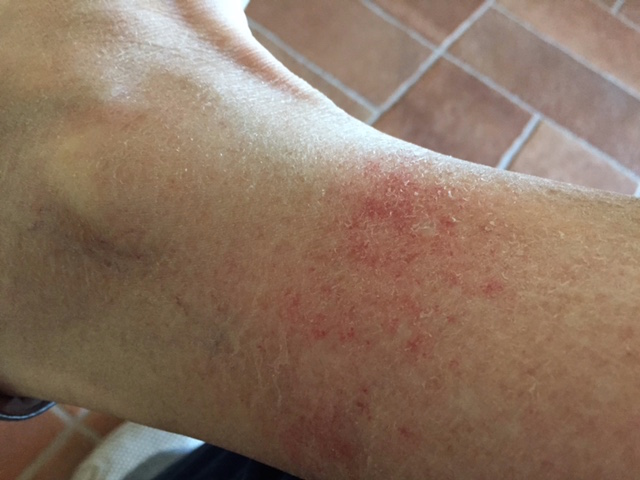 photo credit More Time to Travel
Basically, the rash is a combination of the sunlight exposure, hot, humid weather, and prolonged walking. Hmmm, those are the conditions of walking around the Disney Parks. Now you understand the name!
How to prevent the Disney Rash?
The rash can affect anyone (both healthy people and unhealthy people) but women over the age of 50 tend to be more susceptible to it. There are some preventative measures you can consider implementing during your Disney vacation. Here are some tips to prevent the Disney Rash.
Cover Your Skin
Because direct sunlight is a big culprit, clothing covering the skin can help in the prevention. Long pants and socks that are longer can be a good idea to help limit sun exposure. Some have even said that sunscreen has the same effect as long pants.
(Note: Dave's daughters don't allow Dave to walk around the parks with black socks up to his knees while sporting his Bermuda shorts. They tell him the rash is a better look).
Consider Compression Socks
Yes, you will get a sock line from the sun, but wearing tall socks can help prevent the Disney rash. Compression socks may help even more, as the socks help prevent the legs and ankles from swelling as much.
Drink Water
In order to diminish the swelling to the legs, drink plenty of water and try to avoid lots of salt. Remember that any quick service restaurant will give you free cold water. (This is one way way save money at the parks! See or other tips here.)
Elevate your Feet
When you rest at the parks, elevate your feet as much as you can and if at all possible, wrap cool towels around your legs.
I know, I know, where are you going to find "cool towels" while waiting in line for It's a Small World? Well, when you get on the ride, take your towel out of you pack and dip it in the water and wrap it around your legs…problem solved! (Just kidding!)
Another idea is simply taking ice cubes and massaging your legs with them. Whenever you get a drink immediately take an ice cube out to use on your legs.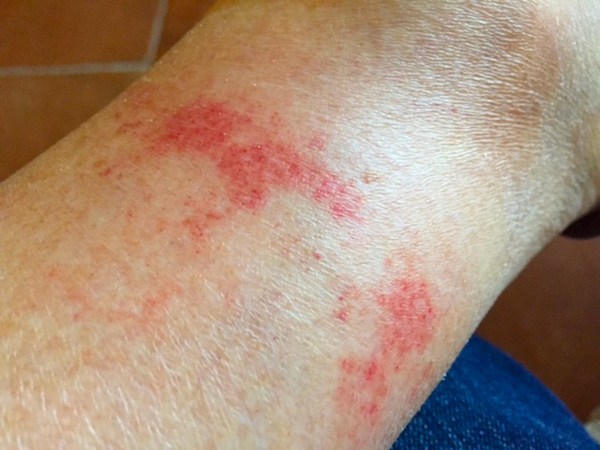 photo credit More Time to Travel
Keep Out of the Sun
Another thing to do to prevent the Disney Rash is to limit how much you're in the sun! You'll really want to try to stay out of the sun as much as possible.
Exercise Before You Go!
Start a walking program well before you go to Disney. This will help your legs, muscles, and cardiovascular system get prepared for all the walking you'll be doing while at Disney. This will help prevent you from getting a Disney Rash! If you are thinking of getting new shoes before our trip we recommend getting them early so you can start your walking program in the shoes you will be wearing to Walt Disney World. We have recommended shoes for the whole family here.
Take Ibuprofen
One final thing you can do is consider taking Ibuprofen before you start the day as it has anti-inflammatory properties.
How to treat the Disney rash?
First, you are not alone. Many people get the Disney Rash so there is nothing to be embarrassed about. Many of the prevention ideas should be done if you get it.
Ice your legs (keep them cool), stay out of the sun, elevate your legs and drink plenty of water. In addition to these steps, you can use a topical anti-itch cream or aloe vera gel for burning. Prickly heat powder can be used and keep the area free from sweating.
The good news is that most people do not need to seek medical attention from a medical provider for their Disney rash. It will eventually go away on its own. That being said, if you have any concerns about your rash be sure to stop by a first aid station in Walt Disney World. If the rash does not go away on its own in a week or so you will want to get medical help.
Is Disney Rash contagious?
No, the Disney Rash isn't contagious! You don't need to worry about passing it on to anyone else.
To sum it all up, a Disney Rash might put a fashion damper on your vacation but won't prevent you from doing anything you had planned! Starting a walking program is so important, we have it mentioned on our list of 7 things not to do before going to Disney (don't be out of shape!). You can see the other 6 here!
Finally, we can't do a post about the Disney Rash from walking without mentioning our favorite Disney themed shoes. Check them out here!