Feature films starring princesses have been a Disney staple for over 80 years. For many of us, our childhood includes a favorite Disney Princess animated movie!
After the movie is over, the Disney princess continues to be close to our hearts as the publicity and merchandise machine of Disney keeps her Royal Highness front and center.
In fact, very often we know many things about a princess even though we have never even seen the Disney film she originally starred in! You may be reading this for this exact reason.
What are the names of the Disney Princess movies?
There are 12 official Disney princesses, which means there are 12 official Disney Princess movies. The official princess movies from Walt Disney Animation Studios are:
Snow White
Cinderella
Sleeping Beauty
The Little Mermaid
Beauty and the Beast
Aladdin
Pocahontas
Mulan
The Princess and the Frog
Tangled
Brave
Moana
Raya from Raya and the Last Dragon is not an official Disney princess, contrary to some reports. If Disney decides to add her to the official Disney list you will find her image here.
Most people seem to have a favorite Disney Princess. Jen loves Ariel and Katie loves Belle. Our Grandma thought Snow White was the best Disney princess of all time! Katie's oldest daughter loves Rapunzel.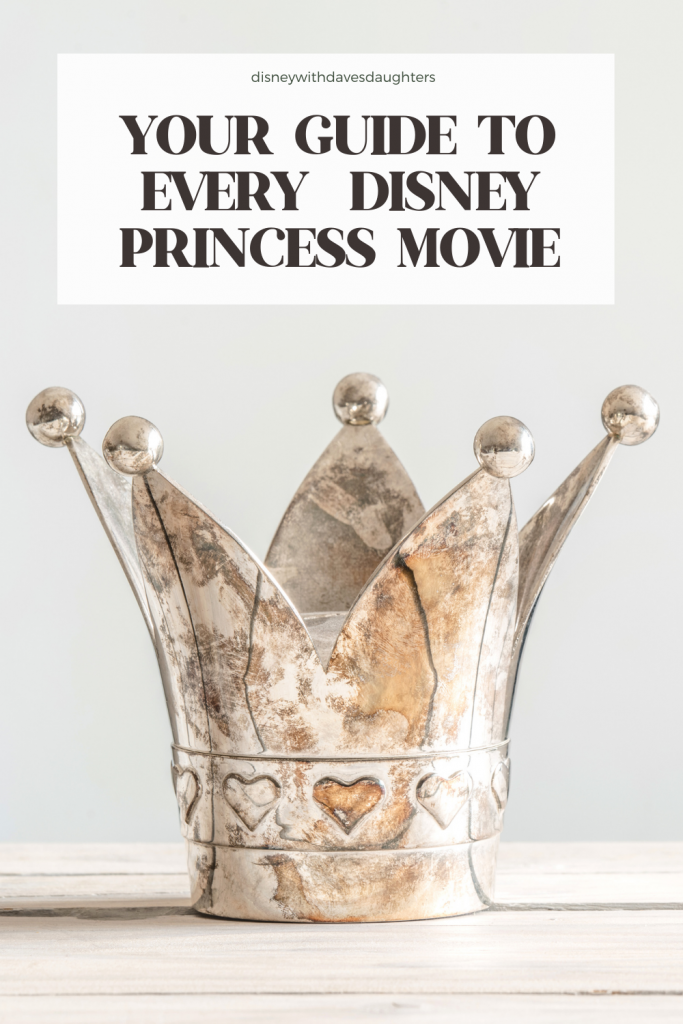 This post will help us look deeper at the animated movies that gave our amazing princesses their acting debuts which thrust them into stardom and then into our lives! To help us along, we are presenting all the Disney Princess movies in chronological order. Let's begin.
Official Disney Princess Movies
1. Snow White And The Seven Dwarfs (1937)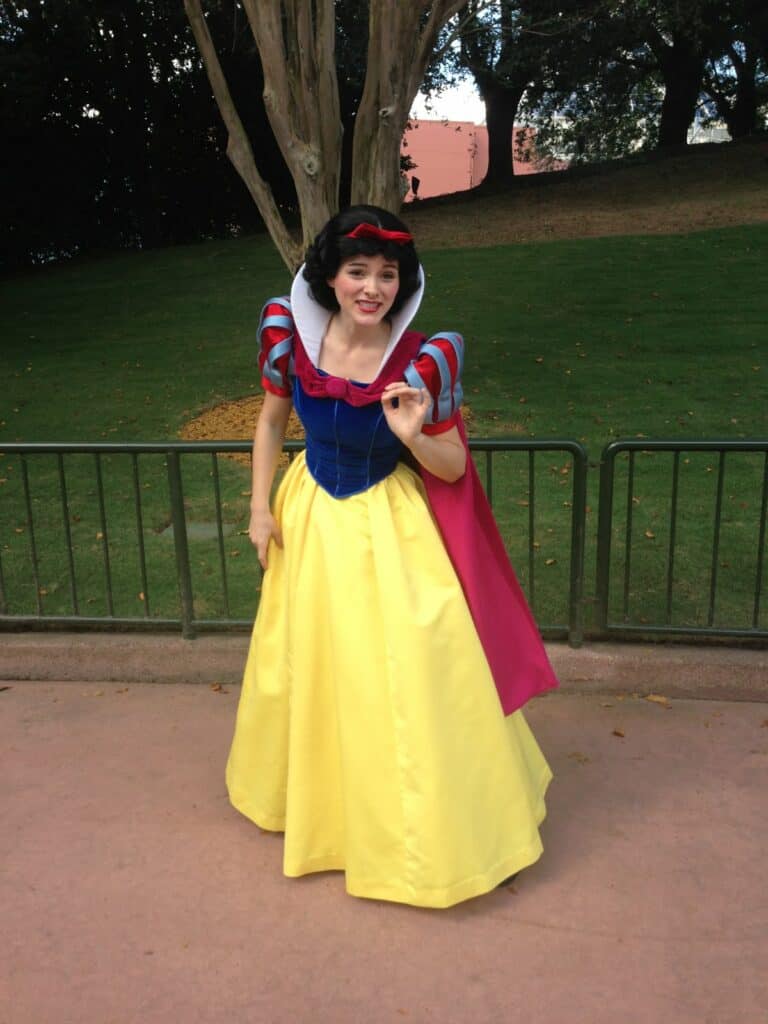 Princess – Snow White
Movie time – 83 minutes
Other prominent characters – Evil Queen, Prince Florian/Ferdinand, The Seven Dwarfs
Snow White Storyline
This classic princess movie introduces us to Snow White. Snow White's jealous Stepmother, the wicked Queen, finds out from the magic mirror that she is no longer the "Fairest in the land" – Snow White has taken her place! The princess must flee from her wicked stepmother and she finds refuge with seven dwarfs who care for her.
The Evil Queen finds Snow White, gives her a poison apple, and Snow White falls into a deep sleep. Snow White relies upon true love's kiss to be awakened!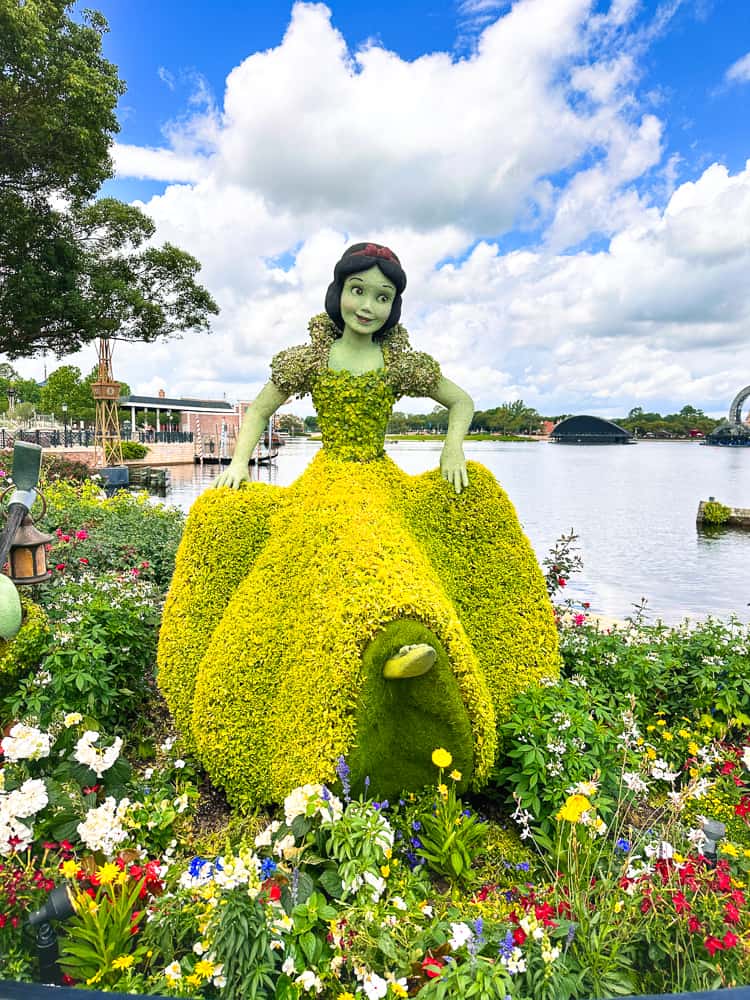 Other Interesting Snow White Info
Snow White was Walt's first feature film after only doing shorts. He spent a whopping 1.5 million to produce this Disney movie.
He worried it would either make him or break him, but it all turned out great in the end! As we now know, the first Disney Princess movie was a huge success.
Because of the success of Snow White, Walt Disney was able to make more animated films. You can thank Snow White and the Seven Dwarfs for paving the way for all of the Disney Princess movies!
*Is your old Disney VHS worth money? Check out here!
2. Cinderella (1950)
Princess – Cinderella
Movie time – 74 minutes
Other prominent characters — Prince Charming, Lady Tremaine (Stepmother), Fairy Godmother, Gus, Jaq, Drizella, Anastasia
Cinderella Storyline
This princess movie tells the story of Cinderella, a young girl who grows up being mistreated by her evil stepmother and stepsisters. When she is invited to the Royal Ball, a Fairy Godmother magically helps her go by turning her rags into a beautiful gown.
However, when the clock strikes midnight the magic spell is broken and Cinderella returns to her former state – but she leaves behind a beautiful glass slipper. The Prince goes on a quest to find the woman who left the slipper behind!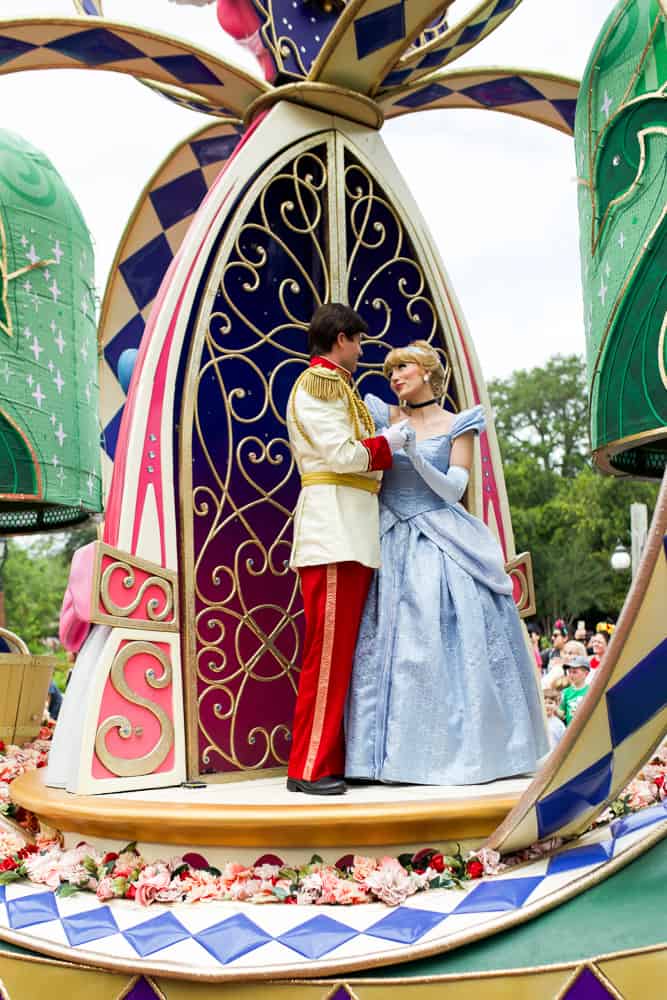 Other Movies Related to Cinderella
Cinderella 2: Dreams Come True
Cinderella 3: A Twist in Time
Cinderella (2015) Disney's live-action version of the original film.
If you love Cinderella, be sure to check out some of our favorite Cinderella movie quotes here.
*Who can forget the classic cat in Cinderella – Lucifer! Find 32 other Disney Cats here!
3. Sleeping Beauty (1959)
Princess – Aurora
Movie time – 75 minutes
Other prominent characters – Maleficent, Prince Phillip, Flora, Fauna and Merryweather, Diablo, King Stefan and Queen Leah
Sleeping Beauty Storyline
A curse is placed on Aurora by the evil fairy, Maleficent. Aurora falls into a deep sleep after pricking her finger on a spinning wheel. With the help of the good fairies, Prince Philip, along with some magic, the curse is broken and Maleficent is destroyed.
Direct to Video Film – Disney Princess Enchanted Tales: Follow Your Dreams (2007)
Related movies – Maleficent (2014), Maleficent: Mistress of Evil (2019)
4. The Little Mermaid (1989)
Princess – Ariel
Movie time – 83 minutes
Other prominent characters – Prince Eric, Ursula, Flounder, Sebastian, King Triton
The Little Mermaid Storyline
An inquisitive mermaid princess named Ariel falls in love with a human: Prince Eric. Ariel becomes a human, thanks to a spell from Ursula, an evil sea witch. Ariel must have Prince Eric fall in love with her in order to remain human and stay with him.
The Little Mermaid Spinoffs and Movies
The Little Mermaid animated series (1992 – 1994)
The Little Mermaid Live! (2019)
The Little Mermaid 2: Return to the Sea (2000) Direct to Video
The Little Mermaid: Ariel's Beginning (2008) Direct to Video
Live-action remake "The Little Mermaid " (2023)
5. Beauty and the Beast (1991)
Princess – Belle
Movie Time – 84 minutes
Other prominent characters – Gaston, The Beast, Lumiere, Cogsworth, Mrs. Potts, Chip, Fifi, Forte
Beauty and the Beast Storyline
An arrogant young prince and his castle servants fall under the spell of an enchantress. The enchantress turns the prince into a hideous Beast – he will stay that way until he learns to love and be loved.
Belle lives nearby in a French town with her father, an inventor. She finds the Beast's castle after the Beast imprisons her father, Maurice. Belle offers to stay at the castle in exchange for her father's freedom. With the help of his servants, Belle begins to draw the cold-hearted Beast out of his isolation.
Other Beauty and the Beast spinoffs
Beauty and the Beast: The Enchanted Christmas (1997)
Beauty and the Beast: Belle's Magical World (1998)
Beauty and the Beast(2017)
6. Aladdin (1992)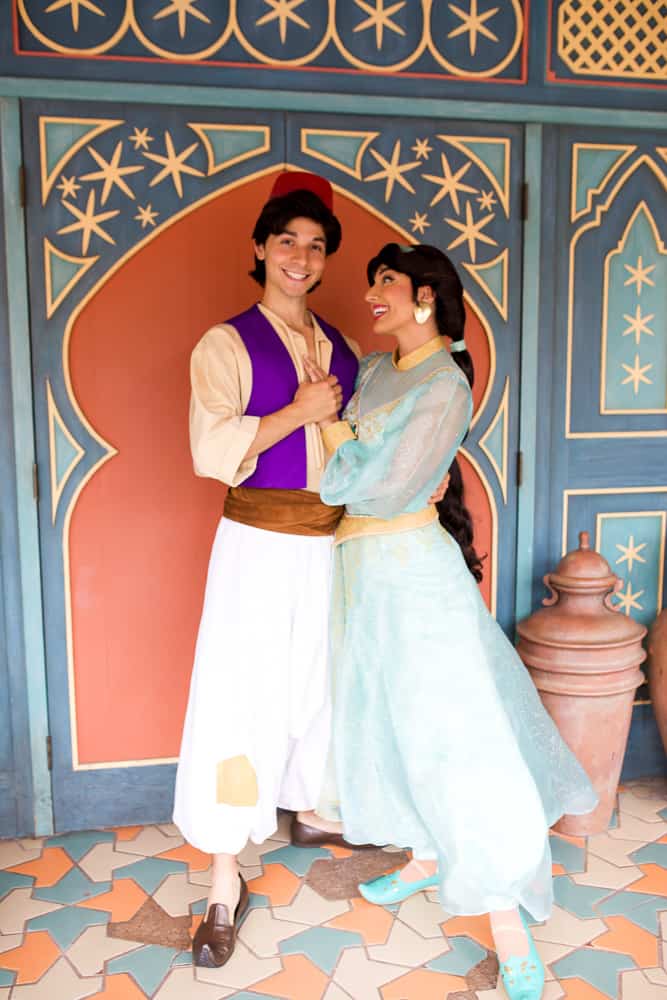 Princess – Jasmine
Movie Time – 90 minutes
Other prominent characters – Aladdin, Jafar, Abu, Genie, Rajah, Lago
Aladdin Storyline
When the street rat, Aladdin, frees a genie from a lamp he finds his wishes granted. He soon finds that Jafar, an evil sorcerer, has other ideas for the lamp and for Princess Jasmine. Can Aladdin save Princess Jasmine and his love for her after she sees that he isn't quite what he appears to be?
Other Aladdin spinoffs
Aladdin (2019) live action film, Aladdin (1994 – 1995) animated series
Direct to video films:
The Return of Jafar (1994), Aladdin and the King of Thieves (1996)
Disney Princess Enchanted Tales: Follow Your Dreams (2007)
7. Pocahontas (1995)
Princess – Pocahontas
Movie Time – 81 minutes
Other prominent characters – John Smith, Chief Powhatan, Governor Ratcliffe/Wiggins, Meeko, Thomas, Grandmother Willow, Percy, Ben, Lon
Pocahontas Storyline
There is romance between a young Native American woman named Pocahontas and Captain John Smith, who journeyed to the New World with other settlers to begin fresh lives.
Pocahontas' powerful father, Chief Powhatan, disapproves of their relationship and wants her to marry a native warrior. Meanwhile, John Smith's fellow Englishmen hope to rob the Native Americans of their gold. Can Pocahontas' love for Smith save the day?
Other Pocahontas spinoffs
Pocahontas 2: Journey to a New World, a Direct to Video film
8. Mulan (1998)
Princess – Mulan
Movie Time – 88 minutes
Other prominent characters – Li Shang, Mushu, Shang Yu, The Matchmaker, Chi-Fu, Yao, The Emperor, Cri-Kee, Ling, Chin-Po
Mulan Storyline
This movie brings us the story of a young Chinese maiden, Mulan. She learns that her weakened father is to be called up into the army in order to fight the invading Huns. Knowing that he would never survive the rigours of war, Mulan decides to disguise herself and join in his place.
Unbeknownst to her, Mulan's ancestors are aware of this plan. In order to prevent it, they order a tiny dragon, Mushu, to join her in order to force her to abandon her plan. However, when he meets Mulan, he learns that she cannot be dissuaded and so decides to help her in the perilous times ahead.
Other Mulan spinoffs
Mulan 2 (2004), Direct to Video film
Mulan (2020) live action film
9. The Princess and the Frog (2009)
Princess – Tiana
Movie Time – 97 minutes
Other prominent characters – Prince Naveen, Dr. Facilier, Louis, Ray, Evangeline, Mama Odie
The Princess and the Frog Storyline
This fun movie finds the lives of arrogant, carefree Prince Naveen and hardworking waitress Tiana crossing paths. Prince Naveen is transformed into a frog by a conniving voodoo magician.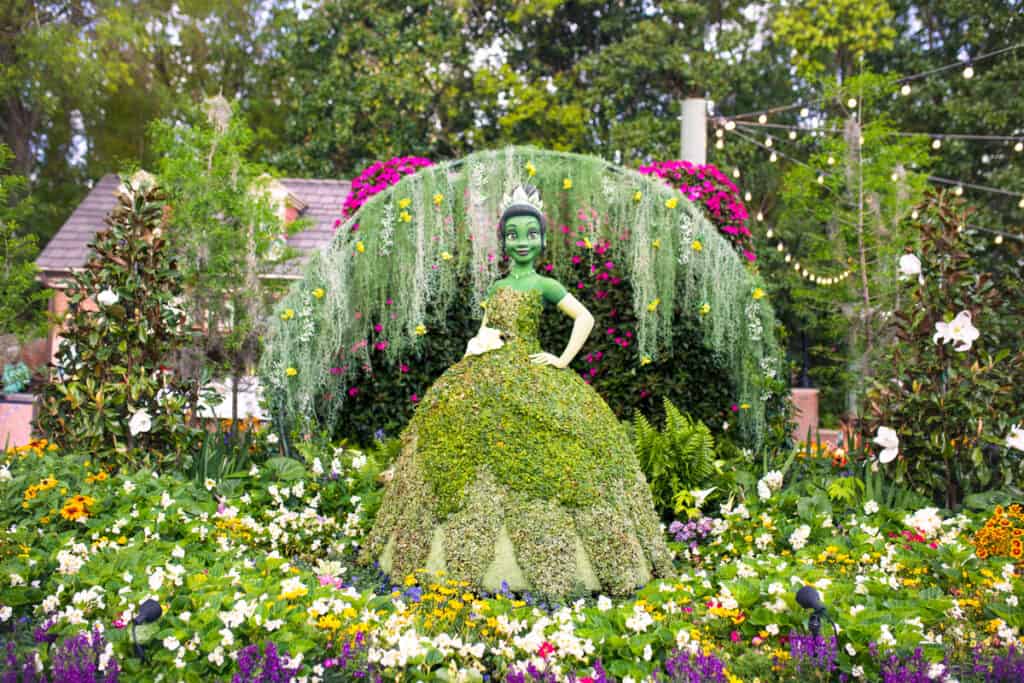 Tiana is also turned into a frog upon kissing the frog prince Naveen. With the help of a trumpet-playing alligator, a Cajun firefly, and an old blind lady who lives in a boat in a tree, Naveen and Tiana must race to break the spell and fulfill their dreams.
Other Princess and the Frog spinoffs
Coming in 2023 Tiana (a TV series)
10. Tangled (2010)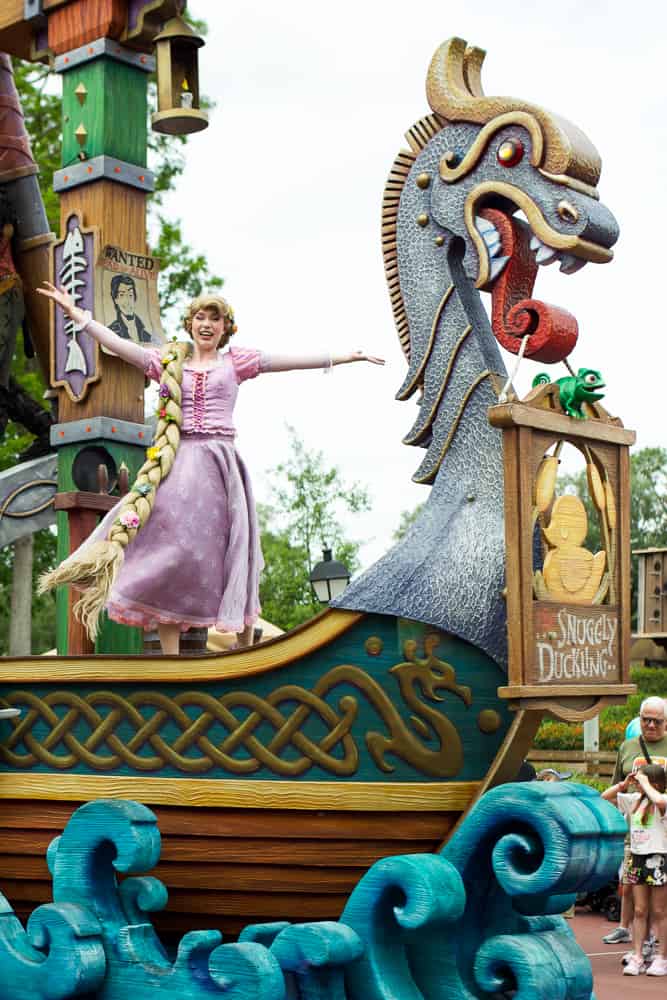 Princess – Rapunzel
Movie Time – 100 minutes
Other prominent characters – Flynn Rider (aka Eugene Fitzherbert or Horace), Pascal, Maximus, Mother Gothel, The Stabbington Brothers, Zhan Tiri
Tangled Storyline
A long-lost princess with the longest hair imaginable named Rapunzel has spent her whole life in a lonely tower, dreaming of the world, waiting to discover it.
When she finally starts to give up hope, an escaped prisoner named Flynn Rider approaches Rapunzel's tower and agrees to take her to see the lanterns that appear every day on her birthday. In return, Rapunzel would return his satchel filled with stolen jewels, including the lost princess's shiny crown.
Flynn and Rapunzel embark on a journey that they will never forget and Rapunzel discovers who she really is. This is a favorite animated film of many!
Tangled spinoffs
Tangled Ever After (2012), short film
Rapunzel's Tangled Adventure (2017 – 2020), animated series
Tangled: Before Ever After (2017), Television film.
11. Brave (2012)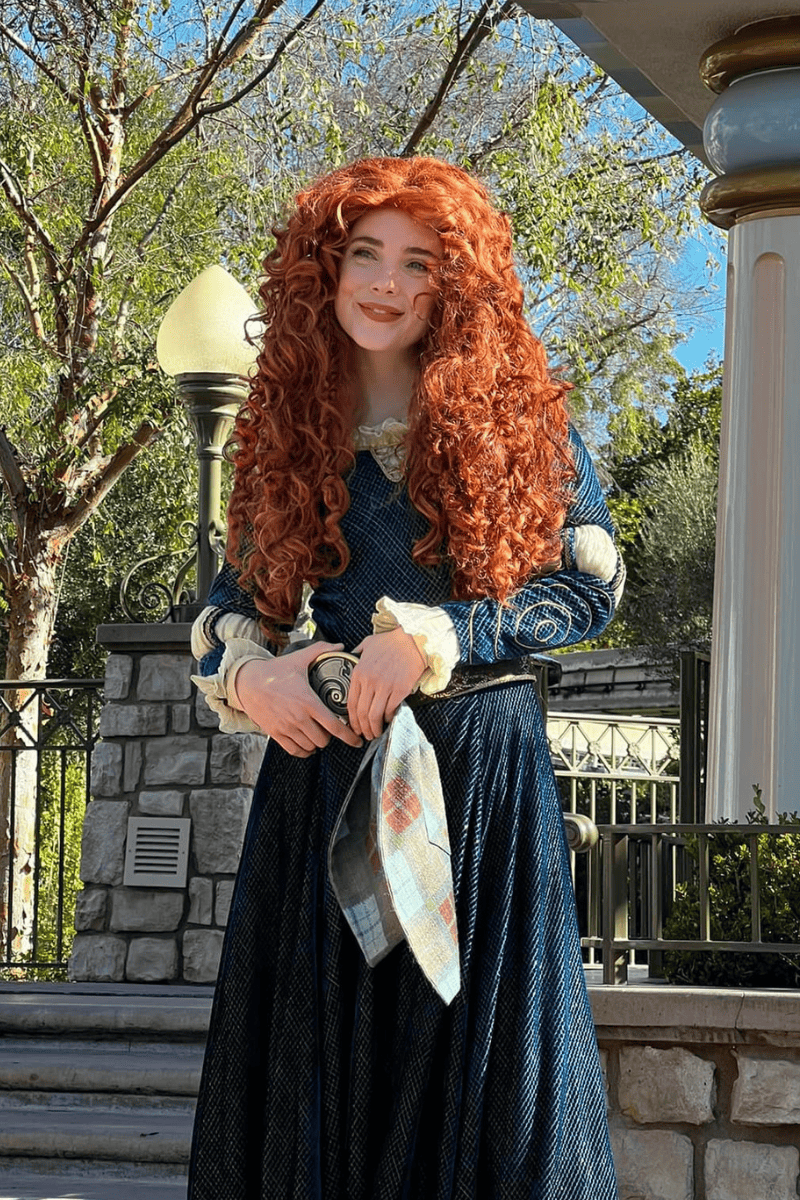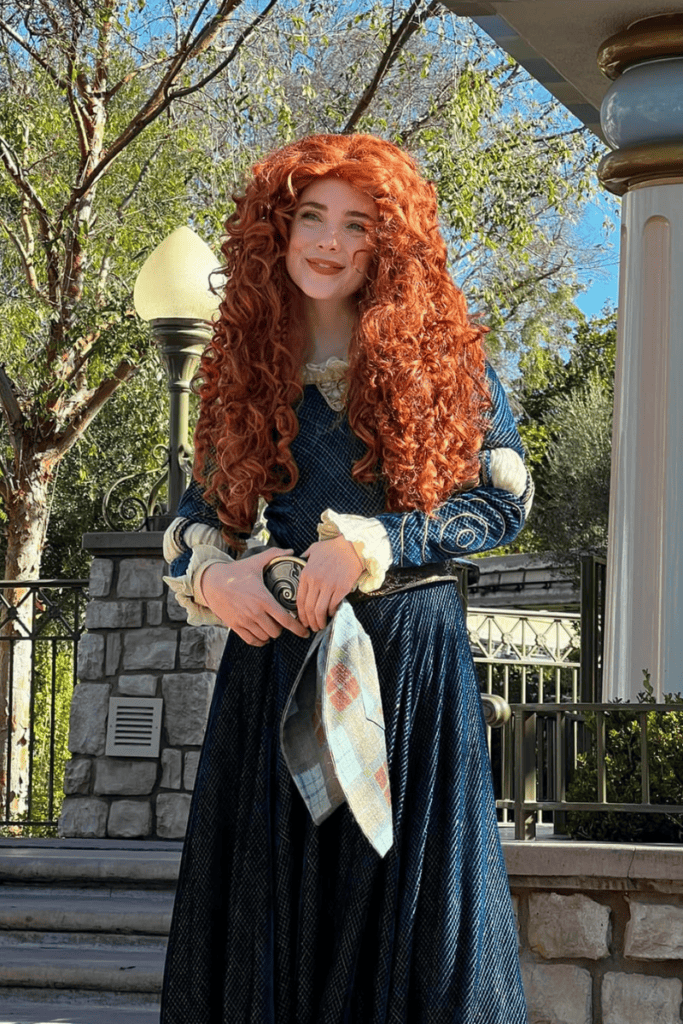 Princess – Merida
Movie Time – 93 minutes
Other prominent characters – Queen Elinor, King Fergus, Mor'du, The Witch, The Wisps, Harris, Hubert and Hamish.
Merida Storyline
Princess Merida, the impetuous, but courageous, daughter of Scottish King Fergus and Queen Elinor, is a skilled archer who wants to carve out her own path in life.
Her defiance of an age-old tradition angers the Highland Lords and leads to chaos in the kingdom. Merida seeks help from an eccentric witch, who grants her an ill-fated wish. Merida must now discover the true meaning of courage and undo a beastly curse before it's too late.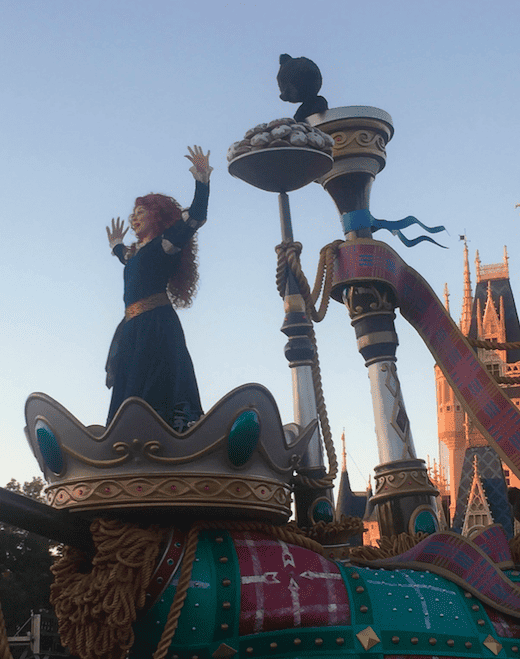 12. Moana (2016)
Princess – Moana
Movie Time – 107 minutes
Other prominent characters – Maui, Gramma Tala, Tui and Sui, Kakamora, Tamatoa, Hei Hei, Pua
Storyline – An adventurous teenager sails out on a daring mission to save her people. During her journey, Moana meets the once-mighty demigod Maui, who guides her in her quest to become a master wayfinder.
Together, they sail across the open ocean on an action-packed voyage, encountering enormous monsters and impossible odds. Along the way, Moana fulfills the ancient quest of her ancestors and discovers the one thing she always sought: her own identity.
Frozen (2013)
In case you are wondering….What about Elsa and Anna?
Anna and Elsa of Frozen have not officially been deemed "Princesses" by Disney. I know, we can't believe it ether. They are the daughters of royalty, Iduna and Agnarr, the former Queen and King of Arendelle. They even have a ride in EPCOT!
You would think they would be a shoe in, especially compared to some of the others who are princesses. Here is why Elsa and Anna are not official princesses.
In order to qualify as an official Princess, one must meet the following guidelines:
The individual should sing at least one song in the movie.
The individual should either be royalty or marry into it.
The individual should have an animal companion or communicate with animals.
The movie the individual is in should be a hit.
Even though Anna and Elsa do most of these, they don't really have animal companions (Olaf doesn't count and Sven is more Kristoff's companion).
Furthermore, Anna ultimately becomes Queen of Arendelle, which means she isn't a princess anymore.
Don't complain to us, we are only the messengers!
FAQ
How many official Disney princess movies are there?
There are 12 official Disney princess movies starting with Snow White and ending with Moana!
Is Raya an official Disney Princess?
Raya is a princess, but she is not an "official" Disney princess! She is not listed on the Walt Disney World princess webpage.
What is Disney's oldest princess movie?
The oldest Disney princess movie is Snow White, released in 1937.
One final note – Minnie Mouse is also considered an honorary Disney Princess! You can find out more about her here. If you are going to Walt Disney World anytime soon be sure to meet your favorite princess! You can find out where to meet them here.