If you love mermaids, true love and adventure, you definitely would love The Little Mermaid and the star of the show Ariel!
We love talking about the Disney Princesses and today we're going to dig into who Ariel is and what you need to know about her.
Ariel is the third original Disney Princess. The Little Mermaid was released on November 17, 1989. The movie was a huge success and grossed over $100 million at US box offices. It won two Academy Awards – Best Song (Under the Sea) and Best Original Score.
A live action version of The Little Mermaid will be released on May 26, 2023.
The Little Mermaid Synopsis
Ariel is a mermaid, the daughter of King Triton. She is enthralled with life on land and often visits the surface. On one of her visits to the surface she falls for a human prince.
Determined to be with her Eric, Ariel makes a deal with Ursula to become human for three days in exchange for her voice. Ariel must try to make Prince Eric fall in love with her before sunset on the third day. If she fails, Ariel will turn into a captive of Ursula.
Who is Ariel's Prince?
Prince Eric is Ariel's Prince
Who Voiced Ariel in the original Disney Film?
Jodi Benson voiced Ariel in The Little Mermaid. She also did it's sequel, prequel and the television series spinoff!
Jodi is a bit of a Disney Legend who has voiced characters in Thumbelina, Lady and the Tramp II, 101 Dalmatians II, and was even in Enchanted!
You can see Jodi Benson and Pat Carrol (Ursula) in their recording sessions in the video below!
The Little Mermaid Main Characters
Prince Eric
Ariel and her six older sisters (Attina, Alana, Adella, Aquata, Arista and Andrina) are the daughters of the sea king, King Triton.
Ariel's best friend is Flounder the flounder. Scuttle the seagull is Ariel's land friend.
Sebastian the crab looks after Ariel by order of the King.
Ursula the Sea Witch is the villain in this story. Her "henchmen" are Flotsam and Jetsam the eels.
Grimsby is the chief steward and Prince Eric's confidant.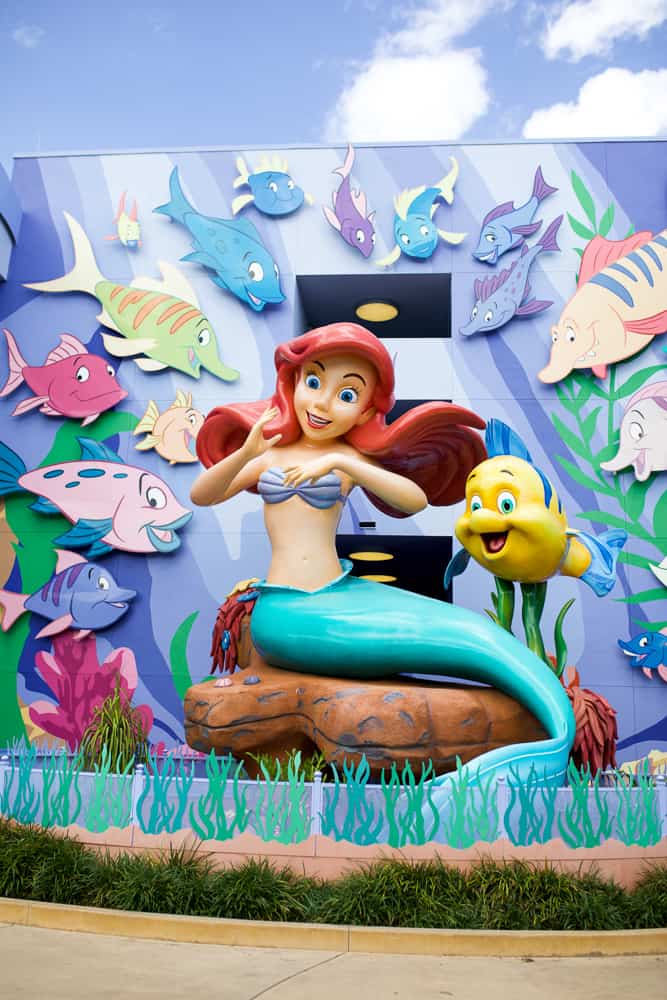 Fun Facts about The Little Mermaid Movie
The Little Mermaid was created in 1989.
This film is the beginning of the Disney Renaissance which takes place from 1989-1999. During the Disney Renaissance time period Disney returned to producing movies that were largely based on well known stories.
Alan Menkin and Howard Ashman were hired to create the music for this film (and many subsequent films) and "Under The Sea" gave them their first Oscar for Best Song! Menken also won "Best Score" in 1989!
Carlotta, Prince Eric's maid, is wearing the same outfit as Cinderella!
Ever wondered what your old Little Mermaid VHS is worth? Check out this post!
9 Fun Facts About Ariel
Princess Ariel is known for her red hair and her beautiful voice.
For a short time, Ariel was almost a blonde!
The color of Ariel's fin/tail is now called "Ariel" at Disney! It is a custom color made just for Ariel.
Ariel is 16 years old.
Ariel's song "Part Of Your World" was almost cut from the movie after the original screening.
Ariel has 6 sisters. Her sister's say that she is unpredictable.
Ariel's favorite food from land is strawberries.
Ariel's features were inspired by Alyssa Milano.
Ariel's song "Part Of Your World" was almost cut from the movie!
Ariel Quotes
"Don't be such a guppy."
"I want to be where the people are."
"Watch and you'll see, someday I'll be part of your world."
"I'm sixteen years old. I'm not a child anymore."
"Wanderin' free, wish I could be part of that world."
"Look at this stuff. Isn't it neat?"
"Have you ever seen something so wonderful in your entire life?"
"What's that word again?"
"I've never seen a human this close before."
"You want thingamabobs? I've got twenty."
"You're not getting cold fins now, are you?"
What songs did Ariel sing In the Little Mermaid?
Ariel sang "Part of Your World" in the original movie.
Who is playing Ariel in the 2023 live action movie?
Halle Bailey is the actress portraying Ariel in the live action film.
Ariel FAQ
Is Ariel considered a Disney Princess?
Yes, Ariel is an official Disney princess
Is Ariel Italian or Danish?
The Little Mermaid was originally a Danish fairy tale.
Who is playing little mermaid 2023?
Halle Bailey is playing the little mermaid in 2023.
Is Ariel a princess or a mermaid?
Ariel is both a princess and a mermaid!
Be sure to check out our favorite Little Mermaid clothes for girls!
Official Disney Princesses
How well do you know all the Disney princesses? Who is your favorite? Check your Disney princess knowledge here: